Feb 1992 - Sep 1992 and Sep 2000 - Sep 2001
BU1 (SCW) Jones RET = seabeedrj@yahoo.com
Citizenship = USA, Service = USN, Outfit = NMCB 40 and PWD QAE
My_Quest = To Drink With CPT. Morgan
VT_of_a_Swallow = Asian or African ?
My_Warstory = 1st trip was Project Supervisor over the TCN Barracks. 2nd trip was QAE of Builder/ Paint Shop and Janitorial services. Made some good friends while there. Never, ever treated the contractors any different then service members there. We were all there to Support One Mission, One Goal. I don't remember names very well but do remember the great workers I had the pleasure of getting to know. Funny story, I was placed in the same barracks room in 2000, that I shared with a fellow BU1 in 1992. Also had the same barracks manager. I remember walking around with my Planters Peanut jar filled with Capt. Morgan and Pepsi. Had one of the best Seabee Ballever attended while there as well, it was on the Deck at the Lagoon. Was an awesome night. Also have found exorcise of the Brit Club. Would love to go back some day. Fun times, good people, and good drinks.
Jun - Nov 2000
Kyle Murphy = kylem@atsinc.org
I, like you guys, LOVED that place. I still on occasion curiously search the web for civilian jobs that "might" pop up… No such luck yet.
I was there in June to November of 2000 with VP-40 out of Whidbey Is NAS, Wa.
I had my drums shipped over and started a Reggae band with some of the Mauritian locals and one guy who worked at the super secret sat tracking station. Played the Brit Club, Yacht Club and any other club that would let us play. Which I think we hit all of them…
Still miss it.
Kyle Murphy, AT2 USN
(Left the Navy in 01)
Here's a picture of Kyle's band, "The Roots":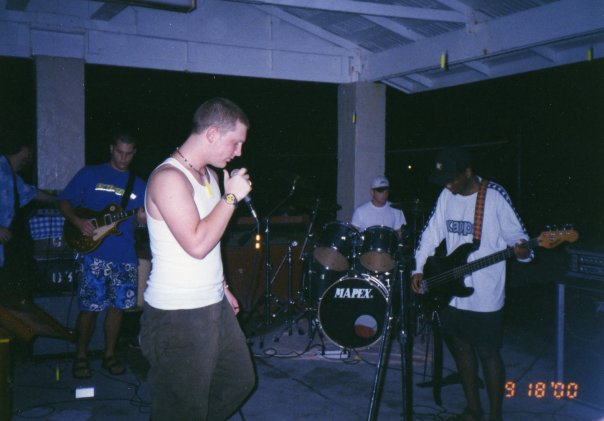 2000; also August 1992 - August 1993.
Jeff Rumbold = styleman27@yahoo.com
Citizenship = USA; Service = USN; Outfit = NCTS "R" Site/Section 1
My_Warstory = Charter member of "Team Tusker" and "Sex One/SEAL Team One". Known to not-so-clandestinely insert on the shoreline of the CPO Club to replenish the beer supply for my buddies out on the Dynaglass boats. Drank many a case of Tusker beer and as yet have suffered no ill-affects from the sediment in the bottom of the bottles. Also known to polish off a bottle of Southern Comfort, get on my bike and try to make it all the way out to Donkey Gate. Had my boat license endorsed three times for unsafe handling, put out make-believe fires in the barracks and ate my fair share of fish, Diego Burger grilled cheese sandwiches and, believe me, you don't want to know what went into a Hitler's Nuclear Bet or a Keil Shake ;)
Good times - and guess what? I have orders in hand that will return me to the rock one final time (I was also an inmate with COMPSRON 2 in 2000) in February 2013 for my Twilight Tour :)
July thru Nov. 2000, July thru Oct. 2001, Feb. thru April 2002
Sam Marsh = scmarsh@yahoo.com
Citizenship = USA; Outfit = US merchant marine; My_Quest = Just looking around
My_Warstory = Windsurfing at max velocity, in the lagoon, jumping waves and building towers of empty beer cans higher than I ever thought possible! You really had to see it! There you go, Mad Chuck. Peace, George. I hope life's treating you good.
2000
James Hewson <hewsonjimjh@hotmail.co.uk>
Hi Ted,
Can I say thanks for such a brill site! My name's Jim Hewson I'm 31 and from Nottingham UK - I was in the British Army from 98 - 06. In 2000 I was lucky enough to get sent to Diego for 2 weeks to work comms back to the UK. I had an awesome time - loved every minute of it! I have a few photos - would love to go back - but its not goin to happen as left the military in 2006 to be a cop - and the furthest that's sent me is London! Would be great to hear from you - thanks again for the site pal!
Regards,
Jim
October 1996 -sept.2001
Name = Ronaldo L Mangalino
submit_by = bhaywolf69@yahoo.com
Citizenship = Filipino
Other_Country =
Service = Contractor
Other_Service =
Outfit = annex 9 trans. dept.
My_Quest = annex o9 transportation mechanic
VT_of_a_Swallow =
My_Warstory = hey this is a real story, i have my record in B.I.O.T. police station. i was put in jail damn it was soooo cold during my inprisonment thats the time the jail was renovated. it was also the time when timmy was put to sleep. he is a military dog.i still remember R.O.P.Os name like ROPO 5 Haydee Dunn ROPO 10 Andy Varah, ROPO 6 David Mcaffrey, ROPO 11 Ollie Olsen. most of the british military have become my friends especially andy varah, he visited me in philippines twice. hey who can forget the fullmoon platoon and island wide picnic. gosh i miss the place its a unique paradise. Anyway i lost my temper which led to my imrisonment and lost my good job. too much opportunity have lost. now i am working in saudi arabia but given a chance i want to work in D.G. again. by the way my purpose for posting my story is to have a communication to any of the brit military who took care of me. i was not treated as a prisoner i became trustee right away. guys im ronnie contanct me in my e- mail ad. bhaywolf 69@yahoo.com ronaldo mangalino. thx
From: Michael Littleford <michael.littleford@navy.mil>
Date: 7 Dec 2007
Good Morning El Presidente,
I was stationed on the island two separate times, May 1998 to Oct 1999 and May 2000 to July 2001. The first time that I went to the island was awesome and I became the President of the Patwing One Drinking Team, a much needed job for the folks at PW-1 Det Diego Garcia. This tour also was the major cause of my divorce upon returning to the states. One my second tour, the very first day I was back on the island. I met my wife of now 5 years sitting at one of the tables outside the internet café (aka the old first class mess shack). So the first time there caused me to get rid of the devil riding my back all the time and the second caused me to find the angel I so desperately needed in my life. My wife and me are waiting for me to finally retire and we will be looking into trying to get back to the island as civilians. With that said I wish to be established as the "Minister of Love and Lifetime President of the Patron Wing One Det Diego Garcia Drinking Team".
See Ya back on the island someday, Mike "Minister of Love and Lifetime President of the Patron Wing One Det Diego Garcia Drinking Team" Littleford
2000-2001
NAME = LN1 Melissa Lehman
E-MAIL = jcun2@primerica.com
NATIONALITY = USA
SERVICE = USN
UNIT = NCTS Legal Officer
RANK/RATE/JOB = I served almost 12 years, and am now a federal employee (would love to go back to DG to work there for awhile).
MY INTEREST IN DG IS = Professional Adventurer Looking For The Ultimate Get Away
SUBJECT OF MY STORY: = Actually, I Have a Real Story To Tell
MY WARSTORY = I had a really great time on DG. I worked a lot (had a lot of young sailors that loved to drink and be rowdy), but I had a lot of fun time too. On my 30th birthday, my buddy Rod Yost (DG21) took me out deep sea fishing with a couple of his buddies, and I caught this huge tuna (I thought I was surely going to go overboard trying to reel that thing in!) I didn't eat any of it, gave it all to the phillipino workers that cut it up (they loved me). I did all of the 5K runs, a couple 10K runs (those were rough), and did the bike rides out to the donkey gate. DG is a really beautiful place, and I would love to go back there sometime.
From Aaron [penaltyvectoring@yahoo.com]
I'm looking to get in contact w/ any air traffic controllers that were on board from 2000-2002. Pineapple, 4days, Bertram, Shannon, Jew, Bean, Kat... where are you guys!?!
AC2 Aaron "OX" Stregles
1989 1995 2000
NAME = Steve Hysell
MY QUEST = To find some old friends
VT of a SWALLOW = xxxx
E-MAIL = stephenhysell@yahoo.com
NATIONALITY = American
SERVICE = USN
UNIT = NCTS
RANK/RATE/JOB = Will retire in about a year and wanted to get in touch with some great people
SUBJECT OF MY STORY: = I am a Born Liar, and Want To Tell About All The Sex I Had on Dodge
MY WARSTORY = I wanted for a long time to hear from some of the guys I used to hang out with. Hopefully you guys see this and send me an e-mail. I tried to get in touch with Keith Kovac but had no luck. I'm in Virgina right now so send me an e-mail and I will get in touch.
Steve
1996-2001
NAME = Richard Chase
MY QUEST = Telephone company
VT of a SWALLOW = Aleph null
E-MAIL = rchaseio@yahoo.com
NATIONALITY = USA
UNIT = BJS-DG21
RANK/RATE/JOB = Public Works Director
MY INTEREST IN DG IS = Want to Drink A Lot, Cheap
SUBJECT OF MY STORY: = Other
MY WARSTORY = I noticed new stories by George Laughlin and Harry Johnson, so I thought I'd chime in. Here is my first day in DG, September 1996:
I had been traveling for days to get there. Anyone who has been there can remember the ever-infamous Paya Lebar rerun, where you show up at the airfiled day after day to get a seat. All I can say is, "Thanks Helen Lee for making all my Singapore stays bearable!" So I finally get a seat on KC-10 (AKA indoor rainstorm). I was dead tired and thrashed from the travelling. I did find a spare pint of Tanduay from PI that got me through the flight.
When I landed, I went through the standard Brit customs drill, "No bongs, knives, or explosives. ANY video tapes will be confiscated and viewed for pornography!"
My boss picked me up and drove me to BEQ-8, where the contractors stayed. It was Tuesday night. I noticed that there was a huge party out front of the BEQ. There was comely Filipina bartende (Helen from Seamen's Club) who kept forcing me to drink. And drink I did. It turned out that BJS used to have a weekly shindig each Tuesday.
That was my first exposure to DG. I met Harry Swartout, Conrad Matt, Ray Weaver, George Laughlin, and many others that night. I stayed for 6 years and ended up in the local island band. Great memories.
From: "Barry Norton" <barrynorton@cox.net>
Subject: FISH STORY [see his photo on the fishing page]
July 15, 2001. Nothing much to tell. A few of the Chiefs from C Site went out fishing on a beautiful day, as was every day on Diego Garcia. We had a terrible catch and I believe the only fish the four of us caught was a fifteen pound tuna. Jim Zehner said we should take a picture with him about six feet behind it to make the fish look big. I thought it was a silly idea and told him so, but we tried it anyway. When I looked through the camera viewfinder and saw this, I couldn't stop laughing. With a photo editor, I edited out Ken Prior's hand holding up the fish on the line. We had a lot of fun with this and passed it all around NCTS DG. Had a lot of bites on it. The majority of comments were "My, what big eyes it has." I manged to fit most everyone's name into this story but left out Greg Guidry. Hi Greg.
CTMC(SW) Barry Norton: Sep 2000 to Oct 2001. March 2000
NAME = Jeff Roberts
MY QUEST = To get back to Ascension Island where u can legally surf!
VT of a SWALLOW = drunk or sober
E-MAIL = jroberts@SAICSeals.com
NATIONALITY = US; UNIT = HDAS install at the Comm Sta.; RANK/RATE/JOB = Working for contractors but still haven't learned my lesson.
MY INTEREST IN DG IS = Want a Job as Far Away from My Wife as Possible
SUBJECT OF MY STORY: = There I Was, Passed Out in My Room
MY WARSTORY = Unfortunately I cant drink any more but I still had a great time on the island how come u cant surf there?
nov 00-nov 01
NAME = mark terrill (BUDDHA)
MY QUEST = THE HOLY GRAIL
VT of a SWALLOW = AN AFRICAN SWALLOW OE EUROPEAN?
E-MAIL = markterrill68@msn.com
NATIONALITY = American(honorary British citizen); SERVICE = Navy; UNIT = Medical; RANK/RATE/JOB = HM2
MY INTEREST IN DG IS = My Time There is Lost in an Alcoholic Haze, Help Me Remember!
SUBJECT OF MY STORY: = There I Was, Passed Out in My Room
MY WARSTORY = Im still trying to figure out who picked me up off my bathroom floor ,put clothes on me and put mt too bed my last day or so on the island. I was affectionatly known to all Including the CO as the Island Buddha!! always seen at the Brit club mostly naked dancing and Drunk!! I miss you all!!!
00-01
DANIEL FINLEY <daniel_finley@hotmail.com>
My tour on DG was just like any other, good times and bad, good people and brainwashed idiots. The main gripe I had about the place was all the people hiding from ships, and yet still enforcing childish rules. I honestly did not go to DG to hide from a ship, I was up for shore duty when I choose DG. >From what I can recall both CO's I had at my command had never been on a ship! Ok what is the purpose of the NAVY? Yet these "sand crab" E-7 and above would put out rules that made no sense at all. Here is a funny story. Most islanders rode bikes, some rode there bikes to work. One day a 2nd class was parking his bike and had his helmet on. The sand crab CO then walked by so he saluted. After that huge incident I think we had 3 or 4 quarters to put out the guidelines on rendering salutes, and where you have to be covered, and where you have to wear a helmet. I can't prove this, but I believe that the navy sends dirt bag E7 and above to the island. If someone who has really dedicated their life to the navy, why would they choose DG? So these dirt bag E7 and above show up and have no idea of what leadership is all about. If they were good leaders the navy would want them on a ship or important shore assignment. In turn people such as myself get the hell out of the navy, make twice as much as I did before and do what I want when I want wherever I want.
From April 24th 2000 till Sep 9th 2001 and counting
NAME = Chris Hossom <possom4553@yahoo.com>
MY QUEST = To survive the Rock and keep myself from doing thr inevitable.
VT of a SWALLOW = Is it drunk?
NATIONALITY = White; SERVICE = Navy; UNIT = R-site SATCOM
MY INTEREST IN DG IS = My Time There is Lost in an Alcoholic Haze, Help Me Remember!
MY WARSTORY = Can I select all of the above on the last one? I just have a few things to say about the Rock. I read the complaints page and they took all of mine, so you know that this island has a bad rep. Not only have I ben here a year, I'm still here and can't seem to get off the Rock. I have done everything there is to do and more. The only way to get away from the mental state of this place s to get drunk. As anyone that has been the the Rock can testify this. Beware if you come here. Try your best to never come here. That is all I really need to say. DON'T COME HERE!
Due to land Nov. 2000
NAME = Doug Guy
MY QUEST = Get away from the world and party with people that know how to have a good time.
VT of a SWALLOW = When swallows fly into my window they're going pretty fast.
E-MAIL = BeerSquid21@aol.com; NATIONALITY = American; SERVICE = Navy; UNIT = Satcom ET
MY INTEREST IN DG IS = Professional Adventurer Looking For The Ultimate Get Away
SUBJECT OF MY STORY: = Other
MY WARSTORY = Going there to fulfill my lifelong goal of researching the effects of alcohol on the human brain when stranded on an island in the middle of the indian ocean. I cant wait to begin my experiments, see all you guys on the island in November 2000. Peace.
I'm here now
Doug's Update, Dec. 2000:
MY QUEST = To try and remember the past month and find the spot in the jungle where all the girls must be hiding.
VT of a SWALLOW = Dead
UNIT = Satcom at R-Site
RANK/RATE/JOB = ET3
MY INTEREST IN DG IS = Decided to Join A Monastery, But Couldn't Find One Stateside
SUBJECT OF MY STORY: = There I Was, Passed Out in the Club
MY WARSTORY = Well I couldn't have thought of a better title myself. The first night I got here went great, met up with old friends had a few drinks, ended up seeing more than one moon on the beach. Who would of thought that a persons ass could be so white after she'd been here 3 months. The next morning I woke with great ambition thinking every night would be so exotic, funny how things work out huh. I proceeded to get blackout drunk everynight for the next week and pass outside of the Turner club, Brit club and other random places in between there and my room. Hopefully i'll get a tolerance capable of competing with these professionals here, but as for now I bestow upon myself as RULING KING OF OVERINDULGENCE.
Due to land Sept. 2000
MANNY CABEGIN <magicman973@hotmail.com
MY QUEST = To find a place on the beach and swim in blue water!!!!
VT of a SWALLOW = You have me at a lose on that one!?!?!?!?
NATIONALITY = US; SERVICE = Navy; UNIT = COMPACWING DET 1 (or something like that); RANK/RATE/JOB = ET3/E4 active
MY INTEREST IN DG IS = Professional Adventurer Looking For The Ultimate Get Away
I'll be there OCT 2000-2001
JIM BALDWIN <baldwinj@dinfos.osd.mil>
NATIONALITY = American; SERVICE = Navy; UNIT = Naval Media Center Broadcast Det.
RANK/RATE/JOB = Journalist First Class (Surface Warrior)
MY INTEREST IN DG IS = Professional Adventurer Looking For The Ultimate Get Away
SUBJECT OF MY STORY: = There I Was, Passed Out on The Beach
MY WARSTORY = ...on my last day of vacation in the Carribean, dreaming about the next place the Navy would send me. The only thing that could tear me away from my week in the Dominican and back to two-feet of snow in a Wintery Maryland was the much anticipated call I would make to my detailer. On my first day back sitting in my cozy cubicle with palm trees and rum still on my mind, I gave my detailer a call.
"We've got two openings in Iceland, but I don't know who the hell would ever want to go there," he said.
"Yah," I said. Who would want to go there.
"How about Diego Garcia," he said.
"Hell yes!"
I'm looking forward to my endless summer. This site is great. I've been sharing it with everyone I know, so they can see what I'm getting into. I've spoken with lots of people I work with who've been to DGAR and they say they'd go back in a heartbeat.
I look forward to many adventures and the work won't be bad either.
2000-????; also 1987-1988
CINDY <qoth@aol.com> Cindy's Home Page
Damn, you wouldn't recognize this place, Ted!!! There are phones in all the rooms, internet available for only about $20 mn plus 5 cents/minute, too! The rooms all have fridges and microwaves. The ship's store has lotssa cards, fishing stuff, snorkeling gear...all on a sometimes basis, of course. There is a video store, photo developing club/facilities, t-shirt shop...what is the 'official' PPDRDG logo anyway? (Bet someone drew one on a napkin at one time and then put a wet glass on it...), Many less cats thanks to the 'cat killing lady' as I call her, many less chickens thanks to the filmau folks, more cattle egrets thanks to less chickens(?), and the Seabees try to take the place of the US Marines when it comes to PTing. There are big screen TVs in some lounges, video games in the game room, slot machines, but I still had to wait 2 1/2 months before there were can openers in the Diego Depot!!! So maybe you would recognize it, just kick aside some of the many flipflops that wash ashore from god-knows-where, take a walk on the beach, and look around again...you're still in the middle of nowhere and there is still beer and beautiful sunsets and more men than women...yep, it's DG alright! Gotta go now, later, Cindy
I am headed there March 9th, 2000
JOSEPH HOWARD <joedhoward@aol.com>
MY QUEST = To stay out of trouble and have a successful tour on the island.
VT of a SWALLOW = Launched with a golf club or baseball bat?
NATIONALITY = American; SERVICE = USN; UNIT = Going to Air Ops
RANK/RATE/JOB = ABHC(AW) who was handed orders to DG. DG? Where the hell is that ship home ported? Oh boy...........
MY INTEREST IN DG IS = Want to Drink A Lot, Cheap...
(Editor's Note: Well, Chief, you're headed to the right spot, but I'm not sure you can be successful in your Quest, and your Interest! Good luck!)
1997-2000, also 1978-1979, 1991-1992
WARREN E. CARTER <warren_carter@pacific.net.sg> See his website: http://www.warrenssingapore.com
Why am i here again?
A firghting seabee who was here to build this place. back when the navy was still in the P.I.
And now, the latest News from Warren: The island is finally getting cable TV. Again from C&W the same people
that gives us the great rates on the phone card ($20 = 8.3 min talking time). The tower is going to be started soon. So right now it really isn't know for sure how long it is going to take to finish before the room have it. The word is $30 a month. No one is saying or knows how many channels yet or if they do they are not saying. Right now we have 3 channels (4 if you can pull it in on your set) I can get it 4 on my 13 inch but not my 21 inch? Go figure that one out?
I am starting my third year out here now so this will be it for me after this tour. Next stop back yard USA or maybe the Philippines. I love the P.I., next to Thailand that is! But if I moved to Thailand I'd be dead in a year so the P.I. is a safer bet for me if I go that way. I should be retiring November of this year with my final separation being January
2001.
The MWR on the island is doing a good job of getting acts on the island. (nothing big like the fleet gets thou) but we have 2 bands on island right and 1 more that came in with Elvis who is here too for three days. We had a group of wrestlers out here back in October which went over good. Then half why though the show they ran out of beer so that
was when I left. Then due to flights off the island they where stuck here for like a week, I think it was! T.I.D. (T.his I.s D.ieogo)
New Years was good. We had a lot going on and I think most had a good time. but hey what choice did we have.
Well that is all for now. More to come later.
Warren (the D.G. kid) Carter