May 2003 - May 2004
Daniel Guerra (CHAVOOOOO!!!!) = danielandamela2@yahoo.com
Citizenship = USA; Service = USN; Outfit = Admin/Port Ops
My_Quest = To see new places
VT_of_a_Swallow = depends on how drunk it is....
My_Warstory = Good times, what can I say... BEST FISHING EVER!, this place was a bit of a haze, it was so crazy out there this place changed my life! I CREDIT HOW CRAZY I ACT TO THIS PLACE, drinking drinking and more drinking, partying A LOT, making people I worked with mad and getting in trouble for stuff. Had some crazy times back then! my barracks rooms was known as Club 313, and it was usually packed with a TON of people, WAYYY to many people, tons of drinking games and inappropriate behavior. I love this place and would like nothing more than to visit sometime (but not for a whole year though). I PLAYED WAAAYYY TO MANY VIDEO GAMES, wondering how it is them coconut crabs are not extinct yet thanks to me (suck on that BIOT police) peeing off the balcony, man.... the list goes on and on and on.... doing the yard in the Brit Club was my weekend deal (c'mon if you finished it in time it was free!!!) and a good way to get f*cked up real fast! and oh yeah! DG is where I learned to appreciate ugly women here and there (moderation is key). good times good times....
october 2003-september 2004 ANNEX 8 ATRCO
Name = MELCHOR QUITORIANO CPO, RETIRED
submit_by = gkitoryano@yahoo.com
Citizenship = Filipino
Service = USN
Outfit = public works dept, power production
My_Warstory = I enjoyed partying with my homeboys at the power plant, Ted Bilog, Danny Esguerra. Elpidio Rimando, High Voltage crew, Emergency generator crew. Enjoyed eating island lobsters. tasty.
My_Quest = Able to fulfill my covenant with my God in this planet
VT_of_a_Swallow = faster than a sweet cunt
My_Warstory = I ENJOYED EATING COCONUT CRABS ALMOST EVERYDAY, LOBSTER AND KARAOKE PARTYING WITH LYNN THOMPSON, THE CURRENT MANAGER OF THE POWER PLANT.MY FRIENDS DANNY ESGUERRA THE MOST KNOWLEDGEABLE FILIPINO I HAVE MET IN MY NAVY CAREER, TED BILOG, ELPIDIO RIMANDO AND THEIR CREW. MY BEST DUTY STATION IN THE US NAVY, BEST SECRET KEPT BY THE US NAVY IS DIEGO GARCIA. I AM NOW RETIRED AND I THANK god for all the blessings sweet and bitter memories in life as well.
2003-2004, 2004-2005
NAME = Joey Baliaris
MY QUEST = Find a billion dollars
VT of a SWALLOW = faster than a stationary swallow E-MAIL = hokulaulea@hotmail.com NATIONALITY = USA!
SERVICE = USAF
UNIT = 40 EMXS/ AR Shop B-1B's
RANK/RATE/JOB = SSgt still active
MY INTEREST IN DG IS = Stroll Down Memory Lane
SUBJECT OF MY STORY: = I'd Like to Share Precious Memories of Drinking/Fishing/Snorkeling/Sailing on Diego Garcia
MY WARSTORY = I was there from Dec 2003 till March 2004, then again in September 2004- Jan 2005. The thing that sticks out most was renting out a mako then having it die on us. A storm was moving in and we radioed for the patrol boat to come get us. Well we were drifting so fast in the lagoon that when the patrol boat got to our location we were long gone. Then the storm arrived and the water got chopy. We started making our way drifting out of the lagoon. Fortunateley the patrol boat caught up to us and they had one guy board our boat fix it and we took off back o the marina. I also remeber while drifitng a 6 ft barracuda swam up to our boat and paced us. I remember it's eyes and teeth that were protruding out of his mouth. A scary sight indeed!!! Also all the grill outs we held there outside of our tent and having random people stopping in and hanging out. And the bus drivers and chow hall workers!!! I became really good friends with those guys there. And who can forget yum yum. We had to convince our buddy that it was not a she! I guess that is what alot of jack daniels does to you, ha ha ha. Great times and great memories. I would do it all over again and not change a thing!
Phillip
MY QUEST = request?
E-MAIL = Philly_b79@yahoo.com
NATIONALITY = Appalachian American
SERVICE = USN
UNIT = NSF Weapons
RANK/RATE/JOB = Just put on first class-7 years
MY INTEREST IN DG IS = My Time There is Lost in an Alcoholic Haze, Help Me Remember!
SUBJECT OF MY STORY: = This is a No-Shit Drinking Story
MY WARSTORY = Yeap, the best night was when Me and some buddies, (Jo and Roady) stole the gator from the softball field. I dont know how Jo's redneck ass started it but we got it going. Drunk ass hell, riding all over this island running from anybody and everybody on this gator. Lol, that was fun times. Somehow we managed to not have to stay the night in that broke down Brit Jail cell. Speaking of Brits if you are one..... I ate about 40,000 dollars worth of coconut crabs, hmmm...yummy! Fine me now beotches. And if Jo and Roady ever see this? Ha Ha I caked your room with the CO2 bottle. That was awesome!!
2003
Mike Craig <societymike@gmail.com>
Hello, i came across your site tonight, and thought I would share some of the images I took of D.G. while I was there in March 2003. I arrived at the beginning of the month and left at the end of April.
I am in the US Air Force, currently stationed in Okinawa at Kadena AB, but at that time I was stationed in Yokota AB in Tokyo. My squadron at the time, 730th Air Mobility Squadron, had a Detachment there (Air Mobility Command). We were responsible for all the cargo shipments in out out of the island via aircraft. It was a very busy time for us and we were there officially to support the deployment of the B2 bombers and their equipment and personnel. The Shock and Awe day was really spectacular, the entire island ran out to the flight line and watched all the bombers and tankers take off. Everyone knew what was going on because the communications were out for the entire day. A couple hours later and we saw the bombs explode live on CNN in Baghdad, it was awesome.
Well, here's a link to a directory on my website with some of my pics from Diego Garcia, feel free to use them for your website. Oh, we got a tour of a B2 bomber up close and inside the cockpit by a cute blond female B2 crew member. You will see a pic of us standing in front of the nose of a B2, she is the one who snapped the photo. I loved the short time I was there, it was great going to the pull, watching a movie as the sun sets, swimming in the Lagoon or turtle cove. We also had a BBQ party past the plantation near an old Catalina crash on the beach. Great times.
Anyway, here is the link. http://media.ziptied.com/view_media.php?page=Deployed
~Mike
Aug 2003 - Aug 2004
NAME = Ryan Oconnor
MY QUEST = get out the navy!
VT of a SWALLOW = depends how fast that swallow is flying
E-MAIL = krete77@yahoo.com
NATIONALITY = american
SERVICE = US Navy
UNIT = Admin
RANK/RATE/JOB = YN3
MY INTEREST IN DG IS = Stroll Down Memory Lane
SUBJECT OF MY STORY: = I'd Like to Share Precious Memories of Drinking/Fishing/Snorkeling/Sailing on Diego Garcia
MY WARSTORY = well im sittin here at work, at my current duty station that i reported two over 2 years ago, and prior to this place, about 3 years ago, i
was stationed over at Diego garcia.. all i can say is that place was incredible.
i seriously think that i managed to drink about 9 months out of the 12 months total since i was there.. i was drinking every day, but not to mention i was workin out every day. the gym was awesome. met a lot of awesom people there.. got on a softball team, man those were awesome times.. can't beat drinking and playing softball, and smokin out there on the field.
i miss the fishing it was the best i've ever experienced in my life.. and i've been fishing since i was a kid. totally awesome to rent your own speedboat and
go fishing at any location you wanted to...
wasn't to much into the night clubs, we had our own club called Club 313, which took place at barracks 15 , room 313 which was my own room.. we've had almost 20 people packed up there on that 3rd deck, some serious parties...
playing video games all the time at night was awesome, getting off work early every friday ruled, and hangin out and fishin off the short pier ruled to..
wouldnt mind goin back there for a week or so, but never ever again for a full year..jus way to much time away from america
aug 03 -dec 03 and returning soon
NAME = jonathan.luenebrink
MY QUEST = have fun at dg21
E-MAIL = hydroguys37@hotmail.com
NATIONALITY = mother fuckin american
SERVICE = usaf
UNIT = 36eamxs
RANK/RATE/JOB = e-5 active duty returning to the dg in a few weeks
MY INTEREST IN DG IS = Want to Drink A Lot, Cheap
SUBJECT OF MY STORY: = Other
MY WARSTORY = spent 4 months or so on the island. had a alot of good times and a few even better times. a few run in's with the BIOT. (those dam brits crack me up) i love the island its my home away from home our unit goes there about every 7 or 8 months for a 4 month tour. there is nothing better than getting drunk and walking down to the end of the runway and watching the b-1 take off with all of your military family. its the best dam deployement ive ever been on and i loved staiying in tents. i believe my tent was 307. well anyone currently there hit me up with an email and brush me up on current bs thats going on there. take it easy yall
da box
Feb 2003 - Feb 2004
NAME = John Rosentrater
MY QUEST = To see that dipshit Bruce removed from the island.
VT of a SWALLOW = Bruce really would know that answer since Bobby swallowed him.
E-MAIL = jr@aol.com
NATIONALITY = USA
SERVICE = Air Force Contractor
UNIT = GEODSS
RANK/RATE/JOB = Civilian
MY INTEREST IN DG IS = Interested World Citizen
SUBJECT OF MY STORY: = I'd Like to Share Precious Memories of Drinking/Fishing/Snorkeling/Sailing on Diego Garcia
MY WARSTORY = I recall all the times that I went down to Facilities and Charlie and Roy were sleeping off a hangover while at work. I remember all the cigarette burns that they put in the company van seat because they smoked like chimney's on the ride out and back in with Tim smoking cigars. They all three smoked down in facilities while working. I can't tell you the number of times that Bruce as well as Roy and Charlie didn't come in or left early yet billed for a full day. Bruce would come in and work all day on University of Texas homework for a class he was teaching. As well as his abuse of the government copier for several hundred pages of photocoping for the class. Yet he was paid by both places for the same work hours. I see why he was drummed out of the Air Force as a Captain for marrying an enlisted girl. Due to his messed up genes I can see why he had two austic kids. That's why Bruce would often say, "These are diffently not my underwear and Judge Wapner is on at 3 pm." Keith Giles would often come in and announce on the intercom to Judy to arm the alarms so he could sleep. Keith was not able to properly bring the sensors up due to lack of proficiency since he rarely brought them up due to his laziness. Keith would often drink till 2 am often with Bob Thompson. Then try to come in 4 hours later while still drunk. So he would have to sleep it off. Keith finally had to return to New Mexico since his wife and him couldn't see eye to eye on him boffing the Filipino girl he was doing. He didn't like the smallness of the Filipino girl's chest. Bob Thompson and Gena were a trip down there. With Gena's psychotic behavior. She would scream obscenities at 3 am at Bob then chase him around the third floor of Building 8 while hitting him. Which tended to keep us all up at least once a week. I see why they created a position for her in New Mexico to get her out of there with her step-father's assistance. I sure feel sorry for Bob since she obviously needs medication. GEODSS could be a great place if they got rid of Bruce and got someone in there that knew what he was doing. I remember the game Bruce, Chris, Judy, Cindy, and I played with Captain Lopez. We all put an eraser in the SOC door by the kitchen to get back in without having to go around the building. We just pulled it when Captain Lopez pulled in. He only caught us once doing it. When Lopez was off-island Bruce said keep the eraser in full-time until he returned. I didn't like Bruce's two-faced deception that he would pull on people. He would goof off and then pull the high card when he caught anyone else doing it. I didn't like how he framed Lee and had his island clearance revoked which resulted in his firing. Lee knew more about the system then any other employee. I didn't like how Gwen would leave at 10 am to pick up the mail and then return to the site at 5 pm which was just before she was off for the day. Or that she would have sex with Charlie when he was twice her age. The people that really ran the place were the new one year people. Ever wonder why nobody did a second year. The place really was the island of misfit toys. The fishing really was great there especially in the lagoon out back of GEODSS.
Apr 02-Jul 02, Aug 03-Oct 03, Jan 05-Feb 05, Mar 05-Apr 05
NAME = Bart
MY QUEST = To NOT visit the island again
VT of a SWALLOW = If it's terminal then the Swallow doesn't really care
E-MAIL = aftiggerintel@yahoo.com
NATIONALITY = USA
SERVICE = Air Force
UNIT = 45 ERS
RANK/RATE/JOB = Too low to matter
MY INTEREST IN DG IS = My Time There is Lost in an Alcoholic Haze, Help Me Remember!
SUBJECT OF MY STORY: = I'd Like to Share Precious Memories of Drinking/Fishing/Snorkeling/Sailing on Diego Garcia
MY WARSTORY = The first time I was at DG, it was monsoon season and the old style tent flooded. Right outside the tent we had Lake Placid (I still think a couple chickens drowned in it). Most of the time there was either on the beach, drinking with the Squadron, or trying to figure out how to modify the tent. One night on my trip in Jan 05, we tried to play football on the coral "grass" in the back of tent city. As you can imagine there were several poeple who were bruised and battered after that. My last trip there, we had squadron drinking nights. We'd all start drinking about the same time and instead of whoever passes out first getting drawn on, we drew on anyone who would let us. I think the offical count was 22 people with something written on them by the next morning. That trip we had 2 of our squadron who drank for about 48 hours straight. Man I wish I could keep up with them. Maybe if I get enough practice I can :)
2003
Date: Sat, 17 Sep 2005 21:31:23 -0700 (PDT)
From: Stephen Getten <sgetten115@yahoo.com>
just stumbled onto your site and thought i would send you these pictures. i been to dg a "few" times and these were from the winter
2003 timeframe. the jet doing the fly by is 86-0115 which i was a crew chief on until i went to aircraft battle damage repair. the crew
did this for an open house on the island after their 16 hour mission in the aor. well just wanted to say i enjoyed your site.
Subject: d.g. visitor w/ Fairwarning V.H.band drummer
Date: Mon, 17 Jan 2005 23:24:48 -0600
From: "Rob" <rfguru@wideopenwest.com>
R u on the island now? Greetings i just wanted to check on the on d.g.. Im here in Chicago, my name is Gabriel Anthony and i once
played on the rock at a 4th of July celebration in 2003 with Van Halen tribute band Fairwarning. I met a cool girl out there named C.J and
lost touch with her. Any chance you know her. Anyway i loved it and was wondering how it is doing after the big wave, please reply and
keep in touch.
2003 and 2004 (3 months each year)
NAME = Roxy Platt
MY QUEST = to summon Captain Planet
VT of a SWALLOW = 54.212
E-MAIL = sonseray@hotmail.com
NATIONALITY = American
SERVICE = Air Force
UNIT = 40th EMXS/Weapons
RANK/RATE/JOB = Senior Airman, active duty
MY INTEREST IN DG IS = Stroll Down Memory Lane
SUBJECT OF MY STORY: = I'd Like to Share Precious Memories of Drinking/Fishing/Snorkeling/Sailing on Diego Garcia
MY WARSTORY = Diego is such an awesome place! I have been here twice in the past 2 years, and I am leaving in about 11 days. Boo hoo! I want to come back at least one more time before I die. I'm sorry for those of you that aren't able to come here, this place is truly amazing. I've gotten to know a lot of people here, just sitting out on my tent porch talking with everyone. I've been snorkeling, deep sea fishing, looking for shells, sunbathing, and partying with some of the coolest people. For those of you that have the privilege to come here in the future---have fun, enjoy your time here (even though you might be away from your family for awhile, it's worth it) and take care of my island!
SEPT03-AUG04
NAME = Andy Jensen
MY QUEST = To actually get on a plane when I'm scheduled....ya know
AMC...Aircraft May Come
VT of a SWALLOW = Dunno.......Love or Lust?
E-MAIL = notinthislifetime@skipit.com
NATIONALITY = American
SERVICE = USN
UNIT = PWD Transportation-SEABEE
RANK/RATE/JOB = EO1 ACTIVE
MY INTEREST IN DG IS = Decided to Join A Monastery, But Couldn't Find One Stateside
SUBJECT OF MY STORY: = Other
MY WARSTORY = Been here 5 months, and love it. Love sittin at the short pier, and watch and listen to the ocean.....after being stationed in California most of my career, the lack of city and traffic noise, air pollution, and other industrialized crap is wonderful. I spend my afternoons sailing or teaching sailing, and fishing every weekend. Unfortunately, the fishing is not what it used to be....I won the december fishing contest with a 66" Wahoo......That, now, is the exception, not the rule.....still good, though. Hardly ever get skunked.
I should have come here earlier in my career....my only regret. Also spend afternoons quaffing tiger beer with Mango at DGYC....of which I'm the new Racing Commodore......Most of the guys I associate with seem to think it should be spelled commode with regard to me......oh well, who asked them! Of course, I miss the wife and the lil ones...son is three, daughter is one.....If they put housing here, it would be perfect. Can't think of a prettier place to bring the family.September 03 - ???
KARL A. JENSEN <JensenK@dg.navy.mil>
I think your page is awesome. I've been here 11 days now, and so far, the place is just as you said. I'm EO1(SCW) A.J. JENSEN (Seabee) , and
since I'm the new Transportation QAE for PWD, I'd like to apply for current Ministry of Transportation potentate. I promise I will send Pics as soon as I take some.....speaking of which, would you like current pics of anything in particular? Lemme know.....
July 03 to present.
NAME = Jason E. Dorfler
MY QUEST = To get away from the States and all retard civy's.
VT of a SWALLOW = Ein Beer in 5 seconds.
E-MAIL = dorfordranger@yahoo.com
NATIONALITY = Saxon American-figure that one out.
SERVICE = Ex-Army....Civy contractor now.
UNIT = I have a Unit, and I work it often.
MY INTEREST IN DG IS = Professional Adventurer Looking For The Ultimate Get Away
SUBJECT OF MY STORY: = I am a Born Liar, and Want To Tell About All The Sex I Had on Dodge
MY WARSTORY = Ok, I have only been here a month, but it is paradise. No socialist, pot smoking, tree hugging, save the whales, I don't have a real job, hippies here. Politics get on my nerves, especially when the ignorant think they have a valed point. I walk out my door, and BAM, there's the Indian Ocean. I like it. I love it. I want more of it. Anyway, just wanted you guys to know that not everything is crappy on Dodge. It is a good place to get your thoughts together, check your direction, and get away from society. [editors note: Amen! Jason, you are true Diegonian!]]
2003
NAME = william oeffinger
MY QUEST = don't have a clue why i was in the middle of the indian ocean aka nowhere
VT of a SWALLOW = who cares
E-MAIL = williamoeffinger@hotmail.com
NATIONALITY = AMERICAN; SERVICE = NAVY; UNIT = VP-47 CONTIGENCY IN SUPPORT OF IRAQI FREEDOM; RANK/RATE/JOB = AK3 STILL ACTIVE
MY INTEREST IN DG IS = My Time There is Lost in an Alcoholic Haze, Help Me Remember!
SUBJECT OF MY STORY: = This is a No-Shit 'How I Put One Over On My Senior Chief' Story
MY WARSTORY = WELL DODGE SUCKED, NOTHING TO DO..ALTHOUGH MOST OF MY FRIENDS WERE LIVING IN TENTS IN KUWAIT...I WAS DRUNK THE WHOLE TIME PROBABLY EVEN STILL AT WORK...AND THE COMMAND I WAS TAD/TDY TO GAVE ME A NAM HELL THE THING WAS A HAZE OF CHEAP DRINKS BOUGHT FROM ROODY SOME PHILIPINO BARTENDER AKA THE SHIT....AND GOING TO THE BRIT CLUB WHICH WAS OFF LIMITS AND DRINKS WERE CHEAPER..BUT THE WHOLE EXPERIENCE SUCKED AND I DO NOT WANT TO SEE THE PLACE AGAIN ALTHOUGH I MET SOME GREAT PEOPLE THERE...
"Stephen Baxter" <AFNav@msn.com>
Subject: Diego: The Gift that Keeps on Giving!
El Presidente!!!
I would be honoured to join your happy host. I departed the wonderful swamp, known as Barksdale AFB back in January on a trip that was supposed to take 4 days, and ended up staying 5 months! I got a chance to sample the delights of living downtown, as well as tent city next to the engine-run concrete jungle. It was my longest deployment (out of 14), but it had unique gifts as well. I got to eat wonderful Navy food, hang out at the wonder that is the Brit Bar every weekend for three months, and kill people that I never knew. Who could ask for anything more?
Take care!
Maj Steve Baxter
B-52 Bombardier/11th Bomb Squadron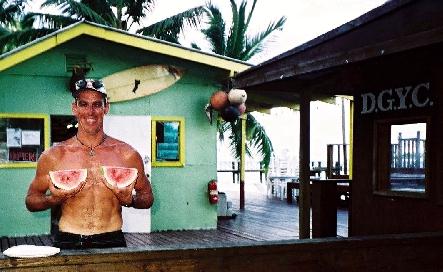 <<<<<MARK SELLING MELLONS AT THE DGYC, 1999
Fri, 11 Oct 2002 05:32:30 +0000
"Mark Chandler" <macatprw1@hotmail.com>
Ted - What kinda job could possibly take you to a place that doesn't have internet access??? Hell even Cable & Heartless manages to provide (read
price gouge) that service in DG! Unless, wait, don't tell me, your going to Bagram AB in Afganistan! Oh my, what fun you'll have. Hahaha. Sorry couldn't
resist. Well just when I get ready to update my warstory! figures. Anyway it seems the services of the PPDRDG's Minister of Alcohol Distribution are once
again needed in Dodge to defend the rights of the common islander. After 3 years of suffering through email posts about empty beer boats, and the
scarcity of the nectar of the gods (Capn Morgan), yours truely has volunteered to once again do battle with the enemies of our fine state (state of alcohol induced haze). As usual I will have to work under cover, so I've managed to get myself stationed at NCTS DG this time. This part is TS, I have to be there next June, hence my dismay at no 2003 link yet. I guess you could post it as an addendum to my 98 entry. Poor me, just in time for the (sailing) windy season. Ah such is life. Anyway in typical fashion, and due to recent cutbacks in the DOD budget, I'll be traveling via POV. What, don't believe me? Well open the attached picture for proof. I had to take the POV out this week to tune her up and get her ready. Anyway Ted, hope your new endeavor turns out well and I'll drop you a line from time to time, from the front lines of the Battle for Alcohol Supremacy. Long live the DGYC & the PPDRDG!
regards,
Mark Chandler
Minister of Alcohol Distribution, PPDRDG