1990-91
Steven Smith = zmapapa3@gmail.com
Do you know this girl? Steve says her name is Chris but he doesn't remember her last name. He was MCSF and she worked at the COMSTA. Please let him know if you know anything about her.


90/91
Name = Jim Hansen
submit_by = titanvlx556@gmail.com
Citizenship = USA
Other_Country = United States
Service = USMC
Outfit = 1st platoon mcsf nsf diego garcia
My_Quest = to find the perfect guitar.
VT_of_a_Swallow = I would have to ask her.
My_Warstory = It was an amazing place, loved the fishing, snorkeling, and my god the drinking. My 1st night of drinking was with olmstead, you had to keep up with him to fit in it seemed, I did...but sam migel beer makes for a bad hang over. Hobbs was my buddy, nice guy out of texas. I remember the day the buff's took off for Iraq. The royal marines were Bad ass and damn funny especially on dragon nite at the brit club. Got the worst sunburn of my life falling asleep in a skiff snorkeling with weir, big hump the next day and the skin came off the bottom of my feet, boots all bloody...it was bad lol, couple of shots in the feet at the clinic and ready for duty a few days later. Also while I was there I was showing the 1st few symptoms of cancer . Married my wife right before the war actually started while on leave, she was a marine as well. It was a great experience and everytime I go to an island I always say..."ya its nice...but its not as nice as D.G>".

1990-91
Name = Joe Krumm
submit_by = fn26051@gmail.com
Citizenship = USA
Service = USMC
Outfit = MCSF Co., Diego Garcia
My_Quest = Get to heaven
VT_of_a_Swallow = zero
My_Warstory = Will never forget my 14 months on the island. Looking for Steve Simmons, my fellow drinking, fishing and Platoon Commander while we were there.
God bless the Royal Marines.

1972, 1981/1982, 1987 to 1995
Dave Fisher, Capt, USMM (Ret.), CAPT (SWO) USN (Ret.) = callsign.BULL@tni.net
Citizenship = USA; Service = Merchant Marine; Other_Service = USNR; Outfit = USS R. E. Kraus; USNS Sealift Antarctic; SS Green Valley, G. Island, G Harbour; MV Jeb Stuart
My_Quest = Here in 2014, would like to go back for one last, short look-see.
My_Warstory = First went in '72 in USS Richard E. Kraus (DD-849) to deliver crypto gear. It looked like "McHale's Navy" then. Returned in '81/'82 in USNS Sealift Antarctic (T-AO-176) with the MSC Near Term Prepositioned Force. Didn't look too much different. Returned again in '87 to the four Afloat Prepositioned Force LASH ammo ships - a couple of years as Chief Mate, the remainder as Master. Dodge now a little more civilized. While there in 1994, sortied the entire APF as Convoy Commodore and CTG-159.1 for Operation Vigilant Warrior up in the Gulf. Technically still a civilian, but assigned under Allied doctrine.
Left in late '95 to command the COMPSRON ONE flagship in the Med. At the time I left (9 yrs on), I was "The Mayor of DGAR," as the longest serving occupant.
Like to go back one last time before I pass, just to see how "my" island is doing. Have lumpia and a beer at the "O."


July, 1990 - July 1991
Jaime F. Diaz = jfdiaz4@yahoo.com
Citizenship = USA; Service = USMC; Outfit = Marine Corps Security Force Company
My_Quest = To find the holy grail; VT_of_a_Swallow = A European Swallow or an African Swallow?
My_Warstory = Had a blast!!!!!

1987 thru to 1993
Walter Johnson = Waltsrentals@gmail.com
Citizenship = USA; Service = Merchant Marine; Outfit = Man the ship of Alex Bonneyman
My_Warstory = I served under the direction of Mearsk Line Captain of the alex bonneyman when Ronald Reagan president promissed vetran rights for merchant marines spending over 9 month active time there during the Irac and Iran WAR how do i get Vetren rights now that im older i Have no DD214 ?
I was educated in asian orang gas in 30 minutes handed a certificate and later spent two month wondering if i was going to die cause all the tales of this virus was regular to the heat.
But Funny stuf : We did an aft ship refuel with the destroyer and every one walked away while the hose was re coiled from my galley window i notice the the destroyer getting closer ,, the hose had hooked under the destroyer and was towing the cannon into the back of our ship.
It was a pleasure to serve with every i loved when the "Tender" ships came into the dock and i never seen a cocnut crab.


april 1990/june 1991
michael j mason = kiddo10@gmail.com
Citizenship = USA; Service = USN; Outfit = mobile maintenence facility /aimd division
My_Quest = story VT_of_a_Swallow = dead
My_Warstory = Diego Garcia was a unique place everything seemed like an island paradise for a few months until i went for a joy ride with the 4300 air force on a dc 10 to refuel 2 B-52"s on a routine exercise over the Indian ocean. Our refueling boom would not retract all the way and we did an emergency landing, with all the fire trucks and ambulances awaiting on the runway. the flight engineer instructed us to wear oxygen masks and when we landed to a complete stop to exit the aircraft and run for an ambulance. I did so and the aircraft was safe except for a few flat tires as the aircraft came to a sudden stop.
I then boarded a bus to return to "town" about a 2 mile ride along the lagoon. many people were talking about Iraq invading Kuwait, i didn't think much of it until i noticed that all of the forward deployed merchant marine ships were gone! I knew the it was serious. I became a part of Desert Shield, five thousand air force personnel showed up within two weeks, and set up what they called tent city. Life became more stressful, waiting in lines everywhere.
I was on duty the night that we attacked Iraq, exactly at midnight January 20 I think. All communications were turned off and the captain ordered lights out. I watched as the b-52's took off, you could tell they were loaded because they shook the ground! That was the beginning of war and sadly we lost a B-52 and three crewman. I don,t need to say anymore. we partied everyday we could drinking and living very freely, as if it was our last days of our life. Many traditional rules were relaxed as we battered that country. We heard about the army tank fight and the road of death as many Iraqi's tried to retreat. President Busch SR. was in charge and we heard of a cease fire, I was never so happy to hear those words!
The party continued, Like a victory party. The package store brought pickup truck loads of beer and alcohol to my barracks and we filled every ice machine and MWR cooler with alcohol and steaks we got from the galley, plus hundreds of pound of fish that we had caught on MWR boat fishing trips, swordfish, Wahoo, tuna grouper, etc. Many became alcoholics including myself.
I met with a Philippine civilian worker that did silkscreen T-shirts with victory pictures and sayings. I bought every T-shirt there was in the ships store and sold them to everyone on base as a trophy of our success. I made between 4 and 5 thousand dollars on t-shirts. Everyone started to call me the T-shirt man.
Another thing was that gays came out of the closet, and we had 5 different nationalities aboard so if you were a straight person like myself, you felt like a minority, Even my girlfriend in the navy would go out to a secluded beach with the girls and do a little carpet munching, while I struggled with the fact that allot of girls became prostitutes and they were married back home! Some left the island with thousands of dollars in the bank. One Philippa I knew made enough to start a drywall and concrete business back in the Philippines!
War was over and I was in shock, so I came home to Vermont, there is allot more to say but this is enough for now. If anyone was out there with me they will remember me as the straight Vermont T-shirt guy. I hope to hear from someone.I would still love to go back and see the island. Sincerely, Michael J. Mason
1990-1991
Kirk Foster = Kirk_foster@live.com
Citizenship = USA
Service = USMC
Outfit = Security Forces
VT_of_a_Swallow = 120
My_Warstory = The fishing was awesome and the parties were incredible but nothing could compare to the people that made DG so great!
And yes there is a nude beach and the most beautiful water.
Some of the most beautiful women in the world have set-foot on Diego Garcia!
1990-1991
Name = Jim Chesko
submit_by = jchesko@stny.rr.com
Citizenship = USA
Service = USAF
Outfit = 4300th. PBW / 42 MMS Loring AFB
My_Quest = Eternal Bliss!
VT_of_a_Swallow = Carrying coconuts or not?
My_Warstory = Remember living in a tent during a typhoon....that was interesting! Remember our BUFFs taking off in a similar storm....that was freakin' nuts!! Remember loading a SH** Pile of bombs on our BUFFs and sending them off to the *formerly* 4th. largest army in the world! Many memories blurred by the high anxiety and fifths of Rum!! War is hell!!

27th june 1984 up to 30 th nov 1992
Name = Kaisynaden C. Pillay (KC)
submit_by = kaisy63@hotmail.com
Citizenship = Mauritian
Other_Country = Mauritian
Service = Contractor
Other_Service = FEBROE & IPAC
Outfit = COMMUNICATION DEPT BOS CONTRACTOR
My_Quest = wants to hear from friends who had known me .
VT_of_a_Swallow = dont know
My_Warstory = HAD A VERY GOOD TIME ON THE ISLAND.

90-91
Nick Casey = caseycomputerco@gmail.com
Citizenship = USA; Service = USAF; Outfit = 4300 PBW / 42MMS
My_Quest = To Find the Grail
VT_of_a_Swallow = African or European?
My_Warstory = For all of you who were wondering YES WE CAOUGHT A 9 FT SHARK ON A HAND LINE...... Sgt Brian Genesi and I were otu at the old pier near tent city doing some night fishing using some eels we took from a philipino trap that was out there. We didnt want to spring $50 for the fishing poles so we bought the highest test line you could get and used chunks of coral for weight..... We kept it rolled up with a nut and bolt setup on some wood from the ships......Drinking beers like usual we didnt think we would catch anything unit BAM..... the line started moving out fast...... Brian was still in his uniform pants and had his leather gloves..... Anybody who remembers Brian he was HUGE.... he had to get a waiver for his weight... he was all muscle.... after about 2 hours of back and forth we got it in to the shore after a balaning act on the boards.... I found a 2 by 4 and once it was close enough started hitting the shit out of it....... It was a 9 Foot Nurse Shark... i ran all the way back to ent city unitl I got someone to give up an empty cot...... it took 4 of us to bring it back....... we talked the chow hall guys into helping us out and We ate some serious ass shark steaks........ Lots of great memories of DG..... Would love to go back...... ANybody who remembers me Hit me back.......
90-91
Jesse Tolliver jessetx2002@yahoo.com
USA
Service = USAF
Outfit = 4300 PBW Comm
My_Quest = Strolling down memory lane
VT_of_a_Swallow = Huh?
My_Warstory = Great site! Reading the stories brings back some memories. My story is similar to others on here. Lots of drinking, living in the old GP medium tents, then moving to the air conditioned tents, crabs, the two week rain storm. Was on the initial crew that came in rght before the bombers from Loring. Tent city wasn't even built yet, so the first few nights we slept in various rooms of the main Air Force building. Seemed like we had to move our cots to a different room every night as they were sitting up operations in the room we had slept in the night before. At least we had AC in that building. I spent a lot of time at the Expat Club, man that was some good pizza, and drank a lot of beer there. Also liked the Seaman's Club where they also had some good food. Drink way too much beer. I think we had the oldest Air Force truck on the island, a 1978 six pack. Was working the night the B52 went down, heard the emergency beacon come over all of our radios, I knew what it was when I heard it. Scammed a return trip back home through Clark AB, even though SAC had came out with a policy then that all SAC troops leaving had to fly a SAC plane out. I set up my return flight with the MAC Terminal, seems they didn't know or care about the SAC policy. While I was out processing they made me sign a form acknowledging that I would fly out on a SAC bird. So I thought to myself I was screwed at that point. Went back a few days later, after out processing every where else, acting pissed off saying I had been extended. The guy pulled out the letter I had signed, contemplated re-filing it, then threw it in the trash. A couple of days later I was on my way to Clark on a 141 from the MAC terminal. Surprised I didn't get an Article 15 for that. To top it off I got to Clark and stayed for a week, and when I finally got back home said I couldn't catch a plane out of Clark. My boss said, "but we called and found out they had planes leaving nearly every day". Again, surprised I didn't get an Article 15 for that. But I think they cut me some slack for putting up with Diego Garcia for 7 months. Although overall I really didn't mind my time there. It was almost like being in the PI, minus the women and the really good times to be had in the PI. On second thought, it wasn't close to anything like the PI. Sure had some fun on Diego though. Wouldn't mind going back, but don't think I would want to stay there for 7 months again, and certainly wouldn't want to live in a tent with 11 other guys.
1989-1990
LISA LLEWELLYN SEVERVINO <if you want to contact Lisa, drop me a line and I'll pass it on to her>
Her story and photos are on their own special page: http://www.zianet.com/tedmorris/dg/lisa.html.
From: John Springer (1986-1988 and 1990-1991) <johnnyfulvia@tampabay.rr.com>
First, let me compliment you on your superb site. It is absolutely fabulous! Your people-finding feature is the best and I just discovered some folks I hadn't heard from in years.
Now I am looking for a couple of old buddies that I lost contact with. They are STEVE RILEY AND STEVE HAWKINS, both Navy helo pilots who served on Diego between 1986-87. I would very much appreciate it if you could put my mesage
in your website. Thanks and keep up the brilliant work.

90-91
NAME = JD Hiltner
MY QUEST = To find old friends
VT of a SWALLOW = Upside Down or right side up?
E-MAIL = huskrnsc@yahoo.com
SERVICE = USMC
UNIT = Marine Corp Security Forces
MY INTEREST IN DG IS = Want to Drink A Lot, Cheap
MY WARSTORY = Hey folks, thanks for the great site. My time on the rock was by far the best time in service. Hash runs, Re Acts, fishing, and just plain having fun. Have never been to another place that does it better. I remember Megan Hauss, we dated for about a month just before she left. I took the CO's personal vehicle and met her at the terminal. Caught hell like you wouldnt believe for that one. But I had to say goodbye so it was worth it. Even brought her some extra batteries for her walkman. She sent me a letter shortly afterwards but I had left the island already so I never received it. If anyone remembers me you can find me at the above email.
Sep '90 -Mar '91
NAME = Rick Carroll
MY QUEST = Find people I worked with there
VT of a SWALLOW = three ways from Sunday
E-MAIL = hmedpt20@yahoo.com
NATIONALITY = american
SERVICE = USAF
UNIT = Eaker AFB Ar /4300TH PBW
RANK/RATE/JOB = E-4 Inactive
MY INTEREST IN DG IS = Stroll Down Memory Lane
SUBJECT OF MY STORY: = Actually, I Have a Real Story To Tell
MY WARSTORY = I remember one night some guys coming to the tent and saying someone had caught a 9' shark in the lagoon. I thinking yea right, so i walk down to the beer tent and sure enough, they had that sucker laying on a cot and it had to have hung off the end a good 2'. I remember eating shish ka bobs at the NCO Club and pizza at the Ex-Pat Club. I remember all my friends from Loring AFB that always tried to get me and Dave Mcdonald to move to Loring. I hope all of you are doing well and that God has blessed you in the days since we were there. I too remember the plane going down. The crew was from Eaker. I had worked with the gunner back home. He was a ECM troop before he cross-trained. Again I hope this finds all of you doing well.

August 1990 - March 1991 (Desert Storm/Shield)
NAME = Joe Ruiz
E-MAIL = joe-joe61@lycos.com
NATIONALITY = White
SERVICE = USAF
UNIT = Personnel Specialist
RANK/RATE/JOB = E4, Buck Sergeant. Inactive, separated in 1994
MY WARSTORY = I was stationed at Diego for 7 months during the Desert Shield/Storm time. In October 1990 I went to Saudi through Bahrain, Dahran, to Riyadh. I stayed in the barracks where later, in 1991 some of the miliary enlisted were killed by a scud missle. I was only in Saudi for two weeks for training and then back to Diego.
I came to know many of the clubs (Expat, Brit club) and I enjoyed going to the Dari Delight. I spent a lot of time at the pool and on the beach and really had a nice tan. Since I worked the swing shift I was able to sleep in and then had a lot of time during the day to explore the island. My friend Danny Wise were stationed at Minot AFB in North Dakota and many times he and I would go snorkling.
I was married at the time and had 3 children. Upon my return from Diego I had two more, one born Dec 1991 and another Oct 1994.
While on Diego, for the first few months my living quarters were old military Harvest Eagle canvas tents. Tent City as it was referred. When the typhoon tore several tents, the military provided expandable (accordian) style tents. These were more permanent and provided better living conditions.
Tent city was located close to the end of the runway on the shore of the lagoon. I enjoyed eating at the Navy galley except it took so long to get there on the bus. To stop the bus we had to yell "bus stop" and then driver would stop at the next designated stop. It took about 30 minutes just to go 6 miles. But the bus went everywhere.
I also recall two separate times when the runway was closed due to a dropped bomb. During that time we had the B-52's and during Desert Shield, we had only one plane fatality. 4 soldiers lost their lives and they were the only DG casualties during the war.
I enjoyed being on the island, but I don't believe I want to go back. The memories are treasured.

mar 1990 jun 1991
NAME = William Allardyce
MY QUEST = Total Whirled Peas
VT of a SWALLOW = gear up or down?
E-MAIL = william.allardyce@gmail.com
NATIONALITY = US
SERVICE = NAvy
UNIT = NSF AIMD
RANK/RATE/JOB = AMS1 then retired now
MY INTEREST IN DG IS = Stroll Down Memory Lane
SUBJECT OF MY STORY: = Other
MY WARSTORY = So there I was a First Class Petty Officer minding my own business when the Senior Section Leader for The Naval Support Fac tracked me down and informed me upon his departure I would be the Senior First Class and entitled to running the duty section for NSF.
After pondering the situation for a few moments, I agreed and thus started my tour as one of the more hated sailors at NSF because every division had worked it out that their job was considered Duty and as a result the sections were very lean with watches every duty day.
After a few months and with the backing of the command I had increased the number of personnel in the duty section so watches did not come so often but a lot of people were standing duty who did not before.
So to all those shipmates I added to the duty section I say is Ha Ha Ha too bad so sad but duty is good for your evals

1990-1991
NAME = Ron Case
MY QUEST = To Be Free
VT of a SWALLOW = as fast as you can spit
E-MAIL = Rcase47724@aol.com
NATIONALITY = AMERICAN
SERVICE = AIR FORCE
UNIT = 4300 BOMBWING
RANK/RATE/JOB = SSGT
MY INTEREST IN DG IS = Other
SUBJECT OF MY STORY: = Actually, I Have a Real Story To Tell
MY WARSTORY = We got to the ROCK August 1990 each group teamed up 10 to twelve to a tent so as we prepared for war I realized that there was two things to do drink and drink or find something to do. So every Day I would run 5 miles and record it and drank too :-) then there was snorkling in the cove and drank some more. after about four months in tents we all started to feel like we were on the rock. our missions went on daily thru out our tour. We decieded to have a pig roast now you know Uncle Sam money is no object we had supplies coming in by ship and there was pig on ice so this back woods mountain man said he can cook this pig. We dug a hole since the Island is coral then put palm leaves and charcoal started the fire and put the pig in covered the pig so everyone was cocked and it was time to pull the pig out it was mostle raw since the coral smothered the fire but eveyone was eating raw pork now thinking back we should all be dead. The war started and we went to work our training paid off when iot was over we found our selfs going home a lot of us had spouses that wheer screwing anything in site while we were stuck on the ROCK. I id get a 500 mile patch for running, my nick name was the RUNNING MAN

Aug 90 to Mar 91
NAME: Donald R. Mattinson
E-MAIL: donald.mattinson@hill.af.mil
NATIONALITY: american
SERVICE: USAF
UNIT: 4300 PBW
RANK/RATE/JOB: SrA/TSgt Active duty
MY INTEREST IN DG IS: Want a Job as Far Away from My Wife as Possible
SUBJECT OF MY STORY:: Other
MY WARSTORY: Just trying to remember who was there with me.went there with Loring and 42nd bomb wing i was a 462 worked back shop while i was there it was one of the best times of my Air force career. so if anybody remembers me send me a e-amil at kdsixpack@comcast.net

Jan 90 - Feb 91
NAME = David Stender
MY QUEST = One last San Miguel from the Rock
VT of a SWALLOW = Depends on the Showalter Stability Index
E-MAIL = houdakye@yahoo.com
NATIONALITY = American
SERVICE = US Navy
UNIT = Naval Oceanography Command Detachment
RANK/RATE/JOB = Left as an AGAN
MY INTEREST IN DG IS = Want to Return When the First REAL Club Med Opens
SUBJECT OF MY STORY: = Other
MY WARSTORY = So here we are on final approach to the runway. Our pilot says that we are about to land, the engines start to wind down. Looking out the window, I couldn't see anything. All of a sudden the plane started jittering like we had just touched down. I thought WOW, finally here. Then the plane dropped suddenly and I swore we just ran off the end of the island. Come to find out it was just turbulence, we hadn't even reached the island yet.
Quick Memories:
* San Miguel - which bottle was going to knock me on my ass.
* Lumpia - Damned if I can find anyone that makes it better than the "Peacekeeper".
* Diego Burger - What in the world was that all about.
* The Brit Club - Relax, don't worry about anything, listen to the tunes, Relax some more.
* Chuck "Silver" Lewis - LCDR on CVN 70, flew in the movie "Top Gun", stopped by the WX Office on a saturday to say hey! Definately not some tight ass hollywood star. T
* The Buff's - Raining hard, one of the KC-135's was flying doing touch and goes, touched once and slid off the runway then back on, and took off back into his pattern. Didn't bother telling anyone that there was standing water on the runway. B-52 comes in and touches down and slides off the runway. My pucker factor increase greatly. Thought I was going to be breaking big rock into little rocks.
* Cats - One week there are a bunch, the next most have disappeared (aka: drowned).
* EXPAT Club - Pinaeapple & Canadian Bacon Pizza, who knew.
* Hash Runs - HA! HA! HA! Ooah the Scabby!
* Bowling - This is where all the Pros start out.
* San Miguel - I probably haven't mentioned this beer before. Tastes great out of a milk jug.
* Shoe shining - It's amazing how shiny your shoes become after they have been lit on fire.
* Red Horse - Whoa horsey! Nice pony.
* Fosters - I met the gentleman a few times.
* Mai Tai's - 15 of these will make you eat popcorn off the floor.
* Marine Compound - What the hell goes on in that place.
* San Miguel - Embalming Fluid. Doesn't taste all that bad.
* Greatest Memory: CWO3 Mr. Barber - Partied like no other officer I met.


1990-1991
NAME = Thom Craine
MY QUEST = To remember all great people I served with
VT of a SWALLOW = 37.6 feet per second
E-MAIL = viking66@cmaaccess.com
NATIONALITY = American
SERVICE = USN
UNIT = HS-75
RANK/RATE/JOB = PR1
MY INTEREST IN DG IS = Stroll Down Memory Lane
SUBJECT OF MY STORY: = Please Select a Title For Your Story, or Select 'Other'
MY WARSTORY = Got to Diego on a late flight. Hooked up with my friend Mike Charbono for the usual hey glad you are here night of drinking. I woke up in the bus stop of downtown DG. I thought I could find my way back to Splendidville by myself.
The job was great, wen to the hangar everyday, but left at lunch if there were no inspections due. I was able to drink lots and lots at the Brit club which
was directly across the street for Splendidville. Not problem stumbling home.
Matt russ is right about the Toga party. Lots od MOJO. I remember mixing those cooler with every kind of liquor we had on our patio and singing "New
York..New York" at the end of the night.
I also remember that our C-5 got delayed about 5 times, and that we had put our bags and clothes in Customs about 1 1/2 weeks before we actually left. We switched shorts and tshirts with guys our size, and no...skivvies and socks were not included.
And I will always remember when the rear wheel of one of our Helos busted when it was being put on the scales. If I am not mistaken, a Chief actually cried saying "We are never gojng home"...LOL
Lot of fun

12/7/90-06/01/91
NAME = AW1(AW/SW) Matt Russ II
MY QUEST = We seek the Holy Grail
VT of a SWALLOW = Laden or unladen?
E-MAIL = mruss150@sprintpcs.com
NATIONALITY = USA
SERVICE = USN
UNIT = HS-75 Detachment Alpha
RANK/RATE/JOB = AW2 then AW1 now.
MY INTEREST IN DG IS = My Time There is Lost in an Alcoholic Haze, Help Me Remember!
SUBJECT OF MY STORY: = This is a No-Shit Drinking Story
MY WARSTORY = What a way to spend the first Gulf War. A three helo (SH-3Hs) SAR detachment on Dodge protecting the island's stash of beer from the Iraqi Navy. Lived in Splendidville, rode my bike everywhere, and spent every spare moment on the beach. I vaguely remember Merchant marine day and the Vicars and tarts party. We spent the afternoon drinking Mojo at the Seaman Service Center. Since the pump had been primed we made two 5 gallon cooler jugs of Mojo, donned togas and crashed the Vicars and Tarts party at the Brit Club that evening. Somewhere in the back of my brain I recall "New York, New York" at closing time.

1990-1991
NAME = Scott Jarrett
MY QUEST = To find my old buddies
VT of a SWALLOW = Hell if I know
E-MAIL = sjarrett71@hotmail.com
NATIONALITY = American
SERVICE = USMC
UNIT = MCSF
RANK/RATE/JOB = LCpl/Cpl
MY INTEREST IN DG IS = Want to Drink A Lot, Cheap
SUBJECT OF MY STORY: = Actually, I Have a Real Story To Tell
MY WARSTORY = I was a Marine but on the Navy Security softball team. I remember one evening, my girl-friend wanted to handcuff me to the bed. Well, I let her and then realized we did not have a key. We had to call Navy Security to come uncuff me. I never lived that down. Go figure...I'm a cop now and get to play with handcuffs all the time. I LOVED Diego Garcia and actually extended for 6 months. Anyone that was there with me please email.
January 1988 To 1999
NAME = Jean Pierre Ramen "ROBIN"
MY QUEST = keeping in touch with people who mean a great deal to me, DG Familly
VT of a SWALLOW = jeanpierre.ramen@parabolemaurice.com
E-MAIL = jpr1369@yahoo.com.au
NATIONALITY = Mauritian
SERVICE = civillian
UNIT = Annex 20 Ac/r department bos contractor
RANK/RATE/JOB = Senior Sales Executive
MY INTEREST IN DG IS = Stroll Down Memory Lane
SUBJECT OF MY STORY: = Actually, I Have a Real Story To Tell
MY WARSTORY = 1988, there i was landing on Dg 20 00 pm, still young 18 years old going on a journey looking for adventure, first night pax terminal to the
barracks 09 sea breeze village, still cool first time abroad meeting new people had couple of beers and got to sleep for my first day tomorrow, 05.30 am my
nightmare began, walk out to the shower room, man what a shock, surrounded with coconuts trees with white sands you could barely looked at i say to myself 'where the hell i am ? second day visit to ADMIN, Downtown, Shipstore, Community bank, and back to Admin, telling my story seems like it was like yesterday, one thing ive learn on DG is to be patience and very understanding, and my patience made me stay 10 long years there, I dont believe it myself, if i have to be grateful its because of people like MR Bob Streegan, where i started to work at tyhe TCN Galley, Mr Faye Parks he was like a dad to me and if im where i am today its many thanks to Faye Parks, Mr James Billman transportation Director, and volley ball coach even his team always loses to our mauritian team, just kidding, Mr Harry Johnson, Mr Bruce Norris, Jim Pfiefer, William Marioka, BOB Butt,and so many more to all those people i say thanks to all of them, unfortunately we've all gone our seperate ways but i hope that one day if we could all be in an island wide picnic it will be a dream come true, sometimes we do speak about paradise, but dg is paradise for people who know they will tell that hell yes paradise of footprint of freedom white beaches, deep sea fishing like nowhwre else, my biggest catch a yellow fin 95 lbs, almost 35 mins fight with a damn shark tailling, party at the BRIT Club, SOUL Night at the 61 Club, Country night at the turner club, mojo at the beach house and not forgetting those mongolian bbqs at the peace keeper Inn, and last but not least those delicious Pizza at sea breeze village,
i would like to say a few words for CHARLY of the seamens club, we cant go to the seamens club without saying hi to charly.
To all the people ive met on DG, NAVY, MARINES, AIR FORCES, EXPAT, BRITS, PHILIPINOS, Hats off, those were the time now im back home and would like very much to keep in touch with people who was there and who remember me,
my name is Robin
Mauritian volley ball team captain
AC / R Dept
Annex 20
my email is jpr1369@yahoo.com.au

1990-92
NAME = Erik
MY QUEST = truth
VT of a SWALLOW =
E-MAIL = mantanmail@yahoo.com
NATIONALITY = us
SERVICE = navy
UNIT = Air Traffic Contel
RANK/RATE/JOB = arrived as acan.... left as ac3, was the controller speaking with the 1 b-52 that crashed, 13 miles of the south tip of the island... the survivor was the one that overlooked the instument failure prior to takeoff...
MY INTEREST IN DG IS = Interested World Citizen
SUBJECT OF MY STORY: = Actually, I Have a Real Story To Tell
MY WARSTORY = The only "buff",(b-52) to crash during dessert storm happened on my watch in the tower....I was working "local" in the tower, it was bad, the pilot never should have departed! Bad instrument readings..... When that bird went down...... secondary explosions...... closed the beaches....
Above and beyond that.... SAC secret ops.... "lights out" B-52 runway straffing/carpet bombing practice..... WOW!!!!!
Airforce personnel.... running from the south ramp..... I'm in the tower, "why are you guys running"?? "oh, well, we dropped a bomb and its counting down"!! "really?? what is the count?"
"ZERO"!!!!!!


Dec 90 - Nov 91
NAME = Toni Sullivan
MY QUEST =
VT of a SWALLOW = for freakin' ever if it's tequila
E-MAIL = toni.sullivan@bovislendlease.com
NATIONALITY = US
SERVICE = Navy
UNIT =
RANK/RATE/JOB = CTT3 - civilian now
MY INTEREST IN DG IS = Please Select The Category That Best Discribes Your Interest in Diego Garcia
SUBJECT OF MY STORY: = Other
MY WARSTORY = Time on the rock, less than three days. I know one person. I sat beside her on the flight from hell. I have no sponsor. Billeting did not want to give me a room because I wasn't on their list. I am sun burnt. I have not learned to embrace the humidity nor the heat… I was just coming from Scotland. It's New Years Eve Brit Club '91. The club is over crowded due to the influx of air force. New Years' Eve revelry is definitely in abundance and spirits are running high. Some folks are a bit too demanding in their enthusiasm causing me to come very close to being in a fistfight with a guy because I don't want to dance. Two Brits come and drag him away. That is when I saw the man that made wild ideas go through my head and my heart melt. He's gone now, but……
After that bumpy start, DG ended up being the most carefree year of my life (at least the most carefree after reaching adulthood). It has been 14 years and I still miss the sun, sand, and snorkeling. Alas, I will never again have that beautiful sun kissed look life on the rock provides.
Salute to all those that serve!



From: candice.hoyt@sbcglobal.net
To: easy501@zianet.com
Date: 29 Mar 2005, 08:35:55 AM
Subject: Just wanted to say 'THanks'
Just wanted to let those who are on 'The Rock' thanks for all you do for us! I was there right before the 'Big One' in 1990. I so miss it. But you guys over there are still in my thoughts and always will be till the day I am in 'Eternal Paradise'.
Love,
Candice
NSF Security
USN-Retired


1990-1991
NAME = jeff johnson
MY QUEST = walk down memory lane
VT of a SWALLOW = red horse
E-MAIL = jeffjohn67@yahoo.com
NATIONALITY = american
SERVICE = navy
UNIT = navcomsta
RANK/RATE/JOB = i was a ynsr working in capt's admin
MY INTEREST IN DG IS = My Time There is Lost in an Alcoholic Haze, Help Me Remember!
SUBJECT OF MY STORY: = There I Was, Passed Out on The Beach
MY WARSTORY = actually i was passed out in the middle of the road. there was a brit named "kevin" that helped me to my barracks with no trouble thanks "k". anyway i left DG for san diego, spent the rest of my time onboard the USS DIXON. i sure miss the red horse inn.


August 1990 - April 1991
NAME = Gary McGinnis
MY QUEST = I seek the biggest seashell.
VT of a SWALLOW = Depends on whether its coming or going.
E-MAIL = coffeemug4@msn.com
NATIONALITY = American
SERVICE = USAF
UNIT = 4500 PBW/ 15 AF, March AFB
RANK/RATE/JOB = TSgt, 17 years/Medic-ambulance driver-public health tech.(Retired)
MY INTEREST IN DG IS = Want to Return When the First REAL Club Med Opens
SUBJECT OF MY STORY: = Actually, I Have a Real Story To Tell
MY WARSTORY = This was in Aug 1990, when I was deployed was only given a 5 hour notice to pack for a 30 day stay. So I packed, kissed the wife and my children good bye, was rushed through the deployment area, put on a KC-135 and whisked off Castle AFB, where we assembled our gear for 30 days, given undisclosed location orders put on a KC-10 and flew to Anderson AFB for an overnight stay, then off for another 12 hour flight to DG. Was sitting up in the cockpit of the plane talking to one of my flight crew buddies when the auto pilot of the plane started on its descend I asked what was happening, he said we are preparing to land, I asked where? he pointed out to the ocean and said there. Couldn't see anything except for water, told him he was crazy. So when we finally landed it was in the middle of the night, so we were shielded from the reality of where we were until the next morning. We got up the next day to total mass confusion and finding out that it was Diego Garcia. But the Air Force base was still being built. Found out they were still building the clinic and the dinning hall on the Air Force side and we were to work with the Navy medic's. My first introduction to the Navy was a nightmare and continued for nine months. But the Air Force had an awesome wing commander in Col. Burke. Found out all about chits and the Navy class of rank. Chiefs can't eat with officers and a bunch of other weird stuff the Navy does. But met up with a couple of Navy medic chiefs that wasn't the norm. They took this TSgt under their wing, taught me how to sail, the finer art of snorkeling and how not to get burnt under the scorching sun that was always present. Once the AF Dinning hall was built invited these 2 chiefs out to dine with the Air Force. We ate good, had steak and shrimp flown in almost every day. Had fresh eggs and a host of all sort of excellent meals. There at times had to restrict my diet to one meal a day and still managed to gain 40 pounds while I was deployed. But I received a letter of Commendation from the Navy commander when I assisted in the rescue of a crew of the B-52 that went down about 40 miles from DG. Received a Air Force Commendation medal were I took part in the rescue of a crewmember that had collapsed in the ready room. We hustled her out of the ready room and onto a Navy transport in less than 30 minutes for an emergency flight to Singapore. Found out later that saved her life, because she was hemorrhaging and was losing a lot of blood.
Took part in several in flight emergencies when the B52 went to war, all of the emergencies were hung ordinance which was exciting see these huge Buffs landing with one swinging 1,000 pounder under a wing, while sitting parked in an ambulance with fire trucks on both sides of us and fully loaded tankers and bombers around us.
Went on a rescue operation, some idiot got a sail boat stuck on a small island, didn't know how to sail. Treated a lot of sun burn and dehydration during the day. Played a lot of poker at night with the pilots, doctors, and other medics. The clinic tent was air conditioned and we set up a bar and table at one end of the tent, and had our sleeping quarters st the other end of the tent.
Survived a tropical storm is what the Navy called it. This particular storm blew down most of the tents in our end of the island. What we got as replacements were these long semi hardened structures that were air conditioned. So life turned pretty good after that. Got hooked on Rum and Dr. Pepper mix. With everything being so cheap, we would buy a gallon of rum and 8 cases of Dr. Pepper and this would last a week.
Anyway back to DG and what it meant to me. Having spent 9 months on DG was a very eventful deployments. No A/C for the first 2 1/2 months, coconut crabs under your cot, coral sand every where, a 2 week period of non-stop rain, 12 hour shifts followed by 6 hours drinking, unbelievable snorkeling, sailing lessons, boat rentals, bike repairs, beach combing were no man has combed before, endless walks on the beach, breaking the no-swim zone rules ocean side, rumors of woman sightings, eating unlimited amounts of steaks, tossing dead crabs into the jungle to rid the tent area of flies, (couldn't kill the crabs because they were protected by the British), running over the crabs on our ambulance runs (by accident), searching for ice for happy hour, going out with the Marines acting as their medic on their patrols, clearing out the ships store of goods, catching the downtown bus, watching British subs dock, touring missile battle cruisers that were docked. Anyway, we bombed the crap out of Saddam and his war machine and went home after 8 months, back to my lovely wife and great children. DG has left an impression on me that I will never forget. A beautiful place with white beaches and deep blue ocean.


1990-1995 and 1999-2000
NAME = Allen Willey
MY QUEST = Spread the Truth
VT of a SWALLOW = African or European?
E-MAIL = aswilley@aol.com
NATIONALITY = U.S. of Hey
SERVICE = USAF
UNIT = Det 8 AFSPC
RANK/RATE/JOB = Defense Contractor for Ford and Loral Aerospace, Crypto Manager for all three Air Force tracking stations on the island from 1993 to 1995.
MY INTEREST IN DG IS = Stroll Down Memory Lane
SUBJECT OF MY STORY: = Actually, I Have a Real Story To Tell
MY WARSTORY = In 1973 I was an E-5 at RAF Chicksands. I was going through a divorce and was living in the NCO barracks. One night a little two -striper who had been on station only a few months came to my room and said the first shirt had just raped her. He was married, but his wife had gone back to the states. She was hysterical, laughing and crying at the same time. They had been taking a class together and he had suggested a study period in his room, just two floors above my room. I took her to the clinic and they did the rape protocol on her. The guy got 6 months at Leavenworth, busted to staff and a bad discharge.
But for my troubles, I lost my security clearance and was shunned by the whole base for the rest of my tour. My supervisor said "RHIP, old boy", and his friends were shocked that I would ruin his career for such a little thing. So I wasn't suprised at the latest rape scandal at the academy last year, and I won't be suprised at the next one.


march 90 to march 91
NAME = will
MY QUEST = life laughter and happiness
VT of a SWALLOW =
E-MAIL = williamsb_j@hotmail.com
NATIONALITY = usa
SERVICE = USMC
UNIT = SF CO
RANK/RATE/JOB = Lcpl then, civ now
MY INTEREST IN DG IS = Stroll Down Memory Lane
SUBJECT OF MY STORY: = There I Was, Passed Out in the Club
MY WARSTORY = did pass out at the bus stop in front of the brit club; last thing i remember was drinking crown royal in the surf w/ some seabees in broad daylight. eyeballs and junie found me there in the dark. platoon sgt called the duty to pick me up, tried to get away, but they got me back to the barracks. jumped out my window, 'borrowed a bike from the navy barracks, rode back to the club. the powers that be figured if i could ride a bike there, i could stay. passed out at the outdoor movie theater once. loved the awesome snorkeling w/ the navy divers, drinking at turtle cove in the water, floating the empty bottles down the line and amiss floats a big ol turd down the line! humping the fucking asphalt! hash runs! drinking shit out of a mop bucket late night at the stables! drinking screwdrivers till we're fucking retarded. puking screwdrivers about 3 miles into a 7 mile jungle run. dj'ing at the club w/ eyeballs and playin whatever we wanted. daring h.i. he couldn't drink 20 shots of liquor, which he did, and then closed down the head in the club pukin it all back up! partying w/ the brit marines after their b-day celebration, waking up covered in shaving cream and lots of bald spots, going for noon chow and seeing half naked fully drunk brits still at it cruisin around in their landrovers. fighting brit submariners after they spent their entire night at the brit club naked from the waist down and decided it was a good idea to insult my manhood. traded punches from the bus stop in front of the brit club to the fire station before NSF and BIOT police rolled up. the brits saved my ass by insisting on takning control of me, and returning my drunk ass to the barracks w/ a stern warning not to go back out... very cool. NSF had big hardons to lock my jarhead ass up! getting so tore up at the brit club(thanks stew!) that olmstead and i could only stand by leaning on each other. mountains of porn mags! not much use chasing tail there! actually did get laid accidently. big nick pulling the tv and vcr into the head to beat off. finding weir standing in the showier in full gear w/a poncho on..."im testing the poncho". getting puked on at the brit club toga party by bunny, getting puked on at the eclub by a really cute, really drunk girl i met at asap, vasap, whatever the week long 'rehab' thing was on the island. pulling a fire alarm at a navy barracks. painting the entire firehouse for said fire alarm pulling. playing football in the flooded courtyard of the barracks. seeing the huge sky... beautiful sunsets. someone always pissing in their wall locker, corner of the room, any where but in the head. fucking sunburns! ill probably develop skin cancer! drinking all night and going out on a fishing boat as a 'traing day'; about 5 guys fished, everyone drank. whats up cutler, amiss, junie, eyeballs, stew, weir! anyone else there 90-91, drop me a line! nice website!




Subject: DG menu
Date: Wed, 8 Dec 2004 13:49:23 -0800
From: "Gary Willman" <gavocados@adelphia.net>
Hey Ted, I was starting to worry about you. Welcome back; head and all. Attached is a menu for the CPO club take out and delivery in
1996. The prices are like something out of the 1920 sears catalog. I pretty much lived of what you see here,as did allot of folks on island. If
you can use it on your site, do it. If not its still funny to look at. As a side note, I'm sure you are aware that I am the researcher and
developer of the Rum and Coke Cheeseburger Diet. You can drink all the rum and coke you want throughout the day (you may substitute
with any alcohol drink or beer) and have a cheeseburger at or around midnight each day. I personally went from 210lbs to 186lbs in just 3
months! DISCLAIMER: NOT RECOMMENDED FOR PERIODS OF OVER ONE YEAR. Thanks for what you have done and what your
doing over there now Ted. [see his 1996 entry to see the menu!]
Gary Willman
AWCS USN (ret)
1990-1991 and 1996-1997

Aug 90 - Nov 90, Then again July 91-July92
NAME = Joe MacConnell "MAC"
MY QUEST = To find long lost Friends and Drinking Buddys
VT of a SWALLOW = Wide out and real fast.
E-MAIL = MHLPres@aol.com
NATIONALITY = American
SERVICE = USN
UNIT = "ASWOC" PATWINGONE
RANK/RATE/JOB = Out of the Navy, Married and Living in Maine.
MY INTEREST IN DG IS = Stroll Down Memory Lane
SUBJECT OF MY STORY: = Actually, I Have a Real Story To Tell
MY WARSTORY = Well where do we begin. Do you remember the great softball games we used to have on the island. Where all the girls would come and watch abunch of drunks play and curse? I do. But then poor old me got hurt and had to be flown to Cubi Point in the Phillipines. (hard life to take)Let me tell you. Then that Dumb Ass "OS" detailer said i had to go back to the Island for a full tour of duty since i didn't do the full one year. Well here i am back in Diego garcia and met my new Commander Harry P. Bolich "The King" as many of us know him. (by the way i have talked to him in June 04) Great guy. He used to tell me about the times he would beat my Dad's ass in High School, But i told him that the scare on his face was from my dad and the night Harry meet the Baseball bat. Again Great Guy. Anyway As Life would have it, being from the South Jersey (NJ) and Philadelphia Area I always got what I wanted. I was sitting in the ASWOC one day and an ET3 walked by (Heather Frazier) Yea baby, Heather with that hot and sexy Southern Twang. You know the Y'ALL. And i said to OS1 Larry Manning and CDR Bolich and DP2 Terry (Somthing) and PO2 Lloyd Holland that I had to date that girl. Since we all know that there was a girl behind every tree on the island. (Meaning not many). I was told Good Luck. She was like going out with some guy who was a Small boat guy or trying to be a Navy Seal, Well being from Philly Like i was scared. BOO. So i assured the guys I would get that southern girl. So the Bet was on. I tried to make the move , she wanted nothing to do with me and said she was leaving soon and heading to Guam. I thought So thats only $3.20 a minute away if we went to the phone center. (remember those days) where the hell were cell phone when we needed them. So i needed a little help, and i was able to get RM3 Vickie (Something) to help, you remember vickie a very Pretty Black girl and very tall. Kinda looked like Witney Houston. (By the way she married AK1 KUKAHIKO now WO2 KUKAHIKO and had kids). So anyway Vickie was able to help me and my cause. So now Heather was to meet me in the ASWOC personel lounge, for those of you who had access to the Aswoc you too hated that ugly brown and yellow couch. But there we were sitting and talking and still she wanted nothing to do with me. But i found her weak point, Peanut M&M's. New action plan. So back to the Softball game , you know the one where all the girls came to watch the Drunks play, well there i was playing left center field, and who was sitting in the stands talking to the "KING" (Cdr Harry P. Bolich) but the very one Heather (ET3) Frazier. And man did i think i was all done, One slip from Cdr's tonge and MAC Daddy was history before he even got started. But It wasn't that at all Heather was acually getting some information about the man playing Left center field. (for those of you not following thats me). To make a long story a little shorter, Mac does it. Heather acually asked me out on the Bus (remember the Bus rides down DG1) She invited me to a pajama party being thrown by Nate and i said yes. But i almost stood her up because i felt guilty that it was all for a bet. But i went and i had to tell her and i did. She was very mad at me and almost told me to go away and leave her along. Man did i get looks at that date. We talked for hours after the party infront of her room which looked over the Deigo Burger. (HMMM Deigo Burger) I told her the Bet was off and no money will exchange hands. So she decided to give me another chance and being a romantic I take her to the MOVIES. (OUTSIDE) Under the Stars (remember those days) And to add a little excitment we see Silents of the Lamb, you see i was hoping see would get scared. But i pretended i was scared. During the date everyone was watching and even commenting about us. One guy who hated me, and I mean Hated me. Because he liked Heather and he was asigned to watch heather for her boy friend who left the island. Thanks for Watching her Buddy. . We then had dinner at the resturant. Then I made my move. I said it Yes I told her "I LOVE YOU", was it Deigo Love that was all over the island. No this was Fate, yes I said it fate. Everyone on the island told Heather she was crazy what about her boyfriend who left the island and was waiting for her to come home. No MAC just throw in a wrench and had Heather all mixed up emotionally. So i said to my self , SELF let her be, and i did and wait to you hear this. About 1:45am a knock comes on my door. Terry gets up and answers the door and says MAC its Heather for you. And then proceeds to ask Heather why MAC? I then invite her in the room. and we talk while Terry sleeps. I told her i was not sure why i Love you i just do. I'm sure i was sounding like a kid in High school trying to get a girl on the first date. But it was somthing. She then said to me "I am CONFUSSED" I told her why, I am here and you are here and forget all the others. Well folks to make this story shorter I will get to the end. We left the island in Nov of 91 after i proposed in the nice big (i mean Huge showers) we had after a day at the beach. (yes we had bathing suits on just getting the sand off). We went to NJ and then got Married in Delaware small wedding. She went to Guam and I went back to Deigo Garcia until July 02. Yes we had ups and down. But i assure you all is well. The year is 2004 and November will make 13 year of Marriage. We are very happy and have a little one Joey (11) and living in Maine. Heather works for the US Government (USDA) and i am a Automotive Dealer Consultant with Clients from DC to Maine plus some other states. So as you can see we may be the only two sailers to find LOVE on A ROCK in the middle of the Indian Ocean. And for all of those who said it will not last, it is the Deigo Curse. I say ther may be the Banana Plantation Curse but we broke it. And if you were stationed there when we were and would like to get intouch email us and say hi. We will reply back to all emails. When i got back to the island in Dec 01 My new roommate was Damon Sauer "The Sing Man". I know you remember him at Karaoke. And to all our friends on the island , We hope you all are well and hope to speak to you again someday. The funny thing was the number one song when Heather and i met was "NO THAT WE FOUND LOVE WHAT ARE WE GOING TO DO WITH IT".. And to Joe and the fishing boat Thank you for the great times. My 92 lb Tuna and Mike Barretts (That old "Snapper Head") Hugh (300lbs I think) Sword fish, but who know we were all drunk. Yes we all have the great drinking stories and i could share a few. But this is a true story and i remember it like yesterday. Take care.



Nov 90 -Dec 91
NAME = Dennis John Neylon
MY QUEST = To seek the Holy Grail
VT of a SWALLOW = If by terminal, one means final, zero
E-MAIL = djneylon_2002@yahoo.com
NATIONALITY = american
SERVICE = Navy
UNIT = NSF Public Affairs/Admin
RANK/RATE/JOB = Then JO2, did Tropical Times; now civilian, working for veteran's administration in Detroit MI
MY INTEREST IN DG IS = Stroll Down Memory Lane
SUBJECT OF MY STORY: = Actually, I Have a Real Story To Tell
MY WARSTORY = I miss Diego.....I came over just after we got mad at Saddam the first time....CO had me start the Tropical Times (base newspaper)...I used Harvard Graphics and WordStar and managed to start publishing just before the war.....I have fond memories of mail call, rushing to the Ships Store after the Santa Juana arrived, sitting on the beach, dining at Diego Burger II, ice cream at Tropic Delight, drinking at Seaman's Club, drinking at Brit Club, drinking at Ex Pat club, drinking on the beach, drinking at island wide picnic, drinking period.....I think I drank more in a year on Diego that I did in six years of college.....fond memories also of HS75 and their three departures....Bruce Moody and the band playing Alice's Restraunt on DG Radio for Thanksgiving....Capt Check betting me I could quit smoking (it has now been 12 yrs with only 1 smoke)...going to the chapel re-dedication on plantation side...watching wedding of the best freind of my future (now former) wife on DGTV (didn't know she was best friend of future now former wife; actually met her and him five years later)....getting and answering pen pal letter from former wife....OKAY, let me explain the future former wife thing
THE FUTURE FORMER WIFE
As mentioned above, I was NSF Public Affairs. One of my jobs was to send nice letters to Mauritians who wrote looking for pen pals that said I couldn't get them pen pals (it was Brit policy not to). For some reason, I answered her letter seeking a Marine or Seabee who was going to be there a while. I was a Journalist who was leaving in 2 months. We started corresponding. It turned out she had worked there for two years (at O Club and as housekeeper) and had left about 4/5 months before I arrived (her name was Marie-Michele Martin). Anyway in June of '92 we got engaged, and married (on Mauritius) in April '93 (six weeks after I got off plane and saw her in person for first time). From Diego, I went to Norfolk, where I lived when we got married, then to recruiting support in Detroit. Things happened, I got out in '98, she became citizen in '99 (changed name to Beverly Martin), we got divorced in '00. She works at comissary at Selfridge ANGB (NE of Detroit).
FUNNY TRUE AND SOMEWHAT SCARY STORY
When she was on Diego, she dated a Seabee who promised to get in touch with her when he got back to states. He never did (imagine that!). In '96, she was working at Base Exchange at Selfridge outside Detroit during a Seabee drill weekend. Who should walk in, but HER Seabee. She said hello and reminded him who she was. He was, shall we say, speechless. She never saw him again.
I'd love to hear from others with memories......
AUG 1990 - MAR 1991
NAME = Kevin Shanahan,
MY QUEST = I seek the heavenly glowing tan that only DG can give.
VT of a SWALLOW = American or British ?
E-MAIL = kevshanahan@yahoo.com
NATIONALITY = US
SERVICE = USAF
UNIT = 4500 PBW/ 43 FMS Loring AFB
RANK/RATE/JOB = TSgt, 15 year out.
MY INTEREST IN DG IS = Professional Adventurer Looking For The Ultimate Get Away
SUBJECT OF MY STORY: = Actually, I Have a Real Story To Tell
MY WARSTORY = ...there I was, standing on the tarmac with a handful of dishevelled Airmen. We had flown from Loring AFB in northern Maine (occupied Canada) sent on this flight to "god knows where" for we were not told our destination until several hours before we landed on DG. This was Aug 1990, Saddaam had invaded Kuwait and we were the advance team sent out on a "30 - 45 day TDY" with B-52 bombers coming behind us. Our CO told us to find a place to dump our bags for we were now on 12 hour shifts and the bombers were inbound. With little to no sleep on our long flight, only the bright sun shine that DG knows all so well, the mystery of were we were, along with the butterflys in our stomachs kept us going. Anyway long story short, the B-52's came-in and kept coming, along with the KC-135's. Soon the ramp was full of aircraft and over the next several months we flew training missions up till Jan. when we went to war or as my maintenace officer said "the ladies are going to the dance" Anyway back to DG and what it meant to me. Having spent 8 months on DG was perhaps the single most exciting event in my life. 8 months in a tent, on a cot with a sleeping bag for a mattress and a single sheet, no A/C for the first 2 1/2 months. coconut crabs under your cot, coral sand every where, coral cuts from the lagoon, a 2 week period of non-stop rain, 12 hour shifts followed by 6 hours drinking, unbelevable snorkeling, sailing lessons, boat rentals, bike repairs, beach combing were no man has combed before, endless walks on thebeach, breaking the no-swim zone rules ocean side, rumors of woman sightings, eating decomposed lettuce in the AF chow hall, nuclear milk from the philipines (yuk ! )playing stick ball in tent city, eating unlimited amounts of tuna steaks, tossing dead crabs into the jungle to rid the tent area of flys, (don't kill the crabs please) searching for ice for happy hour, clearing out the ships store of goods, (the USN personnel must have hated us) waiting for cable & wireless access, catching the bus "downtown" was a major event, watching british subs dock, having the best tan of my life, watching fights at the brit club,watching the ground keepers who were covered head-to-toe in long garb and wondering if they were terrorists. Anyway, we won the war and went home after 8 months, back to the blowing snows of northern maine. DG has left an impression on me that I will never forget. A beautiful place on earth, what a planet man !

May 1989 thru Sep 1999, 2001, thru 2003
NAME = George M. Laughlin (YA-HOO)
MY QUEST = Citizenship from some place
VT of a SWALLOW = Below sea level or above??
E-MAIL = bubblincrude@hotmail.com
NATIONALITY = USA
SERVICE = USN RET
UNIT = IPAC and BJS until 1999, NFCU fm 2001 to 2003
MY INTEREST IN DG IS = Stroll Down Memory Lane
SUBJECT OF MY STORY: = Actually, I Have a Real Story To Tell
MY WARSTORY = One of my fondest years on Dg was back when Capt. Check (CO) and CDR Bob Collard(SUPO), would call me and my buddy, Flightline Freddie to the O Club so we could drink for free all night coz the O's could not play Hosre Collar. That was fun, even when the Marine XO would climb into the rafters and pour beer on us. Another grand time was getting with Jack and the gang and building the Golf Course, then playng it. There was the two years that BJS golfers would play the Brit Party every Tuesday. It started out being a fun once a month deal, for beer and build your own at the Expac afterward, but with the wipping that we (BJS) gave the Brits the first time. The Brit Rep. CDR Gram Niven changed the program to weekly. We even had a trophy at the Club House with the weekly score posted. I'd have to say the we (BJS) won 98% of the time. Grand times at the course. If anyone wants to complain at not having a good time on the island for several years I was the one who brought the EAP Charter to the island and you missed out. Even though the EAP turned into the Dave Burges Fan Club. More stories to come. YA-HOO

1988 May to Jan 17 2000
NAME = Harry Johnson
MY QUEST = To say Hi to all my old friends still there
VT of a SWALLOW = Who cares
E-MAIL = fuelman808@yahoo.com
NATIONALITY = American
UNIT = Fuels Manager for Febroe, IPAC, BJS, DG21LLC
RANK/RATE/JOB = I'm Ret. Navy E-8 Aviation Boatswan Mate. Worked with a lot of good people on DG both Military and Civilian.
MY INTEREST IN DG IS = Stroll Down Memory Lane
SUBJECT OF MY STORY: = Other
MY WARSTORY = All the years I was there I was happy and content. I met and fell in love with a very lovely lady I hired in 1989 and married her in 2000 Feb. 14. We both worked for the Contractors and she left in 2001 May. I had a heart attack there in DG. But the great folks at the NSF Clinic put me on a plane to Singapore and while in route after take off I Died but the Flight Nurse and Flight Sergeon brought me back so after three months of extensive care at Singapore I was allowed to travel to my home in PI and from there to the US to continue my care at NNMC Bethesda Hosp. My wife and I are living in the States now and hope All is well in DG. Other than Bob Butts I was the second Old timer still on the Island from the Febroe Days. That's my story gang and believe me if I could return to DG doing the same job as I was doing I would No question about it. Good Luck to all of you over there. We still have relatives working on the Island so we are still in contact.
1990-1992
Margaret Hughes <HughesMA@crane.navy.mil>
I served on DG from May 1990 - June 1992...I was extended during Desert Storm at NSF Security. I lived in BEQ 15, RM 320 (I think). I am looking for anyone who wants to keep in contact that was stationed either at NSF Security on DG or that might have known me during this time period. I am particularily interested in any news of David (Scotty) Scott, who was a Royal Marine that I was very fond of there. They may contact me at HughesMA@crane.navy.mil (yes, I am on a Navy base still...but a DOD Police Officer now). Any news of anyone writing a book or a DG reunion or anything like that?
Margaret Hughes aka (Megun Hauss)
Around 1990
NAME = Joseph Finsterwald
MY QUEST = To find the grail?
VT of a SWALLOW = African or European?
E-MAIL = jfinsterwald@hcri.harvard.edu
NATIONALITY = USA; SERVICE = USN; UNIT = DDG 15: USS Berkeley; RANK/RATE/JOB = OS2, got out after one tour
MY INTEREST IN DG IS = Want to Drink A Lot, Cheap
SUBJECT OF MY STORY: = There I Was, Passed Out on The Beach
MY WARSTORY = Cool site. I've been to DG a couple of times. The last time I was there was after spending some time off Al Masira and escorting shipping back and forth through the Straights of Hormuz. I have hazy memories of drinking like a fish in the Brit Club and going snorkeling. I have to say that it was fun to visit, but Subic was more fun.

1987 thru 1990
NAME = Mel
MY QUEST = To Remember 2 aquaintences that died there.
VT of a SWALLOW = I ain't know!
E-MAIL = melv@charleston.net
NATIONALITY = american; SERVICE = contractor; UNIT = Big Red
MY INTEREST IN DG IS = Want to Drink A Lot, Cheap
SUBJECT OF MY STORY: = This is a No-Shit Fishing Story
MY WARSTORY = I want to remember 2 friends that passed away while working at DG in 1988. First, Mr Lester Jones, who worked for the Base Operating Support facility contractor; FEBROE. He took R&R and flew to Clark to be with his girlfriend. He drank to much Redhorse and ate too much Pancit, passed out and choked on his own puke. He was a good friend of mine, my snorkeling buddy. We shared some dangerous ocean side and night time snorkeling adventures. The last thing I said to him was, "Have fun, but Control yourself!" (I said that a lot back then as if I had any self control myself.) He never returned to DG. They packed him out, I never did.
Then there was Mr. Ramon Chew, a Filipino leadman at the harbor control center. He suffered a stroke and died. It took all the ice from all the ice machines on the Island to keep him cold until they could arrange a flight back to the PI. From what I heard FEBROE gave his wife an extra month pay for her suffering. He was a T.C.N.(Third Country Nationalist) He earned about 500 dollars per month, Big Deal!
I turned 30 at DG, and will never forget the good times or the bad.
11/90-5/91 and 5/92-11/92
NAME = Muriel D. Land, YNC, USN, RET
E-MAIL = n/a 2569 Fox Run Rd #5, Wyoming, MI 49509
NATIONALITY = U.S.; SERVICE = U.S. Navy; UNIT = Patrol Squadron 4 (during Desert Storm and next deployemnt); RANK/RATE/JOB = Retired Chief Yeoman
MY INTEREST IN DG IS = Stroll Down Memory Lane
SUBJECT OF MY STORY: = Please Select a Title For Your Story, or Select 'Other'
MY WARSTORY = While deployed during Desert Storm, my office window in the hangar looked over the flight line and I used to watch the B52's take off serveral times a day on their way to bomb Iraq. It really was an awesome sight to see! I loved those B52's!
DG was a unique experience for two deployments. Very peaceful island with beautiful sunrises and sunsets. Would like to visit it again but know that won't happen. All the civilians on the island bent over backward to accomodate us during our deployments. Is "Eddie" still working at the Chief's barracks? I remember "Carmen" at the beauty shop. Can't beat those free services!!!
may 90-june91
NAME = stewart morgan
MY QUEST = to return to dg one day to party once again
E-MAIL = stewmorgan@hotmail.com
NATIONALITY = british(welsh); SERVICE = h.m.royal marines; UNIT = b.i.o.t. port customs
RANK/RATE/JOB = then a keen,fit,healthy marine,now,mature,not so fit in fact a bit creaky civilian
SUBJECT OF MY STORY: = Actually, I Have a Real Story To Tell
MY WARSTORY = first it was cutting my foot open on the coral in the sea by the britclub. next it was friction burns down below.no,it wasnt what you were thinking we,d only been on the island a few days and it was the island picnic(cant remember which, they were all a blur) and i got the burns whilst trying to ring that stupid bell someone had put up the greased palm tree.serves me right for wearing that dress.
then the coral burns to the knees and elbows playing football on that lovely smooth pitch.
then it was being stung by either a ray or jellyfish on my back,then having to drag the sail board to the shore then ride my bike all theway back into town to the sickbay of course by now my back had seized up and i entered the sickbay looking like quasimodo on speed.then my troubles really started. the poison had pumped all around my body and i had prickly heat from hell and it took about an hour before i calmed down.
but the best was when we went to search the coastline in our boats for those poor bomber air crew. whilst a quarter of the way around the island i had to change my fuel can on the boat.as i looked up again not realising it the tide had pushed my boat just inside the surf line and we were looking at a 20ft wall of water just breaking over us.after the boat landed on my back i managed to swim to the surface to see my two crew mates clambering back onto my rerighted boat.what a scare but what a relief as noone was seriously hurt,i guess it wasnt my turn yet.
despite all that dg was the best time i had in my 13 years service and i miss those damn chickens and donkeys .
farwell for now anyone who want to e-mail me and remoniss please do so stew
1990-1991
NAME = Matt McNew
E-MAIL = mdmcnew@execpc.com
NATIONALITY = American; SERVICE = USAF; UNIT = Jet engine tech, KC-135R; RANK/RATE/JOB = SSGT
MY INTEREST IN DG IS = Want to Drink A Lot, Cheap
SUBJECT OF MY STORY: = This is a No-Shit Drinking Story
MY WARSTORY = I saw a guy rent a sail board, he took off fast from shore with no training what so ever on the thing. He kept going and going till he was out to the small island near the top of the island. I went and told the guy at the rental shack, they called out a search boat to go get him, he would of been stuck out on the island if it wasn't fr me telling the
dude at the rental shack. Matt
1990-1993
TODD FERGUSON <stfergus@gdats.com>
What a relief to find someone other thatn myself who loved DG. I was stationed there from Sept 1990 - May 1993. Thats right I was there for a very long time. I was a CTT3 working in the Classic Wizard project. I was alos the Command Sponsor Coordinator for about 1.2 years. I have lots of stories but heres one for you when I decided to stay for my third year, they gave me a Psych eval. I remember Pinapple George very well. He got me into Mtn Biking. Man I love that place. Pleas keep me in on your club and any info you might have.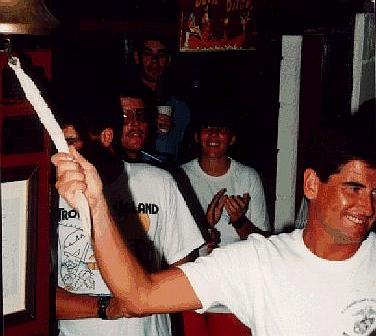 1990-1991
ANDREW YOUNG <andywgy@ic24.net>
[in the photo, Andy rings the bell, and buys the house a round!]
Hi, I'd really like to join you all and let you know about my time on DG. I was one of the two Brit Medics on the Island in june '90- june '91. I was also the Vet! and part time C&W tech. Got lots of 'warstories' cos there happened to be one going up north whilst I was there!!
Carn't stop just now but look forward to hearing from you and reading others stories. Maybe there might be an opening for Health Minister or something??!! Bye for now
Andy Young; L.M.A. R.N. (retired)
Hi Ted here's an addition that I promised. I'll always remember that early morning on my way down DG1 to the airport. I was on an early start 0600 at the airport customs due to start a long day as the BIOT airport customs officer. It was always a nice drive the sun just coming up and looking across the lagoon. The ships in the lagoon were always there full with (well we all know what they carry) things! But This morning early in Jan '91 something was missing! THE LAGOON WAS EMPTY!! Nothing, not even a tug boat! I remember being told on my first day on the island about the large civvy ships in the lagoon, " if they ever go somewhere it will probably be the start of WWIII". Well this morning they had certainly dissapeared. I continued on to the airport relieving the overnight customs officer. On entering the office I told him that the ships had gone. He of course didn't believe me, thinking that I had probably been at the Brit Club the previous night and had not fully recovered! But he soon realized that I was telling the truth when he saw for himself on the way back to downtown.
Well of course this was the start of something big up north! The airport cetainly got busier! but thats another story.....watch this space!!!
Andy Young B.I.O.T customs officer; LMA '90-'91 (vet & C&W tech)

90-92
Megun Hauss <Mahauss@aol.com> or <tundra1baby@aol.com>
Ted: I am no longer in the Navy still. But, oh how I miss the "rock". Your website is the most comprehensive and creative about Diego Garcia. IT ROCKED!!! I would love so very much to go back to Diego Garcia. It looks like it has changed quite a bit since 1990-1992. I had such a blast. Never did the isolation bother me. Hell, there's more isolation at sea and I find that very tranquil. I though it so much fun apprehending drunken sailors and marines. Not to say that I didn't do my share of drinking and carousing. I was only 19 then and away from Alabama for the first time. I won't give
details, but I did some things I would never want my children to do (if I had any). They had just broken up a prostitution ring right before I got there. I had fun going on the rib boats with the Royal Marines and just plain hanging out with them at the Brit Club and their stables. My boyfriend was a Brit and use to do customs with him when the merchant ships pulled in. During this time their were no navy ships that pulled into port. Now I here there are some stationed out of there. There were 800 navy personnel, 100 marines, a handful of army and airforce, and 40 total Brits. Desert Shield/Desert Storm was going on while I was there and some of the airforce lived in tent city there. I was awesome being Security. We were the worst abusers on the island and pratically got away with anything. Our shifts weren't as bad as the people at c-site, r-site, harbor ops, etc. The only thing is we had to wear cammies and couldn't cut them off like people were doing their dungarees. I directed traffic in a typhoon and almost got blown away. My security vehicle almost got hit by an aircraft making an emergency landing during a storm. A B-52 went down not far from the island and I was on the search and resue team. My time on Diego was both tumoulous and pure bliss. I dearly miss the people who served there with me. If anyone remembers me they can contact me at: mahauss@aol.com or tundra1baby@aol.com I was known as Megun Hauss. I look forward to hearing from us "rockies" soon.


90-91
NAME = cin
MY QUEST = to laugh with the good times and cry with the sad memories
VT of a SWALLOW = four feet above the latex paint thinner table
E-MAIL = cynthbrewbaker@aol.com
NATIONALITY = american; SERVICE = usaf; UNIT = there was only one wing a decade ago; RANK/RATE/JOB = buck sgt then
MY INTEREST IN DG IS = My Time There is Lost in an Alcoholic Haze, Help Me Remember!
SUBJECT OF MY STORY: = I'd Like to Share Precious Memories of Drinking/Fishing/Snorkeling/Sailing on Diego Garcia
MY WARSTORY = drinking san miguel wasn't much different than guam, but those 2 buds that had been stored in the pi since before the govt warning labels were required tasted good at the brit club for 90 cents. I miss hearing "we will rock you" and a friend of mine learned not to ring the bell unless you meant it. Words of advice... You are in for stormy weather if your chief knows you can't ride a bus seat or finds out you used your buddy's a3 bag for a urinal. i enjoyed the acquired taste for red horse and mo juice at the seamans club and listening to karoke at the 69 club. friends were great. i did my job and did it well. i came to realize why some vietnam vets learned to drink so well and even more so the reason for sobriety. There were a few bad days in 91 at one end of the spectrum and listening to the desert band, the 25 biot aniversary and the end of ods party was at the other. if you were there, you'll understand. while i was there, i always thought what a great place to be on vacation but it would have been better if we didn't have to work so hard. if you've never been there, it's worth up to a year away from the states to check out. Peace.
1990-1991
JAMES C. HANSES <Dgjimmy3@aol.com>
Hey Ted,
My name is James C. Hanses former u.s.m.c., i was there 90-91 during the gulf war, and I would love to join !!!! I live in bartlett IL. (near chicago) not far from o'hare air port, so when i'm in my pool it reminds me of DG when the buff's,141's, and the C-5", would fly right over our heads.
1989-1993
NAME = Rod Hobbs <rodhobbs@hotmail.com>
NATIONALITY = U.S.; UNIT = Fire Chief & Director of Operations
(see his 1989 entry)
May 1990 - June 1991
JON MAMALAKIS <jonmamal@bellsouth.net>
What is Your Quest? Just one Red Horse beer!!!
7rs in the Navy. Got out. Moved to Louisiana. Got an MBA and now I run a piece of a bank. Boy! I sure miss those long lunches on DG with enough time to take a dip in the lagoon before going back to work. I didn't know much about the place but I ended up there and had the time of my life.
1990-1991, 1980 (ship visit), 1982 (ship visit)
CASEY FITSGERALD <lukylivehi@aol.com>
VT of a SWALLOW = As fast as your throat will process your spit (I know, I know - I saw the movie!)
SERVICE = USN ... UNIT = NCTS
RANK/RATE/JOB = Made RMC there, currently RMCS with 59 days till retirement
Diego Garcia was (no-shit) the coolest place I have been since joining this caneo club 20 years ago. I to slipped (further) into the Dodge alcoholic haze, wore a bra for the first (and last) time, labored to defend our right to party (and for the defense of the Pacific during Desert Shield/Storm), and somehow managed to get an ex-wife out of the
deal :)
Just wanted to share in the legacy. Would go back any time again.

1990-1991
STEVEN J. FORSBERG <sjforsbe@bayou.uh.edu>
(Steve was a two time infiltrator, 1987-88, and 1990-91 - including all of Desert Shield/Storm - see his entries for his first tour above). STEVE: Don't forget to send some real war stories for 90-91!

1990-1991
DAN BEHRINGER <dbehringer@pdq.com>
What is Your Quest? Continue making more money than I ever dreamed of in the Navy (about $16.00/day)
What is the Terminal Velocity of a Swallow? Assuming terminal means the end then velocity = 0 [Editor's Note: A very clever answer!]
Had a blast at DG. I was probably the only person to ever catch so much air windsurfing there that I broke my leg. LITERALLY. I miss the cheap booze, all night parties, the great air conditioning in my room, and the barber chair. To all future and present residents you don't know how lucky you are. Great site. I have a ton of pictures including some underwater shots. Someday I hope to find the time to scan them.

This story was lifted (with permission) from Esprit de Corps.com. Many thanks to them for letting me put it here.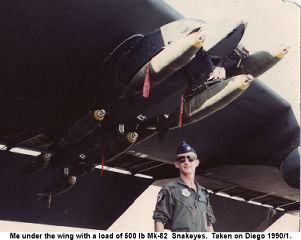 Part I:The Deployment
The summer of 1990 in Caribou was turning out to be a good one. I was a B-52 copilot stationed at Loring AFB and it was soon to be my time to upgrade to the left (Pilot) seat; I was on top of my game! The 42d Bomb Wing was Strategic Air Command's Conventional Wing, and instead of hours of Alert duty, we routinely deployed overseas for varied and unique missions to Europe and Asia.
By virtue of our performance on the last Operational Readiness Inspection, my crew received several 'incentives': we had just returned from a short trip to the Azores followed immediately by an invitation to the Gander, Newfoundland air show, where we were treated like royalty. To cap it all off, my college roommate, his wife, and new baby made a trip from Colorado to visit his parents (who lived about two hours' drive south) and phoned me to see if I could cut away for a weekend to see them. What a fateful day it turned out to be. As we hiked around the local woods on Sunday and caught up on old times, Saddam Hussein's tanks drove into Kuwait. By evening all the TV stations were carrying the story as their headline. As we sat transfixed in front of the television set, everyone began asking if I might have to ship out in response to the invasion. I had been in the unit for a few years and had seen crises come and go. At the time I figured that there was no way we'd be off to do battle: there would be some political posturing followed by some deals and a new status quo, and life would continue.
How wrong I was. I returned to my apartment that night as normal, but when I showed up to work on Monday morning my world was changed.
The planned schedule was suddenly preempted by current intelligence briefings on Iraq and its military. The next day was more of the same, but this time the 42d Bomb Wing Commander, Colonel Terry Burke, started talking about some deployment orders that might be cut should the Air Staff elect to execute a contingency plan they had been formulating. All the B-52s on the ramp suddenly started sprouting external racks bristling with M117 750-lb bombs and each was loaded with 2400 rds of 50-cal for the four guns in the tail, a decided departure from the "clean" configuration we flew for training missions. By Wednesday planning had reached the advanced stages. We were cut loose early to pack up for a planned 30 day stay on a little island nobody had ever heard of called Diego Garcia. This little island (Elevation: 7 feet) in the central Indian Ocean was to become our new home for the next 9 months. The next day we were gone.
We topped off on the way out with CONUS-based tankers and headed straight out across the Atlantic, carrying as much ordnance as we could, and picked up our first set of tankers from the Azores. Tankers are probably the most undervalued resource in the Air Force: it's a job without a lot of excitement and high turnover, but when the mission needs to get done they're the first to get tasked… and we never seem to have enough of them. The tankers formed an air bridge across the Atlantic for the next several weeks, "dragging fighters across the pond", and allowed the aerial armada to assemble in Southwest Asia. Much of the refueling was in the bad weather typical of late summer in the Atlantic. My hat's off to the work those guys did, but I'll get to the coup de grace later.
With full fuel tanks we flew over Gibraltar (avoiding overflight of any single nation) and across the Med. By this time it was the middle of the night. We crossed over the Suez in the wee hours of the morning and began to refuel yet again at sun-up, running down the middle of the Red Sea, since both Saudi Arabia and Egypt had refused overflight diplomatic clearances. As we cycled on and off the boom we were informed that Yemen (Iraqi sympathizers) was intending to scramble fighters to shoot us down and we were then cleared into Saudi airspace followed by an exit clearance into oceanic airspace over Oman. Needless to say, the refueling was terminated, and we were left short on gas but able to look at the vast expanse of Saudi desert for the first time from 30,000 feet. The sight was daunting: hazy, hot desert from horizon to horizon, even at altitude.
Later we would fly over other areas of the peninsula where the Saudis have made efforts at reclaiming the desert, and their achievements are remarkable when one considers just how vast that desert is. The rest of the mission was uneventful: we exited and proceeded southbound over 2,000 miles of equally barren ocean, until we arrived at Diego -- light on fuel and more than a little apprehensive about what was to come.
Part II: Diego
Diego Garcia, a Navy logistical base located on an island in the British Indian Ocean Territory, was chosen as our deployment base because of its security and remoteness. The B-52 was the most highly feared weapons system we had in Vietnam. Its association with nuclear weapons and general ability to carry a lot of weapons give it a terrible (used in the original sense of the word: ability to produce terror) reputation. Stories of B-52 raids that made the earth shake or destroyed everything for miles but a few survivors bleeding from the ears due to concussion are a dime a dozen. So prudence dictated that we be prepositioned close enough to be able to fight, but not so close as to complicate diplomatic negotiations among our Arab Gulf alliance partners.
That was just as well for us, since there was plenty of fun things to do on the island. We whiled away our days fishing for tuna and marlin, sailing, windsurfing, began a daily ritual of racquetball and fielded teams to augment the Navy's intramural softball league in the evenings. At night, there was always a poker game going, but you probably won't recognize the games: 'Blind Baseball', 'Blood and Guts', Low-In-the-Hole/Roll-Your-Own', and others not PC enough to print*. Suffice to say that if you joined the game without knowing the rules you were very foolish indeed. You had to do something to avoid island fever and vent the frustrations of sitting, sitting, sitting on a rock in the middle of the ocean waiting for Saddam to either move or blink.
We established two basic flight profiles to stay proficient in the airplane. The first was a local training profile that practiced air refueling with Diego-based tankers, a mock bomb run on an uninhabited island, and pattern work to keep crews proficient at landing the aircraft.
The second was a profile designed to familiarize crews with the nuances of flying over the Saudi terrain. This involved flying up over the peninsula to enter various low level routes, culminating in scored practice releases on Saudi ranges. This profile was modified in the days immediately preceding the war (when we had a preponderance of airpower), to include mock runs at the border.
Initially, we flew both profiles as we would any training mission, but crews were swift to personalize the missions. We tried to answer all those questions we should have had answered long ago: Can we make release parameters on 6 or 7 engines low level in this heat with all that extra drag on the wings? What is the best way to make a formation airspeed change radio silent? How hard is it to see this airplane at night with the lights off?
Occasionally we would have a General swing through to tell us how the was plan was progressing. Buster Glosson told us how they expected as high as 30% casualties at one point for the first night, should it come to pass. Gen Beckel, 15AF, told us not to test fire the guns, as they were prone to mechanical breakdowns. We wondered aloud later whether we would be able to depend on them in combat. And they weren't sure we'd be able to get the new Kevlar flak vests (sort of a torso suit) to protect us from shrapnel. It made us feel rather 'naked' going into the fight: the airplane was big enough to withstand most hits, at least for the crew to survive the impact. Most losses during Vietnam occurred afterwards, when the aircraft caught fire (without self-sealing tanks). It seemed a vote of no-confidence that we were offered no protection. However, after enough clamoring (for lack of a better word) and
good work by Col Burke, soon an interim fix arrived: flak vests from Vietnam. They were the old clamshell armor, but were much better than nothing. We were told to keep them (which I did: it's still with me). And right before the War boxes of the Kevlar suits showed up. The first night (and for most of my missions) I wore both: I was just small enough to fit with my arms inside the ejection seat with both vests plus my survival vest (with pistol, rounds, and various survival tools, maps, blood chit, and water inside) on. I figured I was good for almost a 20mm round.**
As time passed the war of words heated up, and the national leadership leaned towards a first strike. The intelligence folks in Washington had done a wonderful job of analyzing the Iraqi infrastructure, and we sent representatives up to Riyadh to advise the central air planners how best to use our airplane: we wanted to fly low, preferably at night, protected by escort fighters and radar jamming aircraft. The staff returned with a list of first night targets, and assigned crews to plan missions against each. I was lucky: my crew, along with two other senior crews, were to be the flagship attack. Colonel Burke was going to fly with the lead crew, and the target was to be a 'milk run' target: an abandoned dispersal airfield called Galaysian. I should have known it was too good a deal; right before the war kicked off Col. Burke was told to stay put. None of the senior commanders were allowed to fly, just in case. Some bright staff officer realized that we had our senior crews flying against the milk run target, and swapped us to the real 'back' breaker: As Salman. It was another dispersal field, but wasn't in the least abandoned. It was also home to a sector operations center for the Iraqi air defense, and its location just happened to be the perfect one to house a rear echelon army division guarding the southern border.
In a couple of final twists of Fate, we lost a member of the crew and a Squadron Commander in a personnel shakeup. The crewmember, our Bombardier (called a Radar Navigator) cracked under the combined stresses of Armed Forces Radio and Television Service (AFRTS) commercials and a wife who was always seeing the darker side. Diego had AFRTS piped in, and anyone who has ever seen it realizes that all the regular TV commercials are a big 'no-no': by airing them the DoD might be construed as endorsing a particular product. Instead, they broadcast safety messages, messages of general interest, and military heritage. So when this guy turned to 'the tube' for some respite from his wife telling him how he was going to get turned to goo, he was bombarded with commercials about guys that won the Navy Cross during Pearl Harbor (but ended up paraplegic) or Marine/Army grunts that saved the unit by dying. I feel for him, it ended up being just too much. He turned Conscientious Objector, and they found a non-combat role for him, then shipped him home. Captain Bob Fournier was selected to fill the void, and he did so mightily.
Our Squadron Commander left under less simple conditions. There was a lot of innuendo surrounding his departure. Mostly it revolved around 'perceptions of impropriety', and I won't go into the what or why. It was significant, however, because it left us essentially leaderless as a squadron right before the big game. My hat's off to the man they chose to replace him: Lt. Col. Logan Kelly. Lt. Col. Kelly was a true leader, just the type you want under the circumstances. He looked at his appointment as a Godsend: "There are few enough men that get to even command a Squadron during peacetime. And I get to command a Combat Squadron!" He was a poker player from his days in Vietnam, and one heck of an aviator (I flew some missions with him on the wing), who regrettably passed away a couple of years back with cancer.
As the UN deadline of the 16th of January approached and Saddam refused to back down, they cut all open communications from the island. Only secure comms was permitted; guys could no longer even call home. The stage was set - all we could do was wait. We knew the timeline, so we got what sleep we could, and as the clock started down to the go/no-go point we figured we might as well play a game of cards. Lt. Col. Kelly was notably absent from this game: the leadership was busy coordinating with Riyadh waiting for the green light.
Part III: Combat!
About 4 PM our game was rudely interrupted as Logan Kelly strode into the room and started pointing at people: "Six o'clock bus… Six o'clock bus… Seven o'clock bus… Six o'clock bus… It's tonight, gentlemen." We threw down our cards and immediately forgot about the pot, which between chips and IOUs must have totaled around $200 right about then. C'est la Guerre! I was lucky, I supposed, to have drawn a 7 PM bus. I'm not sure it had completely hit me then, for I went back and did nothing but recheck all my gear for the hour… ammo, check. Pistol, check, and loaded. Extra clip, check. Compass, check. And the realization that this could be it slowly sank in.
When my bus came we rode it to the briefing room. The staff briefed 'the plan', although it was one we had helped develop and knew by heart. We'd fly out without filing flight plans, gas up enroute with a top off once we were feet dry over Saudi (entering the peninsula over Oman). Before we got within range of the Iraqi Early Warning radars we'd drop to low level and blitz across the border to our target. Each target was to be serviced by three bombers, hitting in a choreographed multi-axis attack. Lead and Three were dropping UK-1000 bombs, a new time-delay weapon (made by the Brits) that would bury itself in the dirt and go off sometime in the next 48 hours: a 1,000-lb. land mine. Laced overtop by number two were CBU-89 Gator mines, antipersonnel and anti-armor 'minelets' that made it hazardous for repair crews to search for and find the big bombs. We'd delouse back across the border and
then climb up for the drone home. Each route was laid out so we'd all hit our targets within minutes of each other, and cross into Iraq from several points at about the same time. We were to be just a few miles behind the lead wave of fighters enroute to Baghdad and Talil at the 'push'. At some point a thought crossed my mind that I'd have to look back on this and remember it for the future, and somehow I KNEW everything would be alright. Call it Divine Inspiration or whatever you will, I knew we'd be OK beyond a shadow of a doubt. I was able to relax and concentrate on the mission.
We reviewed the Combat Search and Rescue plan, made our final coordination briefs, and rode out to start our preflights. As luck would have it, my crew was to be the last crew to take off and the first to recover, and that stroke of Fate allowed me to witness something I'll never forget. Despite inter-service rivalries and the competition that resulted from sticking a bunch of Air Force fliers at a Navy base, something very special happened on the ramp that night. As the aircraft launched one by one, the crew chiefs stayed out on the ramp rather than go back to their tents. Navy personnel augmented them until there was a human chain stretching all the way to the hammerhead on both sides of the taxiway. They had come to watch us go fight, not knowing if we'd be coming home. And as we passed, the last bomber to taxi, whole groups of them came to attention and gave us a salute. This was repeated until we were on the runway, and it made me realize that they were all in for as sleepless a night as we were. It was the best expression of human dignity I've ever seen, or ever expect to see.
The cruise up to the peninsula was uneventful. We lost our primary number two to a malfunctioning electronic jamming suite; he elected to RTB and a spare filled in. We completed our chaff, flare, and arming checks and proceeded to our Start Descent point. The radios were noisy as all the evening's 'players' began checking in (and adding to the radio chatter, a ruse had been cooked up about a downed aircraft to mask the force building just South of the border. The Iraqis were being led to believe that we were all searching for a downed airplane in Saudi).
Just as we started our descent, the fill-in number two declared that his radar director for his tail guns had failed, and he dropped out to RTB. We were left with only two aircraft, and rather than a razzle-dazzle multi-axis attack we were down to an extended single axis delivery. Just enough time for the ack gunners to wake up. We killed the lights and dropped below radar, pushed it up, calibrated our terrain avoidance radar set, then turned it to STANDBY to minimize emissions. This was to be a night, seat-of-the-pants sortie. Upstairs at the pilots' station we wore Night Vision Goggles, and downstairs the navigators monitored the Low Light TV and IR cameras. The fight was on! Crossing the border, we saw a truck with dimmed headlights heading South. Hoping it hadn't noticed us, we arced around it and went 'in country.' We saw all kinds of antiaircraft fire in front of us, but never having been shot at we never stopped to think that it was well clear. In point of fact, the fire was coming from the Basra area and was most likely greeting the first wave of guys in on Talil airfield. Our turn would come soon enough. We elected to turn away from the perceived threat and lean towards the target a little early; since Two had fallen out we could afford to close on Lead a little. Things were quiet right up to the Initial Point of the bomb run, a scant five minutes later. As Lead passed over the target and dropped his weapons, a lone AAA gun spat at him. We knew there were four more gun emplacements at the target, and we were almost 90 seconds in trail. About 40 seconds later the world in front of us opened up, with tracers galore from multiple points. Still almost four miles out from the target, on the deck, we began defensive jinking to confound anyone trying to get a bead on us. The tracers and muzzle flashes were intense enough to turn night into day, and I took off my goggles. The Low Light TV camera went to standby; the light had tripped a feature designed to protect the camera from damage when flying into direct sunlight. I started to lower my seat, then elected not to: the thin aircraft skin would afford little protection from the volley of shells. The aircraft shuddered as the weapons fell off, and then we were through the curtain, unscathed except for a nagging 'Master Caution' light that had illuminated. Although this is a normal occurrence when the bomb bay doors are closed, we momentarily entertained the notion of Battle Damage. But upon closer examination of the aircraft systems we realized that we were OK, but not out of the woods yet. Our target area egress was supposed to be a wide, sweeping left turn to a rejoin with us as Lead on the way home. The turn went OK, but the rejoin part was below standard: that Iraqi army division messed things up. We were both going as fast as the BUFF can go (in this case faster than is prudent) and we just couldn't catch up. Lead (now in trail as Two) told us later that several
shoulder-fired IR SAMs were fired at us on the way out, but we were ignorant of it at the time. What had captivated our attention was a radar lock-on from a ZSU-23-4, the modern day equivalent of a flakpanzer. Our Electronic Warfare Operator, Captain Glenn Traver, saved the bacon by his expert jamming and timely chaff. The ZSU fired, but only hit some floating tinsel foil. They must have lost us at the time, because the next thing the Iraqis did was to launch heavy artillery shells with magnesium illuminators: shells that glow for a long time while the lit charge slowly descends via parachute. I felt like Godiva as the light cast a shadow of the airplane on the ground below, naked for all to see. We must have been out of range, or they never reacquired us, because we made the border uneventfully. We slowed, got our lights on effected a rejoin, then climbed up into a cloud deck that had moved in off the Gulf.
The next thing we knew strange lights were all around us in the haze: F-14 Tomcats from the boat were making sure Iraqi fighters weren't trying to sneak across intermixed with us in a procedure known as delousing. As they completed the inspection and moved off to wait for their next border-crossers, we collectively breathed a sigh of relief. We were home safe and sound, and the 'friendlies' had caught us. Now all we had to do was fly back to Diego.
Part IV: Return With Honor.
We were the first bomber to land of all those launched from Diego that night. As the night progressed, messages began to filter back to the island that rather than 30% casualties we had zero. Everyone was coming home, and the overall first night of the air campaign had dealt the Iraqis a blow from which they would never recover. We had done well. One of the bombers even got a 'ground kill' credit, as an Iraqi fighter taxiing out to intercept blew up as it taxied over one of the Gator mines at one of the fields. When we landed, the same throng of people lined the taxiways to greet the returning bombers. We were spirited off the airplane; hands appeared from nowhere to grab our gear and put it on the crew bus. Bob Fournier was lifted up to stencil a bomb on the side of the aircraft, and we were welcomed with much jubilation. We all felt about a mile tall. I flew several missions after that one; each is notable in its own way. Some nights the flak was so intense I felt I could have walked on it. Some nights I just wanted to rain bombs down on the enemy, (like the night Navy Lt Jeffrey Zahn appeared beaten on TV).
None, however, can compare to that first mission, because of the way it changed us.
John Ritter
January 2000

Update: January 2011:
My name is John Ritter, and I was looking through your site – a walk down memory lane on this, Veteran's Day some 19 years later.
And – in looking at my time on BOIT, I came across my story already there – with photo – and a permission from another site where I'd originally mailed it. So – from me, the author – feel free to use that as you will. While I'll have to re-read it to make sure I the wisdom of age doesn't find me embarrassing myself – it's a valid story ;)
And – as I'm sure you're aware – there are plenty more where that came from (ha!) I can vouch for cin's remark about the end of DESERT STORM spontaneous victory party that broke out at the O'club – cin, I do "understand."
I have details about the one-and-only combat O'club bell – it flew (and rang) as bombs were falling off the airplane on Feb 14, 1991 (now, as I understand, polished and engraved on the bell in commemoration). We were the first B-52 to return to the pattern AFTER the crash, too – they wouldn't tell us it was a bomber until we'd landed, and denied our offer while still airborne to assist in the search.
My most spectacular memory – and I was hoping someone out there might have a picture – was the throngs that came down to the flightline to bid us good luck and Godspeed as we launched on the first night's wave. In another spontaneous effort, folks lined both sides of the taxiway all the way out from the parking tarmac to the runway, both sides, and as we passed folks came to attention and gave us their salutes. It was amazing… and was repeated on landing (when we were all in a better mood).
So – I guess I'll close with congratulations on running a great site!