JUN86-JUN87
Mark = mcdaniel2@hotmail.com
Citizenship = USA
Service = USN
Outfit = Medical Clinic
My_Warstory = I remember all of you in the medical and dental clinic, so if you remember, please send me an email. Its been 31 years now!
1986 - 1988
Luis Velasquez = luisalive@aol.com
Citizenship = USA; Service = USN; Outfit = Medical Clinic
My_Quest = Live simple
My_Warstory = DGAR was one of my best duties! At the time I was there I didn't know it but through the years and having come contact with s few from the Island, I can see back and look at the experience wit fondness.
As a healthcare provides at the Island, I had the opportunity to "meet" so many of the "shipmates" up and personal, all were great people.
I have gond memories of Dr. Beecham, Chief Rainer (RIP), Debbie Manning, Danny Choothesa and many more.
Thanks, (sorry can't remember his name) the Filipino sailing instructor at the Marina. Hope he still alive and doing wwell. Debbie's marriage at the Island was a blast. Hope I can hear or read from you guys.

Aug 86-Spt 87
BMC Walter Manning = oldsalt114@yahoo.com
Citizenship = USA; Service = USN; Outfit = Harbor Operations
My_Quest = To tell the true story
VT_of_a_Swallow = Depends on the drink
My_Warstory = I remember quite a few folks who made entries here, Debi Manning, Dani Poole, Darrel and all the folks from Harbor Ops and Pilot Murphy, and my buddy Kati Ferris who was an engineman on the rock. I drank way too much and probably did more stupid things than I remember. The master diver tried to make me go the the dive locker cause I had a 5345 nec in my record. I remember JJ Johnson, he and I had many beers together and talking about bird hunting. I never saw Bos'n Boushet again, wish I could have , he was one cool dude. I did see Liz McFarland back in the states, I was at ACB-2 Little Creek, as was Ronnie Bryant. I didn't want to leave the island but careers take us elsewhere, but have many fond memories of that place.

October 1986 - October 1987
Larry Bender = larrybender@q.com
Citizenship = USA; Service = USN; Outfit = NAF Diego Garcia
My_Quest = Update my e-mail address
My Warstory = Just wanted to update my e-mail address just in case anyone wants to look me up.
I was stationed many places in my 21 years, but none are more memorable than DGAR. My last entry was many years ago so I'm way down the list. This is a great website. Thanks for your dedication.


December 1984 - October 1988
D. Dator = ado.dator@gmail.com
Citizenship = Filipino-Canadian; Service = Bottoms-Up; Outfit = FEBROE - Finance
My_Quest = " GOT NO IDEA, was asked to do an errand, scratched my head ...end up in Diego Garcia."
VT_of_a_Swallow = "Appear and Disappear"
My_Warstory = 47 months of dealing with the Resident-Officer-In-Charge, billing the Treasurer of the United States and the EXCITING ACTIVITIES in between..... brings lot of memories while at Diego Garcia. I hoped to elaborate all, but too much coconut crab like topics to spread out. I guess what happened in the plantation stays in the plantation.


Nov86-Nov87
Joe Matteo = jmatteo1@juno.com
Citizenship = USA; Service = USN; Outfit = NSF/PWD
My_Quest = To hear stories of the past and catch up with shipmates; VT_of_a_Swallow = Who cares; My_Warstory = As Pat Rose stated in his listing I was also one of the few non Seabees in Public Works. I was a Quality Assurance for the power plants and back-up generators. I remember the great parties we had in the BEQ with all from the command Officers and enlisted alike. We used to call it the Saturday night road show if I remember correctly. There is kind of a haze. I also remember learning how to sail there. CDR John Hayes taught we how to. The great times we had on the Island.



1986-1987
Darryl Morris = <darryl@familyfishingtrips.com>
Dates_Aboard = September 1986 - September 1987
Name = Darryl Morris submit_by = captdarryl@familyfishingtrips.com
Outfit = Marine Barracks
I have many fond memories of DG. I was definitely one of the plank owners of the Marine Barracks -- actually fourth man on deck after our CO Maj. Studenka, the admin clerk Lcpl Trogalin and the supply NCOIC SSgt Serano. My job was the armory NCOIC and Capt Lashlee's (flyboy playing grunt) and the First Sgt's (VietNam vet who never fired a shot) worst nightmare because I didn't cheat on my wife while there, did my duty and had one hell of a easy duty. My experience with DG started at Quantico when I got my orders and only 72 hours to be on a flight out of LAX. Then, newly married of only seven months, I left her for 370 days not even knowing where DG was. When I arrived at the Brit customs and saw the wall mural, I knew. Here I am at the MAC terminal, orders stamped and no clue where to go and not one sailor knew anything about Marine Barracks Diego Garcia. Remember, this Barracks didn't really exist yet officially. Finally a Navy Chief said she knew where the Marines were and gave me a ride and dropped me off at the worst looking, old white elephant of a barracks I had ever seen. I reported to the duty NCO of the ground defense force from Okinawa who then took me across the street to a much nicer set of barracks. We knocked on this door and there stood a drunk-as-a-skunk, gin-smelling Marine in boots and utilities and no blouse or t-shirt, SSgt Serano. He was suppose to meet me at the MAC terminal but apparently got his days confused. Then started the long task of turning up an armory. When I finally received the Barracks' first weapons issue, they were temporarily stored across the street in conex boxes. What a nightmare. Even new weapons would rust overnight in that humidity. Shortly after that I worked with the Seabees to reinforce an old mailbox room next to the laundry room for a temporary armory that met all NAVSAC regulations. All the while, a more permanent facility was being reinforced and remodelled next to the guard shack. I never got to see it finished before PSC'ing to Camp Lejune. I also remember our first formal inspection. I got a Navy Achievement metal as a result of my duty on DG. I remember the first day I met Gunny Hatfield, our guard chief and multiple Bronze Star and Purple Heart recipient. He was definitely a grunt's grunt and always treated me with respect even though I was not a grunt. When I wasn't on duty I would run to the donkey gate and back, play volleyball at the short pier, helped the fatboy sailors over at the gym and took in a movie at the outdoor theater. Most of all, I LOVED the marina and spent most of my off-duty time there. I made good friends with Sammy, the marina manager. He taught me a lot about fishing (hand lines of course), snorkelling/skindiving, and throwing a net for fish. It figures because I am a fishing guide boat captain today. I remember so many other things. I remember so many faces but can't remember names; I remember setting the flag pole and barracks bell; and I remember the 15-day turn-a-round mail. I wished I could go back one day. The first thing I would do is go fishing.
Attached are a few of the pictures I have remaining of my tour on Diego Garcia. Then, I was Sgt Darryl Darryl Morris, Marine Barracks DG's first armory NCOIC.
Capt. Darryl Morris;
Editor's Note: For the best freshwater family trip you take, go the Hot Springs Arkansas and go on a charter with Capt. Darryl! Check it out at http://www.family fishingtrips.com.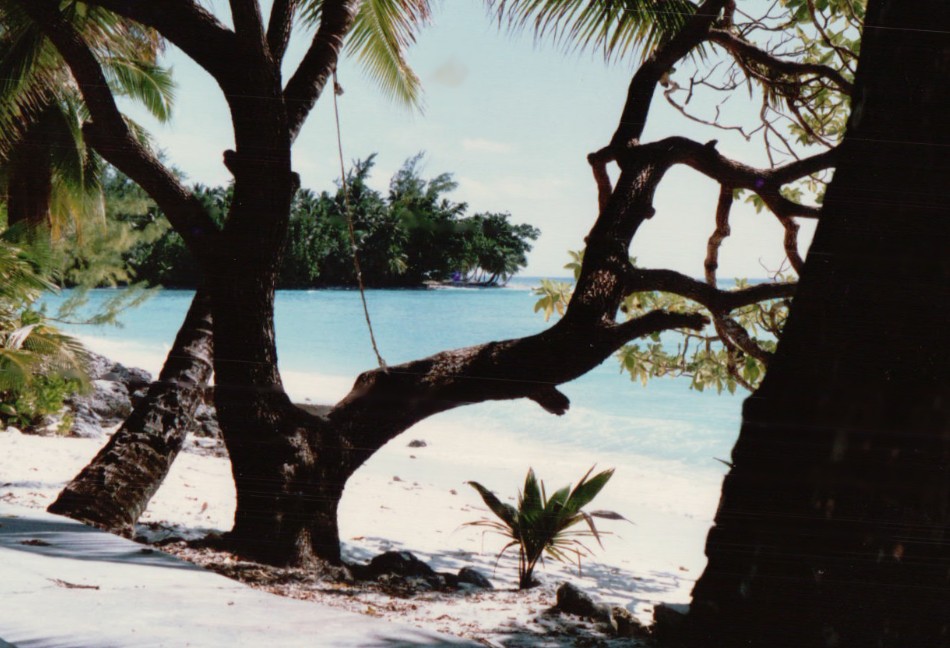 Above - Cannon Point in the distance...
Below - The Entrance to the Marine Barracks on DG, 1987 with SGT Morris in the foreground.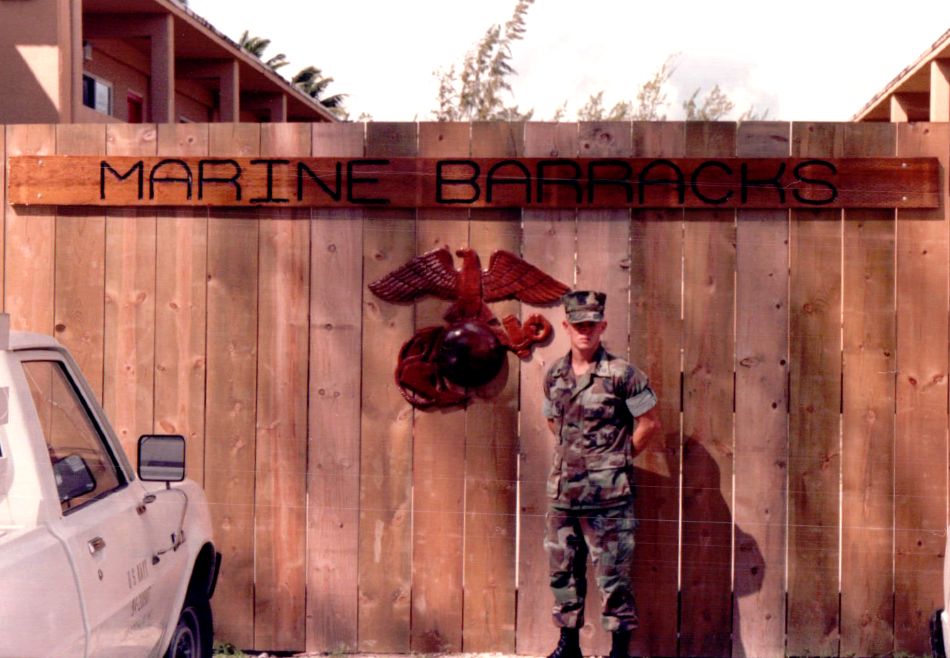 Below - Inside the Marine Barracks. A sight very few sailors ever saw and lived to remember... Ooh Rah!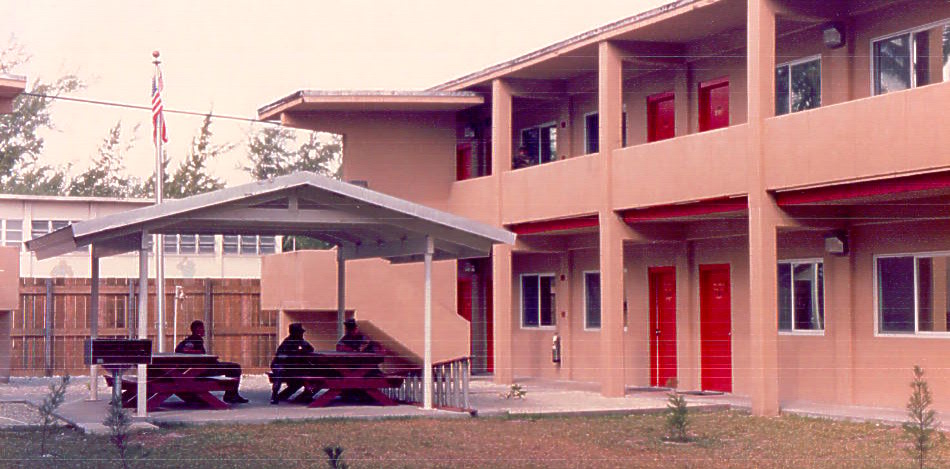 Here's more from Darryl: I posted earlier a general story of my experience on DG. This is a specific one in detail only encompassing a few weeks. When I arrived at DG the Marine Barracks was not only new but not officially turned up yet. As the Barracks' first armorer, I waited for the arrival of our first weapons TMO issue. So, there was much downtime. I remember taking a college course and getting Red Cross CPR qualified. Having nothing else to do I went further and became a Red Cross CPR instructor. This did not last long but my sailors loved having class on the beach in civis after the morning session. As I said before, I had an easy duty. Apparently, the powers to be (Barracks CO, NSF CO and most feared the NSF Chief) took too much notice and tasked me with more duties -- Island VIP driver. Admiral "Ace" Lions, CINCPAC Fleet Commander was on his way from Hawaii. I got the sedan ready, hell I made the blue-starred standards myself. I picked him up on the tarmac and headed up DG1. We rounded the corner by the Ship's Store and some sailor didn't salute the car. He yells "Stop, stop." I stopped, he gets out and chews that sailor a new one. He gets back in the car, slaps me in the back of my head sending my cover off my head saying, "The next time I tell you to stop Marine, you better stop." We continued not more than a block and another sailor didn't salute the car. When I heard the "S" of the word "stop" come out of his mouth I jammed on the brakes and sent that short, fat, blowhard of an admiral halfway into the front seat. He recoiled into the backseat, retreived his cover, got out and ripped that sailor a new one. He got back in the back seat, hit me in the back of the head sending my cover flying and said, "It's about time I got a driver that can follow orders. You're going back to Hawaii with me." Oh shit, is he serious. Later that evening I picked him up taking him to the O-club for dinner. I dropped him at the front door but he sees fit to park me nearby and put me at parade rest by his sedan. I stood there for hours in the DG heat. I did it and I haven't been as so sore since bootcamp. Needless to say, we put his arrogant ass on the plane, but I did get a CINCPAC Fleet Commander key chain. I just counted my blessings he didn't remember he wanted to take me with him. I had a day off and then another VIP pickup for USO - Loretta Lynn, her husband Dew and the band. She was a class act as common and loving as any of our moms could be and so was the band members. The NSF CO gave up his quarters for them and I did my best to get them settled. I was promptly informed by the NSF Chief that it was my job to get them to their appointed place in time on time. That turned out to be an eight-day job of love and hate. Her next appointment was to meet with the sailors and Marines at breakfast. Now, she had already told me not to knock on her door too early the next morning. The next morning at 0600 I rang the doorbell. Here comes Loretta in nightgown and housecoat rebuking me about knocking on her door. I starchly responded as any good Marine would, "Mam, I didn't knock on your door as you forbade me to do, I rang the doorbell." I won't repeat what she said out of respect for a nice southern woman. It was my job to drive her and lead her band to each appointment and provide backstage security. They did several concerts on the island. On Sunday, they were to do a concert for the sailors on CVN Carl Vinson which went underway earlier that morning. I took Loretta to an LZ and she caught a helo to the ship. While waiting for the helo she grabbed me from behind and her PR guy got a good B/W pic. It hangs on my wall to this day. Anyway, having nothing else to do I get on the helo and went with her (justifying that it was my job to get her there and provide security for her). We toured the Vinson, watched active flight ops before she put on an awesome concert. We returned to DG, no harm, no foul. After LL and crew departed I got a summons to the NSF Chief. He takes me to the NSF CO who begins to tell me I have been UA. Apparently I left the island without orders and that was a no-no. Nothing happened and the Chief smiled, maybe.
1986-1988
Gerald (Jerry) Hannah = RetNavyCPO1985@yahoo.com
Citizenship = USA
Service = Contractor
My_Quest = Food Service Manager
My_Warstory = After retiring from the Navy I landed a job on Diego Garcia through a good friend of mine Don Tetley, he was ready to leave and suggested me for his replacement. 1986-1988. I was the Food Service Manager in charge of the Galley and Multa Million Dollar Warehouse where Fresh, Frozen and Dry Provisions were stored. I provided for the Galley, Clubs, Prepositioning Ships, American Battle Groups, and American Embassies in Mauritius and Somalia. Every so often I would have to catch a C-141 and fly to the Embassies to check on there provisions to see if they were happy with what they were receiving and if there was anything I could do to improve service. It was usually during a time when they were drawing Provisions. I really liked this job, but it came to an end when a British firm got the contract. So I went to Saudi Arabia for three years to join my friend again, Don Tetley. Which is another story...
feb 86
Name = greg jordan
submit_by = gregjordan66@hotmail.com
Citizenship = USA
Service = USMC
Outfit = Saratoga CV60
My_Quest = priceless
VT_of_a_Swallow = Visa
My_Warstory = This was a two week stay their in a hut not far from The beach and what an awesome beach and ocean.I would Love to live their.....that's about it sorry to Bore you....over n out.........Greg

Dec 86-Jan 87
Name = Tim Lewis
submit_by = e5l@hotmail.com
Citizenship = USA
Service = USMC
Outfit = Wpns Co 2/8 81mm Section attached to Fox Company 2/8 for Guard duty out of Okinawa
My_Quest = To find the Holy Grail!
VT_of_a_Swallow = European or North American?
My_Warstory = Well, I remember we couldn't touch, look at or accost the Crabs, but that didn't stop us from making raids on them and taking no prisoners!
I had a military drivers license so I got to drive the 2 1/2 ton 6x6 when I was on react. At night after driving the Corporal of the guard around to check posts or relieve sentries, I would pull the truck up in fronmt of the the react barracks and lay on the air horn (like you are supposed to before backing up) and then back the truck up and park it. Well, the Navy guys and gals in theNavy barracks across the street from the react barracks got to complaining about me waking them up at 2400 and 0400, so I was orderd to use a ground guide to back up so the Navy could get their beauty sleep. LOL
I remember that all the Navy chicks who were there at that time were pregnant and awaiting rotation back stateside. Some of them were "Easy" and some were a little harder and some were just damn impossible to get out of uniform!
The little 6 man air conditioned trailers that we lived in were actually the best accomadations I ever had while I was in the Marines.
There wasn't a lot to do except drink, PT, swim or drink and drink and drink.
The ciggarettes in the PX were old and the paper on them was brown and they smelled like burning Hay when you smoked them.
New Years Eve in the club was a wild affair! We all got the Steak Dinner/Magnum of Chanpagne deal for the party, but we didn't drink our champagne. Instead we would shake the bottles for 30 seconds every 5 mins for the last hour before the New Year....The bottles were about to explode! The corks were trying to push their own way out and we had to hold them in with our thumbs....When the New Year arrived we let the bottles loose all over the place and the floor of the club had about an inch of champagne floating on it...So we turned the dance floor into a Slip and Slide and had a grand old time until we got thrown out about 0030!
I reckon that we were the next to last re-enforced company from Okinawa to pull guard there before the permanent Marine Barracks was completed and manned.
I found out several mionths later when I went home on leave that one of my best friends fathers who was a Seabea back in the day had built most of the runway and some of the ammo bunkers and some of the older barracks on Diego Garcia. The pics he had didn't look much different from when I was there.
Diego Garcia was an awesome 30 day experience for a young Marine!
1983---87
Name = William (Bill) Thibault
submit_by = witcapri@gmail.com
Citizenship = USA
Other_Country =
Service = Contractor
Other_Service =
Outfit = Engineering
My_Quest = information
VT_of_a_Swallow =
My_Warstory = I survived three condecutive years, including the earthquake.The Navy Has changed a lot since I shipped out 1942---46.

1985-1987
Name = Eric Patrick
submit_by = pinegrover1@yahoo.com
Citizenship = USA
Service = USN
Outfit = AFRTS-Radio and TV Program Director
My_Quest = Checkin' in with other DG'ers
My_Warstory = I remember when we flew in to DG, I thought were the hell have they taken us. Of course I had just arrived from Argentia, Newfoundland so this was really different. I remember the hot chicks from Admin. downstairs in the barracks, remember Tina Zenta from the Air Force Liaison Office? Yeah, I married her, didn't work out, but we lasted almost 7 years, that's kind of like hittin' the lottery in DG.
Anyway, I saw Greg Milota's post about the AFRTS station during our time on the Rock, man we did make that friggin' det. fly!!! Hello to Ron Anstett, Greg Milota, Chief Riccio, my roomate Chris Russell, Rob Belpedio, Baz, and all the rest.
When I was there all I wanted to do was leave and now I would return in a heartbeat.
I'll never forget the $42,000 we raised in the Navy Relief Telethon we hosted in '86. I was married when I got to DG, my wife was in the Navy too stationed in Pearl, she met another guy and broke it to me on one of those damn phones you had to buy the time cards for. She dropped the news to me with about 2 minutes left on the card, I can still remember the sound of that click. So I saved up for another card and called back in a week and the new guy answered the phone! Ouch Diego Garcia hearbreak. But it all worked out. I still hate that first wife though hahaha.
Great site, enjoyed it so much!! Keep up the great work.
In '87 we did a whole 6 hour Halloween TV special with Creature Features hosted by a couple of us knucklehead JO's in the studio doing a kind of Doctor Frankenstien Schtick and right in the middle of one of our live shots in the studio we had candles burning and caught a curtain in the studio on fire. Also in the show we had gone out to the plantation earlier that week and shot "b" roll video and interspersed that with some hottie from admin. named "Michelle" she was a latina girl and she was gorgeous but nuts when she drank anyway It made for some pretty hilarious tv, I'm wondering if there are any JO's out there with any of that video we made, remember the singing crabs on the beach, the crazy things to do on DG Video, and the countless DG Weekly's we had to do. I really enjoyed my time on the radio, I hosted the "Wake up DG" show for most of the time I was stationed there, I can still hear Capt. Norrington on the CO Report with his daily "Mogen Doga Moga"(sp?)greeting. I remember there was a print JO on the base when we were there too. I don't remember his name, but everytime he'd drink beer, when he'd return from the bathroom he always had a big wet stain on the front of his shorts, hilarious, we all used to yell at him "man you gotta shake that thing one more time". I could go on and on, it kind of looks like I have. Again, really enjoying the site!!
27th june 1984 up to 30 th nov 1992
Name = Kaisynaden C. Pillay (KC)
submit_by = kaisy63@hotmail.com
Citizenship = Mauritian
Other_Country = Mauritian
Service = Contractor
Other_Service = FEBROE & IPAC
Outfit = COMMUNICATION DEPT BOS CONTRACTOR
My_Quest = wants to hear from friends who had known me .
VT_of_a_Swallow = dont know
My_Warstory = HAD A VERY GOOD TIME ON THE ISLAND.

1986-1987
Name = Jim
submit_by = icevip21@yahoo.com
Citizenship = USA
Other_Country =
Service = USN
Other_Service = Seabees
Outfit = NMCB7 detachment
My_Warstory = Remember well the great time I had on Diego , We had several Jobs there to complete Build new bathrooms in the park there , Build new Bike/Walking path from center of town out to Airport Marine Barrucks rehab and other small jobs while there. What A experence and so much beauty. I can remember walking on beaches for hours not seeing another person discovering shells and coral i had never seen the like before and TurtleCove was stunning. I can still remember saving up to use the cable and wireless for the few minutes i could afford. And damn did we drink alot of pitches at the club only to remember walking up on the beach the next morning in A lawn Chair. and working out at the gym there with My Buddy dave and roomate. Great group there at that time . Would love to hear from any others there at the time. Seabees Can Do!

Mar '86 - Mar '87
Steve Pogorelec = poges_1@charter.net
Citizenship = USA; Service = civilian comm. tech.; Outfit = can't remember
My_Quest = To find the Holy Grail (or just remember what the heck happened that year)
VT_of_a_Swallow = African or European?
My_Warstory = Too many, drinking, playing softball, drinking. Hosting Thanksgiving dinner outside my room(officers quarters) for a bunch of enlisted folks I worked with and pissin' off a bunch of officers. Had great times on Diego Garcia.
1986
Larry Oshins bang@ufl.edu
Citizenship = USA
Service = USN
Outfit = VA-52
My_Quest = To get back to a better, simpler time. Or get beer.
VT_of_a_Swallow = slower than Vt of my Mooney, so it goes splat on my windscreen and now we're both hosed
My_Warstory = No shit there I was WESTPAC '86 on board Carl Vinson as a squadron type working a bench in Avionics Shop 9. Out of the PI headed for Singapore my chain of command realizes that I was Not Squared Away. Squadron XO had me all figured out, my problems all stemmed from an allergy to land combined with having too much money and being full of shit. Kind man chewed me one great huge new posterior orifice and took some of my pay thus neatly solving the first two problems. For the last one he took away my upcoming liberty in Singapore and DG. So for a coupla five days or so I was there, saw the sunsets and the water, smelled the breeze, but all from within the lagoon. Went up to the flight deck in the morning and watched the sunrise over the ocean looking over the island to my east; did it again that evening to see the sun set over the ocean, looking over the island to the west. With the inevitable tales of disappointment heard when a liberty call of thousands overwhelms a place not geared for that amount of ... infrastructure, I figured I'd seen just about all there was to see and saved myself some long lines in the process. How wrong I was, though mercifully I was spared that knowledge until now.
From: John Springer (1986-1988 and 1990-1991) <johnnyfulvia@tampabay.rr.com>
First, let me compliment you on your superb site. It is absolutely fabulous! Your people-finding feature is the best and I just discovered some folks I hadn't heard from in years.
Now I am looking for a couple of old buddies that I lost contact with. They are STEVE RILEY AND STEVE HAWKINS, both Navy helo pilots who served on Diego between 1986-87. I would very much appreciate it if you could put my mesage
in your website. Thanks and keep up the brilliant work.

1983 to 1987
NAME = Carmen Floyd ( Austen-Smythe)
MY QUEST = Dig up Memories of the past, and smile about them
VT of a SWALLOW = Who gives a ....! have another beer!!!!
E-MAIL = carmenfadz@hughes.net
NATIONALITY = Dual National, UK and US...god Bless the Queen and USA!!!!!
SERVICE = Royal Navy
UNIT = ROPO 4 BIOT Police
RANK/RATE/JOB = Well was a kick butt chick with the help of my Royal Marine Comrades and NSF Security, have since left now the Fire Marshal for City of Columbia SC USA...go figure, still giving folk h..l!!!!
MY WARSTORY = well in continuance from the Shake and Bake (7.6 on the Richter Scale and 100.00 on the sphincter scale!!!) I would love to hear from the gang who were there when I was. Since joining the Columbia Fire Department, I have discovered that my former Fire Chief, 'Jack' John Jansens son was on DG with the airport FD, Ran into a merchant marine whos father in law was my landlord in Havelock NC....John Kersanac!!! you Dog and one of the Battalion Chiefs with Columbia Fire Dept was one of the first SEABEES on the "Rock" way before I got there...Alma Hill you salty Dog!!!! so if anyone knows of whom I speak, send me the dirt!!!!
Ooh lets see, does anyone remember;
Joe Hoole USMC
Rob Belpedio, AFRTS
Chief Manasalas NSF Security ( dont think I spelled that right) Eric Salinde, NDSF Security Bill Rhoades, E Site Ramine Geisler, Airdale and any other poor soul who served at that time................!

86\7
NAME = rupert goodall
MY QUEST = checking in on fun memories
VT of a SWALLOW = ill ask johnathon livingstone seagull.......
E-MAIL = rupert5@optusnet.com.au
NATIONALITY = brit........now australian
SERVICE = royal marines
UNIT = xo RANK/RATE/JOB = completed military time in 89 , lived australia since
MY INTEREST IN DG IS = Stroll Down Memory Lane
MY WARSTORY = ....no war and no story , but met some wonderful people and memories...... giles norrington.....john springer.....budd manning.......vince smarjesse.....durkin ledgard.........norma hahn, linda bolan , tim mcgee...weatherman........to name but a few .....apologies to so many others whose names escape me.....special mention to sam at the marina and pineapple george.....
1986
Ed Moran <ed_moran64@comcast.net>
I left a Loretta Lynn USO show early aboard the USS Chuck Wagon (CVN-70) about 1986 to ride in for free beer at the beach on 'The Foot Print of Freedom'. That was my second visit, I spent about 3 days waiting for a flight to al-Masirah, working 'til noon then drinking cheap beer from whatever the cheap USAF beer store (Class Six or something) store was called. Never did find out if coconut crabs were fact or fiction.
Ed Moran
Houston, Texas
1986-1987
NAME = Dani Pool
MY QUEST = To say HI and I miss you to everyone that I was able to meet then
VT of a SWALLOW = don't care
E-MAIL = schmoootz@aol.com
NATIONALITY = French-Indian, Italian, Irish, English
SERVICE = USN
UNIT = Security "Diego Vice" or "Book'em Dano"
RANK/RATE/JOB = Just a wee seaman when I arrived. Disabled but not letting anything get me down.
MY INTEREST IN DG IS = My Time There is Lost in an Alcoholic Haze, Help Me Remember!
MY WARSTORY = I remember winning Champaign and drinking too much too fast on the beach. Ever since anything that smells like it I gag!
June 86 - Jun 87
NAME = Lonny Eisenberg
MY QUEST = Contact info
VT of a SWALLOW =
E-MAIL = axemn66@mtco.com
NATIONALITY =
SERVICE = U.S. Navy
UNIT = NCS - Admin Office

1986 to 1987
NAME = Ken Alsip
MY QUEST = To retire and stop working all together
VT of a SWALLOW = Equal to a photon torpedo in a black hole
E-MAIL = Ted Morris has it for any old buddies.com
NATIONALITY = US
SERVICE = AF
UNIT = Det 374 TAW
RANK/RATE/JOB = AF Retired
MY INTEREST IN DG IS = Want to Drink A Lot, Cheap
SUBJECT OF MY STORY: = This is a No-Shit Fishing Story
MY WARSTORY = I also had a great time on DG between 1986 and 1987. I was the AF MAC guy from aircraft maintenance. Along with all the good times, we also worked very hard. But that was boring, so here's some other stuff I remember:
Old rumors & stories ? A diver got ate by a shark off duty and all they found was a flesh filled shoe. WW II - A false radar return resulted in weapons and
ammo being passed out to a bunch of drunks at the clubs. They were dispatched to the beaches and thought the Japs were attacking. The drunk civilians
wouldn't give the weapons back after notification of a false alarm.
True stories ? My predecessor Ken Hadden got a real DWI on a bicycle from an ate up Navy cop. A Navy diver got attacked by a white tip while I was there, but didn't sustain any serious injury. British customs had bestiality warnings in their incoming briefing (donkeys). We all laughed, but they said it was a serious problem. During a merchant marine swap out a C-141 radioed ahead, warning us the flight was out of control and the passengers were extremely drunk, fighting, and smoking etc. etc. Navy & Brits met the plane and had a real problem getting them under control. Someone robbed the enlisted club of some serious cash, and I don't know if the crime was ever solved. When we needed the air bags behind the dive locker to raise up a DC-8 with a nose gear collapse the rats had eaten holes in them. Pineapple pulled the Brit Commander's chair out from under him at a formal dinner in dress whites. The participants laughed themselves silly.
It was a year I will never forget. Those stories are the tip of the iceberg (included due to their PG rating). I went off to the Philippines, then Yokota
Japan and retired from the AF at 20 years. I'm now 48 and living in Oklahoma City. I've been with Boeing on the B-1 bomber program here for almost 10
years.
A special hello to the following: Pineapple George (highly sought after by flight crews worldwide for cook outs, beach excursions, and fishing trips; also
a fine airplane mechanic and friend); Eric and Francis (the best Filipino guitar pickers and singers); Darrell (a serious beer drinker from Navy Harbor Ops); Jim Mitchum (the boss for all the contract mechanics); the store manger (with the signs for rating passer byes); Ilene & Bridget (thanks girls!); Janice and Rosemary (my good friends); Mac; Bob; all the AFRTS guys (we used to drink and play guitar with); Ken Simms and the Navy Nurse, Ted Morris; and of
course Lester, God rest his soul.
1986
NAME = Bill B
MY QUEST = Reliving
VT of a SWALLOW = to swallow as much alcohol as DG had crabs and live to tell
E-MAIL = bakescomps@yahoo.com
NATIONALITY = Amer.
SERVICE = U.S.M.C
UNIT = Ammo Tech/Guard Ammo Bunker/Drinking
RANK/RATE/JOB = Left marines doing contract for Gov./owner Computers Plus
MY INTEREST IN DG IS = My Time There is Lost in an Alcoholic Haze, Help Me Remember!
SUBJECT OF MY STORY: = Actually, I Have a Real Story To Tell
MY WARSTORY = First night at the club shooting pool and who do i find but a beautiful girl named A$$$$ who went to school 8 miles from me in the
neighboring town, i wrestled and she was a cheerleader we even knew some of the same people,anyway the time spent walking on the beach, drinking, staying at the white hooches, were the best, now that girl is a officer and still in the Navy-that is awesome, i have to say that i have been to a lot of places and seen a lot but the peaceful time spent on DG with this girl has to be the best.
nuff said

3-86
NAME = Bill B
MY QUEST = Finding Lost Souls
VT of a SWALLOW = speed at which we puke didived by the time it takes to swallow it again
E-MAIL = bakescomps@aol.com
NATIONALITY = Amer
SERVICE = U.S.M.C
UNIT = 2nd BN 6th Marines
RANK/RATE/JOB =
MY INTEREST IN DG IS = My Time There is Lost in an Alcoholic Haze, Help Me Remember!
SUBJECT OF MY STORY: = Please Select a Title For Your Story, or Select 'Other'
MY WARSTORY = spent part of 1986 on the FootPrint ran into a female neighbor of mine from Chambersburg Penn. had the best time of my short life.
NUFF Said!!!!!!!!!!!!!!!!!!!!!!!!!!!!!!!!!!
86/86
NAME = Terry Miller a.k.a ratman
MY QUEST = to be drunk again on the coconut plantations of paradise again
VT of a SWALLOW = fast if you pull her head tight
E-MAIL = cgooshnter@lpbroadband.net
SERVICE = Uncle Sams Miss guided Children
UNIT = gaurd duty
RANK/RATE/JOB = lcpl usmc
MY INTEREST IN DG IS = Want to Return When the First REAL Club Med Opens
SUBJECT OF MY STORY: = Other
MY WARSTORY = Can't remember a damn thing to tell about nothing but a blurr!
great traing with the brits (training to drink) holy shit can they drink!
thanks for the times If you know me write me, if you don't and you have nude pictures of your wife or girlfriend send them!!! party on!!!

1986-1987
NAME = Don Oliver
MY QUEST = To catch Hector the Hammerhead is he is still alive!
VT of a SWALLOW = Depends on the size of the shot glass and the brand of whiskey!
E-MAIL = donald.r.oliver@usmc.mil
NATIONALITY = American
SERVICE = U.S. Navy
UNIT = NAVSUPFAC Security Dept
RANK/RATE/JOB = Then: SN Now: Chief Active Duty
MY INTEREST IN DG IS = My Time There is Lost in an Alcoholic Haze, Help Me Remember!
SUBJECT OF MY STORY: = This is a No-Shit Drinking Story
MY WARSTORY = Hello ROPO 4! I read the article on firecracker safety, very impressive! Glad to see you?re doing well.
Where do I start...? There was the time when I spent the weekend in the "Bat Cave" drinking "Bat Shit" with The Royal Marines or hanging out with Marsh "Swampy" and the rest of the Brits or "The Whole Lot" as they would say at the Brit Club. There was also the time when they had to carry me off the HMS "Beaver" after a day of drinking Snake Bait/Bite and Cider (I thought it was apple juice) or how about the night before the wedding when the Brits stormed my room and kidnapped George and I drove us out to the Donkey gate in our skivvies handcuff together (should of seen the look on the face of the GEODS Employee who stopped to give us a ride back to town after we were ate up by the bugs for a few hours. Oh the memories... I remember ROPO 4 throwing drunken Sailors from Big Red in the back of her land rover a speeding off to the seaman?s club to get them on the last liberty launch to the ship.
I have many other stories with detail, but I will have to check with others to get permission to tell these stories. As much as I enjoyed my stay on Dodge and I wouldn't mind see some of you again from the past I would not want to end up in PROPEOPDEMREPDG Court!
Respectfully,
Don
a.k.a Ollie, Girth and sometimes Dumass

83 to 87
NAME = Carmen Floyd (formerly Austen-Smythe)
MY QUEST = To share the crazy times on the "Footprint of Freedom"
VT of a SWALLOW = Hey I have the script to the holy grail!!!!
E-MAIL = carmenfad@hughes.net
NATIONALITY = Brit/Amercian Dual National
SERVICE = Royal Navy
UNIT = Royal Overseas Police Officer number 4 BRITS
RANK/RATE/JOB = Was ROPO 4, since left RN, now Battalion Chief with Columbia Fire Dept SC USA
MY INTEREST IN DG IS = My Time There is Lost in an Alcoholic Haze, Help Me Remember!
SUBJECT OF MY STORY: = Actually, I Have a Real Story To Tell
MY WARSTORY = Well I just read Chris Butlers story of the downed Helo..........well guess what? I was one of the ROPO's that found the hand and foot of the one of the crew members that washed up on shore on Ocean side, not too far from where the flip flops or thongs as the US say wash up on the
beach!!!!
I witnessed the docking of USS Carl Vinson's arrival to DG for th first time.
DG was an special place and will be as long as I can remember it!!! would love to hear from anyone who remembers me!!!

1983-1987
From: "Carmen Floyd" <carmenfad@hughes.net>
To: easy501@zianet.com
Date: 05 Oct 2006, 04:10:12 PM
Subject: DG
Dear Ted,
I must say it is a pleasure to visit your site, it brings so many memories back and looking at the photos I remember many of those faces!
You see I was stationed on 'The Rock" from '83 to "87!!!! With a couple of breaks in between. I was affectionately known as ROPO 4, with the BIOT Police!!!!!
I was there the night we had the 'shake and bake, then thought we would all perish from the impending attack of the 'tidal wave" The only thing I remember was who was zooming who!!!!!
I was also the only female Brit female Cop on the Rock. Things were booming back then, the Seabees were phasing out and RBRM was taking over, Penta Ocean had finished dredging and the deep water basin for visits from carriers like Carl Vinson (after top gun was made) could visit us!!!!
I really miss the smell of fresh mangoes being flown in from Singapore to DG on a C141 courtesy of MAC air!!!
Well now this Brit is a US citizen and a Battalion Chief with the Columbia Fire Dept in South Carolina…..go figure, it was too good to pass up and I decided to hang with my American cousins……………….YEEHAR ( no I do not watch Heehaw!!!)
I just wanted you to know that your site brings me much joy…………….keep it up!!!
Carmen Floyd

1986
NAME = Anthony Ellison
MY QUEST = to go back
VT of a SWALLOW = quick
E-MAIL = antone@hotmail.com
NATIONALITY = RED, WHITE & BLUE
SERVICE = USMC
UNIT = Party
RANK/RATE/JOB = LCPL on our way back to the states from okinawa, spent a month at DG
MY INTEREST IN DG IS = Stroll Down Memory Lane
SUBJECT OF MY STORY: = Other
MY WARSTORY = I was pulling firewatch when the space shuttle blew up. It was also the place where I went to my first toga party. really enjoyed the time spent there, what I can remember of it. I also remember going to some abandoned house. crabs all over the place, donkey's lookin like they haven't eaten in a year, and this old fuselage, warplane from the early day's I guess. Anyway that's my story and I'm stickin to it. I now reside in TN.


1984-1989
Alejandro Canasa <larry_canasa@yahoo.com>
Dear Ted,
I think the photo of the hidden man is of William Harrington a.k.a Bill Harrington the Harbor Opeerations Manager, and John Springer is the Personnel Manager of FEBROE, my boss... I am the guy who prepares travel papers to anybody employed by the company whether they are being kick out of the island or taking R&R. I am from Annex 02 Im checking for some pictures to send during my stint at Diego Garcia from 1984 to 1989
Larry Canasa
FEBROE Travel Specialist


Jan. 1986
NAME = Kenny W Carlson
MY QUEST =
VT of a SWALLOW =
E-MAIL = kennyc0413@hotmail.com
NATIONALITY =
SERVICE = USMC
UNIT = Guard Duty
RANK/RATE/JOB = Lance Corporal/ Honorable Discharge in 1987 MY INTEREST IN DG IS = Please Select The Category That Best Discribes Your Interest in Diego Garcia SUBJECT OF MY STORY: = Other MY WARSTORY = I consider myself lucky to end up on Diego Garcia, my other option was cold weather training in Japan. Our Battalion was on a 6 month float to Okinawa, from there we were sent to Mount Fuji, Japan for training exercises. Before we left Mt. Fuji we were split up and most of us were going for cold weather training but a few lucky bastards were able to go to Diego Garcia for a month of guard duty, thank god my platoon sargent had seniority.
My time on the rock was great, one day of duty and three days off to drink,and sit in the ocean, oh and having sex with the female Navy enlisted I hooked up with shortly after arriving on the island.
Diego Garcia was one of better experiences I had while in the marines.


86-88
NAME = Debi Manning then - Wittrock now
MY QUEST = Try and fill in the blanks left by too much booze!
VT of a SWALLOW = Don't know, Don't care
E-MAIL = Debi720@Yahoo.com
NATIONALITY = US
SERVICE = USN
UNIT = Medical Clinic
RANK/RATE/JOB = I was an HM2 back then- Pediatric RN and mom of 4 now
MY INTEREST IN DG IS = Stroll Down Memory Lane
SUBJECT OF MY STORY: = Actually, I Have a Real Story To Tell
MY WARSTORY = I loved Dodge- and fell in love on Dodge (OK, I fell in lust quite a few times too)
I married Chris "Topsy" Turner on Cannon Point, in fact I jsu saw one of my wedding pictures. Sadly, that didn't last, but good memories do!
I had a blast drinking a 6 pack of Blue Nun with Father Ted, - Meetings at "The Bench", BBQ's on the pier, parties at the Brit Club and the Dive Locker.... (In a weird twist if fate my second (And current and last) hubby was on ther Navy Skeet shooting team with Johnny "JJ" Johnson for the Dive Locker!)
Much has been lost to the haze of San Miguel, Bat-Shit, and Red Horse, but this sight has helped me remember more and more!
I'd love to hear from anyone who remembers!


1986-87
NAME = sherry l hill
MY QUEST =
VT of a SWALLOW =
E-MAIL = sherryh@yearone.com
NATIONALITY = U.S.
SERVICE = U.S.N.
UNIT = NOCD - WEATHER OFFICE
RANK/RATE/JOB = I WAS AN E-5 THEN AND CIVILIAN SINCE 1988
MY INTEREST IN DG IS = Geo-political Rabble Rousing
SUBJECT OF MY STORY: = Other
MY WARSTORY = DIEGO IS THE ONLY PLACE WHERE A PERSON CAN ACTUALLY WALK A BEACH WHERE THERE ARE NO OTHER HUMAN FOOTPRINTS.
OF COURSE, THERE ARE CRAB AND IGUANA PRINTS EVERYWHERE AND IT WAS THERE THAT I DISCOVERED OUR SOCIETY'S LEGACY FOR THE ARCHEOLOGISTS OF THE DISTANT FUTURE, PLASTIC TAMPON TUBES AND STYROFOAM ANYTHING.
IF I COULD I WOULD GO BACK THERE AND NEVER LEAVE EXCEPT FOR A VISIT TO SINGAPORE OR BANGKOK EVERY COUPLE OF YEARS.

1984 TO 1986 (GOOD TIMES !!!)
NAME = DAISYMAE BANEZ PINCHART
MY QUEST = I WORKED AS A QUALITY CONTROL SECRETARY
VT of a SWALLOW = I DONT KNOW !
E-MAIL = czarinapinchart@hotmail.com
NATIONALITY = FILIPINA
SERVICE = NOT APPLICABLE
UNIT = I WORKED FOR A CONTRACTOR NAMED FEBROE
RANK/RATE/JOB = QUALITY CONTROL SECRETARY
MY INTEREST IN DG IS = Want to Return When the First REAL Club Med Opens
SUBJECT OF MY STORY: = I'd Like to Share Precious Memories of Drinking/Fishing/Snorkeling/Sailing on Diego Garcia
MY WARSTORY = WELL, DURING MY STAY THERE AT FOOTPRINT OF FREEDOM, I DID ENJOYED WORKING BECAUSE IT WAS MY FIRST TIME TO WORK ABROAD AND ENJOY MY FREEDOM AS WELL. WORKING EXPATRIATES AND THE NAVY CHALLENGED ME ALOT.
MY LOVELIFE? GOSH! I HAVE FOREIGN SUITORS LEFT AND RIGHT THAT ALMOST EVERYTIME I HAVE TO HIDE FROM THEM COZ THEY ALWAYS ASK FOR ME... THEY DO LIKE SEXY ASIANS LIKE ME!
I WOULD NOT MIND WORKING BACK THERE...NO HASSLES AND IT IS FUN IN THAT WONDERFUL ISLAND !!! : )
CHEERS : )
DAISYMAE

Dec 86 - Dec 87
NAME = Rob Relford
MY QUEST = Stroll down memory lane
VT of a SWALLOW = depends on whos swallowing
E-MAIL = rrelford@hotmail.com
NATIONALITY = American
SERVICE = UNITED STATES MARINE CORPS
UNIT = Marine Barracks
RANK/RATE/JOB = L/cpl Left service in 1992 after injury Served proudly in first Gulf War 1/7 Now an Osage County Deputy Sheriff
MY INTEREST IN DG IS = My Time There is Lost in an Alcoholic Haze, Help Me Remember!
SUBJECT OF MY STORY: = Please Select a Title For Your Story, or Select 'Other'
MY WARSTORY = Just wanted to say thanks for the site. Alot of memories flood back as I think of the island and look at the pictures from then. But the one thing I will always remember is the golden rule of DG. DONT MESS WITH THE QUEENS ASS,P***Y, or C**K ie the donkey's chickens or cats.
Made alot of good friends there both Marine, Navy and Brit. I hope you all are doing well. I seen a post on here from it was then Capt. Lashlee "OOOORRRRAAAAHHHHH!!!! Sir proud to have you as my X.O.
Semper Fi


1986-1988 4months on 4months off
NAME = Dave Koppenhofer
MY QUEST = to try to restore memories
VT of a SWALLOW = African or European and are they carring coconuts
E-MAIL = dkoppyus@yahoo.com
NATIONALITY = American
SERVICE = USN
UNIT = VRC-50 Det B
RANK/RATE/JOB = AZAN My job shave my facial hair or LT Vreeland will write you up, Pickard (inside joke)
MY INTEREST IN DG IS = Stroll Down Memory Lane
SUBJECT OF MY STORY: = I am a Born Liar, and Want To Tell About All The Sex I Had on Dodge
MY WARSTORY = who did Mary first???????????????? Who bought the last case of San Miguel on Wednesday, I do have some video and pictures from Dodge, DGAR, the rock or whatever your crew called it.


1984 1989
NAME = Jean Roland Noel
E-MAIL = rolandnoel@bigpond com .au
NATIONALITY = mauritian australian
UNIT = febroe bos contractor working as janitor houssekeper
RANK/RATE/JOB = now am working as a nursing assistant in australia
MY INTEREST IN DG IS = Want a Job as Far Away from My Wife as Possible
SUBJECT OF MY STORY: = There I Was, Passed Out on The Beach
MY WARSTORY = Yes there i was cleaning the toilet making your bed from 1984 to 1989 while you were here and there traning or fighting

1986-1987
NAME = Bob "Biddy Boo" Baxter
MY QUEST = zen
VT of a SWALLOW = she swallows?
E-MAIL = spamers suck
NATIONALITY = US
SERVICE = USN
UNIT = AIMD
RANK/RATE/JOB = AN/paint chipper
MY INTEREST IN DG IS = My Time There is Lost in an Alcoholic Haze, Help Me Remember!
SUBJECT OF MY STORY: = There I Was, Passed Out in My Room
MY WARSTORY = Waking up after a night playing volleyball & drinkinig Turbo (A litre of rum in a coleman tumbler w/ one can of coke)to the point of excess I awoke to the left side jaw throbbing & swollen. I figured I had pissed off some jarhead & had gotten my due. Knowing that if I showed up at doc's office & said "I was really hammered & have know idea what happend" I would be off to Captin's Mass ASAP I had to come up w/ a B.S. story. I showed up & told the doc "I was going for a dig & blasted my grill off the post". Well the doctor took X-rays & then a battery of tests (I figured to check BAC). A few hours later the doctor came back in & told me I had the Mumps. The freakin Mumps, how the hell does someone get the Mumps on Diego Garcia.
I was looking for info on possible tsunami damage on the island & found the site. I've got a lot more but the boss is bustin my ball's.
What up to Vester, Gil, Big Tom H., Del & my homie Sully. We had a ball in the middle of the IO. OH... Woody pulled that fire alarm not me I just took the fall.


ON AND OF FROM 1985 TO 1988
NAME = RICHARD M. RICE
MY QUEST = TO SHARE SOME GREAT TIMES I HAD ON THE FOOTPRINT OF FREEDOM
VT of a SWALLOW = DEPENDS ON WHAT YOU SWALLOW!
E-MAIL = POORRICE@COX.NET
NATIONALITY = AMERICAN
SERVICE = U. S. NAVY RET.
UNIT = PERSONNEL SUPPORT SERVICES MANAGER
RANK/RATE/JOB = RETIRED SHCM FROM USN AND THEN WORKED FOR CIVILIAN CONTRACTOR ON DG
I WAS WITH THE ORIGINAL CONTRACTOR THAT TOOK OVER THE BOS CONTRACT.
I HAD THE SHIP'S STORE, LAUNDRY, BARBER SHOP, TAILOR SHOP, BEAUTY SHOP.
MY INTEREST IN DG IS = Stroll Down Memory Lane
SUBJECT OF MY STORY: = Actually, I Have a Real Story To Tell
MY WARSTORY = I HAVE MANY FOND MEMORIES OF THE YEARS I SPENT ON DIEGO GARCIA, BUT A SHORT ONE FOLLOWS:
THERE WAS A GROUP OF US EX-PATS THAT HAD QUARTERS ON A CORNER THAT WAS LOCATED IN AN AREA THAT THE FEMALE INHABITANTS HAD TO PASS TO GET TO AND FROM THEIR QUARTERS. WE HAD A COUPLE OF UPSTAIRS UNITS AND A FEW DOWN STAIRS UNITS. OUR UNITS ALL HAD REFRIGERATORS WELL STOCKED WITH WHATEVER, BEER, WINE BOOZE,ETC.
WELL WE GOT INTO THE HABIT OF CHEERING THE LADIES AS THEY PASSED AND HOLDING UP SIGNS WITH A NUMERIC VALUE FROM 1 TO 10. OF COURSE WE ALWAYS OFFERED THEM REFRESHMENTS. IT WAS GREAT FUN FOR AWHILE AND WE MET SOME PRETTY NICE GALS. BUT OF COURSE SOME BULL DYKES TOOK OFFENCE AND OF COURSE THE COMMAND STRUCTURE HAD TO TAKE ACTION. THAT ENDED THAT PHASE OF FUN.
I DO NOT KNOW IF THE SWIMING POOL STILL HAS ALL THE SIGNS IT USED TO BUT WE CALLED IT THE "NO" "NO" POOL BECAUSE OF ALL THE SIGNS THAT STARTED WITH NO. POSTED AT THE ENTRANCE. WE WERE AMAZED THEY LET YOU SWIM IN IT.
BY THE WAY I DID NOT LEAVE VOLUNTEERLY, I WAS MEDIVACTED WITH A HEART CONDITION IN FEB 1988. I REALLY HAD A GREAT TIME WHILE WORKING ON DG, MY ONLY GRIPE WAS IT WAS SO FAR TO A LIBERTY PORT.
ALL THE BEST RICHARD (DICK) RICE
P.S. DID THIS EARTHQUAKE IN INDONESIA DO ANY HARM TO MY BELOVED ISLAND.

1986
"Carla Barth" <frapedro@bellsouth.net>
My Friend in DG,
Greetings from the First Coast of Florida, from Jacksonville, Florida to be exact. Been wondering about you on the Island and recent events concerning the tital wave that went through the Indian Oean. Can you tell me how things are and if there was any damage?
Husband and I were stationed on DG from Jan 1986 to Dec 1986. Enjoyed almost every minute of the island, especially being on a topical island and seeing blue salt water instead of the normal bayou brown. Miss those days in Paradise. Got plenty of good tales from Security and the great adventures on Island.
Type us when you have time because we understand how crazy things can get there. Thanks for making a web site for the experienced and want-to-be's to post their memories, thoughts and desires. God Bless You.
C. Pontiff-Barth

1986-1987
Beez Bohner <rbohner@adelphia.net>
Greetings,
Came across your info when I was searching for info on the Tsunami effects on DG. Great site....
I was stationed on DG in 86-87 at NAF as a helicopter pilot for the H-3's. What a great time. Helped to build "Buffet Cove" and socialized frequently at the Brit Club, X-Pat, O Club, etc.....
Of course I would like to join your fine and august organization.
Thanks and have a great day.
Beez Bohner
USN, Ret.

Jan,1986/1987
NAME = Stephen Adams/RM3
MY QUEST = Memorys
VT of a SWALLOW =
E-MAIL = sadams7740@aol.com
NATIONALITY = American
SERVICE = USN
UNIT = communications
RANK/RATE/JOB = RM3
MY INTEREST IN DG IS = Please Select The Category That Best Discribes Your Interest in Diego Garcia
SUBJECT OF MY STORY: = Other
MY WARSTORY = Trying to track down anyone that know's where Jerry Donolan or John Williams, might be let me know I miss the ROCK. I had a blast while there.


OCTOBER 1986 TO OCTOBER 1987
NAME = LARRY BENDER
MY QUEST = CAN'T REMEMBER BUT WANT TO
VT of a SWALLOW = PRETTY DAMN FAST
E-MAIL = LABAZ@THERIVER.COM
NATIONALITY = USA
SERVICE = U.S. NAVY
UNIT = NAVAL AIR FACILITY, AIR OPS LEADING CHIEF, AIR TRAFFIC CONTROL OFFICER
RANK/RATE/JOB = ACC RETIRED
MY INTEREST IN DG IS = My Time There is Lost in an Alcoholic Haze, Help Me Remember!
SUBJECT OF MY STORY: = There I Was, Passed Out in My Room
MY WARSTORY = IT WAS ON ONE OF THOSE RARE INSTANCES WHEN THER WAS A PARTY GOING ON. I THINK IT WAS SOMEONE'S BIRTHDAY PARTY. I WAS HAVING A CONTEST WITH MY LEADING PETTY OFFICER (LPO). JACK DANIELS WITH A COKE CHASER IN SOME SPECIAL GLASS SHAPED LIKE AN HOUR GLASS. 15 DRINKS LATER (I THINK I WON) THE PARTY MOVED TO A DIFFERTENT LOCATION SO I FOLLOWED. I REMEMBER OFF AND ON FALLING DOWN AND PEOPLE PICKING ME UP AND TRYING TO LAY ME ON A RACK. I WOULD JUST KEEP GETTING UP THEN FALLING DOWN.
SOMETIME LATER I WAS CARRIED BACK TO MY ROOM (AROUND 5:00AM). AT 6:30AM ONE OF MY ON DUTY CONTROLLERS WOKE ME UP AND TOLD ME THE SKIPPER NEEDED ME IN HIS OFFICE. I DRANK A QUICK CUP OF INSTANT COFFEE AND HE DROVE ME DOWN TO THE SKIPPERS OFFICE. AS I STAGGERED IN THE SKIPPER SAID "ROUGH NIGHT CHIEF?". I SAID "SORT OF" AND ASKED HIM WHAT I COULD DO FOR HIM. LUCKILY HE JUST NEEDED SOME INFORMATION FOR INCLUSION IN A REPORT. WHEN I LEFT, MY LPO PUT ME ON THE BUS AND I WENT BACK TO MY ROOM. WHEN I WOKE BACK UP (APPROX 2:00PM) I COULD HARDLY WALK AND FOUND MYSELF COVERED IN BRUISES INCLUDING ONE THAT COVERED MY ENTIRE RIGHT CHEEK (THE BIG ONE NOT THE ONE ON MY FACE) LUCKILY MY BEST FRIEND WAS IN CHARGE OF THE DISPENSARY TOOK SOME X-RAYS AND SAID NOTHING WAS BROKEN. TO MAKE A LONG STORY SHORT I QUIT DRINKING FOR 2 WEEKS.(THAT WAS LONG ENOUGH) I WALKED WITH A CANE FOR THE NEXT WEEK AND IT TOOK OVER A MONTH FOR THE BRUISE TO DISSAPEAR. TO THIS DAY I DONT KNOW HOW I GOT THAT BRUISE ( I THINK THE GUYS THAT CARRIED ME BACK TO MY ROOM DROPPED ME) BUT THEY NEVER ADMITTED IT. THAT WAS A NIGHT I WILL REMEMBER (BUT NOT ENTIRELY) ALL MY LIFE.


1986
NAME = Rich
MY QUEST = Blue... no green
VT of a SWALLOW = Forty-Two
E-MAIL = n/a
NATIONALITY = USA
SERVICE = USAF
UNIT = TDY
RANK/RATE/JOB = E-4 (1986)
MY INTEREST IN DG IS = My Time There is Lost in an Alcoholic Haze, Help Me Remember!
SUBJECT OF MY STORY: = I am a Born Liar, and Want To Tell About All The Sex I Had on Dodge
MY WARSTORY = I was returning home for 30 days leave between overseas assignments. When I got stateside, I was offered (???) a short assignment as a special courier. To where?
Well, Diego Garcia sure sounded exotic enough at the time. Lajes, Nairobi, and then an idyllic little piece of real estate half-way around the world. I decided that after I completed my assignment, I might be able to continue on to the PI, Guam, Hawaii, and get back to the States by taking the long way home. The nice man cutting my temporary orders assured me that it could be done. It was I must admit, a feeble and foolhardy attempt at circumnavigating the globe for free, compliments of MAC, and another of many hard lessons on why my mother told me never to volunteer for anything.
Unfortunately, by then flights eastbound from the island were becoming somewhat rare, and I found that I might get stranded in Dodge for days waiting for a Space A out of there in any direction. Fortunately, I was able to get on an odd flight bound for the Mid-East, Germany, and then home again. My time on the island was less than two days, spent mostly drinking and sleeping. Not much different than the remote I came from, except it was far warmer (I was coming off assignment in Iceland). If the military was giving out frequent flyer awards, I would have been 20,000 miles the richer after almost two weeks (give or take) on cargo planes.
All in all, a nice place to visit... but I remember myself asking this same question so many times during that trip, (and many times since), "What the @&#$! am I doing here?"
Much thanks to the folks who helped to get me out of there.
No sex (no lies anyway).
End of story.
Moral: Don't volunteer for anything.
P.S. Great website! Don't know what made me do a search for it, but there you are.

1984-1986
BOB DUKE <Chiefbduke@aol.com>
Hi, Just ran up on your site and after reading through most of it (it's a lot of reading) thought I would send you a note and say Hi and that I enjoyed it all. I was stationed there from Nov '84 to Feb '86. I enjoyed it so much I extended twice. (Knew one guy while I was there that had managed to extend 5 times (5 full one year tours back to back)) Your site really brought back some great memories. Great fishing and crystal clear water in both the lagoon and off the outside beaches. Spent many evening roaming along endless beaches with out a soul for miles. I was there for the big and perhaps the only earthquake (supposedly a 500 year event, that measured 7.6 of the Richter Scale) and I was there when the first aircraft carrier pulled into the lagoon and was there when the first B-52 landed on the newly extended runway, what a sight. As I said many great memoreis. I'd be honored to be a member if I may. Regards Bob Duke (US Navy Retired Electronics Chief P.O. S.W.
1986
JESSE WILCOX <willcoxj@bellsouth.net>
Awesome page, thanks for bringing back some memories. I only visited "The Rock" or Dodge as I was told it was called in, 86. I was ships crew on the Carl Vinson. I was able to fly off and visit with the crew at the ASWOC there and had a tour form their view point of life on the island. I spent many afternoon with a Coleman cooler full of Coke and rum (any brand worked fine). I enjoyed the quiet beach before the ship pulled in. Don't think I would have liked a year there but it sure beat the carrier life.
Good luck in the sandbox and come back safely. That place sounds more and more like it was in Saigon in the late sixties.
Regards,
Jesse Willcox, US Army 67-70;
57th, 159th DUSTOFF 67/68
222nd CAB 69/70
USN 74-93; HSL 32 Norfolk, TSC Sigonella, ASWOC Rota, ASWMOD USS Carl Vinson, USS Lexington and, NETPMSA Saufley Field, Pensacola, FL
1986-1987
STEVE WOODS
Booze Brothers Softball team: I am looking for my old friends that I had on diego garcia! I was on the rock from late 1986- october 1987 ! I worked at aimd . an steve woods!!! thank you ! and my E mail is StevPwoods@aol.com
1986-1987
NAME = Fifield
MY QUEST = To relive the glory days left behind on D-Gar
VT of a SWALLOW = Carrying a coconut or unladen?
E-MAIL = rsfifield@yahoo.com
NATIONALITY = American
SERVICE = USN
UNIT = Comm Center---ET Shop
RANK/RATE/JOB = ET3, recovering
MY INTEREST IN DG IS = Stroll Down Memory Lane
SUBJECT OF MY STORY: = Other
MY WARSTORY = As one of those "Comm geeks" that Cindy mentioned, I just want to set the record "straight".....We not only played Dungeons and Dragons, we also dabbled in Champions, Star Frontiers, Gamma World, and uncontrolled alcohol abuse while swapping videotapes of Star Trek: TNG and sharing the latest comic books. Pure, unadulterated escapism.

1986/1987
NAME = Lonny Eisenberg
MY QUEST = Was on the Softball team with Jeff Selby, Pappa Wolf and the boys (booze bros)
VT of a SWALLOW = hell I dont know....i was just a friggen YN
E-MAIL = axemn66@theramp.net
NATIONALITY = american
SERVICE = Navy
UNIT = NAVCOMSTA in the admin office
RANK/RATE/JOB = on the island was YNSN, did 8 years. out now and full time firefighter/paramedic in illinois.
MY INTEREST IN DG IS = My Time There is Lost in an Alcoholic Haze, Help Me Remember!
SUBJECT OF MY STORY: = This is a No-Shit Drinking Story
MY WARSTORY = If you were there in 86' you'll remember a story of the midwestern kid who was being taught to bodysurf by friends on ocean side of island down by T site. Got pulled out by undertow and had what seemed like the entire security staff and friends looking for me. I treaded water for about an hour before the current took me down parallel to the island and finally brought me in. I dont know how far out i was but i remember being far enough out where the tide of the water would take me up high and i could see the whole island tip to tip and then back down and i could see only the water around me. lol I think i made a deal with god that day.......get me through this and i won't drink another drop. I hope I'm not in too much trouble for breaking that promise. Anyways they had the helo out lookin for me but i was back in on shore by the time they got there. Captains mast was fun, I guess he didn't think i learned my lesson. oh well. Hello to YNSN Mike Johnson and YN3 Jeff Selby and YN2 Steve Kozerak.
1979,1980,1984,1985,1986
NAME = Joseph P Stropole
MY QUEST = Old Friends, and Enemies....
VT of a SWALLOW = 60 MPH in a Windshield
E-MAIL = jstropole@mail.com
NATIONALITY = USA !
SERVICE = Merchabt Marine
UNIT = USNS Rigel, USNS Mercury, USNS Jupiter, USNS Ponchatoula
RANK/RATE/JOB = 3rd Asst, 2nd Asst
MY INTEREST IN DG IS = Decided to Join A Monastery, But Couldn't Find One Stateside
SUBJECT OF MY STORY: = This is a No-Shit Sailing Story
MY WARSTORY = 1984, Ready to leave the skids, for the rock, civillian merchant marine waiting for the REPAT flight, the animal launch (remember this one ???) Broken Faces (not mine), Broken dreams, and then broken airline tickets, somebody smacked my favorite CHENG, the offender was a jarhead....The rest was BIOT history....
Arrived December 10th, 1985 Left Decenber 17th 1987
NAME = Gregory A. Milota
MY QUEST = To connect with the greatest people in the world - DG Alumni
VT of a SWALLOW = More than 30 knots
E-MAIL = Gmilota@hearst.com
NATIONALITY = U.S.
SERVICE = Navy
UNIT = AFRTS detachment
RANK/RATE/JOB = Still in the Navy Reserve - 14 years (out for 6)
MY INTEREST IN DG IS = Want to Drink A Lot, Cheap
MY WARSTORY = I have told practically everyone I know about DG. No one really believes there is a place on this earth you can go and live in absolute anonymity from the civilized world. They say "what happened in Vegas stays there." The same holds true for DG. I worked with 4 men at the AFRTS det there who changed my life, and I'd like to tell you about them.
When we got there (all within four months of each other) the det was a pretty boring place to be. We ran canned programs and drank alot. The first on the island was Ron Anstett. Why this incredibly talented man was wasting time on the island instead of working for a network is beyond me. Still, the most talented broadcaster I've ever known. He taught me how to put together a smooth - flowing news story.
Second was Eric Patrick. He taught me how to put together a fast - paced exciting radio show that could hold an audience for three hours! He was the radio equivalent to Ron.
Art Riccio was my CPOIC. He gave us the freedom to do whatever we wanted and took an active role in all of our work. A great father - figure and a true inspiration. All sailors should be lucky enough to have an Chief Riccio during their careers.
Finally, there was Ken Litwak. Incredibly talented person who was very, very creative. Drank himself into oblivion and always blew me away with his radio - tv ingenuity.
We made that detachment freakin' fly!
Hey Bill, Tom...No disrespect to you, Island Insight was the spin-off of DG weekly. We laid the template for your successes. And I understand you experienced some. Congratulations!
The greatest moment for all of us was raising 42,000 dollars for Navy relief in a 24 - hour radio TV Telethon with the Brits! That will never happen in a command the size of DG again. Ron, Eric, Ken, and Chief are completely responsible for my successes, and I think of them often. Bill, you were there, there was no year like '86. Des...I see your name. You dated my girlfriend's roomate. Hell, you married her! Wendy was Devi's roomate, my girlfriend...now my wife of 16 years. We married three months after getting off the island and never looked back. I'm now working for NBC in Sacramento. I've covered Superbowls, World Series, NBA All Star Games, Olympics, Earthquakes, Riots, OJ, Unabomber, and now "Ahnold" for governor. None of my experiences come close to the friendships and experiences I hold dear to my heart from DG. I was able to visit the island in 1994 for a 17 - day reserve duty, I was totally drained by the flood of memories and the renewed appreciation and wonderful opportunity to see it again. I'm even more excited about my "farewell tour" in fiscal '04.
I'll be returning for the last time - at least my jealous wife says no more trips to DG after this. A special hello to the AG's on the island. My wife was an AG3 when I met her there. Paul Plunkett, you're my hero! I intended to write a little, I could write forever...
Rob Belpedio, Moses Clark, Reggie Watson, Paul Claxton, BAZ, Yolanda, Chris Russell, Brian Miller, Britt Casteel, Mike Godfrey, George from "new car sales," Ric Evans, you are my family!
Thanks for the website!
Greg Milota AFRTS 1986 - 87 (Uncle Greg)
1986
<Woodys9goods@aol.com>
Hey there It's Turbo Woody/akan woods aimd! I am looking for The Booze Brothers Softball Team of 86 and All my NAF AIMD ,Drunk Seadogs/ shipmates! I am so happy to have found your site marking as a favorite for sure !!! thanks ya old Brown Shoe!
1983, 1984, 1986, 1987, 1991, 1992, 1993
NAME = Dave (K9) Hardy (nice picture of me!) ed note: on http://www.zianet.com/tedmorris/dg/brits.html
MY QUEST = For you to contact me
VT of a SWALLOW = |African or European?
E-MAIL = Linda.Hardy@amserve.net
NATIONALITY = Brit
SERVICE = ROPO
UNIT = K9
RANK/RATE/JOB = Ex-ROPO ex-RN (Royal Navy) now merchant navy. Yes I have just returned from the Gulf as well.
MY INTEREST IN DG IS = Decided to Join A Monastery, But Couldn't Find One Stateside
SUBJECT OF MY STORY: = I'd Like to Share Precious Memories of Drinking/Fishing/Snorkeling/Sailing on Diego Garcia
MY WARSTORY = Been there, seen it, done it, couldn't get a t-shirt 'cos you had already bombed the placed out.
\regards \\k9
\\dave hardy
Spring 1986
NAME = Mike
MY QUEST = Fond memories
VT of a SWALLOW = Whi friggin cares.....
E-MAIL = mikemac64@attbi.com
NATIONALITY = American
SERVICE = USMC
UNIT = U.S. Marine Detatchment
RANK/RATE/JOB =
MY INTEREST IN DG IS = Stroll Down Memory Lane
SUBJECT OF MY STORY: = There I Was, Passed Out on The Beach
MY WARSTORY = Visited DG in the spring of 1986. Stopped there right about the time Marcos got booted from the Phillipines. We were the 2nd Batallion 7th Marines, and we were there to provide security for something or other.
Drank many beers, one of out Lt's had some sort of incident, made him an ass forever, and I got laid. By a good looking girl no less. Though she did tell me always screwed a Marine from the new unit whenever they rotated in.
Trained with the Royal Marines, and although I am a BOston irish Catholic, I still hung out with them. It was a good time, and I almost had the chance to go there on permanent duty when they opened the Marine Barracks there.
Great place, and I wish I took that opportunity.
1986 -87
NAME = daisy (RN Medic)
MY QUEST = To meet up with old friends
VT of a SWALLOW = depends if it upside down or not
E-MAIL = g.a.adams@blueyonder.co.uk
NATIONALITY = British
SERVICE = Royal Navy
UNIT = Customs and immigration.
RANK/RATE/JOB = Now retired from RN
MY INTEREST IN DG IS = My Time There is Lost in an Alcoholic Haze, Help Me Remember!
SUBJECT OF MY STORY: = Other
MY WARSTORY = I have lots of stories to tell, ALL of the amusing to say the least.
Spring 1986- Summer 1987
NAME = Nadirah
MY QUEST = Peace
VT of a SWALLOW = Coming or going?
E-MAIL = kama_lei@hotmail.com
SERVICE = USN; UNIT = Disbursing/PSD; RANK/RATE/JOB = Back home in Southern California.
MY INTEREST IN DG IS = Geo-political Rabble Rousing
SUBJECT OF MY STORY: = There I Was, Passed Out on The Beach
MY WARSTORY = Total tanning when the search and rescue helio flew overhead!! A quick hello to those of you that know- the best and worst of times. Foundation for exceptional friendships and a love affair, which will last from lifetime to lifetime! Crystalline waters. Spectacular sunrises (can't get those elsewhere!) and lingering sunsets. A dream world; Paradise or Fantasy?
February 1986 - February 1988
NAME = Larry Goulet
MY QUEST = To go to DG to die
VT of a SWALLOW = Don't know - she was a spitter, not a swallower
E-MAIL = honcho13@mediaone.net
NATIONALITY = American; SERVICE = U.S. Navy; UNIT = NSF Safety Officer; RANK/RATE/JOB = Senior Chief Machinist Mate (SW) Retired (1992)
MY INTEREST IN DG IS = Want to Drink A Lot, Cheap
SUBJECT OF MY STORY: = I am a Born Liar, and Want To Tell About All The Sex I Had on Dodge
MY WARSTORY = Actually, I spent way too much time at the Brit Club and the CPO Club! The XO was always asking me why the Safety Truck was always parked in front of one club or another. That ol' S-10 was used for shuttling people back and forth to the clubs or going to the plantation far more than it was EVER used for safety crap. Those cheap-ass green plywood crosses on the sides were a dead give away. Back when I first got on island you had to be more or less "invited" to the Brit Club, but I sucked-up to them and became an honorary member. I remember that once we had a visit from a bunch of parliamentarians from the UK and got invited by Bob Kennedy to a "do" that night at the club. I was just getting my first "Bat Shit" (151 Bacardi & coke) when this short, whited-haired gentleman turned to me and said "I don't think we met earlier today. I'm Winston Churchill III." My jaw hit the floor and I stammered something like "You're joking." He look me squarely and said "I can assure you young man, I am not!" He was pretty cool and we had a great evening.
One accomplishment of which I was particularly proud was I was able to get all the prices of all the booze at the Turner & CPO clubs reduced. The thing was that we were making so much money and Welfare & Rec didn't have enough projects to spend it on. We bought all new sound equipment for the CPO Club, patio furniture, the 2 Sea Oxes, and that Sunliner for the marina, and tons of other stuff. And still there were gobs of money left over. The FEBROE guy who ran the clubs was irrate - you would have thought we were taking money out of his pocket. But Captain Norrington said "Make it happen!" So it did. Then we found out that FEBROE was using Welfare & Rec funds to send the Filipino and Mauritian works back home on their annual vacations. That was typical of FEBROE - they were always trying to push the envelope as far as they could. They got away with murder! To all my fellow shipmates who were on "the Rock" with me - thanks for making it two of the best, most enjoyable and most interesting years of my Naval career. We ought to have a DG reunion!
1986 - 1987
NAME = Bob Kennedy
MY QUEST = To meet up with Vitt Cox and tie one on
VT of a SWALLOW = The same as the other swallow!
E-MAIL = rakennedy1@hotmail.com
NATIONALITY = Brit; SERVICE = UK; UNIT = Head of airport customs
RANK/RATE/JOB = I was in charge of Airport custom during the dates above.
I met and married YNC Jude Shuman and now have two kids 10 - 8. I left the RN in 1989 and now head up Technical Services for Hilton International. Saw the note from Des Briggs (ROPO1) and thought I would just add to the collection. Had great time in DG. Did anyone ever publish "Under two Flags"?
MY WARSTORY = There are so many, like the leaving of RBRM and the loss of food from Jack Pounders, who remembers those steaks? Or the drug bust that everyone knew about, the robery at the EM's club,w as that ever solved? One day I will talk more.... It only takes a few beers...
86-87
Ralph Blessing <ralph.blessing@mciworld.com>
Hi Ted,
Name is Ralph Blessing CTIC(AC/PJ) and I was the Safety & Occupational Health Officer/Training Officer for NavCommSta from 1986-1987. Additionally, I was probably the only CTI to ever be PCS'd to Diego Garcia. Another story.
Being a published poet and having many military poems, one of them is attached. In fact, it is one of the many military posters that I have designed in my spare time. Additionally, it was given to Loretta Lynn after her Christmas 1986 Tour to the island.
You are more than welcome to use it as you like.
Thanks for the opportunity to return to a truly well-kept secret that will forever remain a fond memory.
Most sincerely,
Ralph Blessing
DIEGO LAMENT
An island in the ocean,
paradise this is not,
we're doomed to spend our tour,
in the land that time forgot.
Down with smoke and liquor,
we're the gallant warriors in blue,
stuck amidst of nowhere,
a million miles from you.
Guardians of the footprint,
we earn our meager pay,
supporting naval vessels,
for two and a half a day.
Alone and bunked at nighttime,
yearning for that lovely miss,
to fondle with sweet memories,
to savor that treasured kiss.
In rain and heat we labor,
our boots are filled with sand,
although not classed as convicts,
but protectors of our land.
No one knows we're living,
no one gives a damn,
who would ever wonder,
'cause we're owned by Uncle Sam.
The time we spend on Diego,
is time we'll never miss,
let NMPC get you,
but don't ever ask for this.
When pearly gates are opened,
and life will be anew,
our frowns will turn to laughter,
and the joke will be on you.
For high above in heaven,
you'll hear St. Peter yell,
"FALL IN YOU WARRIORS FROM DIEGO,
YOU'VE SPENT YOUR TIME IN HELL!!


86-87,89-90
NAME = AO1 Jim Anderson
MY QUEST = lookin for Tomas George, AO2
VT of a SWALLOW = 186mph
E-MAIL = popeye@willinet.net
NATIONALITY = u.s
SERVICE = USN
UNIT = VRC-50, Weapons
RANK/RATE/JOB = AO1 then out of navy at present
MY INTEREST IN DG IS = Want to Drink A Lot, Cheap
SUBJECT OF MY STORY: = There I Was, Passed Out in My Room
MY WARSTORY = making love to a bag of rice? When AO2 Tom George(AIMD)and caroll an AC2 stoped by we was taking about the Buff weapons guys dropping C.B.U.s on the ramp. Thats when I looked at caroll and knew we were going to bomb the shit out of the rag heads that nite. And it was a sure thing at or around 4 am CNN live!! One thing I do know Dodge was my home, if you go out behind weapons dept to the beach and see or use the hut I was the guy who built the path and hut ya you my have re-done it but I was the frist one drunk in it ANY one knowing were Tom George is write me Jim Anderson 1217 cedar st Boone Iowa 50036


1986-1987
PATRICK J ROSE, EMC NNSY <patrick.rose@me.com>
My Quest: Whirrled Peas.
LOVE IT! I spent 13 glorious months in paradise from March 1986 to April 1987. Worked in the Public Works Department, as one of only a few non-Seabees, and part time at the Seamans Club. Believe it or not, actually miss the place. Would go back in a 'Mauritius micro-finstant' (a very brief moment in time), am actually trying to hook up with the new BOS Bubbas there, as this Chief is ready to finally retire from the Active Duty Rolls. If I ever get a job there, will send you some photos. Meantime, will try to find some stories that are fit to print on your site from my time there...
Maybe I could be the Vice Council to "the few, the Proud, the Fleeters in the PWD" on your list? "DING DING, Hammer!" Take Care! EMC(SW) Patrick Rose SIMA Norfolk
1985, 1986, 1988, 1991 EARL BURTON <eburton@aol.com> MY QUEST = To find Sharon Myers (Specialski married name, but now divorced) (See his 1985 entry)
December 86----December 87
ROB RELFORD <rrelford@hotmail.com>
MY QUEST = Just on a journey of wonderment and awe at the lives DG affected
NATIONALITY = U.S.; SERVICE = United States Marine; UNIT = Marine Barracks Diego Garcia
RANK/RATE/JOB = L/cpl at the time got out of service in 92 as Cpl.
MY INTEREST IN DG IS = My Time There is Lost in an Alcoholic Haze, Help Me Remember!
SUBJECT OF MY STORY: = This is a No-Shit Drinking Story
MY WARSTORY = Just like to say I can't believe there is a web site for DG. Damn seems like a million years ago. I was at ITS and my buddys got their orders to go to DG and all the NCO's were laughing at them and I was laughing at them then shit guess were I'm going for a year. Had alot of good memories, mostly staying drunk and the sex with what few women you could get. We usually couldn't wait until the USS Jason pulled in I dated a young lady off that ship for the time they were in her name was Regina, a wonderful young women. there was another gal her name was michelle cant remember the last name she was about 4 foot 11 inches tall maybe 5 foot blonde hair blue eyes. WOW. But for the most part it was guard duty and staying shit faced partying with the Brits and those crazy fucking Sea Bees best bunch of party animals in the world. I remember when we first arrived 1st Sgt Young and Gunny Hatfield had us all doing shots of Tequila until we were smashed. We thought holy shit are we in for a long year. Like I said stayed drunk for nearly a whole year. It was incredable. Well thats my story there is so much more to talk about, but I'm at work and duty does call. Great site. Semper Fi - a survivor of DODGE CITY Rob


"Vittorio Cox" <vcox@macquarie.com.au>
Hey Ted,
I hope this finds you with your head still attached ! I have been trawling through the site and thoroughly enjoying your spirited discourse with the scum sucking bottom dwellers who purport to champion the plight of the poor. Mate, I think your words are unanimously endorsed by the rest of dodge - well done (and such clean language - are you mellowing??)
So dude, this is just to stay in touch - note my new email address and when you get a chance, please update it for me. I have recently packed up the house to move yet again and found a fair few photos - they'll be winging your way soon.
Best regards and happy holidays to you and yours.
Ciao El Presedenti
1986 - 87
VITT COX <vittcox@ozemail.com.au>
MY QUEST = To see the resting places of Snuff and Ben (DG Drug Dogs)
VT of a SWALLOW = African or European?
NATIONALITY = Scottish; SERVICE = Royal Navy; UNIT = ROPO5 Drug Dog Handler
MY WARSTORY = I have no idea how it got broken, I wasn't there.....
I would like some info on my drug dogs, Snuff (German Shorthaired Pointer) and Ben (Labrador) (no sense of smell). I live and work in Australia, play in a band, have 2 GSP's (Snuff and Bentley) and now that the therapy is complete, discover that I loved living in DG. If they are still running that advertisement about the evils of drink and what it can do to you - I was the guy in the Brit Club with the (new) underpants and raybans on my head .. (happy days). I have zillions of phots I shall attempt to send. Be speakin with ya
1986 - 1987
MCKENZIE <mckenzie@quicknet.com>
What is Your Quest? To search
What is the Terminal Velocity of a Swallow? Zero, I killed the swallow
Life, love, and happiness. Would go back in a minute. Made a million on the internet, life does not get much better.
1986-1987 & 1983-1984
DAVE WALKER <davewalker@zebra.net>
I pulled two tours on "Dodge"; the first in '83/84, and again in '86/86. Was an ET, and stationed out at T site both times. [See Dave's 1983 entry to read all about the earthquake].
1984-1989, 1999-????
FRED TAMBELLINI <ftam911@cwnetdg.io><dgchief911@yahoo.com><fredtambellini@hotmail.com>
I am Fred Tambellini,and I was on Diego Garcia with FEBROE 1984 to 1989 as Asst. Fire Chief. Went to Berbera and Mogadishu, Somalia, with Admiral Lee - COMFAIRWESTPAC - to do a fire protection risk assessment. Will send you
a story or two. Also, I am back on Diego Garcia as Fire Chief. WEIRD or what !!! Best to you all, FRED the fire guy.