1972, 1981/1982, 1987 to 1995
Dave Fisher, Capt, USMM (Ret.), CAPT (SWO) USN (Ret.) = callsign.BULL@tni.net
Citizenship = USA; Service = Merchant Marine; Other_Service = USNR; Outfit = USS R. E. Kraus; USNS Sealift Antarctic; SS Green Valley, G. Island, G Harbour; MV Jeb Stuart
My_Quest = Here in 2014, would like to go back for one last, short look-see.
My_Warstory = First went in '72 in USS Richard E. Kraus (DD-849) to deliver crypto gear. It looked like "McHale's Navy" then. Returned in '81/'82 in USNS Sealift Antarctic (T-AO-176) with the MSC Near Term Prepositioned Force. Didn't look too much different. Returned again in '87 to the four Afloat Prepositioned Force LASH ammo ships - a couple of years as Chief Mate, the remainder as Master. Dodge now a little more civilized. While there in 1994, sortied the entire APF as Convoy Commodore and CTG-159.1 for Operation Vigilant Warrior up in the Gulf. Technically still a civilian, but assigned under Allied doctrine.
Left in late '95 to command the COMPSRON ONE flagship in the Med. At the time I left (9 yrs on), I was "The Mayor of DGAR," as the longest serving occupant.
Like to go back one last time before I pass, just to see how "my" island is doing. Have lumpia and a beer at the "O."


1994-1995
Dave Kleinberg <icu4dzss@aol.com>
Hi Ted,
I really enjoyed your website. What a hoot. I had such a good time on DGAR that I told the Navy I would go back anytime they were willing to pay the airfare!
Since by default, I am now the Supreme Allied Surgeon General of the Realm, I will admit today that I spent the last hour writing a huge blog page and it went "POOF" into the ether...gotta love aol for that one.
I had the presence of mind to join the DGAR yacht club which affords you courtesy in any british yacht club in the world...go figure! I never did get a date with that cute little blonde brit cop...she just wouldn't talk to me...I stayed away from the navy nurses though...not the nicest of gals if you know what I mean. I'd sooner shoot a navy nurse as have her in my unit.
I did get to do some cool stuff like have lunch on the PRE-PO commodore's boat with him and tell sea stories. I later met him in Pensacola selling used cars! Lotta good being a navy captain did him, huh?
I was on DGAR in 1994 just after I finished Flight surgeon school. I had to go to dive school so I could press anyone who got bent because the navy divers did that with some regularity as I recall. I got a hop on the P-3 plane while I was there so I had about as good a time as anyone could have given the circumstances.
I ate at the galley regularly and went to the gym while I was there and gained about 15-20 pounds which I have never been able to shed. I was 150 when I got there and came home about 170... Boy did that slow down my running shoes...I ran a 10k race there and nearly died...I was only used to 5k and that was ok for me.
My favorite story though is about the night I was sent to recover two guys who had been sailing their sailboat around the world and had been stuck in DGAR for several months while they made repairs to their boat. They had just left the island a few days after finishing the repairs and stopped on another island to rest and sleep for a while. One guy fell and cut his knee on the coral which if you remember is very nasty stuff. The cut (as you can imagine) got infected and he radio'ed a passing pre-positioned ship to take him back to DGAR. They called the SUPFAC and the CO (CAPT Vernon Overall) called me and said, "Doc, I need you to go get this guy from the ship outside the lagoon tonight because the water is too rough to bring the ship inside the lagoon." (OK so now I know two things, it is a night mission and the seas are dogsh*t. ) Of course, I tell the CO, Aye, Aye skipper. WILCO. That was my first mistake.
I take a flight nurse and two HM's with me and go down to the pier and get on the tug boat that is going to take me to the ship and see this guy. Well we get out into the lagoon and the tug is tossing around like a feather in a hurricane. The nurse is standing next to me, white as a sheet and says, "hey doc, do these things ever split and sink" and I looked at her and said, "maybe, but I hope not tonight" so we got on the raido and the tug captain tells me it is too rough to pull along side of the ship. I got on the radio, and by this time, I am now no longer able to preserve my "seaworthiness" and am blowing chunks between radio transmissions. The captain is trying to keep the ship somewhat steady and the whole night seemed like one really bad drunk without ever having had a drop. Needless to say, NO ONE was laughing till we got back to shore.
We decided to let the guy come to the island in the morning and when he got there, we injected some dye into his knee and found that he had an infection in his joint which is really bad juju. We ended up sending him on an AirFarce Tanker (DC-10...you know the one that crashes every so often) to Singapore where we never heard from him again.
The end result was that I got sent home with a Navy Achievement medal for my stupidity on that tug boat but begged to get them to let me stay till my tour was over because the place was so much fun. I will admit however that while I was on DGAR I missed the SECOND Woodstock. I missed the first one when I was a grunt hospital corpsman in Viet Nam with the Marines. I guess the GREAT Spirit just didn't want me any where near Woodstock in my life time...
Well that is the story ...hope you enjoyed it...I enjoyed your website and hope to see it continue.
Best Regards,
David C. Kleinberg, M.D.
Medical Corps, Flight Surgeon, USN (ret)




1994-1995
John Lewberg IonianC@msn.com
Citizenship = USA
Service = USN
Outfit = AIMD
My_Quest = Not quite sure.
VT_of_a_Swallow = The swoon lies dormant for those who decline the litheness of truth
My_Warstory = Well, it appears I may not be as removed from the masses, as I once believed. The few friends I still occasionally converse with from my days at DG have slowly let their memories subdue within the background of their lives, and the passion is gone. Not that it's a bad thing, but the Island, and that singular moment of time, still touches me. Yes, many a drunken stupor, craziness, and some rather undisclosed moments…that only you might understand, so I keep them stored. But you know, there was much more than that.
It is refreshing to see that the year that has left more impact within my life than any other point in time has left an indelible impression on you also; or else you wouldn't be here. I was a Cal tech at the AIMD, 4 P3 Dets during my time if I remember right. (yes, I remember you Dona) Many happy days, and many more so grumpy days… As I'm sure you all know, hindsight gives us the perspective to embrace the past and cherish that point in time on the far edge of the world where our spirits lay free, within the sun, the sand and coral, the arch of crescent moon that never quite met the sea, the rain, the cats and chickens!, and the friends and those moments we shared.


So I left the Navy after DG and subsequently joined the Coast Guard a year or two later. Ha! I probably wouldn't live that one down. Anyway, although I have seen many unexpected places since then, none continue shine within my nostalgia as that corner of the world. No story this time, maybe later. Perhaps, perhaps, perhaps.


Work hard, play hard, live within the moment.

John

Dates_Aboard = 1994-1995
Meg (McPhee then) stranded97@cox.net
Citizenship = USA
Service = USN
Outfit = "C" Site
My_Quest = To share stories
VT_of_a_Swallow = African or European?
My_Warstory = Funny thing...I remember very little (alcohol induced amnesia), but 
I now work with our good ole CMC from back inthe day...Delta Hinson!

  

I didn't even 
recognize him until he told me who he was!

 

I also recall the endless softball games 
where we would get tanked and heckle everyone, making fun of the people going to the 
gym (NO A/C!), and the endless parties at cannon point.
     Some of my favorite memories include:




     The official Pavillion Christmas party of 1994.

  

We ordered a kiddie pool in and filled it
with beer and most everyone ended up in that pool by the afternoon (yes the
party started at 0630!) It was my first Christmas away from home and it was
perfect!


     

Watching Steve Rose (Cisco) rope furniture in the
Pavillion...we always thought he was a bit off.

  

My roomie Jan...I wonder where she is now!

  




Make your own pizza night!

  

Lumpia at the Donkey Burger!

  

Maybe I do remember some things!

  

That was good stuff!
1994-1995
NAME = Kevin Wyman
MY QUEST = To Seek, To Find, To Conquer
VT of a SWALLOW = Depends....male or female...on DG..males always came first
E-MAIL = Kevbo61@hotmail.com
NATIONALITY = US
SERVICE = USN
UNIT = C-Site
RANK/RATE/JOB = CTA2
MY INTEREST IN DG IS = My Time There is Lost in an Alcoholic Haze, Help Me Remember!
SUBJECT OF MY STORY: = Other
MY WARSTORY = The progressive drinking binges....oh the memories...or should it be...what memories.
1994
NAME = Phil McDaniel
MY QUEST = to return to paridise one day, either this liftime or the next
VT of a SWALLOW = lady sasami
E-MAIL = phil.mcdaniel@cubic.com
NATIONALITY = American XPAT
SERVICE = Air Force
UNIT = Photo Lab
RANK/RATE/JOB = Livin the good life--
MY INTEREST IN DG IS = Stroll Down Memory Lane
SUBJECT OF MY STORY: = I'd Like to Share Precious Memories of Drinking/Fishing/Snorkeling/Sailing on Diego Garcia
MY WARSTORY = First and Foremost I would like to Thank the following for some of the best memories of my life, the years passed too quickly; Jim Piefer, Bob Butts, Fred, "Kahuna"(Curt Redden), George Laughlin, Tom Vaught, "The Major", John Boyle, Mr. Billman, Jack Welch, Wayne Bratchi, Surge Baluyot, Fil Marquez, George Ortiz, and all the Philipinos that touched my heart.
The memories in the play rooms of our Condos are incredible! Lot's of Stoli!
-- and there was the time Bob and I were fishing in a Grey Area across the lagoon by the Antena Field and we were arrested by the Brit Police for fishing in an illegal area, you would have thought we had murdered someone, the interagation at the Police Station was intense!
-- and there was the time Jim and I shaved our heads so we could look like the CO, Tom Vaught, he fell out of his chair when we walked in his office that morning.
-- and there was the time we decided to build a golf course, and a fine one it was, 9 holes with sand greens, we liked to have never talked the Brit Rep into that project, I still have the Plaque with the Charter Members names, good memories!
-- fishing in the lagoon out of one of the MWR boats with Bob spoiled me, I have never enjoyed fishing like that before or since, the fried minnows and peanut butter and jelly sandwiches for breakfast from the Philippine mess hall, I never got used to the deep fried minnows!
-- and then there was Tom, every Sunday fishing outside the Island, Bob and I would show up and Tom would be pacing on deck with his homemade fish killer (The Bat), and his comment every time was "Come on Board, let's go kill some fish"! The Tuna runs were spectacular, Wahoo were great, and taking a bunch of Philipinos with us for bottom fishing out of the LCM was great, I still have scars from learning how to hand line-
-- After hours at the NCO Club, Friday nights, Wayne and I singing Karaoke until the sun comes up for the cleaning crew-
-- and the many dinners in the Philippine camp, those people know how to cook!
-- the Sunday Champane Brunch at the O Club, shooting the corks from the bottles across the dining room, don't remember much else about these times, lot's of laughs!?
-- and the coconut crab cook-outs, we would still be in a dungen somewhere in the UK if the Brits had caught us--He He
-- and Thank you to the Brit Reps for continuing to keep DG a beautiful place to visit, it was truly an opportunity of a lifetime!
-- oh yes, the beauty shop ladies, cut your hair, hot oil, give you a manacure/pedicure/neck and sholder massage, all while we were singing Karaoke, it was too cool!
-- Harassing the Royal Marines at the Brit Club, we had some good fights!
-- The week-end trips to Singapore, Bangkok and Manila, I will leave it at that!!!
-- all the beautiful nights, SUNRISES AND SUNSETS on the white beaches, she made Commander while she was there, I often wonder what she is doing now--
-- In memory of John Boyle, he was truly a good ole yankee! "God's Speed"
-- and to you Ted Morris Jr. for allowing me to Reminisce and share "The Good Times" on the Rock!
"GOD BLESS AMERICA"

1994
NAME = Shiner
MY QUEST = Never to be remembered
VT of a SWALLOW = always mach 10
E-MAIL = shiner6@hotmail.com
NATIONALITY = British
SERVICE = RN
UNIT = ROPO
RANK/RATE/JOB = ROPO1
MY INTEREST IN DG IS = Want to Drink A Lot, Cheap
SUBJECT OF MY STORY: = Other
MY WARSTORY = Well where do I start......DG was well......different. 4 tours in all in a ten year period something you tend not to forget. I met plenty of people some you Love, some you like and some well..you know how it goes. Retired from this line of work now and back with my feet on terra firma. Not the same though Paradise is a long way off!! So I hear its not the same now gone are the Rudi, Turbo Jo, and all the fun Americans, George Laughlin, Mango, Balin, and many more to numerous to mention. So all you "friends" out there give me a shout and maybe we can reminise over a Morgans or 2!!!

1994-1995
TRACY GRAHAM [graham171@btinternet.com]
Hello. I am hoping you may be able to help me. I am looking for Mark Barrow B.I.O.T. police Deigo Garcia, definately 1994/95. I am his sister.I was adopted into another family when we were young. My last contact, was during the years above. I have looked and looked for him on loads of pages but.....It would just be good to say "Hi". Thank you. Tracy

January 1988 To 1999
NAME = Jean Pierre Ramen "ROBIN"
MY QUEST = keeping in touch with people who mean a great deal to me, DG Familly
VT of a SWALLOW = jeanpierre.ramen@parabolemaurice.com
E-MAIL = jpr1369@yahoo.com.au
NATIONALITY = Mauritian
SERVICE = civillian
UNIT = Annex 20 Ac/r department bos contractor
RANK/RATE/JOB = Senior Sales Executive
MY INTEREST IN DG IS = Stroll Down Memory Lane
SUBJECT OF MY STORY: = Actually, I Have a Real Story To Tell
MY WARSTORY = 1988, there i was landing on Dg 20 00 pm, still young 18 years old going on a journey looking for adventure, first night pax terminal to the
barracks 09 sea breeze village, still cool first time abroad meeting new people had couple of beers and got to sleep for my first day tomorrow, 05.30 am my
nightmare began, walk out to the shower room, man what a shock, surrounded with coconuts trees with white sands you could barely looked at i say to myself 'where the hell i am ? second day visit to ADMIN, Downtown, Shipstore, Community bank, and back to Admin, telling my story seems like it was like yesterday, one thing ive learn on DG is to be patience and very understanding, and my patience made me stay 10 long years there, I dont believe it myself, if i have to be grateful its because of people like MR Bob Streegan, where i started to work at tyhe TCN Galley, Mr Faye Parks he was like a dad to me and if im where i am today its many thanks to Faye Parks, Mr James Billman transportation Director, and volley ball coach even his team always loses to our mauritian team, just kidding, Mr Harry Johnson, Mr Bruce Norris, Jim Pfiefer, William Marioka, BOB Butt,and so many more to all those people i say thanks to all of them, unfortunately we've all gone our seperate ways but i hope that one day if we could all be in an island wide picnic it will be a dream come true, sometimes we do speak about paradise, but dg is paradise for people who know they will tell that hell yes paradise of footprint of freedom white beaches, deep sea fishing like nowhwre else, my biggest catch a yellow fin 95 lbs, almost 35 mins fight with a damn shark tailling, party at the BRIT Club, SOUL Night at the 61 Club, Country night at the turner club, mojo at the beach house and not forgetting those mongolian bbqs at the peace keeper Inn, and last but not least those delicious Pizza at sea breeze village,
i would like to say a few words for CHARLY of the seamens club, we cant go to the seamens club without saying hi to charly.
To all the people ive met on DG, NAVY, MARINES, AIR FORCES, EXPAT, BRITS, PHILIPINOS, Hats off, those were the time now im back home and would like very much to keep in touch with people who was there and who remember me,
my name is Robin
Mauritian volley ball team captain
AC / R Dept
Annex 20
my email is jpr1369@yahoo.com.au

1994
NAME = Jason Benson
MY QUEST = Find old friend and drink mofo drink
VT of a SWALLOW = Is that the african migratory swallow?
E-MAIL = cto2_benson@htomail.com
NATIONALITY = North American
SERVICE = USN
UNIT = C-Site
RANK/RATE/JOB = CTO (then) CTM2 (retired)
MY INTEREST IN DG IS = Professional Spy
SUBJECT OF MY STORY: = This is a No-Shit Drinking Story
MY WARSTORY = So here i am drinkin with tracy bulluck at the bar and i start to get a little queeze.. run to the toilet drop a few chunks clean up my mes step back up to the bar and finish our game of asshole.
And as i think back to my experiences i'm in search of long lost souls that i partied with in hopes of re-living my youth now that i'm middle aged (30)


1994
NAME = Chris Day
MY QUEST = To Come back to Dodge when it is an Island Resort
VT of a SWALLOW = 1.2 seconds (how long it takes to swallow 2 shots of jameson)
E-MAIL = sevendays96818@aol.com
NATIONALITY = US
SERVICE = Navy
UNIT = PATWING 1
RANK/RATE/JOB = Then OS1/Now CWO3
MY INTEREST IN DG IS = Stroll Down Memory Lane
SUBJECT OF MY STORY: = Other
MY WARSTORY = What a paradise. Have not seen anything like it since I left. I would return in a heartbeat if I could bring my wife (however, this would not be a good idea since I have 5 kids now.) Dodge was the one of the greatest memories I have of my 19 yr career and will alwas remember it as a place where anything could happen...anything! I got in the best shape of my life and partied all night long at the same time. To Tom, Steve, Joe, Belinda, Dockery, Bubba, Yoder, Ziggy, Lt Tim, Lt Floyd, Jerlin, Kathy, Tina, Stan, Xanthy, and CDR Rob, I say thanks for all the fantastic times and for keeping me out of trouble.
To the originial PORCH MONKEYS of PW1, I miss you all.




Subject: another lost soul from DG
Date: Wed, 8 Jun 2005 21:22:48 EDT
From: Bla2Do@aol.com
It's a family engagement for us. My Granddad lead a construction battalion based in Tent City when the airfield was built. I have some obscure and treasured memorablia.
I was an airframer at AIMD in 1994-95.
Even childhood pales to the sweet peace of DG. I've been watching this site for years and finally have a real contribution. My odd collection of friends that have created their own clan, with elaborate care and theatrical disregard historical accuracy. The clan MacThoy claims to have explored/conquered/debauched most of the known world. Reports keep trickling in of infamous exploits. I created a series of territorial deeds for them, my contribution being the Lost Continent of Limeria. The "heraldic device" displays the BIOT flag with squid clinging to a coconut tree grasping a jug of home-brew--it's still in it's rough stages of clip art reclaimation/cannibalization. I send it to you to say thanks. If the revolution warms up, I'm on the first flight out.
Dona Black AKA Kali Mari
you can find my kin at www.macthoy.org
we'd be honored
(see Dona's Title Deed for Diego on the Plank Owner's Page)

1990-1995 and 1999-2000
NAME = Allen Willey
MY QUEST = Spread the Truth
VT of a SWALLOW = African or European?
E-MAIL = aswilley@aol.com
NATIONALITY = U.S. of Hey
SERVICE = USAF
UNIT = Det 8 AFSPC
RANK/RATE/JOB = Defense Contractor for Ford and Loral Aerospace, Crypto Manager for all three Air Force tracking stations on the island from 1993 to 1995.
MY INTEREST IN DG IS = Stroll Down Memory Lane
SUBJECT OF MY STORY: = Actually, I Have a Real Story To Tell
MY WARSTORY = In 1973 I was an E-5 at RAF Chicksands. I was going through a divorce and was living in the NCO barracks. One night a little two -striper who had been on station only a few months came to my room and said the first shirt had just raped her. He was married, but his wife had gone back to the states. She was hysterical, laughing and crying at the same time. They had been taking a class together and he had suggested a study period in his room, just two floors above my room. I took her to the clinic and they did the rape protocol on her. The guy got 6 months at Leavenworth, busted to staff and a bad discharge.
But for my troubles, I lost my security clearance and was shunned by the whole base for the rest of my tour. My supervisor said "RHIP, old boy", and his friends were shocked that I would ruin his career for such a little thing. So I wasn't suprised at the latest rape scandal at the academy last year, and I won't be suprised at the next one.


July, 1994 - July, 1995
NAME = Kit Hope
VT of a SWALLOW = beats the hell out of me
E-MAIL = kitondg@sbcglobal.net
NATIONALITY = USA
UNIT = American Red Cross station manager
MY INTEREST IN DG IS = Want to Drink A Lot, Cheap
SUBJECT OF MY STORY: = Actually, I Have a Real Story To Tell
MY WARSTORY = DG was the best duty I ever had in 14 years of working in Red Cross Armed Forces Emergency Services. I'm not doing that any more because they were gonna send me to Camp Casey, Korea. Screw that.
Anyway, how can you beat living rent-free in a furnished apartment on the beach? I could snorkel 150 feet from my front door. Then there was the Diego Garcia Community Theater - maybe not great art but a hell of a lot of fun. Can't say that being on DG did my liver a hell of a lot of good but I loved every minute of it!


July 1994 to July 1995
NAME = Rick Mullins
MY QUEST = To Survive
VT of a SWALLOW = Mach 1.2
E-MAIL = rmull1937@comcast.net
NATIONALITY = Born In The USA......American
SERVICE = US Navy
UNIT = Military Sealift Command Unit (MSCU)
RANK/RATE/JOB = BMC(SW) Retired now
MY INTEREST IN DG IS = Want a Job as Far Away from My Wife as Possible
SUBJECT OF MY STORY: = I'd Like to Share Precious Memories of Drinking/Fishing/Snorkeling/Sailing on Diego Garcia
MY WARSTORY = Well, it all started out so casually. We went out for a jaunt on the old 24 foot sail boat. We started out to the end of the island where it was forbidden. We then proceded to anchor and start snorkeling. While snorkeling, we found a flock of sea turtles swimming by. I dove down and was looking at them. I reached down and touched one of them on the back. I turned to my fellow snorkelers, motioning to the turtles as if to say, Hey this is cool. I turned back to the turtles and the one i was touching had turned his head around and was looking at me as if to say, "Why are you touching me. We are protected here on this island". I thought it was so cool. I still have many of the shells and other things that I picked up on the beaches. I would love to get back there one of these days. It was truely a paradise. I never should have left. [here's the picture rick sent]:
May 1989 thru Sep 1999, 2001, thru 2003
NAME = George M. Laughlin (YA-HOO)
MY QUEST = Citizenship from some place
VT of a SWALLOW = Below sea level or above??
E-MAIL = bubblincrude@hotmail.com
NATIONALITY = USA
SERVICE = USN RET
UNIT = IPAC and BJS until 1999, NFCU fm 2001 to 2003
MY INTEREST IN DG IS = Stroll Down Memory Lane
SUBJECT OF MY STORY: = Actually, I Have a Real Story To Tell
MY WARSTORY = One of my fondest years on Dg was back when Capt. Check (CO) and CDR Bob Collard(SUPO), would call me and my buddy, Flightline Freddie to the O Club so we could drink for free all night coz the O's could not play Hosre Collar. That was fun, even when the Marine XO would climb into the rafters and pour beer on us. Another grand time was getting with Jack and the gang and building the Golf Course, then playng it. There was the two years that BJS golfers would play the Brit Party every Tuesday. It started out being a fun once a month deal, for beer and build your own at the Expac afterward, but with the wipping that we (BJS) gave the Brits the first time. The Brit Rep. CDR Gram Niven changed the program to weekly. We even had a trophy at the Club House with the weekly score posted. I'd have to say the we (BJS) won 98% of the time. Grand times at the course. If anyone wants to complain at not having a good time on the island for several years I was the one who brought the EAP Charter to the island and you missed out. Even though the EAP turned into the Dave Burges Fan Club. More stories to come. YA-HOO

1988 May to Jan 17 2000
NAME = Harry Johnson
MY QUEST = To say Hi to all my old friends still there
VT of a SWALLOW = Who cares
E-MAIL = fuelman808@yahoo.com
NATIONALITY = American
UNIT = Fuels Manager for Febroe, IPAC, BJS, DG21LLC
RANK/RATE/JOB = I'm Ret. Navy E-8 Aviation Boatswan Mate. Worked with a lot of good people on DG both Military and Civilian.
MY INTEREST IN DG IS = Stroll Down Memory Lane
SUBJECT OF MY STORY: = Other
MY WARSTORY = All the years I was there I was happy and content. I met and fell in love with a very lovely lady I hired in 1989 and married her in 2000 Feb. 14. We both worked for the Contractors and she left in 2001 May. I had a heart attack there in DG. But the great folks at the NSF Clinic put me on a plane to Singapore and while in route after take off I Died but the Flight Nurse and Flight Sergeon brought me back so after three months of extensive care at Singapore I was allowed to travel to my home in PI and from there to the US to continue my care at NNMC Bethesda Hosp. My wife and I are living in the States now and hope All is well in DG. Other than Bob Butts I was the second Old timer still on the Island from the Febroe Days. That's my story gang and believe me if I could return to DG doing the same job as I was doing I would No question about it. Good Luck to all of you over there. We still have relatives working on the Island so we are still in contact.
1993 thru 1995
NAME = George Merritt
MY QUEST = No Quest
E-MAIL = georgemerritt@hotmail.com GMerritt @utvinternet.com
NATIONALITY = U. S. A.
SERVICE = N/A
UNIT = STAFF PURSER, MSTSPAC,
RANK/RATE/JOB = GS-13
MY INTEREST IN DG IS = Stroll Down Memory Lane
SUBJECT OF MY STORY: = Other
MY WARSTORY = I enjoyed my assignment with the American & British Forces, including,all other personnel. SORRY, NO WARSTORY, I REQUESTED MY ASSIGNMENT.
I arrived in 1992 and stayed through 1994
NAME = Scott Livers-Walton
MY QUEST = To find old friends from the Island, and say hello.
E-MAIL = ptlomascot@aol.com
SERVICE = US Navy
UNIT = PSD Diego Garcia
RANK/RATE/JOB = I was a PN2 and worked at PSD Diego Garcia
MY INTEREST IN DG IS = My Time There is Lost in an Alcoholic Haze, Help Me Remember!
SUBJECT OF MY STORY: = This is a No-Shit 'How I Put One Over On My Senior Chief' Story
MY WARSTORY = DKCS Deleon was the Senior Chief at PSD DIego Garcia. He was very flamboyant and well connected on the Island. I was usually involved in putting on the command parties etc. If ever I had trouble obtaining things like "ICE" etc. all I ever had to do was tell DKCS Deleon, he would get on the phone and yell at someone in Tagalog, and I immediately had whatever I needed for the party. We once threw a party for a PN1 Velasquez who was retiring down in the village by the Expat Club. It was the best party I have ever attended a "luau".
I also remember the Yacht Club socials (held monthly) and all the FUN! (I LOVED the MOJO) ha ha..... I can now admit that I am the one who glued DKCS Deleon's phone so that he couldn't answer it when it rang..... He was not amused and took away everybody's phone privilages, (we didn't all have phones in our rooms back then) He really didn't have a very good sense fo HUMOR ha ha sorry guys.... about the phone that is... I really couldn't tell him it was me... he was evil if you were on his bad side! I have 2 THANK YOUS one to DS2 Jennifer Melamede and the other to PN2 Rodolfo Ignacio you both really saved my ASS when I was there and I am forever grateful! I have never forgotten :) Scotty P.S. Where is Robert Moulthrop???
1994-1995
NAME = Bonny Marie Rich
MY QUEST = saving the world from paqadurms
E-MAIL = bmrw62@prodigy.net
NATIONALITY = red-head; SERVICE = usn; UNIT = NSGD; RANK/RATE/JOB = CTO1 (retired) living in West Virginia
MY INTEREST IN DG IS = Decided to Join A Monastery, But Couldn't Find One Stateside
MY WARSTORY = Just found this page by accident. wanted to write a few lines... what can one say about a year in the "worlds largest kiddie pool"...
we worked hard and played hard...Beach ops and sunday mornings breakfast...just wanted to let all my dear friends know I was thinking of them....Dave, Charlie, Ricky, Dave, Zimmer, Anne, Cathy, Audredy, Heather, Kathy, Steve, Bill, Torie, Bryen, John, vince, Karen, Margie, Danny, Pigger...you know
who you are, last names are optional...the list is long... Thanks again for the best birthday/re-enlistment party in the world. "the bar is open"....., Days and Nights in the Hash House, on the Beach, Sailing and our monthly meetings of the E-Patrol, friday nights at the PHILMAU dancing with Charlie in my red chuck taylors. Hope everyone is doing well back with "real life". vidio tape and photographs take me right back...as I am sure they do for everyone. I will sit down and write a story about our year there one day...I will have to change the names to protect the innocent, wait a minute...no one is innocent after a year on DG!!! Best wishies to all, see you down the road, Bonny Marie
March 1994 - March 1996
NAME = Stephen Payne
MY QUEST = Remember
E-MAIL = stpayne@indy.rr.com
NATIONALITY = American; SERVICE = Navy; UNIT = Naval Broadcating Detachment; RANK/RATE/JOB = E-4 (JO3)
MY INTEREST IN DG IS = Want to Return When the First REAL Club Med Opens
SUBJECT OF MY STORY: = Actually, I Have a Real Story To Tell
MY WARSTORY = I took order to DG reluctantly at first, but found that my time on DG was among the best experiences in my life. I had a great job (Master Control Operator) for the one television stration and I also served as a disc-jockey in various timeslots at the one radio station. I met the best friends in the world during my two-year "tour" and I would love to take a trip back someday when civilians are allowed to visit. Still keep in touch with a few of my DG friends, but have lost touch with the majority of folks I served with.
1994- 1995
NAME = Lee Alexander
MY QUEST = To try to remember what the hell I did on the Island.........I think
VT of a SWALLOW = Depends on if I roped him or not
E-MAIL = cbrcowboy@aol.com
NATIONALITY = American; SERVICE = USN then.........Army National Guard reservves now; UNIT = R Site Tech Control and ASF
MY WARSTORY = All I remeber is waking up in the DJ booth at the 69 club and yelling "SET ME IN BOYS I CAN RIDE THIS ONE!"
Where is the DG Rodeo Team now? I sure miss ropin the chairs, chicken, Chris and whoever rode by on their bike.
Party at the Pavi!
"It's all like wooooo hoooo and shit"
"YEEEEEEEEEEEEEE HAAAAAAAAAAAAAA DAMIT............................DAMIT YEEEEEEEEEEEEEEEE HAAAAAAAAAAAAAAA!!!!!!!!!!!!!!!"
1994-1995
NAME = George Ortiz, aka Pacoman, aka Phototerrorist George
MY QUEST = to return to D.G.
VT of a SWALLOW = 33 miles per hour
E-MAIL = kombibus@juno.com
NATIONALITY = Murritian; SERVICE = United States Navy; UNIT = Photographer, E-6, retired
MY WARSTORY = I just wanted to say Hello to the "BJS" family whom I served with. I tried to give the best photo services as possible even though there was an undertow of resentment from some Naval officials who were of the working class. To my former boss Phil McDaniel whom I consider a Friend and a brother, Hope your doing well Phil and give love to your lovely wife and son. To all the Filipino workers who I had a great relationship with and truely hope their boat will sometime come in. And finally to all the Hash House First Class association that was unfortunately disbanded because your too imature to have your own association in the light that we are at war...might as well enlist a Montessori school if the trust is that fragile...You are all the best professionals and the backbone of the United States Navy...From Dave Burges,Charlie Brown and the rest of the First Class association, hearty salute to you all, and best wishes from the Photo Terrorist.
Most Sincerely,
George Ortiz, aka Photo Terrorist George, aka Pacoman, aka Kombibus.
April 94 June 95
NAME = John Betit
MY QUEST = To return to paradise
VT of a SWALLOW = African or European????
E-MAIL = ltljohn6@ptd.net
NATIONALITY = AMERICAN; SERVICE = Navy; UNIT = NSF AIMD; RANK/RATE/JOB = Was AT1 now Retired
MY INTEREST IN DG IS = Professional Adventurer Looking For The Ultimate Get Away
MY WARSTORY = Too many stories to tell about the Brit Cbub/Hash House/R&R site Chickens and cats and crabs oh my!
1994-1996
NAME = Jay Yurth
MY QUEST = Waiting for the stocks to split again so I can quit my "after retirement job" in Hawaii
VT of a SWALLOW = The same as the dust from an exploding Penguin
E-MAIL = yurthg001@hawaii.rr.com; NATIONALITY = American white boy; SERVICE = USN; UNIT = NCTS HQ and R-Site
RANK/RATE/JOB = DP1 (re-freggin tired).....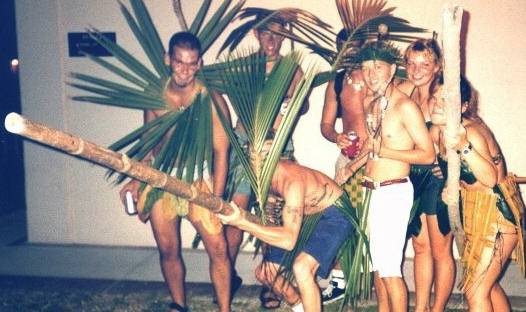 Jay and some of his buddies and buddettes.
Jay's WARSTORY = There I was in the last hut closest to the ocean at R-site. I had been on DG for about 2 months and found out that even though the Pentiums were out in the real world, DG was lucky to have the 386's they had. I was the LPO of the ADP shop that was thrown together by some Mustang Captain with folks that had "extra" bodies hanging around. We were a close knit bunch ...then MORGAN showed up! Morgan was a real life Forest Gump. Somehow the Navy had advanced him to the E-5 level without ever having him spell his name. Here are some of my adventures in Morgan.
LPO: Go load Windows on your machine.
Morgan:(3 hours later) I can't figure out how to load Windows for some reason.
LPO: It would be easier if you installed the mouse first. Stop talking to me now.
Morgan: I want you to give me a special eval.
LPO: You have only been here 2 weeks, wait 90 days.
Morgan: No, a special one, or I'll report you to the Master Chief.
LPO: I'll give you something special, so will he. Stop talking to me.
Morgan: And I opened the letter and it was from her.
LPO:(after 3 hours of silence during the worst two person Quarterdeck watch I ever had to endure) For the record, you can't start a conversation as if you were in the middle of having one with me. Stop talking please.
Div. Off.: (female) Tell Morgan to stop talking to me.
LPO: Yes ma'am.
Div Off.: Tell Morgan to never walk into the Officers Chow Hall and stand by me waiting to take me to work.
LPO: Yes ma'am.
Div. Off.: Tell Morgan to never stand in front of my barracks and take pictures of my door again.
LPO: Yes ma'am.
Div. Off.: Tell Morgan that just because I take a sailing class, he shouldn't feel the need to take lessons also. He almost drownd in 3 feet of water because he can't swim.
LPO: Yes ma'am.
Div. Off.: Morgan is stalking me. Please write him up for harassment.
LPO: Yes ma'am.
LPO: Why did you just slam the brakes on so hard in the van.
Morgan: I was doing 26 MPH, the speed limit is 25.
LPO: Ease the brakes on next time.
Morgan: I....
LPO: Stop talking to me, since we're stopped, just let me out.
C.O. NCTS: Why was Moran at the airport with a paper bag full of food, his camera, and standing by your Div.Off. crying?
LPO: He is in love with the Div.Off. Ma'am.
C.O.: Have you written him up yet .
LPO: Yes ma'am.
C.O. NCTS: Why are we here today DP1?
LPO: Morgan accepted order to CINCPACFLT Camp Smith in Hawaii to be an Admirals aide. You have to tell him he failed the screening.
C.O.: He's retarded isn't he?
LPO: Yes ma'am.
If you ever run into Morgan, you'll know him.
Other than that, DG was the best duty station I ever had. I was a drinking jock.

Dec 1994 to Dec 1996
NAME = Doug Smith
MY QUEST = To become a wildlife biologist and have FUN.
E-MAIL = dgs1@dsucp.deltast.edu
NATIONALITY = American !!; SERVICE = WAS in the Nav, glad to get out, but would go back in in a heartbeat if needed.
UNIT = R- site message center; RANK/RATE/JOB = RM2 then and college student civilian now.
MY INTEREST IN DG IS = Stroll Down Memory Lane
MY WARSTORY = I just wanted to say that I love this site and that my tour on D.G. was the best. I miss the fishing, the beach and the weather. I also miss the old friends I once knew. Advice to those there: enjoy what you've got. The real world is greatly overrated.

1991-1994
Robin Francis <robin.f@xtra.co.nz>
See his 1991 entry
94-95
JEFF BARNES <MA1JeffMPI@aol.com>
E-MAIL = MA1JeffMPI@aol.com
SERVICE = USN and USAF(R); UNIT = NSF Security; RANK/RATE/JOB = MA2 at the time. Left the Navy after ten years as MA1.
MY WARSTORY = I wnated to go to DG to drya out after spending three years aboard the USS Independence (CV-62). We took her from San Diego to Yokosuka, Japan in 1992.
My first night on the rock I was taken out and well indoctrinated in the duties of the cops to drink as much as possible when they were off dury because that only happened once every six days. I made 13 in a department thatwas supposed to have 54 people.
After a night of drinking with the pros, I made my way back to my BEQ. Trouble was I couldn't remember which one was mine. I wandered around for an hour looking for my room before I finally found the door that opened with my key.
I was well indoctrinated about the "British Subjects" on the island, the crabs, the chickens, the cats, and every other living creature that we were not supposed to adopt as pets. My room mate, who I had not met yet, did not feel this rule applied to him. He was a cop, too. Should i have expected anything less?
I had only been in the room to throw my bags down before the isalnd tour began. I didn't even know where my bunk was. The room was set up with a "living room" that had a couch and the entertainment center. The beds were set up bunk style and I didn't know which one was mine so the couch was as far as I made it.
I had been passed out for maybe 20 minutes when I felt someting crawling up on me. I opened my eyes and at first I thought it was a giant rat! I launched that creature and all I heard was this horrendous screech preceeding an incredible thud.
My room mate woke up because of all the commotion. He comes over to me with the furball under his arm and tells me to take it easy on the cat.
The countdown was on. 364 drinking days left to freedom!


1994
KAREN FROM BOSTON <RockofBawston@aol.com>
Yes, I had a wonderful visit there back in 1994 when I was a flight attendant with American Trans Air. I had the pleasure of spending 6 days there on that beautiful ocean and meeting some wonderful people. One in particular..I wish I could find. He was an executive officer finishing up his stay and leaving and I was on my way to some other military jount. :o(.. Boy.. if I only had a few more nights.......... anyway, the island mesmerized me and I will never forget the trip or the beauty and tranquility I felt when I was there. Just thought I would share this with you to add toyour page if you like. I still have pieces of the pink corral from the ocean I saved. Karen from Boston :o)
1994-96 ALSO 1987-88
DAVE JEWHURST <DMJEWHURST@msn.com>
Actually, I flew (worked) for both Hawaiian Airlines and Rich International Airways during those years and had the opportunity to visit many times. I had never heard of the place until getting a flight plan to go there! What an experience, to say the least. I doubt that I will ever get back there, but stranger things have happened to me. I have really enjoyed looking over your site and have been able to prove that the pictures I have of the Island are for real (so many friends don't believe me!).
Feb 1994 - Jan 1997
LEWIS G. LINVILLE <llinvill@hotmail.com>
What is Your Quest? To find the secret of life.
What is the Terminal Velocity of a Swallow? Don't know, I'm a spitter.
Ret E-8, former Comm/Elect. Manager for Annex 8e/i. there on DGAR. Now Site Manager at NRTF Barrigada, Guam. Great time while on DGAR; the fishing, working with allhands (the actdu mil., the contractors and even the Brits). The parties were great and miss everybody I worked with. P.S. Don't let Alex run all of N2.
1994-1995
BOB VAN HORN <rvanhorn@fayney.com>
MY QUEST = Classified; VT of a SWALLOW = Depends on the amount of Zinc supplements taken beforehand
NATIONALITY = Kansas...is that a state yet?
SERVICE = Army; UNIT = True Blue detachment; RANK/RATE/JOB = SSG then. Went Warrant.
MY WARSTORY = No story just wanated to be one of the few Army types listed here. Memories... What a place, huh? Pavi-ops. Painting chickens...um...I mean seeking the chickens after they has been painted. The CHAGOS-Warriors!! Free condoms. 72 hours off. Unspeakable acts of dirty-ness on the DPE's during a MID. Shrout the human sponge. The view of the sunset over the horizon from the expat.

1994-1995
REDNECK <redneck29@gateway.net>
MY QUEST = To paint chickens; VT of a SWALLOW = Indian or Arabian
NATIONALITY = Marylander; SERVICE = Navy; UNIT = "See" Site
RANK/RATE/JOB = CTR2....Instructor at Corry Station now/Beer drinker then.
Ahhh, Diego...How I miss thee, let me count the ways:
1) The Beer
2) The Redheaded Stepchildren
3) The Beer
4) "Pavi" Ops
5) The Beer
6) Cannon Point
7) Squirt guns with food coloring
8) The Beer
9) Country Nights at the "69" Club
10)The Beer
And in closing...."Yeeeeeeee-haaaaaaaa DAMIT!!!!!!!!!!!"

1994 & 1999-2000
MOLLY CLARK <n34s@hq.nctsdg.navy.mil>
See her 1999 entry.

1994-1995 & 1988-1989
JIM "Slacker" ACKER <ackerjl@gte.net> SEE HIS 1988 ENTRY.

1994-1995
RICK COLLINS, JO1, USN <rcollins@fallon.navy.mil>
What is Your Quest? I'm a life member of the DG Yacht Club. I can't find my card anymore and my white polo shirt with gold crest is in desperate need of replacing. How do I get in touch with "Mongo" if he's still there?
How did you find my page? From the Navy Journalist Forum on Yahoo!
Navy Journalist for 15 years and counting. 41-year-old SWM. Favorate hobbies on D.G.- Manning the Barracks rails at 1600 with Strawberry Daiquiri in hand and party's at the Hash House, steak and eggs at the Galley after all nighters starting at the 61 Club and Short Pier. Not so hot yet on this e-mail/internet stuff but learning fast.