Dates_Aboard = 1987-1988

Name = Kathryn Janosco (Now Kathryn Smith) = smithkathryn424@gmail.com
Citizenship = USA
Service = USN
Outfit = NAVFAC Terminal Operations Officer
My_Quest = Connections with former shipmates and friends
VT_of_a_Swallow = That speed right before it bursts

My_Warstory = I first set foot in DGAR in 1984 while deployed with the USS PRAIRIE. It was still a little "rough" but the living conditions had improved immensely over the storied "quonset huts" of the previous decades, and I had seen worse places in WESPAC. In early 1987, I needed to make an overseas transportation tour - and given the choices of Iceland, Guam and DGAR. The "Footprint of Freedom" got my vote, so off I went. Career-wise it was a great tour as I had responsibilities for both the cargo and pax terminals Air and Ocean. People occasionally grumbled that you were seeing the same people all the time, but I found that boarding arriving ships each week and discussing their CASREPS with the Chops never had me wishing for MORE people to see! Just as I was getting ready for mid-tour leave, we started the build-up for EARNEST WILL and all the comings and goings with the Air Force hauling in helos and hauling out Marines. Never made it to Singapore for leave, but I did get to be an escort officer for the Bob Hope Show. Interesting times. All that said, I was ready to leave when my tour was over in June 1988. I wasn't trusting the rotator not to break down in BAH, so I hitched a ride out with a KC-10 crew. Much better ride home!

Jan-Mar 1987

Name = Scott G

submit_by = Scott@techunl.net

Citizenship = USA

Service = USMC

Outfit = Charlie 1/3

My_Quest = Live you life and enjoy the ride.

VT_of_a_Swallow = ?

My_Warstory = When we heard we were heading to DG, all they told us was we were leaving "the rock" for guard duty in the sun. (Okinawa in January sucks!!) As long as you weren't on guard duty, it was party time. Typical day started @ 0530. PT, chow, trailer inspection, maybe a class and LIBERTY. Volleyball, Fishing, Lifting, Diving, and BOOZE. By far, the easiest "guard duty" ever. If by chance we were training with the Brits, it was a great time. Always had a great time with the Brits - Much Respect!! (Training, pulling colors, and drinking. Did I mention drinking....)




Mar 87-Nov87
Equipment Operator 2nd Class Webster = eoctommwebster@roadrunner.com
Citizenship = USA
Service = USN
Outfit = NMCB 40
My_Quest = Send a Memory
My_Warstory = Main theme for Seabees was work and drink. Not so unusual for anyone. I got to leave the island about a week early after a 9 1/2 month deployment. We just finished a new Seaman Service Center used to eat and drink for all confined to this island. The Detachment of Battalion Forty built it and were offered free drinks and eats on opening night. Me and the gang would never let a beer go free and we did indulge. Of course one stupid move from a drunk ends up with me taking his tooth out. CMCN Danny Hribal grabs me and leads me out the side door as security is rolling up on the scene of a fight. He hollers "What's goin on" ? Danny quickly says there is a fight in the club and we amble on our way. Just as I thought I was in the clear I get an infection in my knuckle from the dudes tooth.
Only days from flying out with the unit back to Port Hueneme the Doc medivaced me to Subic Bay for a month stay in the PI. Looking back... yeh I'd do it again.


1987 - 1988

Luis Velasquez = luisalive@aol.com

Citizenship = USA; Service = USN; Outfit = Medical Clinic

My_Quest = Remembering The Great People from DGAR
My_Warstory = While at DGAR, it was the BEST of times although I did not know at the time. I was married and had a difficult marriage back home but I never told anyone. I remenber many at the Island. Debbie Manning, Dr. Beecham Chief Rainier (RIP) Danny Choothesa, etc etc. The Brittish Marines....

Feel free to contact me at luisalive@aol.com




1987

Name = Timothy G. Slazyk

submit_by = tslazyk@gmail.com

Citizenship = USA

Service = USN

Outfit = DPS7 - Data Processing Technician / G3 Weapons My_Quest = To locate my friend Ty Diaz. May be short for Tyler.

VT_of_a_Swallow = About 24 miles per hour or 11 meters per second.

My_Warstory = It was September of 1987 when my enlisted status as a mind-controlled US Navy sailor was coming to an end. My enlistment was scheduled to end on September 27th, 1987 and I was flown to Diego Garcia where I would spend 2 weeks and have some of the best times of my life, while being processed out of the military, after unknowingly serving the Freemason Illuminati Globalists and their Luciferian New World Order Agenda. Had I known then what I know now, that the USA has never needed protection at all, that the military was just a tool used by extremely evil oligarchs to weaken nations and prepare them for a Luciferian New World Order, I would've never participated in such a thing. The troops that are joing these days are easily indoctrinated into this mind-control system due to The Common Core Curriculum and the fact that now women and homosexuals are welcomed with open arms. However, the tropical island, smoking cigars and drinking like a fish were amazing times. I was plastered out of my mind just about every day I spent on this island but still remember snorkling and almost being attacked by a barracuda, great times! http://www.stoptheglobalists.com


1987/1988
Allan Brooker = nallamb1951@btinternet.com
Citizenship; Service = Royal Marines; Outfit = Royal Marine Sergeant Major/Chief of Port Customs
My_Quest = To Be Remembered!
My_Warstory = The whole year was a war story, much fun meeting people and working in or out of uniform. Met some lovely people seem to remember the women more for some reason. I ran the Brit Club for 10 months and completely rebuilt it to be the number one spot on the Island for all ranks drinking and dancing every week-end. Any one remember me please get in touch.
EDITOR's NOTE: If you knew Sergeant Major Brooker, you will never forget him! One of the truly manly men I have ever known. Drop him a line.


Mar 87-Nov87
Equipment Operator 2nd Class Webster = eoctommwebster@roadrunner.com
Citizenship = USA; Service = USN; Outfit = NMCB 40
My_Quest = Send a Memory
My_Warstory = Main theme for Seabees was work and drink. Not so unusual for anyone. I got to leave the island about a week early after a 9 1/2 month deployment. We just finished a new Seaman Service Center used to eat and drink for all confined to this island. The Detachment of Battalion Forty built it and were offered free drinks and eats on opening night. Me and the gang would never let a beer go free and we did indulge. Of course one stupid move from a drunk ends up with me taking his tooth out. CMCN Danny Hribal grabs me and leads me out the side door as security is rolling up on the seen of a fight. He hollers "What's goin on" ? Danny quickly says there is a fight in the club and we amble on our way. Just as I thought I was in the clear I get an infection in my knuckle from the dudes tooth.
Only days from flying out with the unit back to Port Hueneme the Doc medivaced me to Subic Bay for a month stay in the PI. Looking back... yeh I'd do it again.


Aug 87
Mike = moconaill10@gmail.com
Citizenship = USA; Service = USN; Outfit = Hm-14
My_Warstory = Rolled through dodge catching uss Guadalcanal there on they way to the gulf for earnest will. Remember flying on c-5 from Norfolk via Travis and Clark. Got to dodge when it was dark. Pulled our helicopters out of the c-5s Gand put them together. Once that was done the brass let us have liberty if we promised we wouldn't phone home and tell comnavwifelant where were. Someone must have been tapped to the phone lines because liberty was secured early and we had had to get under weigh. Was in the cpo club when they secured liberty. It sucked leaving early. Was having a good time.


1972, 1981/1982, 1987 to 1995
Dave Fisher, Capt, USMM (Ret.), CAPT (SWO) USN (Ret.) = callsign.BULL@tni.net
Citizenship = USA; Service = Merchant Marine; Other_Service = USNR; Outfit = USS R. E. Kraus; USNS Sealift Antarctic; SS Green Valley, G. Island, G Harbour; MV Jeb Stuart
My_Quest = Here in 2014, would like to go back for one last, short look-see.
My_Warstory = First went in '72 in USS Richard E. Kraus (DD-849) to deliver crypto gear. It looked like "McHale's Navy" then. Returned in '81/'82 in USNS Sealift Antarctic (T-AO-176) with the MSC Near Term Prepositioned Force. Didn't look too much different. Returned again in '87 to the four Afloat Prepositioned Force LASH ammo ships - a couple of years as Chief Mate, the remainder as Master. Dodge now a little more civilized. While there in 1994, sortied the entire APF as Convoy Commodore and CTG-159.1 for Operation Vigilant Warrior up in the Gulf. Technically still a civilian, but assigned under Allied doctrine.
Left in late '95 to command the COMPSRON ONE flagship in the Med. At the time I left (9 yrs on), I was "The Mayor of DGAR," as the longest serving occupant.
Like to go back one last time before I pass, just to see how "my" island is doing. Have lumpia and a beer at the "O."


December 1984 - October 1988
D. Dator = ado.dator@gmail.com
Citizenship = Filipino-Canadian; Service = Bottoms-Up; Outfit = FEBROE - Finance
My_Quest = " GOT NO IDEA, was asked to do an errand, scratched my head ...end up in Diego Garcia."
VT_of_a_Swallow = "Appear and Disappear"
My_Warstory = 47 months of dealing with the Resident-Officer-In-Charge, billing the Treasurer of the United States and the EXCITING ACTIVITIES in between..... brings lot of memories while at Diego Garcia. I hoped to elaborate all, but too much coconut crab like topics to spread out. I guess what happened in the plantation stays in the plantation.


1987 to 1988
Lawrence (Larry) Daniel = pittsburgh_larry@msn.com
Citizenship = USA; Service = USN; Outfit = NAVCOMSTA
My_Quest = To return to DG someday (To Visit) VT_of_a_Swallow = African or European?
My_Warstory = In the Navy for 10 years from 1982 to 1992; there is no doubt Diego Garcia was the best duty stations during those years. Originally to these order to get back the east coast from my first duty stations the USS Denver LPD 9. Thinking I could put up with 1 year on this little island in the middle of nowhere. My first week there I thought mistake (WTF) then while telling someone that I was originally from Pittsburgh, PA this person said you should meet Jimbo!!! I said who is Jimbo?? Well this person was right, a short time later I knocked on Jimbo's door and "BANG" the fun began. The next 12 months was like a bad Hollywood "B" rated comedy. With a team of guys / gals that performed the true meaning of "Slapstick is the recurse to humor involving exaggerated physical activity which exceeds the boundaries of common sense." This team consists of Jimbo, Gale, Woody, Mike, Rob, Blake, Soto (fudge milk), and Cynthia. It was never ending laughs and good times. Fish Fry's, Cannon Point, Expat Club, Donkey Burger, Sun Bathing on the tennis courts.

Fond memories:

• Jimbo's Room Party was we removed all the furniture got a keg and had a great time.
• Busting in on Jimbo's roommate doing the nasty; the key is how we entered the room. Through the bathroom plumbing wall from the adjacent room that connected to Jimbo's room.
• Drinking the entire drink list, 26 different mixed cocktail at the Expat Club with Blake and two others.
• Playing soft ball with the Boozers, "If you want to call that rag tag team softball players" ha-ha
• One of the Inventors of the "Gutter Beer" at the Brit Club during one of DG's torrential down pours. As I recall at the Brit Club you could only buy 6 packs of beer not individual cans. Therefore, Woody, Jim and I purchase a 6 pack each and I place them on the roof of the patio which was about 6 foot tall. I would reach up and grab the guys a beer as they needed one since I was the taller on of them. Hell, Woody was only 4 foot tall I believe. The patio gutter did not have a downspout so the water would just run out of the gutter on to the ground adjacent to the patio. The rain has stopped, while retreating a beer I knocked over my beer and it began to run to the gutter then to the ground. We all yelled do not waste that beer and Woody stuck his mouth under the waterfall of beer coming out of the gutter and "Gutter Beers" was born. It was one of those moments in life you just can't ever forget.
• Soto, Gale, Woody and I dressing up as the Fruit of the Loop Guys and surprising everyone at a party (I believe) with Soto carrying a boob box with "I heard it through the grape vine" blasting.
• It's the only place in the world you can ride a 10 speed to the beer distributor, pick up three cases place them on your shoulders and ride back to the barracks. (would see this on a regular bases)

As you may have noticed there is no mention of work or our duties, that's because we worked hard on DG but we played even harder.
Just love that place and the great friendships made there.
Call me anytime 412-418-2893


1985, 1987
EN2 Carol Unruh = wallduham@yahoo.com
Citizenship = USA; Service = USN; Outfit = USS Jason, AR-8
My_Quest = locate my previous entries and others of my ship
My_Warstory = e and my shipmates have posted previously on a DG webpage that I'm trying to locate

1987 thru to 1993
Walter Johnson = Waltsrentals@gmail.com
Citizenship = USA; Service = Merchant Marine; Outfit = Man the ship of Alex Bonneyman
My_Warstory = I served under the direction of Mearsk Line Captain of the alex bonneyman when Ronald Reagan president promissed vetran rights for merchant marines spending over 9 month active time there during the Irac and Iran WAR how do i get Vetren rights now that im older i Have no DD214 ?
I was educated in asian orang gas in 30 minutes handed a certificate and later spent two month wondering if i was going to die cause all the tales of this virus was regular to the heat.
But Funny stuf : We did an aft ship refuel with the destroyer and every one walked away while the hose was re coiled from my galley window i notice the the destroyer getting closer ,, the hose had hooked under the destroyer and was towing the cannon into the back of our ship.
It was a pleasure to serve with every i loved when the "Tender" ships came into the dock and i never seen a cocnut crab.




1987-1988
Gerald (Jerry) Hannah = RetNavyCPO1985@yahoo.com
Citizenship = USA
Service = Contractor
My_Quest = Food Service Manager
My_Warstory = After retiring from the Navy I landed a job on Diego Garcia through a good friend of mine Don Tetley, he was ready to leave and suggested me for his replacement. 1986-1988. I was the Food Service Manager in charge of the Galley and Multa Million Dollar Warehouse where Fresh, Frozen and Dry Provisions were stored. I provided for the Galley, Clubs, Prepositioning Ships, American Battle Groups, and American Embassies in Mauritius and Somalia. Every so often I would have to catch a C-141 and fly to the Embassies to check on there provisions to see if they were happy with what they were receiving and if there was anything I could do to improve service. It was usually during a time when they were drawing Provisions. I really liked this job, but it came to an end when a British firm got the contract. So I went to Saudi Arabia for three years to join my friend again, Don Tetley. Which is another story...




1986-87
George Marshall = gmarshlv@yahoo.com
Citizenship = USA
Service = Contractor
Outfit = New Car Sales
My_Warstory = I was the Chrysler/Jeep rep first time ( '86-'87) out, and same plus Ford last time (91-94); since I am a retired CPO and a GS I hung out at any club that would have me (and a charter/honorary member of the no-longer-there E6 Club). I volunteer announced softball games & SpecServ events, and even bowled. My war stories would have to include, but not be limited to the many friends from COs to Seamen that I made on The Footprint. Stories to come!

27th june 1984 up to 30 th nov 1992
Name = Kaisynaden C. Pillay (KC)
submit_by = kaisy63@hotmail.com
Citizenship = Mauritian
Other_Country = Mauritian
Service = Contractor
Other_Service = FEBROE & IPAC
Outfit = COMMUNICATION DEPT BOS CONTRACTOR
My_Quest = wants to hear from friends who had known me .
VT_of_a_Swallow = dont know
My_Warstory = HAD A VERY GOOD TIME ON THE ISLAND.





87-88
Name = Rob Gallagher
submit_by = robland1967@hotmail.com
Citizenship = USA
Service = USN
Outfit = R-Site / ASWOCC
My_Quest = Read the other stories, figured I'd contribute
VT_of_a_Swallow = um.. felate me?
My_Warstory = Boozer: Baccardi 151. Tormentor of Ming. He man woman hater's club member.
Got bet that I couldn't drink all 28 cocktails at the Expat club in one setting without passing out or throwing up. That was the hardest $40 I ever made.
Had a great time with Jimbo, Woody, Ken, Gail, Eric, Brent, Mike, Marty, Blake and others I'm too sober now to remember.
Chased down and slew the Melontally. Nailed the aerobics instructer. Ruined my own 21st birthday toga party by drinking the punch with my head submerged in the cooler (apparently this disgusted everyone else).
Got so drunk on one occaision that the above mentioned group convinced me I'd slept with an enormous rm chick. Let me suffer through it the whole god damned day at turtle cove before letting me off the hook.
Damn I miss that place. Truly the birth place of debauchery and decadence.
I'm quite certain I wouldn't be half the sarcastic smartass I am today without the rock.


IS David George Roy McNeilly Jr. <roymcneilly@yahoo.com> is looking for his OS friends from the PATWING ONE DET: Keith Marth, Jose Coronado, Jaqueline Serrano and Ensign Becky Roberts.





From: John Springer (1986-1988 and 1990-1991) <johnnyfulvia@tampabay.rr.com>
First, let me compliment you on your superb site. It is absolutely fabulous! Your people-finding feature is the best and I just discovered some folks I hadn't heard from in years.
Now I am looking for a couple of old buddies that I lost contact with. They are STEVE RILEY AND STEVE HAWKINS, both Navy helo pilots who served on Diego between 1986-87. I would very much appreciate it if you could put my mesage
in your website. Thanks and keep up the brilliant work.


1987
Mark Morwse <monkeypoxtea@yahoo.com>
What a great trip down memory lane !!!
I spent a couple weeks on Diego Garcia in Aug 87 while building up RH53D for amcm ops with HM14 waiting to catch our ride to the Gulf for Earnest Will.
Last call for women & wine until Bahrain (alcohol support unit).
I agree, tropical paradise....
Unfortunate that the natives were displaced for the most part, but I have also had land taken by municipalities under "eminent domain" while living in VA Beach USA.
I would be honored to be considered for citizenship in the PPRODG.
Deeply honored.
p.s....I believe There was a stick in HM14 named Ted Morris, I believe he went on to CO, seemed like a decent guy from the limited dealings I had.
Would that be you ? [Sorry, nope. He sounds like a great guy, with that name and all...]
I believe he had a problem with a detached retina during deployment.
Also remember Ted "designated driver" Kennedy coming aboard and nobody cared to speak with him, Barbara Eden and Bob Hope, Connie Stevens & slutty daughters (God bless 'em) and the Dallas Cowboy Cheerleaders among others. (Played chess v. Lee Greenwood )
I am grateful for the JCS sending me on that sojourn.
Regards,
Mark A. Morse
Logistics Officer
46th Adirondack Seaplane Squadron (Light Attack)
Tasked with harvesting deer, bear, trout and bass from the 46 high peaks region.


1985 and 1987
NAME = EN2 Carol Unruh-Raykowski
E-MAIL = jellyrowl@sbcglobal.net
NATIONALITY = caucasian
SERVICE = Navy
UNIT = USS Jason, AR-8
RANK/RATE/JOB = Engineman Second Class, Assigned to Jason's repair small boat, diesel marine systems, injectors. For a short time, assigned to Repair
Officer, then to overhaul Repair Departments Library
MY INTEREST IN DG IS = My Time There is Lost in an Alcoholic Haze, Help Me Remember!
SUBJECT OF MY STORY: = Other
MY WARSTORY = I was fascinated by the deep blue water and I loved the solitude and seclusion of DG. I volunteered to help clear the cemetary, went fishing for a day, received my Marksman ribbon there and above all, the drinks were only $.75 and you still got a full shot! For special or quick turnaround repairs I performed, I would be bought so many drinks, that they were lined up sometimes 5 or 6 deep. It took forever to get the fried rice dinners I would order, so stayed drunk most of the time and lost plenty of weight. I saw many shipmates crash and burn on that island. I was lucky--just didn't get caught I suppose. I often speak of my time there (3 months both times)with a smile on my face. I had a great time! We worked hard and we played hard! We even became special friends of the American Cormorant shipmates. They treated us like royalty. With the stresses, bills, debts, and responsibilities of today (20 years later), I wish I could runaway. And I would run to Diego Garcia. I miss everyone I came in contact with while there. LOL shipmates!


May 1987-May 1988
NAME = Christina Dugan
MY QUEST = Trip down Memory lane
E-MAIL = cgunderson3@hotmail.com
SERVICE = Navy
UNIT = T-Site
RANK/RATE/JOB = I was an E3 when I got there and made thrid class. I'm in the reserves now.
MY INTEREST IN DG IS = My Time There is Lost in an Alcoholic Haze, Help Me Remember!
SUBJECT OF MY STORY: = This is a No-Shit Drinking Story
MY WARSTORY = Well, I have many stories to tell, I just can't remember a lot of details..but I do remember my friend Pineapple George. The wonderful guys up on the balconey holding the signs up. Russell Sitz was a very dear friend of mine and he has since passed. Yes, Richard Rice, Jim and Tim..I remember you too!!! We had lots of pictures by the Big 8 ball house, Yes, its true, there was a big 8 Ball outside. Of course there is Dawne, Randy1 and Randy2..and I met my first husband there. I also remember Bill, I think that was your name..you filmed a commerical of the XPAC club, think we even kissed in it. I do know that I drank a lot there..that's probably why I can't remember a lot to this day..but I did have fun there..I do remember my roommate went UA and had everyone investigated..long story there..share it with you all later...and then I had some room mates that were not very friendly that worked at the C-site..oh well...there were a lot of good people. Would like to find some of the great Chiefs I knew and worked for. This I will never forget, my friend Dawne and I were sunbathing in the buff out by the T-site, hadn't even been drinking much..I went to open a champange bottle and got the cork in my eye..spent five days there in the hospital and I was lucky I still have by sight but I do have problems..they couln't medivac me out because of the pressure in the plane..Well..that's it for now..Thanks for the fun times!!!!!


1984-1989
Alejandro Canasa <larry_canasa@yahoo.com>
Dear Ted,
I think the photo of the hidden man is of William Harrington a.k.a Bill Harrington the Harbor Opeerations Manager, and John Springer is the Personnel Manager of FEBROE, my boss... I am the guy who prepares travel papers to anybody employed by the company whether they are being kick out of the island or taking R&R. I am from Annex 02 Im checking for some pictures to send during my stint at Diego Garcia from 1984 to 1989
Larry Canasa
FEBROE Travel Specialist



sometime in 1987
NAME = Jack Webb
MY QUEST = I was making my way back to the USS kansas city after missing ships movement at the subic.
VT of a SWALLOW = couldnt tell you but i did swallow a lot of wild turky for the two day i laid over there.
E-MAIL = jakofdust@yahoo.com
NATIONALITY = American
SERVICE = USN
UNIT = just passing though on my way to the USS kansas city AOR-3
RANK/RATE/JOB = E2 soon to be E1 how ever i did get back up to E4 before my time was up.
MY INTEREST IN DG IS = Stroll Down Memory Lane
SUBJECT OF MY STORY: = This is a No-Shit Drinking Story
MY WARSTORY = there were four of us, we started drinking at several bars in the barrio at subic finnally ending up at mindas bos,n locker which was where we decided we would stay a little longer than the ship, well 14 days later we were picked up by the OPM (thank god) as there had been an atempt to overthrough the government which made travel difficult, anyway after a 3 day stay at the cross bar hotel (the brig) they bused us to clark AFB where we flew to the beautiful island of day gar (diago garcia) ,upon arrival we all crashed, sense there hadnt been much sleep the last couple of days. the next mornig i met Al,who showed me the main island activity,drinking, so me and Al and his roommate polished off 2 bottles of wild turky. The next morning early i was supposed to get on a plane and somehow i did, but i still dont know how, when i came to i was at al maser Oman. well thats my story and im stickin to it. just a passer by.


86-88
NAME = Debi Manning then - Wittrock now
MY QUEST = Try and fill in the blanks left by too much booze!
VT of a SWALLOW = Don't know, Don't care
E-MAIL = Debi720@Yahoo.com
NATIONALITY = US
SERVICE = USN
UNIT = Medical Clinic
RANK/RATE/JOB = I was an HM2 back then- Pediatric RN and mom of 4 now
MY INTEREST IN DG IS = Stroll Down Memory Lane
SUBJECT OF MY STORY: = Actually, I Have a Real Story To Tell
MY WARSTORY = I loved Dodge- and fell in love on Dodge (OK, I fell in lust quite a few times too)

I married Chris "Topsy" Turner on Cannon Point, in fact I jsu saw one of my wedding pictures. Sadly, that didn't last, but good memories do!

I had a blast drinking a 6 pack of Blue Nun with Father Ted, - Meetings at "The Bench", BBQ's on the pier, parties at the Brit Club and the Dive Locker.... (In a weird twist if fate my second (And current and last) hubby was on ther Navy Skeet shooting team with Johnny "JJ" Johnson for the Dive Locker!)

Much has been lost to the haze of San Miguel, Bat-Shit, and Red Horse, but this sight has helped me remember more and more!

I'd love to hear from anyone who remembers!



Feb 1987
NAME = Mike Birch
MY QUEST =
VT of a SWALLOW =
E-MAIL = mpbirch@yahoo.com
NATIONALITY = US
SERVICE = USN
UNIT = NSGD
RANK/RATE/JOB = CTT1 (Ret)
MY INTEREST IN DG IS = Want to Drink A Lot, Cheap SUBJECT OF MY STORY: = Actually, I Have a Real Story To Tell MY WARSTORY = Was there for 2 or 3 weeks in early Feb 1987. Flew in on a Monday from Norfolk via Italy & Athens on a contract flight. The next Monday when the flight came in something happened after the passengers deplaned. Somehow, someway the nosegear collapsed and the plane sat a couple of days nose-down on the tarmac. As the story goes, the pilot & a flight attendant were in the cockpit "checking out the instruments" and somebody hit the wrong button/lever/etc and the rest is history. I actually have a couple of pictures of the plane nose down on the tarmac (albeit from a distance.)

On the same trip, one the night of departure, my fellow travelers and I were at the CPO club having a couple of nourishing beverages. We were in the company of then AGC Ken Oakley. The duty weather-person was to pick us up at around 9pm for the short trip to the plane. 9pm came and went and still no duty weather-person/driver. We started to get concerned when it got to be 10 and the 10:30. Our fears were laid to rest when Ken (quite loudly) stated, "Listen you pukes, I am the head weather weenie on this $$@&&# island and nothing flies until I give it weather clearance!" So, we drank some more and were deposited at the foot of the stairs, boarded and then plane immediately departed.

Great TAD!!!



1987-1988
NAME = Kelly Lewis
MY QUEST = eye drops in my third eye
VT of a SWALLOW = ...enough to hurt somebody.
E-MAIL = kelso@stx.rr.com
NATIONALITY = Euroserious?
SERVICE = USN
UNIT = Navy Broadcasting Detachment
RANK/RATE/JOB = JOSN
MY INTEREST IN DG IS = Other
SUBJECT OF MY STORY: = Other
MY WARSTORY = I have no epic event to share. But I do recall the names on this screen as I scroll down. So often I think about this island, more so for the
dynamics in relationships that ultimately taught -and, still, teach me- things about myself. This was as close to living on a sub as I can imagine.

There are stories I might add later, but it's the good people, or the good that came out in some, one I hope I can speak to here:

Tom Walsh, thanks for swapping ships with me outta there. May and I have been together for almost twenty years, and I'll always remember you for this act of kindness.



Oct 1987 to Oct 1988
NAME = Sean Tressler
MY QUEST = Trip down amnesia lane
VT of a SWALLOW = Depends on what's being swallowed and who is swalling it
E-MAIL = stressler@cableaz.com
NATIONALITY = American
SERVICE = Navy
UNIT = Naval Security Group
RANK/RATE/JOB = CTT3 at the time. Left Navy after completing 4 years of service in 1990. Worked in the IT field ever since.
MY INTEREST IN DG IS = Want to Return When the First REAL Club Med Opens
SUBJECT OF MY STORY: = Other
MY WARSTORY = I've seen shit in paradise...
DG was my favorite duty station during my 4 years in the Navy. Being a cyclist from Pennsylvania, I loved the perfect riding conditions year-round. Who cared about riding in the rain, it wasn't cold. The island was beautiful, everyone on island was like family, my friends were the best, and it was an all around day-to-day good time.
Not all was perfect, though. Buying those phone cards and watching them tick down as you rambled through your conversation was never fun. It pretty much sucked the moral boost right out of the call. It was terrible not having real milk to drink - except during Thanksgiving and Christmas. I was also engaged while on DG. The long distance separation was too hard on our relationship, and we broke up when I got back home to PA in October of 1988. So in a way, DG was the best and worst of times for me as a young 20 year old. However, the engagement story does have a happy ending. We got back together at our 10 year high school reunion in 1995 and got married in 1996. We moved to Arizona in 1997 and had a son in 2002.
I miss my days on DG. They seemed so easy and carefree. The only responsibility was going to work, and even that was a good time with the group
I was privileged to serve with. The rest of the time was spent being outside - doing whatever - as long as it was outside. Yes, I did drink and got drunk for
the fist time while on DG. At least it was cheap, and it prepared me for my follow-on orders to Adak (as happened to so many of us CTT types at that time).
Wish I would have stayed in Dodge!!!


1987
NAME = JAMES RAPP
MY QUEST = Infinite Mortality
VT of a SWALLOW = 1ft per second
E-MAIL = hamrhead2000@aol.com
NATIONALITY = U.S.A.
SERVICE = USMC
UNIT = MCSFCO
RANK/RATE/JOB = E3 then Civiliam Law Enforcement Now
MY INTEREST IN DG IS = Stroll Down Memory Lane
SUBJECT OF MY STORY: = There I Was, Passed Out in the Club
MY WARSTORY = When I first arrived on the Rock Marine Corps Security Force Company was on high alert due to some chowder head Lance Corporal discharging his weapon and reporting it as Rusian Special Forcing envading the island or some crap. I arrived D.G. and was greated by Corporal ZAP and Sgt. Marvelis who picked me up and drove me back to the Barracks. Major Forte was CO and Capt. Landersman was XO. My first couple of weeks was spent in the barracks under alert for no reason at all.

I was there during the Marine COrps change of Command to Major Mead and sat through a base Change of COmmand cerimony as well. I was the Companies Legal Specialist and did a lot of snorkling with the Navy and played a lot of beach volly ball and spent a good amount of time in the field doing grunt training.

It was like being in prison for a year but still all in all a lot of fun. I remember being blitzed at the Marine COrp Ball while the CO was giving his presentation I unleashead my 5th bottle of wine and sent the cork fpopping and flying across the room. Like many nights I left that night in a total haze.

Anyone remeber me or anything I am talking about feel free to give me a e-mail.

W. James Rapp
hamrhead2000@aol.com



1987
Date: Fri, 19 Aug 2005 16:45:08 -0700
From: "Mike Allen" <mike_allen@sonnen.com>
Hi I served on the USS CONSTELLATION during the late 80 I believe 87 or so we were escorting the Iranian tankers in the Persian gulf. We landed at Diego Garcia and anchored moved most of the crew to shore and then proceded to launch air craft while at anchor the first carrier to do this we may have also been the only carrier to have done this. For those of us with the privilege (chuckles to myself) our time was spent drinking old very old and it tasted like it beer it was Olympia we also managed to piss off the chickens all couple hundred of them and for the next couple weeks we all suffered from sunburns

Mike Allen
DOWNHILLDOG@SBCGLOBAL.NET
USS CONSTELLATION 85-90
RM3


Subject: Diego Garcia Nov 87 - Dec 88
Date: Tue, 3 May 2005 16:31:25 -0700 (PDT)
From: "f.s. webb" <fswebb@yahoo.com>
In my 13 months on the island, my time was split between the Chief's club and the Expat club but our paths might have crossed seeing I was there in early
(and late) 1988.
Diego Garcia is an absolutely gorgeous island - even with all of the rain. I'm not sorry I went but I was really glad to see the Philly airport in December
1988!
I think that this site is a hoot and plan on spending some time here!
Regards,
AGC Florence Webb
USN RET

1986-1988 4months on 4months off
NAME = Dave Koppenhofer
MY QUEST = to try to restore memories
VT of a SWALLOW = African or European and are they carring coconuts
E-MAIL = dkoppyus@yahoo.com
NATIONALITY = American
SERVICE = USN
UNIT = VRC-50 Det B
RANK/RATE/JOB = AZAN My job shave my facial hair or LT Vreeland will write you up, Pickard (inside joke)
MY INTEREST IN DG IS = Stroll Down Memory Lane
SUBJECT OF MY STORY: = I am a Born Liar, and Want To Tell About All The Sex I Had on Dodge
MY WARSTORY = who did Mary first???????????????? Who bought the last case of San Miguel on Wednesday, I do have some video and pictures from Dodge, DGAR, the rock or whatever your crew called it.



87 to 88
NAME = Russell Flagg
E-MAIL = russell_flagg@yahoo.com
NATIONALITY = US
SERVICE = Navy
UNIT = Medical unit
RANK/RATE/JOB = HM3 Preventive Medicine Tech 8432 with island Naval medical unit
MY INTEREST IN DG IS = Stroll Down Memory Lane
SUBJECT OF MY STORY: = Actually, I Have a Real Story To Tell
MY WARSTORY = The first night I spent on DG was eventful because some of the medical unit wanted to go "bugging" out near airport beach. Not being familiar with the term -- I said sure. Well, bugging is the term used to catch lobster (which are considered loyal British subjects) by taking a flashlight and searching the shallows for their red eyes.
We were very successful in finding these "bugs" by the duffle-bagful while the beer and wine flowed. We de-tailed them and were on our way back from the airport at a high rate of speed (50+) on the only stretch of road that is 35mph. We were pulled over by the Brits (not a good way to start the year).
The people that were accompanying me on this adventure said to cover the bugs and not say a word to the Brits that we had them on-board. Lucky for us -- the driver knew the Brit (Drinking buddy -- big surprise there!!) and we were chastised a bit but let go without much else.
Later -- I learned from my companions that the loyal British subjects we were eating were about a $500.00 fine and a few days in jail if the magistrate felt so inclined. I choked and ate the rest of the lobsters with the "gang" of outlaws.
We caught and ate many of the crabs (coconut crabs are stringy and dry -- by the way), fish (Wahoo and tuna) and anything else that looked tasty. There were other treats the Navy never told us about while there -- Hash-House-Hounds, Sailing, Biathlons, Plantation visits and invading the opposite side of the island with the marines while checking tuberculosis tests in the landing craft (it just keeps on coming).
I had fun...
Any other corpsman of the time -- please write.
8432 Preventive Medicine Technicians especially...
Russ (Rat Man) Flagg




1984 1989
NAME = Jean Roland Noel
E-MAIL = rolandnoel@bigpond com .au
NATIONALITY = mauritian australian
UNIT = febroe bos contractor working as janitor houssekeper
RANK/RATE/JOB = now am working as a nursing assistant in australia
MY INTEREST IN DG IS = Want a Job as Far Away from My Wife as Possible
SUBJECT OF MY STORY: = There I Was, Passed Out on The Beach
MY WARSTORY = Yes there i was cleaning the toilet making your bed from 1984 to 1989 while you were here and there traning or fighting


April 1985-July 1985, Nov87 - Dec87
NAME = Mike Richardson
MY QUEST = To find that ever elusive C-141 flying in with fresh San Miguels
VT of a SWALLOW = African or European?
E-MAIL = pemdas03-fatchance@yahoo.com
NATIONALITY = 'Mercan
SERVICE = USN
UNIT = VP-4 Skinny Dragons
RANK/RATE/JOB = then AD3, decided to part ways with the Navy in 1991
MY INTEREST IN DG IS = My Time There is Lost in an Alcoholic Haze, Help Me Remember!
SUBJECT OF MY STORY: = I am a Born Liar, and Want To Tell About All The Sex I Had on Dodge
MY WARSTORY = I woke up in a room, pants-less, with a beautiful (even by Diego Standards)young lady. I'm still not too sure what transpired.
Anyway....There I was sitting in my TDY assignement awaiting orders to Hawaii, when I got a change in orders. I was to join VP-4 in Dodge mid-deployment. Easy enough right? Wrong.
The plane, a C-141 was to meet me in Norfolk then fly several of us including a team of civilian barnacle divers to Diego via France or some other European nation. As we were preparing to depart, war broke out in Chad. This delayed us a couple of days while the powers that be sorted things out.
Eventually, we were told that we were going to be departing, but that there would be a slight change in our itinerary. We would be travelling West, not East.
We boarded our 141 and flew immediately to New Jersey. We needed a new windshield we were told. After what seemed like hours, we departed for Travis AFB where the crew needed crew rest. THe following morning we departed or Hickham AFB where we sat around as a crew replaced a couple of our engines. Thrilling.
After another seemingly interminable delay for flight checks and the other assorted tasks of changing an engine or two, we were again on our way. We eventually landed at Anderson AFB where again we needed to stop for crew rest. As we landed in the morning, billiting was not offered to the passengers. We were allowed to shower after much complaining.
That afternoon, we departed for the Phillipines and Clark AFB. By this time, the crew was getting suspicious of us plotting a mutiny and kept us locked in the air terminal while we re-fueled.
We then took off for the final leg of our journey arriving in Dodge around 7 or 8 AM. As we had been advised, we were all travelling in civilian attire and technically hadn't bathed/shaved in about 2 days since early AM in Guam. I got a ride to the VP4 duty office where some 2nd class decided this was a good time to teach me about military courtesy.
I advised him that his lecture would go a lot further after I had a chance to sleep and get cleaned up. I explained to him that I had been on a plane for nearly 5 days and wasn't exactly interested in anything but a place to sleep lieing down, on a bed.
The rest of the detachment is colored in formaldehyde flavored beer. I do remember the base restricting our squadron to the barracks for the Fourth of July because we were scheduled to depart around the 5th or 6th. Somehow rumors got started about potential Biot Riots!
Did I mention the World Airways plane that arrived to rescue us from Dodge broke down? Our electricians had to repair/recharge the battery just so we could get the hell off that rock. In exchange for helping them help us, we drank every drop of alchohol on that bird.
I could tell I pissed someone off a couple years later when I awoke from a PI induced drunken stupor to find my ass back on the island for a second time.



ON AND OF FROM 1985 TO 1988
NAME = RICHARD M. RICE
MY QUEST = TO SHARE SOME GREAT TIMES I HAD ON THE FOOTPRINT OF FREEDOM
VT of a SWALLOW = DEPENDS ON WHAT YOU SWALLOW!
E-MAIL = POORRICE@COX.NET
NATIONALITY = AMERICAN
SERVICE = U. S. NAVY RET.
UNIT = PERSONNEL SUPPORT SERVICES MANAGER
RANK/RATE/JOB = RETIRED SHCM FROM USN AND THEN WORKED FOR CIVILIAN CONTRACTOR ON DG
I WAS WITH THE ORIGINAL CONTRACTOR THAT TOOK OVER THE BOS CONTRACT.
I HAD THE SHIP'S STORE, LAUNDRY, BARBER SHOP, TAILOR SHOP, BEAUTY SHOP.
MY INTEREST IN DG IS = Stroll Down Memory Lane
SUBJECT OF MY STORY: = Actually, I Have a Real Story To Tell
MY WARSTORY = I HAVE MANY FOND MEMORIES OF THE YEARS I SPENT ON DIEGO GARCIA, BUT A SHORT ONE FOLLOWS:
THERE WAS A GROUP OF US EX-PATS THAT HAD QUARTERS ON A CORNER THAT WAS LOCATED IN AN AREA THAT THE FEMALE INHABITANTS HAD TO PASS TO GET TO AND FROM THEIR QUARTERS. WE HAD A COUPLE OF UPSTAIRS UNITS AND A FEW DOWN STAIRS UNITS. OUR UNITS ALL HAD REFRIGERATORS WELL STOCKED WITH WHATEVER, BEER, WINE BOOZE,ETC.
WELL WE GOT INTO THE HABIT OF CHEERING THE LADIES AS THEY PASSED AND HOLDING UP SIGNS WITH A NUMERIC VALUE FROM 1 TO 10. OF COURSE WE ALWAYS OFFERED THEM REFRESHMENTS. IT WAS GREAT FUN FOR AWHILE AND WE MET SOME PRETTY NICE GALS. BUT OF COURSE SOME BULL DYKES TOOK OFFENCE AND OF COURSE THE COMMAND STRUCTURE HAD TO TAKE ACTION. THAT ENDED THAT PHASE OF FUN.
I DO NOT KNOW IF THE SWIMING POOL STILL HAS ALL THE SIGNS IT USED TO BUT WE CALLED IT THE "NO" "NO" POOL BECAUSE OF ALL THE SIGNS THAT STARTED WITH NO. POSTED AT THE ENTRANCE. WE WERE AMAZED THEY LET YOU SWIM IN IT.
BY THE WAY I DID NOT LEAVE VOLUNTEERLY, I WAS MEDIVACTED WITH A HEART CONDITION IN FEB 1988. I REALLY HAD A GREAT TIME WHILE WORKING ON DG, MY ONLY GRIPE WAS IT WAS SO FAR TO A LIBERTY PORT.
ALL THE BEST RICHARD (DICK) RICE
P.S. DID THIS EARTHQUAKE IN INDONESIA DO ANY HARM TO MY BELOVED ISLAND.


July 87 - July 88
HARRY GOMM <harry@gomm1.freeserve.co.uk>
Brit
MY QUEST = The answer at the bottom of the glass
VT of a SWALLOW = depends on 4.5in or 6in shell or the amount of semtex used
NATIONALITY = BRIT; SERVICE = ROYAL NAVY; UNIT = customs/sometime brit rep chef
MY INTEREST IN DG IS = want to drink lots cheap
MY WARSTORY = does ted remember his leaving party at the beach hut(i think)and being got on the 3 man lift and later on as part of a lancaster bomber(sorry ted) but it was good fun. [editor's note: Yes, I remember. And yes, it was all in good fun. Thanks for bringing back the memories Harry!]

Here's Harry (on the far right) after a Cricket match against the crew of the USS JASON in 1987 or 1988: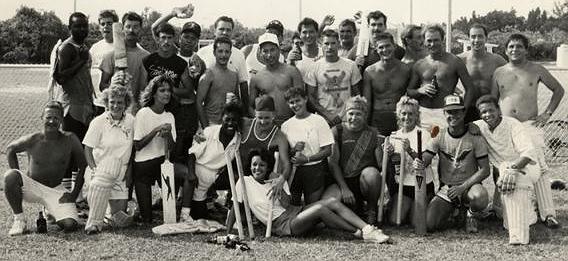 1987 thru 1990
NAME = Mel
MY QUEST = To Remember 2 aquaintences that died there.
VT of a SWALLOW = I ain't know!
E-MAIL = melv@charleston.net
NATIONALITY = american; SERVICE = contractor; UNIT = Big Red
MY INTEREST IN DG IS = Want to Drink A Lot, Cheap
SUBJECT OF MY STORY: = This is a No-Shit Fishing Story
MY WARSTORY = I want to remember 2 friends that passed away while working at DG in 1988. First, Mr Lester Jones, who worked for the Base Operating Support facility contractor; FEBROE. He took R&R and flew to Clark to be with his girlfriend. He drank to much Redhorse and ate too much Pancit, passed out and choked on his own puke. He was a good friend of mine, my snorkeling buddy. We shared some dangerous ocean side and night time snorkeling adventures. The last thing I said to him was, "Have fun, but Control yourself!" (I said that a lot back then as if I had any self control myself.) He never returned to DG. They packed him out, I never did.
Then there was Mr. Ramon Chew, a Filipino leadman at the harbor control center. He suffered a stroke and died. It took all the ice from all the ice machines on the Island to keep him cold until they could arrange a flight back to the PI. From what I heard FEBROE gave his wife an extra month pay for her suffering. He was a T.C.N.(Third Country Nationalist) He earned about 500 dollars per month, Big Deal!
I turned 30 at DG, and will never forget the good times or the bad.
1983, 1984, 1986, 1987, 1991, 1992, 1993
NAME = Dave (K9) Hardy (nice picture of me!) ed note: on http://www.zianet.com/tedmorris/dg/brits.html
MY QUEST = For you to contact me
VT of a SWALLOW = |African or European?
E-MAIL = Linda.Hardy@amserve.net
NATIONALITY = Brit
SERVICE = ROPO
UNIT = K9
RANK/RATE/JOB = Ex-ROPO ex-RN (Royal Navy) now merchant navy. Yes I have just returned from the Gulf as well.
MY INTEREST IN DG IS = Decided to Join A Monastery, But Couldn't Find One Stateside
SUBJECT OF MY STORY: = I'd Like to Share Precious Memories of Drinking/Fishing/Snorkeling/Sailing on Diego Garcia
MY WARSTORY = Been there, seen it, done it, couldn't get a t-shirt 'cos you had already bombed the placed out.
\regards \\k9
\\dave hardy
1987-88
NAME = Max Tilton
MY QUEST =
VT of a SWALLOW =
E-MAIL = cynde@ellensburg.com
NATIONALITY = us
SERVICE = nmcb4
UNIT = Aco mechanic shop
RANK/RATE/JOB =
MY INTEREST IN DG IS = My Time There is Lost in an Alcoholic Haze, Help Me
Remember!
SUBJECT OF MY STORY: = This is a No-Shit Sailing Story
MY WARSTORY = I worked at the marina on weekends when there.We had just got the 24 foot san jaun sailboats. We also got some boston wallers made for long shaft motors, typical navy they ordered short shaft motors for the boats. So we cut them down so we could use them. I rember some of the best fishing ever,thank god because the food at the chow hall was unfit esp. the milk.
1/87 - 1/88
NAME = JEFF CORBIN
E-MAIL = JCORBIN@CI.VENTURA.CA.US
SERVICE = US MARINE CORPS
UNIT = MARINE BARRACKS
RANK/RATE/JOB = LCPL
MY INTEREST IN DG IS = Stroll Down Memory Lane
SUBJECT OF MY STORY: = Actually, I Have a Real Story To Tell
MY WARSTORY = HALF WAY THROUGH MY 1 YEAR TOUR AT DG, I TOOK LEAVE BACK TO THE STATES VIA A MAC FLIGHT. STILL VIRTUALLY A "BOOT", I WAS UNFAMILIAR WITH MAC PROCEDURES AND FAILED TO GET A JULIAN STAMP AT LAX FOR MY RETURN MAC FLIGHT BACK TO DG. IN AN ATTEMPT TO RETURN, MY PARENTS MUST HAVE DIVEN ME BACK TO LAX A DOZEN TIMES BEFORE CORESPONDANCE HAD TO BE MADE WITH MY LT IN DG TO GET ME ON A FLIGHT BACK (FORTUNATELY MY PARENTS LIVED IN SO CAL). NEEDLESS TO SAY, I WAS UA AND HAD EATEN UP AND GONE INTO NEGATIVE LEAVE.
UPON MY RETURN, MY SGT, UPSHUR, WAS WAITING TO MAKE ME PAY AND PAY I DID! TO THIS DAY I'M HERE TO TELL HIM THAT I DIDN'T PLAN THAT ONE, ALTHOUGH ALL THE TIME AT HOME WAS GREAT! OH WELL, WHAT DOESN'T KILL YOU MAKES YOU STRONGER!
I'M NOW A POLICE OFFICER IN VENTURA, CA. IF ANY DG DEVIL DOGS (1987-88) ARE EVER IN TOWN, LOOK ME UP!


1987-1988
NAME = John Supple
E-MAIL = shydrashok@aol.com
NATIONALITY = American
SERVICE = United States Marine Corps
UNIT = Marine Security Forces
RANK/RATE/JOB = while there...Lcpl-E-3, Corporal of the gard
MY INTEREST IN DG IS = Stroll Down Memory Lane
SUBJECT OF MY STORY: = Other
MY WARSTORY = diego garcia...thinking of that place brings back some memories!! getting drunk all night to fall out for morning pt or force hump...to only still be drunk and run stagered!! lol pizza and burgers at da infamous donkey burger! going over to the gym to sneak peaks at the hot navy aerobics instuctor. going in mark havilands room the next morning after a night at da brit club finding him passed out in da shower blocking the drain and flooding his room!! playing drinking games with the navy, eric was touble!lol patroling the rest of the island and watching your LT wake up scared shitliss with a coconut crab on his chest!! endless..or should i say PRICELESS!!
hey looking to correspond with anyone who was there,marine or navy. exchange tales and to chat. living in hawaii now traveling the world still with a private company doing things similar to the corps. well aloha and semper fi to all da marines!!

1987-1988
NAME = Papa Gino
MY QUEST = To preserve the story of the Fraternal order of the Equatorial Polar Bear
VT of a SWALLOW = African or European?
E-MAIL = alabinabluejeep@aol.com
NATIONALITY = US of course; SERVICE = US freakin N; UNIT = Ground Electronics; RANK/RATE/JOB = ET1
MY INTEREST IN DG IS = Decided to Join A Monastery, But Couldn't Find One Stateside
SUBJECT OF MY STORY: = This is a No-Shit Drinking Story
MY WARSTORY = There we were, 12:30 AM, in front of the Air Ops barracks, BIOT Police happily esconced in the Brit Club. The Faithful Tub that had so obligingly kept the San Magoo from air temp (90 degrees F at midnight) was near empty. Large amounts of that rare and amazing solid, ICE, still floated at the top.
Obviously, we had miscalculated again and had run out of beer before the end of the party. Quel damage, 12:30 and out of beer, damn and on a Thursday to boot!
Someone produced a bottle of Jack Black. (God bless the Package Store, cheap, high quality booze, one more reason to extend) Out of mixer, but what the hell, this is an emergency.
Anyhow, Jack began whispering in my head. Some nonsense about a quick dip in the tub. Not one to question Mr Jack Daniels, I launched my carcass into the icy tub, Haiwian shirt and all. A short shout and one towel later, the whole process repeated itself. Thinking I was on to something, my Island mates joined in, at least those who had no common sense (as most of us lacked in those days).
The next morning I reflected on the experience with a wonderfully clear head (all things considered). I attributed the lack of hangover symptoms to the icy water and queried my shopmates. To my surprise, they were also clear headed and feeling cheated of a hangover and thus productively at work (oh, the horror).
Later that day, Jim Baca, Dan Benka and I sat down and created the Order of the Equatorial Polar bear. Any still have their certificate?


February 1986 - February 1988 [see his 1986 entry]
NAME = Larry Goulet; E-MAIL = honcho13@mediaone.net
May 1987-May 1989
NAME = Bill Prather
MY QUEST = To share my story of D.G. and why I extended for a year
VT of a SWALLOW = pretty goddamned fast
E-MAIL = www.bjdbtprather@msn.com
NATIONALITY = American; SERVICE = United States Navy!; UNIT = Navy Broadcasting Service
RANK/RATE/JOB = JOSN then, Honorable Discharge as JO3 in 1991
MY WARSTORY = Ted,
What a great website. I just wanted to say to all that Diego Garcia is the planet's best kept secret. I loved it so much that I stayed an extra year! I worked at the Navy Broadcasting Det and fully took advantage of the position bestowed upon me by Uncle Sam. I look back longingly on the extended lunch-hours I spent on physical training. No one ever knew that our PT was at the Dew Drop! You know those 16lb bowling balls and 12oz San Miguels are some serious work! For a time, I hosted a Saturday evening radio show with Tom Walsh, another contributor to your site. We aired oldies, which were a passion of ours and also of the higher ranking (read: older) folks. Because of this, WE GOT AWAY WITH MURDER. I co-hosted a weekly TV show with Tom, "Island Insight." However, our claim to fame is the Tom & Bill show, which was really just our excuse to get drunk on duty. Each week, we would pick a long song and see how many beers we could drink while it played. Our record (and I hope it still stands) is a six pack each, while Iron Butterfly filled the airwaves with 18 minutes of Ina-gada-davida. Diego Garcia gave me two of the best years of my life. I would love to take my wife (my second, I married for the first time on D.G. There's a war story for you!) My family has heard so much of the wonders of D.G. they feel like they're missing something. And they are! By the way, my best friend Dave Pattison, is also a guy I met on D.G. We live just a couple of miles apart in the suburbs of Denver, Colorado. So the friendships made on D.G. do last a lifetime. Great site, Ted. Thanks, and keep up the good work.
Bill Prather
Arvada, Colorado


December 1987
NAME = Matt Joyce
MY QUEST = Fleet Logistic Support
VT of a SWALLOW = VRC-50
E-MAIL = Bears 570v@aol.com
NATIONALITY = U.S.
SERVICE = US Navy
UNIT = Powerplants RC2-A
RANK/RATE/JOB = Aviation Machinist Mate - Discharged
MY WARSTORY = Arrived late. We needed to check in so we had someplace to sleep. We had 15 minutes B-4 club closed. We arrived at the club and immediately checked in at the bar. Everyone ordered 2. Club closed and we left looking for the convenience store after 11:00. Nowhere to be found. Went to sleep, got up washed the aircraft, left the island.
1987-1988
SCOTT LASHLEE <helo212@adelphia.net>
A friend happened upon your site and mentioned it to me. Guess I'm a plank holder from certain points of view. I have the distinct privilege of being the first X.O. of Marine Barracks D.G.---there aren't too many of us since the command was short lived. Many fond memories of the "Foot Print"; like finishing second in the D.G. first annual 1/2 marathon for my age group (not to mention there were few that participated). Or the time the young Dentist (Lt.) and his female companion (junior enlisted) were returning from a late night rondevous (toasted) and forgot there was a Donkey gate. Needless to say the small truck was totalled and and the couple sustained some injuries (non-life threatning). The Lt. was only held accountable for the damages for the truck (a peice of junk that FEBRO left behind). It was truly a world apart from normal military life----except for the Marines. Thanks for the site. Scott R. Lashlee Maj. USMC (ret)
P.S.
HERE IS A EXCERPT FROM OUR CHANGE OF COMMAND PROGRAM WHEN MAJ. STUDENKA WAS RELIEVED BUY MAJ. FORTE JULY OF 87'.
HISTORY OF MARINE BARRACKS
MARINE BARRACKS, DIEGO GARCIA WAS ADMINISTRATIVELY ACTIVATED ON 1 AUG 1986. ON 14 FEB. 1987, THE
BARRACKS ATTAINED A LIMITED OPERATIONAL CAPABILITY. MARINE BARRACKS, DIEGO GARCIA IS TO "PROVIDE
SUCH SECURITY AS APPROVED BY THE CHIEF OF NAVAL OPERATIONS IN COORDINATION WITH THE COMMANDANT
OF THE MARINE CORPS, AND PERFORM SUCH ADDITIONAL FUNCTIONS AS DIRECTED BY THE COMMANDANT OF THE
MARINE CORPS." IN THE PERFORMANCE OF THIS MISSION, THE BARRACKS IS TASKED WITH PROVIDING SECURITY
FORCES TO THE COMMANDING OFFICER, U.S. NAVY SUPPORT FACILITY, AND WITH TRAINING, SUPERVISING, AND
SERVING AS THE NUCLEUS FOR THE U.S. GROUND DEFENSE FORCE.
SUBSEQUENT TO THE RESTRUCTURING OF SECURITY FORCES WITHIN THE DEPARTMENT OF THE NAVY, ONLY 6
MARINE BARRACKS REMAIN WORLD WIDE WITH THIS MISSION. MARINE BARRACKS, DIEGO GARCIA IS ONE OF
THOSE 6.
1987-1988
DONALD CHAMBERLAIN, JR. <charlie40dj@earthlink.net>
you havent mentioned running back to the head after a meal at the chow hall,or trying to light a cig. in a monsoon.
former LCPL U.S.M.C. Chamberlain Security Force Co.D.G. March 87 March 88.

1987-1988
TOM WASLSH <tomwalsh@home.com>
Ted:
Excellent site!
I've just spent an hour or more perusing your links, and was stunned to see the news that the Chagossians will be returning, and that in fact they were booted from the island in the first place.
I am extremely interested in returning to visit DG myself, preferably with my wife, who has had to endure years of stories about the place.
I was there from October '87 to October '88, and worked as a Journalist (JOSN) in the Navy Broadcasting Service
Detachment -- I produced, wrote, edited and co-anchored a weekly TV program called "Island Insight." (I still have some of the tapes but they are too excruciatingly embarrassing to look at anymore.)
Perhaps I'll get back to you later with more on my time there, which seems to have coincided with yours. Jesus I loved that place. I was fortunate enough to have a cool job (I had regular access to a pickup truck and abused the privilege fairly often with trips to the plantations), and for seven months, I even had a girlfriend there (a redhead CT who would tell me when they detected Russian subs in the area).
Thanks for all the work you did on your site. It's fabulous. I would be honered to become a member of the PPDRDG.

1987-1988
Don Veitch <ADELADON2@aol.com>
NATIONALITY = UK; SERVICE = Royal Navy
Dear Ted Morris, I was stunned and amazed to see my photo in your "Photo's of Brit's" Page. I am the DON in the 3rd photo. My name is Don Veitch and I was on DG (NP1002) from Oct 87 to Nov 89). I was ROPO 6 (Police) and had the best
13 months of my naval career there. I have since retired from the Royal Navy in 1997. During my time on DG I met ET1 Kay Scofield (NAVCOMM - at "R" site), we married in 1990 in London. We have 2 children and now live in Gilbert AZ.
I would be very interested to hear from others of both the Brit Party and USN, who were on island around that time, including the VP Sqdns. I love your site and keep up the good work.
Best wishes, Don Veitch

1987-1988, also 1979-1980
NAME = Walt Bowlby
E-MAIL = wa9neu@shawneelink.com, wa9neu@drivernet.com
NATIONALITY = USA; SERVICE = U.S. Navy; UNIT = C-Site; RANK/RATE/JOB = CTM1 Retired
MY INTEREST IN DG IS = Professional Spy
SUBJECT OF MY STORY: = I'd Like to Share Precious Memories of Drinking/Fishing/Snorkeling/Sailing on Diego Garcia
MY WARSTORY = It was always easy to find a party on DG and you were automatically invited. A few beers in hand would be a passport. But even empty handed got you in.
I remember the bigest event was when the Dallas cowboys Cheerleaders came to the island. That reminded me that there were women back in "the world" and I was anxious to see them. It helped my 1 year tour go faster!
Diego Garcia was an interesting island and there were lots of things to do. I enjoyed biking and also ham radio.
To anyone reading this, if you can you should do a tour of DG you will have some good memories of it later!!!!!
1987-1988
BRIAN WESSEL <bwessel@idcnet.com>
MY QUEST = To somehow, someday, get back to paradise
NATIONALITY = US
SERVICE = US Marines
UNIT = Marine Barracks/Marine Corps Security Force Company
RANK/RATE/JOB = Pfc - Corporal. I moved up quite a bit there. Left the service in 1992.
MY WARSTORY = Well, I guess SOMEBODY has to represent the Marines. I missed the infamous DG shootings. One happened just before I got there, one happened just after I left. I do have the distinction of being the only Marine offered a 1 year extension on the island, only to turn it down. Ahh, the folly of youth. Cruising this site was awesome. Braught back a lot of memories. I remember being warned about "Patches" by the base CO at Island Indoc. How about that great commercial? Theres a lot you can do, on DG, and a lot that can be done for free? Anyone else still have that burned into thier braincells? As for all you C-site weenies, quit your whining about the guards. You think we liked standing there, in that little cage, hour after hour? The only good part was that hot LT.CMDR that was going out with the Marine officer. Other then that, it was anywhere from 4 to 8 hours of staring at the scavie. Loads of fun. Thanks to all those that remembered to get us some mid-rats too.
Someday I will have to tell the tale of the Marine that got hypothermia, thats right, HYPOTHERMIA, on DG. The Corpsman where freaked, as they couldn't believe that it was possible.
I wonder if they ever finished those morter emplacements on the roof of the Marine compound? If anyone has pictures, I would love to see them.


1987-1988
ALAN 'Bungy' WILLIAMS <alan@awtele.com>
NATIONALITY = UK; SERVICE = Ex Royal Navy; UNIT = Airport customs & Brit Club DJ !!!!!!!
RANK/RATE/JOB = left navy in '90 and never looked back - except for the pictures and memories of DG
Why can't people who have been there never forget about it... and why do people we bore about how good it was never believe the great stories we tell. I was there '87 - '88 (same time as you I think) as the radio technician with the brits.
It's only after you have finished your 365 days that you realise just what you have experienced and that (for the brits anyway) it was a once in a lifetime trip that all involved wish could be repeated....
... and is but onlt through dreams and memories.
1987-1988
BOB HODGES <rwhodges7@aol.com>
NATIONALITY = USA; UNIT = FEBRO
RANK/RATE/JOB = I have recently retired from America West Airlines where I was Director of Aircraft Overhaul. Also retired from McChord AFB Washington 446MAW reserves 313MAS Flight Engineer C-141 where it all started. Couldn't stand to stay home after retirement so went back to work for company in Phoenix called FINOVA ...you can see them on www.finova.com
MY INTEREST IN DG IS = Professional Adventurer Looking For The Ultimate Get Away
MY WARSTORY = I went to DG to gain enough money to open a bar outside Clark. I was a single man ...been single for many years like 15. Living in DG was good. Worked with all the other Expats on the flight line. After 6 mos and no women I started to put together a plan to meet some TCN ladies. I did start chatting with one in GSE by the name of Lina and well to cut to the chase.....I got married at the end of my contract. The moral to this story is that in DG, unlike any other place in the world, you make a lot of promises to the women, and DG is a small island ....We,,Lina and I are still married and living in Phoenix AZ. People will ask now and then how we met... Most don't understand because they have never been to Diego Garcia


1987-1988
LISA (HARDESTY) EDSON <203legal@CNRF.NOLA.NAVY.MIL>
I stumbled upon your DG website by accident and was taken on a wonderful trip down memory lane. I was stationed there from May 87-Aug 88. I was attached to COMFAIRWESTPAC DET (we were a small det of approx 10 people). My OICs was LT Larry Pemberton and LT Rick Hausvik.
I was good friends with BRITS Jayne and Chris (I noticed him in one of your pics), who were in security. I "hung" with the navy divers. You probably remember diver chief McDonald & CWO Don Novak?
I have many pics from the island (many parties, plantation, dive boat trips, fishing, etc), if you are interested in putting them on your website. I am still in the Navy (19 years in November) currently stationed in Atlanta, GA. Hope to hear from you soon.

1987-88
LUIS (TONY) DIVITO <tdivito@actransit.com>
MY QUEST = To get the hell out of dodge
VT of a SWALLOW = The African or the European
NATIONALITY = USA; SERVICE = USN; UNIT = Weapons; RANK/RATE/JOB = AO3 back then
MY INTEREST IN DG IS = Want to Drink A Lot, Cheap; SUBJECT OF MY STORY: = This is a No-Shit Drinking Story
MY WARSTORY = After a full day (April 7, 1987) of drinking and throwing stale galley cake at each other at Weapons Beach near the magazines, we headed back to downtown Dodge for some more booze. After hanging out at the barracks next to the Jarhead palace, the Marines went wild and set up a defensive parimeter around thier barracks yelling at others to go back to their rooms and setting up rolls of razor wire. Needless no one paid attention to them as many fellow Diegans often do. Suddenly we got the word to muster up at the step-van and head on down to the Industrial area near the weapons magazines. But before we went there we were told to stop by at the armory. AO1 Werkman, a crazy Vietnam era former Jarhead geeted us at the door of the armory with a M-60 Machine gun and asking us for a stupid password in which he neglected to tell anyone on the island even though he recognized us from the party. Either he had Vietnam flashbacks or was happy to be back in his jarhead element as he gave each of us shotguns, rifles and .45 along with a box full of shells. Since some of us were still drunk we had a hard time holding on to our shotguns as we tried to load them and running over crabs on the road. Shells were rolling all over the step-van and the Chief, a crazy Oklahoman, was craking jokes along the way. Once we got down there we were told of the infamous "sniper" shooting at some Marine at the Comm Center and that we were put on alert at the time being. We were told to stand by at each door and if anyone came in just shoot them. It was a bit difficult as we were going into the hangover period and were pissed off that we didn't get our beer to get over it. Thinking back we could've shot each other as we were not in the correct frame of mind, drunk ordies with guns. Well nothing happened since then.
After the Navy and Marine forces searched the island for the sniper, including the deportation of suspected contract workers as well as the clear-cutting of jungle forest it was concluded that the sniper was a Marine that fired his rifle and made up the story as to not get in trouble. I heard from the grapevine that both Maggie Thatcher and Ronald Reagan were notified of the incident and that changes to security were needed.

1987-88 1994-96
DAVE JEWHURST <DMJEWHURST@msn.com>
SUBJECT OF MY STORY: = I'd Like to Share Precious Memories of Drinking/Fishing/Snorkeling/Sailing on Diego Garcia
MY WARSTORY = Actually, I flew (worked) for both Hawaiian Airlines and Rich International Airways during those years and had the opportunity to visit many times. I had never heard of the place until getting a flight plan to go there! What an experience, to say the least. I doubt that I will ever get back there, but stranger things have happened to me. I have really enjoyed looking over your site and have been able to prove that the pictures I have of the Island are for real (so many friends don't believe me!).


Dec. 1987 - Dec. 1989
KIRK MANSFIELD <kman24@clear.lakes.com>
MY QUEST = To find the Holy Grail
VT of a SWALLOW = Twice that of a long-tailed Eastern beaver
NATIONALITY = U.S.; SERVICE = U.S. Navy; UNIT = U.S. Naval Security Group (Classic Wizard)
RANK/RATE/JOB = ex-CTT2...discharged Dec. 91 after tour in Edzell, Scotland.
MY INTEREST IN DG IS = Want to Drink A Lot, Cheap
SUBJECT OF MY STORY: = This is a No-Shit Drinking Story
MY WARSTORY = Two years. What the hell was I thinking? The first year passed quickly, hardly time to think about anything, I suppose. The second year came as a result of a voluntary extension to escape certain follow-on orders to Adak, Alaska. Two islands, both secluded, few women, figured I might just as well be in the sun. The second year passed just as quickly and was just as insane as the first. The biggest worry of the day during the entire tour was "I wonder if there will be clouds with the sunshine tomorrow?" Cheap booze, excellent outdoor activities, and damn good friends, what the hell more could a 22-year old kid from Iowa ask for in those days? Civilization, for one thing. As bad as it was perceived to be in those days, we sure as hell had a good time hating the place. I think about it now and wonder if it really happened. I think about it now and wonder why I didn't stay on another year. I think about it now and wonder why I ended up there to begin with. I think about it now and realize it was but another stepping stone that has brought me to where I am now. As I reflect on time spent on "the rock," I realize that a major portion of who I am today was carved out during my two years in the middle of nowhere. I still keep in close contact with a good portion of those that I ran free with some 12,000+ miles from Sioux City, Iowa. I couldn't wait to leave, but I am damn glad I was able to bring home with me a group of friends that became my family over a two year period. Diego Garcia. Freakshow central. I am quite proud to have lived in the middle of the sideshow...and if asked to do it again? I'd say, "you're damn right, step aside and let me dive off of the short pier this time, it's my turn! After that, let's go get us some sliders and lumpia from Donkey Burger!"


1987 - 1988
ANDY <winnetka@hotmail.com>
What is Your Quest? A quiet place beneath the stars
What is the Terminal Velocity of a Swallow? Depends upon the trajectory
Det Yeoman at PSD. Enjoyed Trumbel beach, Allen's night to inventory at the Brit Club, lobster dinners at the pursers place with Rocky, walking the beach for shells, Matt saying "I'm sober as a judge" and most of all the BRIT REPS retired working dog coming into PSD for treats.
May 1987 - May 1989
JIM "BO" PALMA <jim.palma@am.sony.com>
What is Your Quest? To find "fudgemilk"
In the NAV from '85 ~ 91 - ET2 NEC1417 ASCOMM Settled back in Pittsburgh, Pa
Originally "hated" to hear that I was going to the "Rock". But soon made the best of it. Even extended a year. I was an original "Boozer" Position - "Behind the bag", Boozer Name - "Bopper" Proudly acheiving a record of 14 - 1 (the only win was because the diveshop "Dreamteam" put a 1/2 keg on the line.) Had a blast behind Diego Burger 2 at RM1 Martin's (Marty) Mai Tai Parties. Made a lot of trips to the EXPAT club for the pizza and San Magoos. Along with Mike D. Gale, Woody, & Larry originated the infamous "gutterbeer" at the Britt club during a classic DGAR downpour. I really miss the ol' crew - Soto,Woody,Gale,Larry,Mike,Rob,Blake, - The best group of guys (drinkers) I've come across yet!
1987-1990. Total of about two years.
MARK HADFIELD <hadfield_mark@hotmail.com
I worked for FEBROE as Comm/Elec Supervisor, then for IPAC as Communications/Electronics Annex Manager. My father (Ray Hadfield) and I are interested in contacting others who worked for FEBROE that may still be on island, or elsewhere. Any info is appreciated.
1987
NAME = Darryl Burgess
MY QUEST = Confirmation that it all wasn't some alcohol induced hallucination
VT of a SWALLOW = African or European (I had an entire year to memorize that stupid movie)
E-MAIL = drylbrg@earthlink.net
NATIONALITY = US; SERVICE = Navy (in body if not in mind); UNIT = Transmitter Site (worked near the mutant donkeys)
RANK/RATE/JOB = ET, The US Navy and I agreed that I really didn't belong in that fine organization after 1 enlistment.
MY WARSTORY = This is an actual, no shit, sober story. I Know, I know, it is hard to believe. I thought people would like to know what people did in the middle of the night when at work far from the glamour and hustle of downtown Diego. As the Transmitter site usually only had 5 or 6 people there at night, by the time I left, boredom was common. So crab golf was born. The electrical safety boards had wooden canes on them that were a suitable substitute for a 5 iron. A bored ET just had to take a walk out in the attenna field and crabs would offer themselves up to take a short sub-orbital flight. The main hazards were disturbed donkeys, and RF radiation. Working at T-site made us all sterile anyway and who gave a fuck about the donkeys, so a quick 18 was just the ticket. Then you could go back and get drunk like the rest of the island.


1987 - 3 months on the USS Jason
NAME = Homer
MY QUEST = to survive corporate life
E-MAIL = Holmgren@ameritech.net
SERVICE = navy
RANK/RATE/JOB = I was an ensign when I was on the USS Jason(AR-8) in DG (which was old, but not a piece of S--T), as someone referred to the Jason at this site...
MY INTEREST IN DG IS = My Time There is Lost in an Alcoholic Haze, Help Me Remember!
SUBJECT OF MY STORY: = This is a No-Shit Drinking Story
MY WARSTORY = We tended the battle group in the fall of 1986 Sept/Oct/Nov. and we had only 120 women on board the Jason(15 female officers) not 300 as previously reported. The on-island people called us "JJ and the Hoganettes", because our CO, JJ Hogan III, usually gave several of us a ride to the O'club at Liberty call. I attended several parties and yes we did do a lot of dancing at the O'club--including some dancing on the bar...there were several people that were really fond of Carly Simon and Jimmy Buffet music and we played that music every time we sailed. (which was generally every weekend). We usually had a big feast along and unrep'ed our way across the lagoon--passing the best food back and forth between the sailboats. One party I went to, the host had everyone dress up in Tuxedos and he brought in all kinds of potted palm trees--sort of an F. Scott Fitgerald/Great Gasby party...it was packed and several people showed up in tuxedo tops and burmuda shorts. Most of the Jason officers and the base officers were there...but none of us got in trouble for curfew because our CO was out past curfew with us...now on the night that the ships doc "Blew Chow" we were at the Yacht club dining out and a couple of us did stay out too late...The president of the Mess was the base oceanographer and I was the Mdm vice. I also heard after the party that someone had used a closet as a bathroom--but it was an island person, not a Jason-person.
Yes a few of us did get put in hack, but it was only 3 days not 2 months--it just seemed like 2 months because it was the last three days we were on island. The party definitely did get a little wild...but it was very fun (and entertaining) Perhaps the most memorable occasion was that I broke my foot one evening running up to the top floor of BOQ 6 to meet some friends. (and I can neither confirm nor deny that it was an alcohol related incident) When I got up there I was limping and told the Ship's Doc that I had tripped, so she felt compelled to check my foot and said--"its broken". But, we didn't let that slow us down, and we didn't go to medical because that would mean an early end to liberty, so for the rest of the evening the people with whom we were partying had to carry me around to the expat club and the oclub. Of course the next day my foot was huge and I ended up in a plaster cast because the island was out of fiberglass material. I think I ended up changing the cast 3 times in 4 weeks and I have a picture of some people cutting the cast off with a butcher knife, because the cast had gotten wet while we were out sailing. We had way too much fun in
DGAR, but we did work hard while we were there as well--it just doesn't make for as good of a sea-story...
PS. I was also there when the JJ decided to drive the car back on the flat tires. He was pretty furious!
1987-1988 & 1993-1998
S. J. "JACK" WELCH JR. <j_welch@gtmo.net>
What is Your Quest? To make sure I remember the great times I had there.
What is the Terminal Velocity of a Swallow? Faster than an afternoon fishing charter. (If you can get on the list).
1987-1988 (Diving Officer and Port Operations Officer). 1993 to 1998 (Port and Harbor Services Manager).
Retired (26 Years) U.S. Navy Warrant Officer. Have been working Overseas since my retirement. 5 years in Diego Garcia and currently here in Guantanamo Bay, Cuba as the Port and Harbor Services Manager.
Was very active with the Yacht Club. Built the elevated Deck extension for the drummer of "Seven Degrees South". Needed it for more dance room. Built the Bar alongside the deck. (In those days, we were not part of MWR.) We actually had for a time, a great little bar run and operated by the Yacht Club Members. Overhauled the first Sail Boat and named it "The Souther Cross".
Built the bar in the New FILMAU Club. Was also very active in the Diego Garcia Little Theater Group. We put on a number of plays off Broadway (Way off Broadway). I think this is a terrific page you have established. As I looked through the names of the Guestbook, I remembered a number of members...
Finally, fell in love on that island with the most wonderful woman in the world. Won't mention her name but, if she ever reads this, she will know. Didn't work out but I will always think of her fondly.

1987-1988
CINDY <qoth@aol.com> Cindy's Home Page
Stationed at PSD then, probably going to the Commsta later this year, along with several others from my current command--woohoo, another year of sea, sun, and long damn work days!
Comments: What d'ya mean copyrighted pictures!!?? I swear you stole my palm tree-in-the-sunset picture!!!
From another e-mail: Subject: AAACCKK Flashbacks!!!
I was on DGAR in 87/88, a friend of Andy's and Nell was my roommate for awhile. I didn't hang out at the Brit club much, played too much Dungeons and Dragons with the comm geeks (some of the best gaming ever). Have you kept in touch with Andy? I lost my address book long, long ago. Please let me know if there is a way to contact her. PS, very cool page, had lots a fun looking thru and wondering WHY WHY am I going back??!!!
Let me see, that was June '87 to '88 for me. I flew out there by the west coast route, thru the Philippines. I was thinking about going to the camp above the Air Force base for leave rather than the arduous flight back to the States. There were oil well bombings in the Gulf, and bombs/grenades/shootings in Philippines later that year, so when leave time arrived, PI was closed for military flights/US tourists, and I had to take the East Coast route back to the States. We flew over one of the burning oil wells, and the people with various clearances were kinda nervous. We got anti-terrorist and possible unfriendly landing briefs, and I was on the beach one nite when a friend and I saw mysterious lights off the shore, and NO sound! We approached cautiously, and surmised that it was occurring in the vicinity of the Commsta, and if it was anything strange, they would have mentioned it to someone-it was helicopters(I think) but you sure couldn't tell it from a distance! And no, we hadn't been consuming mass quantities! PSD had only the CADO system, and Z-120's for computers. The CADO system used 8" floppies I seem to recall! There was one 286 or maybe a 386 that had been there a year or so but nobody knew what they wanted to have on it software-wise, or if they should switch to an unknown computer. I knew almost nothing about PC's, and got the set-up wrong and had no display. Had to get hold of one of the squadrons and map everything out so I could do the set-up blind. One of the squadron DK's didn't make a copy of her data diskette and since, as you all remember, DG is about last on the supply lists, she typed out checks for quite awhile.
Let's see, Donkey Burger had the big screen projection TV, we had an earthquake that woke everyone up for an impromptu 'earthquake party', you could tell when the Gompers was in 'cause there were strange women walking around in clothes we hadn't seen a hundred times before, PSD supplied the women for almost all the commercials AFRTS guys did, Bob Hope visited (I only saw him in his sweater out on the lawn waiting to leave the next day, I figured w/o binoculars I'd never see him at the hangar so I didn't go to the show), phone cards were something like $5/minute, Star Trek Next Generation was new and taped shows were valuable trade items. There was still debate about a miniature golf course supposedly held in the MWR vaults, jungle ball was all the rage, sailboats were available or Mike boats for fishing (I only went sailing once and spent almost 4 hours puking over the side, hangovers and small-craft warnings don't mix--and I have never sailed since)! The only time I wasn't puking was when one of the girls got dumped into the water and started swimming after the boat, she asked if there were any sharks (ha ha) and, as if on cue, we all said 'no, there aren't any sharks!' Oh, yeah, can't forgot the Mongolian bar-b-ques started weekly at whatever the restaurant is at the US club is called, those were a nice change! Oh, and the big doings at PSD, the chief tried to get the OIC removed (unsuccessfully) and she (the chief) ended up successfully adopting one of those scraggly, long, in-bred kittens and taking it back to the States.
I did leave out the stuff like, if you wanted to cook you had to hang out with a civilian or an officer, same with taking a bath, we all know that [EDITOR's NOTE: Yes, I remember long lines of women waiting outside my BOQ to take baths]. And remember how hard it was to get supplies to cook, had to have a request signed by the COC unless, again, you knew somebody. Ah, well, at least we didn't have all dirt (sand) roads and tons of mosquitoes, like in the old days!
FROM ANOTHER E-MAIL: Cindy asked me "Do you remember anything about some Marine shooting his weapon off and all the Marines going on alert? And the Marine drills, when the rest of us folks would clear the downtown area and let them skulk about? There are vague flickerings about that stuff, can you shed any light on that?
TEDDY's RESPONSE: Oh, yes, I remember that very very well. The jarhead at the comm site guard shack claimed he'd taken fire from the jungle, and returned fire with his pistol. Remember this was when the Ayotollah had directed people to attack Americans, and there were about 300 moslems in the FEBROE work force (filipinos and Mauritians). Do you remember Gunny Hatfield? His picture is on the Brit Club page. Anyway, the Marines had a squad always ready to respond to something, and they jumped in their trucks there at Ft. Johnny Rambo and sped off - to the bomb dump! Anyway, they got there, and the Marine called again, and they made a uey and headed back for C-Site. Driving down the road, Hatfield and the Captain who was driving thought they were taking fire too.
So the whole island came to a screaming halt. They closed all the clubs (except the Seaman's Club, the Contractor's Club, and the Brit Club) for about 2 weeks. Also the outdoor theater AND the package store, bowling alley, etc., and there was a curfue as I recall of 10 pm or something too. You also couldn't walk down DG 1 after dark, so if you didn't have wheels, you couldn't get a beer. Fortunately, our det had 3 vehicles between us, so we were able to hit the Brit Club "on the way" home from work, etc.
The NSF CO Captain Barker AND the Brit Rep (CMDR Drummond) were in London for the annual "Pol/Mil" talks on the island, leaving the XO, and the dumbest man alive, in charge of DG. He started sending out OPREP 3s to the Navy world, but no AF addressees. So I sent my own to PACAF and MAC (more on that later).
Anyway, my big problem was that C-5s were supposed to have armed guards at all times in those days. However, the Navy refused to provide them there at DG. So I asked Ed Forte, the USMC CO if he'd guard the airplanes during the
"Sniper Crises". After all, if there was a sniper, our airplanes were about the only way off the island, and we (the AF) got concerned about stowaways and hijackers. Well, the Marines guarded the C-5s for 2 days, and then CAPT Barker
returned and took them off the planes. So I went to the Brit XO Tom McMurray, and he said he'd send Royal Marines down to guard the MAC ramp.
Anyway, the next night I stopped by the Brit Club for a beer, and here's one of the Brits in a ghillie suit, with his assault rifle and night scope drinking a beer! He said he was going out to "guard" my airplanes. "Don't worry, Ted," he said. "I'll be in the scavie on the west side, and if anybody gets near your planes, I'll pop them for you!" I assume he would have - those Royal Marines were tough.
So I sent another message off to the AF. I was young enough not to understand the distribution system for messages at CINCPAC HQ, and it turned out that the messages went to Navy people as well as AF. Anyway the gist of the message was
"The USN once again won't support USAF needs, but the Brits will and all is well." Anyway, Barker got calls from a total of about 20 stars over that message, and Ed came to my room one morning and said I should go shelling that day, because Barker was looking for me, and intended to hang me from the yardarm at the quarterdeck. I took him at his word, and turned the detachment over to my NCOIC and headed for the GEODSS site and hung out with my friends down there for the day. Sure enough, the next morning Barker came into the mess (he never ate with the troops in the mess) and walked right over to me and told me, "Its a good thing I couldn't find you yesterday, I'd have hanged you, etc." then he stormed off (we were never close after that). So I turned to the Navy guys I usually ate breakfast with and said something like "he wouldn't really do that would he?" and they said he would, and what's more, if the Capt. said "do it", they'd have saluted smartly and tied the knot themselves! The Navy is very very different from the AF (where all decisions are made by committee).
Well, anyway, about a week later, the NIS guys got back from some court martial in the PI, and broke the case. Sweated the truth out of the poor little leatherneck by locking him up in their little Gestapo HQ for 3 days. Anyway, it turns out he "thought" someone was in the jungle, so he chambered a round and then thought better of it, and the gun went off as he tried to unload it. He would have been alright if he'd fired off the whole clip into the jungle, but it was just one round fired, and one round recovered out of the wall of the guard shack, and he went off to jail somewhere nasty.
There never was a sniper.

1987-1988
STEVEN J. FORSBERG <sjforsbe@bayou.uh.edu>
(Steve was a two time infiltrator, 1987-88, and 1990-91 - including all of Desert Shield/Storm)
As a person who probably spent a little too much time there, and has done a little too much research about the place, I believe that I am eminently qualified to add a few meager stories to your treasure trove of important historical notes. I am currently a historian in training (haven't snared the PhD--yet) and one of my long running interests is the history of that beloved little foot print in the Indian Ocean. I wrote a short historical account of the island, but the Navy wouldn't put it on the web because I mention the "ethnic cleansing" of the Ilois, a subject that the Brits just don't want talked about. I have an outline for a book (that may even one day get completed), but I'd rather dwell on the stories that the academic community probably wouldn't appreciate :-).
I arrived on the island for the first time in the spring of 1987, compliments of "Rich International Fly By Night" airlines
(recall the aircraft whose landing gear gave out? yeah, those guys). Though I wore a uniform I was not a "real" sailor, but rather a cryptologist who humored all those goofballs running around in funny outfits and giving orders. I was a Wizard fresh from Winter Harbor, Maine, where we had allegedly attended a 4 month school. I was headed for C-Site, the Ocean Surveillance building, home of Naval Security Group Department and a command unto itself within the larger CommSta. My new Department Head had been attending the officers course in Winter Harbor, and we were on the same flight out. I recall walking towards the back of the airplane to talk to her, and she was reading a book with a title like "Women in Charge: Surviving in Male Dominated Organizations". I figured that if she was smart enough to look for advice she would do all right. Indeed, she turned out to be the best junior officer I ever ran across. ( pre "Tailhook" tales coming....)
After a winter in Maine doing nothing but boozing, the DG weather was a bit of a change. In addition, it was just my luck that the day after I checked in the command was holding a PT test. In addition, in part because of my better-left-unmentioned past I had been assigned as an E/R (Evaluator Reporter). To make a long story short, the elite and often egotistical guys (no women allowed!) at the far end of the ops floor. The more senior guys took me out to the Turner Club the night before and made it clear that I had better "have a good time" unless I wanted to be demoted to the "monkey posit". So I had a good time.
Here I am, at my first command, in front of all the PO1s, and I would have had a really bad hangover if I'd gone to
sleep and sobered up a bit. We start the run at the Gym, heading past the softball parks and take a right turn (recall the route that went past security?). About 150 yards, and I'm leaning over into the jungle orally ejecting a nights worth of mixed drinks into the jungle. The only PT test I ever failed. The very next day I was hat in hand in front of the Division Senior Chief. Oh well :-).
The Turner club closed at 10:30 every night, I seem to recall. The theory was that if everyone then went home and to bed they could get to work in the morning. Bad theory -- instead everyone just went back to the barracks and partied with hard liquor. Every night there was a big bash somewhere. That is one of the perks of being at a watchstanding
command--every night is someone's weekend. I lived in BEQ-13 (first floor, ocean side, down near BEQ14. Room 115?
can't recall). Quick access to Cannon Point, 50 feet from the volleyball courts and the grills. The Short Pier was just a 2
minute walk in one direction. The package store 4 minutes the other. There was the Turner Club (including a lounge that was being constantly renamed). Then there was the Seaman's club, and down the road a bit the infamous Brit Club. If you were a female, there was also the Officers Club. Transient aviators didn't give a sh*t about what the local brass thought --- is she looked good she went where ever!
Someone mentioned the infamous "Night the Iranians Attacked Diego Garcia". The event started at C-Site, which in those days was guarded by the few, the loco, the Marines. These were not the garden variety Radio Battalion pee wees who are sometimes found at crypto sites, but rather the "real deal", grunts, infantrymen. On those few occasions when they could stay awake at night guarding our site (which had never been, and never would be, attacked) they often played "quick draw" with their loaded .45s. Well, one night some guy accidentally squeezed the trigger while doing so and a shot went through the combination box. From what I understood, he then called the Sergeant of the Guard, who gave him an unexpended round (to take the place of the one he shot) and radioed back to the Marine Barracks/Security a bogus sniper attack.
I was at the Turner club at the time. Security came in and shut the place down early -- bad move, now there were swarms of half-drunken people looking for someplace to go. DG1- the route to the seamans club and the Brit club -- was now being guarded by Brit Marines, and as others have pointed out they are not to be trifled with. Instead everyone started wandering back to the barracks and starting impromptu "porch parties". Security was driving around in a truck with a loudhorn telling people to go inside and instead they were throwing bottles. The Marines at the Marine barracks were in "condition fanatic", lined up on the roof in full gear and with loaded weapons. If you came near the barracks, a guy would scream "LOCK AND LOAD!" and you'd hear all those M-16 bolts slamming. Then they'd yell "Turn around and walk away! Deadly force authorized!" As you walked away they would yell "SAFE!" and all the bolts would clatter open.
A fellow I knew, rather drunk, was 'teasing' the marines. He would rush across the street (LOCK AND LOAD), and then back up (SAFE), and then rush across again (LOCK AND LOAD), and back up (SAFE)......ad nauseum. A crowd of people were cheering him on. By the time morning came around most everyone had figured out that the sniper was bogus. I can recall our CO standing near the combo box talking to the Marine CO the next morning. He would ask a question and the marine CO would respond "According to the SOG..." or "I'm told...." or "Supposedly....". Our CO just shook his head and said "I don't care what you were told. What really happened?" I think that even then the Marine CO guessed what was up. As they said, some NIS people flew in and they sweated the guard and it all came out in the wash.
You have a picture of Major Agee on your site. He and I once moved to the head of an overloaded MAC flight by
agreeing to be courriers for an SCI shipment. I once had to go down to GEODSS to use their STU-III. The Air Force always had the top notch toys long before anyone else, and they were royally spoiled and pampered. Another group that got away with murder (figuratively, not literally like the Brit Marines) were the US Army folks who worked at Wizard. There were no army officers on the island, usually just one E-7 and 3 or 5 junior folks. They could do whatever the NCOIC felt like and the command couldn't touch them. Their records (everything) were maintained back at Fort Meade, Md, and it probably would have taken an act of congress just to NJP one. "Mandatory Army Training Days" were usually fishing trips.
You also mention Halloween of 1987. I recall the night distinctly (despite the booze!). I spent most of it at the Brit club, they were cooking these delicious shish-kabob things on the grill (of course, when I drink heavily most anything tastes good. Even the Hot Pasties at the Brit Club). I was dressed up as a "flasher" (Long navy raincoat, flesh colored lycra bike pants from a friend, taped birth control glasses).
Other fond memories of that first year:
The Diego Burger (aka Donkey Burger) --- loved them greasy pizzas!
The Beach from Cannon Point to R-Site --- walked it often
The EXPAT club --- good view, and good pizza (do I detect a pattern?)
The "TRAP status thumb Mk I" --- it would take some explaining
The lightning strike/fire in the old clean room.
The "almost" hurricane.
Cheap booze of every variety and in large quantity.
"Patches" --- Oh, I'm sooo tempted to name names (some are CPOs now!).
On another note, we were among the last people on the island authorized to wear the classic Diego Garcia attire: Khaki shorts, white t-shirt, pith helmet, jungle boots, green socks rolled down. The next year they outlawed this traditional attire and replaced it with the infamous "Postal Service" uniform (i.e. dungaree "shorts" down to the knee and black shoes with pulled up black socks).
When I left I suspected that I would be back in the near future. Sure enough, after a tour in Guam (talk about "sucks") I headed back to Diego Garcia so that I could be at the front lines for the war that everyone with half a brain saw coming, and saw many of the same people coming back for the same reason. But the Desert Shield/Storm era is a whole 'nother volume (and for a Wizard, 2000 miles away IS the front line :-) ).
p.s. Did you know that in the late 1500s a Portugese treasure ship wrecked on a reef in the Chagos? There is a fortune waiting to be had.......

1987-1988
GARRY HEDRICK, Sr. <RETAFGRANDPA1952@aol.com [Garry was in our little MAC Det]
I was stationed there as NCOIC of Aircraft Maintenance. I left Air force in 1991. I work for a gas Co. In west Virginia now. Ted was my commander from Aug 1987 til July 1988.

1987-1988
DES BRIGGS "ROPO 1" <desbabs@hotmail.com>
I was ROPO1 from 87 - 88 and had a great time locking up unsavoury individuals! Connected to the web for the first time today, this is a trial run. Give me a call if you were at DG at this time and had dealings with ROPO1.

1987-1988
GEORGE BONE "ROPO 1" <ero.dryad@gtnet.gov.uk>
What is Your Quest? To greet my fellow lovers of Diego Garcia
I was the British Chief of Police (ROPO1). I am presently serving in the Royal Navy at Northwood HQ, London
I will be moving to a new email address shortly and would eventually like to get in touch again.
Editors Note: George took over ROPO 1 from Des.

1987
TERRI (McKinstry) YOUNGS <tyretiredwave@yahoo.com>
What is Your Quest? Remember the good times, to hell with the rest
42 Retired AZ, married (met my husband in DG when he set his ord. truck on fire)mother of 1. Live in CA. Don't forget those VP squadrons out of Moffett. All you guys take care and may God bless you.
1984-1989, 1999-????
FRED TAMBELLINI <ftam911@cwnetdg.io><dgchief911@yahoo.com><fredtambellini@hotmail.com>
I am Fred Tambellini,and I was on Diego Garcia with FEBROE 1984 to 1989 as Asst. Fire Chief. Went to Berbera and Mogadishu, Somalia, with Admiral Lee - COMFAIRWESTPAC - to do a fire protection risk assessment. Will send you
a story or two. Also, I am back on Diego Garcia as Fire Chief. WEIRD or what !!! Best to you all, FRED the fire guy.