Sept 1995 through March 1997
Colleen Brennan = mcbrennan11@gmail.com
Citizenship = USA; Service = Contractor
My_Warstory = I accepted an assignment to DG in Sept of 1995. I worked for the contractor (BJS) and was the senior ranking female on the island at the time. It was a challenging assignment, but I was up for it. It was really lonely at first, but I will never forget Christmas Day 1995. I had brunch at The Officer's Club with several of my colleagues, including Jim Piefer, who has remained a great friend to this day. Although I really missed my family, my friends on the island would not let me be sad. Their caring attitude was what sustained me on DG for my tenure there. I loved the regatta's at the Yacht Club and performing in the Dinner Theater we staged. I also performed with 7 Degrees South in 1996. I performed (solo) several times at the clubs including the Philmau Club. I was probably the most prominent female vocalist performing on the island at that time. The 18 months I spent there are among the best of my life.

FEBUARY 1996 - MARCH 1997
Name = CHUCK PEDIGO
submit_by = chuck@arsco.com
Citizenship = USA
Service = USN
Other_Service = AND US ARMY
Outfit = NCTS/C-SITE
My_Quest = FOLLOWING UP
My_Warstory = IT WAS QUITE THE EXPERIENCE FOR A 19YEAR OLD. I HAVE A LOT OF GREAT MEMORIES, THAT IF I TRIED TO RE-LIVE THEM NOW IT ABSOLUTELY KILL ME...I REMEMBER DOING "ROOFERS" AT THE BRIT CLUB, AND MAKING FRIENDS WITH PEOPLE I WOULS LOVE TO HAVE A BEER WITH NOW AND REMEMBER..I ALMOST GOT EATEN BY A SHARK SWIMMING ACROSS SHARK COVE, DEHYDRATED FROM DRINKING TOO MUCH, AND PLAYING SOFTBALL ON THE "LOONEY TUNES" TEAM.. I HAD A GREAT GROUP OF PEOPLE TO HANG OUT WITH, AND THINK OF MY DAYS ON DIEGO OFTEN. EMAIL ME IF YOU REMEMBER..

october 1996 -sept.2001
Name = Ronaldo L Mangalino
submit_by = bhaywolf69@yahoo.com
Citizenship = Filipino
Other_Country =
Service = Contractor
Other_Service =
Outfit = annex 9 trans. dept.
My_Quest = annex o9 transportation mechanic
VT_of_a_Swallow =
My_Warstory = hey this is a real story, i have my record in B.I.O.T. police station. i was put in jail damn it was soooo cold during my inprisonment thats the time the jail was renovated. it was also the time when timmy was put to sleep. he is a military dog.i still remember R.O.P.Os name like ROPO 5 Haydee Dunn ROPO 10 Andy Varah, ROPO 6 David Mcaffrey, ROPO 11 Ollie Olsen. most of the british military have become my friends especially andy varah, he visited me in philippines twice. hey who can forget the fullmoon platoon and island wide picnic. gosh i miss the place its a unique paradise. Anyway i lost my temper which led to my imrisonment and lost my good job. too much opportunity have lost. now i am working in saudi arabia but given a chance i want to work in D.G. again. by the way my purpose for posting my story is to have a communication to any of the brit military who took care of me. i was not treated as a prisoner i became trustee right away. guys im ronnie contanct me in my e- mail ad. bhaywolf 69@yahoo.com ronaldo mangalino. thx


1996-Feb 1997
NAME = Jennifer Roe (formerly Engstrom)
MY QUEST = To immortalize DG's division of NWO
VT of a SWALLOW = Isn't that a bird?
E-MAIL = jenroe75@yahoo.com
NATIONALITY = Panamanian/American
SERVICE = USN
UNIT = Navcomtelsta
RANK/RATE/JOB = CTT2
MY INTEREST IN DG IS = My Time There is Lost in an Alcoholic Haze, Help Me Remember!
SUBJECT OF MY STORY: = This is a No-Shit Fishing Story
MY WARSTORY = Took a trolling boat fishin with the boys. The poor shark didn't stand a chance against us.
First he was hooked. He tried for two hours or so to get away. During this time I was mostly barfing over the side since we were going in circles and catching our own fumes. Then he was clubbed, Scott GREAT picture! Then he was tied to the boat backwards and drowned. It took two months, BBQ & Italian dressing, and a shit-load of friends to eat him. Tasted like chicken! Who ended up with his teeth? Oh how big was the shark. Almost 7 feet long, 225 lbs white tip!
Oh and I'm the girl who got her finger stuck in that damn round table right before shift change. I'm also the girl who broke her ear-drum...but I won't get into that story. True members of DG NWO should never divulge that information or risk my wrath.

96-97
NAME = Torre Lewis
E-MAIL = pdunk@hotmail.com
NATIONALITY = US
SERVICE = USN
UNIT = C-Site CT
MY INTEREST IN DG IS = Want to Drink A Lot, Cheap
SUBJECT OF MY STORY: = There I Was, Passed Out in the Club
MY WARSTORY = Remember Angela Tower

96-98
NAME = Conrad Matt
MY QUEST = To realize my physical Mojo limit.
VT of a SWALLOW = Depends on the viscosity of the fluid swallowed.
E-MAIL = seematt@yahoo.com
NATIONALITY = amarikin
SERVICE = Army, but that was an earlier story
UNIT = BJS Mis-Manager
RANK/RATE/JOB =
MY INTEREST IN DG IS = Want to Return When the First REAL Club Med Opens
SUBJECT OF MY STORY: = There I Was, Passed Out in the Club
MY WARSTORY = One night at the Yacht Club Social the mojo was really weak....I had 8 and didn't feel a think. Next Yacht club social someone else made it and I woke up in the sand at the Brit Club and someone was throwing pebbles at me...I tried to squint and find the culprit, but found I couldn't move....around 1 am or so a corpsman came over and asked if I wanted to go the infirmary...I told him 'Where were you 2 hours ago...' I made it to the drunk van, crawled out and passed out on the lawn near the ROPO office...a ROPO i knew was kind enough to drop me at my door. I went to the Next AA meeting, thinking 'Oh, shit. I have a drinking problem.' But after a few 'hello, my name is Mark, and I'm an alcoholic' Hello Mark! rounds, and hearing their stories, I realized that I was not an alcoholic, but a sometime binge drinker, so I just had to take it slower.
Hiya April Herald if you read this (she was a Cutie!!). Many fond memories of 'Spider night' at the Voodoo Lounge, Ray Weaver's wake (anyone know where he's buried? I'll pay my respects). Bongski where are you? Did you ever learn to rollerblade? CDR Hillery trying to drown me that one race during a squall when the laser capsized in the channel!! A drunken bike ride to get more booze which ended up face down in the coral (ouch!) thanks to the Filipinos at the Pool. Thanks to Mandy and Erwin for saving me from myself. The other cool Mauritians, and anyone who caught any of all the wonderful fish I ate there....Those Navy Lieutenants who made life interesting, and the ever so sexy CMDR Winters...Dino and Willie from the IT shop. Barry Tallant ....hey Barry let's go sailing! Whatever happened to Tom who used to run the sailing program at MWR?
dec'96-'dec'97
NAME = La Quinta Howard
MY QUEST = to find peace, love, and money errr..happiness
VT of a SWALLOW = say what???
E-MAIL = lhoward360@yahoo.com
NATIONALITY = African American
SERVICE = NAVY
UNIT = R-Site, RM3
RANK/RATE/JOB = now a civilian keeping life insurance up and running
MY INTEREST IN DG IS = Want to Return When the First REAL Club Med Opens
SUBJECT OF MY STORY: = There I Was, Passed Out in My Room
MY WARSTORY = Seriously folks it's easy to fall into the downward spiral of madness and depravity when your goal is to drink yourself into a stupor. I've
never been so fit in my life as I was on D.G. A lot of running, biking, drinking and illicit sex to round out the memories. I had fun while I was there, but I
wouldn't do it again.

January 1988 To 1999
NAME = Jean Pierre Ramen "ROBIN"
MY QUEST = keeping in touch with people who mean a great deal to me, DG Familly
VT of a SWALLOW = jeanpierre.ramen@parabolemaurice.com
E-MAIL = jpr1369@yahoo.com.au
NATIONALITY = Mauritian
SERVICE = civillian
UNIT = Annex 20 Ac/r department bos contractor
RANK/RATE/JOB = Senior Sales Executive
MY INTEREST IN DG IS = Stroll Down Memory Lane
SUBJECT OF MY STORY: = Actually, I Have a Real Story To Tell
MY WARSTORY = 1988, there i was landing on Dg 20 00 pm, still young 18 years old going on a journey looking for adventure, first night pax terminal to the
barracks 09 sea breeze village, still cool first time abroad meeting new people had couple of beers and got to sleep for my first day tomorrow, 05.30 am my
nightmare began, walk out to the shower room, man what a shock, surrounded with coconuts trees with white sands you could barely looked at i say to myself 'where the hell i am ? second day visit to ADMIN, Downtown, Shipstore, Community bank, and back to Admin, telling my story seems like it was like yesterday, one thing ive learn on DG is to be patience and very understanding, and my patience made me stay 10 long years there, I dont believe it myself, if i have to be grateful its because of people like MR Bob Streegan, where i started to work at tyhe TCN Galley, Mr Faye Parks he was like a dad to me and if im where i am today its many thanks to Faye Parks, Mr James Billman transportation Director, and volley ball coach even his team always loses to our mauritian team, just kidding, Mr Harry Johnson, Mr Bruce Norris, Jim Pfiefer, William Marioka, BOB Butt,and so many more to all those people i say thanks to all of them, unfortunately we've all gone our seperate ways but i hope that one day if we could all be in an island wide picnic it will be a dream come true, sometimes we do speak about paradise, but dg is paradise for people who know they will tell that hell yes paradise of footprint of freedom white beaches, deep sea fishing like nowhwre else, my biggest catch a yellow fin 95 lbs, almost 35 mins fight with a damn shark tailling, party at the BRIT Club, SOUL Night at the 61 Club, Country night at the turner club, mojo at the beach house and not forgetting those mongolian bbqs at the peace keeper Inn, and last but not least those delicious Pizza at sea breeze village,
i would like to say a few words for CHARLY of the seamens club, we cant go to the seamens club without saying hi to charly.
To all the people ive met on DG, NAVY, MARINES, AIR FORCES, EXPAT, BRITS, PHILIPINOS, Hats off, those were the time now im back home and would like very much to keep in touch with people who was there and who remember me,
my name is Robin
Mauritian volley ball team captain
AC / R Dept
Annex 20
my email is jpr1369@yahoo.com.au

Subject: DG menu
Date: Wed, 8 Dec 2004 13:49:23 -0800
From: "Gary Willman" <gavocados@adelphia.net>
Hey Ted, I was starting to worry about you. Welcome back; head and all. Attached is a menu for the CPO club take out and delivery in
1996. The prices are like something out of the 1920 sears catalog. I pretty much lived of what you see here,as did allot of folks on island. If
you can use it on your site, do it. If not its still funny to look at. As a side note, I'm sure you are aware that I am the researcher and
developer of the Rum and Coke Cheeseburger Diet. You can drink all the rum and coke you want throughout the day (you may substitute
with any alcohol drink or beer) and have a cheeseburger at or around midnight each day. I personally went from 210lbs to 186lbs in just 3
months! DISCLAIMER: NOT RECOMMENDED FOR PERIODS OF OVER ONE YEAR. Thanks for what you have done and what your
doing over there now Ted.
Gary Willman
AWCS USN (ret)
1990-1991 and 1996-1997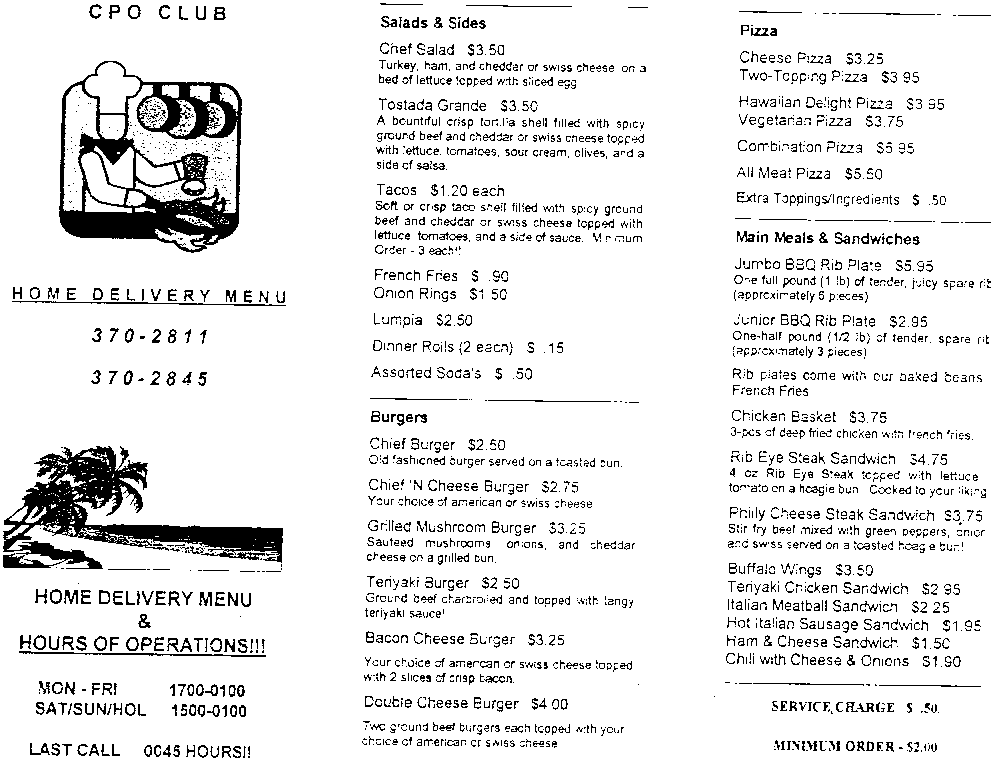 1996-2001
NAME = Richard Chase
MY QUEST = Telephone company
VT of a SWALLOW = Aleph null
E-MAIL = rchaseio@yahoo.com
NATIONALITY = USA
UNIT = BJS-DG21
RANK/RATE/JOB = Public Works Director
MY INTEREST IN DG IS = Want to Drink A Lot, Cheap
SUBJECT OF MY STORY: = Other
MY WARSTORY = I noticed new stories by George Laughlin and Harry Johnson, so I thought I'd chime in. Here is my first day in DG, September 1996:
I had been traveling for days to get there. Anyone who has been there can remember the ever-infamous Paya Lebar rerun, where you show up at the airfiled day after day to get a seat. All I can say is, "Thanks Helen Lee for making all my Singapore stays bearable!" So I finally get a seat on KC-10 (AKA indoor rainstorm). I was dead tired and thrashed from the travelling. I did find a spare pint of Tanduay from PI that got me through the flight.
When I landed, I went through the standard Brit customs drill, "No bongs, knives, or explosives. ANY video tapes will be confiscated and viewed for pornography!"
My boss picked me up and drove me to BEQ-8, where the contractors stayed. It was Tuesday night. I noticed that there was a huge party out front of the BEQ. There was comely Filipina bartende (Helen from Seamen's Club) who kept forcing me to drink. And drink I did. It turned out that BJS used to have a weekly shindig each Tuesday.
That was my first exposure to DG. I met Harry Swartout, Conrad Matt, Ray Weaver, George Laughlin, and many others that night. I stayed for 6 years and ended up in the local island band. Great memories.
May 1989 thru Sep 1999, 2001, thru 2003
NAME = George M. Laughlin (YA-HOO)
MY QUEST = Citizenship from some place
VT of a SWALLOW = Below sea level or above??
E-MAIL = bubblincrude@hotmail.com
NATIONALITY = USA
SERVICE = USN RET
UNIT = IPAC and BJS until 1999, NFCU fm 2001 to 2003
MY INTEREST IN DG IS = Stroll Down Memory Lane
SUBJECT OF MY STORY: = Actually, I Have a Real Story To Tell
MY WARSTORY = One of my fondest years on Dg was back when Capt. Check (CO) and CDR Bob Collard(SUPO), would call me and my buddy, Flightline Freddie to the O Club so we could drink for free all night coz the O's could not play Hosre Collar. That was fun, even when the Marine XO would climb into the rafters and pour beer on us. Another grand time was getting with Jack and the gang and building the Golf Course, then playng it. There was the two years that BJS golfers would play the Brit Party every Tuesday. It started out being a fun once a month deal, for beer and build your own at the Expac afterward, but with the wipping that we (BJS) gave the Brits the first time. The Brit Rep. CDR Gram Niven changed the program to weekly. We even had a trophy at the Club House with the weekly score posted. I'd have to say the we (BJS) won 98% of the time. Grand times at the course. If anyone wants to complain at not having a good time on the island for several years I was the one who brought the EAP Charter to the island and you missed out. Even though the EAP turned into the Dave Burges Fan Club. More stories to come. YA-HOO

1988 May to Jan 17 2000
NAME = Harry Johnson
MY QUEST = To say Hi to all my old friends still there
VT of a SWALLOW = Who cares
E-MAIL = fuelman808@yahoo.com
NATIONALITY = American
UNIT = Fuels Manager for Febroe, IPAC, BJS, DG21LLC
RANK/RATE/JOB = I'm Ret. Navy E-8 Aviation Boatswan Mate. Worked with a lot of good people on DG both Military and Civilian.
MY INTEREST IN DG IS = Stroll Down Memory Lane
SUBJECT OF MY STORY: = Other
MY WARSTORY = All the years I was there I was happy and content. I met and fell in love with a very lovely lady I hired in 1989 and married her in 2000 Feb. 14. We both worked for the Contractors and she left in 2001 May. I had a heart attack there in DG. But the great folks at the NSF Clinic put me on a plane to Singapore and while in route after take off I Died but the Flight Nurse and Flight Sergeon brought me back so after three months of extensive care at Singapore I was allowed to travel to my home in PI and from there to the US to continue my care at NNMC Bethesda Hosp. My wife and I are living in the States now and hope All is well in DG. Other than Bob Butts I was the second Old timer still on the Island from the Febroe Days. That's my story gang and believe me if I could return to DG doing the same job as I was doing I would No question about it. Good Luck to all of you over there. We still have relatives working on the Island so we are still in contact.
Aug. 1996-Aug. 1997
NAME = Susan Green
MY QUEST = Find true happiness
VT of a SWALLOW = don't gag!!!!
E-MAIL = susan.green@hood.army.mil
NATIONALITY = American
SERVICE = USN
UNIT = C-Site
RANK/RATE/JOB = then- CTO3 now-Civilian
MY INTEREST IN DG IS = Professional Adventurer Looking For The Ultimate Get Away
SUBJECT OF MY STORY: = Other
MY WARSTORY = Being on the island was truely an adventure. I met some of the coolest people. The CO at the time let us go to Guam for a softball tournment. Needless to say when we returned she decided that anyone wanting to represent the islant had to take leave (I guess the 14 phone calls from the Master Chief in Guam didn't help) The trips out to the R & R site, driving the van (which your suppose to be sober), trying (wink wink) to dodge the crabs. Feeding the turtles at Turtle Cover Doritos, going to Shark Cove and seeing who could make it across with all limbs in tact while drinking a little Jim Beam. Having the B-Day partys and the progressives (by the way who has that video of me baring all on Halloween night). I remember a certain dental officer (I believe his name is Bo Carson) what a cutie...He and Whit would come over to our side and socialize. If either one of you read this write me.
To the rest of the people that ran in our click I hope your memories of DG are memorable like mine. I have the videos and the pictures. I love the ones we had in Larry Deans room and my room. And who burned a whole in my roomates dogs butt...that was funny!!!!
Any old friends from DG that want to give me a shout, please feel free.


May96-May97
NAME = Chris Wurst
MY QUEST = To be able to complete full moon platoons sufficiently drunk
E-MAIL = cjwurst@hotmail.com
SERVICE = Navy; UNIT = T-Site tech; RANK/RATE/JOB = ET2/
MY INTEREST IN DG IS = Want to Drink A Lot, Cheap
SUBJECT OF MY STORY: = This is a No-Shit Drinking Story
MY WARSTORY = Strangely enough the people who tended to drink to excess regularily eventually hooked up after a couple of days. This group eventually came to form the 96/97 version of the island "brew crew". Too many stories to tell but one stands out. One of the crew members took some leave. We carried on as usual but used his bed as a storage space for all the empty beer bottles we'd consumed in the time he was gone. Upon his return he was tired and was naturally drawn to his bed after the long flight but couldn't mount it because of the afformentioned reason. Anyway we took the beer bottles to cash in for the deposit only to buy more beer in order to celebrate his return. Wierd.
December 1996-1997
NAME = Dallas Stoneburner
E-MAIL = dallasnkerensa@hotmail.com
MY INTEREST IN DG IS = My Time There is Lost in an Alcoholic Haze, Help Me Remember!
SUBJECT OF MY STORY: = This is a No-Shit Drinking Story
MY WARSTORY = While I was stationed there in 97-98 the HMS Herald was surveying the lagoon area, and I met some of the best guys off that ship. They stayed at the old Marine barracks and I lived in barracks 13 near "Donkey Burger" which is now called "Burger-n-bytes"... anyways these guys off the Herald "Cookie (who later worked at customs at the airport), Jimmy, and Simon, became my favorite drinking friends. I usually got off work around 1400, I worked at the transmitter site and we never worked, and Jimmy and Simon would stop me at the bus stop and we usually drank from 1500 to usually 0400 the next day. Well sometime during my tour there Princess Diane passed away and my british drinking friends decieded to drink for England. We started out with about 10 guys in a circle, we opened a bottle of 151, Tequilia, and a Bottle of Absolute and we kept passing the bottles around until they were all gone.... needless to say everyone was feeling pretty good about this time. As the drinking continued with everyone drinking for England our first victim passed out at the Brit Club! This poor Brit Jimmy was spread out over the outside dance floor and all the Brits pissed on him, stripped him nude and left him on the beach... this ritual contined all night Im told because about 0530 I was on the beach next to my buddy Jimmy and about 4 other guys.. The good news is that I met my Current wife that night and we have two great Kids. Diego Garcia was the best place I have ever been in the Navy and hopefully will go back there in 2005.
Nov, 1996 -Nov, 1998
NAME = Karen L. White
MY QUEST = To Survive
E-MAIL = pisces0304@hotmail.com (The one I made up 5 years ago while I was in DG.)
NATIONALITY = Irish, I guess; SERVICE = US Navy; UNIT = NCTS; RANK/RATE/JOB = DP2
MY WARSTORY = They say you either leave DG as a drunk or physically fit. I heard the same thing while I was at Barking Sands, Kekaha, Kauai, Hawaii. Anyway, I got physically fit and this was the only time in my Naval career that I got an Outstanding. And besides that I usually have only one drink a year and that is in the month of March. I entered in the 2 mile swim from the "Picnic Area" to the "Incinerator". I was probably over one mile when I was stopped and asked to get on the small craft boat. I asked why I was stopped. No one answered me at first. I asked "Was it because I was the last person in the swim?" "No" I was told. I then asked "Was it because I kept veering off to the right?" instead of the designated incinerator. "No" I was told. No one said anything for about 10 minutes as the small craft boat just floated. All of a sudden, one of the Volunteers spoke up and said "We have been watching this big, black shark watching you and you were swimming right into him. Didn't you see him?" I said "No." "Well, we don't see him, now, so if you want to finish the swim, go ahead." See, I'm a true Pisces, so at that point, I jumped back into the water. I don't think anyone expected me to do that. I finished at about 2 hours. Needless to say, the small craft boat stayed
really close for the rest of my swim.
June 1996-July 1996
NAME = Kevin A Hawkins (Hawk) <mrpibb71@hotmail.com>
NATIONALITY = U.S. A.; SERVICE = U.S.M C.; UNIT = Wpns. Plt, Kilo Co. 3rd Bn/7th Marines, 3 rd Mar Div.
RANK/RATE/JOB = L/Cpl Hawkins
MY INTEREST IN DG IS = Stroll Down Memory Lane
MY WARSTORY = Where are my Marines brothers?

Jul96-Jul97
NAME = Wayne Hay
MY QUEST = To punch all of life's tickets before "punching out".
VT of a SWALLOW = Never swallowed, don't know
E-MAIL = wayne23518@isp01.net
NATIONALITY = US; SERVICE = Navy; UNIT = NSF; RANK/RATE/JOB = Was NSF Base Suppo, currently retired and living the good life!
MY INTEREST IN DG IS = Want to Return When the First REAL Club Med Opens
MY WARSTORY = I enjoyed my twelve months in DGAR...best NAV tour I had. Sure beat the shipyard I went to upon leaving the island. THAT was the pits! Lots of war stories, but many friends from my island days are still active duty, so I'll be discreet :-)
Wanted to pass a "BIKE" story to you and see if anyone else was stupid enough to do what the "group" did. Being a veteran of two "Tip to Tip" rides, we decided to do a "Tip to Tip to Tip"...thats right, 74 miles in one day. Was one heck of a ride, and plenty of sore butts to go around, but it was one of the highlights of the tour. We wondered at the time if anyone (was stupid enough to) had done this "PT" before. Look forward to hearing. For those of you considering going: Do it! Nothing like jogging 4 miles at 0500 to beat the heat and losing all those golf balls in the scavvy. Mulligan heaven!


1996-1998 - Also 1993-1994
LARRY DEAN <LarryCountry@aol.com>
THIS IS LARRY DEAN WRITING, PRIOR MEMBER OF THE DG FIRST CLASS ASSOCIATION, YACHT CLUB MEMBER, AND DONATOR OF MONIES TO BRIT AND 61 CLUB. I WAS STATIONED THERE FROM FEB 1993 TO APR 1994, AND NOV 1996 TO JAN 1998. GREAT PLACE, AND A GOOD IDEA FOR A SITE. DROP ME A MAIL. LATER, LARRY (CTT1)
Jun 96 to Jun 97
NAME = Nick S. Glandon
E-MAIL = nglandon@hotmail.com
SERVICE = US Navy; UNIT = NSF Admin; RANK/RATE/JOB = YN2 then.... civilian now!
MY INTEREST IN DG IS = Stroll Down Memory Lane
SUBJECT OF MY STORY: = I am a Born Liar, and Want To Tell About All The Sex I Had on Dodge
MY WARSTORY = Looking back on DG I think - now that was a great place! Then I think yeah sure, now that you're off of that Rock! What I remember most was the whole Tropical Atmosphere and the definitely the people and mostly the friends I made on the island. We had some great times (mostly drunken nonetheless). I remember one psycho woman in particular I spent a lot of time with... anyone who knows me knows who I'm talking about.... I remember one Petty Officer I worked with who I wish I would have had just one night with (friends know who that was).... and yes, Miss Diaz, you too.... Parties, Beer, Fishing, Pizza, Water Skiing, the Plantation, Turtle Cove, Snorkeling, the Short Pier, the Brit, the Yacht Club....it's all coming back to me now!


1996-Early 1997
NAME = Dave Campbell
MY QUEST = Go back, dig up 4 bottles of Morgan I buried near the Hash House!!
VT of a SWALLOW = Not a relevant question for a 3 day wine binge!
E-MAIL = campd@netscape.net
NATIONALITY = Alabamian
SERVICE = USN
UNIT = AIMD
RANK/RATE/JOB = AE1 then, retired now (thank you GOD!)
MY INTEREST IN DG IS = My Time There is Lost in an Alcoholic Haze, Help Me Remember!
SUBJECT OF MY STORY: = I'd Like to Share Precious Memories of
Drinking/Fishing/Snorkeling/Sailing on Diego Garcia
MY WARSTORY = First of all I'd like to salute all the survivors of the island and wish you all well in the future. Except for one particular female HM1, I met some of the greatest people in the world there. Brian, JJ, John...and the rest of the Hash House castaways. Also a word of thanks must be given to Ron and all the other AF personnel that helped support our mission on the island (namely having as much fun as we could with lack of hours in a day). I'd also like to thank George and all the members of 7 Degrees South for letting me sit in and play harmonica. They are one of the main attractions on DG.
Favorite times: Steak dinners at the Seaman's Club, any Hash House party (I could have been a full-fledged bar tender if not for my habit of becoming instantly drunk at the mere sight of the place), weekends (all of them!!), sunsets, sailing on the lagoon, the Elephant Patrol, getting sick in Dave Burgess' van (is he still with Navy Fed?), overnighters at the plantation, jello shooters, being snot-slinging drunk and going to the "O" club just to gross everyone out, Sunday bloody-mary breakfasts, Yacht Club parties, the many 3 day wine fests and last but not least...PI Independence Day!!!!
Worst times: Real hot days, my rented VCR getting run over by the bus, rainy days, that's about it!
Biggest bitch: The Credo of the Hash House being broken by the aforementioned HM1, that was the beginning of the end for that noble establishment. The people that loved the place as much as me know what the sign on that wall said and how sacred it was. But it was destroyed in an instant by one self-righteous, guitar-playing, wannabe Irishman, tree-hugging, liberalistic do-gooder. I'm just glad I left before the hay rides and sing-a-longs got underway!!!
In closing I'd like to say that it is impossible to understand some things without experiencing them and DG is without a doubt at the top of that list. Whether you loved it or hated it matters not, but you WILL remember it forever.


89-90 and all of 96!
NAME = Jim
MY QUEST = "I wanna go back, to the island!"
VT of a SWALLOW = Some of us knew a girl who could swallow TWICE!! and you ask such a question!
E-MAIL = luvcaptmrgn@home.com (write me if you know me!!!)
SERVICE = Air Force; UNIT = PACAF AMMO
MY WARSTORY = I was lucky enough to get two tours to dodge out of the Air Force, and I'm currently lookin for a third! (I'll let ya know if I get it!) I have so many great pictures and even more great memories of the single greatest spot on the planet! Some of my favorites include: Pizza night and sunsets at the EXPAT, gettin shells at southpoint, buildin fires in the barbeque grill at Cannon Point on the weekends and getting smashed out there under the stars, teachin aerobics to some of the best lookin women I've had occasion to meet, partyin with George, Mango and the boys (both times I was there...man, those guys have the best life!!), sailin on the most consistent tropical breezes anywhere, snorkeling in the lagoon, the socials at the Yacht Club, flying in and out through the PI and Singapore!!, walkin back from the Brit Club at 2 in the morning singing the theme song to "The Flintstones", all the rain in March and April, crew lunches at the Seaman's club and all the best friends I made each time I was there!! I'm with Marci, I wanna go back and NEVER LEAVE again!


Mar 96- Mar 97
NAME = John Holliday
E-MAIL = efhllu@msn.com
NATIONALITY = American Whitey; SERVICE = Navy; UNIT = NSF/ASD; RANK/RATE/JOB = AK3 then, civilian now
MY WARSTORY = I worked in the Supply Dept/ASD supporting AIMD and those stupid VP squadrons (three came through while I was there). The place was OK, yes it was always nice and warm but there really wasn't a whole lot to do there. I would hope that everyone who has ever been stationed there has "done it all" because it's virtually impossible not to just out of sheer boredom. For example, I don't even like going to movies but there I was in that damn outdoor theatre at least twice a week, and I couldn't even hear when it was raining. Yeah, it was free, so what? I also remember lots of floods, lots of cats, lots of softball, lots of running, lots of people that I couldn't understand because I did not know their language (they certainly hardly knew mine), lots of drinking, lots of duty (we only had three sections), lots of duty day joyrides to the Donkey Gate to pass the time in the "excitment" capital, lots of loneliness(I was married at the time), lots of gettig up at three in the morning to catch a live NFL game, and lots of pizza delivery from the CPO club(something like $3.85 for a "large"). I also remember the "Christian" CO (NSF)that banned smoking from the club so everyone started going to the Brit Club. When that happened prices at the package store mysteriously started going up. Then the "Ships Store" started running out of Marlboro Lights all of the time. Gee, wonder if the CO had a hand in that? Then he went to D.C. on "official" business over Christmas, saw his family, got his pussy, then came back and told everyone at Captains Call that he would've rather been "right here on the rock". I remember that! After I left I found that I was in a substantial amount of debt thanks to a woman that I am no longer married to.
And despite all of that I remember the island fondly and probably would take the opportunity to go again and never leave, just so I could escape the commute of Northern Virginia. Maybe I am insane.


1996-1997
JOHN TURNER <ex_ic1sw@hotmail.com>
MY QUEST = To re-live choice moments on DG
VT of a SWALLOW = African or European??? I don't know, Ahhhhhhhhhhh!!!!!
NATIONALITY = Szgany; SERVICE = USN; UNIT = Naval Media Center
RANK/RATE/JOB = Then IC2(SW)separated as an IC1(SW). Now Civilian Video Engineer
SUBJECT OF MY STORY: = I am a Born Liar, and Want To Tell About All The Sex I Had on Dodge
MY WARSTORY = I'm the Ice Cream man Refered to in this year 96/97. I was forwarded this page from an old DG buddy MADMAXSKI. I'm still in touch with him and almost passed out to see I had been immortalized on these pages.
I'm the only person on this earth to know the significance of certain refrences to Baskin Robbins (use your imagination).
Since I'm the guilty one to be protected I'll tell. The Military Space was oh where should I start, The radio booths at Media center or the CHENGS Desk?? Or just about anywhere I could get my pants down. Beyond that, I found peace and love. I learned communication, respect and free-ball after sex in the sand because sand will severly chafe sensitive areas. Oh yeah USE BLEACH & Water to remove sand crabs from shells!!! Those little bastards always have the best houses. Kind of funny how they vacate quickly when put in a chemical solution.
The walk of shame was the best Saturday and Sunday morning show. Little Girls peek out of the doors of some dork that they went home from the Brit Club with and don't want anyone to see them leaving his room. Look left, look right, but forget to look across the Quad and see me and friends preping for the 7AM LCM fishing trip. HA Busted. Yeah we saw it and laughed our asses off!!!
Mrs X was correct. The blue bottles for your water were perfect for One MOJO kit. One kit would put the hardiest of partiers to bed early. Or lead to a walk of shame. It worked for men too. Most guys said "Fat Ass is better than No Ass." That was the hardest part to get used to. Non statestide-dick getting fat asses had an attitude. If you're a fat woman, you'll never have a problem finding a date in DG.
I could go on and on. There are a few people I met that I would like to meet again to take care of unfinished business, please let me see them at the commissary or exchange in San Diego.
I do feel very very bad for Husbands of Navy Women. Send your innocent, demure, little kitten wife to DG and get back a Wild Cat. Wait a minute - no I don't cause I was the Cat Trainer. And Who could go back to Neopolitain after 31 Flava's!!! HA
Thanks Great site J.T.

May - Nov 1996
MARCIE <eyesofgreen15@hotmail.com>
What is Your Quest? To reminisce over the best six months of my life!
What is the Terminal Velocity of a Swallow? 50 knots
How did you find my page? Desparately seeking Diego...
Loved the lifestyle and the Brits. I am a member of the "Pink Jacket" hall of fame and, as a Yacht Club member, am pictured on the walls and ceiling of the house. I was stationed with VP1 and deployed there. It was the best time of my life. Before going there, a lot of people were saying how horrible and isolated the island was - they couldn't have been more wrong!! I miss Dodge and given the chance would go back and NEVER leave!!
Jan 1996 - Feb 1997
MADMAXSKI <maxdonauau@earthlink.net>
What is Your Quest? To be naked and famous
What is the Terminal Velocity of a Swallow? 68. 'Cause if you go any faster ... you'll eat it.
I am a fellow Band Member of "7 Degrees South", the finest band on Diego Garcia. Played drums and percussion, ..I might add. I was the one who made an instrument out of a Pizza Pan and debuted it at the Phil-Mau Club.(APR 96). Could play fine Bob Marley an Jimmy Buffet on lagoon "bouy balls". I was a video photographer for the "NAVAL MEDIA CENTER - DIEGO GARCIA" . I was known for makin'percussion instruments from everything from a tequilla bottle , to a coconut. MMMMMMMM... COCONUTS!!!! Great page . Glad I found all of you. Keep up the Great work . I'll find some cool pics and send them . THANX
Feb 1996 - Feb 1997
BRIDGET HOGAN <woodi69@aol.com>
It was a wonderful year Feb96-Feb97. Still in the Navy, just went over 10 years, HM2, with and attitude! hehehe Dreaming of the golf course on DG, cause it is way better then the one here in China Lake,CA! Miss you DG!!!
1996-1997; 1998
JAMES MARTIN <kintatsu@aloha.net>
I DID TWO DEPLOYMENTS IN DODGE WITH VP-9. bACK TO BACK NOV 96- MAY 97 AND MAY 98- DEC 98. I LOVED IT. NOW I'M OUT OF THE NAVY WISHING I WAS BACK IN DODGE AS A CIVILIAN. YOUR SITE REMINDED ME OF THE GREAT TIMES I HAD THERE. IT REALLY IS A SLICE O' PARADISE. THANKS. JAMES "KINTATSU" MARTIN

1996-1997
PENNY CHRISTENSEN <Pennygail@hotmail.com>
SERVICE = USN; UNIT = NCTS ; RANK/RATE/JOB = ET2 then, Silly Villian now
MY WARSTORY = The best parts of D.G. were the people I met, and the smell of fish guts caught in the "Out of Bounds" areas, torential rainstorms, shelling, green stars, sleeping in a hammock at Cannon Point... Don't want to go back, but I wouldn't be the same person if I hadn't of been there.......


1996-1997
BRAD DOUCET <bddoucet@hotmail.com>
SERVICE = Navy; UNIT = Air Traffic Control
DG was my last duty station. I got out of the NAV right after. Stayed there (DG) for 16 months straight. Drank many a case of bad beer and many a fifth of $4 absolute vodka (the love juice as we called it). I was an ET2 while I was there. Good times! My Time There is Lost in an Alcoholic Haze, Help Me Remember!
SUBJECT OF MY STORY: = There I Was, Passed Out in the Club!
MY WARSTORY = All I will say right now is that before I went to DG I had never broken a bone in my body. After being there for 16 months I'd broken 4.

1996-1997
DEE DILL <lossytoo@aol.com>
NATIONALITY = U.S., SERVICE = Navy, UNIT = NCTS, RANK = CTR1 then and now, will be retiring next summer!
My favorite memories are the times spent at the "Hash House" drinking, socializing, relaxing, bar surfing, bar managing, playing pool, watching movies, downing jello shooters, enjoying the company of fellow first classes in our own place. I'm sorry to hear the "Hash House" was taken away for something as mediocre as a coffeee house. I spent alot of good times with a lot of good people at the "Hash House". At times, I believe that's what kept my sanity throughout the year. Of course looking back now, I realize in a way DG was a near perfect place. Where else can you go and spend a year away from reality and responsibilities? Cheers to all other "Hash House" alumni as well as all other DG tour survivors!!

1996-1998
TINA FIEDLER <tine_m_2004@yahoo.com>
What is Your Quest? first person to windsurf around the world. . .beer in hand
What is the Terminal Velocity of a Swallow? depends how dry my throat is
Tell Me All About Yourself: Before I went to DG I could have told you, now it's all a blur. . .

1996-1997
DWIGHT CRESSY <decressy@acadia.net>
What is Your Quest? To (Along with Ted) RULE THE WORLD [Ted says: Dwight, me, and the Brain!]
What is the Terminal Velocity of a Swallow? Going down or coming back up?
Was in HEAVEN the whole time I was there. All of the stories that you hear about Diego Garcia, BELIEVE THEM. It was warm, you could fish, you could swim, you could fish, you could swim, you could fish, you could swim, oh yeah, go to work, then swim or fish or swim or fish.........
1996-1997 Rich Slayden <lageeslayd@aol.com>