1971
James Merna = jamesmerna202@yahoo.com
Citizenship = USA
Service = USN
Outfit = Acb2 little creek va
My_Quest = Find out if I were the youngest ever on dg
VT_of_a_Swallow = Bensalem
My_Warstory = Birth date 617 53 arrived on Diego Garcia 3 9 71 only 17 at the time, curious if am am the youngest to serve.

Also: Landed on 3/09/71 with McB40 AND ACB 2 ONLY 17 AT THE TIME, BELIEVE I AM THE YOUNGEST TO ARRIVE. BIRTHDATE 6/17/53.regardless, the most exciting time of my life. Made great friends, saw amazing things happen and was part of something I would never BELIEVE could happen. Was so proud. AT the time I remember every one talking about how ridiculous it was for us to be there, then 911 took place and we heard that the bombers were coming from dg and I was so proud.
1971-1973 Diego Garcia
Name = Robert Seidler
submit_by = tomrobinson1226@gmail.com
Citizenship = USA
Service = USN
My_Quest = Help with my VA claim
My_Warstory = Diego Garcia
My name is Tom Robinson and I'm posting this in an effort to help Robert Seidler with his VA disability claim. I volunteer at the Dale K. Graham Veterans Foundation in Norman, Oklahoma. We are a non-profit and do not charge for our assistance.
Robert was a welder in the Sea Bees and was assigned to Diego Garcia sometime between January 1971 to April 1973. He told me he had temporary orders to Saigon on two different occasions. He has lung disease presumptive to agent orange exposure. His temporary orders were not returned when he filed for compensation previously, early 90's?. If there is anyone who remembers Robert or who was sent with Robert to assist him with tanker truck repairs I,we would certainly appreciate your assistance.

1971
james gilbert = threputjim@aol.com
Citizenship = USA
Service = USN
Outfit = mcb 1
My_Quest = talk to jon senkpiel
VT_of_a_Swallow = Hilton Head
My_Warstory = SERVED WITH CHIP CUMMINGS IN VIETNAM CBMU 301 AND WITH CHIP IN DIEGO GARCIA WITH MCB 1.

71
Art Guertin (raymond) = oopsgoofs@aol.com
Citizenship = USA
Service = USN
Outfit = nmcb 40 b co
My_Quest = Playing
VT_of_a_Swallow = 35 mph
My_Warstory = landed w/ acb 2 lived in tents built huts
March thru October 1971
Rich Summerfelt aka Hawkeye = rich0789@comcast.net
Citizenship = USA
Service = USN
Outfit = MCB40 A Co.
My_Quest = Reconnect with old friends
VT_of_a_Swallow = No idea
My_Warstory = I was on the blasting crew on the rock. I remember one day while we were drilling on the reef I was operating my rock drill when I saw the guy on the next drill trying to get my attention and was pointing out to sea and by the time I turned around all I saw was a wall of water! We were hit with a tidal surge and I got knocked into the hole that was blasted and dredged earlier. I was struggling to get out of there and not getting very far. The other guys on the crew made a human chain and pulled me out. Diego Garcia was always my favorite deployment. The only regret that I have is that I wish I would have taken a lot more pictures than I did. MCB40 is having its next reunion in Davenport, IA. Looking forward to seeing some old friends there.
1971
james merna = jamesmerna202@yahoo.com
Citizenship = USA; Service = USN; Outfit = acb2
My_Quest = connect with old friends
VT_of_a_Swallow = speed of light
My_Warstory = After 45 years i have too let u all know that I wad the guy who parked the captains jeep in the lagoon.
Finally, saw a comment from someone from Acb2 and I have all of the same memories. , Ron whaley,some of the other guys I remember are John craven,Dan Henderson.ponder. white ,Williams,many more. It was an interesting and exciting time in my life only 18 at the time. The 1 event I remember most ,one of the native inhabitants hacked another with a machete and we had to transport him in a storm to our medics,opposite side of the island. Many more memories of parties and good times. Oh and I forgot to mention,chief HOlly
A Question from STEVE L CRESWELL = SCTRADINGLLC@GMAIL.COM (DG in 1974)
Citizenship = USA
Service = USN
Outfit = MCB10
VT_of_a_Swallow = 2XPRS(>5x8}+16
My_Warstory = RECENTLY ASKED VFW IF 1974 TOUR OF DG QUALIFIED US TO JOIN THEY SAID NO I DONT WANT TO WATER DOWN THE BRAVERY OF OUR GUYS WHO SEEN REAL COMBAT BUT I FEEL OUR PRESENCE THERE DID A GREAT PART IN BACKING CHINA AND RUSSIA DOWN IN 1975 FROM COTINUEING TO SUPPORT NORTH VC. MANY GUYS WITH ME THERE CAN TELL YOU ; IF IT WAS NOT A CONFLICT WITH RUSSIA WHY DID THEY SPY ON US SO MUCH; WHATS THE DIFFERENCE IN SOMEONE WHO FLYS OVER WAR ZONE AND THE ONE WHO BUILT THE AIR STRIP FOR HIM TO TAKE OFF BOTH NEVER SET FOOT IN COUNTRY ONE VFW ONE NOT ? SEABEES FROM 1975&BACK KNOW (CAN DO ) &WE DID ON DIEGO !
COMMENTS PLEASE. STEVE MCB10 1974 DIEGO EMAIL SCTRADINGLLC@GMAIL.COM
OR POST ON THIS SITE QUESTION IF YOU NEVER PUT ONE FOOT IN COUNTRY &SERVIED ONLY ONE TOUR DIEGO 1975 BACK DO YOU BELIEVE YOU ARE A VFW.
1971 & 1972
Cal Fetzer = czer52@gmail.com
Citizenship = USA; Service = USAF;
Outfit = 374th OMS CCK Air Base Taiwan; Crew Chief on C-130
My_Warstory = I flew from Bangkok to Deigo Garcia and back with Sea Bees going to and from R&R. Long boring flight that lasted 9 hours one way, if we missed the island we would be taking a drink in the Indian Ocean because we would have no fuel left. If memory serves me right I believe we had less than 1500 lbs of fuel left when we would land at D.G. Man, I met some real good guys there! I saw some crazy things going on that island. I was walking along a path just passed the chow hall if I remember correctly and there was this old bunker with a canon. ( I wished I would of took a picture of that bunker) anyway I saw this coconut starting to move and I looked at it and this red crab came out of it and I could not believe the size of it that came out of the coconut. I met this one Sea Bee named "Red", talked to him and I asked what you guys did for fun here, he said "get drunk", he said there was no women only a couple of donkeys on the island and they had the smaller one stump broken! LOL!!!! I saw these to guys come out of the club , one caught a mouse/rat and dared the other one to bite it's head off, in less than a couple of seconds it was done! I remember the piles of beer sitting out in the open. Red and I were out on shore (evening time) and we watched these two waves come in ( one at 10 o'clock position and the other about 2 o'clock ) and when they crissed crossed each other the water split like Moses did at the Red Sea, I would guess it was maybe 1 foot in depth. I tell my friends here about that and they asked me what I was smoking. I guess they had to be there! One of my trips to D.G. I heard the Sea Bees where going on strike, I think they resolved the problem by noon the next day. After I seperated from the Air Force, I worked at a place in Toledo, Ohio and I was talking to this guy about D.G. and he said he was there. He said he had to go to Bangkok and have surgery on his nose, I told him I did remember a guy with a nose bandaged up and it was him. I don't remember his first name maybe "Dave" but his last name was Decater. I was in the chow hall with my flight crew (pilots, navigator, loadmaster) when this big burly guy came up to me and said "this is the chiefs area are you a chief? Smartly I answered "I'm a chief,I'm a crewchief" (You could see the fire coming out of his eyeballs) I could see Colonel Bryd and the rest of the crew had a little snicker looking at me (we were at the same table) when the colonel asked this "chief" if he was done eating and if not, kindly go back where you came from because where we eat he eats with us! Thank you Colonel!!! All in all it was a good adventure for 19 year old to be able to meet these people and see the sights of D.G. I salute you all!!! I did later in life meet this guy who was at D.G. in 1985 (Mark Jones)and he said all the bunkers where blown up and all the hootches are gone. and it is all modernized now.
1971
Dan Olson = danielolson630@gmail.com
Citizenship = USA; Service = USN; Outfit = MCB - 40 A - CO
My_Quest = My quest is to locate some old friends VT_of_a_Swallow = 120 mph on a 50 degree flight angle ( what ) ?
My_Warstory = I was assigned to the motor pool, my main duties was driving a tractor trailer. I hauled everything from heavy equipment to food stores for the galley. Whenever a supply ship came in we worked our asses off until it was unloaded (made for some long days).
One Sunday, my buddy Bill (Strawman) Haywood and I were drinking heavily, not that we did so all the time mind you, especially with so many other exciting things to do on the rock (ya'll know what I mean don't you?) I got a message to report to the motor pool. The first class in charge told me to hook up a low boy and go down to the air field and pick up a HD-21 dozer,(yeeha) and deliver it to the maintenance tent, as it was due for a PM the next day.
Well, I hooked up the trailer and started out. Instead of taking the back way behind the dispatch tent, I went up to my hooch. I went in and asked Strawman if he wanted to go with me. He said f--k ya and proceeded to grab six cold beers and his boom box. Now remember, we were both pretty well shit faced, like that never happened before. Well, we made it to the air field construction area and found the dozer we were looking for. We loaded it and chained it down but instead of leaving right away, Strawman popped open a couple of cold ones and said, let's have a beer. My military mind was saying don't do it you'll get your ass in trouble. The I don't give a shit side of my mind said go for it chicken shit, know one will ever know. So I par-took just to wash the dust and dirt out of my mouth.It was nasty bad, not the beer, the dust.
You know it's funny how the I don't give a shit side of your brain almost always wins especially in a place like Diego Garcia. To get on with my story, we opened our second beer and Strawman said hey you need to listen to this. He put a tape in his boom box and we started listening to the story of Oblio and Arrow. You guys probably never heard the story, right? About half way or so, thru the story we headed back to the maintenance yard but we were in no hurry, never getting out of second gear. I looked over at Strawman, he was rolling some sort of green herb into a cigarette paper. I asked him what it was, his reply, it's a joint. A joint,what the f--k is a joint? He finished rolling it and asked me for a light.
Being a country boy, I had no idea what a joint was but I had a funny feeling that I was going to find out first hand. I handed him my lighter and he lit up,(god dog) that stuff stunk like crazy. It reminded me of burning tar paper. He asked me if I wanted a toke. What's a toke,? For those of you who don't know, it's a drag or a puff (like I needed to explain that to you). I went ahead and took a big toke, just to be courteous. I didn't want to hurt his feelings by turning it down, since he was good enough to offer. After about six or seven tokes, I learned some more new descriptive words like roach and roach clip. Holy Moley, I love this island life, so many new things to learn and try (f--king amazing!). We finally made it back to the equipment yard, (stoned out of our minds). We unloaded the dozer, parked the truck and threw the empty beer cans into an open top trailer. We went over to the dispatch tent to check back in. The first class in charge was madder than a son-of-bitch. Where the hell have you two been, he asked?, you've been gone two and a half hours. Strawman spoke up and said, we've been driving thru the pointless forest man. I followed up with, yea we went the way the stone man told us to go but we had to drive really slow so we didn't hit any pointless trees. With that he said, you two are on report, now get the f--k outa here. On report? Holy crap, we're in a world of shit now. I've been to Captain's mast before, he has no sense of humor, whatsoever.
We waited, first day went by, then the second and third, then the sixth and seventh. Wow, we must have lucked out, ( WRONG!) For a month whenever there was a shit job come up, we got involuntarily volunteered for jobs like burning shit, working in the galley and any other shit job they could find. We probably would have gotten off easier if we had went to Captain's mast. I can't remember the name of that first class, but whoever you are, I still think you're a f--king prick. I can't speak for Strawman. but I believe he would agree with me. This is my war story from the rock. Thanks for taking the time to read it. I would love to hear from my circle of friends, Strawman, Carl Reid, Jerry Kittle, John Hossler, Mike Tanner, Bill (Evil Knievel) Manevile, Robin Baker, Louis Breaux, Ernie Nelson, and Kurt Myers. This list is not conclusive, sorry if I missed anyone. If anyone out there is in contact with any of the guys mentioned, please give them my email address, danielolson630@gmail.com, and ask them to drop me a line. All are from A Company. Take care and God Bless. Dan.
1971
Tom Murphy = tmurphy@veitas.com
Citizenship = USA; FIGHTING 40; Charlie Co.
Tom sent this in as his Veteran's Day tribute in 2014: For those of you Vets who never got a welcome home or a Thank You on Veterans Day - THANK YOU FOR YOUR SERVICE
1971
Bill Packard = bpackardme@gmail.com
Citizenship = USA; Service = USN; Outfit = Alpha Company
My_Quest = Connect with other MCB 40 members and find Terry Pruitt.
My_Warstory = I arrived on the Vernon County and my first assignment was offloading cargo ships. After the mechanics got the equipment running, I would drive it to the center of the hold so it could be lifted out. Before they took all the dunage apart, but I had them just remove enough so that I could drive over the rest. Made it a lot easier on those guys.
Built the pads for the communication buildings and then went to the runway.
We hauled coral from the beach at low tide and one night we thought we had the night off so we were all at the club. The second class came and picked us up and we were all half hammered but he said we had to go to work. After a very short time the operation was shut down and we went back to the club.
I sprayed all the asphalt on the runway because I was one of the few that had been around asphalt in civilian life. The Master at Arms took my license one night for speeding to get to chow. The next day my Chief got it back because nobody else could operate the truck.
Did grading on the runway with Terry Pruitt. We were pretty much inseperable the whole deployment.
Finished up operating the dragline for the POL causeway. Worked third shift. Hung out a lot with George Coovert, EO-2
Nov 1971-Jul1972
Jon Senkpiel, BTC, USN, Retired = jnsenkpiel@aol.com
Citizenship = USA; Service = USN
Outfit = MCB 1, Bravo Co. CPO in charge Desal barges My_Quest = Hoping for a response & setting the record straight
My_Warstory = First, I'd like to hear from some of the guys from our old crew: Bob Atkinson, R.C. Allen, and all the others whose names are dimmed by memory lapses. Maybe you remember me. Secondly, I want to set the record straight about the boiler explosion that happened December 30th, 1971 on the land bound desal barge.We had 3 desalinization barge mounted units, 2 of them afloat about 150 yards anchored in the lagoon and one that was hauled ashore by MCB 40 prior to our arrival supposedly so that the water would be easier pumping to storage rather than piping it through salt water and potentially contaminating it, a decision in hind-site that totally sucked. Just by the very action of dragging something that was designed to float, ashore, every piece of machinery's foundations and mountings were wrenched and distorted including the boiler itself, which we would later find out after the wrecked boiler was opened for inspection. UT3 Cummins was taking a shower in a cubicle behind the boiler when the boiler blew and he was essentially scalded to death. I was standing directly in front of the boiler at that moment and was slightly burned but the force of the explosion blew out a baffle in the stack and the released pressure was directed upward and out the stack. If not for that, I'd be pushing up dasies along with Chip. The rest of the crew were back in the distilling units away from the boiler and got out unscathed, scared shitless, including myself but not harmed. That fucking experience to this day is still etched in my mind, I recall every second of it and seeing Chip coming out from behind the boiler totally burned and in shock blew my mind then just as it's doing now as I write this forty-two years later. . .You know the rest of the evacuation story and outcome now let me continue.
A civilian boiler inspector from the Hartford Steam Boiler insurance company came out from Guam and the back access door was opened to reveal, lo and behold, all the tube ends welded into the rear drum plate by some idiot who flunked arc-welding 101 in high-school. First of all boiler tubes, both fire tubes, as this was, and water tubes in express type boilers are not welded; they are expanded. Welding is an absolute no-no as the extreme localized heat messes up the metallurgy of the tube and tube sheet and invites leaks. Welding,in an extreme emergency is only to be undertaken by a certified high pressure welder. I was not privy to the actual written insurance company report as P. Oliver Jr. forbid me from seeing it. I did get more information later about the desal barges and where they came from and what happened to them. Prior the coming to DG, they were used by CB's in Viet-Nam. They were shipped back to Port Hueneme, CA for refurbishment then shipped to DG. To my later observation, none of the boilers were opened for inspection or cleaning, everything were given a fresh coat of paint and sent to us. If they had been over-hauled correctly the welded tubes would be a reject. In my opinion, the wrenching of the entire barge bringing it ashore and the welded tubes contributed to the boiler's failure. A sample of the back drum plate, which included welded areas, was cutout and sent to the Naval Ship's Engineering Command at the Philadelphia Naval Shipyard for analysis with a report, blah blah.
Also this is where the big cover up started. If any hint of negligence ever got out to Chip's family there'd be inquiries (lawsuits?) and hell to pay so everybody STFU and sing Anchor's Aweigh. I think the CB brass ascertained my whole attitude and decided I shouldn't be in the loop. Fast forward: I retired in 1976, went to college and banged around some odd jobs before landing a job in sales with the Worthington Corporation (a manufacturer of industrial heavy machinery, pumps, compressors, turbines, etc) in 1979 and lived in southeastern Pennsylvania with my sales territory covering Philadelphia including (and especially) the shipyard being retired Navy Engineering and all, and one of my favorite customers was Naval Ship's Engineering Command. So in the sales "shmoozing" of customers I brought up the subject on a boiler sample piece that came from Diego Garcia and what was the outcome? Interestingly, they remembered the piece from 1972 then everything got hazy then later they told me the information was confidential. And that's where it ended.
I've never written about this before and only told one person, years ago while drunk, and probably no one will read this as our generation is getting older, grayer and don't want to hear about a horrible tragedy 40 years ago. I have no illusions that this accounting will be lost in inter-net ether. I thought of contacting Chip Cummin's family in Chicago but to what avail? It'd only be like picking a long healed scab now and since the statute of limitations ran out years ago nothing could be done. When I retired from the Navy in '76 it was a 'love-hate' relationship. I went on to other things, different loves, different careers, different experiences over the years. I'm 74 now, time to close the book.
Jon Senkpiel 11/29/2013
1971-1974
Name = Paul Moore = pwmcx95@gmail.com
Citizenship = USA; Service = USN; Outfit = Machinery Repairman
My_Warstory = This was my first duty out of boot camp. Home port then was in Davisville, Rhode Island. Don't remember which battalion I was with (Think maybe MCB-74).
Got to island and didn't have any idea what to expect. First time away from home.
Stayed 7 months went back to Davisville, RI.
Got orders to go to Gulfport, MS. Got there and none of the battalion I was sent to were there. I asked were everyone was at. They said Portirico. I asked where is next duty. I was told Diego Garcia.
Nine months later I went back to Diego Garcia for 8 months.
I'm the only person I know of that had two tours on Diego Garcia.
Most of the time I was there I was the one machinist there.
2nd time there received an award for repairing hydraulic pumps at cement plant while there on first tour.
1971
Name = Larry (Benny) Benjamin
submit_by = benjaminlarryblawrence19@gmail.com
Citizenship = USA; Service = USN; Outfit = PAO MCB40
My_Quest = Opened the first Radio station on Diego Garcia
VT_of_a_Swallow = Three peckers
My_Warstory = Because beer was such a bargain I thought it may duty to consume as much as possible. I traded the guys on the supply ships a case of Bud for some amstel , from that point things became a little foggy.I also imbibed a little white horse scotch. At that point I thought I was Richard Petty, after looking for arace car and finding none I was forced to see how fast a six by could go. I was flaged down by my pit crew who turned out to be the Bravo Company commander and was asked a question that had to be answered with a resounding No Sir!! Have you been drinking? I was set for a very questionably fair Captain"s Mast due to the tom foolery of Murray and his bunch of hooligans . The stage was set for a show of good ole Military Justice with me as the target. At the last second my crime was commuted to an XO" mast were I was told never to do that again. What happened you ask? Well it seems that the Gunny Sargent had a little mishap with a jeep that result in a turnover and broken windshield. Thank you gunney Marquart from the bottom of my heart. Anyone heard from Frankie Defelice, Norm brigam , Harmon Falk, Richie Dodenhoff?
1971
EQCM T.J. DePaolis USN Ret. = tjd326@att.net
Citizenship = USA; Service = USN; Outfit = NMCB 40
My_Warstory = I was a member of the recon party that did the second survey of DG prior to the the battalion deploying there. We (a party of 10 or 12) my CO CDR White, EAC Jim Sisson, an LT Sergeant from ACB2, EO3 Herman, and others who I don't recall their names. We got to the Island aboard the MV Nordvaer, a small inter island freighter that resupplied the copra plantation that was still in operation when we arrived. We spent, as I recall, 8 days to get there. Established the ends of the runway and retrieved some coral samples to aide in designing a concrete mix. The Nordvaer returned and transported us and about half the plantation workers back to Mauritius. We rejoined the battalion in Davisville and later deployed with the main body. I was the Alpha Company Operations Chief with the main responsibility of the completion of the C130 runway in 120 days. The whole project was completed in 118 days due to some excellent teamwork by some very gifted and dedicated SEABEES. I was proud to have served with all of them and it was the highlight of my 27 years of service. I did a second tour on DG in 1977- 78 with the Regiment during the construction of the runway extension, the pier project and further expansion of the permanent facilities. I have other stories too long to relate here.
October 1971 to June 1972
Jonathan P Rutka = win38mag@hotmail.com
Citizenship = USA; Service = USN; Outfit = Mcb1 A Company Nite shift at the equipment repair shop
My_Quest = Memories and finding old friends
VT_of_a_Swallow = microseconds after the beek hit's the window
My_Warstory = I remember being on the advance party for MCB 1 ,getting to the rock on the C-130 flying out of utaupo afb and the polit not turning on the heater's (were there any? )there were 3 pallets of our gear strapped in the back of the plane and as we gained altitude all of us were ripping into the pallets to find our seabags and warm clothes. We left Thailand wearing lite tropical greens , When we left Davisville 3days earlier we'd had winter clothes on, field jackets with the lining's zipped in . We couldn't dig them out fast enough..By the time we got an hour out over the IO we had 3 layers of clothes on and were still freezing our asses off. I remember when we got to the rock the pilot flew around the rock to show us what we were in for, then he landed on the 3000 ft piece of runway, taxied to the parking pad and dropped the rear door/ramp down..lol you ever see 90 guys strip in 60 seconds??..from what felt like 30 below zero to 146 degree f in the opening of a door !! The transition of the blood flow from cold New England pre winter to hot/humid tropic's was really something to experience..
I wound up working in the heavy side of the shop on the TS-24 Euclid's.....noone really liked them but I got to known them really well...I remember working on 1 when the whistle went off...not knowing what it meant I just kept working , I remember all the mechanic's from 40 smiling at what was about to happen, laughing and pointing , but saying nothing to me....then the explosion occurred and the coral started raining down everywhere...I jumped off that euk hood and rolled under it as the larger pieces of coral finally started arriving..After the rest of the battalion arrived I remember one day 1 of the Euk was doing a pull and the tide was really coming in, anyway the operator told the chief it was a bad idea to try for 1 more pull, chief said go , he went and before the back 6-71 hit the water the front 12 71 sucked salt water thru the air filter and lunched the engine. he was able to back the pan out on the back engine. That's where I came in! I believe we had 8 TS 24's and they were the work horse of the aggregete operation, there was some kind of prohibition to ordering a new 12 cylinder so the Chief (can't remember his name , but he was greek..CMC Themes ) anyway he say's see if you can find what we need to rebuild the motor. That's when I discovered the ability to work in the parts room...found what I needed and got it all together . then the chief and i had a disagreement and I got pushed onto the nite shift.
Does anyone remember a cm1 RON JERGEN'S ? HE WAS THE 1ST IN CHARGE NITES AND CMC lambert was the chief....I finally found Ron had died and was not well thought of by his family, but I have alot of good memories of him telling stories of his GREEK wife who would never go to bed until Ron warmed it up first !!! Has anyone any information concerning chief LAMBERT?? he was my instructor , along with cmc Donally ?? who showed up as a Warrant officer at the end of the tour.
I remember the day that the that the white Russian trawler came sailing into the bay...It appeared to be a electronics spy ship and I remember the large deck gun forward ! Does anyone remember the russian sub's.??? and the cigerette exchange late one nite ???issued m-16's with 1 mag with 5 rounds not in the mag well, the 3 zodiac's and the guys in them with ak's ??
Or the nite the guy's misappropriated the weap's and tried jumping the dozer cut down to the beach ? 55 mph was just not fast enough..took the cab right off the frame.... driver got pretty fucked to.
Anyone remember the tree down the beach from A company area with the platform up in it ??? I CAN remember getting stoned and falling out of the tree ...lucky for me it was high tide lol...
or the nude swimming in the bay ...60 guys getting tanned and the USO SHOW GIRLS come walking down the beach...lol noone knew the were even on the island yet !!!
Anyone remember the supply ship that arrived with the load of rotten meat?? that we ate anyway.....tomatoe sauce and pepper...ugh !! Or the day the c 130 came in with a tank full of fresh milk ???? Or the mass changing out of the Euclid tires with the det cord to blow the tires off the rims ? Or the day the c 130s came in with the officer who went thru KING NEPTUNES COURT ie the crash trucks 1 1/2 hose streams and P Oliver JR walking into the water flow .....or the supply ship that came with the colt 45 malt liquor and cases of cold duck?? THE PARACHUTES IN THE em club sagging with cork's!!
Has anyone knowledge of an EO named Steve Kramer ?? I've often wondered about those guy's , seem's that there has never been a reunion that I know of......enough of my ramblings !!
May 1971
Gregory R. Keller; EO3 = Dovetail1255@aol.com
Citizenship = USA; Service = USN; Outfit = MCB 40 Runway Crew
My_Warstory = As you know when the Navy tells you, you can't do something we want to do it all the more. At the mouth of the island there was a great area to go swimming, of course the Navy told us there was a rip tide in that area and it was dangerious to swim there. Well!!!!, we just had to see for ourselves. We were finding sand sharks in the shallow water about 2 to 3 feet grabbing there tails and if you could hold on it drug you through the water, what a rush.The next thing we know the water is over our heads and we are moving very quickly out to sea. Being the closest one to shore I dove to the bottom and pulled myself along the bottom, comming up to get a breath of air and then diving back down and trying to get back to the beach. When I could stand up in waist water I shouted that there was 4 more guys out there although you could bearly see them by this time. Two guys with one man rafts went out to get them. With all three kicking, they could not get back to the beach. They had to send mic boats out to get them and as they were pulling the last man in they noticed a hand full of hamer head sharks circling.
We were MCB40 Plank owners and proud to be a part of Diago Garcia and the history of the beginning.
1971
Stephen Hurst <shurst@metrocast.net>
I served with MCB 40 in 1971. Here are some pictures: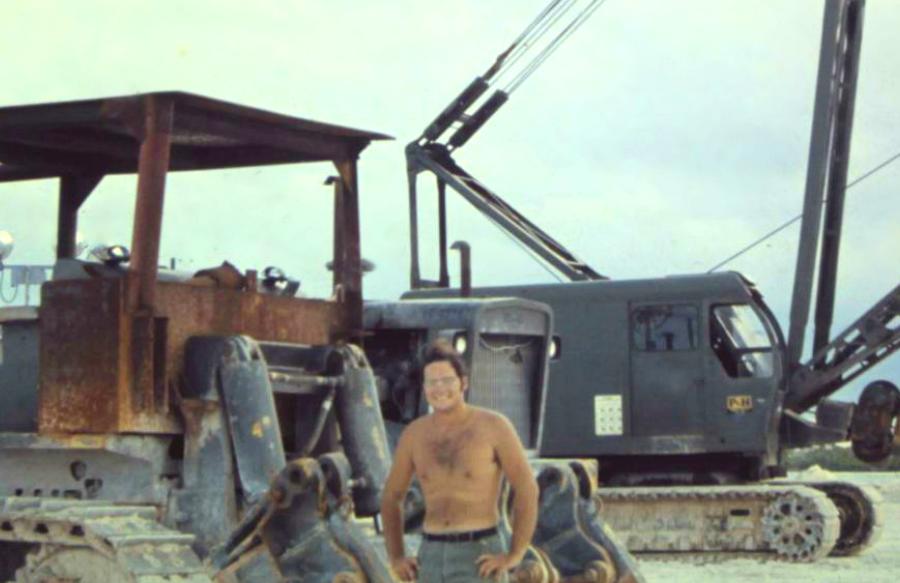 Photos of Stephen. Where did you get the halter for the donkey?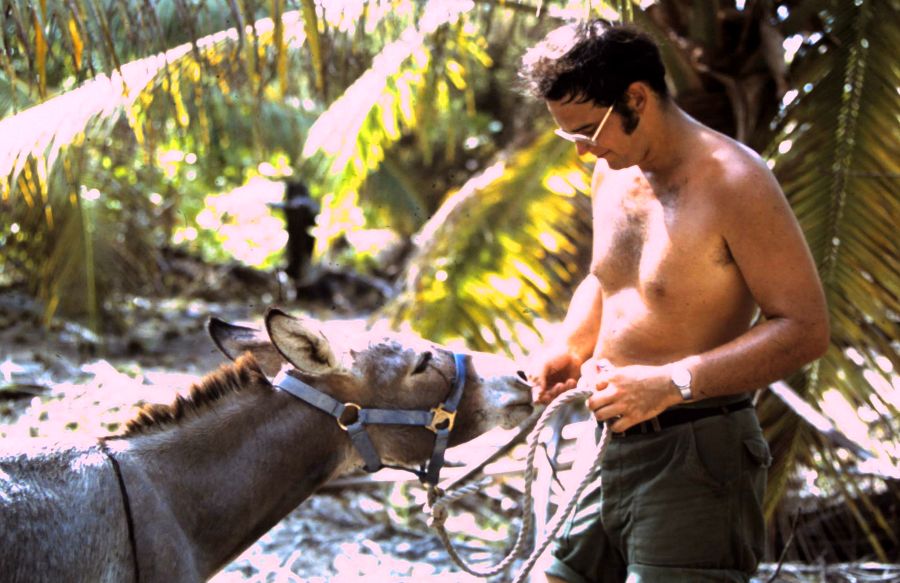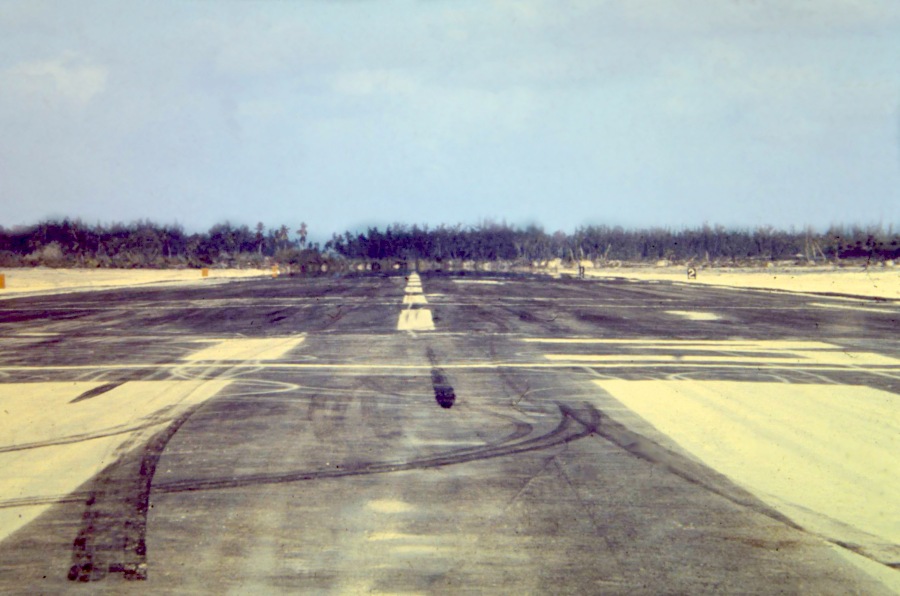 Above: A view down Runway 13. The first finished portion of the runway on DG - all 3,500 feet of it! See the sign off the right side that has a big "2" painted in white? That meant there were 2,000 feet left before you ran out of pavement. Better put the coals to it if you plan on clearing the trees at the far end! You can see the tire prints from the 3-point turn the aircraft had to execute to turn around.
Below: The first C-130 to land - from Thailand.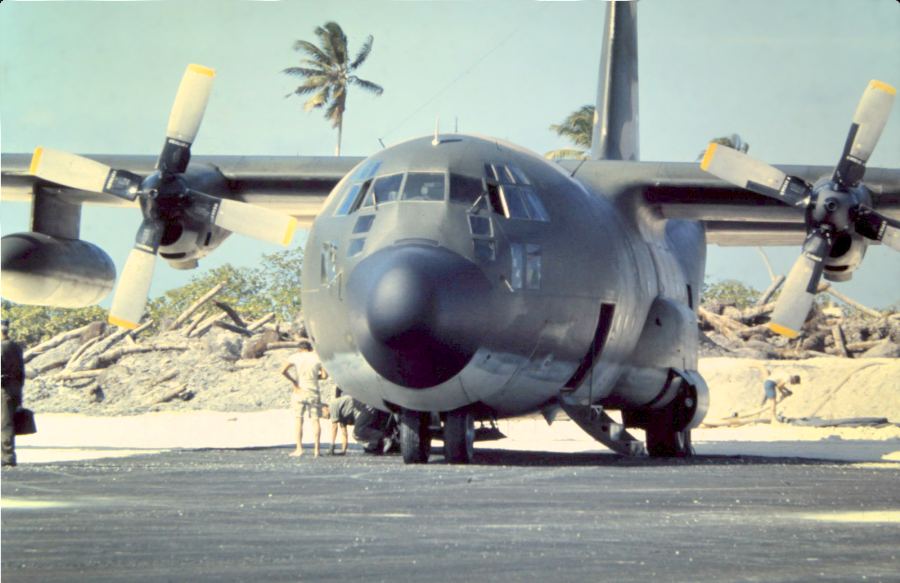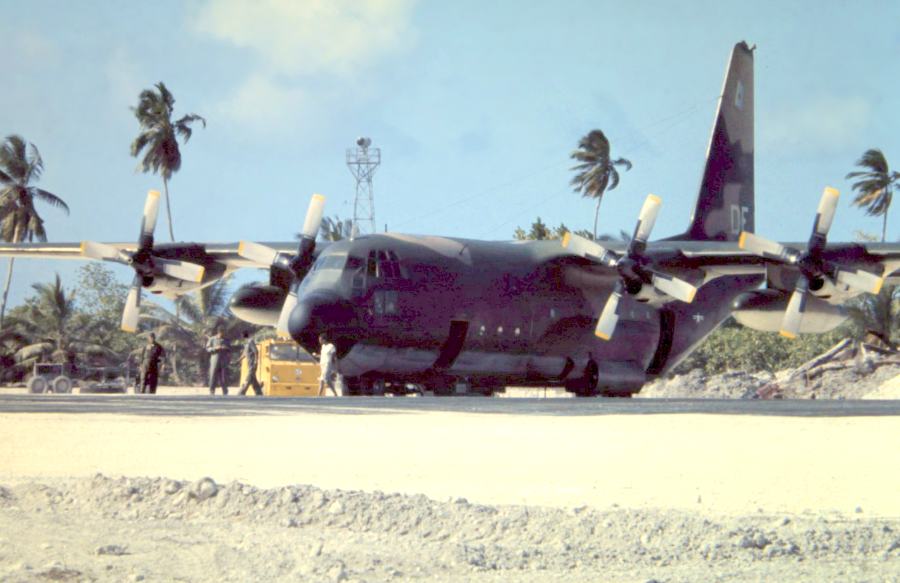 Oct 1971 - Jun 1972
Dave Snyder <66cuda@comcast.net>
Here are some pictures I took while on "The Rock", between Oct 71 and June 72, on detachment to MCB 1 from MCB 71 out of Davisville. I just converted them from slides, the quality isn't that good, but the subjects are what matters to me. Use them as you see fit...if you can use them at all. I have some fond memories of DG and some not so fond. I hope you can use these.
Editor's note: Thanks Dave. Everyone - please send your pictures in, no matter what - I can almost always fit them in somewhere on the site!
Below: The road to the Industrial Site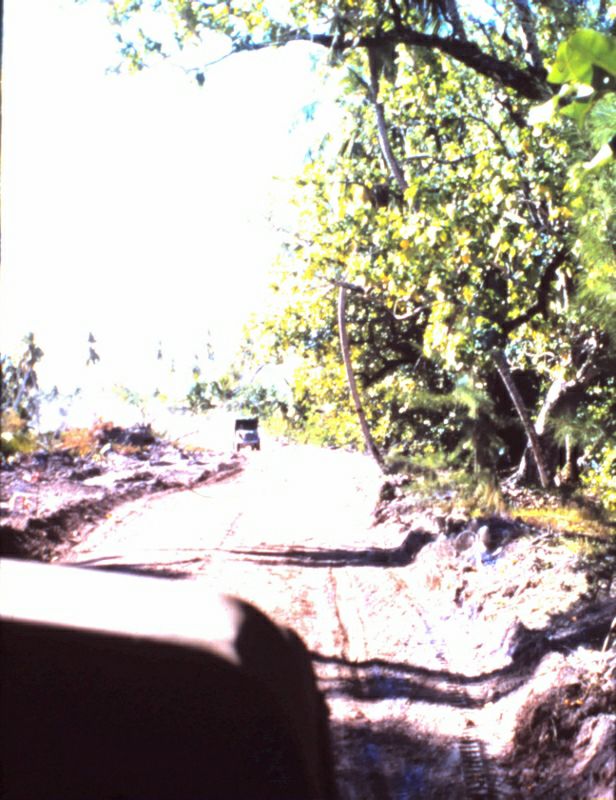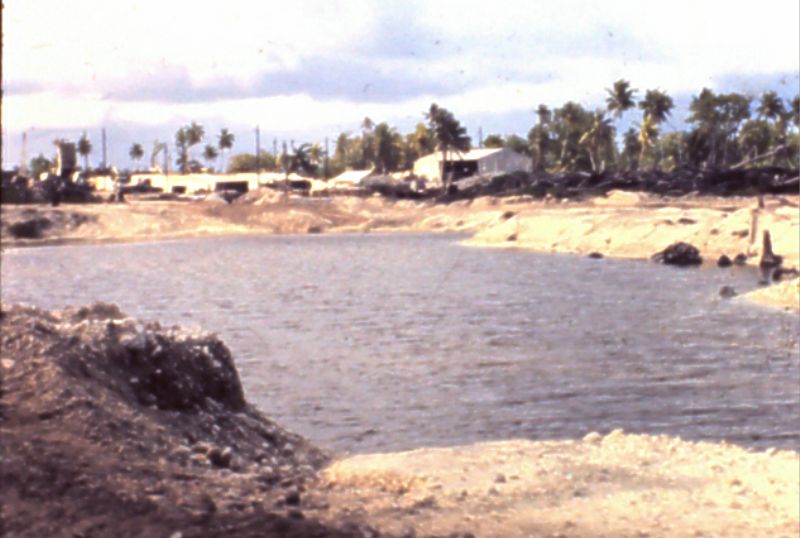 Above: A Borrow Pit cut out of the center of the island - note how the freshwater lens has been exposed and filled in the hole. Eventually, digging Borrow Pits was abandoned in favor of blasting rock out of the Coral Shelf surrounding the island.
Below: Milling the road to the Industrial Site. Note the coral aggregate stored in the background, and the abandoned Plantation Worker huts. This was the site of a "village" where plantation workers were sent TAD from the main living areas of Point Marianne and the big plantation at East Point.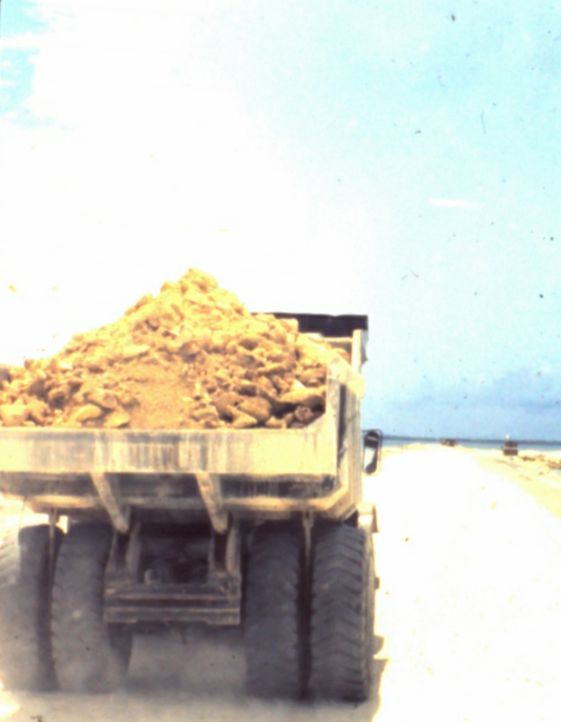 Above: Hauling fill out to the POL Pier.
Below: Cleaning up lunch trays at "I-Site"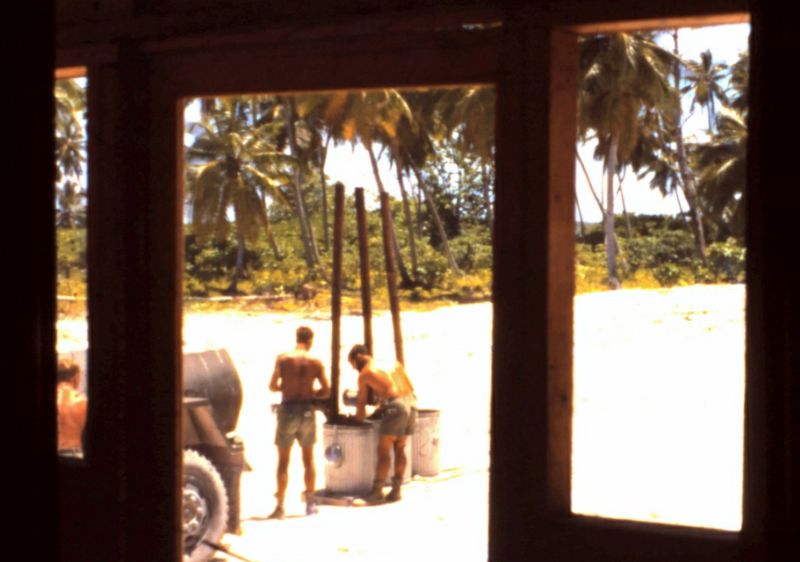 Jan-Feb 1971
BRITT Stephen J. LtCol USMCR(ret.) = sjbritt@comcast.net
Citizenship = USA; Service = USMC; Outfit = Basic School, Quantico VA (Co. B)
My_Quest = Walk Down Memory Lane
VT_of_a_Swallow = 0.00 mph/ 0.00 KIAS
My_Warstory = Went to the USNA graduation ceremony at Annapolis this weekend (05/27/2011). 750+ ensigns and 250+ lieutenants commissioned. Reminded me that the first time I ever saw an ensign, on the USS Graham County (LST-1176) in the early Winter of 1971. 250 officer/students (O-1) from TBS in Quantico boarded the Graham County (at Little Creek?) for a PhibEx at Onslow Beach NC. Ensign was a youngster with blonde hair and glasses in a tan windbreaker, must have been the OD, everybody hollering at him as the Marines came on board and the ship was getting ready to sail. We felt sorry for that guy.
We sailed, and a day or so later we landed on the beach at Camp Lejeune. Tractor driver (LVTP-5, a floating coffin) puts my squad on the wrong beach. Maps useless. Chaos ensued. Not the Navy's fault, however. It was, nonetheless, great training for those of us who were headed to WestPac. Just this weekend at Annapolis I wondered what happened to that kid on the Graham County; being the OD on an LST ready to sail with Marinesa on board it looked like a tough job.
Steve Britt
LtCol USMCR (ret.)
Plymouth Meeting PA
MARCH 1971
Roger Smiley = nav71@yahoo.com
Citizenship = USA; Service = USN; Outfit = USS VERNON COUNTY LST 1161
My_Quest = To keep waking up every morning
VT_of_a_Swallow = 3 dimentional to 2 dimentional in a nano second on touch down
My_Warstory = Looking for "now old shipmates" who I served with on the Vernon County--Jan 70 to July 71. I was on board her when she turned white for the trip to Diego Garcia. Can't recall a lot about being on the Island except doing a lot of drinking. I had a blast, I think. I'm now retired and living in Northeast Nevada out in the desert. Traded palm trees and white sand and crabs for sagebrush and brown dirt and ticks. I never claimed to be really bright. Anyone can reach me at nav71@yahoo.com. I'd be happy to hear from you. Maybe you can let me know just how much fun I actually had.
Supplemental entry: Can't remember a hell of a lot anymore but I do remember being there, drinking, flattening crabs on a motorcycle, sweating like a pig and snorkeling in the clearest water I've ever seen. Oh, did I mention drinking? I lost all the pictures I had from that trip. If anyone has any I'd really to see them and hear from anyone I served with. I'm retired and my hobby is doing a never ending battle with the V.A. I'm now exsisting 10 miles outside of Wells, Nevada in the desert right on the edge of the Middle Of Nowhere.
71 to 72
CM3 Dan Reagoso = danreagoso@hotmail.com
Citizenship = USA; Service = USN; Outfit = A company mech shop, rock crusher
My_Quest = I think of the place often, much growing up done there
VT_of_a_Swallow = you tell me then we will both know!
My_Warstory = I remember being on the C-130 for quite some time having to use the "can" the crew chief wanted no parts of having to empty it forbade me from using it unless I would clean it out. Always prepared I had some plastic trash bags that my Dad supplied me with courtesy of the Penn-central RR I dropped trowel and did my business but not before a bunch of Instamatics and Yashika's came out for a Kodak moment with my pants down, no courtesy curtains then! Landing on Diego Garcia early in the morning I was blowing a trumpet greeting our arrival on the back of a flatbed hauling our sea bags to our huts. I didn't realize it was pretty early in the am. I wasn't to well received.
I recall most of the Guys there were dam good craftsman I brag about it to this day.
I do remember going to Bangkok and having to return because our Hercules had 2 engines catch fire, that was interesting. I was dopey enough to think well if we land in the Indian Ocean I might be a long while before we got rescued. Talk about being Naïve! That's why they send young kids to war.
I worked at he rock crusher and A company shed posing as a mechanic. I shared a hut with guys that were as different a day and night literally. Some guys from North Jersey and NY City and guys from the Deep South and had to get use to listening to two extremes of music , The Temptations and Merle Haggard and make peace in my mind. The tour had a few bumps but all came out just fine and made me a better person for it.
Towards the end of the tour we had to make a decision were we would take our next deployment. I heard if this place Antarctica so I signed on not realizing too late how I get out of this mess all the bitching and moaning did little for me. I remember four guys Buddy Winn from Amarillo Texas and Randy Johnson from Arizona? And Joe Alexander from Woonsocket R.I just shook their heads and Don Pirece from Gainesville Fla. Signed on the Antarctica tour. He was an engineering graduate and was looking forward to the experiences. The guys I mentioned you always think you will see them again, not so!
I learned to soon to late about skill and patience from some of the best men on earth The Bees' it has carried me well and have given it to my children and now God wiling to my grand children.
1971
Name = Richard Strubell = r.strubell@att.net
Citizenship = USA; Service = USN; Outfit = Mob 40 B co
My_Warstory = Was in same hut as Scott. Used to hide the pot and hash in his bunk post. Remember Bill corn always had a card game going.
April 1971 - November 1971
Name = LT Rob Gnerlich = rob.gnerlich@att.net
Citizenship = USA; Service = USN MCB 40; Outfit = Diego Garcia, MCB 40, Eng Officer
My_Quest = Say hi to Jeff Felter, Dennis Miller & others
VT_of_a_Swallow = Wow, Don't know ? zero ! right ?
My_Warstory = I will cut and paste my war story, tomorrow, Hi to Jeff Felter, Dennis Miller, Kim Corbin, Lt Whitie, Joe Sebunia, Bob O'Brian, we burned down the XO's hootch steps !! We hid in the jungle and threw coral rocks on the " Zoomies " ( air force dudes that were flying in and out after we got the tactical airstrip built ) hut all night to keep them awake.
Oct 1971 - have no idea
Brent Houston = brenthouston@bellsouth.net
Citizenship = USA
Service = USN; Outfit = MCB-1, A company
My_Quest = live life to the fullest
VT_of_a_Swallow = Do what?
My_Warstory = Wow! neat site. So much I don't remember. I worked on the rock crusher. I remember Lt. Crowe. I was on McNabb's crew. Chuck Nobles was a buddy. We had a guy in our hut that would get drunk then get sick. We would take him to the showers and put his head by the drain. I remember the yard where the beer and soda was stored. At night, while on duty, you could walk by there and some cans would blowup. Wish I could remember more. It's nice to see that all of our hard work is paying off now. When I was there, I remember thinking, why has that runway got to be so thick? Who was the big guy who was in charge of the blasting? He would yell "fire in the hole" and you could hear it from the crusher. From DG I went to Guam and then to Yap. If you can help me remember - please drop me a line. I loved being a "B". Thanks for the site. Peace!
march 1971-sept. 1971
Name = jeffrie b. felter, MD = jbfbones@comcast.net
Citizenship = USA
Service = USN
Outfit = MCB-40
My_Warstory = I was in the advance party along with four other doctors that arrived on DG in March, 1971 from Davisville, RI.We off loaded our ship early in the morning and by that evening had set up four MUST units (Mobile Unit, Surgical Transportable) and could have performed surgery if necessary. our first sick call was in a tent near the MUST units. We were there for a month until the rest of the battalion arrived during which time a desal barge was built, a proper landing area for the large supply ships was established and hooches were starting to be built. The only Brit we had with us was a man named Tony Hudson from the British Museum of Natural History who spent most of his time collecting and preserving insects. Our initial medical problems consisted of several of the men having outbreaks of tiny fluid filled blisters from the heat,cuts and scratches getting infected from coral dust, cornea abrasions from coral dust in SeaBees that wore contact lens (we banned them and made all men wear regular eyeglasses) and many cases of burning urine (thought to be venereal disease from a stop in Madrid on our way to DG but turned out to be from the formaldehyde used to preserve the beer in the tropical heat). We only had one serious injury while there when one of the bulldozer operators had a depressed skull fracture from a flying piece of coconut tree bark while knocking down the trees in the proposed runway site. He was med-evac'd on a postal seaplane that landed in the lagoon. He recovered well and went back to duty. The other surgeon and I kept up our surgical skills by doing vasectomies, circumcisions and tattoo removals. Our only entertainment for a few months was Bingo, Volleyball, Softball and movies (including every John Wayne movie ever made). Three of the doctors left after 120 days, leaving just me and the dentist who was also acting as an anesthetist if needed. We ended up being the only medical personnel on the island for the next two months while my replacement was being sought. During that time we only had one other semi-emergency-a case of appendicitis that necessitated surgery which was performed in one of the MUST units with my Chief Hospital Corpsman acting as my assistant. The SeaBee work ethic astonished me - they worked 6-6, 6 days/week and had the runway up and running in just under 120 days ( their capacity for beer also was amazing-one of my corpsman figured it out that the beer consumption averaged a case per man per day!), and all the men were in hooches,a formal sick call building had been erected as well as a formal cooking facility. MCB-40 received a Battalion 'E' for efficiency. While I was there, there was still a large colony of workers for the Copra factory that was in use - my corpsman and I ran a couple of clinics for them on occasion as needed.
Fishing was a favorite pastime-red snapper,and wahoo for eating and large bonefish for fun. The coral reef was also a gold mine for large langouste-one could wade out on the reef at lowtide in the evening and fill a gunny sack with them very rapidly.
Looking at the pictures of the base now is an eyeopener-hard to believe there is room for all the entertainment amenites that appear to be there. I will always look back fondly on my time there. Jeff Felter
March 71 to September 71
Name = Kevin Proctor
submit_by = M60machgun@yahoo.com
Citizenship = USA
Service = USN
Outfit = Uss Graham County LST 1176, A-Div
My_Quest = Trying to find some old buddies
VT_of_a_Swallow = You got me
My_Warstory = Hope I can find this site again.
A REAL story.
I was sent on a mission. Got my ass chewed for what next. I did what I was suppose too, BUT, it was my first time driving a vehicle. I didn't know about the emergency brake and it was on, I drove the pickup truck anyway, it was automatic so no gears to grind, got told the basics. Doing the mission I smelt something like burning rubber. I stopped to ask someone about it and ended up with a truck load of drunk shipmates, and drove on and someone noticed the rubber smell, then they told me it was the emergency brake. I was OK after that. Got back to the where the ship was, and then got my ass reamed real good. Can't remember who chewed my ass out, for some reason.
If anyone remembers this story, get back to me.
More of the story.
We had a CPO in charge of A-Div, can't remember what his name was either, had an Ensin or LTJG in charge of the Div, can't recall that either, guess I will have to look in the cruisebook. We also made a world cruise of this deployment. After we left DG, we finished our world cruise.
1971
CHARLES N. POWELL ( DRIFTY ) = po3@zoomtown.com
Citizenship = USA; Service = USN; Outfit = NMCB 40 A CO. NIGHT CREW
My_Quest = LOOK FOR A FEW NAMES OF PEOPLE I KNEW FROM MCB 40
My_Warstory = Entered the U.S.NAVY in 12-07-67 after 90 day delay went to R.T.C. San Giego. I went in the air Group as E-3 I come our of boot camp in construction group as E-2. From there I was sent to Port Hueneme for a CM school CM/A 01-69,this was the first CMA-CMH class "A" and "B". Next stop was Davisvill R.I. U.S.N.M.C.B. 40 Aco. after training the next stop was Vietnam 1968-69 Phu - Bai. Then the trip back to Davisvill and a story of a special deployment was in the works was in the air. After our home deployment the next stop was Puerto Rico U.S.N.S. Rosey Roads in 1970 for more training on new equipment after that bact to Davisvill for more training. One day a early out list was put up on the board, the list was for one year early out and my name was on it. But you know how that goes an operational hold was put on it and a big X was put over it and it went away, that is the whole story. Well that special deployment was to go to an island called Diego Garcia that was 1971 after that we M.C.B. 40 returned to Davisvill an I was discharged 30 days later that was 12-07-71. CHARLES M. POWELL CM3 NMCB 40 and I am glad that I made it to D.G.
CHARLES M. POWELL
5161 BROERMAN AVE.
CINCINNATI, OHIO
(513) 242-0536
Here're some photos Charles sent: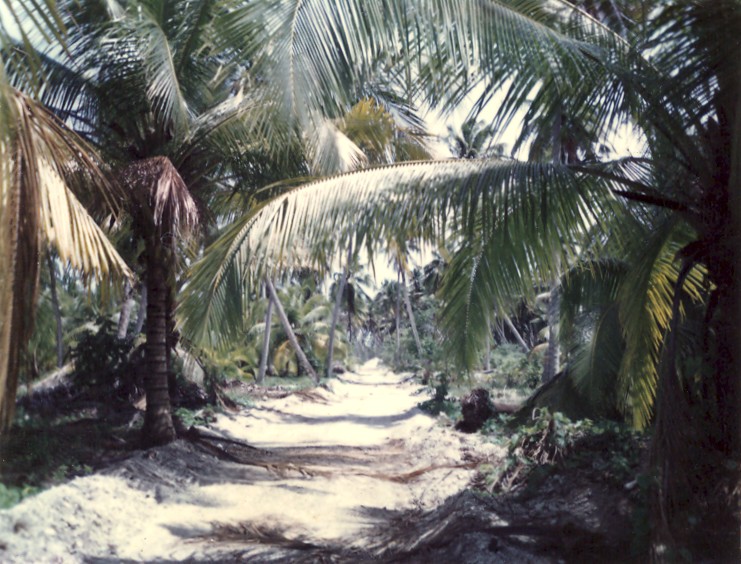 Above: The very first cut for the runway!
Below: Charles (rt) on his Honda 350 and Ronnie Moor on the Honda 90. On DG!
Charles, if you read this, where did the bikes come from?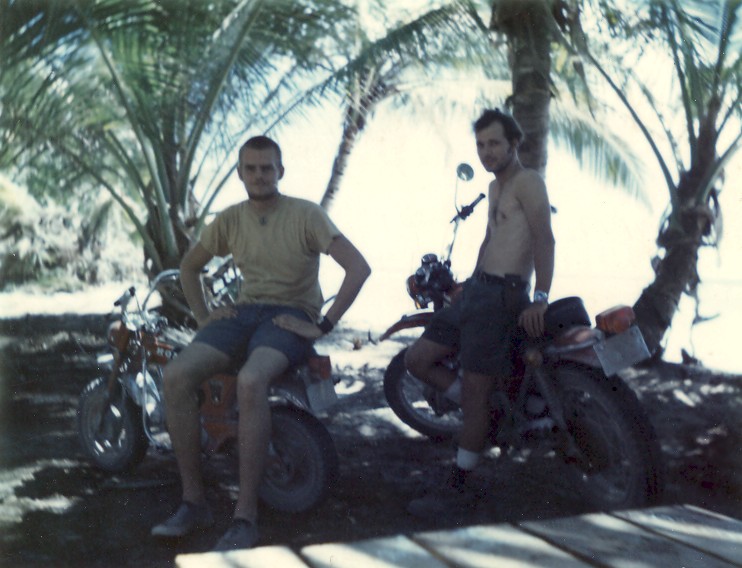 Above: Reef Blasting at high tide. The crew would set the charges at low tide.
Below: Trick photography, but COOL! Motorcycles on DG in 1971.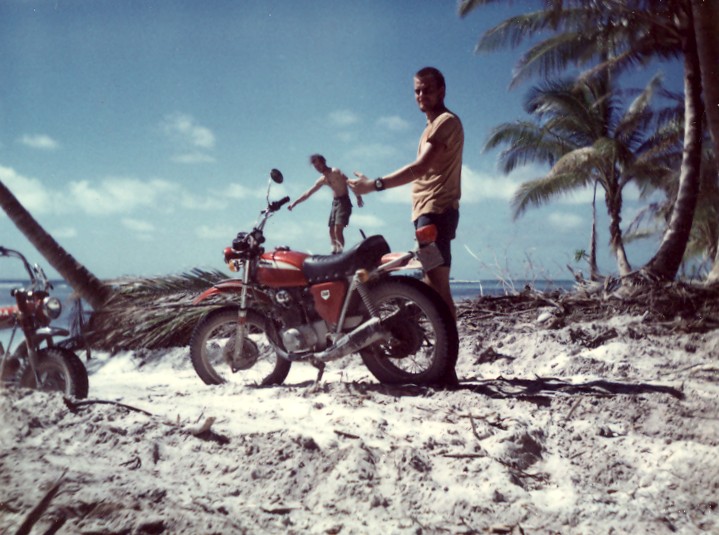 Below: Charles on the coral heaped up on the north beach to prevent beach erosion.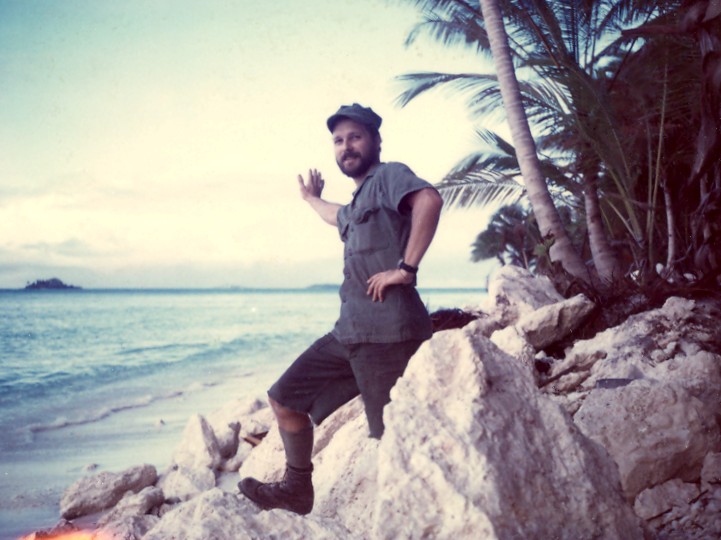 May-Aug 71--Diego Garcia--Indian Ocean
Name = Daryl Hosler (Hoss)
submit_by = ichabod_fb66@yahoo.com
Citizenship = USA; Service = USN; Outfit = MCB 40, Delta Company
My_Quest = To find some of the best people I have ever known. MCB 40 Bees
VT_of_a_Swallow = I'll have to give that one some thought.
My_Warstory = Beautiful Diego Garcia. This is no __it. I was with one of the last groups to fly out of Davisville, via Sea-Tac, Anchorage, Yakota, Clark, and ultimately on to Cocos Keeling. (Does anyone recall the guy who did not want to go and cut his wrists before landing at Sea_Tac? If you recall, he did get his wish. The last I can remember was seeing him walking away with a couple SP's). Ltjg. Whitty was our Delta Company Commander and was assigned as Cargo Officer for our flight. He volunteered me to be the cargo master. (Meaning myself and five or six other got to unload all the gear of the plane and make sure it got reloaded on Mike boats going out to the USS Charleston). I can recall how hot it was and how very thirsty. Ltjg. Whitty purchased a case of Swan Lager, hot, but it was beer. We had to drink it fast since the last boat was ready to leave for the ship. We all know what happens when you drink a considrable amount of hot beer in a hot environment. Thats right. I can recall how freaking hot it was in the berthing areas. Most of us tried to find somewhere up on deck we could sleep a few minutes. I know I fell asleep in the gun area and got run out by the OOD. Several of us finally were able to get some sleep on the sea bags in the hole. Until we got ran out of there to.
I can also recall how great it was on the rock after a day's work to strip down and soak in the lagoon until that time when the two private boats showed up. That put the kebosh to the nude bathing for awhile.
I also recall specific instructions/orders from the CO that there would be no football games since any scrapes might result in infections. So what did we do, yep, our Delta Company bunch got a touch (until after the first play) game up with Alpha. I don't recall who badly twisted their ankle but Dr. Felter (Hawkeye) wrote down that he had tripped on the way to the crapper.
I also recall the night the fleet sailor burned down one of our crappers by throwing his cigar butt in the drum.
I can also recall one of our frequent mailcalls, about every ten days, my wife sent a CARE package that included a roll of Copenhagen. Since there were not a lot of us dippers at least that I was aware of, we shared our supply with one another. (I still cannot figure with the Navy and all it's wisdom, why they could not find a can of Copenhagen). Of course I did learn that you can chew Prince Albert or Swisher Sweets. The one particluar CARE package I got also included a bottle of Prell shampoo. Unfortunately, somewhere in it's 12,000 mile journey, the Prell broke. It had plenty of time to soak into other contents of the package, ie Copenhagen. I don't know about everyone I shared this with, but every time I took a dip, it felt like I was on a high. That was okay except while I was putting some of the metal roofs on the buildings.
I also recall going over once a week and watch skin flicks. If I recall, it was two flicks for $1. Helluva bargain even back then.
I'll wrap it up now, but would enjoy hearing from one Hell of a Bucnh of people. I am sure I can speak for many others when I say that I really did not like being in the military, but if I had to be, I was in the best branch. The Smart Part of the Marine Corp. The Seabees. God Bless.
1971
David Cameron [david.cameron62@yahoo.com]
My name is Dave Cameron, I was a builder 3rd class. My job was building hootch's, not sure I spelled that right, built living quarters on the beach. I was part of a advance party in 1971. I'm not even sure if I was part of the 50 or 160 sea bees that landed.
This is what I remember: we sailed from California,crossed the equator, stopped in Sydney, sailed over to Perth, and forty five days from Cali ended up in Diego Garcia. We lived in tents for a while, until the hootch's were completed.
I'm looking for people who made that same journey. Thank You, Dave
Dates_Aboard = 1971-72
Name = James T. Ward <ward011@yahoo.com>
Citizenship = USA; Service = USN; Outfit = Mobil Construction Battlion One
My_Quest = Just to tell my story !
VT_of_a_Swallow = Zero
My_Warstory = Ok, it's been 38 years now, and here's my story. I was drafted in 1970 and during induction I managed to get into the Navy. It doesn't matter how, but I did. Following Boot camp at Great lakes, Ill. I got orders to report to South Carolina and serve aboard DD 821 in the aft boiler room which I did and for the next year requested to be re-assigned to a NMCB where my machanical skills would be best used. I was sent to 'A' school at Davisville RI. I was a fast learner and I was licensed with Tractor trailer, Dozer,rock dumb and a number of other vehicles. And I was assigned to NMCB-1 Alpha company 3rd squad. My CO was a truly great man, LT. Gerry Chrow. We deployed in 1971 to a tiny atoll called Diego Garcia in the Indian Ocean. Closest land was the west coast of Africa 975 miles to the north/northest. For all of you who were there in the begining, Some of you know me, to them "Hello" to all the others, "Nice to meet you" and I still have white the 7X7 ash tray from the company store yet. We took up the construction process from NMCB 40 or 53, not sure of exactly whom. But we landed in green and brown camouflaged C130's from Bankook, Thailand on a smooth landing strip made out of sand and heavy steel mats. Once on the islands soil, I took in the view of several things that were to become a constant photograph emblazoned into my mind forever. A Beautiful lush blue ocean water, and a black abandoned PBY beached airplane missing it's engines from world war 2, a millions of Palm trees, one donkey, thousands of land crabs and every species of vicious insect known to mankind. NMBC 40 had kindly established corrogated steel roofed huts, amazing honey pot rest rooms, something that roughly resembled roads, a EM club radio tower and a rock crusher/quarry operation. Along with NMBC-1 was a nice group of guys who sole task was to build and assemble a radio and radar station network.
I was soon assigned to a hut and it's sixteen inhabitants. My upper bunkmate was a nice kid from Alaska named Wilton Long. In charge of the hut was another friend I knew from the alpha company was EO-2 Danny Bevers in charge of all of us was EO-1 Larry Summers. I was assigned to the quarry operations during the day. Once given this assignement I mentioned that the uniform of the day was shorts and since I'm Irish and faired skinned, I thought it best if you let me wear long pants? The answer was a resounding NO ! I started worrk on the Monday the first day and was in the small hospital by Thursday with massive skin burns from the incredibly strong sunlight. I was released one week later and told to 1. Always ware long pants and that I was going to be on Summers detail working nights. We worked literally from sun up to sunset trying to build a permanent airport runway. Since there was no rock for 10 thousand miles, we used crushed Coral and portland cement shipped in from the mainland, mixed and after all the proper preparations, layed out in and effort to build a one mile solid concrete runway. Looks easy on paper,but 38 years ago it was a massive undertaking.
The part of my story that is both painful and forever burned into my mind was when a sailor named David Lobb, from Noth Carolina and seven of his friends were assigned to both Alpha company and my hut, which was sitting a hundred feet from the water. Beautiful is the only word that comes even close to what it looked like. But despite the hash conditions and lonesome isolation, most all of us did our best to complete our assigned tasks. I don't exactly know when or why, but David Lobb took a direct dislike to me. I'm not too tall and only weight 130 pounds, but he never let a chance to insult and or injure me in any form he could. I never let anyone in charge know that this guy was beating on me and no one from my hut or company ever did anything to stop him until one day when his anger at me exploded. He was driving an quarry end dump truck and ran me off the road leading from the beach where we were getting the coral that was being crushed to make concrete. He was empty, and empty vehicles returning to the beach were to give right of way to loaded vehicles, but he ran me off the road. My loaded dumptrucks back wheels were too close to the roads edge and over it went. I rolled it four times as it went down the embankment. It landed on it's right side and twisted like a pretzle. The compay commanders came and the MP's and they got me out of the truck and to the hospital. That night LT. Chrow came to the hospital to talk to me and I told him what had been happening for the last seven months, and he got mad.
For any of you who never knew Lieutenant Chrow, he was a officer, had enlisted as a seamen recruit and had worked his way up to master chief and then on to Officer candidate school, commisioned as a Ensign, then a LTJG and finally a full Lieutenant. But he was not only a good man, he was a just man. Tall and with slightly graying hair, he smoked Pall Malls and when he talked, the only voice you could hear was his. After i got discharged from the tiny hospital and back in our hut, he stopped by on night around 9 o'clock. Everyone was getting ready to sleep, but once he stepped in, you could of hear a pin drop. Hw slowly walked down to the empty cot that Lobb slept on, then on to my end of the hut. He lit one of his cigarettes, took a puff, then spoke. He had a voice that could scare the shit out of you just by it's tone. He looked at EO-2 Bevers and said he was very disappointed in him for letting this go on. He said there was going to be formal charges drawn up and a court martial held. There was a long moment of silence, then he said that he was in fact very disappointed in us all. Of the seven who had come on-board from North Carolina with David Lobb, the LT said for them to pack his things up and to bring them to Headquaters, and leave them there. Said Lobb was going to a court martial in San Diego California and would be in the brig there. But then he slowly turned and looked at the six left, He said in a low voice, "If Ward so much as catches a cold while here on the island, he would see to it that the rest of their time on this tiny island a living hell!"
There was a court martial, a "Inter departmential court martial" for me and I was found gulty of failure to report a incident, reckless endangerment and damage to a government vehicle and personal" that last part was me.
Things quieted down and the only real rough part was when the boiler room blew up. It happened one evening, the boiler room was right next door to the EM club or cabin, I had just left and was almost at the huts when it happened and I ran back. Charlie Cummings was as red as a lobster and screaming with pain and rolllling around in the sand. He had been taking a shower when it blew and he had 1st degree burns all over himself, we tried to stop him, but his skin was like semi dried latex paint. It came off in your hands. TH Medics got there and shot him full of morphine, but we had no was to get him to a burn hospital. We has no planes even in the area. Our radio room guys put out a emergency plea to anyone with aircraft anywhere near. Diego Garcia is a British owned island and the US government leases our half, but there was a very small british airstrip about 350 miles to the north/northest. They resonded that they had a learcraft jet and asked how lomg was our runway, we said about a little over a 1/8 mile to a 1/4 mile. But it was fresh and we wern't even sure it was dry yet, but the Brits siad to get as much light on it as possible and they have a go at landing ther, but they would need to fuel up and get going as fast as possible. The only good burn unit was in Japan. And sure enought we parked ever weps and five ton truck and jeeps along the runway and god bless them, The English pilots landed, they got Cummings and a medic on board, and the guys from Charlie company fuels the small jet as it was running, they push the plane by hand backward to they wre about ten feet from the edge of the runway and off they went. It was a wonderful sight as that white little jet lifted up and disappeared into the dark clouds. But a week later they said Charlie cummings had died. It was pretty soon after that that we had a formal ceremony declaring our little dot on the coean as 'Camp Cumming'/ Raindeer station.
That's my story, it was another six months before we left. But I met so many reallly decent and evil people there that I'm 58 now , but I'd still remember it so clearly if I was 158. I was found guilty of all charges against me, and given 30 hard labor and two month forfiture of pay, but Lt Chrow said so long as nothing else happened, all recourts of the interdepartmental court martial would be exbunged from my service record once we're were back in Davisville. Once we were back home, LT Chrow wanted to talk to me in his office. we had a nice dicussion, he told me I would be permoted to E-4 as I had taken the test over a year before (I didn't get the permotion as there were too many EO-3 already) but I got mine and from that day on, I got TAD assignments till almost the end of my enlistment. I worked in Guam for the 1st Air Force, 131st Bomb wing transportation bombs from the deep water port to Anderson Air Force Base at the other end of the island in support of Operation Linebacker 1&2 and that came to an abrupt end on Feb 13, 1973. I knew the war in Vietnam was over then. We had been bombing the lenght of the Hoe Chi Ming Trail. It was in April 1974 when Mobile battalion 1 deployed to Rota Spain, my enlistment was up and I asked the Lieutenant if I could sit this one out, my mother had died while I was in Guam and I'd be getting discharged in July, and he said sure. But Diego Garcia will forever remain in my thoughts. Both for the incredible beautiful landscape and for one of the best and worst times in my life.
I hope the people living and operating on Diego Garcia can understand what it took to begine to build they home and workplace. I never did hear what happened to that Donkey?
HERE'S MORE FROM JIM:
It has been a very long time, But If I'm not wrong, the Accident that killed Charlie Cummings it was right at the end of the monsoon season which would of been late April 1972. The call went out for any help, And the Air force had a number of C-130 aircraft back in Bangkok, Thailand, but none that would have been able to make the five hour flight to the island in time. The brits, ( whom we really didn't think would be willing to make the risky flight in the Lear-craft jet) to try to assist, but god bless them, they said they have a go at it. And did even though the existing runway was a little short for a jet aircraft like a Lear-craft to both land and more importantly, get Cumming, medical supplies a medic tech and refueled with our stock of JP-4 fuel and be able to lift off, and it was already night, and completely dark. But somehow they did it.
I will always hold the British RAF in great respect for even attempting the emergency, And at night to boot. All we had was a radio signal and a beacon light mounted on the top of a sixty foot tower. Lt. Crow called everyone available to 'A' company headquarters and get a Jeep, weapons carrier or duce and a half and get them down to the runway to light up the runway. And as I say, darkness had already fallen on the island.
The only reason I was there when the boiler room blew, was that EO-1 Summers would occasionally give two or three of us dumb truck drivers off from the nights work load as the rock crusher could only work at it's own speed, and we would not be able to feed it too much from the coral reef. The Portland cement was brought in by a tanker ship and they blew in the cement from the ship through pipeline into a silo we had built. That usually took a day or so. The head officer of NMCB-1 was Commander Pereze, and he and Lt. Crow were the leaders of MCB-1 and alpha company.
I was involved in another incident, which was so funny now that I can look back on it. Again I was off, and I went into the EM club. I saw a friend of mine Brian Scott sitting at one of the tables, I got a beer and went over and sat down. Brian jumped up and punched me in the jaw, and we fell down onto the floor and he and I got into it. But I noticed that he wasn't really trying to hurt me. The guys surrounded us and the MP's ruched in and separated us. Brian was hauled off and they were going to take me as well, but all the guys there said Ward had nothing to do with the fight, and that Scott was the one who started the fight. The MP's didn't want to get involved, so they left and everything quieted down. I had a couple of beers and left, got back to my hut and took a shower and into clean cloths. and I t was around lights out time and who enters the far end of the hut, here comes Brian Scott.
I thought, well OK, this guy wants to resume where he had left off, But NO, he came down to my bunk and grabbed my hand and started pumping it like mad, all the time saying "Thank You Jimmy ! I didn't hurt you or anything did I? I said no, just got me dusty. He went on to tell me that his wife had given birth to a baby girl back in Davisville and he couldn't tolerate another minute on the island and had to get home, even if it meant a general discharge. He went on to say he'd been sitting in the EM club for two hours looking for someone he knew wouldn't beat the crap out of him until he saw me come in. Sure enough, he was on the next flight off the island. He claimed he was insane and didn't care what happened.
The craziest thing was once we got back, the whole Battalion got back to Davisville, RI I was out one Saturday afternoon and was in a Sears store looking for some jeans to buy and who do I run into, but Brian Scott. He was working at Sears. I'll never forget that incident. It was right something right out of the show M.A.S.H television series. I'm not sure if LT Crow is still with us, but he sort of took me under his wing, he knew I got screwed at the court martial, David Lobb spent time in the brig at San Diego, CA then given a undesirable Discharge, $50.00 and a bus ticket back to where ever he had come from. But there was on lesson I leaned from LT Crow that I always paid attention to as a E-3 leading a group of guys. He always said to me, "There a big difference between Commanding and Demanding, never get the two confused !"
I owe a lot to LT Gerald Crow, he was truly a gentlemen and a leader. Oddly enough, after the incident on the island, I waw TAD to just about anyone. We deployed to Guam, again I was TAD 'Temporary Assigned Duty' which was a real perk as when you away from the battalion, your almost your own boss. I got sent to do work at the sub base in New Haven CT. to do a site work place in Philadelphia and even sent me to Mass. on some kind of a job working on a chapel of all things. Then when we got to Guam, I was again TAD to the 8th Air force, 131st bomb wing keeping them stocked with 500, 1000 LBS bombs from the deepwater docks, and transporting them the 45 miles to Andersen Air force Base.
I'm sorry to hear that the donkey passed away. On the british side of the island was a MET weather reporting station manned by 6 Africans technicians, one night about five of us got a case of beer, a jeep and went over to visit them, They were so glad to see us, cause noone ever came to visit them but a replenishment boats every six months. ( This was a BIG No no ) but we figured, what the hell they gonna do, send us to some obscure isolated island out in the middle of the ocean to sweat and work ourselves to death?
I hope this may shead some light on your research. It's been a long time, but when George H.Bush was in office and operation desert storm started, I came home one evening and watched the news. They said that there were B-52's from Diego Garcia flying missions to support the soldiers fighting from Kuwait. And I was stunned. When I was on the island, you couldn't have even found enough of a place to stockpile the parts of a B-52, much less land and take off one? Up where we had our huts was the widest part and that was just shy of a quarter mile.
1971
GEORGE FOX <bevgeo0513@embarqmail.com>
I was with MCB40 on the rock UT at the time. We had some of the best times you could have with out any women like our mid deployment party. Where they filled a 5-yard front end loader full of beer and almost every one came down with disentary. The unloading of all the concrete battlers from the ships to the mike boats. Does anyone know what happened to a Chief we call Smokey? I don't think anyone that was on the rock will ever forget it. The rest of the places I was sent to were great but not anything like the rock it was a world of it own. I like to talk to any of the guys that helped lay the pipe when we kept having to dig each other out of the cave-ins. Like Steve, Ricky Dees, Ron Gott, Raymond Gurttin (we all started off in A school in Port Hueneme CA then Davisville RI then to Diego Garcia until MCB1 came to relieve us). I'm the one who after a blast to put in the sewer line on the ocean side picked up a 6FT 6IN moray eel that was not dead yet. What a day that was.It was a lot better place now that we can look back on it than when we were all there! I've given this address to a couple of the guys I've named hopefully they will have some pictures to share with all of you thanks for the site brings back a lot of good times! If I can think of anything else I sent it along if you need more just let me know by E Mail as I check it daily this book is one I'd like to get a copy please let me know how to get one if possible, thanks this was fun to look back some 37 years or was it 38.
1971
RON MIKESKA
I do not have a computer at home, only at my day job, so I decided to come in to the office today, Saturday November15, 2008 and try to pull memories from what happened 37 years ago. I do not want the office computer to get spammed, so that is why I will not put in my email address on your fill in the blank entry. I am also copying some of my kids(age 21 and 18) on this email because I think this will be interesting to them later in life.
On veterans day a couple days ago, I was wearing my "Viet Nam Veteran" baseball cap at work, and one of co workers says "How was it?"
My quick reply was, "Not as Bad as my next tour of duty, a tiny island in the middle of the Indian Ocean!"
To which his reply was " Diego Garcia?, I was there in 1991"
And that is how all of this started.
I tried to go thru the attic of my brain, and tell him some of the stories of how it was on those early days 37 years ago, and could only remember bits and pieces. Its funny that I probably tried to forget about the island for 15 or so years after leaving it, and now I am trying my hardest to remember what we went through. I pulled my old deployment yearbook, and found some old pictures to show him, then I "googled" DG to look for info and found your site. It was really great reading some entries from guys I hardly remember. Now it's my time to try to take sketchy details, and put them into story form. My goal is
to prepare a word document and copy it into your entry file. Hopefully I can complete this task in the next week or so, and enter it onto your web page.
Ron Mikeska
DK2
B73 88 19
USN MCB 40 (1971-1972)
USN MCB 7 (1969-1970)
It was really great reading some entries on this web site about stories of the first deployment to the island. I was also touched by the individuals requesting more information on their fathers stationed there. This hit home with me, because my deceased father served in Germany in WWII, was wounded and did not discuss much detail, and now I wish he had. I thought of my own children; Jennison age 21, Bradlee age 18, and Rylan age 14. Later in life, they might like to know what I did on that island. At that time, I decided to recall events as they occurred, and document them. Please excuse some of the long boring subjects, but I want my children to get a good idea of what we did.
I can't believe it has been 37 years since we were on that place. After leaving DG, I must have spent the next 15 years trying to forget what we went thru, and now I am trying my hardest to remember what happened. I pulled my old deployment yearbook, and found some old pictures to shake loose a few memories. Now it's my time turn to take sketchy details, search the archives of my brain, and put them into story form. I apologize in advance for excess wordiness, inaccuracies in detail, or unveiling any embarrassing situations. My email address is rmikeska@bhciss.com or I can also be contacted at my sister's address of P.O. Box 1315, Wimberley, TX 78676.
My Diego Garcia story actually starts before we got to the island. Many of us that were stationed on Diego Garcia that first year of activity, were originally assigned to USN MCB 7, which was home ported in Davisville R. I. along with MCB 40. In June 1970, MCB 7 returned from its second tour of Viet Nam. The battalion was decommissioned and all of us were expecting orders to new stations or ships. We were given the option of rotating out, or going with MCB 40, which was about to embark on Project Reindeer Station. Many of us agreed to transfer to MCB 40. This gave us a chance to have an extended home port with our wives and family, and we felt that after making it thru Nam, no duty station could be worse than the one we had just come from. Well, we were wrong!! … and so the story of my deployment to Diego Garcia begins.
Soon after we transferred to MCB 40, we found Operation Reindeer Station was going to give us challenges none had experienced before. We were told that the free world did not have a communications network in that part of the world, and planes and ships were in need of one. We were to establish a communications station and build an airstrip for bringing in supplies. None of us would have ever believed as to what level this site has now been developed and used.
Our Disbursing Officer, Lt. Koehler, who was also in charge of the Ships Mess and Cooks, informed us that in addition to being the paymasters for MCB 40, we had to set up the only U.S. Treasury facility in the region. We were ordered to take $300,000 in greenbacks and coin for the initial setup, and we were to have armed guards and side arms and personally carry the cash with us for the week long trip.
Our trip to DG began with a plane ride from Davisville, R.I. to Seattle. We had a lengthy layover for plane maintenance, and had to get off the plane. Here we go through the airport, eight Seabees with loaded weapons carrying locked boxes of money. I'll never forget the shocked looks on all the civilians in that crowded terminal.
Lt. Koehler assigned us a spot in the middle of the terminal and told us not to move until he could find a secure place for us to stay with the money. Soon after he left, two security guards came by, and dropped their jaws when they saw us guarding these boxes. They came up us and ordered us to move the boxes out of the way. Dave Pulliam (who looked and talked like "Mr. T."), said we could not move the boxes, so one of the guards reaches down for the boxes. Dave drops his loaded 12 gauge in the guards face and calmly says "I wouldn't touch that if I were you." That guard about crapped in his pants, and I thought we were going to be arrested.
About that time Lt. Koehler comes up with the head of security and they took us to the drunk tank for the remainder of the Seattle layover.
The next episode of this trip that sticks out in my mind occurred when we landed at the Cocoas Islands off the western coast of Australia. There, we had to board a ship that was anchored in deeper water. As we were transferring from our small boat to the ship, it occurred to us that all that money would sink to the bottom of the Indian Ocean if those boxes slipped out of our hands. It never occurred to us until that moment, that we needed to have them attached to a floating device. We handled those boxes as carefully and you would a newborn baby. What a feeling of relief it was when all boxes were safely aboard.
My Navy career lasted 3 years, 9 months, and 3 days. The four days on that LST were my only days on a ship and were some of my sickest. We spent most of the daytime down below in the Disbursing Office getting the pay records ready for payday as soon as we got on DG. I think all of us were seasick working down below in that swaying motion.
When we did have time to venture on deck, we would go to the front of the ship for entertainment. The ship would startle the "flying" fish, and it was entertaining to see how far they could glide through the air.
On the way to DG, we were warned to wear sun burn lotion and long sleeves until acclimated. Rumor was that anyone reporting to sick bay with severe sunburn could be court-martialed for destruction of government property. We did not know what to expect when we got to DG, and seeing that tiny island come over the horizon and into view, made us realize just how isolated we were going to be for the next nine months.
EARLY LIVING CONDITIONS ON THE ISLAND - We lucked out for sleeping quarters when we first hit the island. The Bravo company guys had completed our hut. Many others had to sleep in tents until their huts were complete, and they had to deal with the sand crabs, scorpions, and coconut crabs every night. In the early days, I had heard rumors of coconut crabs slicing open vehicle tires, but I actually never saw it.
Bathing facilities for the first few weeks was an experience I'll never forget. Our showers consisted of some basic spray towers erected over supply pallets laid on the coral sand. It used water stored in a rubber bladder, lasted about 20 minutes, and was only available late in the evening. That late evening sea breeze made that water spray damn cold. If you were last in line, you prayed that the water would last for your turn, and offered "unprintable words of encouragement" to get the guys to speed up.
Our three hole outhouses were something else. We believed that the flies considered them to be their private hotels. The worst duty on the island had to be the honey wagon detail. Those guys had to come thru the camp every couple of days and replace the used cans and take them down the beach to be burned out. Eventually community showers and toilets were erected near the sea huts, and we were very grateful.
During the day, the heat and humidity in the headquarters area was stifling. A suggestion was made to knockdown some of the island's natural windbreak to create a breeze during the day and make life more tolerable. This was done, and there was a very noticeable difference. However, our H company huts were on the opposite side of the peninsula and right above the high tide marking. As significant gusts of wind came through, it started blowing the beach sand out into the water. The beach erosion was quite noticeable, and at the end of our deployment, water came right up to our hut at high tide. I wonder what happened to that hut.
Before the airstrip was functional, our only access from civilization was by supply ship, which came in every few weeks, although it seemed like months. When the ship came in it was celebration time, because we got mail, care packages from home, and also fresh food supplies. We knew that one of the first meals after the supply ship came in would be steaks, and we always looked forward to that. Conversely, the menu would gradually decline until the next supply ship came in. We got a nasty surprise when the fourth supply ship came in. There was no food on the ship, instead, they brought in pallets and pallets of beer. That might have been ok, except the beer they brought was a local beer from Rhode Island called Narragansett. We called it Nasty Gansett. There was so much beer on the ship it would not fit in the storage yard, and pallets of it were left out in the open. Lucky for us, another supply ship was sent enroute with food, It arrived within a few days, but our story home was we had to live on and uninhabited island with only Nasty Gansett Beer and coconuts for food.
The Coca Cola that came in through normal supply channels had preservatives or something added and did not taste right. Bobby Johnson and I were Coca Cola addicts, and the only way to get a good coke, was to buy cases of real cokes from our supply counterparts on the ships. We would store them in our office, and ration them out so they would last until the next ship came in.
Several of the entries on this web site have given their fly stories, and here are mine.
1. On the way to chow, we would look at the outhouses and remark "Look out, the flies just opened the doors and are racing us to the food."
2. The flies were so damn bold, they would not leave your food if you waved you hand over them. You had to knock them off.
3. There was an Ex-submariner in our unit named "Dizzy" that everyone thought was crazy. He was so mad at the flies, he would stab them with his fork and eat them just to get revenge.
Almost everyone in camp got dysentery at some time during the deployment (yes, another fly story). During these outbreaks, there was a shortage of toilet paper. We were able to get our hands on a supply of toilet paper and hid it in the payroll safe. Each person having the urge would get their apportioned amount before making their trip. We learned early on that if you took a whole roll, others on the same mission would commandeer your unused roll. I think we still had an emergency toilet paper roll in the safe when our deployment ended.
Another posting on this web site talked about cigarettes found in the bread. Here is how that happened. Under the initial island development agreement, we were required to purchase food from Mauritius vendors. Lt. Koehler wanted to keep the purchases safe, so he limited them to fresh vegetables and baked bread. The bread was delivered to the dock unwrapped. Our guys made them send the bread back and to get it wrapped for shipment back to the island. This is the same bread that was later found to contain the cigarettes. The bread also had a weevil or two, and that is why sliced toast with strawberry and fruit preserves on top was served for many of the breakfasts. No more bread was purchased from Mauritius.
DISBURSEMENT OFFICE WORKING ENVIRONMENT - Staffing – Apparently, it was difficult to fill all the open billets for our battalion, and the Navy had to improvise. An E6 or higher is supposed to head up a Disbursing office for a battalion group. I guess no one of that rank would agree to Diego Garcia duty, so I was made the senior DK with only two years of experience. To complete our staffing, an individual who had been busted from DK3 to DKSN, was sent to us instead of the brig. Shortly after his arrival, an audit of his files uncovered illegitimate entries. He got transferred to one of the other companies to finish the tour and EO3 Netzke came in to help us.
Treasury Function - During our deployment, we never had to replenish our cash. The island economy just operated in a giant circle. We paid out the money on pay day, and the money went from the Seabees to either the Post Office for money orders, or to the ships store for personal purchases. Those two offices deposited their excess funds with us for credit to their operating accounts, and that replenished our funds for future paydays. The only cash drain occurred when the Seabees went on R&R to Bangkok. This was late in the deployment because the runway began operation in late July.
Office Equipment - This was before the electronic age. All payroll record entries were done using manual typewriters. Our calculators were non-printing SCM's with a top carriage that moved laterally to calculate the answer. I am pictured with one of the clunky machines on page 94 of our deployment yearbook. Even though we considered our office conditions sub standard, the construction guys believed we were on easy street. There was some good natured, and sometimes caustic banter between us H Company "Fleet Office Pukes" and the Construction IPOs (Instant Petty Officers). The construction guys were in tough situations daily, and sometimes they resented that we were just "skating" in the office shade and only worked two days a month. Our retaliatory comments were something to the effect of; "Oh yeah, well what's 5000 feet long and built 12 degrees in the wrong direction?"
Our work days were long and very repetitious. We were constantly making changes to pay records and manually preparing the records for the next pay day. Special pay categories (Temporary Duty, Family Separation Allowance, Diving Pay, etc) were started and stopped based on an individuals orders, and it seemed that the dates of starting the new payments were in constant disagreement. The tempers got real short when we deducted pay for garnishments, child support, alimony, etc. Every six months, the pay records had to be manually calculated and closed out, showing all pay and leave earned and taken. New records were opened up and the old records were sent to the Naval Finance Center in Cleveland Ohio.
Occasionally, the Seabee's daily life and rowdy night life gave us some chuckles in the office. Sometimes we would refer to the incidents as "Alcohol Induced Ingenuity", other times, it was just an apparent case of "dumbass". After they were caught in situations, such as malicious mischief, or destruction of property, they had to go to Captains Mast. My office would receive a summary of the charge, along with instructions of how much pay or rank should be deducted. One incident that I remember, involved two of our Equipment Operators out of Alpha company. They were fined for playing "King of the Hill" with bulldozers. They put the dozers blade to blade and were trying to push each other off the road when they were seen by their company commander.
There was a recurring incident that would cause a shot of adrenalin and jump start our hearts during the work day. It was the dynamiting of the coral. We had been out of Viet Nam for less than a year, and were operating in the exact office environment as in Viet Nam. Those dynamite explosions sounded just like the incoming Russian 155 rockets back in Chu Lai. We would get Viet Nam flashbacks and start looking for a bunker.
Soon after we got our office in operating condition, we erected the following sign out front:
DIEGO GARCIA BANK AND TRUST
L. Koehler President & Chief Embezzler
R. Mikeska Chief Counterfeiter
B. Johnson Credit Mgr.
S. Lingad Agent For Foreign Affairs
B. Netzke Complaints Dept
We were told to take it down after awhile, because it was inappropriate. I still have a faded black and white picture of the sign to make me chuckle.
ISLAND ENTERTAINMENT - Our work week was six and a half days. We had Sunday afternoons off, and that is when we saw or participated in the most entertainment, ingenuity, and stupid tricks.
Fishing - We could fish right off the steps of our hut, and have pretty good luck. This is where we got introduced to "US Government Freeze Dried Boiled Shrimp". Just add water, and they plumped up real nice. They tasted pretty good, and made excellent bait.
All sorts of "Big Fish" stories circulated around the camp. I remember two.
The first fish story involved Lt. Koehler. It seems that one Sunday afternoon, a bunch of guys wanted to take some beer and fishing tackle aboard one of the boats for some deep sea fishing. They were trolling along and having some pretty good luck for awhile. The fish stopped biting and they talked about how to catch more fish. Once again, "Alcohol Induced Ingenuity" prevailed. Lt. Koehler put on his snorkeling gear and jumped in the water to guide the boat to the fish. Once he was under water, he discovered the problem. A school of large Barracuda had moved in and scared off all of the other fish. He wasted no time getting out of that water.
The second fish story involved two guys from Bravo Company. Their goal was to get past the coral reef and catch big fish. They got lucky twice. One: They did hook a big fish. Two: They made it back to shore alive.
They decided to build a small boat out of leftover building material and paddle out over the reef. As luck would have it, they hooked a fish big enough to pull the boat through the water. In the middle of the fight, the line went dead, but still remained heavy. They reeled in the head of their hooked fish, but the entire body had been severed behind the gills. They paddled back to the reef as fast as they could and did not go out again.
Obviously, there was no radio or TV when we first got to the island. When the weather patterns were favorable, we could get the BBC station out of Bangkok. Several months into the deployment, a local AM station was set up on the island to play music and give battalion anouncements. I believe the radio station was manned by a seaman named Benjamin.
Strat-o-matic Football League – Prior to leaving for the island, we knew there would be no entertainment, so we were looking for something fun to make the time pass quickly. Walt Perry had the latest version (1969) of the Strat-o-matic NFL Board Game. It was played using the chances on various rolls of dice. As I remember, the game consisted of statistics cards similar in design to monopoly cards. There were statistics for team defenses, offensive individual players, etc. and based on the roll of the dice, you could determine the outcome of the plays.
We set up a complete NFL league with each team owner managing two teams. Each owner got to pick his favorite team, and used the luck of the draw to determine which other team he would manage. Prior to leaving Davisville, Walt had written to NFL Commissioner Pete Rozzelle, and told him what we planned to do. His office sent us posters, pennants, and decals for all the teams. We put many of them in our office, which is where we played the games at night.
We decided to take the current season schedule (1971) and play it in its entirety with the 1969 statistics. Unbelievably, the exact same 1969 teams (Minnesota and K.C) made it to the 1971 "Strat-o-matic Super Bowl". However, this time Minnesota barely won, with Jan Stennarud missing 3 field goals for K.C. in the final quarter. I remember Sal Lingad, the K.C. manager, being really pissed and saying the game was wrong because Stennarud could not miss 3 field goals. Funny thing is, I believe that Stennarud really did miss 3 field goals the next NFL season against Miami in a playoff game, and K.C. lost.
Fast Pitch Softball Games - during this era, Fast Pitch Softball was popular with all military groups. There was no Slow Pitch softball . Our island had a softball league, and each company had a team. There was no softball field, only a large area with throw down bases. Page 76 of our deployment yearbook has a picture of one of these games. Shortly after we started the league, it got a little contentious when all of the black guys quit the company teams to start their own team called "The Brothers".
Playing softball, and practicing on the island has had a tremendous impact on the rest of my life, as well as many other softball players that I have become acquainted with since then. Prior to the deployment, I had played fast pitch for several years, and had always wanted to be a pitcher. I was never good enough to be competitive, so I played other positions.
One of our company cooks was a fast pitch catcher, and offered to work with me when he had spare time. He usually had a short break after cleaning up from breakfast and before starting lunch and offered to catch during his break. We used these frequent short breaks to great advantage, and by the end of the deployment, I had really improved my pitching skills. I continued to improve on those pitching skills learned on the Island. I played fast pitch in Houston from 1972 thru 1987, in Dallas from 1987 thru 1994, and finally here in Charlotte N.C. since 1994. We still have one of the very few men's fast pitch leagues (www.charlottefastpitch.com) in existence. Twelve years ago, I started teaching fast pitch to girls (when my daughter started the sport). During these years, I have helped more than fifty girls get college scholarships. I am very proud that in recent years, two of my students were named All American Pitchers, and this last summer, one of my students was chosen to travel to Australia with a group of U.S. College All Stars. She played several games against the Australian Olympic Team and Australian National Champion Teams. Today, I am a volunteer softball coach at a local high school in Charlotte N.C., and I help the high school pitchers in Wimberley Texas (during frequent trips to see my family). All of this can be attributed to the time I spent on the island working on my pitching skills.
Coral Beach Football Games - There were only a few of these games. The coral sand was so abrasive that any fall into the sand caused severe scrapes and bleeding. By the end of the games, the players had blood everywhere. Then, they had to go to sick bay for a Hydrogen Peroxide rinse and brush scrubbing.
Burning Outhouse - This caused a lot of excitement for the camp. As I understand it, jet fuel was put into one of the three holers instead of the normal diesel oil. The user was smoking a cigarette, tossed it in the empty hole next to him, and boom, up in flames, and he had to go to sick bay for burns on his butt.
MUMIB Contest - Well into the deployment, we were looking for something to do and came up with idea of having an M.U.M.I.B. contest. This tongue in cheek contest was not sanctioned, or even explained to the battalion officers. The letters stood for "Most Useless Man In the Battalion" We set up a ballet box in the Disbursing Office, and Benjamin at the Island AM radio station told the Seabees to come and vote before the contest deadline. Lt. Nohe, the personnel officer got knowledge of this contest and was politicking everyone to vote for him. He said that if he won, he thought he could get the C.O. to send him back stateside early.
We had to cancel the contest because of massive ballot box stuffing. A few nights before the contest deadline, Bravo company was assigned to come into our office and install air conditioning units and board up the screened windows. During that nighttime construction period, they stuffed massive amounts of votes for the B Company Commander.
END OF THE TOUR - I have tried and tried to go thru my brain to remember who in MCB 1 relieved us in Disbursing, how it felt to prepare for departure and how it felt to leave the island. No memories are there. I can only remember two things about leaving Diego Garcia.
1. Benjamin at the AM Radio Station kept playing a dedication song from MCB 40 to MCB 1. That song was "One Is the Loneliest Number" by Three Dog Night.
2. I remember checking into the overnight barracks at Davisville R.I., looking forward to having the first real shower in nine months, and finding out there was NO DAMN HOT WATER!
1971
NAME = Tom Murphy
MY QUEST = find old buddies
E-MAIL = tmurphy@veitas.com
UNIT = Charlie Co.
RANK/RATE/JOB = BU3
MY INTEREST IN DG IS = Stroll Down Memory Lane SUBJECT OF MY STORY: = Other MY WARSTORY = Just looking for old friends from Charlie Co.
Oct 1971 - July 1972
NAME = Al Breunig
MY QUEST = To locate some long lost buddies.
VT of a SWALLOW = Mach 2
E-MAIL = abreunig@nonnsflooring.com
NATIONALITY = American
SERVICE = U.S. Navy
UNIT = MCB 1
RANK/RATE/JOB = Worked as a Disbursing Clerk. Arrived on the Advance Party and was one of the last in the company to leave. Spent 4 years in the Navy and although I pretty much hated it then, given the chance, I'd do it all over again.
MY INTEREST IN DG IS = My Time There is Lost in an Alcoholic Haze, Help Me Remember!
SUBJECT OF MY STORY: = Actually, I Have a Real Story To Tell
MY WARSTORY = I remember a number of the older married guys having their balls nipped while they were there because unless they were into donkeys they really didn't have any use for their schwantz for about 9 months. My Chief Petty Officer (can't for the life of me remember his name) took advantage of the situation and followed suite. Unfortunately his balls grew to about the size of grapefruits. He was one hurtin' dude. I remember the U.S.S. Monticello showing up with a guy on board that I went to High School with. After the ship got unloaded, we got loaded. I'm looking for guys like Buck Upshaw who was a DK3 from Cleveland. Floyd Yates who was a Yoeman from Canada. Bob Davis who was an EO3 from Tuson, Arizona. I'm looking for anybody from supply, storekeepers, cooks, postal clerks etc. I'm looking for anyone who can remember a blonde haired, blue eyed, small town Wisconsin boy who was sent to DG right out of Disbursing Clerk A school that had joined the Navy to see the world and they sent him someplace else. 4 years in the Navy and 2 weeks at sea on a boat.....go figure.
1971
NAME = Bill Rice
MY QUEST = Bring back memories
E-MAIL = wfrj724@yahoo.com
NATIONALITY = Tennessean
SERVICE = U.S.Navy
UNIT = SEABEES
RANK/RATE/JOB = CM3 THEN RETIRED NOW
MY INTEREST IN DG IS = Stroll Down Memory Lane
SUBJECT OF MY STORY: = Other
MY WARSTORY = Just looking for a few friends who might remember me. Dave Leasure, THE WAG, DRIFTY, Jimmy Walker,and Carl Reid who would play ROCKY TOP every day for me. Just to name a few. Would love to hear from you.
[from Charles M. Powell, 26 Mar 2011. "If you could post this on BILL RICE`s post on 1971 BIOT to tell others that he has passed on 3 / 13 / 2011. His E-MAIL adderss had been changed so it is not the same as it was. BILL RICE lived in JAMESTOWN TEN.. I have called and sent some E-MAIL`s but this may help someone to know that he has passed. THANK YOU CHARLES M. POWELL USNMCB 40 BIOT 1971 po3@zoomtown.com again thank you!"]
Oct 71-june 72
NAME = karl brunner
MY QUEST = enjoy retiremt
VT of a SWALLOW = unkown
E-MAIL = lsbrunner@cox.net
NATIONALITY = usa
SERVICE = navy
UNIT = nmcb 71
RANK/RATE/JOB = EOC ret was EO2 on the rock
MY INTEREST IN DG IS = Want to Return When the First REAL Club Med Opens
SUBJECT OF MY STORY: = Actually, I Have a Real Story To Tell
MY WARSTORY = no planes for 45 days almost running out of beer
1971 second wave of advance party
NAME = Dennis Vita
MY QUEST = Life
VT of a SWALLOW = all according what kind of Swallow
E-MAIL = kstar04@earthlink.net
NATIONALITY = American
SERVICE = MCB 40
UNIT = B co generator shack
RANK/RATE/JOB = CE 3 Owner of Concrete company
MY INTEREST IN DG IS = Stroll Down Memory Lane
SUBJECT OF MY STORY: = I'd Like to Share Precious Memories of Drinking/Fishing/Snorkeling/Sailing on Diego Garcia
MY WARSTORY = Left Davisville flew to Maritaus crossed that island in the back of a 5 Ton to some port and hopped on the USS Charleston,took a short boat ride and docked at Diego. Watch them unload equipment with Pinky Hamilton, even watched one go over board, Hit the Island and slept in a hammock wrapped in bug netting and always checked my boots before I put them on in the morning. Loved those C Rats. Was thrilled to have a Hut when they were finished. Worked on the desalt barge, of course worked on the three hollers, stirring and burning down at the beach, Oh did I mention that I also washed laundry too. finale found a home at the Generator Shack, was there till I left. I remember Knickerbocker cause he ratted me out a year latter in Subic for painting a peace sign on the top of our Bus. Remember dying of the heat in the day and freezing at night sitting at out movie theater wearing my jacket. Remember the flies in the chow tent big and slow moving. loved my shower, oh and loved the beach. I do remember the jeep and the peace sign incident. Does anyone remember the Russian trawlers off our coast and our radio man playing a song for them Back in the USSR ? Oh I also think that we lost a dozer off the reef, Frankie C from Philly relaid that bit of info to me. Worked long hrs but had great times. Oh I forgot to mention I was the guy that fell asleep on watch and forgot to play morning colors in Rosy Roads the year before. Still remember the captains face and outfit when he told me I was in a world of shit.
october of 71 to may of 72
NAME = Gary Niemeyer
MY QUEST = find some of the guys i was station with
E-MAIL = garyniemeyer@suddenlink .net real e-mail garylniemeyer@yahoo.com
NATIONALITY = american
SERVICE = navy
UNIT = MCB one Delta Co. Transmitter Site
RANK/RATE/JOB = CN steelworker
SUBJECT OF MY STORY: = Actually, I Have a Real Story To Tell
MY WARSTORY = As many of you that were there at this time we could take r&r in Bangkok.So I figuredsense I was due to be seperated in May.I just didn't want take the 9 hour flight to Bangkok and another 9 hour flight back.Then another 9 hour flight when I left.Some of my friends just couldn't wait to get there. Well,oneguy I'm mentioning his name bragged about how many of the local ladies for hire for the night.And I told what he might catch.So he didn;t listen to and you know whst he spent 2 weeks in sick bay when gotback.
1971
NAME = Jim Murray, a.k.a. "WOLF"
MY QUEST = Adventure and an endless supply of malted barley beverages.
VT of a SWALLOW = Zero
E-MAIL = james.murray10@comcast.net
NATIONALITY = American
SERVICE = U S Navy - Seabees
UNIT = Headquarters Company - transitman/explorer
RANK/RATE/JOB = Engineering Aid Stonemason Christmas Tree farmer Artist Reality TV guy
MY INTEREST IN DG IS = Professional Adventurer Looking For The Ultimate Get Away
SUBJECT OF MY STORY: = Actually, I Have a Real Story To Tell
MY WARSTORY = I was just looking for the dates of the USS Charleston visit so I could include it in my sea days required for my 100 Ton Masters License with the Coast Guard. If they ever find this site and what you guys said about me, I'm in shit creek. I'm supposed to be a sterling character, but there are references to jeeps, stairs, political artwork and donkeys (it was "Pauline" , but if there was a "Francine" maybe I was involved in an animal threesome), and not everyone understands who wasn't there. I may need to consult my attorney. You can't use the "I don't remember" excuse all the time.
So now that you have my e-mail, (don't gang mail me) send photos and I will send what I have. Just for the record I did win the design a logo contest (Even tho you creeps sucked up my prize of two cases of beer while I was working). Will send that, plus a copy of the Plankowners Certificate designed by Sal Annarumma. Had a great time and a hugh laugh reading your mails. So Fred. sorry about piling empty cans on top of your mosquito netting. You know how drinking keeps people up late. This is almost like AA, but I'm not sorry and I still drink. And Norm, I have to tell you about the time I went camping with Rachel Hunter on "The Real Gilligan's island", Would you like her phone number? It's only a thousand dollars. Yes, I'm still married, Dorothy has a great sense of humor. So check out my site "skipperjim.com" (did I pay that bill?)Also at "bostoncasting.com/skipperjim". WOLF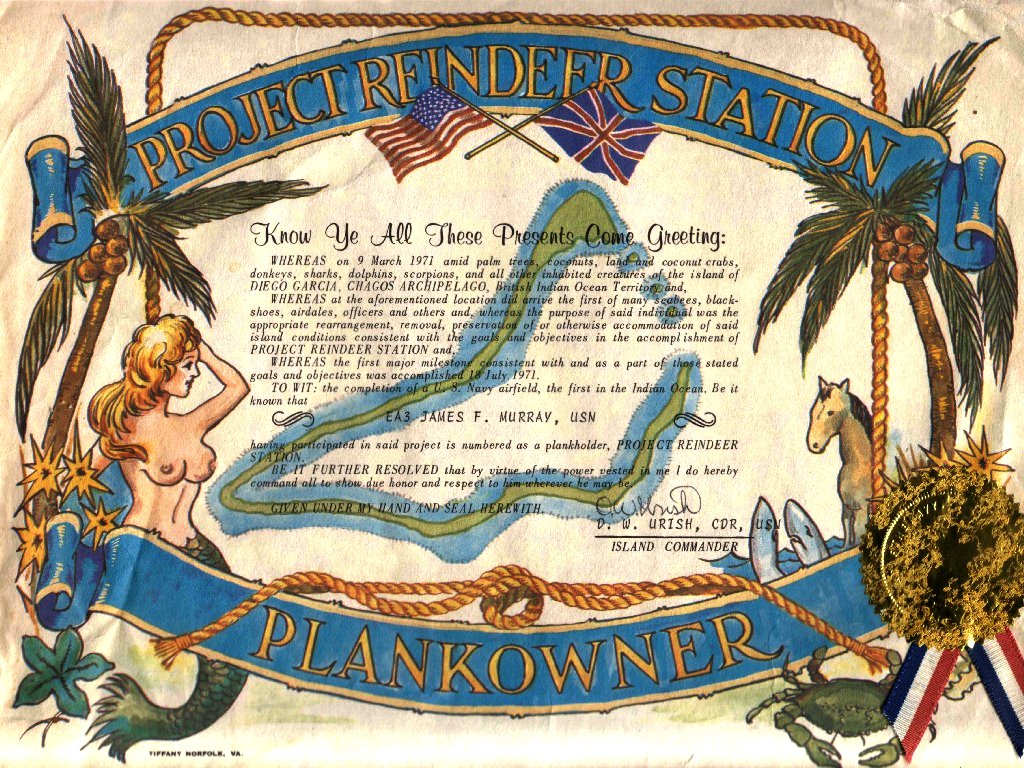 1971
My father, FT Calvert, was there in 1971
NAME = Kyle Calvert Grimes
MY QUEST = To find someone who knew my father
E-MAIL = Kyle@igrimes.com
NATIONALITY = American
MY WARSTORY = My father, FT Calvert, was on the 9 man advance team in 1971. I am looking for anyone who knew him and can relay any stories to me. Sadly, he passed away in 1994. Thank you.
71-72?
NAME = Scott Brode
MY QUEST = To Share
VT of a SWALLOW = Inversely proportional to the velosity of a puke
E-MAIL = squid6951@yahoo.com
NATIONALITY = Born & Bred American
SERVICE = Navy
UNIT = Logistics Support Componant (mike 8 boats)
MY INTEREST IN DG IS = Stroll Down Memory Lane
MY WARSTORY = After we helped the Bees Build the engine shop for boat repair, I made the sign that stood outside that said "If we can't fix it; You'd best not break it!
I remember the time our En2 drove a rt forklift into the lagoon while trying to push a mike 8 off the beach.
More to come as they break through the haze.
Here are Scotts photos: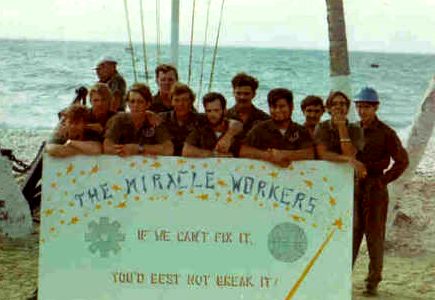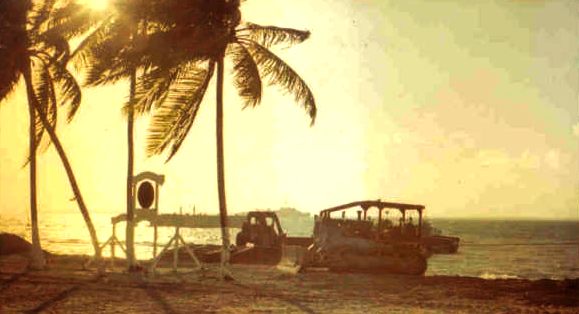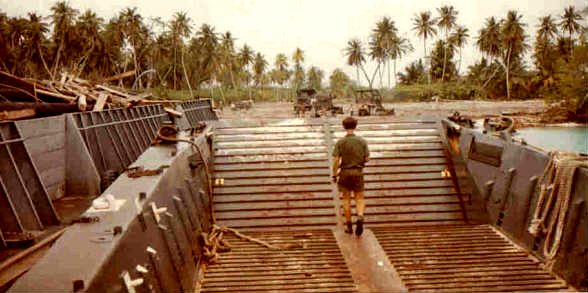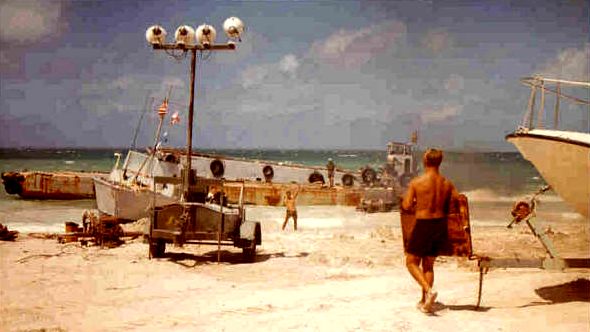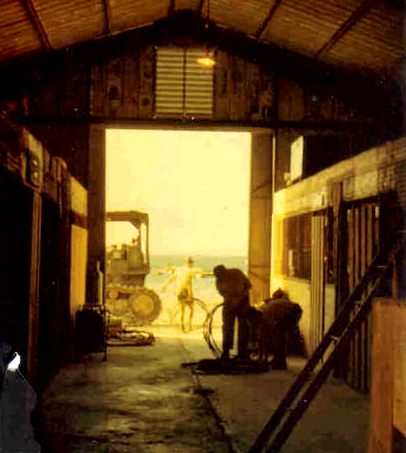 71
Name: Clyde Bragunier
c/o Scott Bragunier <theblackbadger23@myactv.net
My father served on the USS Graham County and landed with the seebees on Diego Garcia in 71' I found a lot of pictures from there and the GC. I'm writing this email to see if there's a better place to find email addresses from former radio operaters of the GC and just making sure this is the right place to send pictures??? Please let me know ASAP since this is part of a christmas gift. Oh by the way his name is Clyde Bragunier Third Class Petty Officer USS Graham County 1176 radio operator. His claim to fame is that he sent the first radio message from Diego Garcia. I'm incredibly proud of my father and the things he's done in his life so I would like to repay him by finding old friends from the navy and at the same time offering him credit for the radio message! If you can help I would greatly appriciate it. Thanks so much for having a great web site devoted to the GC and DG!!!
71-72?
NAME = Scott Brode
MY QUEST = To reconnect and remenice
VT of a SWALLOW = ?
E-MAIL = squid6951@myway.com
NATIONALITY = Home bred American
SERVICE = USN
UNIT = LogSupComp
RANK/RATE/JOB = Engineman,out over 4 as en-3
MY INTEREST IN DG IS = My Time There is Lost in an Alcoholic Haze, Help Me Remember!
SUBJECT OF MY STORY: = There I Was, Passed Out on The Beach
MY WARSTORY = Got to the Rock and got so bummed and so drunk,that I decided that I was going to swim home! Was found passed out,naked on an ocean side beach,with swim fins and snorkle at the ready!
1971-1972
NAME = John Daniel (Dan) Hamilton
E-MAIL = dahtm@yahoo.com
NATIONALITY = USA
SERVICE = Navy
UNIT = MCB 40
RANK/RATE/JOB = Retired. Was Chief at time of service of DG.
MY WARSTORY = I am posting this for my Father - Dan Hamilton - since he does not "do" computers. He was at Diego Garcia in beginning 71-72 and would like to get in touch with some old friends. He currently resides in Jacksonville, AL and if any of you served with him, please let me know how he could maybe get in touch with you.
Thanks,
Danita
April-September 1971
NAME = Gary Wahoff
MY QUEST = Touch base with fellow Seabees from that time
E-MAIL = GWahoff@aol.com
NATIONALITY = USA
SERVICE = USNMCB 40
UNIT = Charlie Co., We built seahuts when we first arrived, then manholes and lift station for new sewer system
RANK/RATE/JOB = BU-2 Semiretired now from civilian work. Couldnt wait to get out back then (as a draftee). Would like to have small doses of beach life now!
MY INTEREST IN DG IS = Professional Adventurer Looking For The Ultimate Get Away
MY WARSTORY = As Mcb 40 was the first outfit on DG, it is very interesting how important this base is today. Apparently we had some people working back then with good foresite. No real story for now, but I do remember the ones recited by others that were there. The flag pole watch, the CO's steps removed and him falling flat on his face(This would not have happened to CO White, who was well respected.) The COs jeep driven into the ocean at low tide. The "Drive in theatre" during rainstorms. The pissers (55 Gal. Drums sunk into sand) that you had to watch you didn't walk into. Our patio by the beach outside our hut was great, and Steel worker Brown from Texas made great beans with lots of beer. The old artillery down island. The Hurricane that just missed us.
Hard work and Great Times!!!!
1971
NAME = Don Parker
MY QUEST = maybe remember someone from the island
E-MAIL = Dqmanqman@aol.com
UNIT = NMCB-1
MY INTEREST IN DG IS = Want to Drink A Lot, Cheap
SUBJECT OF MY STORY: = There I Was, Passed Out on The Beach
MY WARSTORY = I worked in the maint. shop 4 miles from camp. I have videos, pic's and many memories.
Before Bob Hope came to DG, there were The Hilltop Singers!
NOVEMBER 1971
NAME = THE HILLTOP SINGERS *****LINDA*JEANIE*&*TRISH
MY QUEST = LIVE ON IN THE HEARTS OF OUR COUNTRY MEN
VT of a SWALLOW = THAT IS YET TO BE DISCOVERED!!
E-MAIL = HILTOPSNGR@AOL.COM
NATIONALITY = USA
SERVICE = USO
MY INTEREST IN DG IS = Stroll Down Memory Lane
SUBJECT OF MY STORY: = Other
MY WARSTORY = I REMEMBERED THAT IT WAS AN OUTDOOR SHOW AND THAT NIGHT, OUR ACCOMMODATIONS WERE HEAVILY GUARDED. HEE HEE I ALSO REMEMBER THE BEAUTY OF THE ISLAND. WE TOOK A WALK THROUGH AN OLD LOCAL CEMETERY - LOTS OF OLD TOMBSTONES OF ALL NATIONALITIES. I ESPECIALLY REMEMBER HOW NICELY WE WERE TREATED BY EVERYONE. JEANIE AND I (THE SISTERS) STILL SING FOR SPECIAL OCCASSIONS. TRISH NO LONGER SINGS BUT IS ALIVE AND WELL. WE WOULD LOVE TO HEAR FROM ANYONE THAT WAS THERE FOR OUR SHOW...
SINGING AGAIN - AVAILABLE FOR VIETNAM VETERAN REUNIONS AND SHOWS. WE WERE THERE FOR YOU IN NAM AND WE ARE HERE FOR YOU NOW - PERFORMING THE MUSIC FROM THE 60's and 70's. Linda and Jeanie Carpenter had a dream to be of service to their country during the Vietnam war. Their dream came true as The Hilltop Singers sang their way into the hearts of the servicemen in Southeast Asia bringing the coffeehouse music to them. I hope you enjoy our website and seeing the pictures from our shows. http://hometown.aol.com/hiltopsngr HILTOPSNGR@AOL.COM LINDA *&* JEANIE THE HILLTOP SINGERS PO BOX MADISON, TN. 37116-1626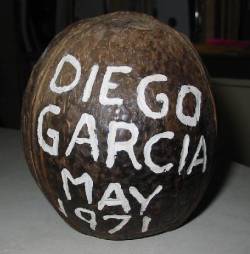 1971
Scott Currier <srcgmc@gmail.com>
Landed LST at paradise island March 71
EO1 in Zumwalts "new navy"
Lived in tents but vast improvements-SE Asian huts- like the Hilton
Learned to build a runway out of Coral.
Lots of memories, even have a "MAY 1971" carved coconut.
1971
NAME = Carl Reid
MY QUEST = Enjoy retirement
E-MAIL = clreid@charter.net (home) or creid@viammfg.com (work)
NATIONALITY = American
SERVICE = United States Navy Seabees
UNIT = Crane operator on the crescent scraper, MCB40
RANK/RATE/JOB = EO3 then
MY INTEREST IN DG IS = Stroll Down Memory Lane
SUBJECT OF MY STORY: = Actually, I Have a Real Story To Tell
MY WARSTORY = Diego Garcia was my second of three deployments with MCB40(69-70 Puerto Rico, 71 Diego Garcia,72 Guam). I am equipment operator 3rd class Carl Reid and I worked with a 50 ton P&H crane pulling coral off the ocean floor to use as aggregate for paving the first runway. I worked with John Ray from Bishop, California. A 2nd class EO in our group was Larry Ray of Elijay, Ga. Many should remember me as a guitar player from Tennessee who played music almost every night at the beer tent. I remember the night a group from my hut were sitting outside the hut at dark and I was giving a concert. A senior chief (do'nt remember his name) came up and said Reid come on up to the Chief's tent and bring your guitar. Then EO2 Ray, while sitting on a 5 gal. bucket said, come on chief we are off work and he is playing for us. The senior chief said you are in the Navy 24 hrs. a day and I can order him to come up but I am just telling reid to come up to our tent to play. Ray, still seated said that's not fair and if we were not in the service he would'nt stand for the chief's attitude. The senior chief said,"do'nt let my star get in your eyes cause I might just whip your ass". Ray, still seated, said you saying you would take your stripe off and fight me. The chief shook his head yes and Ray came up from the bucket with a violent upper cut right under the senior chief's chin. As he hit the senior chief his eyes rolled back in his head and it sounded as if he had bit his tongue. As the chief was falling to the ground Ray kicked him in the ear. I put my guitar down and grabbed Ray from behind and pulled him down into the jungle. We hid while corpmmen and an ambulance took the chief to sick bay. We stayed in the jungle very late and to our surprise the next morning the senior chief had on sun glasses and his head banaged but he never said a word about the altercation. Ray limped around for two weeks.
I have pictures of USS Graham County, LST 1176, cocanut crabs, the old WW2 artillery gun, Mike Swift with a sea bass, Mike Tanner, Larry Ray, and pictures in my hut and of the crescent scrapper. I will send them to you later. I would love to hear from anyone who remembers me including Kurt I. Meyers, Dan Taylor, Jack Townsend, John Baker or Dick Suomela. Suomela was the seabee who had a palm tree come through his headache rack and open his skull. He was from Maine and was picked up by a sea plane before we had a runway and was flown to Mauritius. He never cam back after the injury and I have not heard of him since.
Carl Reid
1971
NAME = Fred Cook
MY QUEST = Live long and prosper
VT of a SWALLOW = Warp 9
E-MAIL = gacook@windstream.net or fred.cook@windstream.com
NATIONALITY = US of A
SERVICE = U.S. Navy
UNIT = USNMCB-40
RANK/RATE/JOB = EA3 (then) Civilian 1st Class (now)
MY INTEREST IN DG IS = Geo-political Rabble Rousing
SUBJECT OF MY STORY: = Actually, I Have a Real Story To Tell
MY WARSTORY = First things first, this is my current email address. If you were there in '71 with MCB-40, give me a shout!
Ok, this is the story about illegal drugs, paranoia and limits to patience! One night some "occupants" of H15 were in the lounge smoking a little grass. I guess they got paranoid when they were smoked up because they would play nasty little tricks on the non-smokers in the hut. I came in late that night and started to get into bed and found that "someone" had poured a bucket of water on my bunk. I was tired, cranky and finally totally pissed off. I grabbed the two K-bars out of my locker and threw one of them down the length of the hut, sticking it in the wall near one of the dopers heads. Then holding the other K-bar very offensively, I issued a challenge for (any) one of them to take the knife out of the wall and settle things then and there. I guess the shimmer of cold steel sobered them up because they all immediately apologized, scrounged up a dry mattress and covers and never played any more tricks. What they did not know was that I was actually scared to death that someone would take up the challenge! Actually one of the guys was a pretty good artist when he was high and was responsible for much of the "art work" that appeared on the outside of the building. The two K-bars? One is in my possession even now. The other one got swapped to a swabbie for a couple of bottles of scotch. Hard to believe this all happened over 35 years ago!
From May, 2010:
Ted,
Good to hear from you. While I was at DG, I enjoyed many hours of swimming and snorkeling in the lagoon. I even built a small catamaran boat out of scrap construction materials to further allow enjoyment of the water. I don't believe that I will ever forget the glorious sunrises and sunsets that began and ended almost every day. If you haven't done so, take a look at DG via Google Earth. Can't believe how much that place has changed since February of 1971 when the MCB40 landing party first set foot on the island. I wonder what ever happened to the old cannon barrel that we found buried on the beach? We built a Naval carriage for it and had it mounted at the base of the flag poles. I bet it wound up as a souvenir for one of the base commanders along the way.
Fred Cook
EA3
USNMCB40
Feb. 1971- Oct. 1971
1971 nmcb 133
NAME = ronald edwards
MY QUEST = i was on the Rock
E-MAIL = eragon27@bellsouth.net
NATIONALITY = USA
SERVICE = navy (Seabee)
UNIT = work in the entertainment center
RANK/RATE/JOB = i was a heavy equitment op. but i moved from port hueneme so they put me in the entertainment center
MY INTEREST IN DG IS = Stroll Down Memory Lane
SUBJECT OF MY STORY: = Other
MY WARSTORY = Hello Rock I throught in 1971 when I said good-bye it would be the last time we would see each other. I guess not cuz here I am again. I was looking at the Rock & it is lookin really good. i can't belive u got a swimming pool. I help build the put put in back of the radio station.I guess it would be the old radio station. I was at the Bob Hope & the Redd Foxx xmas show. Fuzzy was a good friend but i lost him between then and now so if he has wrote in and u don't mind givin me his email add it would be appercted.When the humame came thru I was wondering about the Rock. cuz when it was high tide half of the island was under water. well i guess I will go for now later instead of good-bye
1971
NAME = Keen Noble
MY QUEST = to set the story straight
VT of a SWALLOW = don't know don't care
E-MAIL = nip84061@yahoo.com
NATIONALITY = U.S.
SERVICE = Navy
UNIT = USS Vernon County LST 1161
RANK/RATE/JOB = SN later YN3
MY INTEREST IN DG IS = Stroll Down Memory Lane
SUBJECT OF MY STORY: = Actually, I Have a Real Story To Tell
MY WARSTORY = after reading many posts i can see some memories are a bit off. The Vernon County was the first ship to anchor at Diego garcia. We had about 300 CBS and a dozen or so UDT guys. So for the few of you out there that think the Graham County was first there, you are wrong.
1971-72
NAME = Joseph M.Tomko
MY QUEST = Live long enough to be a pain in the ass to my children.
VT of a SWALLOW = Depends if your in a hurry or not.
E-MAIL = not today folks
NATIONALITY = USA
SERVICE = Navy SeaBee's
UNIT = B CO then messcooking and then A co Night shift generator crew.
RANK/RATE/JOB = CECN_CE3
MY INTEREST IN DG IS = Stroll Down Memory Lane
SUBJECT OF MY STORY: = This is a No-Shit Snorkeling Story
MY WARSTORY = one day my buddy Bob and i was out snorkeling and we saw some others out snorkeling in the nude. About a hour later we saw the doc and a nurse he was showing around putting on their snorkeling gear. Bob and I kinda looked at each other at the same time and said, do you think we should say something to the doc. Na! they'll get the message sooner or later. Well the next day sure as hell the CO put out the word no more swimming in the nude or strolling to the showers free style. PS: Bob Clark and myself met after 34 years this last june at the MCB40 reunion in ST.Lewis , Missouri.
1971 USS GRAHAM COUNTY LST 1176
NAME = ROBERT WILLIAMS
E-MAIL = squiggy96@aol.com
NATIONALITY = italian
SERVICE = navy
UNIT = seaman 1st class
RANK/RATE/JOB =
MY INTEREST IN DG IS = Stroll Down Memory Lane
SUBJECT OF MY STORY: = This is a No-Shit Fishing Story
MY WARSTORY = just want to say hey to all my old buddys in the deck dept. you guys may remember me as PRESCOTT the name you gave me the 1st. day i came aboard was from new york with TED FROST anyone out there give me a email. was in lower berthing left right before the cuba shakedown cruise..BE GOOD ALL squiggy96@aol.com... JUST TO ADD TO YESTERDAYS 1ST POSTING THIS WAS THE FIRST SHIP TO LAND ON THE ISLAND AND OFFLOAD SEABEES. SAW A FEW OTHER POSTS THAT SAID THE VERNON COUNTY WRONG!!! WE STAYED AND RAN BACK N FORTH BETWEEN DIEGO GARCIA AND MAURITIUS (ISLAND OFF MADAGASCAR)TO GET MAIL AND SUPPLYS. OFF COURSE WE BROUGHT A "FEW" CASES OF BEER AND THE PAY $$$ SO YOU HAD SOMETHING TO LOSE WHILE PLAYING POKER "NO HOLD EM THEN" THE TRIPS BETWEEN THE ISLANDS WAS ABOUT 3 DAYS THEN STAY 2 THEN DO IT AGAIN THIS WENT ON FOR ABOUT 3 MONTHS WE WERE ABLE TO LEAVE AS SUPPORT WHEN WE SAW THE FIRST PLANE COMING IN THEN WE HOISTED ANCHOR AND CONTINUED ON OUR "WORLD CRUISE" PEACE TO ALL!!!
71-72
I was there from November, 1971 to July, 1972. A Seabee with NMCB ONE. I was an E-4 Engineering Aid working with the soils and concrete lab. We did all of the testing for the roads, runways and every concrete pour.
I was wondering of the tree house was still there? Down the beach towards the gun emplacement. I'm thinking you probably need a Commissioner of Streets and Highways. It was not a whole lot of fun when I was there, extreme temperatures and millions of flies, not enough fresh water to shower and rinse both. We did watch "A Man Called Horse" for 14 nights in a row at our breezy outdoor theater, and drank all of the free formaldehyde beer we could load up. We also had the original "Electric Hot Dog" you could get one 24 hours a day courtesy of the Electricians. (two nails hooked up to 110 and throw the switch)(it did not take long)
Still, I do have a lot of fond memories of the people I served with.
Jack W. Alexander
jackandkristine@cox.net
Oct '71 - Jan '72
NAME = Craig Tassone
VT of a SWALLOW = African or European?
E-MAIL = crtasson@vbcps.com
NATIONALITY = American
SERVICE = Navy
UNIT = MCB 1
RANK/RATE/JOB = EO3 back then, World History/Geography teacher now for the city of Virginia Beach,Va.
MY INTEREST IN DG IS = Stroll Down Memory Lane
SUBJECT OF MY STORY: = Actually, I Have a Real Story To Tell
MY WARSTORY = As a Geography teacher I always have my High School students try and locate Diego Garcia on a world map. When they give up I end up showing them. Until I show them most don't believe its a real place.
I left Davisville,RI with MCB 1 and eventually landed on Deigo. My first job was as a fuel truck driver refilling all the generators but I managed to piss off A company's CPO and ended up on the blasting team. We loaded holes drilled in the coral with dynamite,tied holes together with det cord, put blasting cap on the det cord, connected the blasting cap to telephone wire, ran the wire up under the huge P&H drag line, connected the wire to a hand detenator then set the whole thing off with a twist of the detenator.
We did this twice a day (each time the tide went out so we could drill and load).
I went on R&R to Bangkok with Tim Campbell and two other guys whose names have been long forgotten.
I left Deigo in January because I started having seizures. I was sent to a hospital in Thailand and was kept there until a doctor witnessed me having a seizure (I guess to be sure I wasn't faking them) from Thailand I eventually made back to the states. The Navy discharged me in October of '72.
My memories of Diego are of good friends, hard work, and big rats!
April or May of 1971
NAME = Ron Wright
MY QUEST = saying hi to anyone who remembers me
E-MAIL = wrighronw@aol.com
NATIONALITY = cau
SERVICE = USN
UNIT = MCB 40 Bravo co
RANK/RATE/JOB = ut3 when discharged 1972 retired - 2000 millwright/supervisor fluor daniels construction
MY INTEREST IN DG IS = Stroll Down Memory Lane
SUBJECT OF MY STORY: = Actually, I Have a Real Story To Tell
MY WARSTORY = i was in the last wave of MCB 40 to leave davisville 300 -350 of us as i reacall trip was long and boring on a maps dc8, davisville -seattle -acnchorage- yakota - clark afb PI to cocos island AUS ..boarded the LST 1176 Grham county there, steamed what i remember for 7 days to DG ..I was the one that played music at the em club and for church on sundays ..only 2 gitaurs on the island . At first everything was in circus tents - em club , galley ..beer yard was a guarded fenced in area not far from my hooch (hooches were built just before i arrived there so no tent sleeping for me)someone mentioned doc felter ..remember him well .i had a 2nd/ 3rd degree burn ..(from mess cooking ) that he attended to.I'm pretty sure he developed a burn procedure using my burn that's still in use today ..he was great.. the commander's name was CMDR Urish as i remember.at this time we were not allowed past point maryann , most of us only saw the area around the camp ..which was beautiful , if we would of been there on vacation..i remember the CPO's pascal building being demolished by an angry mob,kissing scenes cut out of elvis movies and the donkey ..someone said her name was francine but i think it was pauline not sure..great to remember those days ..we found out why we were there didn't we 20 years later camp song supplied by the plantation manager WE like it here WE like it here you F$%#n A we like it here.... i never recieved a plank altough i think i'm a plank holder ..any ideas on how to get one ......... feel free to contact me ......... RON Wright
1971
NAME = Clifford Davis
MY QUEST = Find other Storekeepers with MCB ONE
VT of a SWALLOW = Don't give a damn!!
E-MAIL = ouwayne@msn.com
NATIONALITY = AMERICAN (OKIE)
SERVICE = NAVY
UNIT = SUPPLY OFFICE
RANK/RATE/JOB = WAS SK3 WITH MCB ONE WORKED IN THE SUPPLY OFFICE.
MY INTEREST IN DG IS = Want a Job as Far Away from My Wife as Possible
SUBJECT OF MY STORY: = Other
MY WARSTORY = I WAS WITH THE ADVANCE PARTY OF MCB ONE TO RELIEVE MCB 40. STAYED TILL MAY 0F 1972. EVERYONE KNEW ME AS AARDVARK. AT XMAS TIME I WAS THE ONE WHO WROTE TO SANTA TO GET CAPT. OLIVER SOME ELAVATOR SHOES. I AM WONDERING WANT EVER HAPPENED TO SEABEE MAN. HE WAS GREAT!!
Plankowner "71"?
NAME = "T. J." Martin CS2
MY QUEST = SHipmates remembered
VT of a SWALLOW = Long time gone
E-MAIL = mule_sknr@netscape.com
NATIONALITY = American
SERVICE = USN
UNIT = Supply
RANK/RATE/JOB = CS2 then bakeshop. Retired MSC 1986.
MY INTEREST IN DG IS = My Time There is Lost in an Alcoholic Haze, Help Me Remember!
SUBJECT OF MY STORY: = Actually, I Have a Real Story To Tell
MY WARSTORY = Browsing through this website, I was reminede that I have a photo album of my DG memories. I even have pics of Doger. CSSN Victor B Toffel (Taco Bell) and I, along with several other "supply types" , Fed the hard working Seabees. When we started on the "rock" my bakeshop was a tent and I made biscuits in a dishpan the first 60 plus days and baked them in field ovens. I remember Em1 "ski"? that hooked up the generator and I "borrowed" Cmdr. Steadleys pettibone forklift to get the mixer off the beach staging area and to the tent city so I could make bread. I have pics of the bread cooling outside the bakeshop tent. I haven't thought of DG in 20 plus years. I did talk to Cmdr. White at a fleemarket in Myrtle Beach, SC a few years ago. He haden't changed a bit in looks in all these years. If anyone remembers me I'd love to hear from you. I live in Sumter, SC now. I'll be more than happy to share pictures of the "seahuts" and a few men of MCB40 pics i have. Bless you for this website.
1971
NAME = John Nalley
MY QUEST = To hear from some of my mates
E-MAIL = john_n866@yahoo.com
SERVICE = mcb 40
UNIT = blasting crew
RANK/RATE/JOB = EO3
April 1971-July 1971
NAME = Larry S. Martin
MY QUEST = Old Time Tales
VT of a SWALLOW = Going down or comming back up??
E-MAIL = lsm55@pioneer-net.com
NATIONALITY = American
SERVICE = U. S. Navy Seabees
UNIT = MCB 40-Bravo Company-lineman
RANK/RATE/JOB = CE3 on Diego Garcia, discharged Nov. 1973 as CE2, Been a journeyman lineman for 33 years working for power companies in Oregon and California.
MY INTEREST IN DG IS = Stroll Down Memory Lane SUBJECT OF MY STORY: = Actually, I Have a Real Story To Tell MY WARSTORY = We left Quonset Pt. R.I. on April 10, 1971-flew to the Cocos Islands off the coast of Perth, where we boarded an LST for a 7 day trip along the equator to Diego Garcia, arriving on the 18th of April. We had some pretty lousy accomodations until we got seahuts built, but most nights we were tired/drunk enough not to notice. We ate C-rations for the first month, then went to B-rations...even the flies started looking good, and believe me , they covered your mess kit in swarms. Water was at a premium, so beer was the drink of choice. We worked 12-14 hour days 6 and 1/2 days a week, and still found time to have fun. We built powerline in coconut palms (ever seen it rain scorpions?) just try lagging a crossarm on a palm tree! We set up a big generating station and strung miles of com-wire through the jungle. I broke my arm in June, and as such, I flew out on the first C130 ever to fly off our little 4500' runway in July 1971. I never made it back to MCB 40 or Diego Garcia. After getting out of the hospital in Subic Bay, I was rotated to shore duty where I spent the last 2 years of a 5 and 1/2 year enlistment with public works at NavFac Pt. Sur, California.
1971 - 72
NAME = Craig Tassone
E-MAIL = crtasson@vbcps.com
MY INTEREST IN DG IS = Stroll Down Memory Lane
SUBJECT OF MY STORY: = Other
MY WARSTORY = In that eariler life I was EO-3 Craig Tassone of USNMCB 1. While there I got to blow up a lot of coral. I don't remember having alot of
time for doing anything but blowing up coral!! I got to spend Christmas and New Year (1972) on Diego. Lt. Crow was "A" company commander.
From: "Jerry Montecupo" <Jmontecupo@adelphia.net>
To: <easy501@zianet.com>
Cc: <danphurl@gbronline.com>
Subject: NCMB 71 on DG
Date: Sun, 13 Nov 2005 09:48:01 -0500
Hi Ted....yes NMCB 71 was on DG...here is one of the posts on the DG website from the OIC of the detachment. Here is his newest email address...I'm sure he'd love to hear from you. danphurl@gbronline.com I'm going to forward this to him also.
I'm the Co Chair of our reunions....our next reunion will be
Lodge of the Ozarks
Branson MO
Aug. 9-13, 2006
Contact me;
Jerry Montecupo
412-373-3096
Jmontecupo@adelphia.net
Thanks for your website work..it's great.
Jerry Montecupo
Oct '71 to June '72
March, 71 to August or September 71
NAME = Ronald Whaley
MY QUEST = At this point? I don't have one
VT of a SWALLOW = Uh not sure LOL
E-MAIL = julock@charter.net
NATIONALITY = American by birth Southerner by the Grace of God
SERVICE = USN
UNIT = ACB-2
RANK/RATE/JOB = Was an FA back then NOW? PFC (proud F***ing Civilian)Actually disabled Veteran.
MY INTEREST IN DG IS = My Time There is Lost in an Alcoholic Haze, Help Me Remember!
SUBJECT OF MY STORY: = Other
MY WARSTORY = I had a posting earlier using an old e-mail address. Just wanted to update that with the NOW one. Ok you have it and I must say I loved reading some of these war stories. Brings back some memories I tell ya. Ok ok I do have a few good stories LOL. Like the boat that came into the harbor
with WOMEN on it. WOW! LOL and the egg fights while unloading ships in the harbor and the been that we BORROWED at the same time. Oh the truck we took for a joy ride around the island while being chased by ? have no idea LOL. So many stories and so little time.
Riding an ole WWII LST through a typhoon was intresting too. Being on the coast of Viet Nam on a ship that glowed in the dark was fun.........NOT........ but
NOT seeing any other ACB-2 folks here is not good. Dang where are you guys? COME ON NOW.......thats all from North Georgia.
From: peter roberts <toom01@btinternet.com>
To: easy501@zianet.com
Date: 29 Nov 2005, 04:24:07 PM
Subject: DIEGO-wot else!
Dear Sir, I flew over Diego Garcia (San Juan) in 1971 - you guys were just building it then. Some of you were swimming - there were Sharks between you and the beach - we waggled our wings and gesticulated in all kinds of fashions but you just waved and carried on. I never heard a word about a Shark Attack, guess even Sharks are piccy about who they eat! When we returned to Base we checked! We flew over Regularly. In those far-flung days of yesteryear we used an Aircraft that, even today with all the Hi-Tech equipment on board, can not compare. Our mission was Medium Range Bombing from a Missile launching Platform, Search and Rescue, Strategic Reconaissance, Long range Interdiction, where necessary, Photo Recce - there are no Greater Enemies than Friends -, Very Long range Maritime Patrol and at the end of the day Nuclear Attack. We had the capability to perform all these tasks. Wot a Bird! I claim LEADERSHIP of DIEGO and in a Totally Democratic way-if I Do Not Get It-I will give in,as long as you Promise to look after it! Kind regards,
A Prospective Politician.
1971
NAME = Stephen Hurst
MY QUEST = Hear from old friends
VT of a SWALLOW =
E-MAIL = shurst@metrocast.net
NATIONALITY = American
SERVICE = Navy
UNIT = MCB40
RANK/RATE/JOB = EO
MY INTEREST IN DG IS = Professional Adventurer Looking For The Ultimate Get Away
SUBJECT OF MY STORY: = There I Was, Passed Out on The Beach
MY WARSTORY = I arrived at Diago in one of the first groups, we lived in tents. After settling in for a couple of weeks its seems our tent had a thief ! Most
of the guys myself included would take our watch's and rings off along with money and other personnal items and throw them under our cotts. Well guys
started missing things. You would wake up the next morning and some of your stuff would be missing. After having a long conversation about all this (over a few beers of course) we decided to take turns standing guard. It didn't take long to find our thief ! The coconut crabs would come into our tent at night and they were attracted to anything shiny and would haul it off. A couple of guys followed the crabs when they left back to their nest and we did recover some of the stuff but never found all of it.
OCT. "71" JUNE "72"
NAME = DAVE CARON
MY QUEST = MAYBE HOOK-UP WITH SOME OF THE GUYS FROM THE TRANSMITTER SITE
VT of a SWALLOW = I DON'T KNOW
E-MAIL = HVACMAN49@SBCGLOBAL.NET
NATIONALITY = AMERICAN
SERVICE = US NAVY SEABEES
UNIT = SW3 TRANSMITTER SITE
RANK/RATE/JOB = STILL WORKING NOT OLD ENOUGH YET TO RETIRE. STAYED IN THE CONSTRUTION INDUSTRY I DO HVAC.
MY INTEREST IN DG IS = Want a Job as Far Away from My Wife as Possible
SUBJECT OF MY STORY: = Actually, I Have a Real Story To Tell
MY WARSTORY = IT WAS A SATURDAY NITE AND WE WERE ALL DOING WHAT EVERY OTHER GUY WAS DOING ON DG ON A SAT. NT.(GETTING DRUNK) WE HAD A DETAIL OF EO's FROM MCB-10 THAT WERE LIVING WITH US WORKING ON THE ROADS. THEY JOINED OUR PARTY THIS NIGHT. WE HAD ONE OF OUR BUCM THAT THE CHIEF WASN'T TO FOND OF THAT GAVE HIM THE SHIT BURNING DETAIL ALL OF THE TIME. WELL THE ONE AT THE JOB SITE WAS REALLY BAD. WELL HE DECIDED HE WAS GOING TO BURN IT DOWN SO HE DRENCH IT IN DIESEL FUEL AND SET IT ON FIRE WELL THE FIRE GOT A LITTLE OUT OF CONTROL SO WE GOT ONE OF THE EO'S TO GET A SCRAPPER PUT THE FIRE OUT. NEEDLESS TO SAY HE WAS SHIPPED BACK TO THE MAIN BATTLION FOR DICEPLINE AND NEVER SAW HIM AGAIN WE HAD TO BUILD A NEW SHIT HOUSE. THATS MY STORY AND I'M STICKIN TO IT
I was at Navcommsta Harold E. Holt in 1971
NAME = Hugh Potts
MY QUEST = First Communications Circuit with DG.
VT of a SWALLOW = Somewhere between flying and falling
E-MAIL = hcp551@yahoo.com
NATIONALITY = U.S.
SERVICE = US NAVY
UNIT = None
RANK/RATE/JOB = Then RMSN now Retired RMCS
MY INTEREST IN DG IS = Interested World Citizen
SUBJECT OF MY STORY: = Other
MY WARSTORY = I Was stationed at Navcommsta Harold E. Holt (fleet center) in 1970-71 and was also present when the first msg came over from DG. I helped establish the first orderwire circuit as soon as the comm vans were set up. We had been in communication with the USS Vernon County as she was sailing to DG. I had an interest in this as my sisters fiancee was an ET2 (Dave Field) on board the ship. It seems that all the guys on the island could talk about on the island was the coconut crabs.....and that they were living in tents. Thanks for the war stories. Hugh
Subject: NMCB!
Date: Sun, 23 Oct 2005 23:26:52 EDT
From: Mightyfrank270@cs.com
My Name is Frank Mcmullen. I served with nmcb-1 in the early 70s. I have plenty of pictures and a good menory of that place. I worked in the ham station both in Davisville and in DG. I still have a old deplorement book from one of our tours....The Mightyfrank
1971-1972 MCB 71
NAME = ALBERT STASKO
MY QUEST = to rember the rock and the great guys there
VT of a SWALLOW = fast
E-MAIL = stasko7@aol.com
NATIONALITY = amercian
SERVICE = navy
UNIT = bu concreat concreat and more f,... concreat
RANK/RATE/JOB = bu3 then
retaried electrican
MY INTEREST IN DG IS = Stroll Down Memory Lane
SUBJECT OF MY STORY: = This is a No-Shit 'How I Put One Over On My Senior Chief' Story
MY WARSTORY = hello
just want to talk to any one who was on the rock the time we were in the hut smoking a dubbie and the commander of the detachment walked in on us and ...... well if you were there you will rember and lets chat about it.
October 1971 to May 1972
NAME = P.R. Saunders
MY QUEST =
VT of a SWALLOW =
E-MAIL = saunders48@accnorwalk.com
NATIONALITY = Earthling
SERVICE = Navy Seabees
UNIT = Bravo Company, MCB-1
RANK/RATE/JOB = CE/PO-3 then, College instructor now in charge of corrupting minds
MY INTEREST IN DG IS = Interested World Citizen
SUBJECT OF MY STORY: = Actually, I Have a Real Story To Tell
MY WARSTORY = In the spring of 1972, with the war winding down, the navy was anxious to get rid of those of us who had signed up in the late 60's for the Market Time follies. So they announced a three month early out, the only catch was that since we were on the Rock doing important work, those who qualified had a "hold" put on them. Although we were having a great time in the middle of Indian Ocean, working 13 hours a day m-s, and time to get drunk on Sunday, there were those of us, who wanted to go home.
The company chief of Bravo company approached myself and another CE3 (who was from Dayton, OH) and asked if we were interested in getting out early? We said, hell, yeah! At that time, the Seabees across the world were raising money for the memorial that now stands in Arlington, and every payday, a Chief would standing at the line, with some raffle tickets for us to buy, which we did. Our Company Chief, asked if we would buy $50 of those tickets for a early trip home, we told him that we would buy a $100 worth to get off of the Rock and home. He said $50 was enough. We bought the tickets and true to his word, he made out the special request chit for each of us, and started to walk it through the maze.
He had success at every level, until he reached the X-O's office. Our X-O was a new guy, who came to the Rock and took Cdr. Johnny Perez's place as the X-O. Prior to his blessing us on the Rock, he had been warming a desk in the Pentagon, and had the pale complexion to match, while everyone else on the Rock had a tan, including the Brothers. Any way when the Chief made it to his desk, "the chit hit the fan," and the brakes were slapped on. The X-O disapproved them, saying in remarks: "these men have no real worthwhile purpose back home, and serve a better role here on the island."
I kept that chit for years afterward, and looked at it everytime I felt sentimental about the Navy.
The Chief apologized for what had happened, we told him that it was not his fault, it was the system tha allowed people like the X-O to have positions of leadership.
Shortly after this, one morning, when we had finished breakfast and were walking over to Bravo Company's shop for work. I stopped the other CE3 who had gotten shafted with me, and asked him, "why are we doing this shit?" He said what shit? I said going to work? What else are we going to do? I said, lets quit! He said how do we do that? I said, we get up every morning, get dressed, eat breakfast like always, and then instead of going to work, we go out in the bush, smoke cigarettes and wait for the company area to be checked, and then go back, take a nap, go swimming, drink beer, or anything else we want to do.
So for the last three weeks, we were on the Rock, we quit our jobs and screwed off. One day, when I was stretched out on my rack, taking a snooze, the Company Chief and the Leading PO came through, they did not bat an eye, the Chief asked how I was doing, I said OK, and he said, good, and kept on walking.
Just before I left, the leading PO of our company tried to talk me into coming to Saturday formation, to receive a 'certificate' from Captain Oliver. I told him, no offense, but I don't want anything from this oufit, but a plane ride out of here.
When it came time for me to check out so that I could get the hell off of the Island, I ran into my platoon chief to get him to sign off on my punch list. He was a great guy and just said, hell, I thought you left weeks ago. I told him, that I had taken some vacation, he laughed and signed the sheet.
The night before I left, we got wasted and the next morning, one of my hooch mates was shaking me and yelling, you going to miss the plane! I put on my trop whites and grabbed my bag, ran to the MAA office and jumped on the truck. when we were in the air, I crawled on top of the pallet in the back of the 130 and slept til we got to Utapao.
October 1971 to May 1972
NAME = P.R. Saunders
MY QUEST = to seek light
VT of a SWALLOW = As fast as it takes the shot glass to hit you in the teeth
E-MAIL = saunders48@accnorwalk.com
NATIONALITY = USA
SERVICE = Navy Seabees
UNIT = Bravo Company, MCB-1
RANK/RATE/JOB = CE-3, now college instructor
MY INTEREST IN DG IS = Stroll Down Memory Lane
SUBJECT OF MY STORY: = Actually, I Have a Real Story To Tell
MY WARSTORY = I notice that from the warstories, that if everyone who says that they were there, the morning that the boiler blew in the Desalination barge, and killed Chip Cummings, that it must of been a mass convention.
Unfortunately, that is not the truth for there were only those who were going on shift, as Chip was coming off shift, when the disaster happened. I was working in the camp power station that morning, we worked 8 on and 16 off, and it was a common occurrence to feel the explosions shaking the building, from blowing up the reef for aggregate. That morning, when the boiler blew, it was louder and closer and the building did not shake. I can remember running towards the direction of the explosion and coming to the barge. The DeSal crew, who slept in the same hut as me, were there, and I walked over to see what had happened. Chip was in the shower area, and he was alive, barely. The long and short of it, was that he had been boiled alive from the super-heated steam that tore through the bulkhead that separated the shower area and the boiler. Chip's skin was hanging loose on him and it came off in your hand if you tried to move him.
The medics came and took him to the hospital, and after waiting hours and hours for a 130 to fly to the Rock, and flying him to Thailand, more hours, where he was put on a 141 for Japan. They told us that he died in Japan, but all of us, hoped that he had died long before that.
Chip, a kid who who had done his tour in the Nam, before coming to the Rock, died as the result of the awarding of a contract to the lowest bidder. No purple hearts, no parades, may he rest in peace.
1971
Subject: Peoples Republic of the shit hole of the world.
Date: Wed, 14 Sep 2005 15:59:35 -0400
From: "Patrick Saunders" <p.saunders@ambt.net>
I was on diego from October 1971 to May of 1972, while with Bravo Co., MCB 1. We relieved MCB 40 who promptly got the hell of there. My memories and there are many, are a mixture of good, bad and absolutely terrible. We lost a member of our company there in October of 1971, Charles "Chip" Cummings, who was a victim of the 'lowest bidding contractor ' who built the boiler on the De-Sal barge, which exploded behind the bulkhead, where Chip was taking a shower after getting off the night shift. Needless to say, we hoped, no prayed that he was dead, for while waiting for a C-130 12 hours (we had dirt runway then) from Thailand to come, and return 8 more hours, C-141 from T-Land to Japan 6-7 hours, it was too long. And that it reminded us that anyone of us who got seriously hurt was a dead man.
Patrick R. Saunders
1971
From: "66cuda" <66cuda@comcast.net>
Date: 13 Aug 2005, 08:55:53 PM
Subject: Lt JG D Hurley
To whom it may concern
My name is Dave Snyder. I was in NMCB 71 attached to NMCB 1 from Oct 71 to June 72 on Diego Garcia (Project Reindeer Station). I have pictures from that time on the island, if you would be interested in them I would gladly e-mail them to you, let me know.
I'm also trying to contact Dan Hurley who was Company Commander of A Co NMCB 71 on Diego Garcia form Oct 72 to June 71. I found his email address on your web site but it's no longer current. Do you know it and if you do, could you send it to me? He had a profound positive influence on my life and after 33 years I would finally like to thank him.
Thanks for any help in this matter.
Regards
Dave Snyder 66cuda@comcast.net
1971
NAME = Gary J. Wahoff
MY QUEST =
VT of a SWALLOW = It is when the beer gets drunk and going too fast & blows.....
E-MAIL = Mary5w@aol.com
NATIONALITY = US
SERVICE = USNSeabees
UNIT = MCB40 / Built Seahuts and sewerline lift stations and manholes
RANK/RATE/JOB = BU-2
MY INTEREST IN DG IS = Interested World Citizen
SUBJECT OF MY STORY: = This is a No-Shit Fishing Story
MY WARSTORY = Hot! Friggin Hot!
Only females on the island were donkeys and natives, on the offlimits side of island.
We had the best hut location... 50 feet from the waters edge.
We built a patio from shipping crates and had some great barbeques and drinking out back. SW(Steel worker) Brown from Texas made great beans with beer. Great steaks with beer. etc.
We had a walk in outside movie theatre, with benches. It worked ok even in rain with ponchos.
Once for pre movie entertainment, a pu truck pulled up and a passenger hopped out and went right into a pisser(55 gal drum sunk into sand with screen and oil floating on top of water) next to the truck.
Then there was the captains jeep driven onto the reef at low tide, only to become submersed later.
The Flag guard.
The missing steps at the COs Hut.
(This would not have happened to Cmdr White, only his replacement!)
All in all a great time in paradise!!!
Regards to all!
March 1971
NAME = Rich Summerfelt aka Hawkeye
MY QUEST = Hash over old times.
VT of a SWALLOW = I haven't a clue.
E-MAIL = RICH0789@msn.com
NATIONALITY =
SERVICE =
UNIT = MCB40 - Blasting crew.
RANK/RATE/JOB = EOCN then, Older and no wiser now.
MY INTEREST IN DG IS = Want to Return When the First REAL Club Med Opens
SUBJECT OF MY STORY: = Other
MY WARSTORY = I just wanted to update my e-mail address and would like to hear from anyone who was on the blasting crew when I was there. Hey Boomer!, if you read this, drop me a line, haven't heard from you in years! Hawkeye.
Subject: Been there done thatNMCB 1 1971 Diego Garcia
Date: Wed, 23 Mar 2005 19:56:05 -0700
From: "bill heitzelman" <CARBUC@peoplepc.com>
Just wondering if anyone remembered Camp Cummings. I was standing outside the barge waiting for Chas. when the boiler blew up. The island never left my mind. Got to see real beauty.
Bill H
1971
NAME = Richard Scott (Scotty)
MY QUEST = To get Laid!
VT of a SWALLOW = Zero when it hits the ground.
E-MAIL = retencm@yahoo.com
NATIONALITY = Canadian then US now.
SERVICE = USN
UNIT = Snipe on Vernon County
RANK/RATE/JOB = EN2 then Ret ENCM now.
MY INTEREST IN DG IS = Other
SUBJECT OF MY STORY: = Actually, I Have a Real Story To Tell
MY WARSTORY = Hello to all who were there, operation Reindeer was an adventure that I remember like it was Yesterday.
It all began in Yoko when we were taken into drydock and painted white, all hush hush no one would tell us what the F*&k was going on. The Chief called me to the shop (A Gang) and said Scotty I need a list of spare parts for all the A/C equip and boats for the next 9 months, now I knew we wern't going to Antarctic as previously thought, little did I know how much work there was in store for us.
Loading all the equip and causways was a trip, the old Vernon was sitting loaded with the waterline 1 foot beneath the surface, fully loaded now we set sail for Okinawa to load some Buldozers.
We then steamed to Singapore to pick up the Harbor Pilot and other personel. We still did not know where we were off to but through the Straigts into the Indian ocean we went was real nice plowing alon at our top speed of 12 knots.
A Russian ship was seen and continued to shadow us the Old Man had told us now we were of to an Island in the Chlegos Achipelligo called Diego Garcia. We searched the hoizon for any sighn of land non to be seen and then all of a sudden we saw something very low on the horizon everyone was topside trying to make out what it was and low and behold there were trees, Palm trees, we steamed around and around the island for the rest of the day, as it became dusk we anchored in the mouth of the lagoon. Outside ofcoarse!
The next day was the big event launch a boat and head in, with ship following, till we could anchor again so we could splash causways the next day. We all were chomping at the bit to get to the Island but no luck off limits.
Next day we awoke to see planted on the beach a sighn that said welcome to Diego Garcia, It seems the UDT guys snuck over to the beach during the night and planted the sighn, splashed the causways and the SeaBees took them from there.
For the next few days I spent running around the Lagoon with the UDT guys blowing up the coral heads, was dam hot in that LCVP but was fun as we got lots of fish when they blew up the coral heads with this M8 hose, the VP was full of it and det cord.
After the ship beached the equip rolled off and the task began, the SeaBees worked there asses off and in know time had a road and area cleared and tents set up. They had generators running with cables snaking all over the ground. We had to pump Diesel fuel to them via a very long hose to fuel globs set up on the beach seems simple enough, NOT, the hose we had I think was left over from WWII as as soon as we started transfering it blew and what a mess nice big oil slick!
We finnaly got it pumped offand the SeaBees were happy.
Thw first night the Captain decided to take the Gig to the Plantation to meet with the Brit-Rep so as usual I was in the crew and we went to the plantation, I rember in the twilight walking towards the place it was like in a strybook all the Coconut trees moon etc. We then went with the brit rep and some of the natives to get some lobster got 95 of them in about and hour, we brought them back to the ship and the cooks cooked them and I ate Lobster till I puked! To this day I don't really care for Lobster any more.
We had to get underway to another island to pick up a bunch of SeaBees who were flying in to go to Dagar, that Island was Cokoos,(spelled wrong) they landed and we had to ferry them to the ship in the LCVP's they wern't to happy about that but we didn't loose any! Back to Degar off load the SeaBees.
Then we were off to the Maritus to pic up mor Diesel fuel for the SeaBees, we burned JP5 in our diesels, but the SeaBees needed Diesel as there equip didn't like JP5. Had a little R&R there got drunk got layed caught the clap, as everone else did that went ashore and got layed.
Back to Degar off loaded the fuel to the SeaBees.
The relief ships with the heavy stuff arrived off loaded equip and pers. We had to repaint the ship Grey as we were off to Australia for some much needed rest.
I rember seeing Degar dissapearing over the horizon and that is all she wrote for operation Reindeer for us.
Forward to 1995 I was a Retired Master Chief Engineman living in the PI and heard about a job at Degar running the power plants, applied and got the job. Flew out of Singapore bound for Degar landed and did not even recognise the place, went searching around for anthing I could remember, alass all changed went to the plantation wasn't the same, stayed there for a 1 year contract working for a civilian contractor made more money in that one year than I did in all of 1971 when I was last there. Went back to the PI and built a new house!
Moved to Washington State in 1998 and live here today.
Well enough of my ramblings any one who remembers me and wants to drop me a line feel free to do so.
Scotty
February 1971
NAME = Fred Cook
MY QUEST = Live Long and Prosper
VT of a SWALLOW = Faster than a speeding bullet!
E-MAIL = gacook@alltel.net
NATIONALITY = 'murican
SERVICE = USN
UNIT = MCB40 Headquaters company
RANK/RATE/JOB = see previous submissions
MY INTEREST IN DG IS = Other
SUBJECT OF MY STORY: = Other
MY WARSTORY = Ok folks, this submission is to update my email address so the other MCB40'ers can contact me. Yo Norm, Chris, Ron Swiatek, Chip Hearn, Bill Diamond, etc...... love to hear from y'all.
1971-72
NAME = Don Parker (DR Parker they called me DOC)
MY QUEST = To share some of the many pic's, videos and stuff from the island
E-MAIL = Dqmanqman@aol.com
UNIT = MCB-1
RANK/RATE/JOB = EQ opp. / Mech.
MY INTEREST IN DG IS = Stroll Down Memory Lane
SUBJECT OF MY STORY: = I'd Like to Share Precious Memories of Drinking/Fishing/Snorkeling/Sailing on Diego Garcia
MY WARSTORY = I just found this site today. 1-8-05 while checking to see if the island made it ok. I am sooo happy to see this site here. I have so much to say but I'm not prepared today. I will be back with pictures and stories that anyone that was there will remember, although I have forgoted most of the names.(part of getting old)
1971
NAME = Don Parker
MY QUEST = Share stories
VT of a SWALLOW =
E-MAIL = dqmanqman@aol.com
NATIONALITY =
SERVICE = Seabees
UNIT = worked at the repair shop for all the equipment (gas) and inside working on the beep
RANK/RATE/JOB = I was an equipment operator who worked in the garage.
MY INTEREST IN DG IS = Want to Drink A Lot, Cheap
SUBJECT OF MY STORY: = Actually, I Have a Real Story To Tell
MY WARSTORY = As I read some of the stories more memories return to my mind that I had forgot. There is too much to tell. Don't know where to start. I have pictures, super 8mm movies and many stories from the island and the r&r in Bangcock. I will be digging them.
October-1971-May-1972
NAME = Clifford Davis
MY QUEST = Contact any Storekeepers from MCB 0ne ON D.G.
E-MAIL = ouwayne@MSN.COM
NATIONALITY = AMERICAN
SERVICE = U.S.NAVY
UNIT = STOREKEEPER IN SUPPLY OFFICE
MY INTEREST IN DG IS = Want to Drink A Lot, Cheap
SUBJECT OF MY STORY: = Please Select a Title For Your Story, or Select 'Other'
Oct.1971-June 1972
NAME = Jon Rutka, CM3 advance party MCB1
MY QUEST = locate CM1 RON JERGINS,CMC LAMBERT
VT of a SWALLOW = 1/2 THE velocity of the coconut squirts
E-MAIL = Win44mag@hotmail.com
NATIONALITY = usa
SERVICE = USNMCB-1
UNIT = Aco, did most of the repairs on the Euclid pans and then parts room, then 2nd shift in the lite equip. shop
RANK/RATE/JOB = Then, just another lost kid,now 55 ,father of 3 and grandfather of 1, got out in 73,did reserve in Springfield Mas and NAS Brunswick ME.mcb27 reserve
MY INTEREST IN DG IS = My Time There is Lost in an Alcoholic Haze, Help Me Remember!
SUBJECT OF MY STORY: = Actually, I Have a Real Story To Tell
MY WARSTORY = I was transferred from MCB-10 in Port Humene.Cal to MCB-1 and then sent on the advance party,the DG to releave MCB 40 IN OCT 71.Flew out of Qounset Pt RI,Iremember it was a warm sunny day, thru Elmendorf AK, arrived in a snow storm and had a snowball fight with some of the guys, to japan at nite in the rain, to THAILAND sort of a warm day,not tomany memories at that point, and getting on a c-130 for the trip to DG. Unfortunitely the poilet forgot to turn the heaters before he went thru 25k feet and the flight for the next 8 hours was spent in the freezing cold. We ripped thru the gear and got dressed in as many clothes as we could fit on. Using the facilities on that plane was interesting under those conditions. The first sight of the Island was really breath taking ,a short runway and alot of water, it seemed.I remember a bouncing landing and then the rear gate went down ,opening us to 130 degree heat and humidity. Talk about a 100 guys doing a striptease in a hurry.
The A co sea huts were the next stop...close to the beach I seem to recall. The order of the day was to find fans ,
from the guys leaving and set up home for the next 9 months, 21days,7 hours amd14 minutes!
I don,t remember much of the next couple of weeks , Except for the day the sirens went off, Being one of the new guys ,noone told us what they ment,then 3 minutes later the charges went off and the coral rain began hittting the shop and surrounding area. I spent the next couple of minutes under a euc pan. and getting laughed at by the old guys!of mcb40.
On the day shift in the heavy equipment shop, it seemed that there were more chiefs than indians, and the adgenda for work seemed very confused. I worked on the Euclid pans for an undetermined amount of time, I do remember the day the pan went into the pit as the tide came in and that 12-71 deisel swallowed salt water and lunched itself..the eo backed it out of the pond with the rear engine.
i was told to rebuild the engine by the cmc and had to find the parts.in the inventory without ordering any thing off island. I remember a heated dispute with the chief and almost coming to blows with a 20 inch cresent wrench..the next day I was in the parts room and out of his jurisdiction....
Does anyone remember the day that a new window was put in the back of the warehouse??? Moving around the back yard with a crane ,boom extended ..Crash new window!!! That was me driving!! I don't recall much joy that day, but at least we got a little more breeze in the back afterward.
After that , I went onto the nite detail 6PM to 4 AM, CM1 Ron jergens was in the office and CMC Lambert was in charge,I remember nites when we got done early the chief would show up with cases of beer ...I remember one incident where the beer drinking didn't stop until 1 hour before we had to go back to work...I seem to recall CM1 jurgens sleeping under a weps and when I was conscious, hearing alot of snoreing and the occassional noise of someone hitting a wrench on the bottom of a jeep.
Seems like another book...I sure would like to hear from anyone who has similar experiences, I lost most of the pictures along time ago. Well more at another time..... Jon Rutka
1971-1972
NAME = ed mcglinchey
MY QUEST = information
VT of a SWALLOW =
E-MAIL = emcglinchey@winslow.com
NATIONALITY = american
SERVICE = NMCB-1
UNIT = surveying
1971
Moses Harrell <mosesharrell@bellsouth.net>
In march i was one of the first seabees from mcb 40 to be their. it was the 1161 graham county not the vernont county to get first...in march 1971 it was the navy of the ship ,udt,acb,mcb,and support staff. I am a navy saebee from mcb 40 on the advance party and i can tell you the way it hapened . my name is moses harrell 1131 n sally hill rd timmonsville s.c. 29161 e-mail mosesharrell@bellsouthsouth.net.
1971 Arrived in second wave the Advance Party
NAME = Norm Freeman
MY QUEST = Confesion - to finalize the rest of the story
VT of a SWALLOW = roughly equal to the speed of a fat dogs flatulance
E-MAIL = FindLiveInHim@aol.com
NATIONALITY = USA
SERVICE = Seabee
UNIT = NMCB-40
RANK/RATE/JOB = EA3 then civillian now
MY INTEREST IN DG IS = Geo-political Rabble Rousing
SUBJECT OF MY STORY: = Actually, I Have a Real Story To Tell
MY WARSTORY = I found this web site last night, my curiosity about DG was inspired by a new employee at work who as a former SeaBee was at DG in the later years. I greatley enjoyed the the war stories especialy those from my shipmate Fred Cook and others from 40. I'm sure that the other members of 40 fell as I do that the visitors in the later years whinning about the "hardships they had to endure and then go back to their room" should have been with us.
I traveled to Diego on the USS Charleston LKA built in Newport News Shipbuilding & Drydock Co. Which we boarded in Maritaus after flying from Davisville. On arrival at DG we ( EA's) were reunited with the EA's who had left ahead of us on WW II LST's EA3 Frank Ring, EA2 Bob Fotune, EA2 Ron Swiatek,EA2 Chip Hirn - which led to a few beers over sharing our travel adventures.
For the first weeks it was tent city,sunburns,waterbuffalo showers and unload ships to get materials ashore, while we started mission projects at the same time. During this intial start it seems the ACB Chief we called "Cromagnum man" had an area leveled off for his tent and managed to knock out the only British Coastal Geodedic monument on our side of the island.
Life was hard work and hard drinking till the runway was completed and the first C 130 landed and only the Air Force could forget 4 months of mail.
Now to the good stuff.
Fred's russian rations story was 100% true but reason for the story goes back as far as Gulfport, hurricane Camille, and PT Smith who I'm sure everyone remembers. To make a long story short homr town girl friend going out on you - ask buddy to find out- he writes yes and good to- going to go AWOl PT gave me advice keep girl till you are getting out so you can have some one to party with on leave because with military haircut in outside world you dont have much hopeetc. YADA YADA. This I did and it was great advice, on last leave before deployment I went through breakup and felt free at last everything was falling into place just as planned. Yoeman Robert Friend after I told him story ( he was from extremely wealthy family ) manages to use his position to communicate hame and have his family send flowers etc. and gets girl freind back for me. Murder is a capital offense so when the opportunity presented itself the " russian Rations work nicely.
Fred mentioned H-15 the Command Center was it ever. It was the operational arm of " The Fantom F----r Of Fighting Forty" This was a position passed down since the days of 40's commisioning. It was always one individual who held the position to carry on the responsibility of making sure the commanders of 40 (from the rank of chief through Captain and can't trust the first class) knew the iron fist of military discilpine could not be closed tight. I will not name the individual but will give him the credit for prnaks he instituted. Many of the war story's I read were as a result of his leading the blind ( drunks ) to accomplish his goals.
Among these are the removal of the Captainds steps,and parking the jeep in the lagoon.
The classic was the Peace Symbol on the E pennet - the mission to steal it was the original intent but when it was brought into H-15
an un-named individual EA3 Murray placed the peace symbol on it in white paintstick and by a unamimous vote it was replaced on the flag pole. The only mistake was it was to perfect a job and the EA's were suspected and had the start of a bad reputation from then on.By the way contrary to other mentions of it is red with a black ball it's in my garage beside the Delta Co flag that missing.
Chief and officer hunt was a great game the FFFF started - remember the 3 holers whenever the sun was down and it was pitch black any officer or chief taking a dump was prone to be be smacked in the ass with a board by opening the rear door it seems this became contagious and many others claim to have done it.
H-15 itself has a little story, there is a picture in the MCB 40 cruise book where it is painted battle ship grey with white naval shadowed letering. It was painted this way as a result of the un-named EA3 Murray. One night after every one alse had fallen asleep and to many beers? he decided to paint the formula for LSD and NAZI swastika on it. A Sea hut is 19 ft wide the formula was 14 ft long. This was discovered as we fell out for peronell inspection soon after the reinstituting of the military after completing the runway. The inspection party was livid to say the least. The ass chewing strted with Captain Urish and was carried out in best of naval tradition by EAC "Smokey" Sisson. The bottom line was we were given 24 hours to have the hut painted in a military manaer. This was carried out to the letter including stealing an 8000lb anchor with chain that was run into the hut through the screen. On reinspection the inspection party seemed to swell as their faces turned a beet red ( maybe they were out in the sun to long) Smokey did make us return the anchor. The part that always amused me was that each time they inspected directly behind them was " Pissing Rock" painted in 8 inch high letters and they never saw it, thry were to busy having strokes over the H-15.
There are so many more story's but this is to long now so I'll save them for later.
My last muster in the USN was at the Seabee Club at Davisville when the FFFF appointed his sucessor, I learned a lot from him and am sure he was involved in some way with the movie Animal House. Hope he reads this and contacts me.
Fred Cook I'll try to email you and if you don't hear from me
please contact me
EA3 Norm Freeman
was there may, 1971 to november, 1971,,,,,,delta co. mcb 40
NAME = ron sendobry,,,,,,bu3,,,,,delta co.,,,,,,mcb 40
MY QUEST = to shoot the shit with ron henderson and allen murch regarding diego garciaa
VT of a SWALLOW = not what it used to be!!!!!!
E-MAIL = ad6564@aol.comco
NATIONALITY = connecticut swamp yankee
SERVICE = navy out of davisville rhode island
UNIT = delta co.,,,,,,,,poured concrete, concrete,,,,,and more concrete,,,,,for almost every goddamn building on the island,,,at main base and down near the runway,,,,,,also was on the "crash crew" for when the c-130's started coming to the island,,,,,had to be at the runway one hour before and for one hour after the planes landed and took off
RANK/RATE/JOB = bu3 on the island
MY INTEREST IN DG IS = Stroll Down Memory Lane
SUBJECT OF MY STORY: = Actually, I Have a Real Story To Tell
MY WARSTORY = have lots to tell,,,,,not much time at the moment,,,,,but i do know who drove a jeep out onto the outer reef, and remember the crapping contests on the steps of the co's hooch, the chow hall tent with all the flies,,,,the widespread diarhea,,,,the fantastic snorkling,,,,the old ww2 british guns,,,,,and the monsoon season,,,,,helping pull a bee, who was close to passing out due to the heat, out of concrete and putting him in the shade of the tool trailer,,,,,screeding,,,,floating,,,,and steel troweling concrete by hand for months until some power screeds and whirleybirds were found in the supply area, all packed up!!!!! some good times, good memories, good men on diego garcia,,,,and a hell of a lot of work done!
march 71 to dec 71
NAME = DOUG BRAND
MY QUEST = birthdays, bah, old enough to know better, young enough not to know
what to do with it
VT of a SWALLOW = mac smack
E-MAIL = animal3350@hotmail.com
NATIONALITY = usa
SERVICE = usn seabees nmcb40
UNIT = cm3 lt mech, wrecker operator, aircraft crash crew
RANK/RATE/JOB = was cm3, got out always looked, back but focused on forward.
MY INTEREST IN DG IS = Stroll Down Memory Lane
SUBJECT OF MY STORY: = Actually, I Have a Real Story To Tell
MY WARSTORY = Ok Fred Cook, you were the one responsible for me havin to go out in the water, hook up the jeep, and tow the smbich back to dry ground. God was that fun, remeber it well. Just never knew who did it till now. Just cruisin one day and happened on this sight. Bill Diamond where are you? Sabol, ya crook how the hell are ya.
Ok so heres my story. After the first planes landed, some of the pilots approached members of the opportunist crash crew personel, about extending their stay a day or 2. It was told to us by someone(forgot?)(anonimity prevails even if statute of limitations do not apply), that if a dead rat was found on board the aircraft, it had to be grounded for 24 hours?. It seems that some rats were then found on several planes after that so pilots would get a day off now and again, of course at a small price. Ron Henderson and I were paid off in houch, cigs, and other items that we gave the pilots a shopping list for. We never got the girl smuggling operation finished, before our chief, dont remember his name, got wind of the idea. Said something like "we couldn't run a whore house from the airfield control tower". rats, foiled again. God was that some of the best time in my life. Lost track of all, still wonder about close friends there. Danny Johnson, David Leisure, Sabol you too. You remeber the night I took a double bladed ax to that friggin rat eatin our hair in the hut, hate rats to this day! Well enough for now, email is attached. Still have 3 albums of pictures from that trip, and going to bangkok too, if anyone is intersted or needs a pic, send me a tell. Late
Animal (Doug Brand CM3)
P.S. Here are Doug's Pics from Opening Day: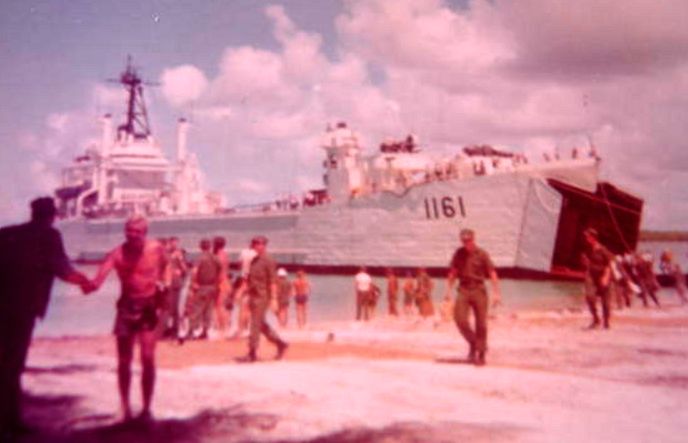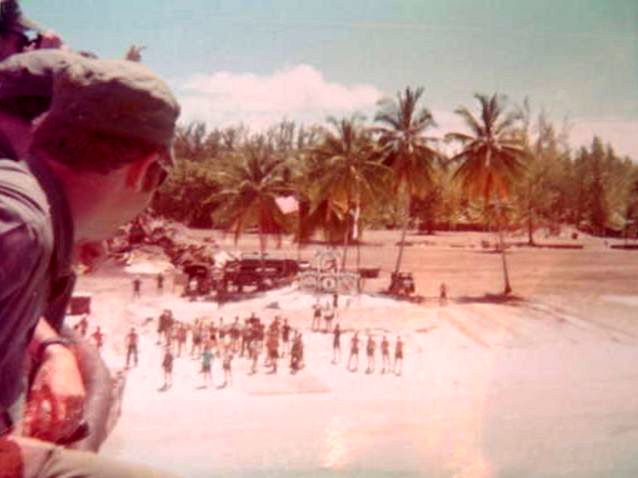 And here's one of his buddy Danny Johnson with a fish caught shortly afterward. Note that they lived in tents - this was even before the SEA HUTS.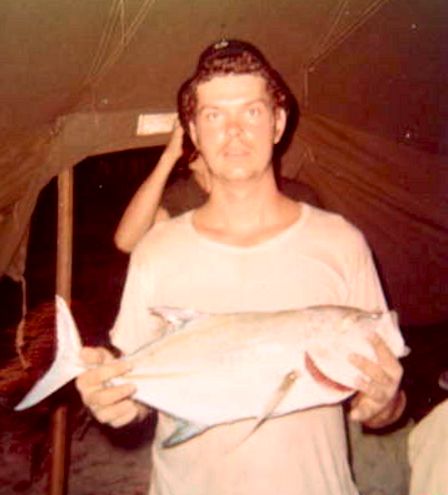 1971
NAME = Ronnie Duncan
MY QUEST = To see if anyone knows my father
E-MAIL = gsmld82@yahoo.com
NATIONALITY = American
SERVICE = United States Navey
UNIT = Seabees-Help construct the airstrip
RANK/RATE/JOB = Petty Officer
MY WARSTORY = My father was stationed on this island back in the early 70's. I'm trying to find out if anyone knows him or his good friend at the time Elbert Godet...apparantly known as 'Swamp Duck'. Does anyone have a memory or even a picture of my father? If you do, I'd appreciate any input. Thanks!!
jan 1971-july1971
NAME = Bob Sabol
MY QUEST = Catch up with old buddies
VT of a SWALLOW = 4 gulps
E-MAIL = seabee49@aol.com
NATIONALITY = American
SERVICE = us Navy Seabees
UNIT = MCB-40
RANK/RATE/JOB = CMHCN-CM3-CMHCN etc
MY INTEREST IN DG IS = Stroll Down Memory Lane
SUBJECT OF MY STORY: = Other
MY WARSTORY = I just want to update my new e-mail address, in case anyone is interested: seabee1949@yahoo.com
Hope to hear,
Sabol
1971
NAME = robert sabol
MY QUEST = hopefully to contact diego garcia acquaintances
E-MAIL = not at this time
NATIONALITY = american
SERVICE = us navy seabees
UNIT = mcb-40 heavy equipment mechanic
RANK/RATE/JOB = never more that cmhcn
MY INTEREST IN DG IS = Decided to Join A Monastery, But Couldn't Find One Stateside
SUBJECT OF MY STORY: = Actually, I Have a Real Story To Tell
MY WARSTORY = SEVERAL MONTHS AGO I WAS CONTACTED BY A GOOD FRIEND OF MINE THAT I HADN'T SEEN SINCE JULY 1971. WE SERVED ON DIEGO GARCIA TOGETHER AND LEFT THE ISLAND TOGETHER. I LOGGED ONTO TO ONE OF THE DIEGO GARCIA WEBSITES, MAYBE THIS ONE, AND PUT MY INFORMATION OUT. WHEN I GOT HIS MESSAGE I ALMOST PASSED OUT, WHAT A GREAT FEELING!!!!!!!!!! WELL TWO WEEKS AGO WE FINALLY WERE ABLE TO COORDINATE OUR MEETING, WE MET AT A RESTAURANT AND IT WAS THE BEST TIME I'VE HAD FOR MANY YEARS. BILL AND I DIDN'T STOP TALKING TILL 3AM. WE ARE LOOKING FOREARD TO OUR NEXT "DINNER". DON'T GIVE UP HOPE IF YOUR TRYING TO CONTACT ANY OLD BUDDIES, YOU NEVER KNOW.
I'M BOB SABOL AND MY PAL IS BILL KLUBEK. THANKS
1971 and 1972, but only one day each yer
NAME = Robert Powers
MY QUEST = The Truth --- Mostly
VT of a SWALLOW = Same as for a B1-RD or a GU-11
E-MAIL = blarny2@juno.com
NATIONALITY = USA
SERVICE = USAF
UNIT = C-130 pilot
RANK/RATE/JOB = Then, Col.; Now, Col., (Ret.)
MY INTEREST IN DG IS = Professional Adventurer Looking For The Ultimate Get Away
SUBJECT OF MY STORY: = Actually, I Have a Real Story To Tell
MY WARSTORY = On 14 Sept 1971, I flew the second airplane to land on Diego Garcia's new and unfinished runway, about 4,500 feet worth. We came in a 374th TAW C-130, having departed U-Tapao AB, Thailand, with a passenger/cargo stop at Don Muang airport, Bangkok, before launching for DG, logging 8.7 hours in the effort. As I shut down the engines, I was aware of a group assembling outside. When I presented myself at the forward entry hatch, I was greeted with the shrill and welcome sound of boatswain's pipes. I was being piped aboard! This was particularly enjoyable, because I had risen to the prodigious rank of E-3 in the Marines in WW2. Who'd have thought!
The commanding officer, whose name I regretfully forget, a commander (CEC) in the Navy, was a gracious and knowledgable host who gave me a guided tour of the island, commenting on flora and fauna. He gave me a magnificent reticulated cowrie shell as a souvenir. I recall him pointing out the golfball size bits of gray stuff floating at the water's edge, which he said was pumice. Since it wasn't local, his theory was that it was remnants of the great Krakatoa volcanic explosion.
I had a fine hootch all to myself (being the only 0-6 in sight), which reminded me of my Pacific sojourn in 1944-1945, except that DG with its beautiful tradewinds was far superior. Left for Bangkok the following day.
Saw the PBY Catalina which you all call Katie, and have one corrective comment; the internal fuel of a PBY is 1750 gallons, not 1450. I flew Catalinas and Albatrosses in the USAF Rescue Service, 1949-1954. I also have a question; although I know zilch about DG's weather, I do know it is out of the cyclonic zone. How often would a storm of the magnitude that beat up Katie occur in the Chagos Archipelago?
Returned to DG 5 Feb 1972 on a similar mail/cargo run, and had a flight nurse in the crew, an attractive USAF captain (female, naturally), because we had to air-evac two sailors. After a similarly pleasant overnight of cold beer and relaxation, we readied for departure. One of our patients was in a Stokes litter, suffering from a badly broken leg. The other was completely ambulatory, which made me ask the nurse what his problem was. Quothe she, "He's got Brand X." The young sailor in question had spent an obviously interesting R&R someplace. It would take more sophisticated medicine than available on DG to relieve him of his complaint.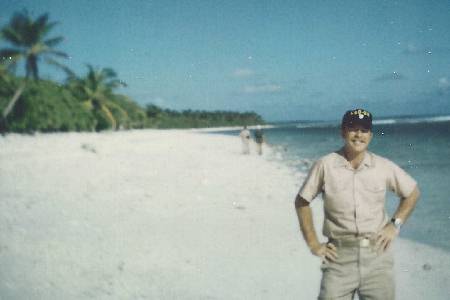 March 28, 1971
NAME = Joe O'Loughlin
MY QUEST = To entertain people with my nautical fiction (sea stories of the War of 1812)
VT of a SWALLOW = I'm afraid I would need some relative bearing grease and about 30 feet of waterline in order to compute the answer.
E-MAIL = olough@earthlink.net
NATIONALITY = U.S.
SERVICE = U.S. Navy
UNIT = Delivering beer (and construction supplies)
RANK/RATE/JOB = a "nugget" ensign - resigned in 8/74 - now in technical sales, and writing my first novel, a sea story about the War of 1812
MY INTEREST IN DG IS = My Time There is Lost in an Alcoholic Haze, Help Me Remember!
SUBJECT OF MY STORY: = Other
MY WARSTORY = Not much to tell, because regretably, I didn't get a chance to hang very long with the advance party of CB's who had arrived there a few months earlier.
I was only there for a day or two, but I know I really enjoyed being there, and I think of it often now as an ancient ex-mariner whose wife got tired long ago of my sea stories.
I got pretty drunk on DG after they invited me and another officer to "beer call" in a little open-air tent they called the club at 1530 in the afternoon. Having been at sea for a long time, I had a powerful thirst and the beer was free to me and my buddy. After all, my ship had brought it.
I remember someone loaning us a jeep so we could drive around the vast expanse of DG for sight-seeing without getting our nice, ship-laundered khakis too sweaty.
I remember the huge one-armed crabs and the noise they made on top of the tents.
I remember a donkey who eyed me warily from his hiding place among the palm trees, as if she had been sadly abused (she WAS kind of cute). Someone told me the Spanish or Portuguese dropped the first ones there in the mid-1500's because their ships had been becalmed (they don't call that area near the equator the "horse latitudes" for nothing, I guess).
I remember the acrid smell of dying coral as it was being crushed to make a runway, and thinking I wouldn't be able to stand to leeward of that smell for more than five minutes. I remember the heat, the humidity, and the feeling of being closed in after only a few hours on shore. And I remember thinking: these CB's are tough dudes. Good on ya, mate!
I remember the beautiful water in the lagoon, the terrific sunset, and what looked like a decent surf break. I asked around but they told me nobody had ever tried to surf it. I later heard that one of our guys from the Anchorage pulled his short tri-fin board out of a fan room, sneaked over on the beach and caught some waves. But I'm not convinced of the veracity of his story because it looked like a shoal-break to me, probably with rocks underneath.
The photo I included for you, of me on the beach on DG (somewhere), might have been near that reef.
I remember the Russian trawler that dogged our ship's every move in and out of the area, all the antennas she had sprouting from her topside surfaces, and all the signal traffic she generated.
My ship, Anchorage (LSD-36), had started out in San Diego and after loading materials for DG at Port Hueneme on 2/22/71, meandered out to the Chagos Archipelago.
On the way there we had lots of cool stops and milestones: Sydney (my first time there, beaucoup fun!); crossing the equator (I got my ass kicked as a slimy pollywog, of course - my first of three equator crossings during four years at sea); rounding the Great Australian Bight (and it really did bite, too, with 40 degree rolls hitting us beam-on for several straight days) to Perth (even better than Sydney, mate! - the Aussies were the only people in the world that loved Americans back then - about a hundred times more than our fellow Americans back home).
After DG, and before that particular deployment ended, we got back into the typical grind of amphibibious warships back then: Subic; Hong Kong (all right, that wasn't really a grind); Da Nang, etc. There had been scuttlebutt about the possibility of our also calling at Bombay or Karachi, since we were in the general vicinity, but we had to di-di on along out of there, and I never got to go to India or Pakistan (maybe someday...).
Of all the great places I went when I was at sea, it's amazing to me how often I think about DG. It was just a tiny atoll in the middle of nowhere but when I was lucky enough to set foot on the beach there, I felt like an adventurer.
71-72
NAME = BU 2 Richard King
MY QUEST = To Know My Father
E-MAIL = jupiter0099@webtv.net
MY WARSTORY = My name is Terry King. My father was a Seabee on DC in 71 and 72. He is dying of cancer now. He never talked about the military. I just wondered if there was anyone out there who knew him and could tell me what kind of guy he was? HIs name was BU-2 Richard King.
1971
NAME = ERNST 'BUZZY' Busse
MY QUEST =
VT of a SWALLOW = Depends on what's bein' swallowed
E-MAIL = heyville@yahoo.com
NATIONALITY = I'm a 'mericun
SERVICE = SeaBees
UNIT = MCB 40 Charlie Co.
RANK/RATE/JOB = BUCN
MY INTEREST IN DG IS = Other
SUBJECT OF MY STORY: = Actually, I Have a Real Story To Tell
MY WARSTORY = Hey! I was there with Duengfelder, Lauder, Irrer, Dussett, DeJonge, Gervais, Mock and Byrnes. We used to "bomb the Cheif's hootches with rocks on those corrugated steel roofs. I got the snot beat out of me by a CE named Canham. To this day I don't know how I pissed him off. Did I mention that I, like most everyone else drank way too much? And the "cargo" that used to come in on the Graham County from Mauritius. Man oh
man!
Anyway, if you were there when I was you may remember the water tower getting painted with a big ole peace sign and the message "we want mail". That was me and one or two others (I don't remember more than John specifically). Did I mention all the drinking? It was fun pretty much. I was too young to realize that it wasn't maybe.
Most of my memories are good. I still stay in contact with Lauder. He's as smooth as ever.
Hey! There's an EO they used to call "Monkeyman". He asked me one day in the chow line if I was at Point Marianne when it burned. I told him "NO" but yeah, that was me (with John again) in a Jeep we stole from officers country.
To this day I think that the C-130 is the most beautiful plane in the air. Take me home big bird.
Diego Garcia and the SeaBees helped me to become what I am today............................................................................................................
....A Recovering Drug Addict/Alcoholic (13 years and counting)
1971-1972
BERWYN SLUSARCZYK <bjslark2002@yahoo.com>
Hello Ted,
It has truly a very long time since I left Diego Garcia. My last memory of "The Rock" was looking out the port window of the C-130 as it slowly circled over and started the long flight to Bangkok. That was in July 1972 and I was a Hospital Corpsman with NMCB-71, Det CHAGOS.
I would like to become a citizen of PPDRDG.
Best regards,
Bj Slusarczyk, HMC. USNR, retired
1971
RON WHALEY <Julock@starband.net>
I was with ACB-2 on the Vernon County on her way to Diego Garcia. I was shocked to find a full picture of her with the white coat on her. Thanks for having her up there. I was an FA at the time. We handled the bardges and LCMs on the island. Again thanks.
Ron Whaley
USN/Disabled
"I have a body like a God"
"BUDDA"
1971
BRIAN LEACU <brian_leacu@msn.com>
Hi Ted, I was the 3-M (maintenance and material management) assistant for two years , '71 to '73 on the "GRACO". Think I remember some of the names in one of the pictures. We did have some fun times in the Indian Ocean as well as the rest of the world. Drop me a line sometime...Brian.
1971
NAME = Chris Ahearn
E-MAIL = cbsw11@cox.net
SERVICE = U.S. Navy Seabees
UNIT = MCB-40 worked with th EA's
RANK/RATE/JOB = CN now a retired SW1
MY WARSTORY = This is in response to Fred Cook's Post. I too was there in 71 with MCB-40 working with the EA's. By the way hi Fred don't know if you remember me I was a plain CN striker at the time. Anyway I also heard of all the stories of strange faces in the chow line ect.ect. I did not believe there were any Russian on the Island as anyone else did. But listen to this. I did a 20 year career as a Steelworker and while I was stationed in Sigonella, Sicily in 77, I was getting something to eat at the chow hall I sat down with this Marine SGT. I think Costa was his name. He looked at me and said hmmm Seabee huh, I was a Seabee once, well kinda he said. I replied what do you mean kinda? He began to tell me this story, I don't know if it is the truth, only that he was surely there at that time he described happenings and the way everything was set up there. He said he was stationed at the embassy in Siagon in 71 and was told he would be going on a classified mission to Diego Garcia this SGT spoke fluent Russian, he was told to grow out his beard that he was going to be sent there undercover as a Seabee he said about a month later he and two other marines were on their way, he said they went in on one of the first flights to the Island he went on to say that they worked as if they were seabees for about 2 months working during the day and patroling the island at night. One night while passing Connex Box city (remember that where they kept a lot of the supplies) He and the other two marines heard whispering in the maze of connex boxes. Costa said he whispered "over hear hurry" in Russian and sure enough two guys dressed as Seabees came running out of the maze. Costa said they apprehended them and they held somewhere outside of camp and sent back to D.C. to be interogated. This really shocked me because of how much he knew about the island and things that happened at that time. I did not tell him that I was there until he was done with his story. I will leave to everyone else to form their own opinion's.
October 1971 to June 1972
NAME = James T Ward
MY QUEST = To find others like me!
E-MAIL = coyotte@rcn.com
MY INTEREST IN DG IS = Want to Return When the First REAL Club Med Opens
SUBJECT OF MY STORY: = Actually, I Have a Real Story To Tell
MY WARSTORY = I was on Diego Garcia in late 71 with MCB-1, out of Davisville, RI. I'm EO-3 Jim Ward, and I worked on the runway materials rock crusher operations at night. Our CO was Lt. Gerry Crowe. There are a thousand stories to tell about the early days of DG, as was already stated, I was the one who was holding Charlie Cummings when he came out of the burning desalt plant that night. I will more than likely never forget that night. Some of the other things I remember was the old WW2 PBY seaplane sitting on the lagoon side beach when we arrived to relieve MCB 53. Or all the times the Air Force pilots would buzz the hoches at 500 feet above the trees just to let us know there was soon to be 'Mail Call' There was a certain bond between all of us, stuck out in the middle of the Indian Ocean, some of the guys had just gotten married before they left. It was real lonely and tough time on them, Mail Call! But there were some really crazy times, Funny times like when the first USO show came, we'd been there about six months, and there were these two pretty blonde girls who sang for us that night. a really good show. The next day the two girls wanted to go swiming in the lagoon. Well that day I saw guys in their swimming trunks going in the water with them, who I personally know couldn't swim. But a stay on DG can do funny things to a guy? It was the best of times, it was the worst of times. But it looks so friendly and inviting from here twenty five years later. What solitude, what peaceful tranquility there was to be had sitting on the rocks at the end of the island. I left the Navy in 1974 when my tour of duty was over. I was with NMCB-1 Alpha company for three years of a four year hitch.
March 71
NAME = Steve Brunette
E-MAIL = brunette.stephen@bangor.navy.mil
SERVICE = Navy; UNIT = USS Anchorage LSD-36; RANK/RATE/JOB = FN
MY WARSTORY = I believe the USS Anchorage was the second or third supply ship. After leaving Freemantle, Australia we were followed by a Russian cruiser who also stay on the horizon while we offloaded the 2 evaporators and various other Seabee materials. I remember a island paradise with palm trees blowing in the breeze and clear water and thinking Bloody Mary was lurking behind a tree. (for those who can't remember bloody mary, she was a character in the musical South Pacific) Someone said that several of the containers were were offloading were actually Olympia beer. God, that stuff was nasty. Oh, to be young again. Good site, brings allot of memories back.
March 71 to August 71
NAME = Ronald Whaley; E-MAIL = Julock@starband.net
NATIONALITY = American; SERVICE = Navy; UNIT = ACB-2; RANK/RATE/JOB = FN. Now disabled Vet..
MY WARSTORY = Mid deployment party of a life time. MCB-40 was having their mid deployment party so we decided to have our own party. LOL we ended up with something like 100 cases of beer and one heck of a hang over. It was a wild
time on DG for all there. I did not see anyone from ACB-2 listed here I hope some see it..
Ron Whaley
USN/Disabled
Summerville, Georgia.
I also have pictures from the good ole days if anyone is intrested in them.
1971
NAME = Dean Shillinglaw; E-MAIL = Dshillinglaw@comporium.net
SERVICE = Navy; UNIT = MCB 40 I was a postal clerk (PC3) and operated the first post office on D.G.
MY INTEREST IN DG IS = Stroll Down Memory Lane
MY WARSTORY = I worked in the first post office on D.G. it was truly and experence. If any of my old shipmates sees this feel free to email me.
1971 with NMCB 40
NAME = LYNN SHINDEL
E-MAIL = lynnshindel@hotmail.com
NATIONALITY = BORN IN U.S.A. - BLOOMINGTON ,ILLINOIS; SERVICE = NAVY; UNIT = USS INTREPID VA-66, NMCB1, NAVSUPT DANANG,NMCB40, ILL. AIR NATIONAL GUARD,ILL.ARMY NATIONAL GUARD; RANK/RATE/JOB = AA-AN, EOCN,SGT. E-4
MY WARSTORY = I DROVE A FRONT END LOADER FOR THE ROCK CRUSHER AT THE RUNWAY. GOT HURT DURING
A STORM LOADING CORAL INTO CRUSHER AND LIKE MOST OF THE GUYS ON THE ISLAND HAD DYSENTARY FROM
THE FLIES AND THE LIVING CONDITIONS. HATED THE ISLAND, FELT LIKE I WAS IN PRISON AFTER 2 1/2 TOURS OF VIETNAM, NEVER GOT HURT THERE. I GUESS THE ISLAND MUST BE NICE NOW FROM WHAT I HEARD.
[editor's question] What were the flies like?
THE FLIES WERE LIKE BIG BLACK FLIES. THEY TOLD US IF WE GOT CUT NOT TO LET THE FLIES LAND ON THE CUT IT WOULD CAUSE ELEPHANTITIS. AFTER THEY TORE DOWN THE HUT THEY USED FOR CHOW HALL A GUY TOLD ME THEY FOUND FLY LARVAE 4 FEET DEEP IN THE SAND AND THEY HAD TO DIG IT UP AND DUMP IT IN THE OCEAN.
And here's a special report about DG's first message, relayed by NAVCOMSTA Harold E. Holt, Western Australia
1971-1972
MICHAEL E. LALANCETTE <MELALANCET@aol.com>
I spent my first year and 1/2 in the US Navy stationed at NAVCOMSTA Harold E. Holt in Western Australia. I can remember the base build up at that time as Asmara had fallen and there was a need for a new naval comm base. I was an RM3 stationed in the communications station when Diego Garcia sent their first message. We relayed it to Washington. As I can best remember it was a poem about the building of the base and how they survived on pork and beans etc. Wish I had keep a copy but think it was classified at the time. I can not understand how B52's can be based there but understand alot of coral fill was used for the runways. At the time in 72 I understood that LST's would land supplies on the beach etc and an bigger ships had to anchor in a horseshoe lagoon and take smaller boats to shore.
An interesting place and thanks for bringing back memories. I was somewhat isolated at NCS Holt but was able to go to New Zealand a couple of times representing the base playing basketball and volleyball between the guys from Antarctica at Christchurch. Enjoyed the NPR story and thanks. Would like to know if you have heard any other similar stories. Thanks and all the best, Michael E. Lalancette
1971
RON WEINDORF <WEINROCK@aol.com>
My name is Ron Weindorf and i live in Tulsa,Ok. I was in MCB40 out of Davisville,RI. I was in the first landing group in 1971 on the Island. What an experince! I was on the Blasting Crew and had never seen explosives much less shot them off!ha! What a trip! I have fond memories of MCB40 and of alot of the guys . What a group of men! I have never seen to this day a harder working bunch of guys. We worked 7 days a week drilling and blasting. In between alot of drinking and fishing. We had the Best cooks in the Navy too. I still have a good friend in Texas that was in 40 and on the Island too.
It maks me proud to have been associated with the guys of MCB40 and to all the hrs. spent blasting that coral and rolling that asphalt airstrip!
Your web site is pretty cool. Keep up the good work. Look forward to hearing from you. Later RON WEINDORF
1971 or sa
NAME = Alan Jenkins
MY QUEST = Live long enough to be too old to die young.
VT of a SWALLOW = 2 furlongs per fortnight?
E-MAIL = aplejac44@home.net
NATIONALITY = USA; SERVICE = USN (never again); UNIT = USS Vernon County (LST-1161)
RANK/RATE/JOB = Radarman 2nd class. Retired out in '86, Civil service now
MY INTEREST IN DG IS = Stroll Down Memory Lane
SUBJECT OF MY STORY: = This is a No-Shit Drinking Story
MY WARSTORY = The first night the Seabees put up the "Club"(Event # 1 of the OPPLAN) our "old man", LCDR 'Lewie' Thames (ex-RD2, I believe) granted liberty. So everyone headed for that posh establishment and proceeded to get as obliterated as possible, as soon as possible. Which we did. As I remember there were no head facilities yet (Day 1) so the foot deep sand "floor" was used by a few of the drunker folks . Someone (SeaBee or ?) got a bit upset with that and eventually we all went outside in the bushes to piss, just like civilized people. Around 2200 "Club"was closed and all the "squids" were rather unceremoniously ordered back to the boat (which was beached a few hundred yards away). On the way back we came across the Seabees' stash of BEER! It seemed about 10 feet high and was covered by a huge dark green(?) thick canvas tarp that I think was staked to the ground. I don't remember whose idea it was but we came up with our own OPPLAN. We hid nearby (which was easy as it was pouring down rain and visibility was bad) until we got a count of how many sentries they had posted (2) then started a "fight" at one corner of the pile while me and a couple other sailors went to the opposite end and using the only knife we had (mine) we cut the canvas enough to "borrow" 2 or 3 cases of Schlitz. I gave a loud whistle and the fight ceased and we proceeded down to the beach and did honor to the SeaBees, Navy and Schlitz. We had to finally stop partying 1 or 2? hours later when this grizzled old SeaBee Chief Warrant Officer came and ordered us off "his beach". A beach he would never had been on if not for the crew of the Vernon County. CB's were not the only people doing 16/18 hour days. Around noon the next day a couple of us came out and fond the rest of the beer where we stashed it. I still have the knife we used that night and the blade is still nicked from using it to open those steel topped cans. Sorry 'bout the ramblin' on and on. Thanks
ROGER ALLIE "lword" <lword@theofficenet.com> Happened on to your web page. I was on Diego Garcia from March 71 to Sept 71. I was onboard USS Graham County LST 1176. We were a support ship while the Air Base was built. I have a number of photo's all black and white. I attached, one of the sign post where the ship docked each time. Let me know. Roger Allie
1971
RICH SUMMERFELT <RICH0789@aol.com>
Howdy, My name is Rich Summerfelt. I was with MCB-40 when we were there in 1971. That was the best deployment that I was ever on during my time in the 'Bees'. I remember living in tents for the 1st couple of weeks til they got some of the 'huts' built. I've always felt proud of the fact that we were there 1st. (Not that anyone else would care....lol.) But during the Gulf War, when they were sending B-52s out of there, I felt that I had a small part in it. And now, with the newest and sadest event that just took place in NYC, I know that they will be sending operations out of there again. And again, I'll feel as though I've played a small part. (Even though it was a long time ago.) But there were a lot of good times to be had when I was there. (Whenever you weren't working that is....lol.)
I enjoyed the site very much. I will return to it from time to time. Thanks, Rich Summerfelt.
October 1971 - June 1972
TIM TROFE <TTrofe@aol.com>
Found your site the other night after a bizarre event prompted me to search the web to see if there were any others out there who suddenly had the urge to find some lost memories. My bizzare event occured at a going away party my company was having for a Construction Manager we had overseeing a new office and lab building we were constructing. I had been working with him about 6 months. Somehow the conversation came up as we were drinking some beers that he had been stationed in Davisville RI. So naturally I asked him if he was in the Seabees ...and 3-4 questions later we found out we were both in MCB-1 stationed in DG at the same time in 71-72.. He was on the other end of the island building the communication complex (Donald McLarty BU3) I was a SW3 assigned to the rebar yard. Anyway, needless to say we traded war stories for awhile. So it this chance encounter got me to thinking and remembering the rock...and well I found your site. I'm going to pull together a few photos and a story or two to post on the site. I noticed that there are not that many MCB-1 postings so maybe I can fill in some gaps.
Tell me a little about yourself and any other Seabees you might have run into that were in MCB-1 during 10/71 to June 72.
Oct '71 to June '72
NAME = Dan Hurley
MY QUEST = Listen to others' stories about "the rock".
E-MAIL = danphurl@gmail.com
NATIONALITY = USA; SERVICE = Navy Seabees; UNIT = I was Alfa Company Commander of Det Chagos (NMCB-71)
RANK/RATE/JOB = Ensign promoted to Ltjg while on the island. Got out of the Navy in '74 after two more tours with NMCB-71 (one with a Dredge team to the Bahamas, one to Naples, Italy with a detachment). I loved it all.
MY INTEREST IN DG IS = Professional Adventurer Looking For The Ultimate Get Away
SUBJECT OF MY STORY: = Actually, I Have a Real Story To Tell