2004
Everett F. Johnson <e.johnson@ak.net>
I was there for 3 months and it was, by far, the best deployment I have ever been on!! I was there for the tsunami in 04 and we didn't feel anything more that the thunderous vibration of the B1's taking off that morning (which turned out to be the earthquake). We were in a church service and were told that the water drained out of the lagoon. As the water came back, we were told, an anchor chain from one of the ships broke and that was the extent of the damage. I have never found any pictures of the lagoon being emptied out but would love to see some if anybody has any.
I have a lot of pictures of and around the island and would be willing to share if you like. Please let me know. I am at work and CCing my home email as well. Please "reply to all" so I get it at both places.
Graciously
//SIGNED//
EVERETT F. JOHNSON JR., MSgt, AKANG
3 SFS/CSS
552-8484
2003-2004, 2004-2005
NAME = Joey Baliaris
MY QUEST = Find a billion dollars
VT of a SWALLOW = faster than a stationary swallow E-MAIL = hokulaulea@hotmail.com NATIONALITY = USA!
SERVICE = USAF
UNIT = 40 EMXS/ AR Shop B-1B's
RANK/RATE/JOB = SSgt still active
MY INTEREST IN DG IS = Stroll Down Memory Lane
SUBJECT OF MY STORY: = I'd Like to Share Precious Memories of Drinking/Fishing/Snorkeling/Sailing on Diego Garcia
MY WARSTORY = I was there from Dec 2003 till March 2004, then again in September 2004- Jan 2005. The thing that sticks out most was renting out a mako then having it die on us. A storm was moving in and we radioed for the patrol boat to come get us. Well we were drifting so fast in the lagoon that when the patrol boat got to our location we were long gone. Then the storm arrived and the water got chopy. We started making our way drifting out of the lagoon. Fortunateley the patrol boat caught up to us and they had one guy board our boat fix it and we took off back o the marina. I also remeber while drifitng a 6 ft barracuda swam up to our boat and paced us. I remember it's eyes and teeth that were protruding out of his mouth. A scary sight indeed!!! Also all the grill outs we held there outside of our tent and having random people stopping in and hanging out. And the bus drivers and chow hall workers!!! I became really good friends with those guys there. And who can forget yum yum. We had to convince our buddy that it was not a she! I guess that is what alot of jack daniels does to you, ha ha ha. Great times and great memories. I would do it all over again and not change a thing!
2004
NAME = Jenessa Archuleta
E-MAIL = lilchikk05@yahoo.com
NATIONALITY = Latina
SERVICE = U.S.A.F
UNIT = Services
MY INTEREST IN DG IS = Interested World Citizen
SUBJECT OF MY STORY: = I'd Like to Share Precious Memories of Drinking/Fishing/Snorkeling/Sailing on Diego Garcia
MY WARSTORY = I was sittin here just remembering my time on the "Rock". Decided to look up this site and see if there were any new exciting or funny stories since I was there 2 years ago, (wow time does fly!) Man you sure get sick of that place after a while. It was definatly fun as hell and I had some awesome experiences while I was there. I met some really cool people there, one in particular that I grew very fond of, his nickname is OZZ. We had some pretty fun and memorable times together,to say the least:)! He was so awesome and wish I was in contact with him now. He made my time there go by so fast, he left before me and I was heartbroken:( We kept in contact for a while afterward and for no apparrent reason I don't hear from him anymore and don't even know how to contact him. That makes me really sad because he was so awesome and I just hate someone as special as him to just dissappear so suddenly out of my life. If it wasn't for this crazy island that I just so happened to get lucky enough to get sent to I wouldn't have had the amazing experiences I had or met some really cool people and saw such awesome things! The ocean is beautiful not to mention the beautiful white sand that looks like snow! The beautiful sunrises and sunsets on this "paradise". The tropical rains that last for days!! Ahhh the memories, seems like so long ago yet just like yesterday. Wierd to think that I was on such a long flight to and from that far away island!!!
Subject: hey
Date: Wed, 26 Oct 2005 02:44:08 +0000
From: "Cory Sanderson" <shiningwithyou@msn.com>
How ya doin DG buddy here are some pictures that I took recently. Have a good one man.
CECN Cory Sanderson NMCB 40 04DEC2004 - 08JUN2005
PS the tsunami left minimal damage on the plantation side of the island with only a few trees knocked down. We were actually fishing on a LCM landing
craft when it hit the sea was ruff and I was barfin but nothing really out of the ordinary.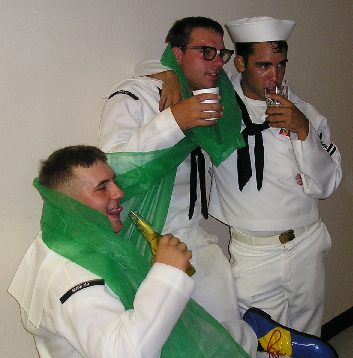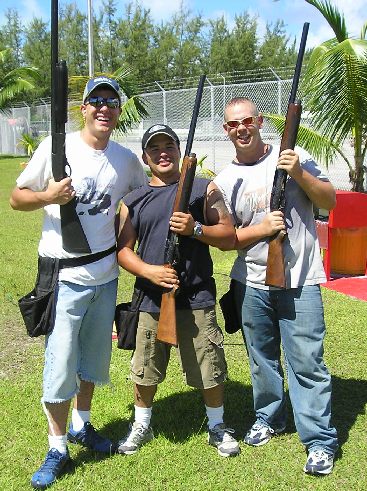 "I've got an idea! Let's get drunk, get some shotguns, and..."
august 2004 to febuary 2005
NAME = anthony engrim
MY QUEST = red...wait...no...green...
VT of a SWALLOW = african or european? heh i said yourapeein..
E-MAIL = dsyndt@yahoo.com
NATIONALITY = american
SERVICE = navy
UNIT = navy......?
RANK/RATE/JOB =
MY INTEREST IN DG IS = Professional Adventurer Looking For The Ultimate Get Away
SUBJECT OF MY STORY: = Other
MY WARSTORY = diego is an awesome place to stay for a while. the beer is cheap and the women cheaper..(not everyone who goes there is a total whore... just 99.9567% of em..) great fishing, great parties, great friends.... nothing but good memories came from that place.. you gotta look at it in a positive way.. at least your not in....umm....someplace worse? i dunno lotta crabs(the brits get maaaaddd if you eat the coconut crabs...and the phillapino club is awesome.. lately they turned the beach house into a club too... thats a nice place to have a party at.. the only reason people show up really..and the barracks downtown beat tent city any day..except the hot airforce chicks...only in tent city.. oh well.... thats my story and ill change it if i wanna...
Mar 2004 Mar 2005
NAME = Steve Sexton
MY QUEST = To dust the sand from that hell hole off my shoes
VT of a SWALLOW = Ask Bobbie
NATIONALITY = USA
UNIT = GEODSS
RANK/RATE/JOB = Electronic Tech
MY INTEREST IN DG IS = Green Eco-Freak Who Hates How the Brits Have Taken Such Good Care of The Island
SUBJECT OF MY STORY: = Actually, I Have a Real Story To Tell
MY WARSTORY = We worked in a hell hole with a crazy out of control maintenance supervisor that was incompentent beyond belief. He drove everybody to quit early or to leave as soon as their year was up. The place is run amuck. The only redeeming value was on the night shift we were allowed to hunt coconut crabs and boil them up in the facilities kitchen. They really do taste coconutty. We had a century crab club that no was able to hit. 68 was the most crabs anyone was able to run over with the van. The rats were harder to hit with 12 being the most anyone got of them. The whole company needs to get brand new people in there as the place is out of control.
2004
NAME = Don Morgan
MY QUEST = Truth, Justice, and the American way
VT of a SWALLOW = As fast as Bobbie can
E-MAIL = don.morgan@netscape.net
NATIONALITY = USA
SERVICE = Air Force contractor
UNIT = GEODSS
RANK/RATE/JOB = Did my year and got away from those drunken low lifes that work there.
MY INTEREST IN DG IS = Geo-political Rabble Rousing
SUBJECT OF MY STORY: = Actually, I Have a Real Story To Tell
MY WARSTORY = I worked there under the oppressive regime of a retired Marine drill instructor. He would throw the log journal at you and scream obsenities at you. Then he'd say that you have to suck it up and take it. He was totally incompentant and would knock down equipment with his lack of common sense. I would have to have Ed artificially make the WX "Red" for the night and keep the domes closed just to accomplish paper work that should be the maintenance supervisor responsibility to do in the day time. I remember how many times he came in with a hangover to work as well as Charlie, and Roy who often had to sleep it off at work. Judy also was a lush that would be falling down drunk on her nights off. Then there was the lying manipulative Bruce Bookout. What a weasal. He's another incompentant baffoon. He needs to be removed for malfeasiance and incompentance. He would always tease Jack about getting BJ's from Bobbie to embarass him. We never had time to accomplish the PMI's yet Tim the QC would sign off on witnessing them being done. As soon as my year was up I was out of there. The long termers were alcoholics and should have their clearance yanked. So I fled and never looked back. For the relaxation of Antartica.
2003 and 2004 (3 months each year)
NAME = Roxy Platt
MY QUEST = to summon Captain Planet
VT of a SWALLOW = 54.212
E-MAIL = sonseray@hotmail.com
NATIONALITY = American
SERVICE = Air Force
UNIT = 40th EMXS/Weapons
RANK/RATE/JOB = Senior Airman, active duty
MY INTEREST IN DG IS = Stroll Down Memory Lane
SUBJECT OF MY STORY: = I'd Like to Share Precious Memories of Drinking/Fishing/Snorkeling/Sailing on Diego Garcia
MY WARSTORY = Diego is such an awesome place! I have been here twice in the past 2 years, and I am leaving in about 11 days. Boo hoo! I want to come back at least one more time before I die. I'm sorry for those of you that aren't able to come here, this place is truly amazing. I've gotten to know a lot of people here, just sitting out on my tent porch talking with everyone. I've been snorkeling, deep sea fishing, looking for shells, sunbathing, and partying with some of the coolest people. For those of you that have the privilege to come here in the future---have fun, enjoy your time here (even though you might be away from your family for awhile, it's worth it) and take care of my island!