December 1984 - October 1988
D. Dator = ado.dator@gmail.com
Citizenship = Filipino-Canadian; Service = Bottoms-Up; Outfit = FEBROE - Finance
My_Quest = " GOT NO IDEA, was asked to do an errand, scratched my head ...end up in Diego Garcia."
VT_of_a_Swallow = "Appear and Disappear"
My_Warstory = 47 months of dealing with the Resident-Officer-In-Charge, billing the Treasurer of the United States and the EXCITING ACTIVITIES in between..... brings lot of memories while at Diego Garcia. I hoped to elaborate all, but too much coconut crab like topics to spread out. I guess what happened in the plantation stays in the plantation.


1985, 1987
EN2 Carol Unruh = wallduham@yahoo.com
Citizenship = USA; Service = USN; Outfit = USS Jason, AR-8
My_Quest = locate my previous entries and others of my ship
My_Warstory = e and my shipmates have posted previously on a DG webpage that I'm trying to locate


January-August 1985
Chuck Payne = barno42@insightbb.com
Citizenship = USA; Service = USMC; Outfit = MPS- USNS MERCURY & JUPITER
My_Warstory = I remember one time Okinawa sent out some office pogue to the rock for 5 days.
We all thought he was a spy sent to inform the brass back in the rear how out of control the Marines manning the MPS Mar-Det had become. We got this poor bastard so drunk at the Seaman's Club one night that when the liberty boat got us back to the Jupiter, he couldn't walk up the gang plank, so the guys on deck had to lower down a stretcher and we strapped him in and raised him up to the deck about 50 feet. He missed his 8:00 am flight the next morning and had to wait 2 more days. He was in so much shit when he got back to Japan. Never heard from him again!


1985 1986
Name = johnny or little john kersanc jkbay77@yahoo.com
Citizenship = USA
Service = dynelectron to dyncorp
Outfit = was a boat man on the Hrry Fisher
My_Quest = for the hell of it
VT_of_a_Swallow = as fast or as slow as you want to go
My_Warstory = he was a wild man who was too wild to be good and too good to be bad



1985
Ed Dunne <crabapple1951@yahoo.com>
Hi,
What a great site.
I was a SEABEE/ CM2 on DG awhile from the USNS TAGS - 32 Harkness Oceanographic ship 1985 while the Harkness went to Singapore yards for some work. I did maintenance work on the 4 trucks from the ship.
I was also at Berbara,Solmolia fuel compound 1985, 86 for land survey work with some Marines.
take care,
Ed Dunne
Shady,NY
EO1, Ret
1970-20041983---87
Name = William (Bill) Thibault
submit_by = witcapri@gmail.com
Citizenship = USA
Service = Contractor
Outfit = Engineering
My_Quest = information
My_Warstory = I survived three condecutive years, including the earthquake.The Navy Has changed a lot since I shipped out 1942---46.

1985-1986
Robbie Robinson <robertratts@peoplepc.com>
I got to the 'Rock' Sept '85 just after completing my 2313/2318 'C' schools in San Diego. Some of my classmates from those same schools also got orders to DG so I knew quite a few faces there already. It was great to have a barracks room right beside the beach... couldn't' have asked for anything better... even my roomie ("Tommy" something... ) was pretty cool until he discovered I'd brought with me two Gibson electric guitars: 1969 Firebird and a 1970 Les Paul plus a Peavey amp and a multi-effects pedal. "Whatever" I sighed every time he'd take off down the stairs whenever I hooked everything up to practice... "I've got bigger fish to fry", as I actively set out to find other musicians serving on the island. The day came soon enough that I discovered two singers, another electric guitarist and a fellow Radioman with bass equipment and a keyboardist. So we formed a "band" ("Slim", "Gabby", "Nate" and the keyboardist "Pat"... but after taking a terrible fall from a scaffolding, Pat never spoke to me again). We had started learning songs with the goal of playing some sets at the Brit Club or the EM club. But with everyone being on different work scheds, we didn't get very far and I so dropped out to pursue another interest: The AFRTS Channel 8 studio.
Journalist Chief Art Riccio welcomed me aboard as a station volunteer. He had me learn as much of the radio/video equipment as I could master. I started out helping with the live AM radio broadcasts, even 'casting the 'AP News' live a few times, but doing TV had much more appeal for me. So... I went out with the 'News Team' doing 'sound support' as we went all around the island capturing stories as they happened: The USS Midway coming into the lagoon, the first B-52 landing on the airstrip, Fourth of July celebration (with a hilarious parade), plus all the USO shows that performed at the "Outdoor Theater" or just anything with "interest" for all. Finally got moved up to camera operator which was even better When not documenting news stories, I learned how to be a competent 'cuts only' video editor making "spots" or commercials that were aired on Channel 8. But all of that personal achievement paled in comparison when I took part as a camera operator in the first-ever Navy Relief Telethon Radio/Television. For 24-hours the event went non-stop, raising money for Navy Relief to the tune of about $42,000. That was one of the most satisfying things I've ever done before or since. Thanks Chief Riccio... thanks also to all of AFRTS's JO's stationed there during that time... you know who ya'll are.
DG as a duty station was the BEST for me professionally... The years I'd spent previously at NCSP San Miguel Philippines were a great beginning, but I really learned my 'stock and trade' as a Tech Controller at good 'ole 'R Site' TCF... I was briefly a watch stander in one of the 4-sections, but RM1 "Rosie" Carl Rosenbaum (our LPO) designated me as "Testing & Wiring Petty Officer" for the rest of my stay on The Rock. I absolutely loved my job and would happily work extra hours solving problems that I couldn't finish during regular hours. It was during this time when I learned to use oscilloscopes, multimeters, reading/re-drawing wiring blueprints, AT&T color codes, signal/test generators, MILSPEC soldering techniques, plus good, solid 'logical fault isolation', techniques that I put to good use each day.
I don't know why so many of the guys on the island moaned about the "unattainable" women of Diego Garcia. I had three "romantic" encounters while there... twice with a Filipina FEBROE worker, then also a pleasant moonlight 'romp' right on the beach with a female from R-site Message Center. Great memories... Maybe the best ever!
Dates_Aboard = Jan-Mar 1985 and Oct-Dec 1985
Roy Ridenour, roy.ridenour@frit.frb.org
Citizenship = USA; Service = USN; Outfit = C-Site or NSGA Diego
My_Quest = I have no Quest; VT_of_a_Swallow = Cannot Imagine
My_Warstory = Undeserved return. We were part of a 6 man team TAD to the rock. Not all was bad. Not enough women. Found it funny everyone including men horded beer and stayed away from the EM club when ships pulled in. I likeed the RBRM Club. had to be E6 to enter but I behaved myself and they allowed me in with Wild Bill. Beer and what almost passed as pizza on Thursday and Saturday. Had to report to security for swimming after dark. When your drunk you don't remember Sharks, Sting Rays, Sea Snakes and who knows what else. After yelling at us they let us go. Many cookouts, parties, social events, IE drunken fest. SO after 3 months we left for the next assignment. Thats what we did. One site to the next TAD. September rols around and 1 person needs to return for some nonsense and the Chief asked if anyone would like to return. Five of 6 responded yes . Not me. SO quess who had to go back for 3 more months. So what, here it is 24 years later and I would love to see it again. Some of the greatest beaches in the world.

1983 to 1987
NAME = Carmen Floyd ( Austen-Smythe)

MY QUEST = Dig up Memories of the past, and smile about them
VT of a SWALLOW = Who gives a ....! have another beer!!!!
E-MAIL = carmenfadz@hughes.net
NATIONALITY = Dual National, UK and US...god Bless the Queen and USA!!!!!
SERVICE = Royal Navy
UNIT = ROPO 4 BIOT Police
RANK/RATE/JOB = Well was a kick butt chick with the help of my Royal Marine Comrades and NSF Security, have since left now the Fire Marshal for City of Columbia SC USA...go figure, still giving folk h..l!!!!
MY WARSTORY = well in continuance from the Shake and Bake (7.6 on the Richter Scale and 100.00 on the sphincter scale!!!) I would love to hear from the gang who were there when I was. Since joining the Columbia Fire Department, I have discovered that my former Fire Chief, 'Jack' John Jansens son was on DG with the airport FD, Ran into a merchant marine whos father in law was my landlord in Havelock NC....John Kersanac!!! you Dog and one of the Battalion Chiefs with Columbia Fire Dept was one of the first SEABEES on the "Rock" way before I got there...Alma Hill you salty Dog!!!! so if anyone knows of whom I speak, send me the dirt!!!!
Ooh lets see, does anyone remember;
Joe Hoole USMC
Rob Belpedio, AFRTS
Chief Manasalas NSF Security ( dont think I spelled that right) Eric Salinde, NDSF Security Bill Rhoades, E Site Ramine Geisler, Airdale and any other poor soul who served at that time................!

4 July 1985-Aug 1986
NAME: MARQUET Louis Mario desire
MY QUEST: yes
VT of a SWALLOW: none
E-MAIL: mariocki@hotmail.com
NATIONALITY: Mauritian
SERVICE: civilian
UNIT: Recreation and moral services (I was base at the Gym)
RANK/RATE/JOB: I was consider as 3rd country national and this was on my I D card
SUBJECT OF MY STORY:: I'd Like to Share Precious Memories of Drinking/Fishing/Snorkeling/Sailing on Diego Garcia
MY WARSTORY: my war history is that as I was base at the gym I made up friends with lots of people and this permit me to visit Diego in the air by sea and on land.But was a very disappointed concerning sex (nearly 1 woman for 100 men) and for those who those who like Danny boy ......great!

June 1985 - June 1986 - "House arrest ended - I got PAROLED"!
NAME = William J. Bargar
MY QUEST = Looking for some attractive SHORE DUTY orders - Got Rota, Spain - YEAH!
VT of a SWALLOW = In this OCEAN the currents flow BACKWARDS! - "Flush your toilet and watch"!
E-MAIL = williambargar2003@yahoo.com
NATIONALITY = U. S.
SERVICE = U. S. Navy
UNIT = U. S. Navy Security Dept. - Security Patrolman
RANK/RATE/JOB = AD2 - (E-5) Now: Retired U. S. Navy AD1(AW) - 1998, Work for Dept. of the Navy (Civil Service).
MY INTEREST IN DG IS = Stroll Down Memory Lane
MY WARSTORY = Just wondering how everyone from my time frame there was doing? Came to Diego Garcia from USS Midway (VA-93) - If I could have I would have STAYED on Midway another year! My BIGGEST MISTAKE in my military career was taking (getting stuck with) orders to Diego Garcia! Like I really had a choice.....Orders just showed up out of the blue I was negoitating to stay in Japan and then "OUT-OF-BLUE" Diego Garcia orders showed up! I tried to CANCEL THEM......Put in an EXTENSION to STAY on THE USS MIDWAY it went to BUPERS in Washington D.C. and a message came back saying: "Can not cancel orders - CNO PRIORITY BILLET"! "Stuck"! "The needs of the Navy"!
Wow! So there I was STUCK with orders I DID NOT WANT! And to top it all off.....I was working in SECURITY! Well, I just went to Diego Garcia and tried to make the best out of a BAD SITUATION! I did survive, (barely) and it was a learning experience! I DID GET "ONE GOOD THING" while I was there. I got my "CHOICE of ORDERS" anywhere that was open so I PICKED - ROTA, SPAIN for SHORE DUTY! "Paroled at last"! :)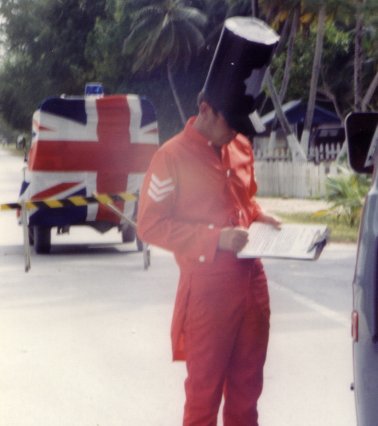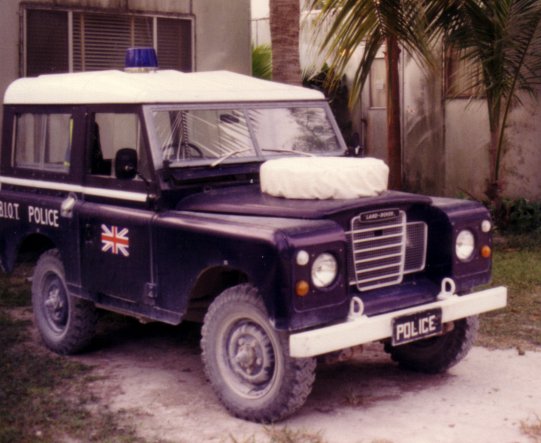 1985
Ken Richards <thekdr@btinternet.com>
Thought you might like to have these 2 photo's of mine. I'm the guy dressed up as a Brit Soldier from way back when......... the photo was taken on 4th July 1985 on DG1 just before the downtown area, and each vehicle was required to pay a toll of .25c - we raised just over $250.00 that day, as more of the inhabitants found out what we were doing it for they came along and gave up their change! It was the typical DG spirit in action.
I was ROP1 at the time, and that was my BIOT Police landrover draped with the UK Flag. I attach also a photo of my BIOT police vehicle, we had 2 such vehicles at the time, and I occupied an air-conditioned silver trailer for most of my tour (that was my second tour on DG as ROPO1)
Hope you will be able to use them? Great website and I make frequent visits.
Ken Richards
1985 to 1989 Febroe
NAME = Rodolfo D. Deslate
MY QUEST = To work again in the island and enjoy the cheap drinks
E-MAIL = deslaterodolfo@yahoo.com
NATIONALITY = Filipino
UNIT = Febroe - Supervisor, Fuels Storage and Distribution
RANK/RATE/JOB = Retired as Operations Engineerfrom ABV Rock Group KB, Saudi Arabia
MY INTEREST IN DG IS = Professional Adventurer Looking For The Ultimate Get Away
SUBJECT OF MY STORY: = Actually, I Have a Real Story To Tell
MY WARSTORY = My escaped to Diego Garcia started in 1985 when I was hired by Febroe in Manila as Fuels Storage Operator. That was my first overseas worked. I was very excited then to taste of working overseas for the first time. I don't have a problem of working with my supervisors and making friends with the navy people. Every morning, I used to tail the US Marines in jogging. Weekends life in DG was always full of fun. Sometimes, I drink with the tug boat crew. I brought the drinks and they provided the fish for our polutan. I also went with the fishing barges or with the fuels people in beach swimming.
I've worked with Bervis Ardoin, Mel Wasikowski and George Rice. I hope they are still around. Vey nice people to work. They were rich of experienced that I brought with me when I transfered to Saudi Arabia.
During the entire years of working, I had served in 3 wars. The first while working in Manila of refueling MSTS ships that brought logistics support to Vietnam; the second was in DG when we refueled the Navy ships during the 1988 short war and the third was in Saudi Arabia during the Gulf War. I was one of the few filipinos that have worked in King Fahd International Airport providing fuels for the Desert Storm.

June 85 - June 86
NAME = Al Nelson
MY QUEST = Recapture lost brain cells
VT of a SWALLOW = Mach 2
E-MAIL = sporty2033@yahoo.com
NATIONALITY = American
SERVICE = USN
UNIT = Navcommsta R-Site
RANK/RATE/JOB = RM2 - Watch section supervisor and traffic analysis in message center Now I'm a tech manager at a high school
MY INTEREST IN DG IS = Want to Drink A Lot, Cheap
SUBJECT OF MY STORY: = This is a No-Shit Drinking Story
MY WARSTORY = The fleet was coming in so we all ran to the package store to stock up on booze. Bought several cases of beer, 2 or 3 bottles of Bacardi, some Crown Royal and stored all this under my bunk. One of my coworker had birthday and we celebrated in true rock fashion. We made a concoction called cold dique, everything in it but the kitchen sink.
Several of us gathered, rm3 swords, and rmsn called Reggie (Big Time) my girlfried Robin, later my ex-wife. and several squids who's names are lost. Reggie was about 6'5 300 lbs and he over imbibed and passed out, we were on the 3rd floor of the barrack and he lived on the first. About six of tried to carry him down there, we dropped him down every flight of stairs. We then went into the lounge someone produced a blender, someone else had a can of strawberries and we threw in the rum and had one heck of a party. I don't recall how it ended, but the next morning the master at arms were holding an inquiry. The lounge was fully dowsed in a red stick strawberry like substance and smelled like a dive bar at closing time. Big Time thought he'd been in a fight with someone, he didn't question how he got to his room.
People I recall from the island - RM3 Swords, RMSN Sutton, RM1 Adcock, RMSN Reimers, RMSN Lee, RMSN Bradford, RM1 Petty, YN3 Monoz,
ET3 Toohey, ET3 Lilly, ET3 Green
When I arrived at the island RM1 Petty was assigned to check me in, we would stop at one place a day and the drink the rest of the day away. My checkin process took a full week.

May 30 1985
NAME = Noel F. Cuevas
E-MAIL = neilpridev6@yahoo.com
NATIONALITY = Filipino
UNIT = Air Terminal
RANK/RATE/JOB = I was the Air Terminal Operation Center Supervisor
SUBJECT OF MY STORY: = I'd Like to Share Precious Memories of Drinking/Fishing/Snorkeling/Sailing on Diego Garcia
MY WARSTORY = I have been in DG too long to know quite a few people posted in this site that have passed away. They will always be remembered thru your website. When my time comes I wish someone would put me there as well..... but not so soon I hope!
For the all pleasant memories, DG still the best fishing experience I ever had. That is where I get addicted to short board sailing too. We used to take our equipments by truck to Pt Marianne and start sailing back to the Marina. That was fun!
I also met my beautiful loving fiancee of 18 years now in DG and although we haven't gotten married yet, we're still together, strong and steady. To Chie, thanks for putting up with me. Love you mahal!

1985-1986
DIEGO'S SAC CONTINGENT 85-86
From: "McGahee, David J." <David.McGahee@med.va.gov>
I WAS STATIONED ON DIEGO FROM MAY 85 TIL MAY86. MYSELF AND MY BOSS, TED (THEODORE) GIBBS WERE THE , AIR FORCES STRATEGIC AIR COMMANDS (SAC) CONTINGENT. TED IS NOW A CIVILIAN AT ROBBINS AFB, GEORGIA AND I AM A CIVILIAN WITH THE VA HOSPITAL IN BILOXI, MISSISSIPPI. I RETIRED FROM THE MILITAEY IN 95. I MADE A LOT OF EXCURSIONS TO THE FAR SIDE OF THE ISLAND (PLANTATION AND BEYOND (EAST TIP). I HAD A MILITARY PANEL TRUCK THAT I COULD DRIVE ANYWHERE AND I TOOK GREAT ADVANTAGE OF IT. I DID A LOT OF WEEKEND HAMMOCK HANGING AND A SURVIVAL SKILL FINE TUNING. IT WAS LIKE BEING A KID ON YOUR OWN LITTLE ISLAND. WE WORKED HARD, AND RELAXED HARDER ON THE WEEKENDS. I LOST ALL MY PICTURES IN HURRICANE KATRINA. I DID GET STUCK IN NAIROBI, KEYNYA ON MY WAY BACK TO DIEGO FROM STATE SIDE LEAVE IN JAN86. I REMEMBER THAT THE AIR FORCES MILITARY AIR COMMAND (MAC) WAS TRYING HARD TO GET US OUT, TOOK 2 WEEKS. DIEGO WAS ONE FANTASTIC REMOTE SPOT. BEING AWAY FROM THE FAMILY WAS THE WORST. IT HAD THE MOST TERRIFIC SUNSETS IN THE WORLD.

1985
Monica Fohn <mfohn@yahoo.com>
Hi!
I have been reading your pages, and I had started to write about Diego Garcia about five years ago and have lost my notebooks. I have started again and when I get it together will send you some highlights if you like.
I was there in 1985 while in transit to catch my ship the USS JASON-AR8, I worked out of Harbor Ops, and spent my days in the office of what reminded me of an old wooden cottage that someone like Ernest Hemingway would have styed in (although he did not!) I loved the island- but I have not seen many references to the cannons on the point.
When I got the ship off the coast of Oman, we stayed anchored out 3 miles for a month or so and then headed back to Diego. I could not wait to go back! We had a group go to the plantation and some of the pictures look different from what I remember. The Main House was overgrown and it was impossible to get close. We took two days to try to clean up the cemetary. It was so sad how many children were buried there. It seemed as thought many of the graves were marked with dates that were close to each other, and I know we found some buried in the onions and palms that dated back to the late 1500's. We hardly made a dent in the overgrowth of vegitation that had reclaimed the area where we found graves that we had to actually excavate because of the overgrowth.
At one end there were some holes in the side of a hill that had been carved out of the earth and the Chaplain explained that it had once provided a place for holding prisoners. It was also covered with vegitation, but was clearly visible when we walked up to it.
The entire "road" had brush and trees hanging in the way and we had to fight our way through. I wish we would have had more time to stay and work there. I will search for some of the photos we took of the cemetary. It was huge. One huge concrete mausoleum had roots that stretched down the sides and into the ground that were coming from coconut trees that were growing on the top of it. It was creepy.
If you would like any of my info- send me an email!
Love your site,
Thanks
Monica Fohn


1985
NAME = Gus
MY QUEST = I seek the grail.
VT of a SWALLOW = European or North American?
E-MAIL = cardiac22201@comcast.net
NATIONALITY = U.S
SERVICE = Navy
UNIT = VS-33 Screwbirds-T.A.D. during West Pac aboard U.S.S. Kitty Hawk
RANK/RATE/JOB = AE-3 at the time. I made it to AE-2. I later returned to AE-3 not recommended for advancement or re-enlistment.
MY INTEREST IN DG IS = My Time There is Lost in an Alcoholic Haze, Help Me Remember!
SUBJECT OF MY STORY: = This is a No-Shit Drinking Story
MY WARSTORY = Records show that I was there for three months. I remeber getting there....and then the drinking started.
I was par of a small detachment sent there to support our squadron on board. We would receive 2 aircraft(S-3B Vikings). Our assignment was to fix them, make them look shiny and new and send them back to the boat. None of us had any business working on aircraft as drunk as we were. A shot in the morning to clear the head and stop the shakes. As many beers as we could drink for lunch and the ensuing party at night.
12 of us were assigned 3 trailers on a beach. We played horshoes and drank into the wee hours. Someone discovered the incredible fishing of the small boat pier. I remember living off of the fish we caught and club sandwitches at some canteen near our trailers.
Once a week someone would go to the chow hall and liberate all the butter and soy sauce to cook the fish. Our comrat shecks were saved for gambling and more beer and booze.
We returned to Subic Bay for a final week of debauchery on Gordon Street (Sonny's). Followed by some much needed forced detox at sea for the return trip home.
Oh, to be 19 again!!!!

1985 and 1987
NAME = EN2 Carol Unruh-Raykowski
E-MAIL = jellyrowl@sbcglobal.net
NATIONALITY = caucasian
SERVICE = Navy
UNIT = USS Jason, AR-8
RANK/RATE/JOB = Engineman Second Class, Assigned to Jason's repair small boat, diesel marine systems, injectors. For a short time, assigned to Repair
Officer, then to overhaul Repair Departments Library
MY INTEREST IN DG IS = My Time There is Lost in an Alcoholic Haze, Help Me Remember!
SUBJECT OF MY STORY: = Other
MY WARSTORY = I was fascinated by the deep blue water and I loved the solitude and seclusion of DG. I volunteered to help clear the cemetary, went fishing for a day, received my Marksman ribbon there and above all, the drinks were only $.75 and you still got a full shot! For special or quick turnaround repairs I performed, I would be bought so many drinks, that they were lined up sometimes 5 or 6 deep. It took forever to get the fried rice dinners I would order, so stayed drunk most of the time and lost plenty of weight. I saw many shipmates crash and burn on that island. I was lucky--just didn't get caught I suppose. I often speak of my time there (3 months both times)with a smile on my face. I had a great time! We worked hard and we played hard! We even became special friends of the American Cormorant shipmates. They treated us like royalty. With the stresses, bills, debts, and responsibilities of today (20 years later), I wish I could runaway. And I would run to Diego Garcia. I miss everyone I came in contact with while there. LOL shipmates!

July 85 to July 86
NAME = Phil Salvatore
MY QUEST = To maximize time spent off island and to drink as much as possible when there
E-MAIL = philsalvatore@hotmail.com
NATIONALITY = USA
SERVICE = USN
UNIT = NAF
RANK/RATE/JOB = Ltjg back then, now a disabled vet recently finished my MA Economics
MY INTEREST IN DG IS = Stroll Down Memory Lane
SUBJECT OF MY STORY: = I'd Like to Share Precious Memories of Drinking/Fishing/Snorkeling/Sailing on Diego Garcia
MY WARSTORY = A stranger at a computer terminal sitting next to me chats me up, turns out to be ex-Navy and served on Dodge about the time I did, so he showed my this site. I haven't stopped smiling yet! Gosh the names and stories I'm recalling. Beez Bohner, oh my, didn't you once deliver some adult reading material and fermented beverages to a passing Soviet destroyer using the rescue hoist? The Admiral Spiridonov it was, I still have the photos. And Andy, your old Div O says high and a big Bravo Zulu for the job all of you men and women in GEMD did repairing the bad wiring in the "new" control tower after the lousy job the civilian contractor did. Blackout on the dedication day, yikes. No wonder your room-mate chose to drink heavily, we all were feeling surly that month. Does anyone know what happened to Petty Officer Hamilton? Let it be known here and for all to see that he helped me more than I can ever express and I should have put him up for a NAM before I left. My little personal shame.
I like trying to describe the place to civilian friends. It's not easy. Crabs that challenge you on jogging trails. Minah birds that would dive on your head as you jogged by. Going out and jogging in the pouring rain, just to experience cool air for a while. Living for mail call. Island tours ( snicker snicker ) down "The Canyon". Amphibious ops to party at Buffet Cove. E Circle. Father Jim and the Black Robes during drunken games of Risk. Last, the post on the USS Worden really caught my attention. I was unaware of all the other stuff going on aboard that ship. We went out in the helo and ran a creeping line search back along the ship's track trying to find that guy who jumped overboard. Never did find him but amazingly the ship did! He was sitting right in the ship's track. The next day they put him in a strait jacket and we took our two biggest aircrew out to pick him up and take him back to Dodge to be medevaced to PI. Our preflight briefing was to deck him if he did anything to endanger the helo and I recall we had trusty Chief Estes as crew chief to make sure the guy behaved.
I'm sure more synapses will fire in due time.

January 1985 to December 1985
NAME = Chris Junger
MY QUEST = To find the "ole chili cooker" I helped to make with HM1 Jim Weaver behind medical
VT of a SWALLOW = If I was a Brit I would know that or for that matter even care
E-MAIL = chrisjunger@hotmail.com
NATIONALITY = All American and part Texan
SERVICE = US Navy
UNIT = Medical
RANK/RATE/JOB = 1985 Chief retired in 1994 Senior Chief
MY INTEREST IN DG IS = Want to Drink A Lot, Cheap
SUBJECT OF MY STORY: = Other
MY WARSTORY = As always .. what happened in Dodge stayed in Dodge ... Of course alot of my fond memories (and war stories) center around my time as President of the CPO mess and selling DG Tshirts out of my place just above BMCM Ted Condiffs hooch. He was First Lt for DG in those days and brought in lots of fish.

83 to 87
NAME = Carmen Floyd (formerly Austen-Smythe)
MY QUEST = To share the crazy times on the "Footprint of Freedom"
VT of a SWALLOW = Hey I have the script to the holy grail!!!!
E-MAIL = carmenfad@hughes.net
NATIONALITY = Brit/Amercian Dual National
SERVICE = Royal Navy
UNIT = Royal Overseas Police Officer number 4 BRITS
RANK/RATE/JOB = Was ROPO 4, since left RN, now Battalion Chief with Columbia Fire Dept SC USA
MY INTEREST IN DG IS = My Time There is Lost in an Alcoholic Haze, Help Me Remember!
SUBJECT OF MY STORY: = Actually, I Have a Real Story To Tell
MY WARSTORY = Well I just read Chris Butlers story of the downed Helo..........well guess what? I was one of the ROPO's that found the hand and foot of the one of the crew members that washed up on shore on Ocean side, not too far from where the flip flops or thongs as the US say wash up on the
beach!!!!
I witnessed the docking of USS Carl Vinson's arrival to DG for th first time.
DG was an special place and will be as long as I can remember it!!! would love to hear from anyone who remembers me!!!

1983-1987
From: "Carmen Floyd" <carmenfad@hughes.net>
To: easy501@zianet.com
Date: 05 Oct 2006, 04:10:12 PM
Subject: DG
Dear Ted,
I must say it is a pleasure to visit your site, it brings so many memories back and looking at the photos I remember many of those faces!
You see I was stationed on 'The Rock" from '83 to "87!!!! With a couple of breaks in between. I was affectionately known as ROPO 4, with the BIOT Police!!!!!
I was there the night we had the 'shake and bake, then thought we would all perish from the impending attack of the 'tidal wave" The only thing I remember was who was zooming who!!!!!
I was also the only female Brit female Cop on the Rock. Things were booming back then, the Seabees were phasing out and RBRM was taking over, Penta Ocean had finished dredging and the deep water basin for visits from carriers like Carl Vinson (after top gun was made) could visit us!!!!
I really miss the smell of fresh mangoes being flown in from Singapore to DG on a C141 courtesy of MAC air!!!
Well now this Brit is a US citizen and a Battalion Chief with the Columbia Fire Dept in South Carolina…..go figure, it was too good to pass up and I decided to hang with my American cousins……………….YEEHAR ( no I do not watch Heehaw!!!)
I just wanted you to know that your site brings me much joy…………….keep it up!!!
Carmen Floyd

1985 June
NAME = fred brooks
E-MAIL = spam@sma2.rain.com
NATIONALITY = USA
SERVICE = Ex-Navy
UNIT = Tech assist for SNAP-II system on USS WORDEN
RANK/RATE/JOB = RM/ET, Sandcrab MOTU13 subic GS-13
MY INTEREST IN DG IS = My Time There is Lost in an Alcoholic Haze, Help Me Remember!
SUBJECT OF MY STORY: = Actually, I Have a Real Story To Tell
MY WARSTORY = I was the SNAP-II CETS based in San Diego, Ca. I get a request from NAVSEA go to the USS WORDEN to repair their computer system. Seems they have a bad power supply. I fly to Subic, check in a MOTU13 to get orders to the ship. I get the news they will be in Diego Garcia about the 10th on June. So I take the bus to Clark party, like a fool until my c-141 finally get fixed and takes off for DG. Get to DG , check in, and then go to the PORT OPS to get a report on the WORDEN. BAD NEWS, something happened at XXX country , and they were sent to quell political unrest in XXX. SO now I'm screwed, OPS tells me to call every morning for ships port ETA status. How long until they get to port nobody knows. I call my boss at NAVSEA to get me back to PI. NO CAN DO, must wait on DG.
I spend 2 weeks on that rock waiting for the ship. Daily routine Wake up at 9, drink a beer for breakfast. call the tower, no ship (CRAP), drink more beer till noon, go the seamans club, drink more, fish from the pier while drinking, look at the reef while drinking and finally fall asleep while drinking.
Finally on June 24 call the tower and the ship's in today (Thank GOD!) While I'm waiting at the pier I notice a lot on brass also waiting, I say "what's up?" It's seems two guys on the ship have come down with malaria and one died. Thirteen personnel were hurt during a unrep and one other moron tried to commit suicide by jumping overboard. It's a judge advocate general investigation for the CO and medical staff.
I finally get on board, fix the computer in about 30min and stick around for another day to make sure it's really fixed. Then I fly out on a C-5 medevac with the sick and dead guy back to Clark right in the middle of a typhoon. We land with the wind blowing about 60K and a foot on standing water on the
runway. (I really kissed the ground when I got off that plane)
That's my DG story. I've got the stamp in my passport to prove it.

1984-1989
Alejandro Canasa <larry_canasa@yahoo.com>
Dear Ted,
I think the photo of the hidden man is of William Harrington a.k.a Bill Harrington the Harbor Opeerations Manager, and John Springer is the Personnel Manager of FEBROE, my boss... I am the guy who prepares travel papers to anybody employed by the company whether they are being kick out of the island or taking R&R. I am from Annex 02 Im checking for some pictures to send during my stint at Diego Garcia from 1984 to 1989
Larry Canasa
FEBROE Travel Specialist


From: "DAISYMAE BANEZ-PINCHART" <czarinapinchart@hotmail.com>
Date: 12 Mar 2006, 12:37:43 AM
Subject: WHERE ARE YOU GUYS?
Hi Ted, i just love your website about Diego Garcia, fantasy island, reminds me of good, fuckin' memories there during 1984 to 1986 as a Quality Control Secretary of FEBROE. Im a Filipina and now married to a Belgian...
I wonder if you coulc let my friends know that i wanna get in touch with them somehow. they are Americans:
ANTHONY CLEMONS
JESSE M. HEISEY
MELVIN FERNANDEZ

thanks very much Ted, more power to you....
"Ed and Marie Dunne" <crabapple@hvc.rr.com>
To: easy501@zianet.com
Date: 13 Nov 2005, 07:03:41 PM
Subject: Berbara tank farm
Hi Ted,
Ed Dunne, EO1 Seabee Ret.
I was at the tank farm in 1985 doing land surveys off the USNS Harkness with the Marines. Awesome place. Almost got shot by the guards one night coming in from a night survey. Also took a great ride up to Hergasa once. Also was on DG for a while doing surveys and my brother-in-law was stationed there.
Great site Ted
take care, Ed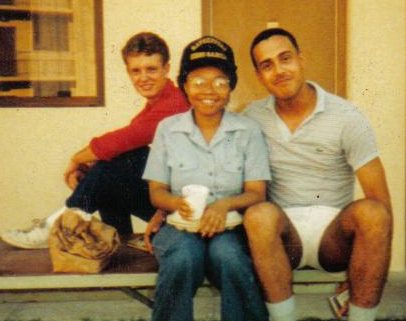 Phillip Rivara <ippi1@sbcglobal.net>
To: easy501@zianet.com
Date: 04 Jan 2006, 05:12:26 PM
Subject: Cool Site
I found your site while web-surfing. Very impressive. I was stationed on Diego Garcia 1985-86 (U.S. Navy), as a postal clerk. I worked primarily on the flight line. I will try to dig up some of the nearly 900+/- photos I took while I was there. Maybe you can tell me where I can find another NAVSUPFAC DIEGO GARCIA ball cap.
Sincerely, Phil A. Rivara
Sacramento, Ca.









1984 TO 1986 (GOOD TIMES !!!)
NAME = DAISYMAE BANEZ PINCHART
MY QUEST = I WORKED AS A QUALITY CONTROL SECRETARY
VT of a SWALLOW = I DONT KNOW !
E-MAIL = czarinapinchart@hotmail.com
NATIONALITY = FILIPINA
SERVICE = NOT APPLICABLE
UNIT = I WORKED FOR A CONTRACTOR NAMED FEBROE
RANK/RATE/JOB = QUALITY CONTROL SECRETARY
MY INTEREST IN DG IS = Want to Return When the First REAL Club Med Opens
SUBJECT OF MY STORY: = I'd Like to Share Precious Memories of Drinking/Fishing/Snorkeling/Sailing on Diego Garcia
MY WARSTORY = WELL, DURING MY STAY THERE AT FOOTPRINT OF FREEDOM, I DID ENJOYED WORKING BECAUSE IT WAS MY FIRST TIME TO WORK ABROAD AND ENJOY MY FREEDOM AS WELL. WORKING EXPATRIATES AND THE NAVY CHALLENGED ME ALOT.
MY LOVELIFE? GOSH! I HAVE FOREIGN SUITORS LEFT AND RIGHT THAT ALMOST EVERYTIME I HAVE TO HIDE FROM THEM COZ THEY ALWAYS ASK FOR ME... THEY DO LIKE SEXY ASIANS LIKE ME!
I WOULD NOT MIND WORKING BACK THERE...NO HASSLES AND IT IS FUN IN THAT WONDERFUL ISLAND !!! : )
CHEERS : )
DAISYMAE

1985-1986
NAME = Sherry Hill
MY QUEST = Live life to the fullest
VT of a SWALLOW = slower than the speed of sound
E-MAIL = sherryh@yearone.com
NATIONALITY = us
SERVICE = usn
UNIT = Weather Office
RANK/RATE/JOB = Then E-5, now, civilian working in the muscle car restoration industry.
MY INTEREST IN DG IS = Want to Return When the First REAL Club Med Opens
SUBJECT OF MY STORY: = Other
MY WARSTORY = Everybody said, buy an extra sea bag so you can collect all that money since women are so scarce on Diego. That my friend is a man's perspective. True enough, many more men than women but i an not nor have i ever been able to collect money from men for my company. Not that it doesn't sound sweet, i am just not made out of that kind of material. Diego was fabulous, clear white sand beaches. All the way around the world only to find '20th century fossils' like plastic bottles and tampon tubes all over the place. Not as remote as the Navy implied. Got my sailing certification in that awesome lagoon and throughly appreciated the climate. I would return there in a heartbeat. Have they ever built a de-sal plant like they have in Gitmo?


1985-1986; 1999-2000
Group pictures wanted
Date: Mon, 22 Aug 2005 23:08:02 -0400
From: "Michael Brown" <mwd007@cox.net>
I was stationed in DG `85-86 and `99-00 and am looking for any group pictures that hung on the wall in the club. Specifically of the "Over 30 G's.
Mike Brown MACS (SW/AW) Retired!

1985
NAME = Alan Crooks
MY QUEST = I'm trying to remember!
VT of a SWALLOW = Which terminal was that?
E-MAIL = acrooks@faculty.ed.umuc.edu
NATIONALITY = Native Idahoan
UNIT = University of Maryland
RANK/RATE/JOB = TDY Maryland Instructor. Still doin' it.
MY INTEREST IN DG IS = Other
SUBJECT OF MY STORY: = Other
MY WARSTORY = I was sent to Fantasy Island after a Maryland instructor whose name I really don't remember went a bit "island happy." I used to hang out with Coleen Manning, Bob Fiske, the Dental Officer, the medical officer, whose name I have forgotten, and George Warburton(?), one of the RBRM folks who was a master diver. I taught some film courses and drank a lot of beer, so much that I don't seem to have much recall of anyplace except for the RBRM shack. Ah, those brilliant sunsets! I was too sober when I taught. Whoever says different is a brash liar. The reason I decided to register is to try to remember what else I did in Dodge except drink and dive. Jeez, 20 years. Great daze.
Alan Crooks


Feb85-Apr86 and Apr88-May89
NAME = Mike Ellison
MY QUEST = No Quest, just responding to the lingering lure of DG.
VT of a SWALLOW = Eyes too fuzzy to see that fast.
E-MAIL = shead@mikeslot.com
NATIONALITY = American
SERVICE = USN
UNIT = Fire Dept. QA AirTerminal Cargo Ship Cargo QA
RANK/RATE/JOB = ABHC(AW) Ret.
MY INTEREST IN DG IS = Want to Return When the First REAL Club Med Opens
SUBJECT OF MY STORY: = Please Select a Title For Your Story, or Select 'Other'
MY WARSTORY = There are many stories, but I think some may have heard of this. I was the first to have a water bed on the island. A friend on (SChief the island had his wife send me the bladder and heater, and I built the frame from old junk wood found on the island. I sold it when I left and when I returned the a female Brit was the proud owner. Being the only male on the Island had its advantages!


June 85 to June 86
NAME = Eileen Norrington (It was O'Hickey when I was on the island)
MY QUEST = Connect with old friends who have fond memories of the island
VT of a SWALLOW =
E-MAIL = CaptainEileen@comcast.net
NATIONALITY = U.S.
SERVICE = Navy
UNIT = Chaplain at NSF Chapel
RANK/RATE/JOB = Retired Navy Chaplain
MY INTEREST IN DG IS = Stroll Down Memory Lane
SUBJECT OF MY STORY: = Other
MY WARSTORY = I remember the Christmas pageant that the Catholic community had in the outdoor theater on Christmas Eve. They had three wise men carrying the gifts. One had something gold, one had something that could pass as a box of frankincense. But no one could find anything that resembeled myrrh, so the third wise man carried a bottle of Mateus wine. We still chuckle about the three wise men carrying "gold, frankincense and Mateus." :)

1985-86
NAME = HTCM/MDV Roger Seeley
MY QUEST = to figure out what the hell Texans are trying to say
VT of a SWALLOW = 4th stroke if she's really good
E-MAIL = jim4mdv@aol.com
NATIONALITY = USA
SERVICE = USN
UNIT = Master Diver NSF-DG
RANK/RATE/JOB = Retired in 1991 from ComNavSurfLant Staff
MY INTEREST IN DG IS = Professional Spy
SUBJECT OF MY STORY: = Actually, I Have a Real Story To Tell
MY WARSTORY = I currently work for KBR Government Compliance in Kuwait. Yesterday I had a meeting with a Project Manager of ours who was also PM on DG in 1995. Ivan Howitz. I understand that alot has changed on DG and alot is still the same. Ivan told me 40% of the USN population is female. God Bless the Navy!!
If anyone has Captain Norrington's e-mail address please fwd. it to me.


84-86
NAME = Andy A. Alvior
MY QUEST = Remembering (trying to forget?) some history
VT of a SWALLOW = depends on how many rum & cokes you give the DJ
E-MAIL = Blackhelm36@hotmail.com
NATIONALITY = U.S. born bred and raised
SERVICE = USN
UNIT = NAF/GEMD ---- DJ @ Seamans club on weekends-----------
RANK/RATE/JOB = former ET3 now a Union Millwright
MY INTEREST IN DG IS = My Time There is Lost in an Alcoholic Haze, Help Me Remember!
SUBJECT OF MY STORY: = This is a No-Shit Drinking Story
MY WARSTORY = Hey all, just remembering coming home from the Seamans club and the door to my room wouldn't open more than 2 inches. figuring the chase lounges fell over I began slamming the door into them trying to move or break them. once the door opened enough to get my head in, I realized it was my fresh to Dodge roomie drunk and in a puddle of piss and puke on the floor. Me being the honorable and kind hearted person I was, I went down the hall and pounded on every door saying "GRAB your cameras and come to my room!!!"
Every one had a great laugh then it took 5 of us to haul him into the shower, drop him in, turn on the water and shut the door.
we sat down and all finished a beer off before he figured out how to get out of the shower.the kid thought P.O.s were gods but we broke him of that real quick. There are ALOT of stories to tell I just hope there are others out there who can remember them with less fog. Hope to hear from some of them.



1985
NAME = Tom Sneade
MY QUEST = Old shipmates
E-MAIL = thmssneade@aol.com
NATIONALITY = British
SERVICE = Royal Navy
UNIT = Medic
RANK/RATE/JOB = Retired
MY INTEREST IN DG IS = Stroll Down Memory Lane
SUBJECT OF MY STORY: = There I Was, Passed Out in the Club
MY WARSTORY = Wow! Spent a great year on this paradise island working as a medic, customs offical, Brit Club barman and sometimes at Cable and Wireless for extra beer tokens! Anyone know me?


1984 1989
NAME = Jean Roland Noel
E-MAIL = rolandnoel@bigpond com .au
NATIONALITY = mauritian australian
UNIT = febroe bos contractor working as janitor houssekeper
RANK/RATE/JOB = now am working as a nursing assistant in australia
MY INTEREST IN DG IS = Want a Job as Far Away from My Wife as Possible
SUBJECT OF MY STORY: = There I Was, Passed Out on The Beach
MY WARSTORY = Yes there i was cleaning the toilet making your bed from 1984 to 1989 while you were here and there traning or fighting

April 1985-July 1985, Nov87 - Dec87
NAME = Mike Richardson
MY QUEST = To find that ever elusive C-141 flying in with fresh San Miguels
VT of a SWALLOW = African or European?
E-MAIL = pemdas03-fatchance@yahoo.com
NATIONALITY = 'Mercan
SERVICE = USN
UNIT = VP-4 Skinny Dragons
RANK/RATE/JOB = then AD3, decided to part ways with the Navy in 1991
MY INTEREST IN DG IS = My Time There is Lost in an Alcoholic Haze, Help Me Remember!
SUBJECT OF MY STORY: = I am a Born Liar, and Want To Tell About All The Sex I Had on Dodge
MY WARSTORY = I woke up in a room, pants-less, with a beautiful (even by Diego Standards)young lady. I'm still not too sure what transpired.
Anyway....There I was sitting in my TDY assignement awaiting orders to Hawaii, when I got a change in orders. I was to join VP-4 in Dodge mid-deployment. Easy enough right? Wrong.
The plane, a C-141 was to meet me in Norfolk then fly several of us including a team of civilian barnacle divers to Diego via France or some other European nation. As we were preparing to depart, war broke out in Chad. This delayed us a couple of days while the powers that be sorted things out.
Eventually, we were told that we were going to be departing, but that there would be a slight change in our itinerary. We would be travelling West, not East.
We boarded our 141 and flew immediately to New Jersey. We needed a new windshield we were told. After what seemed like hours, we departed for Travis AFB where the crew needed crew rest. THe following morning we departed or Hickham AFB where we sat around as a crew replaced a couple of our engines. Thrilling.
After another seemingly interminable delay for flight checks and the other assorted tasks of changing an engine or two, we were again on our way. We eventually landed at Anderson AFB where again we needed to stop for crew rest. As we landed in the morning, billiting was not offered to the passengers. We were allowed to shower after much complaining.
That afternoon, we departed for the Phillipines and Clark AFB. By this time, the crew was getting suspicious of us plotting a mutiny and kept us locked in the air terminal while we re-fueled.
We then took off for the final leg of our journey arriving in Dodge around 7 or 8 AM. As we had been advised, we were all travelling in civilian attire and technically hadn't bathed/shaved in about 2 days since early AM in Guam. I got a ride to the VP4 duty office where some 2nd class decided this was a good time to teach me about military courtesy.
I advised him that his lecture would go a lot further after I had a chance to sleep and get cleaned up. I explained to him that I had been on a plane for nearly 5 days and wasn't exactly interested in anything but a place to sleep lieing down, on a bed.
The rest of the detachment is colored in formaldehyde flavored beer. I do remember the base restricting our squadron to the barracks for the Fourth of July because we were scheduled to depart around the 5th or 6th. Somehow rumors got started about potential Biot Riots!
Did I mention the World Airways plane that arrived to rescue us from Dodge broke down? Our electricians had to repair/recharge the battery just so we could get the hell off that rock. In exchange for helping them help us, we drank every drop of alchohol on that bird.
I could tell I pissed someone off a couple years later when I awoke from a PI induced drunken stupor to find my ass back on the island for a second time.


1985 May/June
NAME = Steve Williams
MY QUEST = To seek the Cold Frosty mug "Holy Grail" full of beer!
VT of a SWALLOW = African or European??? I know this one too!
E-MAIL = stevie_d_64@yahoo.com
NATIONALITY = American
SERVICE = U.S. Navy
UNIT = TAD, waiting on my ship...
RANK/RATE/JOB = Operations Specialist...Scope Dope...Twidget...etc etc etc
MY INTEREST IN DG IS = Stroll Down Memory Lane
SUBJECT OF MY STORY: = I'd Like to Share Precious Memories of Drinking/Fishing/Snorkeling/Sailing on Diego Garcia
MY WARSTORY = Well I can say that trying to get to my first command was an adventure...
Flew from Houston, Texas (this is really going to identify me!) to Los Angeles, Californis to Fairbanks, Alaska then on to Okinawa, Japan where we flew on to Angeles City, Phillipines for an overnighter...
Then we caught a C-5 straight to DG with an M1 Abrahms tank in the cargo bay...
Anyway...
I got there and recieved the typical British Indian Ocean Territory briefing...
Got assigned to my temporary trailer park trailer bunk...I ended up stringing a hammock to sleep in outside (it wasn't that bad, at least I had a breeze coming off the I.O. hehehe)...
Woke up the next morning looking for a place to go eat...They didn't tell us a lot back then, so I went foraging...No Joy...
They (U.S. Navy contigent) found me and assigned me to a "work crew"...I started to feel like Steve McQueen in Papillon...But the work they were looking for us to do wasn't that bad...We just decided to do it badly...I don;t know if the remnant of those swimming barges are still around to this day...But another engineering rate and I put together a couple of "barges" folks could dive off in the lagoon for recreation...He welded, and I knew a little about decks and wood products...At least thats what I got to do...So a few 55 gallon drums, and some 2x12's later and we had a couple of drydocked barges...
I got to talking to a SeeBee type and we stole one of their tractors and pushed them into the laggon later that week...
Ohhh! Almost fotgot...The USS Callaghan (DDG-994) was up in the North Arabian Sea at the time I was on DG and wasn't due to pick me up (because they didn't want to fly my up to the Connie to transfer me that way, thank God!) I was stuck on DG for about a month...
Ok, back to muh story...
After the barge building project...Which we milked for about 2 weeks...Hey we even painted the damn things!!! I painted mine with a few identifiable "Texas" flags and things...And the other we christened the USS BR-549...We thought it appropriate...hehehe
But to make a long story short...I can say that the two or maybe three women/girls that were there on DG at that time...I can say that I am glad I just kept it a thought...One of the girls I ran into "literally" at the EM club when the Callaghan and I came back for an encore before heading back to the States...
Funny thing, all I did was turn around while in line to get the cheap beer there in the club and boom there she was right behind me...All I was doing was asking the guys in my division what beer they wanted, I said "sorry, excuse me...", she replied by saying "If you want to talk to me it'll cost you $400!!!"
I figured she had a good business going so I figure I'd ignore it and drink muyself into oblivion...I had a better chance at that than anything with her...hehehe And to think I remember her being the cutest brunette female on that island at the time...I found out she worked in the clinic...Good thing I suppose...Does anyone else rememeber this young lady at that time???
But I did come back one last time for about 3 weeks while the Battle Group dispersed a little due to budget and fuel availability...That was in 1986-87 if I remember correctly...Lots of BBQ's and volleyball, drinking and other sundry activities...
I could go on and on, but I figure its safe to say that my time on DG was interestingly peaceful and un-eventful...hehehe
I'm sure times have changed though from what I have read here so far!!!


ON AND OF FROM 1985 TO 1988
NAME = RICHARD M. RICE
MY QUEST = TO SHARE SOME GREAT TIMES I HAD ON THE FOOTPRINT OF FREEDOM
VT of a SWALLOW = DEPENDS ON WHAT YOU SWALLOW!
E-MAIL = POORRICE@COX.NET
NATIONALITY = AMERICAN
SERVICE = U. S. NAVY RET.
UNIT = PERSONNEL SUPPORT SERVICES MANAGER
RANK/RATE/JOB = RETIRED SHCM FROM USN AND THEN WORKED FOR CIVILIAN CONTRACTOR ON DG
I WAS WITH THE ORIGINAL CONTRACTOR THAT TOOK OVER THE BOS CONTRACT.
I HAD THE SHIP'S STORE, LAUNDRY, BARBER SHOP, TAILOR SHOP, BEAUTY SHOP.
MY INTEREST IN DG IS = Stroll Down Memory Lane
SUBJECT OF MY STORY: = Actually, I Have a Real Story To Tell
MY WARSTORY = I HAVE MANY FOND MEMORIES OF THE YEARS I SPENT ON DIEGO GARCIA, BUT A SHORT ONE FOLLOWS:
THERE WAS A GROUP OF US EX-PATS THAT HAD QUARTERS ON A CORNER THAT WAS LOCATED IN AN AREA THAT THE FEMALE INHABITANTS HAD TO PASS TO GET TO AND FROM THEIR QUARTERS. WE HAD A COUPLE OF UPSTAIRS UNITS AND A FEW DOWN STAIRS UNITS. OUR UNITS ALL HAD REFRIGERATORS WELL STOCKED WITH WHATEVER, BEER, WINE BOOZE,ETC.
WELL WE GOT INTO THE HABIT OF CHEERING THE LADIES AS THEY PASSED AND HOLDING UP SIGNS WITH A NUMERIC VALUE FROM 1 TO 10. OF COURSE WE ALWAYS OFFERED THEM REFRESHMENTS. IT WAS GREAT FUN FOR AWHILE AND WE MET SOME PRETTY NICE GALS. BUT OF COURSE SOME BULL DYKES TOOK OFFENCE AND OF COURSE THE COMMAND STRUCTURE HAD TO TAKE ACTION. THAT ENDED THAT PHASE OF FUN.
I DO NOT KNOW IF THE SWIMING POOL STILL HAS ALL THE SIGNS IT USED TO BUT WE CALLED IT THE "NO" "NO" POOL BECAUSE OF ALL THE SIGNS THAT STARTED WITH NO. POSTED AT THE ENTRANCE. WE WERE AMAZED THEY LET YOU SWIM IN IT.
BY THE WAY I DID NOT LEAVE VOLUNTEERLY, I WAS MEDIVACTED WITH A HEART CONDITION IN FEB 1988. I REALLY HAD A GREAT TIME WHILE WORKING ON DG, MY ONLY GRIPE WAS IT WAS SO FAR TO A LIBERTY PORT.
ALL THE BEST RICHARD (DICK) RICE
P.S. DID THIS EARTHQUAKE IN INDONESIA DO ANY HARM TO MY BELOVED ISLAND.



1984-1986
BOB DUKE <Chiefbduke@aol.com>
Hi, Just ran up on your site and after reading through most of it (it's a lot of reading) thought I would send you a note and say Hi and that I enjoyed it all. I was stationed there from Nov '84 to Feb '86. I enjoyed it so much I extended twice. (Knew one guy while I was there that had managed to extend 5 times (5 full one year tours back to back)) Your site really brought back some great memories. Great fishing and crystal clear water in both the lagoon and off the outside beaches. Spent many evening roaming along endless beaches with out a soul for miles. I was there for the big and perhaps the only earthquake (supposedly a 500 year event, that measured 7.6 of the Richter Scale) and I was there when the first aircraft carrier pulled into the lagoon and was there when the first B-52 landed on the newly extended runway, what a sight. As I said many great memoreis. I'd be honored to be a member if I may. Regards Bob Duke (US Navy Retired Electronics Chief P.O. S.W.
When Were You There? Ted I was stationed in DG from 1985-86.
My name is Melinda Hulstrom
Current E-Mail Address <orcawatcher1@hotmail.com>
What Is Your Quest? Hoping to say hello and get in contact with some old old friends :)
Nationality: Proud to be 100% American
If Armed Forces, Which Branch: US NAVY
Unit or Work Assignment on DG: Yeoman-SN ---- Chapel, Harbor Ops )LCDR Wally B, Williams and then Supply Department, LCDR Vada and CDR Argento
Other Personal Info (Rank/Rate - then and/or now, retired/active, etc.): Got out 1988. . Well for me today, I don't drink anymore and don't smoke anymore. I am extremely sports active and I pretty much look the same as I did back then just a little older. I am still single though, and I think the Amazon thing makes men skeerd of me..LOL! Don't get me wrong, I love my men, just haven't found my true soul mate and maybe I never will. Maybe I am just too independent and opinionated for most. LOL! I now work for the largest Dodge Dealership in the world. Dave Smith Motors. Good ole Kellogg, Idaho as Web Developer. If you would like to contact me, feel free to do so by email and I will email you back or call my work. I believe the experiences good and not so good on DG made me a better person all around of who I am today. Also, if ever there was anyone I ever offended while there I truly do apologize in my drunken stooper. Like Michael A. Carcamo from VP-47. Great memories.:)
My Interest In Diego Garcia is: Want to return when the first real Club Med opens
Title of My Warstory: This is a No-Shit Drinking Story
My Warstory: I am so grateful to Ted for making this possible. Okay Ted Kudos to you. Here's my story. Some of you may know me, and some may definitely not want to remember me at all. Wow, an amazing Island with an amazing haze of pure alcoholism. LOL!! I never, in a million years, by stepping off of that damn airplane, knew what the heck was in store for me. My adventures actually started the first day and night I arrived on DG. I first met CAPT. Jackson when we arrived and I was to report to my duty station immediately after I dropped my sea bags off in the barracks. I'm thinkin to muh damn self, Are you fawkin kidding me? You fly me 36 hours in a damn plane, no sleep, hung over and you want me to work after I get my uniform on? Holy Shit! You talk about pissed and tired and jetlagged all in the same day. Yikes. Then to think my duty billet at first was the chaplain's office? OH NO! OMG Repent my sins!!! ERRRRR!!! When my PO and I went to the chow hall for lunch that day, I could not believe my sore, tired eyes. When I went in the chow hall for the first time, I never would have dreamed of being in the middle of so many MEN! I walked in the chow hall and everything got very quiet however I remember hearing nothing but mass quantities of silverware being dropped. I immediately turned around and walked out. Talk about embarrassing for us women. SHEESH guys! Give me my rabies shots please!!! Well what do you expect when you're a woman on DG? LOL! I felt like I was the main attraction of a strip show. LOL! Needless to say, that night by being so tired and jetlagged and couldn't sleep, I decided to go with a truck load of marines to a wonderful Brit party. Oh, YIPPEE, SKIPPY....Shouldn't have done that one either. LOL! YOWZA! I ain't never seen so many pissed=drunk Brits to say the least. I didn't have much to drink, I swear! LOL, but when we all arrived, this huge, guy came up and put his arm around me, I took offense to it and told him to take his hands off me. When he didn't and grabbed me somewhere other than my arm, I turned around and belted him one. Bringing back some memories of who I am? OMG! I didn't find out until I got to see the Captain on Monday just exactly who it was that I hit. OOPS! I hit the British XO of the base. Oh ****. From then on and to this day some people remember me by the name "Amazon"! I was very embarrassed and went to NASAP for that one. God what an alcohol haze I had the whole time I was on DG. Well, I can say, I, do have some darn good memories though and in reality, I remember this one Lorenzo Lamas double that made me do a double take when I saw him and from then on I had lust in my eyes for him. Or was it love? LOL! FRIGGIN HOLEY!! Too bad he had double bars on his shirt. LOL! This is to Dennis Jose from VRC-50. Do you remember Lt. John Spagnola? OMFG! He was such a hottie....I used to hang out with PO Mike Neil and the gang from VRC-50 when they would come back from flying just so that I could see this man. Talk about obsessed! I became mesmerized by him or, was it the mystics of the island? LOL!!Or was it the drunken stooper I was in? Darn, I know it was pure isolation! LOL! From then on being around the crew from VRC-50, I fell in love with the whole crew. They were awesome people and Mike thanks for naming me your baby foo pup sister. If you would happen to know where I might be able to reach Mike I would greatly appreciate it. I sure have thought about them over the years and the fun we had. We had some awesome times, barbeques and parties. I will always cherish the memories of DG and will hold them dear in my heart forever in this life time. I will remember the drunk donkeys too. Darn them lil ####'s for drinkin up my booze!!! LOL! BTW, does anyone have any pictures of Hector? Not the man, the hammerhead shark? I would love one. If you do come across one, I would love one emailed to me. It's hard to make people understand that there was a real shark that was 26 feet long. They think I was hallucinating. NOPE NOT!

1979,1980,1984,1985,1986
NAME = Joseph P Stropole
MY QUEST = Old Friends, and Enemies....
VT of a SWALLOW = 60 MPH in a Windshield
E-MAIL = jstropole@mail.com
NATIONALITY = USA !
SERVICE = Merchabt Marine
UNIT = USNS Rigel, USNS Mercury, USNS Jupiter, USNS Ponchatoula
RANK/RATE/JOB = 3rd Asst, 2nd Asst
MY INTEREST IN DG IS = Decided to Join A Monastery, But Couldn't Find One Stateside
SUBJECT OF MY STORY: = This is a No-Shit Sailing Story
MY WARSTORY = 1984, Ready to leave the skids, for the rock, civillian merchant marine waiting for the REPAT flight, the animal launch (remember this one ???) Broken Faces (not mine), Broken dreams, and then broken airline tickets, somebody smacked my favorite CHENG, the offender was a jarhead....The rest was BIOT history....
Arrived December 10th, 1985 Left Decenber 17th 1987
NAME = Gregory A. Milota
MY QUEST = To connect with the greatest people in the world - DG Alumni
VT of a SWALLOW = More than 30 knots
E-MAIL = Gmilota@hearst.com
NATIONALITY = U.S.
SERVICE = Navy
UNIT = AFRTS detachment
RANK/RATE/JOB = Still in the Navy Reserve - 14 years (out for 6)
MY INTEREST IN DG IS = Want to Drink A Lot, Cheap
MY WARSTORY = I have told practically everyone I know about DG. No one really believes there is a place on this earth you can go and live in absolute anonymity from the civilized world. They say "what happened in Vegas stays there." The same holds true for DG. I worked with 4 men at the AFRTS det there who changed my life, and I'd like to tell you about them.
When we got there (all within four months of each other) the det was a pretty boring place to be. We ran canned programs and drank alot. The first on the island was Ron Anstett. Why this incredibly talented man was wasting time on the island instead of working for a network is beyond me. Still, the most talented broadcaster I've ever known. He taught me how to put together a smooth - flowing news story.
Second was Eric Patrick. He taught me how to put together a fast - paced exciting radio show that could hold an audience for three hours! He was the radio equivalent to Ron.
Art Riccio was my CPOIC. He gave us the freedom to do whatever we wanted and took an active role in all of our work. A great father - figure and a true inspiration. All sailors should be lucky enough to have an Chief Riccio during their careers.
Finally, there was Ken Litwak. Incredibly talented person who was very, very creative. Drank himself into oblivion and always blew me away with his radio - tv ingenuity.
We made that detachment freakin' fly!
Hey Bill, Tom...No disrespect to you, Island Insight was the spin-off of DG weekly. We laid the template for your successes. And I understand you experienced some. Congratulations!
The greatest moment for all of us was raising 42,000 dollars for Navy relief in a 24 - hour radio TV Telethon with the Brits! That will never happen in a command the size of DG again. Ron, Eric, Ken, and Chief are completely responsible for my successes, and I think of them often. Bill, you were there, there was no year like '86. Des...I see your name. You dated my girlfriend's roomate. Hell, you married her! Wendy was Devi's roomate, my girlfriend...now my wife of 16 years. We married three months after getting off the island and never looked back. I'm now working for NBC in Sacramento. I've covered Superbowls, World Series, NBA All Star Games, Olympics, Earthquakes, Riots, OJ, Unabomber, and now "Ahnold" for governor. None of my experiences come close to the friendships and experiences I hold dear to my heart from DG. I was able to visit the island in 1994 for a 17 - day reserve duty, I was totally drained by the flood of memories and the renewed appreciation and wonderful opportunity to see it again. I'm even more excited about my "farewell tour" in fiscal '04.
I'll be returning for the last time - at least my jealous wife says no more trips to DG after this. A special hello to the AG's on the island. My wife was an AG3 when I met her there. Paul Plunkett, you're my hero! I intended to write a little, I could write forever...
Rob Belpedio, Moses Clark, Reggie Watson, Paul Claxton, BAZ, Yolanda, Chris Russell, Brian Miller, Britt Casteel, Mike Godfrey, George from "new car sales," Ric Evans, you are my family!
Thanks for the website!
Greg Milota AFRTS 1986 - 87 (Uncle Greg)
1985 to 1986, 1989 to 1990
NAME = Tom Shepke
E-MAIL = tomshepke@juno.com
NATIONALITY = American
SERVICE = U.S. Air Force
UNIT = Supt. OL-A, 374th TAW; Supt Det-1, 374th TAW
RANK/RATE/JOB = TSgt first tour, MSgt second tour. Ret now
MY INTEREST IN DG IS = Stroll Down Memory Lane
SUBJECT OF MY STORY: = Actually, I Have a Real Story To Tell
MY WARSTORY = On Sunday, Our aircraft maintenance rep (QAE) MSgt Gene Lawless any myself would always go to the galley for their speciality; fried chicken. I would go thru the line first and order a leg and a thigh. Gene would do his best to communicate with the Filipinos by imitating a chicken. He would alway say, "Give me some bak-bak". So he would get his chicken wings and we would sit down to eat. After about a month. Gene was getting pissed because he would always get chicken wings. I told him that, when he told the filipino guy he wanted bak-bak, he was asking for chicken wings because bak-bak is what filipinos call chicken wings.
TSgt Ken Hadden was Our Aircraft Maintenance QAE on my first tour. He was the one that would always ask for Bak-Bak and only got wings on Sunday at the galley. This occured shortly after he got picked up for DWI riding a bike past the Navy Security building, on his way back to the barracks from the Brit Club. MSgt Eugene Lawless was our Aircraft Maintenance QAE on my second tour.
85-86 plus 1 month of 87 then 89-91 and luckily a third time 99-01
NAME = Elisabeth "Red" Gambrell
MY QUEST = To retire and spend the remainder of my days at the DGYC with a cold beer.
VT of a SWALLOW = Beer or Booze cause I was to drunk, all 132 times, to remember the Monty thing!
E-MAIL = seagambrell@yahoo.com
NATIONALITY = Army Brat - Navy Wench
SERVICE = WAVE then WIN and finally CHIEF
UNIT = ASCOMM once TSCOMM next, lastly COMPSRON TWO
RANK/RATE/JOB = USN - First arrived as a 3rd, returned and left again as a 2nd and for the last (but not final time) arrived a 1st and left "Initiated by Choice" Chief. Retiring in a year to return to paradise anyway possible.
MY WARSTORY = The first year and a month - Interest in DG: Passionate, obsessive but very real. Go figure 9.34 males to every female...Duhhh. Ok the beaches, sunshine, cheap booze, laughter and life long friendships could have something to do with it.
Title of My Warstory:- "All Men are Dogs"
Ted, I've spent more time over the last 10 months surfing your site than most people spend on email. Thank you for supporting my insatiable DG addiction. True I did spend my first 10 months on island inside an alcoholic haze from which the Navy was kind enough show me the way out with two months in rehab in San Diego and then return me to DG for a final sober month to really see the island.
Even through the haze I remember enough of those first months to have a few stories. The "All Men are Dogs" is based in the centuries long practice of
"of course I'm not married" lie that men still perpetrate and I as a young 3rd still hadn't figured out.
Arriving in paradise - after that not so fondly remembered 36hr flight - on a hot and sunny day (again - go figure) I was greeted by none other than "Pineapple George" as I got off the plane. Remember this is way before he became the Mayor and was still having to work for a living, hell this was before 7 Degrees South (no he's not the one who lied). Dragging my freshly pee'd on, drug sniffed luggage out of the terminal I climbed on what was to be the first of many humidity shrouded bus rides to the NCTS Barracks. I didn't find that hazy bottle the first night the more pressing matter of getting laundry detergent to wash the dog pee out of my uniforms occupied me but Friday was just around the corner. That first Friday lasted 10 months and now on reflection contributed greatly to my first "All Men are Dogs" determination.
Don't get me wrong, even with that thought I wouldn't want to live without men in the world. True I wish they'd lay of the bull shit lines and just get honest - if your married don't screw around with someone else's heart. OK enough shit back to DG.
As many have noted DG has different rules for woman and all club doors were open to me, the first one I entered was the RBRM (still the best sunsets in the world) and saw some of the finest male specimens standing at the bar. Diego has a way of tanning and toning men unequaled anywhere. The hunt was
on, at that time I didn't even know the ratio's, advantages or disadvantages of being a woman on the rock I was still playing by the rules I'd learned elsewhere. (See DGAR RULES in 2001 Warstory sometime soon.) Oh how I enjoyed those first 5 months - it's something I haven't read a lot of on your pages
but I know I wasn't alone in my hedonism.
PARTY - PARTY - PARTY - after hours open bars - dancing naked men on the bar - skinny dipping till sunrise - Guys and Dolls dress - King Bunny - dancing naked on the bar - don't spill the beer softball - windsurfing to the plantation - naked rib boat rides - BBQ and MOJO - Tequila till you drop - Toga's that you really didn't wear anything under - checking to be sure you didn't have anything under your toga - cold dick margaritas (stirred not shaken) - sunny beaches - blurry sunrises - PARTY - PARTY -PARTY Then of course I met "THE ONE" the one who told "THE LIE" that earned the title theme. Aw hell so what he was great in bed, it was worth it.
RBRM and the SEAMANS club were my two favorite hangout's and of course the BRIT CLUB for dance style party stuff - RBRM because it was the ultimate in island style - no canned music - only live by the folks who brought their own instruments.
- SEAMANS because Merchants are the least pretentious people I have ever met - you work - you drink - you fall down - who cares as long as your at work
the next day.
- BRIT CLUB - what the hell, do they really pack all those costumes in with them or do they have a secret wardrobe department somewhere on island.
All in all a fantastic 13 months - I was in tears when the plane took off - I thought I was leaving forever the friends I'd made there. Sure we said we'd stay it touch, but how often does that happen - FOR DG CONNECTS "OFTEN." My dearest "Heart Sister" is still in my life, our intrepid and now frozen in Antarctica AFRTS music from way back DJ roams through town now and then, Merchant Cadets who are now Master Merchants still sailing, SEAMAN's club employees who thank the God's still know how to put a spice in a meal, Peacekeeper Staff who still serve bad coffee in unlimited quantities - these are the people who made DG and still make it paradise.

Aug 1985 - August 1986
NAME = RM1 Thomas "Robbie" Robinson
MY QUEST = Passing critical information along: A legend revisited
VT SWALLOW= Hmmm..I'd assume sublight..perhaps 1/8 impulse only.
E-MAIL = johnny_blair@yahoo.com
NATIONALITY = US; SERVICE = Navy; UNIT = 'R' Site
RANK/RATE/JOB = Stayed in for 10 years. Made RM1 on Diego actually, but NOTHING was good enough after my 1 year tour on the Rock..so I got out in Long Beach and went full-time to college right off the ship.
MY INTEREST IN DG IS = My Time There is Lost in an Alcoholic Haze, Help Me Remember!
MY WARSTORY = Promply after detaching from Diego Garcia in summer 1986, I took a little "R&R" in Olongapo...and decided to drop in on the AFRTS Navy Broadcasting Det there in Subic. WHO do you think I met IMMEDIATELY in the
AFRTS parking lot that afternoon? None other than world-famous "Don Diego" bigger than life. I quickly filled him in on the events on the island after he'd detached from the Det there, and left no doubt in his mind that I was a die-hard fan of his show he had produced and acted in during his tour on the Rock. He said: "We need to go out and celebrate the continuing saga of Don Diego!" I Humbly asked him what he had in mind. "What else" he replied with twinkling eyes, "winning the hearts of fair Filipinas!" I shrugged: "How we gonna do that Don?" "My boy.." sez Don Diego throwing his arm over my shoulder, "I have a secret weapon that none may resist!" "But we have little time to lose..quickly, we'll go to my room, freshen up, and head out for the conquest!" Totally baffled now by this mysterious TV personality, I meekly
followed him to the jeepney and boarded, not knowing if I'd survive this adventure or not. He put my mind to rest however after a very brief stop at his place, we went straight to Magsaysay Blvd. and to a very low-key and rather uncharactoristically classy place (no, I can't remember the name of it) But what happened next was completely unexpected, totally unbelieveable. . As SOON as Don walked into the main area where the bargirls were all sitting
around, they stopped whatever they doing and MOBBED him!! (what the hell..?) They were treating him like..like..a ROCK STAR??? "Don! Don..what gives..why are they acting like this" One of the girls stepped right up to me smiling and said: "Don is a star, and you are about to find out for yourself..wait 'til you hear him sing!" (SING??) Then the music started, and 'ole Don stepped right up on that stage singing in PERFECT, accent-free Tagolog!! Don came there all the time I found out and blew all the girls away with Taglog love songs! GO FIGURE!! The rest of the night was a complete blur..Don did NOT exaggerate...we came..we saw..we conquered..I never spent a dime on ANYTHING or ANYONE!! Thanks Don Diego...thank you.
1985 - 1986
NAME = Ian Morse
MY QUEST = To remind myself of the kinship on the Footprint of Freedom
E-MAIL = morse@gordonavenue.fsnet.co.uk
NATIONALITY = British; SERVICE = UK Royal Marines; UNIT = Brit XO; RANK/RATE/JOB = Captain Royal Marines (retired)
MY WARSTORY = September 11 reminded me what the Footprint of Freedom was all about, and how much I both miss and admire my colonial cousins. War stories are hardly appropriate at this time, but of all my 22 years in service 1985 -
1986 on DG were my most satisfying and rewarding. The friends I made and the challenges we faced both professionally and personally created a bond that will never be broken. I still remain in contact with the CO Giles Norrington (occasionally). For those who remember him you will be sorry to hear that ROPO 1 George Walton died a few years ago. I still vividly remember the Challenger disaster and the effect it had on all of us on island. The Brit Club was always better served when it was full of Yanks and Brits who were worse for wear with drink ( which I managed to keep the cheapest on DG ). Did I get a word of thanks.....NO!!
How time flies... I'm now retiring from my second career...I wonder what you are all doing and whether any of you remember me. Still when I'm really old and grey I will be able to remember with great affection the most outstanding
time of my life. Live long and prosper !!
1985
JAMES CURRAN <jcurran@csds12.navy.mil>
Ted: Not sure if I qualify, but I served aboard the USS JACKSONVILLE (SSN 699), homeported out of Norfolk, VA, from 1984 to 1986.
In 1985, during the course of J-VILLE's second around-the-world cruise (too many contacts in the Med for us to hit), we stopped in DG several times. I still have pictures of the roaming chickens, the BIOT Land Rover, the trailer half the crew crashed at, the sunsets, and the old Destroyer tender that was parked there at the time. I had a great time there, but admittedly wasn't there for a year or more straight. Highlights I remember include most of the crew buying the jungle boots (which we couldn't wear when we returned to Norfolk), being advanced to PN3 (I'm now a YNC), outside movies,
and gorgeous weather. Not many girls though.
I also have one war story to tell you. Back in 1985, they used contractor workers from the PI to moor subs when they came in. We had a huge TM on board named Barry Frost. The first time we pulled in to DG, we were carrying our own lines and Barry had to toss over the heavie line. Mind you, these were the days when you used lead shot to add weight to the monkey fist. Well, Barry tossed over that heavie line and one of the contract workers reached up to grab it....but wasn't quick enough. The monkey fist nailed him in the forehead and knocked him out cold. So while everyone
swarmed around him to see if he was okay, we were still trying to tie up and get lines over. It was the funniest thing I ever saw. We had to use a bull horn to get their attention and remind them we're pulling in. What a great place.
James Curran
YNC(SS), USN
CSDS-12, Groton, CT
Twice aboard the uss sierra aug-nov 1982 and june-aug 1985
NAME = david goins
MY QUEST = looking for the holy grail
E-MAIL = goinsfam@mindspring.com
NATIONALITY = American; SERVICE = Navy; UNIT = USS Sierra AD-18 storekeeper second class
RANK/RATE/JOB = Left the service September 1985, Note: flew out of Diego at 10 pm at night for Norfolk, VA to get out
MY INTEREST IN DG IS = Stroll Down Memory Lane
SUBJECT OF MY STORY: = There I Was, Passed Out on The Beach
MY WARSTORY = I have been TWICE. The first time sucked. Worked our asses off on ship and there was little to do on the island except drink, drink, and drink.
Second time was better. Drank alot. Played alot of softball with the local Marines. Drank alot. Chased women. Drank alot. Beautiful island. Beautiful beaches. There is not many of us who have been there and experienced the place. But like they say, the best view of Diego Garcia is in your rear view mirror!!!!
January 1985 - April 1986
NAME = Jeff Gove
E-MAIL = jeff_gove@hotmail.com
SERVICE = Navy; UNIT = C-Site, Wizard; RANK/RATE/JOB = CTT3
MY INTEREST IN DG IS = Stroll Down Memory Lane
MY WARSTORY = Had a great time there.
Miss the beaches, sun and most of all the people. REALLY wish I knew then how special all the people were at C-Site.
Looking for anyone who remembers me, would love to chat.
March 1985 to February 1986
NAME = Greg White <gwhite@prtm.com>
NATIONALITY = USA; SERVICE = Navy; UNIT = AFRTS Detachment; RANK/RATE/JOB = Then, JOSN.
MY INTEREST IN DG IS = Stroll Down Memory Lane
SUBJECT OF MY STORY: = Other
MY WARSTORY = Back in 1985 I worked as a disc jockey (AM 1485) and sometime television personality on Diego Garcia's AFRTS station. Had the honor of doing the Christmas Eve show that year. President Ronald Reagan made a point of calling a forward deployed member of each branch of the service, and that year he spoke to Seaman Jeffrey Nelson, a young squiddley-diddley whose ship had pulled into Dodge. Well, I got to patch the phone call over the air.
Lots of requests that balmy Yuletide evening.


1985-1986; 1979-1980 TOO
SCOTT VAN AKEN <SVanaken@aol.com>
Super site on Dodge. Where were the babes when I was there? Was stupid enough to do two tours there (79-80) and (85-86) and there were definitely no wimmin on the joint during the first tour, just Seabees, which are close, but not
quite the same.
I do remember the SR-71 flight, the stealthy C-130s and quickly repainted MH-53s (which ended up burning in the desert) as well as the USS Guadalcanal, Conestellation and (I do believe) the Kitty Hawk also showed up during the
later tour. Also had the opportunity to get a brief tour of the USS Missouri and some of the B-52s that the Air Force kindly sent so that we'd have something to do when not fixing planes!
Spent time with Customs and the Security force during the first tour. Got to know lots of Brits and that they drink while on duty! Found it odd that they only got ale resupplies every quarter, especially by the way they consumed the stuff on weekends. Must have been a LONG flight in a C-130!
Enjoyed the place while I was there, was very glad when the tour was over and wouldn't mind going back if the money and job were right.
Keep up the good work,
Cheers,
Scott Van Aken
USN (ret)
1985-1986; 1991-1992
JOHN BRUNEEL <jbruneel@flash.net>
I was first on DG in 85' - 86' and we drank the water out of the taps mostly to re-hydrate after many a brit club foray. I drank a lot of water there. I next came back to DG in 91' - 92' and start drinking the water as most mammals do. A couple of months into the tour we are told "Don't drink the water" it apparently has some sort of carcinogen in it. I can't remember the name of it something like TCH???? They installed portable water tanks to draw water from. So it must have been serious. I drank a lot of DG water I hope my kids don't grow gills and sprout wings. If any one knows what the deal with the water is (was) please post.
1985-1986
CHIP GERRIE & BILL HAGARTY <chipper266@hotmail.com>
MY QUEST = to find our old buddies thats was on the rock 85/86
VT of a SWALLOW = 186,000 per second if he has a flash light up his ass
SERVICE = navy; UNIT = comsta R-SITE; RANK/RATE/JOB = ET3 chip gerrie, ET3 bill hagarty
Bill and I are looking for our lost commrads, that we're on D-GAR from 84-87. we know your out there we have made a list from the people that we can remember to the best of our intoxicated memories so if i misspell your name or i happen to misspell anything its seems that you have grown too up-tight, so untill you remove that large stick from your anal cavity dont reply to this post ( only kidging :P)
heres the list:
ET3 norman kessler, ET3 brian fussco, ET1 julie evens, ET1 karrie ???? ET1 margret ????????, ET1 larry ?????(pak rat), ET2 phil foss, ET3 mark contard, ET3 darin kemp, ET3 kevin phingst, ET2 alan ???(USS lahey), ET2 john LaLange, ET2 keith Violet, ET2 Keith???(was stationed at japan b4 he got to DG) ET3 mary kitson, ETC donold burtrum, ETC fowler, ETCs shivly,.......... these we're some of the ppl station at r-site during the years of 84-87 if you know any of these ppl go ahaed and e-mail me or bill hagarty(BHagarty@safeguard.com )..
CHIP's WARSTORY: i still recall this party with opaque crystal clairity, LOL, there we we're, all from r-site (that was cool), and even some from t-site (that wernt so cool) never did like the et's from t-site much differnet story thou, well anyways we were all down at the "A" frame (for those of you that dint know where the "A" frame was you were never ever on DG it was a figment of your intoxicated imagination). Well back to the story, we all decided to play chicken (those of us that could still stand) ah yes Mary Kit*** (to protect her virtue he he) was my partner, on my sholders she went, well to make a short story shorter errr.... to make a short story long fuck it i had fun and still have a few pictures to prove it, btw if you were there you would have remembered the party.... to my freinds that were with me on the rock, thanx, of my 35 years of living i lived life the best on DG with you all.....

Jul 1985 - Jul 1986 and again Dec 1991 - Dec 1992
JOHN BRUNEEL <jbruneel@flash.net>
MY QUEST = Regain dead brain cells
VT of a SWALLOW = laden or unladen?
NATIONALITY = USA; SERVICE = USN; UNIT = NCS later NTTC C-site; RANK/RATE/JOB = E-2, E-3, E-5
MY INTEREST IN DG IS = Want to Drink A Lot, Cheap
SUBJECT OF MY STORY: = Actually, I Have a Real Story To Tell
MY WARSTORY = The great chicken kill of 1985. This was an actual event endorsed by the crown herself. One day of unlimted slaughter. Fortunately for the chickens they had home jungle advantage and most of the human participants were drunk. This event also included the "Save our Chicken" protest outside the Brit Reps office.
Another fond memory is when my roomate drove the C-Site bus onto the beach.
1985-1986
KEVIN D. RICHARD <Foodog82@aol.com>
I would like to join PPDRDG.inc - I was there 1-85/5-86 NAF AIMD paraloft (PR3 at that time)
1985, 1986, 1988, 1991
EARL BURTON <eburton@aol.com>
MY QUEST = To find Sharon Myers (Specialski married name, but now divorced)
VT of a SWALLOW = Less than the terminal velocity of a Hawk (why do you think they are called "swallows")
NATIONALITY = US; SERVICE = US Navy; UNIT = Civilian Tech Rep on 4 different trips. The one in 1986 was for 3 months !!!! All the rest were 30days or less.
RANK/RATE/JOB = Currently I am a civilian - 17 Years with Raytheon (formerly HRB) now with ITT (formerly Kaman/Locus). US Navy CTT from 1974 - 1982 (Keflavik, Edzell, NSA).
MY INTEREST IN DG IS = My Time There is Lost in an Alcoholic Haze, Help Me Remember!
SUBJECT OF MY STORY: = This is a No-Shit Drinking Story
MY WARSTORY = I was so drunk playing volleyball at the short pier, I was told that I tackled a seebee named "Tiny" and tried to "rough him up". Fortuneatly he thought it was very humorous and simply threw me over the net. When I was told this the next day (I had no recollection) I went right over to the seebee barracks to apologize. Tiny laughed and said it was fun "dont worry about it". Well him liking me payed off one night, when I was leading the song of "Gilligans Island" (from a table top in the EM club - in praise of "Daddy Wolf" who was always Gilligan), some SP boys were about to take me away (they had told me to get off the table numerous times) and Tiny walked over said "leave him alone". Much to my surprize, they backed off, I finished the song and we left. As a civilian I would have had a crapper full of trouble over an arrest there on the island. I owe this mountain of a man seebee a beer one day if we ever hook up.


1985-1986
BETH TORRES (now Hilderbrand) <bethhil@yahoo.com>
I was there in 1985-86. My last name then was Torres so people should know me by my maiden name. It was a short
period of time compared to others I know but it ate a big chunk of my life. I'd say the whole experience in DG was very juicy, bursting with activity, and provided me with lessons in life. It was a very memorable year for me (good and bad) but one thing that stuck to my mind were the sexual harassments (take note: plural) I had experienced in that island.
It was unbelievable! Filing a complaint with our director did not help me either. It passed and landed on deaf ears. Of course, I did not pursue the case but if it were today, it would be a different story.
Thanks in advance for including my name. I'll be sending you some pictures later and possibly some stories.
1985-1989
MARY ANN GODSEY <bmgod@flash.net>
You might not have known me but I also had been to beloved fantasy island that is Diego Garcia and lived there for 4 years. I arrived Oct 5, 1985 and worked at the FEBROE Personnel Dept. The CO was Capt. Norrington then. Febroe Prog Mgr was Ken Wilson.
The first time I set eyes on DG, I marveled and swooned at the white beach and deep blue sea by the Beach Club and Ye'Ole. From that time on till I left for Turkey to marry Bill Godsey (formerly Manager, Air Temrinal/GSE, Febroe, DG) on 26 April 89, Diego Garcia captivated my heart - I called it my Paradise. My life in DG was the happiest moment
ever. I did a lot of deep sea fishing, bottom fishing and fishing by the outfall and at Port Marianne. I also had a vast collection of sea shells.
I also worked part time as waitress and bar tender at the Expat's Club. Expat's Club is one of my favorite places to go. I MISS DIEGO GARCIA VERY VERY MUCH!!! Would love to go back there if given the chance.

1985-1988 & 1991 DG, 1984 & 1990 Somalia
GEORGE RICE <bonnie@arkansas.net>
1985 was a good year for ships comIng in to DG. The Fleet is in, I went to the Navy Exchange, all you could see was young Ladies walking all over the place, you should have seen the way some were dressed up, all were young navy gals. By the time the exchange closed, there wasn't a walker in sight..... I guess it was a good night for all.
Ladies in love: We would go to the galley to eat our always good meal and what did you see at the table next to the window but two Chiefs, ladies type, one old looking and one young looking. One looked like a nice young lady and one looked like she could fight at the drop of a dime. One evening as I was leaving I went by their table and said good evening, the one told me to get lost on the way out, boy she was mad for what I said, she didn't want any one talking to her friend....That's life on the island.
Right after RBRM, the contractor, completed the last BEQ, they let FEBROE have the first floor, I had room #1. About 12:30 one night I received a vistor - knock at the door, I checked to see who or what was at the door, and to my surprise, I found a young black lady, she said she was looking for the white guy with the beard. At that time he opened the door next to mine and she was lost for the night...another story to follow at a later date, all are true! I guess DG brings out the best in a person, or something.
Another Story from George: I had just returned from Berbera, Somalia, and I needed a hair cut bad - after a year you better believe it. So here I go in to the base barber shop when it was next to the exchange. Once inside I noticed all the chairs were full and all the barber chairs too, ALL but one next to the wall when you go in. On this chair was a pretty little green hat. I looked at it and started to move it so I could set down and I hear someone say, THAT IS MY HAT, DON'T touch it. You could here a pen drop in the shop. I looked at him, picked it up and put it on a table with the magazines. He didn't like this and said I will see you later, so I told him that he better bring some help, after all he was only a E-7 type and still had a lot to learn.
About three days later, I was coming out of the Chief's Club and guess what I ran in to, this same big bad Marine, and I asked him if he still had something to say. He backed of andgot out of my way - no more problems.
I found out that MONDAY was the day for Marines only! Another true story of the good old day of DG. The next one is about the TCN and a $100.00 piece of TAIL. See you.

1985-1986
BILL HAGARTY <bhagarty@safeguard.com>
I was on Diego from May85 to May86. Nice to see someone who also has fond and funny memories. I was an ET at R-Site, but I made plenty of trips to the airport message center trailer right outside of the hanger. I can't remember the name of that group, though.
While I was there, I was just like everyone else. I couldn't wait to leave. But now I wish I could go back to visit. It's strange to think that it's the only one of my duty stations I could never return to. Since it was my first duty station, I probably didn't appreciate it as much as I should have. For the most part, I had a blast, but those Friday nights out on the town were a joke. Every swingin' dick on the island thought that he was going to win the lottery.
P.S. The Mutant Donkeys made me roar. I thought only the ET's at T-Site knew about them.

1985-1988 (deployments with VRC-50)
DENNIS D. JOSE (no e-mail address given)
Were you ever on Diego Garcia? da......
Was attached to VRC-50 miss piggy det from 85-88. Made about five 4 month detachments there and I hate to say it but sure miss the island. Stopped by there again in 92, and boy has it changed. The newly remolded Seaman's club looks sharp...
A very cool link...wish we had all these computer gizmos when I was there would help with the boredom.....keep it up and would like to hear from other Foo Dogs of VRC-50.
1984-1989, 1999-????
FRED TAMBELLINI <ftam911@cwnetdg.io><dgchief911@yahoo.com><fredtambellini@hotmail.com>
I am Fred Tambellini,and I was on Diego Garcia with FEBROE 1984 to 1989 as Asst. Fire Chief. Went to Berbera and Mogadishu, Somalia, with Admiral Lee - COMFAIRWESTPAC - to do a fire protection risk assessment. Will send you
a story or two. Also, I am back on Diego Garcia as Fire Chief. WEIRD or what !!! Best to you all, FRED the fire guy.