From Richard Cole = rcole@cole-mgtandeng.com
Citizenship = USA
Service = USN
Outfit = Navcomsta Public Works
My_Warstory = Bob Hope Christmas Show 1972 Diego Garcia
During World War 11, Bob Hope began visiting and entertaining military service members. Virtually every year from the first Bob Hope shows until 1971. There was no plan for a tour during Christmas 1972 Each year in January the Bob Hope Christmas Show appeared on TV. In November rumors started that Bob Hope was reconsidering another Christmas show. Mid-month the word came that there would be a show and Diego Garcia would host it on Christmas Day.
Now the Recreation Director had written Bob Hope and asked him to come but he did not tell the Seabee Commander. When the invitation was accepted by Bob there were requirements that come with the show. First the airfield was 4000 long with a gravel surface. In order to land the c-161 used by the Tour Group the permanent concrete runway which was under construction needed to be finished so the C-161 could land. So the Seabee Battalion Commander was not happy. He would have to rearrange his construction priorities to be sure the concrete runway would be complete and he would also have to prepare facilities for the show including building a stage and bleaches from which to watch the show. The Seabee crews were already working six ten hour days but it would take additional time to prepare for the show.
All of us who were going to attend the show were excited. We didn't know who was going join Bob Hope but we knew it would be funny and involve beautiful women and a variety of entertainment stars.
A week or two before Christmas I was invited to attend a reception with the participants in the show. Wow! I didn't know if I was to be nervous or excited or just tongue tied. I hadn't seen a woman in three months and many of the Seabee crew hadn't seen a woman in eight months. It was going to be interesting to see how everyone reacted including me.
The big day arrives and all is ready. The new concrete runway was completed just two days before the Christmas. On Christmas Day the plane with the show participants lands, it is the first plane to land on the new 6000 foot runway and the show participants head to town. The first vehicle is an open air jeep carrying Bob Hope. He stops the main entrance and points to the millage sign. I believe it said New York to the left 13000 miles and Los Angeles to the right 14000 miles There were a few other destinations shown but I don't remember what they were. Bob laughs and tells the film crew who is following to be sure and get a shot of the sign.
There is about 6 or7 hours before the show. Bob goes to take a nap in the Island Commanders hut and the rest of the group disperses in downtown Diego Garcia and in some of the facilities to wait for the show.
What happens before the show? My hut mates who are all junior officers have laid out strategies for the day. Bob S, who has the space next to me is well prepared. He finds out where most of the young women are spending their free time. Now Bob S. is a good guy who has the greatest confidence when it comes approaching women he has never met. A while later I see him walking on our beach with a lovely lady. It turns out she is Miss Kansas who won the swimsuit competition at the Miss USA contest. He spends all the free time with her. It turns out he has built a relationship in those few hours. He and Miss Kansa exchange addresses and he and she correspond while he is on the island.
Now the rest of us are unsure what to do. I look out to our beach and there is Redd Foxx wandering down the beach looking for seashells. The only thing I can think is that this is a long way from Sanford and Son's junkyard.
Eventually I make my way to the reception for everyone from the show and some of us. I joined up with one of my hut mates who also was invited to the reception. Beyond awkward is my first feeling. How do you approach the show participants? I look for the least obtrusive way to mingle. One of the easiest people to approach is Delores Hope, Bob's wife. A group of us gather around her. She is warm and friendly and makes us feel like she can serve as a mother surrogate for the day. She will prove that later during the show.
There are other stars there including Lola Falana and of course there were many recent beauty contestants participants include Miss World, Miss World Runner-Up who was also Miss Europe. A group of girls from the USA who states they represent I don't remember. My hut mate and I finally get up enough courage to ask Miss World Runner-Up if she would take a picture with each of us. She politely agrees. She is still the most beautiful woman I have ever met. I think her name was Ingrid and she was from either Sweden or Norway. After I returned to the US I saw her in a couple of commercials.
After the reception it is time for the show. The Seabees have created seating out of leftover construction material and various construction equipment has been stationed in strategic locations so some of the Seabees can get a birds-eye view of the show. The stage is set within palm trees with a back drop of the lagoon. It is very surreal.
The show is similar to all the Bob Hope Christmas specials I have seen on television in the past. Being there makes me realize that we are a part of history that dates back to World War II. It is a proud and happy feeling. Although the show is similar to those I saw on television in the past, it is unique. Somehow Bob has learned a great deal about our life on Diego Garcia and he has jokes that makes us feel like he knows our plight and struggles. He knows about the donkeys and mosquitos who are residents of the island and he brings humor these elements of the island. He also adlibs thought the show creating a steady stream of laughs. The actors. actresses and beauty contestants appear through the show with Bob, Redd Foxx and Lola Falana playing major roles.
As the show nears completion Delores Hope appears on stage. Unknow to me and many others she is an excellent singer. She begins with traditional Christmas songs. She closes the program with "I'll be home for Christmas" There wasn't a dry eye in the crowd.
The show is over and I experience and I suspect many other feel a wide variety of emotions. We are happy with what we have seen, sad to see them go. We feet a loss at the realization that this big event has passed and we need to go back to work tomorrow and we are still over 10000 miles from the USA with little connection to our families.
Later we hear the Bob Hope was upset with his wife for singing a song that made us cry. He is of the opinion that he is there to bring laughs and joy. Again we hear that he sent her home rather than include in other shows in the Viet Nam and other military locations in Asia and the Pacific area. I believe Bob was wrong, I believe more than any other element of the show we will remember that song by Delores Hope.

In late January 1973 the Bob Hope Christmas Show video was sent to Diego Garcia. The show was shown back in USA at about the same time. I remember that each year the Bob Hope Christmas Show was a major television event. I believe I saw all of them. The show included many other sites where the show was put on but is was great to relive that moment on our island. This was easily the most memorable moment from my year on the island as it probably was for the others who attended.
Elzie (smokin t-token joe) Culpepper = efculpepperjoe@yahoo.com
Citizenship = USA; Service = USN; Outfit = Seabees NMCB 62
My_Quest = check in on some old friends
VT_of_a_Swallow = I think 28.4 miles per hour
My_Warstory = When we got there we were all fat and white. The first day we just tried to adjust and breath. I lost 45 pounds. We all left thin and brown. It seams we all knew how to have a good time. I remember the old back room bars in the grass huts. Uniform of the day, hard hat , shorts, and boots. I did a little boxing while there. I'll never forget knocking out Pat Grant in round 2. He came with a haymaker. I saw it coming and ducked . I came from a swat with right uppercut. I saw the souls of both feet before he hit the deck. Pat later told me the only part of the fight he remembeerd was putting on his trunks. Pat really was a great guy. I remember the Acey Ducey as I was a bouncer there. They got in a load of Boons farm wine one nite . I guess everyone went boo boo on tha stuff. One guy got his arm broke, and we had to straight jacket another. Had to take a blade away from another.It was hell of a nite at sea. I got circumcised while there. I was given morphine and got to watch. Doc was messing with my head ,when he got the skin off he hollers and hole it up. Gave a real thrill. Spent a few day waist deep in the ocean. I remember Chilly Willy , and the Greese ball , Killer, Terry Moute, Pappy .

8 November 2017
Joelisa Cook <vampirenerd4272011>
Hey there! My grandad Earshall Miller was stationed in Diego Garcia in 1972-1974. I was wondering if you remember him. Mcb10. Construction mobile. Navy. He knew a guy by the name of ezell?
Up until November1972
Gene Ray = Seab114.gr@gmail.com
Citizenship = USA; Service = USN; Outfit = NMCB10..Det.Chagos
My_Warstory = Diego Garcia ...so glad to find this site..I was the person that transported all the poles to site for the Transmitting and Receving sites. We were also the crew that erected all of the antenna at both sites as well as nub ride all the "Deadmen" concrete anchors that held all the guy wires down on the antenna.. It was my job to load and deliver all poles from one end of the island to the sites.. I have so man good memories of this Deployment :) Also I would like to say that what happened on the Rock Stayed on the Rock :) I remember a lot of these photos that were taken as well asalot of these stories that are told on here. Some good some tuff!!! I even remember trapping a large tiger shark in the loogon and toying with him until the CO made us open up the dredge site and let him back out... He must have been around 12ft long Nasty Boy he was :) I remember watching many a movie in the pouring Rain there !!! Thanks for a walk down memory lane:)
1972 thru 1973
Michael McGuire = counselorforyouths@gmail.com
Citizenship = USA; Service = USN; Outfit = MCB 62
My_Quest = find old buddies and pictures
VT_of_a_Swallow = you got me
My_Warstory = Like others, I stumbled across this site, looking for some buddies. I was with the Master at AT Arms, and hooched with the medics near the ocean side. The Master AT Arms hooch was near the lagoon, up next to the opening. I can't remember my Chief's name but, he was a great guy and Chief looked out for me !He stood up for me at an XO mast when we got back to Gulfport Miss I was a young 18 yr. old and the Rock was an adventure!
I read somewhere in here the piss tests set world records for positive returns....hey, I was the guy who over saw the collection near the MARS station where we divvied out the linen ...anyone remember that...
I was there when Bob Hope and Red Fox came with all the Miss World's and was on TV. It was raining and me and a couple buddies were under a poncho.....one of the Miss beauties slipped on the plywood floor...lol.wow, this site brought back some great memories.
A Question from STEVE L CRESWELL = SCTRADINGLLC@GMAIL.COM (DG in 1974)
Citizenship = USA
Service = USN
Outfit = MCB10
VT_of_a_Swallow = 2XPRS(>5x8}+16
My_Warstory = RECENTLY ASKED VFW IF 1974 TOUR OF DG QUALIFIED US TO JOIN THEY SAID NO I DONT WANT TO WATER DOWN THE BRAVERY OF OUR GUYS WHO SEEN REAL COMBAT BUT I FEEL OUR PRESENCE THERE DID A GREAT PART IN BACKING CHINA AND RUSSIA DOWN IN 1975 FROM COTINUEING TO SUPPORT NORTH VC. MANY GUYS WITH ME THERE CAN TELL YOU ; IF IT WAS NOT A CONFLICT WITH RUSSIA WHY DID THEY SPY ON US SO MUCH; WHATS THE DIFFERENCE IN SOMEONE WHO FLYS OVER WAR ZONE AND THE ONE WHO BUILT THE AIR STRIP FOR HIM TO TAKE OFF BOTH NEVER SET FOOT IN COUNTRY ONE VFW ONE NOT ? SEABEES FROM 1975&BACK KNOW (CAN DO ) &WE DID ON DIEGO !
COMMENTS PLEASE. STEVE MCB10 1974 DIEGO EMAIL SCTRADINGLLC@GMAIL.COM
OR POST ON THIS SITE QUESTION IF YOU NEVER PUT ONE FOOT IN COUNTRY &SERVIED ONLY ONE TOUR DIEGO 1975 BACK DO YOU BELIEVE YOU ARE A VFW.
1972,1981/1982, 1987 to 1995
Dave Fisher, Capt, USMM (Ret.), CAPT (SWO) USN (Ret.) = callsign.BULL@tni.net
Citizenship = USA; Service = Merchant Marine; Other_Service = USNR; Outfit = USS R. E. Kraus; USNS Sealift Antarctic; SS Green Valley, G. Island, G Harbour; MV Jeb Stuart
My_Quest = Here in 2014, would like to go back for one last, short look-see.
My_Warstory = First went in '72 in USS Richard E. Kraus (DD-849) to deliver crypto gear. It looked like "McHale's Navy" then. Returned in '81/'82 in USNS Sealift Antarctic (T-AO-176) with the MSC Near Term Prepositioned Force. Didn't look too much different. Returned again in '87 to the four Afloat Prepositioned Force LASH ammo ships - a couple of years as Chief Mate, the remainder as Master. Dodge now a little more civilized. While there in 1994, sortied the entire APF as Convoy Commodore and CTG-159.1 for Operation Vigilant Warrior up in the Gulf. Technically still a civilian, but assigned under Allied doctrine.
Left in late '95 to command the COMPSRON ONE flagship in the Med. At the time I left (9 yrs on), I was "The Mayor of DGAR," as the longest serving occupant.
Like to go back one last time before I pass, just to see how "my" island is doing. Have lumpia and a beer at the "O."
1971-1974
Name = Paul Moore = pwmcx95@gmail.com
Citizenship = USA; Service = USN; Outfit = Machinery Repairman
My_Warstory = This was my first duty out of boot camp. Home port then was in Davisville, Rhode Island. Don't remember which battalion I was with (Think maybe MCB-74).
Got to island and didn't have any idea what to expect. First time away from home.
Stayed 7 months went back to Davisville, RI.
Got orders to go to Gulfport, MS. Got there and none of the battalion I was sent to were there. I asked were everyone was at. They said Portirico. I asked where is next duty. I was told Diego Garcia.
Nine months later I went back to Diego Garcia for 8 months.
I'm the only person I know of that had two tours on Diego Garcia.
Most of the time I was there I was the one machinist there.
2nd time there received an award for repairing hydraulic pumps at cement plant while there on first tour.
Nov 1972-Nov 1973 Name = David Holloway = dholloway175@comcast.net
Citizenship = USA Service = USN
Outfit = NAVCOMSTA
Plank Owner\My_Warstory = I arrive Nov 1972, after a 9 hour C130 flight. Some of my friends were ET3 RICKY WOODSON (Woody), ET3 JOHN KING, ET3 JIM HECKER (we lived in H6), ET2 JIM MILES. I also ran the miniature golf course. I was like Lucy's 5 cent psychiatrist shop from Charlie Brown. It was very tough in those days (mail once a week, no telephones, no VCRs/DVD& etc.) so men would come by and share their burdens with me and I would give out advise like Dr Phil. For entertainment, JIM HECKER and I would get behind our hootch and throw rocks onto the roof of the hootch's far away from ours. They would come out of their hootch like from a hive. They never figured out where the rocks were coming from.
The highlight of my tour was the BOB HOPE show especially when Deloris HOPE sang "I'll Be Home for Christmas". I only knew one person who liked the Brit Rep (we called Sir John). I hated that place. I had night mares for years. I would have starved to death if they hadn't opened "Diego Burger".
I do feel very badly for the locals they forced to move away. It would have been nice for them to have stayed there. There was lots of work they could have done.
One person who was stationed with us was RM1 JERRY WHITWORTH. He was one of John Walkers spies and I'm sure he will spend the remainder of his life in prison for selling secrets to Russia.
January 1972 To August 1972
John J Daprino = jjd33461@aol.com
Citizenship = USA; Service = USN; Outfit = NAV CHAP CARGO & MIC BOAT COXSWAIN NMCB10
My_Quest = To Go Back And See How Far The Island Has Come
My_Warstory = Arrived Jan. 1972 by C130 with SEABEE Battallion 10. Was in charge of LCM'S and the off loading supplies from the various cargo ships. Also was in charge of the Boston Whaler they used for recovery in case of a Plane Crash in the Lagoon. Remember the great Fish Fries we used to have on the beach in between cargo ship arrivals. Used to drive the huge fork lifts on the beach also the jeeps. If anybody remembers the Victory AT SEA ADVENTURE PLEASE GET BACK TO ME.Also that my engineman and me had to replace both screws on the LCM. Anybody that was there remembers what happened with that fiasco.Also when my boat crew had to escort the only two women under armed guard to the other side of the island for sightseeing.
1972
Roger Hickey = hickey_roger@cat.com
Sent in a bunch of photos that can be seen on the Chapel in the Palms page and the AFRTS page. He was there with NMCB-10. Below is one of his photos of the T-Site antennas when they were first erected down near Turtle Cove.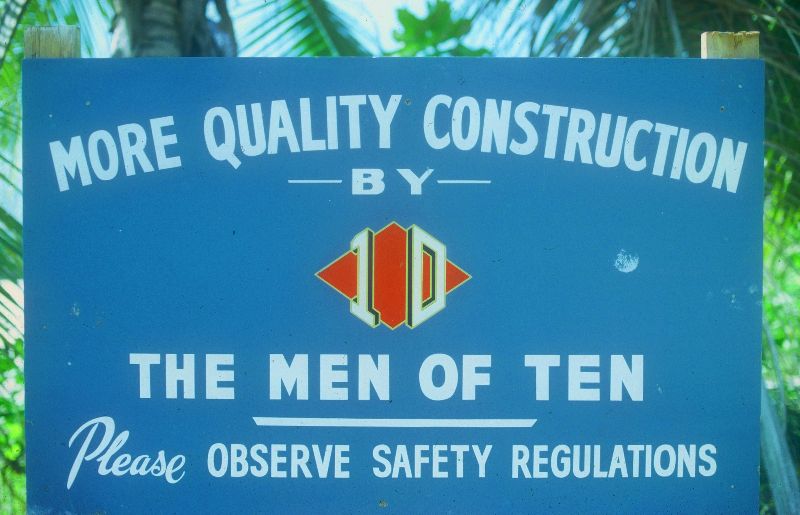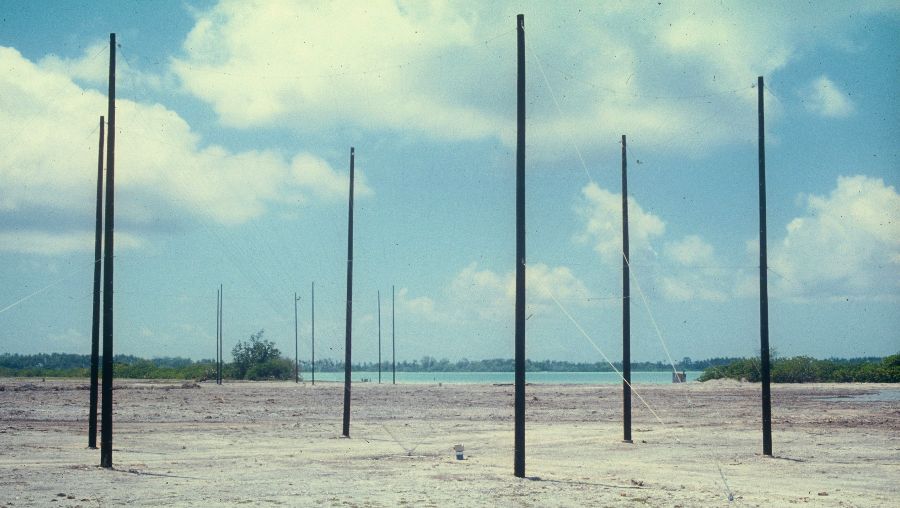 Roger added: Did you know that the NMCB-10 Detachment Chagos flew from Rota Spain to Bangkok and on that flight we were hijacked by the Iranian government? We were forced down at Terahan by (American made) F-4's. We had to sit on the tarmack for over 24 hours and could not get out nor would they connect the A/C or deliver food/water. The had the plane surrounded by soldiers and light amored vehicles. They even came on board and searched the plane for cameras and took them. You do not want to be on a charter plane full of stinky grouchy Seabees that long! Finally someone paid someone else and they allowed us to depart. A few hours later we landed in Bombay for food, water, and fuel. The 8.5 hour flight on a C-130 from Bangkok was fun also, jump seats were not designed for comfort. Below are some more photos from Roger: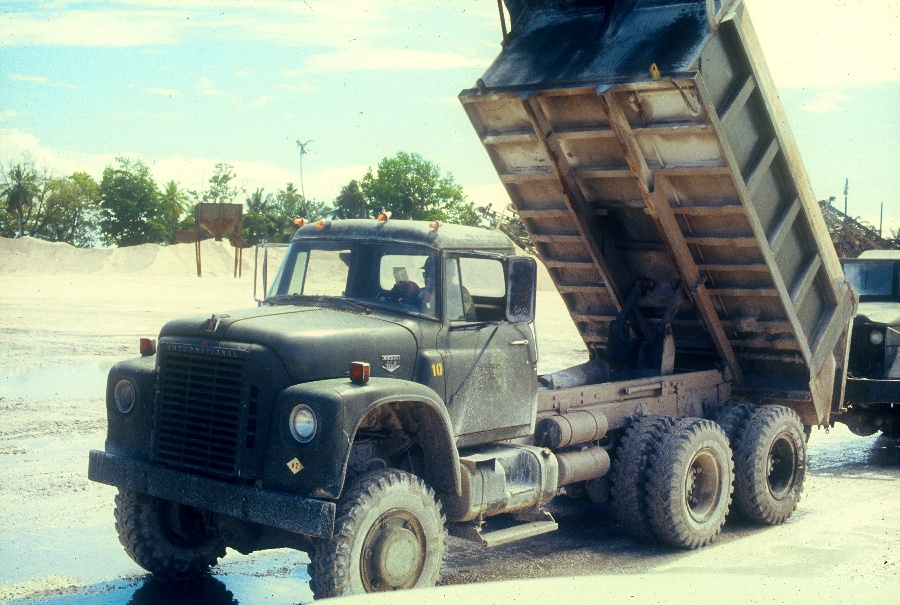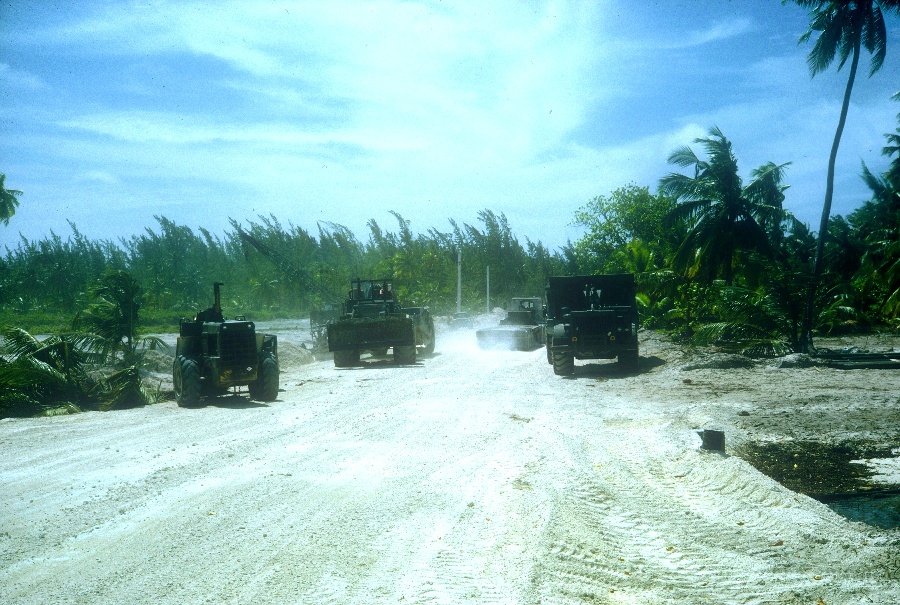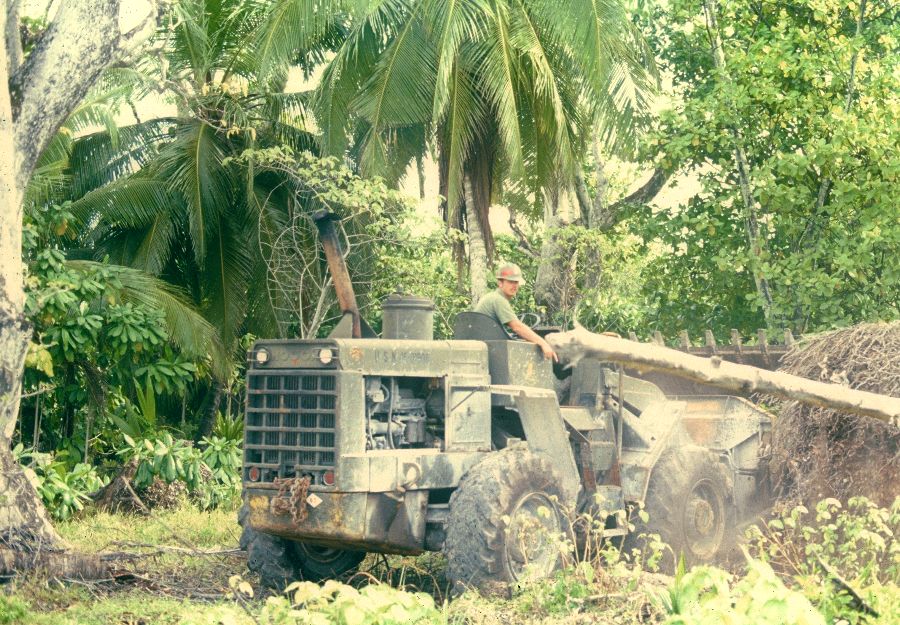 Roger sent in 138 photos - all of them excellent - of his tour there in 1972. Here's where you can see them all:
http://www.flickr.com/photos/30832662@N05/sets/72157631312137842/
Bob Humphreys = href="mailto:bhumphreys@maine.rr.com">bhumphreys@maine.rr.com
Citizenship = USA; Service = USN; Outfit = ATCU 4
My_Quest = Sail Back on my own boat
VT_of_a_Swallow = Depends on how tightly you wad-it-up
My_Warstory = Diego Garcia: Tropical Paradise, towering 60' palm trees shading SEA Huts (what is the terminal velocity of a coconut falling 50' onto a tin roof?), tropical temperatures (85-90 deg, 24 hours a day, 85-90% humidity except when it rained, then 100%), swimming in a lagoon with water so clear you could see the bottom 100' down (pee warm), sailing sunfish on your day-off (except when the harbor master closed the harbor to sailing because of "small craft warnings" - winds in excess of 15KTS - every single day!!) in the lagoon. Feeding steak to the moray eel on the end of a trident, unless you tried sticking your swim fin in it's mouth (how long can you REALLY hold your breath?), near beer, an endless supply of Rum in the club, but no coke, only root-beer to mix (couldn't drink Root Beer for 2 years after I left). Driving to the mess-hall and bringing back ration buckets for the guys on watch, then watching the chickens drown in the mashed potatoes (fun!). Writing a telegram to my congress person (Margret Chase Smith) to keep them from killing our dog Mickey - didn't work. Going to the 2-holer and crapping in 55 gal drums cut in half and filled half way with diesel fuel (DO NOT SMOKE IN THE CRAPPER!) then burning the waste daily. Baked beans and boxed pizza mix from home! Nightly "shopping" trips. Working in air-conditioned bliss while 2 crews work 12on12off cutting grooves in the runway so Bob Hope could land in his C141. Langusta in the chow-hall - I come from Maine, lobster and langusta are NOT the same thing. The honor of having a Bob Hope Christmas show. We split the watch so everyone from ATCU could see at least part of it. 3 weeks R&R in Bangkok (my brother lived there - brought my wife over - never made it to Thai Haven - damn!). Spending half your nights-off working the MARS station (That was time well spent!). Diego Garcia is not the end of the world, but I think you can see it from there.
Since Bob is the first person to write and say they he had a dog on DG, I wrote back: "I do have a question about your dog, Mickey. The killing of all the dogs on DG continues to be one of the great mysteries about the island. If you haven't heard of the various lawsuits against the U.K. and U.S. by the former inhabitants, well, consider yourself lucky! It is long and complicated (going on 13 years in courts of various kinds). Anyway, one of the claims by the former workers out there is that US "soldiers" herded all the islanders' pet dogs into the copra sheds over at the East Point Plantations and gassed them and then told the workers if they didn't get on the evacuation ship, they would be killed that way too. I know the SEABEES were tough, but that sounds too heartless to be true!!! The historical record says that the Governor of the BIOT (he was also the governor of the Seychelles at the time) ordered the 900+ stray dogs on the island rounded up and put down, and that since there were no Brits there to do it, the Plantation manager tried to but couldn't, so he got the SEABEES to do it. Basically they gassed them with truck exhaust in the copra drying sheds, and shot those that couldn't be rounded up. However, no one can give a date for the event, or an eyewitness or even secondary account. It was probably in 1971, before your time, but possibly you heard about it? I'm thinking that your dog Mickey was a survivor of the purge, and wonder if you've got any info about the events at all?
To which he responded: "I spent 10 years in the USN and have exercised selective memories, so tend to remember the good stuff, or at least good portions of some of the bad stuff.
I never heard the dog stories you mention.
When I got to DG, our ATCU site had a grass hut, 2 hootches, 4 or 5 trailers containing our communications equipment, 3 generators, a donkey, a dog, and a whole mess of chickens.
The incoming watch (us) had to stay in the grass hut until the outgoing watch was effectively relieved, packed and on a plane. I think we spent a week in the hut. There were geckos living in the thatch roof that could catch and carry the DG equivalent of a dragonfly which must have weighed 4 ounces – they were huge! Occasionally one of the gecko's would lose their grip while holding one of these B52's and drop onto a sleeping Radioman. The resulting scream from the sleeping RM could be heard throughout the entire compound.
The donkey would eat grass and drink beer – I think it had a name but I can't remember it – and finally died, apparently as a result of the consumed beer killing the bacteria in its gut and it starved to death. We drove to the transmitter site several times to try to rope a wild donkey and tame it. Visions of "Hatari" come to mind as I remember 4 of us in a jeep with one having a rope lasso tossed around the neck of an unwilling donkey and the other 3 convulsed in laughter as the 4th gets dragged for however far it takes before he lets go. We never tamed a donkey!
Our dog Mickey was about the size of a beagle, brown and black, would play with us, took trips (don't think he ever rode in a vehicle) to the ocean-side and caught crabs and other beach critters frequently. He once caught a sea snake – theorized to be one of the most poisonous in the world – scared us so much no one wanted to take it from his mouth. I never heard any stories about slaughter of dogs and remember asking the Britrep about the island culture before our arrival. Whatever his answers were, they weren't very informative. Seems as though the US had leased DG for $1.00 for 50 years, the indigenous population was "moved", the British ostensibly collected $50.00 for every coconut tree destroyed (seems like a lot!) which was to go to a fund to settle the indigenes in their new location. When we were ordered to present Mickey to sick-bay for euthenization, we balked and hid him while several of us sent telegrams to our Congress people. We had to pay for the telegrams, so they weren't very wordy, but we all got answers – I believe by postal mail – that the decision was MADE, dogs after-all are a significant vector for rabies (good grief, how many cases of rabies could there be on an isolated island in the Indian Ocean?) and posed an unacceptable risk to someone. We all though it was the Britrep being an a-hole which started a brief practical joke harassment campaign against the CB leadership and the Britrep (bolting and gluing the Island Commanders jeep to another jeep using some "special" double sided tape developed by Boeing to repair aircraft), putting a very irritated chicken in the Britrep's office on a Friday night (bright guy that he was, he immediately figured out that we had the only chickens, thus must be responsible), "borrowing" supplies from the ICs office (the Navy should use better locks). We were advised to "tone it down" before some/all of us ended up going to jail. In any case, Diego Garcia was saved from a spontaneous outbreak of rabies and Mickey was put to sleep.
"The Britrep also expressed displeasure with our wanton killing of chickens. We had as many as 50 chickens, two or 3 of which were roosters who would sound-off while standing under our hootches. We worked 24 hrs/day, so the off-watch was sleeping and these roosters would wake us frequently. The roosters were pretty savvy and were more difficult to kill than one would imagine. We did manage to herd "Big Red" into the crapper one night, with the door closed he couldn't escape so we figured maybe he'd slip and fall into the diesel and get burned the next morning. Unfortunately one of our guys who had overindulged in adult beverages needed to use the crapper and ended up getting his face raked pretty badly as that rooster made a break for freedom. Don't think we ever killed that damned rooster."
Regards:
Bob Humphreys
1972
John Delso <johndelso@att.net>
This is AFRTS Diego Garcia in 1972. I was with MCB-62 and that is me John Delso (JD the DG). My show was from 12 noon to 6 in the evening. Then is was shortened to 12 to 3. The Station was in the back room of the Special Services Building. On the other side of the back wall was the barber shop. The wood case on the right side is 200 cassettes I brought with. The were used a lot. The silver radio on the left was our audiomonitor. It was sure a fun gig.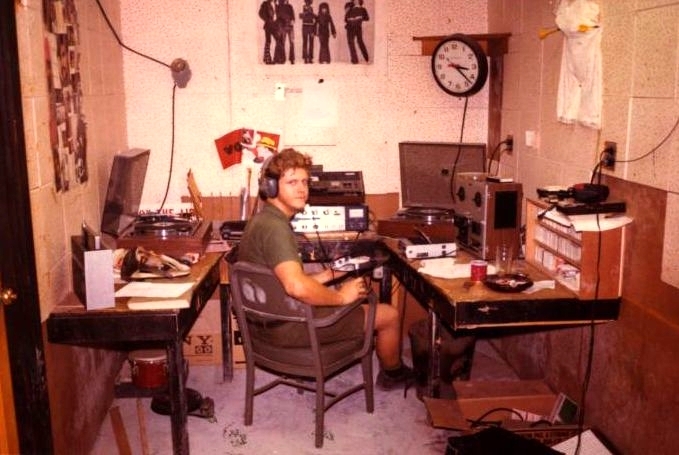 June to November 1972`
Richard Patapack = rikpak@sbcglobal.com
Citizenship = USA
Service = USN
Outfit = NMCB 10 detatchment
My_Warstory = What happened to the Princess Marianne ghost story? If you smelled her perfume she was nearby.
The wild donkys were very entertaining at times.
The main sport was killing rats, (I had qite a collection of rat heads,
I wanted to mount them on little boards but never did).
When it was time for my R&R Bangkok had been classified as a war zone so I had to spend it on the island.
Whatever happened to the WWi shore guns?
The most exciting thing that happened to me was one evening while living in a tent at the southern tip of the island,
the field shower blew up while I was using it.
At one time the desalination plant broke down so fresh water was rationed but there was always plenty of beer and pot.
A tall sailing ship appeared one day that was apparently a floating international bordello. The powers that be declined their services.
The only woman I saw during my time there was in a band with the USO. They put her under armed guard.
My group left just before Bob Hope visited.
1972-1973
Richard Gietyen <gietz56@yahoo.com>
i I was just flipping through the computer and decided to look up the Diego Garcia websit, interesting. My Name is Richard Gietzen and I happen to be one of the first members of the Public Works Department that commissioned the Island in 1973. I arrived late 1972 and seeing that the Department didn't exist them they put me with N.M.C.B. 40.. At the time I had just graduated from Construction Electrician A school in Port Hueneme Ca. And had been assigned to one year of PWD in Diego Garcia. I stood the first "generator watch at the transmittion station" and saw the Bob Hope Chrismas show that was fun. Well the island sure has changed. Later in 1979 I got assigned to N.M.C.B. 40, by then I had the rank of CE2 and was assigned to a detachment that was working on fuel farm, I was the Electrician that keep the welders working while they where finishing the work on the fuel pumping station and later on the 6 inch fuel line at the runway well that was interesting work. Is there other websites of Diego vet out there if so please give me the information. Thank you
1972
LAWRENCE F. DURAN <lkbong@hotmail.com>
If you were there on Diego Garcia around 72ish around the time the Bob Hope Xmas Show happened, and you went to the enlisted men's club on Friday nights, we had a rock cover band. My name is Larry Duran and I played rhythm guitar in that band. I remember Donnie Fromel sang lead and Carl Mobely (sorry if I spelled it wrong) played drums. I can't remember bass player. Richard ??? played lead. man, it was years ago. Another guy played flute for awhile, we had another singer for awhile. It was a gas. We weren't all that good but by the end of the night and many beers later, everyone (including us) thought we sounded great. what a distraction. Anyone other than myself remember this? I was in NMCB62 would love to hear from any of you guys.
Be Sure to See Larry's page about the band: http://www.zianet.com/tedmorris/dg/seabeeband.html.
Arrived Nov. 1972, Departed Nov. 1973
NAME = Tim (Andy) Anderson
MY QUEST = To go back for a visit
VT of a SWALLOW = 740 MPH, when the air can no longer get out of the way.
E-MAIL = No E-mail at home yet.
NATIONALITY = American
SERVICE = Navy Seabees
UNIT = Public Works NAVCOMSTA
RANK/RATE/JOB = UTCA on the Rock Discharged 1976 as BU3.
MY INTEREST IN DG IS = Want to Return When the First REAL Club Med Opens
SUBJECT OF MY STORY: = Actually, I Have a Real Story To Tell
MY WARSTORY = Great site. Thank-you Ted!!! For years I've been trying to find out anything about Diego Garcia, and to find this site was like finding a gold mine. I read every letter from Troglodites to the present (spring of 2009). Next I read every letter that I sent home from the rock, (my mom kept every one) and went thru all my pictures, about 3 big albums. With that done, I'm ready to start my war story as accurately as I can.
I always wanted to be a Seabee. After high school I worked construction for two years as a carpenter and even worked with a former Seabee. In April of 1972 I enlisted and was guaranteed a school, but that was all. Luck was with me and I ended up with orders to UT-A school at Port Hueneme. I told my instructor that I wanted to be a Builder and he said if I didn't want to be a UT that I would spend the next four years on a ship. I said I could be a UT. Didn't like UT school much and finished next to the bottom of my class. That's where Diego Garcia comes in. Orders were given out according to class standing. There were 3 sets to the Rock with NavComSta Public Works. A one-year tour. I knew where I was going! Not too many people knew much about Diego Garcia at that time except that it was worse than a prison sentence. I talked 2 of my good friends into going with me, Butch Price(Sturgis, South Dakota) and Steve Hogland (Jasper, Texas).
After leave, Steve and I met up at Travis Air base and we were on our way. Our orders said we had to travel in our dress uniform and in November that's dress blues (the cracker jacks made of wool). After stopping in a few different places including Ton Son Nhut air base near Saigon, South Vietnam we ended up in Bancok for one night. The next day was a bus ride to Utapou for a C-130 flight to our new home, 8 hours if I remember right. The dress blues felt pretty good on the flight, as it was kind of cold.
We made a pass over the runway to scare off the donkeys and landed. A guy came in and sprayed something all over everything and everybody. Then the big back door came open. Heat like I'd never felt before. Before we could even think about what was going on, we were taken to the galley for evening chow (still in dress blues). When Steve and I walked in everybody looked at us like we were from Mars. Oh was it hot.
Most of the 1000 guys on the island were from MCB 62 and a Detachment from MCB 133. We were among the first Seabees there with a one-year sentence. Battalions were only there for 8 months. When the guys started finding out about our one-year hitch they either laughed at us or cried for us. They said trees don't live that long and rocks didn't get that old.</br
We had orders for NAVCOMSTA Public Works Department, but it didn't exist yet. The three of us were taken to the Commander of MCB 62 to be given temporary places to work. I ended up in Delta Co. shop working for Mark Burke. A great guy and a great place to work. We spent a lot of time making concrete forms for the water tank at the Public Works "I" site that was under construction. "I" site would be my future work area when it was done and when the rest of NAVCOMSTA Public Works people got there. I stayed in the shop until MCB 62 left, then worked for a little while for MCB 74, then went to the Public Works Dept. While there I worked in the carpenter shop and the paint shop. Bobby Small was my boss and my good friend.
We all lived in the SEA huts with the coconut rats and bugs. The new barracks were under construction and we were promised the first rooms when they were done. But, you know how the Navy works. The new guys coming in got the first rooms and us old timers spent the whole year in a hooch.
I knew Steve Benson, MCB 133, killed in the crane accident in 1973. He was from Bloomington, MN. He carried a small Bible in his shirt pocket, called it his truck'n manual. A very sad time.
We had to do some night work at "T" site for a while. Those guys cooked there own food right there, that's where I saw my first microwave. I couldn't believe a steak could cook in just minutes. We were hoping they would invent the opposite device for beer. Seeing Bob Hope was great. Delta Co shop helped build part of the stage for the show.
Five guys died while I was there. We always knew when somebody died, because they rationed ice. They had to keep the body cold until the next plane came in.
We did the usual thing for entertainment, drank beer, watched outdoor movies, went shelling, and drank beer. That year seemed like a real bitch, but looking back, it was one of the best times of my four-year enlistment. The day I left, the temperature on the runway was 100 plus. Three days later I landed in Fargo, North Dakota, the temp there was 30 below. That was a shock. After the Rock, I received orders for Whidbey Island, Washington for the remainder of my enlistment. After about a year I requested and received orders for MNCB 4 and went to Guam. We were there when South Vietnam fell to North Vietnam. We set up a tent city for the refugees on a Japanese runway from WWII. After we had enough tents set up, us Builders started building outhouses. Each 12 hour shift had to complete 50 a day. We did that for a month or so.
Today I'm back in the Utilities business at Itasca State Park in Minnesota. My wife Candi and I recently became grandparents, Jackstin Navada Anderson, what a treat! I'll retire in about 10 years. If there is ever a way to visit Diego Garcia, I would do it in a heart beat. Again, a special thanks to Ted, THANK-YOU.
Andy
[editors note: Thanks Andy, for the stories and the kind words about the website. I sure wish there was a way to find out the names and backgrounds of the guys who died out there. Being a SEABEE was hazardous, even without VC or Iwakis shooting at you!]
Arrived in June 1972 and left in March 1973
NAME = RMC Robert G. Champeau, USN/Ret
MY QUEST = Trying to get some photos that some of my shipmates may have & I lost
VT of a SWALLOW = Haven't any idea
E-MAIL = rchampeau@bellsouth.net
NATIONALITY = Proud American
SERVICE = United States Navy
UNIT = Chief in Charge ATCU-4
RANK/RATE/JOB = RMC USN/Ret
MY INTEREST IN DG IS = My Time There is Lost in an Alcoholic Haze, Help Me Remember!
SUBJECT OF MY STORY: = Other
MY WARSTORY = I am woundering if there is anyone out there a that was drinking with me bringing in the New Year December 31st, 1972 and Lt. Knowle was still AWOL in Bankok. (I'll never tell he was on a one week R&R). One of my men taped the whole coversation, my chicken chasing & catching RM2, whose name I don't remember. I wonder if he rembembers the time I asked him to catch a wild chicken for me. I was giving the BritRep a ride to the airstrip the following day for a trip. He had complained to the Island Commander that my troops were harrasing his subjects, because I let them chase the wild chickens. (Hey! They blew off steam that way) Anyway, the Island Commander hatched the plan for me to present it to the BritRep when he boarded the plane the following morning. I guarantee you we were not sobber. Before I left the club the Brit asked me for a lift in the morning. You can imagine how I felt, when I picked him up in the morning and have a chicken in a 13" cube box in the back seat. Once I arrived at the tarmac, Cdr. Tilleson (CO MCB-10), not sure of the spelling, was looking me shaking his head no. The poor British subject never got to go to Maurisius.
I have many more sea stories.
By the way, if Cdr. Tilleson is still around bugging people, he still owes a couple of cartons of cigaretts. Even when we both departed DG for Bankok, he still bumed cigaretts from me on the whole flight.
Hoping to hear from any of my troops.
11/72 to 6/73
NAME: Ronald Edwards
MY QUEST: Built A landing
E-MAIL: dreamslyr254@yahoo.com
SERVICE: Navy (seebee's)
11/72 to 6/73
NAME = Ronald Edwards
MY QUEST = Built A landing
E-MAIL = dreamslyr254@yahoo.com
SERVICE = Navy (seebee's)
Nov 1972-Nov 173
Tim Anderson <tim.anderson@dnr.state.mn.us>
I landed on the Rock in Nov. 1972 and left in Nov.1973. had a great time. I was with NAVCOMSTA as a UT (Seabees) in the Public Works Department, among the first to have to spend a full year there, lived in a hootch the whole time. If there is anything I can do for you, please let me know.
Tim Anderson
Building Utilities Mechanic
Itasca State Park, Minnesota
JULY 1972 -MARCH 1973
NAME = BOB MURRAY
MY QUEST = WAITING FOR THE CEMENT SHIP, THEY HAD ALL THE GOOD STUFF.
VT of a SWALLOW = A LOT SLOWER THAN IT USED TO BE
E-MAIL = BOBNJOANIE@COMCAST.NET
NATIONALITY = AMERICAN
SERVICE = NAVY
UNIT = LSC / ENGINEER ON THE MIC BOATS (BLUEBIRD)
RANK/RATE/JOB = EN3 MY INTEREST IN DG IS = Stroll Down Memory Lane
SUBJECT OF MY STORY: = This is a No-Shit Fishing Story
MY WARSTORY = Each month we took a Mic boat for a trip around the outside of the island to test for pollution.
That was when the best fishing happened. You could catch tuna if you could reel them in before the sharks got them, so that's when you fish for the sharks. I caught a 5 footer and hauled him on the fantail of the boat and beat him with a hammer to calm him down. I got a picture of me holding this shark by the tail with his head laying on he deck. I guess I didn't beat him hard enough with the hammer cuz just as soon as the shutter closed on the camera this shark turned his head and took a nip out of my leg. I went and found a bigger hammer.
Twice-1972 & 1974
NAME = Richard B Scott
MY QUEST = to share info and find old buddies
VT of a SWALLOW = 70mph
E-MAIL = warratseabeediver@hotmail.com
NATIONALITY = U.S.
SERVICE = U.S. Navy
UNIT = Uct ONE TAD to NMCB 62 and again as CPOIC DET UCT ONE
RANK/RATE/JOB = Then BU1/DV then BUC/ DV Nw retired as CWO4 CEC USN
MY INTEREST IN DG IS = Stroll Down Memory Lane
MY WARSTORY = First trip we worked on the outer reef Sewage Discharge pipes-extending them Etc. BRAVO co ut1 Seaman? would wait about 5 minutes after we entered the water and then turn on the pumps (We had them secured off supposidly) you talk about being shit on Raw Sewage would inundate us for a few seconds and when it cleared a little here come the Sharks. Well needless to say out of the water and say a prayer. We eventually straigtened it out and the pumps remained off until we told them. We as divers of course had our own boat and we conducted many training dives for seashells and dove the outer reef once and you talk about Jacques Cousteau's Films of beautiful tropical reefs on DG the outer reef is very steep, and crystal clear. We would dive down to 100Feet and just sit on the reef edge below there was thousands of feet of Indian Ocean. We could see our bubbles rising to the surface. All around us would be sea life, turtles, sharks, large migratory fish, just a Diver's dream.
Second trip we installed the 2 POL Lines that the pier was built over. That took a lot of SeaBee Engineering-The Chinese Dredge on a multimillion Dollar Contract did a lousy job. They skipped sections, were too shallow or deep in some areas, etc. but we installed it, Hydostatically Tested it (passed) and we departed after about 2 months.
1972-1974
NAME = RONALD D. MCKINNEY
MY QUEST = UNSURE
E-MAIL = RHNMCK@FUSE.NET
SERVICE = NAVY SEABEE COMPANY 312 STEELWORKER
UNIT = STEELWORKER
MY INTEREST IN DG IS = Other
SUBJECT OF MY STORY: = Actually, I Have a Real Story To Tell
MY WARSTORY = This is Ronald D. Mckinney's first daughter and I am trying to find out just little bits of information on him. He passed away seven years ago and some things just don't add up with what he told us and what we have found out on our own. My father was a bery intellagent man. Loved to write and loved music. I'm sure he was a drinker and a smoker. If anyone out there knows anything about him or remembers him can you please help me out. I would be glad to hear from you. Rhonda
Summer of 72-Winter(so they called it) of 72
NAME = Jerel W Ehlert Sr
MY QUEST = Enlightenment for the masses
E-MAIL = jerelsr@hotmail.com
NATIONALITY = American
SERVICE = USNAVY
UNIT = USNMCB10 Runway
RANK/RATE/JOB = EOCN
MY INTEREST IN DG IS = Stroll Down Memory Lane
SUBJECT OF MY STORY: = Actually, I Have a Real Story To Tell
MY WARSTORY = Should have known I was in for a "very intersting" tour from the start when we landed in Iraq to refuel. Nothing but sand! While flying over India (back during the Pack-India conflict) we were asked to land (at the request of 3 migs) at Bombay. MIA for 21hrs because lines to US embacy were
down due to rain. Armed troops boarded plane to confiscate film (mine along with others) because we were seen taking pictures. And you thought you had problems with your travel arrangements! Finally got things cleared up and took off.
Made it to Bangcok in time to catch the C-130 that had been waiting for us for 24hrs. Still had not been told where in the world we were or where the heck we were going. Man, that plane was loud and the nets for seats was uncomforatable for 8hrs. Ever try to urinate through a hole out the side of a C-130? In turbulance? With a plane full of people watching? When we finally got to DG I thought we were landing in a cow pasture back home. Come to find out it was a gravel road. Thus was my introduction to home for the next 4(?) months. Fortunatly, my departure would be on part of the new paved runway (which I had helped to build).
A lot of the rest of the time is but fadding memories. However I do recall a pounding in my head (only partly caused by the vibrating roller as I crowled up and down the runway compacting coarl). Our living quarters was a tin roof supported by 2x4s, 4x8 plywood nailed 4 foot up, with skreen the rest of the way. Plywood floors, and metal bunk beds (top rack was cooler at night because of the breez) and metal lockers. Great swimming. I prefered the calmer waters of the lagoon. Didn't learn of any sharks until yust receiently. Thanks!!! Must have just missed Bob Hope. Too Bad, always liked Bob. But had one hell of a time in Bangcok for 24hrs on the way back to the Calif. beaches. They didn't impress me that much after DG.
1972-1973
NAME = David Trogdon
E-MAIL = trogdon@gmail.com
NATIONALITY = USA
SERVICE = USAF
UNIT = 316th OMS
RANK/RATE/JOB = Sgt and C-130 Crew Chief
MY INTEREST IN DG IS = Stroll Down Memory Lane
MY WARSTORY = I can't say exactally when I passed through DG. Probalby late 1972 or early 1973.
I was a Crew Chief on C-130 transports stationed in Langley Filed VA. During that time is was common to do Temporary Duty (TDY) from Langley, to CCK Tiawan and from there in-country to Viet Nam and various other destinations in the Far East.
At one point we flew into Bangcock Thiland. In Bangcock we loaded the plane with Sea Bees and assorted personell. From there we made one of the longest and most boring flights (nearly 12 hours if I remeber correctly) into DG. It seems at the time the runway was not long enough for the larger C-141's etc. that would come later.
During the flight (being the Crew Chief) I had the luxury of stringing up a streacher from the ceiling members over the rear ramp and had a sleeping bag
and air intake cushion for a pillow.
We spent the night there and I don't remember too much excpet talk about cocunuts, coconut crabs and guys that had been there so long certain parts of thier anatomy would drag in the dirt leaving a trail as they walked.
I seem to remember the 'Chow Hall' had pretty decent food.
The next day we loaded up more Sea Bee's who tour had come to an end. We flew back to Bangcock where it was my understanding they were to board a commercial flight back to the States, specifically New York City.
When we arrived in Bangcock the Sea Bee's were marched off the plane in formation under guard and into a secure room where they had to wait for the flight back to the US. It seemed a bit severe but my understanding was there was no way these guys were going to be given a chance to get away into Bangcock after being secluded on DG for 90 or more days. None of them had seen a woman in at least that long and Bangcock has something of a reputation if you know what I mean.
So .. thats my story about my trip to DG.
1972-1973
NAME = Richard Sweeney
MY QUEST = stroll down memorie lane
VT of a SWALLOW = 0
E-MAIL = Sea4shure@comcast.net
NATIONALITY = USA
SERVICE = US Navy
UNIT = MCB 62 Bravo Company
RANK/RATE/JOB = UTCN on DG Then UT3 for the remainder of my hitch after DG
MY INTEREST IN DG IS = Stroll Down Memory Lane
SUBJECT OF MY STORY: = Other
MY WARSTORY = Memories MacDonnalds the coldest sodas and beer on the Island, The man uhose name renmaes names (DO to nationally) who always got in our way driving down the road on the wrong side into us. Replacing the sewer lift pumps everytime they broke doen. Bob Hope's Christmass show, being the only people able to drive to the movies every night in our bright red truck. Longusta for dinner and the angel fish hanging arround the Desaltation barge. ANd most of all all the Women on the Island psych.
1972
NAME = THOMAS ( SKI ) STEMPINSKI
MY QUEST = TO FIND SOME OF MY BUDDYS
VT of a SWALLOW =
E-MAIL = MADDOG86404@YAHOO.COM
NATIONALITY = POLOCK
SERVICE = US NAVY
UNIT = MCB-10
RANK/RATE/JOB = STEEL WORKER
PUT UP ALL THE RADAR ANTENNAS
MY INTEREST IN DG IS = My Time There is Lost in an Alcoholic Haze, Help Me Remember!
SUBJECT OF MY STORY: = This is a No-Shit Drinking Story MY WARSTORY = WE LIVED DOWN AT CAMP BUGGY. IN STRONG BACK TENTS OUR BASE WAS RIGHT AT THE LOOP OF THE ISLAND 1/2 WAY FROM THE MAIN CAMP AND THE PLANTATION. WE STAYED IN STRONG BACK TENTS, HAD OUTDOOR SHOWERS AND CRAP ERs. IF THE GENERATOR WENT OUT AT NIGHT ALL THE DONKEYS WOULD INVADE OUR CAMP.WITH ALL THE COCONUT TREES WE KNOCKED DOWN WE PICKED UP A LOT OF COCONUT CRABS, WE STILL HAD SOME GRASS HUTS LEFT FROM THE NATIVES ON OUR CAMP. SO EVERY DAY WE PULLED OUR DOSSIERS UP AND TOSSED IN WHAT CRABS WE FOUND UNTIL WE HAD 20 OR 30 OF THEM. FILLED A 50 GALLON DRUM UP WITH WATER AND HAD A CRAB COOK. AFTER THE ANTENNAS, WE WORKED ON THE RUNWAY. A SHIP BROUGHT IN THE CEMENT BUT THE SAND WAS TAKEN FROM THE BEACH AND THE ROCK WAS REALLY PARTS OF THE REEF WE BLASTED AND DREDGED. I WAS ONE OF THE EARLY DJS AT THE RADIO STATION. THE FIRST ONE WAS ONLY ABOUT 8 FOOT BY 12 FOOT. THE STUFF WE PLAYED WAS WHAT EVER WE COULD GET OUR MOMS TO SHIP TO US IN THE MAIL. A LOT OF REEL TO REEL A BUTT LOAD OF 8 TRACKS AND IF THEY DIDN'T WARP TOO BAD, SOME KILLER VINYL. AND YOU'RE RIGHT.. THE STATION HELPED WITH THE BOREDOM AT NIGHT. ( A GUY CAN ONLY WATCH SO MANY BLACK AND WHITE MOVIES, MOST OF THEM WERE BRIT COMEDIES AND THE BEVERLY HILLBILLIES. NOW WHEN THE LIMEYS CAME IN FROM THEIR SHIP, THAT WAS SOME FUN.
THEM BOYS LOVE TO DRINK AND FIGHT. WE HAD THE EM CLUB SHUT DOWN SO MANY TIMES WE STARTED MAKING OUR OWN BOOZE ( RAISIN JACK ) TASTED LIKE POND SCUM BUT HAD A PRETTY GOOD KICK TO IT.
THANK GOD FOR ALL THEM FARM BOYS, THEY COULD MAKE ANYTHING DRINKABLE.. ANY WAY THANKS FOR BRINGING BACK ALL THE GOOD TIMES. I HEAR YOU CAN HAVE WOMEN ON THE ISLAND NOW. BACK THEN THE ONLY WOMEN WERE THE USO GIRLS AND THEY WERE KEPT UNDER LOCK AND KEY, WITH AN ARMED GUARD POSTED OUTSIDE. WE PARTED THE ROCK JUST AS BOB HOPE'S JET WAS COMING IN. YOU KNOW HIS JET WAS THE FIRST JET TO LAND ON THAT RUN WAY.
KIND OF COOL TO THINK I WAS A PART OF MAKING THE ROCK WHAT IT IS TODAY. ( AS WERE WE ALL ) BUT DON'T LET HISTORY WRITE ON THE MEN OF 10. WE WERE THERE AND I CAN'T SPEAK FOR THE OTHERS BUT I WOULD LOVE TO GO BACK
1972
NAME = Jay Reddington
E-MAIL = jr@csa-ce.com
SERVICE = USN
UNIT = NMCB-1
Nothing to report.
1972-1973 with MCB-62 AND 1976-1977 WITH MCB133
NAME = GARY MILLER
MY QUEST = TRIP OH DOWN MEMORY OR MAMORY LANE
VT of a SWALLOW = 99 MPH AND 110 PROOF
E-MAIL = oldbear1452@yahoo.com
NATIONALITY = american
SERVICE = SEABEES
UNIT = HELPED BUILD MINI GOLF, TENNIS COURTS, AFRTS RADIO TOWER, MARS STATION SCAFFOLD TOWER AND OTHER FUN STUFF
RANK/RATE/JOB = BUCN AND BU-3
MY INTEREST IN DG IS = Geo-political Rabble Rousing
SUBJECT OF MY STORY: = This is a No-Shit Snorkeling Story
MY WARSTORY = i HAVE THE HONOR OF BEING A PLANK OWNER OF THE ORIGIONAL DG MINI GOLF COURSE. aLSO WHEN BOB HOPE CAM TO TOWN I GOT TO BE THE DRIVER FOR LOLA (GOD SHE WAS FINE) FALANA AND NOT ONE BUT TWO (HELL YES IM BRAGGING) OF BOB'S AMERICAN BUITIES (OH GOD WERE THEY). LOLA GOT INTO THE JEEP AND BEFORE WE GOT AWAY FROM THE AIR STRIP SHE ASK IF I HAD ANYTHING TO SMOKE? I PULLED OUT A PACK OF SQUARES. SHE SAID "BABY YOU KNOW THAT ISN'T WHAT LOLA IS TALKING ABOUT" SO I PULLED THE EVER PRESENT METAL 35 MM FILM CANISTER OUT AND MY TRUSTY PIPE AND SHE SAYS "NOW THATS WHAT LOLA WANTS" BY THE TIME WE GOT TO THE CONTONMENT AREA WE WERE ALL FOUR AS HIGH AS A GEORGIA PINE.
I GOT TO SEE THE SHOW UP CLOSE AS A FILM RUNNER.
DOES ANY ONE REMEMBER THE MARS ANTINNA WE PUT ON THE SCAFFOLD TOWER SOME,..[[''///./PP//.;'..-=--= TOOK THE BALLEN OUT OF THE NEW BOX AND PUT IT ON THE OLD ANT. BECAUSE HE HAD BLOWEN THE BALLEN ON THE OLD LOG AND HE CLEANED THE OLD BALLEN UP AND PUT IT IN THE NEW ANT. BOX. WE LODED THE NEW LOG ON THE GROUND AND IT WAS PURFECT PUT IT IN THE AIR AND EVERYTHING PUT OUT WAS REFLECTED BACK DID IT WHAT THREE OR FOUR TIMES BEFORE HE CONFESSED HIS SIN AND WE THRETEND TO KILL HIM OR WORSE REUP HIM ON THE ROCK. DO YOU REMEMBER THE NIGHT THE LIFERS WERE GOING TO BUST THE POT HEADS? ABOUT TWENTY OF THEM CAME DOWN TO THE BEACH AND ABOUT TWO HUNDRED OF US WERE ON THE BEACH PARTING AND THEY TURNED AROUND AND BACK INTO THE JUNGLE THEY WENT.
1972
Subject: DG Pics
Date: Thu, 25 Aug 2005 00:44:43 -0400 (Eastern Standard Time)
From: "66cuda" <66cuda@comcast.net>
Here are some pics from Feb. 1972. I hope the quality is good enough. Thanks for posting my hunt for Dan Hurley so quickly, I didn't expect it to post that fast!
All these pics were taken from the beach behind "the campsite" as we called it. They are of the three small islands, the desalinization barge, a cargo ship making port and the beach. I hadn't looked at these pictures in about twenty years before I found your web site! They bring back allot of memories!
Thanks for the web site and all the good you do for our brothers and sisters.
Dave Snyder 66cuda@comcast.net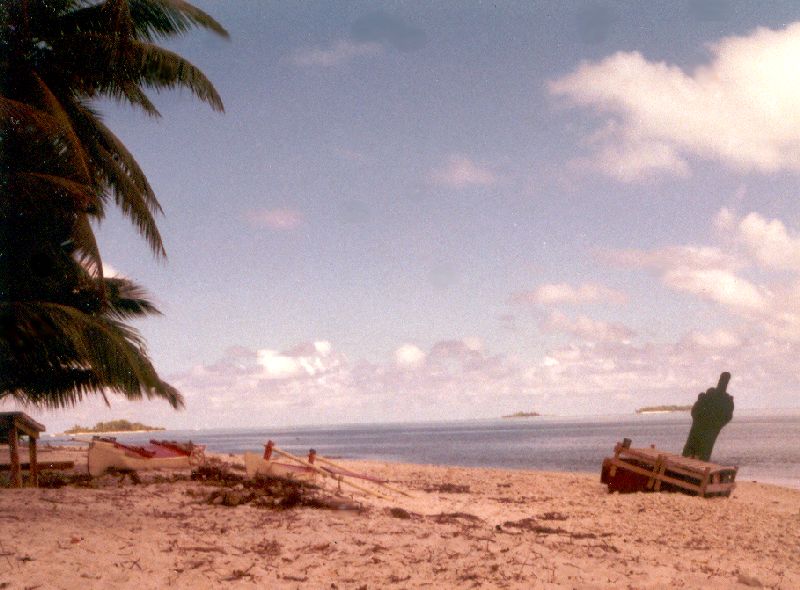 July 1972 - May 1973
NAME = Howard Henze
MY QUEST = Radio Reindeer Staff
VT of a SWALLOW = 110 ft.sec
E-MAIL = bchhenze@bellsouth.net
NATIONALITY = US
SERVICE = NAVY
UNIT = LSC
RANK/RATE/JOB = Former Lieutenant, Special Services Officer, Tried to be general good guy
MY INTEREST IN DG IS = Other
SUBJECT OF MY STORY: = Actually, I Have a Real Story To Tell
MY WARSTORY = HI,
I've declared myself as Comandant of Radio Reindeer since no one else seemed to want that title.
I'd like to talk to other guys who remember the radio station and maybe some of the stuff we pulled on the air. I have several hours of my own radio shows and the complete recording of the Bob Hope Show, such as it is. If there's anyone out there who remembers Mrs. Hope's (Delores) rendition of White Christmas, finishing with "...may all your Christmases be HOME". who didn't end that show crying, I don't need to talk to you...
A few things: the radio station had a lot of fun at others expense. There was "Hover craft" advertisements. These referred to our distinguished deputy commander. There were also "Bruce the Fierce" movie reviews that went without saying. No one ever bothered me about these things meaning that they 1) didn't listen, or 2) didn't get it.
The radio was a lot of fun for those of us who did it..... S"Advertisements', slogans, features and all...
If anyone remembers, let me know
Subject: Radio Reindeer Comandant
Date: Sat, 15 Oct 2005 23:59:02 -0400
From: "howard henze" <bchhenze@bellsouth.net>
HI,
I was the evil officer in charge of Radio Reindeer when it went to multi-watts in 1972.
I've contributed before but would like to declare myself, now. My Executives include John Delso and Larry Bruen (long may they wave !). I would propose to have no duties BUT I have several CD's of my own radio show and a complete recording (such as it is) of the Bob Hope Christmas Show of 1972. My technical and spiritual adviser, although he may have many other positions in the heirarchy, is Carl Villanueva. One needs a guru.
My final comment is this: If anyone who was at the Christmas Show in 1972 and does not show a tear when Mrs. (Delores) Hope sings".....may all your Christmases, be HOME", turn in your credentials as a citizen of the rock
Otherwise, "Hover On"
Howie Henze
bchhenze@bellsouth.net
1972, NMCB 10, 1975 NMCB 40, 1981-82 PWC
NAME = Ted Martinez (Marty)
MY QUEST = To go back for a couple of weeks
VT of a SWALLOW =
E-MAIL = ttema49@aol.com
NATIONALITY = Hisp/Amer
SERVICE = U.S. Navy (Seabees)
UNIT = EO
RANK/RATE/JOB = After 24 years retired as EO1
MY INTEREST IN DG IS = Want to Drink A Lot, Cheap
SUBJECT OF MY STORY: = There I Was, Passed Out on The Beach
MY WARSTORY =
Love My Tour
Aug 1972 thru Mar 1973
NAME = Ron Ronning
E-MAIL = rronning@info-link.net
SERVICE = Navy MBC 62
UNIT = Electrician Installed Pipe and wire pulls and set lights for the runway
RANK/RATE/JOB = CECN
MY INTEREST IN DG IS = Stroll Down Memory Lane
SUBJECT OF MY STORY: = Other
MY WARSTORY = I was eighteen and my first deployment overseas as a Seabee. I worked with some great men (CE2 Racer, CE1 Charley Hughes, CECN Chandler and a lot of others) I never felt heat so much in my life. This deployment was a life changing experience to me. I grew up a lot. I was always very proud to be a Seabee. I helped get the runway ready for the Bob Hope show on Xmas day. We worked many hours to make sure he could land with a c141. By the way the first c-141 on Degio Garcia. I sat in the front row and had a great time. A highlight on the tour. We all worked our butts off day in and day out. I use to remember going down the runway at night when the lights were pulled apart by crabs. We mounted a chair on the jeep hood and I or some one else would sit on it as we went about 50 miles per hour trying to find the break in the cable. we used a flash light to do this. We alway found the break luckly so the plane could land. We did this on many occasions. I always remeber the water hours. If you missed it, no shower that night. I remeber the huts we lived in and how hot it was in them. I wish I could go back to the island to see it today.
Oct 72 to oct 73
NAME = Karl "Fuzzy" Manzer
MY QUEST = to survive
VT of a SWALLOW = one gulp
E-MAIL = t_framer@yahoo.com
NATIONALITY = american
SERVICE = Navy
UNIT = AIROPS/weather
RANK/RATE/JOB = AGAN came off of diego AG3
currently 100% disabled
MY INTEREST IN DG IS = Stroll Down Memory Lane
SUBJECT OF MY STORY: = Actually, I Have a Real Story To Tell
MY WARSTORY = So Much to tell, I seem to remember a lot more about DG than most people but then I think I saw a different DG than anyone else.Does anyone remember Senior Chief Ian Richardson RN. He was master at arms for the island and unwillingly he became my mentor. I worked 12 on 12 off at AirOps lots of the time alone. Chief Richardson would show up at night and want to talk to me. At first I hated him and would hide in my com room where he couldn't come, but he finally broke me down. somehow that guy knew everything we did. In those days we had two radio nets on the island, one military and one for the freaks. At nights we would take a pr-2 mobile to the beach so we knew where the officers were while we partied. Boy do I remember the cement ship Bamburi, those guys would come down the gangplank with a big bundle under their arm, to us it was the best weed in the world. The only weed.Does anyone remember Petey Wheat Straw, he was a black who volunteered at the AFRTS station.(I was Gandalf the Grey late at night) He knew the guys on the ship and everything came thru him. I hung with the blacks for a while, caused quite a stir the first time they "gave me Pea" in the chowhall. Well Richardson soon put a stop to that and we were not allowed to have any contact with crew members and no one was allowed off the ships anymore. That caused a real problem for me, the smack was still there and my friends were doing it and I wanted to save them. Saw a lot of good guys go down the tubes. Talk about horror stories , how bout the time the seabee came back from Bangkok with a condom full of junk up his ass and it broke. We kept him in the shower for hours trying to keep him conscious. yeah there were good times and there were the bad times that most people don't want to remember. Like Steven Benson dying in a sensless accident that should never have happened, there is more to that story than everyone knew.
And Yeah I was the guy who got to kiss Miss World, the director approached me at AIROPS,gave me a script and told me to come backstage before the show to rehearse with Bob.Remember how many Chivas Regal bottles we took off of their plane???
And how about the end of the war comes to Diego Garcia and Lt Henze asked the commander if he wanted to address the troops, boy did he get his ass chewed. Then he wrote a letter to the editor about the incident to his hometown paper. I thought sure that would be the end of his career.
And how about the time everyone was so pissed because we couldn't get pot anymore. We hatched a scheme to take over the AFRTS station and shut it down after the plane from Don Maung was past the point of no return.(In those days our Navaids only reached out about a hundred miles so they homed in on the AFRTS transmitter.)Our demands were met with how many marines will it take to subdue you!
Boy was I pissed when they took away our jeep, it seems the batallions were rotating and couldn't find the paperwork for about a dozen vehicles. The navy way was of course take a crane and smash them together then take them by Mike boat offshore for burial.
I still beleive that Gary Starr and I built the first treehouse, we had multilevels in a Banyan tree. The seabees soon confiscated some concrete forms and built a real house in a tree.
I would still like to know how many peices of equipment were driven off the reef at night. It was our world at night and the officers never left officer country, especially the Brit Rep I think he feared for his life.
Does anyone else remember the "Noodle o's incident" It seems that some one had a lot (hundreds) of these little pink pills that just scrambled your brains. I will never forget passing an Athey wagon (pan scraper)The seabee driving looked like he was riding a bull and yelling " Noodle ooooooooo's".
Well Ted these aren't what most people remember but like I said I had a different experience. You may not want to post all of this and that is OK. But for me the drugs and what they did to everybody has stayed with me most of all. I have felt a lot of guilt for the guys who got hit by "Operation Goldenflow", I knew they were headed to the Philipines for detox and then a bad conduct discharge. It wasn't their fault to be in the wrong place at the wrong time and be human, yet the rest of their lives were changed by that discharge. Fuzzy
72 - 73
NAME = Patrick Ross
MY QUEST = Sweet Memories
E-MAIL = Patrick E Ross@usps.com
NATIONALITY = Hillbilly
SERVICE = USN
UNIT = NAVELEX/PRECOMM DETAIL
RANK/RATE/JOB = RADIOMAN THIRD CLASS
MY INTEREST IN DG IS = My Time There is Lost in an Alcoholic Haze, Help Me Remember!
SUBJECT OF MY STORY: = Actually, I Have a Real Story To Tell
MY WARSTORY = I just recently found this web site and found myself trying to remember some of buddies I made there. I was surprised to not see
any letters from other RM's that were part of the pre-comm.
While there, all of us (RM's and ET's) lived in a hooch on the ocean side near the MARS station. I have a ton of photos that I want to dig out and send to you. Also, I have what was the island patch at the time. I will also scan this.
As much as i hated the rock, it was the quickest year of my life. That may be because of the amount of dope I smoked or the wine and beer.
Does anyone remember the SS Bamburi (cement ship)? They alwas brought good weed.
1972
NAME = Bruce (Buck) Shaw
E-MAIL = bucksheila1@aol.com
NATIONALITY = American
SERVICE = US Navy Seabees
UNIT = MCB 62 Alpha Co.
RANK/RATE/JOB = CM3 then now CMC retired
MY INTEREST IN DG IS = Stroll Down Memory Lane
SUBJECT OF MY STORY: = I'd Like to Share Precious Memories of Drinking/Fishing/Snorkeling/Sailing on Diego Garcia
MY WARSTORY = I was in "A" company night crew. I worked in the shops. I also was the bartender in the acey ducey club for the night crew. I remember the Bob Hope show we worked nights so when we got off that morning we were some of the first men there. we had great seats. I took alot of pictures (thats all we had to do there. I viewed the pictures on this site and reconized alot of old friends like: Troy Alley, Mike Thurlow, Tom Rudloff, CM1 Patrick, CM1 Purvis, John "Boot" Winger, Sam DeMao, Chillie Willie and alot more. It was great to see them again. I will dig out my old photos and look again.
MCB-10 1971 Okinawa / 1972 Rota Spain / Det Chagos March 72 to Nov 72
NAME = Ken Fleck EO3
MY QUEST = Glad to put my time in for the "Country"
E-MAIL = swskfleck@msn.com
NATIONALITY = U.S. baby
SERVICE = USN MCB-10
UNIT = We set the cummunication (telephone poles) for sending and receiving sites.
RANK/RATE/JOB = EO3 ran cranes for MCB-10 Det Chagos and also nightline D.J. on KDG radio (krummy Diego Garcia)
MY INTEREST IN DG IS = Other
SUBJECT OF MY STORY: = Please Select a Title For Your Story, or Select 'Other'
MY WARSTORY = The only war stories on Diego Garcia was fighting the mosquittos at night and trying to make it through befoe getting all the blood sucked out of you. As far as fun, making sure a couple of cases of steaks and lobsters disappeard while being unloaded from the supply ships between the barge and DG propper.
1972-1973
NAME = Mark Fontaine
MY QUEST = memories man, memories!
VT of a SWALLOW =
E-MAIL = Fontaine.Mark@dol.gov
NATIONALITY = US of A
SERVICE = Navy
UNIT = MCB-62
RANK/RATE/JOB = Was an HM2 on DG retired as an HMC. I was the "Ratman" who sprayed for mosquitoes and trappped the fruit rats that were chewing the callouses off the feet of the soundly sleeping (either from long days working on the runway or long nights drinking at the EM club.) seabees.
MY INTEREST IN DG IS = Professional Adventurer Looking For The Ultimate Get Away
SUBJECT OF MY STORY: = This is a No-Shit Fishing Story
MY WARSTORY = As part of maintaining the ecological balance on the Island, all the turds from the Island Shitters were pumped directly out to sea until the sewage treatment station could be completed. The Brit Rep (there was only one Brit on the Island when I first got there.) wanted to make sure there were no "floaters" making there way back to the beach and that the waters off shore were not contaiminated, so the medical dept would take out one of the LCM's to take water samples and test em for bacteria back at the world famous lab back at sick bay. Of course it turned into a great fishing trip. First we would catch huge yellow fin tuna, cut em up and use the pieces as bait to catch shark. I will never forget the site of a bunch of drunken sailors beating the shit out of a 16 foot shark in the well deck of the LCM while it was thrashing and snapping at anything that moved. Ah what fun!
We had a young Seabee who had severe appendicitis and we could not get him off the island before it would probably burst, so we did the surgery right there. Dr. Willett did the surgery. I was the anesthesiologist (demoral drip as I rembember). The guy got a personal vistit from Miss World who traveling with Bob Hope.
So many stories so little space!
1972 1973
NAME = howard l mcdaniel
E-MAIL = dani2199@bellsouth.net
SERVICE = usnavy
UNIT = fuel farm
RANK/RATE/JOB = abf1 / abfc /retired
MY INTEREST IN DG IS = Stroll Down Memory Lane
MY WARSTORY = it was another world and i would not take for the time spent there bob hope i will never forget
1972 - 1973
NAME = ROBERT GORE
MY QUEST = LIVE LONG ENOUGH TO BE A PAIN IN THE ASS TO MY KIDS
VT of a SWALLOW = DEPENDS ON WHAT YOU'RE DRINKING
E-MAIL = robert.gore1@navy.mil
NATIONALITY = USA
SERVICE = USN
UNIT = MEDICAL DEPARTMENT
RANK/RATE/JOB = ON D G I WAS AN HN/HM3. WORKED SICK CALL AND OPERATING ROOM
MY INTEREST IN DG IS = Stroll Down Memory Lane
MY WARSTORY = On D G with NMCB-62 72-73 deployment. Remember Bob Hope show, nightly movies (in the rain), cheap beer at the E-Club and the sound of coconuts banging on the tin roof of the Doc's hootch. Place was a real Gilligan's Island.
After scanning through 1972 site I recognize a couple of names: Mike Geno and Dr. Murray. I'm going to try and contact them.
Anyone elso out there surfing who remembers me please give me a shout at the e-mail above.
I stayed around the Navy and retired as an HMC in 1991.I still have fond memories of "The Rock" and probably always will.
June 1972, until November 1972
NAME = Dan Welander
MY QUEST = See more pictures on the island. I was with MCB 10, and one of the 1st Americans on the island.
E-MAIL = dwelander@andersencorp.com
NATIONALITY = American
SERVICE = Navy
UNIT = USN MCB 10
RANK/RATE/JOB = PN2
SUBJECT OF MY STORY: = There I Was, Passed Out on The Beach
MY WARSTORY = One of the 1st Americans to arrive on the island. We went by boat from Bangkok. I lived in a tent for 3 months, they in a plywood quonset hut. I spent 7 or 8 months on the island. I have been to Diego Garcia twice. I came back in June 1973, with the battalion. The second time I was there was for only a few weeks. I would like to find pictures of the battalion from back in 1972 and 1973. I remember a lot of R&R in Bangkok and Sydney.
1972,1973,1974
NAME = jerry cripe
MY QUEST = retirement
VT of a SWALLOW = english or african?
E-MAIL = jerry.cripe@navy.mil
NATIONALITY = wasp
SERVICE = US NAVY
UNIT = NMCB-10
RANK/RATE/JOB =
MY INTEREST IN DG IS = Want to Drink A Lot, Cheap
SUBJECT OF MY STORY: = Please Select a Title For Your Story, or Select 'Other'
MY WARSTORY = NO STORY. NAVY MADE ME STAY ON THE ISLAND AND BUILD STUFF.
1972
NAME = DEL KLUCAR
MY QUEST = FIND SOME OLD FRIENDS
VT of a SWALLOW = SAME AS A GOONEY BIRD?
E-MAIL = CBENDURO@HOTMAIL.COM
NATIONALITY = AMERICAN
SERVICE = U S NAVY SEABEES
UNIT = NMCB#1 C/D COMPANY
RANK/RATE/JOB = SWCN
MY INTEREST IN DG IS = My Time There is Lost in an Alcoholic Haze, Help Me Remember!
SUBJECT OF MY STORY: = Other
MY WARSTORY = I HELPED BUILD THE CEMENT SILOS, WHICH I SEE ARE STILL STANDING. WE USED TO GET CEMENT IN GIANT BLADDERS. I REMEMBER THE FIRST SHIP TO DELIVER CEMENT WAS FROM AFRICA, MAN THOSE GUYS COULD PARTY. BOUGHT A SMALL HOMEMADE (EVERYTHING WAS HOMEMADE) SAILBOAT FROM SOMEONE BEFORE US. USED TO SAIL OUT IN THE BAY, REMEMBER SEEING A MACO SHARK SWIM RIGHT UNDER US. THEN RAY RODGERS GOT DRUNK ONE NIGHT AND CAPSIZED THE BOAT, HAD TO SWIM BACK. HE WAS LUCKY. I TOOK R&R IN BANGCOK WITH CHRIS STRATTEN. WOUND UP STAYING THERE 15 DAYS, LONG ENOUGH TO FALL IN LOVE WITH MY RENTAL, SAMONG. HEY, I WAS 18. THINK I WAS ON THE BUS WITH TONY DEMICHAEL, AND I REMEMBER DRINKING A LOCAL HOOCH MADE BY CUTTING THE COCONUT BUDS, STUFFING THEM IN A JUG, HANGING THE JUG IN THE TREE FOR A MONTH OR SO. AND DID ANYONE EVER FIND SEABEE MAN? GLAD I JUST REMEMBER THE GOOD TIMES. THAT WAS ONE BEAUTIFUL ISLAND. MY NIECE FLYS NOW WITH THE AF AND HAS BEEN THERE, SAYS ITS EVEN BETTER NOW W/ AIR CONDITIONED BARRACKS.
1971 and 1972, but only one day each yer
NAME = Robert Powers
MY QUEST = The Truth --- Mostly
VT of a SWALLOW = Same as for a B1-RD or a GU-11
E-MAIL = blarny2@juno.com
NATIONALITY = USA
SERVICE = USAF
UNIT = C-130 pilot
RANK/RATE/JOB = Then, Col.; Now, Col., (Ret.)
MY INTEREST IN DG IS = Professional Adventurer Looking For The Ultimate Get Away
SUBJECT OF MY STORY: = Actually, I Have a Real Story To Tell
MY WARSTORY = On 14 Sept 1971, I flew the second airplane to land on Diego Garcia's new and unfinished runway, about 4,500 feet worth. We came in a 374th TAW C-130, having departed U-Tapao AB, Thailand, with a passenger/cargo stop at Don Muang airport, Bangkok, before launching for DG, logging 8.7 hours in the effort. As I shut down the engines, I was aware of a group assembling outside. When I presented myself at the forward entry hatch, I was greeted with the shrill and welcome sound of boatswain's pipes. I was being piped aboard! This was particularly enjoyable, because I had risen to the prodigious rank of E-3 in the Marines in WW2. Who'd have thought!
The commanding officer, whose name I regretfully forget, a commander (CEC) in the Navy, was a gracious and knowledgable host who gave me a guided tour of the island, commenting on flora and fauna. He gave me a magnificent reticulated cowrie shell as a souvenir. I recall him pointing out the golfball size bits of gray stuff floating at the water's edge, which he said was pumice. Since it wasn't local, his theory was that it was remnants of the great Krakatoa volcanic explosion.
I had a fine hootch all to myself (being the only 0-6 in sight), which reminded me of my Pacific sojourn in 1944-1945, except that DG with its beautiful tradewinds was far superior. Left for Bangkok the following day.
Saw the PBY Catalina which you all call Katie, and have one corrective comment; the internal fuel of a PBY is 1750 gallons, not 1450. I flew Catalinas and Albatrosses in the USAF Rescue Service, 1949-1954. I also have a question; although I know zilch about DG's weather, I do know it is out of the cyclonic zone. How often would a storm of the magnitude that beat up Katie occur in the Chagos Archipelago?
Returned to DG 5 Feb 1972 on a similar mail/cargo run, and had a flight nurse in the crew, an attractive USAF captain (female, naturally), because we had to air-evac two sailors. After a similarly pleasant overnight of cold beer and relaxation, we readied for departure. One of our patients was in a Stokes litter, suffering from a badly broken leg. The other was completely ambulatory, which made me ask the nurse what his problem was. Quothe she, "He's got Brand X." The young sailor in question had spent an obviously interesting R&R someplace. It would take more sophisticated medicine than available on DG to relieve him of his complaint.
1972
NAME = Howard Henze
MY QUEST = Buddies from L.S.C. and Radio Reindeer
E-MAIL = bchhenze@Superior.net
NATIONALITY = US; SERVICE = USN; UNIT = Special Services; RANK/RATE/JOB = Lieutenant, USN
MY INTEREST IN DG IS = Geo-political Rabble Rousing
SUBJECT OF MY STORY: = Actually, I Have a Real Story To Tell
MY WARSTORY = Obviously not a plum assignment for a ship driver particularly when they called it my "shore rotation".
Saw the radio staton upgraded to how-ever-many watts. Helped invaluabley by SK2 Knoll. After C-130's, who had that scary point of no-return for which even the little station was the only beacon, the C-141's would radio in requests and tell us how many pounds of mail they had. Had miniature golf built.
In a round about way, invited Bob Hope show. In a direct way, got chewed out by CB Commander. These are first pictures, other than my own, I've ever seen of the show but I have an audio of the entire performance.
There was beach volleyball, bad movies (for which I took the grief), decent chow, good buddies who were all in the same sitiuation.
Looking for Dave Camp, Hank Rowett "Billy" CB j.g.who always kept asking, "...tell us about the ships, Howie, tell us about the ships", Knoll (We air conditioned our office when no one else could), Ian Mullineaux (sp), Dr Philo ______(Lost last name in 30years)
Came up with character of "hovercraft" reflecting one of the least colorful and wierdest officers in Island Command.
Does anyone still have a "Diego Garcia, Love it of Leave it " bumper sticker ???
At the end, given a commendation for bringing Bob Hope to the island.
As an "almost-engineer", remember watching the CB's trying to push the ocean back from the point at the O'Club. For those of us who spent more than a short time there, we knew the ocean always brought back what it took away. But, what did we know against men with bull-dozers who knew how to use them.
On a thoroughly modern note, we valued our ghekkos. They kept our quarters free of mosquitoes and other bugs. Too bad GEICO has mis-appropriated these gallant little critters.
A thoroughly unique experience in the beauty of the place and the lack of threat from other humans or beasties. Glad I found my "unique experience" in that period without being shot at.
The question persists,"Why are we here ???"
Welcome e-mails and other queries. I don't have copies of the audio but could look into it.
1972
NAME = Dave Schlesinger
MY QUEST = Surfing the Web
VT of a SWALLOW = 0 MPH
E-MAIL = dschles960@aol.com
NATIONALITY = USA; SERVICE = USN; UNIT = Aide to COMCBPAC; RANK/RATE/JOB = Lt - Civil Engineer Corps (1972); Capt, CEC, USN - Ret 1990
MY INTEREST IN DG IS = Want to Return When the First REAL Club Med Opens
SUBJECT OF MY STORY: = Actually, I Have a Real Story To Tell
MY WARSTORY = After just returning from my second Viet Nam deployment with the Seabees I was delighted to receive orders to COMCBPAC in Pearl Harbor which I thought was a shore duty billet. Unfortunately for me the Admiral (who shall go un-named because I think he is still alive) loved to travel thru out the Pacific to get away from his wife. I loved my wife who had two kids (both under 2 years old!) so any trip was a pain in the ass. One of our first visits was to Diego Garcia. I got out a map to try and figure out where it was and of course could not find it anywhere. The Chief on the CBPAC staff said don't worry several people had been there and come back to tell about it so it must be OK. We visited Bangkok (OICCThailand) and then took off in C-130 with special wing tanks. The pilot said we had enough fuel to get to the island + about 45 minutes so he was going to fly in a straight line. The Admiral had me going up to the cockpit every 15 minutes (and that was a long trip believe me)to make sure the pilot was on course. I was a registered professional engineer but for all I knew the C-130 could have been heading to Antartica to drop off a deranged Rear Admiral who was bugging the heck out of the crew. Anyway we made it - the island was beautiful - lots of hard working Bees - and conditions were such that they were just getting out of tents into SEAHUTS. Not too bad for a guy used to living on the ground with a Detachment from Dong Ha! I returned to the island several times in 1977-1978 as a Cdr (ROICCPAC) to see how well the reverse osmosis water repurification system was working (it wasn't) that my office had purchased from Ionics in Watertown, MA. My sister was stationed on the Yosemite in the 1990's that also was berthed at Diego but by then it had turned into a country club with women, permanent billeting, unlimited water for showers, and generally was a sought after assignment (just kidding).
Dave Schlesinger
Capt, CEC, USN (Ret)1972-1973
NAME = Carl 'Vidge' Villanueva
E-MAIL = vidge@localnet.com
NATIONALITY = USA
SERVICE = USN
UNIT = Air Ops
RANK/RATE/JOB = ABH2 (then)
MY WARSTORY = I'm at a loss for words...but you are invited to look at my website (under construction) that has a bunch of photos from my days on "the rock" from 1972-1973. it is www.members.tripod.com/carlvillanueva
1972-73
NAME = Mike Geno
MY QUEST = Will Hunt and Gather for Food
E-MAIL = mgeno52@gmail.com
SERVICE = Seabee; UNIT = NMCB-62; RANK/RATE/JOB = CMCN; MY INTEREST IN DG IS = Want to Drink A Lot, Cheap
MY WARSTORY = Well I knew I was in for a ride when we passed the point of no return from Bangkok. The pilot still didn't know for sure just where we were going. It seems that he couldn't contact the Island "for some reason" and the Navigator wasn't sure just where we were, anyway as luck would have it the "Britt-Rep" was on our illustrious aircraft and he came up with the "Bright Idea" to just tune in the radio station and home in on the signal, Otherwise we would just have to head back to Bangkok and stay a few more days. Well they found the radio station and that ended my hope of not getting there, and as we set down on the "Breath-taking" Island, 110 deg.F you could hardly breath, I was in for the long haul. Six months later I was treated with the prospect of seeing the "Bob Hope" Show from the top of a fire truck, one of the best seats in the house, and it looked like rain. The stage was wet, the lights were wet, the guys that built the stage and anybody else that could was on the stage drying it off with their shirts, towls, and everything else they could find. This was the first time many of us had the chance to see a real live WOMAN in a long time, and we were going to make sure that we got our chance. The show went on and only one young lady slipped in the Dance Team and there were 20 guys there to catch her if she came off stage, luckilly for her she didn't or she may not have made it back on stage, for a while anyway. I got my R&R after the show was gone but that is another story and I am sure that there are millions of them out there, well just to say this is a great site and as one of my Prof. told me "My Millitary Service?" I wouldn't take a million dollars for it. But I wouldn't give you 2 cents to have it back.
1972
NAME = Jim Rice
E-MAIL = jimr@mailriverview.net
SERVICE = Navy; UNIT = Air Ops; RANK/RATE/JOB = AGAN
MY INTEREST IN DG IS = Stroll Down Memory Lane
MY WARSTORY = Really not much to tell. We worked 12 hour shifts and most of the time we had to start at 0500 so free time was limited. Any free time we had was spent in that famous alchoholic haze that seems to have assumed a permanent position over DG. I can remember cookouts outside the hooch by the lagoon, steaks cooked over dried palm fronds, much better than the messhall. I remember sand so white that it looked like snow when we got off the C130 in the middle of the night. Before we were allowed off the plane, we were sprayed, I guess we must have been contaminated after two weeks in Bankok! DG is a beautiful place as long as you are looking at it from a distance. The most beautiful sunrises and sunsets I have ever seen. A great experience but I don't want to go back.
June1972-Feb.1973
NAME = Bill Bettger
E-MAIL = billbettger@hotmail.com
UNIT = parts guy, bus driver, mechanic; RANK/RATE/JOB = CM3then, farmer now
MY WARSTORY = Anybody remember the band? Donny something-or-other played the guitar. I took a lot of movies in the nine months I was there with 62. Remember the homemade hot-rods? The trike and the 4-wheeler. I have some great movies of Bob Hope, Christmas 1972. This is a great site! A major flood of memories, mostly good, some a little fuzzy! Life is good. Ride safe.
1972 or 1973?
NAME = james mc daniel
MY QUEST = ain,t got none
VT of a SWALLOW = can,t remember that well!
E-MAIL = jamesmetairie@yahoo.com
NATIONALITY = usa; SERVICE = u s nav y vet 1965 ,66 usmm 1967 to 1995; UNIT = was a.b. aboard s s san antonio,usmm,and carried cargo to submarine line in d g around 1972
RANK/RATE/JOB = sailed usmm all my life and work for u s army corps of engineers now as navigation lock operator in new orleans district.
MY INTEREST IN DG IS = Want to Drink A Lot, Cheap
SUBJECT OF MY STORY: = This is a No-Shit Sailing Story
MY WARSTORY = i got so drunk i can,t remember what happened ,or is it old age??
1972-1973
DAVID L. TREWOLLA <DavidTre7949@aol.com>
Ted, my name is David L. Trewolla. I heard your interview on NPR and have been fascinated with the website. I was an Ensign and made LTjg while serving as Admin/Personnel/Public Affairs/Legal Officer on "the Rock" with Detail
Dingo (170 plus Seabees) from Naval Mobile Construction Battalion 133 (Main Body in Rota, Spain) during November 1972 - May 1973. During the latter half of our deployment in 1973, one of our finest men was fatally injured in a construction accident. I offer the following for your memorial page:
EO3 Steven B. Benson, an Equipment Operator in Alpha Company of Detail Dingo for NMCB 133, homeported in Gulfport, Mississippi, was fatally injured in a construction accident while dismantling the boom of a mobile crane at the end of a work day. As I recall, a portion of the boom collapsed and crushed him when he removed a cotter pin. Steven was a man of Christian character and served the Navy Seabees with honor and dedication as evidenced by his promotions. He was well liked and respected by all who had the pleasure of his acquaintance. Steven had served in the battalion since approximately June 1971 and was on his second deployment, the first being to Okinawa in 1971-72. I cannot recall Steven's home and family situation, but ask that you please add his name to the memorial page as one who gave the ultimate sacrifice for his country. [editor's note: Steven is now listed on the Remembrance Page]
Thank you for your dedication to developing the website. I have two cruisebooks from the deployments of our Detail plus that of NMCB 74, whose entire battalion was deployed to the island at the same time as our Detail from NMCB 133. I lived with 5 other junior officers in the northernmost seahut on the east side of the west arm of the island in the Cantonment Area.
We had water hours during the entire deployment. Our salvation was having an air-conditioned officers mess/club to enjoy for our meals and entertainment. Otherwise, it was work from 0630 to 1730 six days a week with an hour for lunch. Mail was delivered once a week by C-130 until C-141's began twice weekly service after Christmas 1972 with Bob Hope's landing. Like many tough things in life, I appreciate the experience but would not want to do it again. I look forward to contributing further to the website. Good luck to you. My e-mail address - DavidTre7949@AOL.com. I am an attorney living in Brandon, MS and working in Jackson, MS. I left the Navy in April 1974 after 3 years service following an NROTC commission at Vanderbilt University.
1972-1973
CHARLIE COLLINS <xph2@swbell.net>
Howdy,
I heard you on NPR and I went to the NPR website and got the link to your site. It's FANTASTIC!!! I was on DG from 8/72 to 8/73 and was a ABF3 at the Fuel Farm. I was not aware of all the changes there have been till I saw your site. It's been so long since I really tried to think of people I knew there that I can't think of a single name of anyone at the Farm. When I left in '73 I changed rate from ABF to PH through the SCORE program. I was attached to Combat Camera Group in Norfolk, Va. till I got out.
I see you have Minister of Secret Police so if you need a Minister of Coleman Lantern's (I work for the Coleman Co. in Wichita, KS in the Security Dept.) I'll take the position.
1972-73
BRIAN MURRAY <b_p_murray@msn.com>
I was medical officer with MCB '62 and MCB 10 on DG fall of '72- spring of '73 . We set world record on positives urines with project golden-flow and CO was relieved of command mid-deployment -- anybody out there from those days? I imagine island has changed a lot since the seabees built it from scratch.
1972-1973
CLYDE POWERS <CWPGOOF@aol.com>
MY NAME IS CLYDE POWERS I WAS IN D G 72 TO 73 BOB HOPE CAME THERE FOR CHRISTWAS WOULD LIKE TO HERE MORE WE PUT DOWN THE CONCRETE FOR THE RUNWAY.
1972-1974
YN1 TONY BONNER, Ret. <tdmock@wabash.net>
SERVICE = us navy
UNIT = public works DEPT
RANK/RATE/JOB = YN1 RET JAN 1977
SUBJECT OF MY STORY: = I am a Born Liar, and Want To Tell About All The Sex I Had on Dodge
MY WARSTORY = I WAS THE DRIVER FOR BIG "b" LIMO SERVICE (THE BUS THAT USED TO RUN FROM THE
PUBLIC WORKS DEPT BACK TO DOWN TOWN, THIS WAS DURING AND WHILE LIVING IN HOOTCHS.
OCTOBER 1972- OCTOBER 1973
TOM HODOLITZ <shodie@iconn.net>
MY QUEST = RELIVE THE PARTY LIFE
NATIONALITY = US; SERVICE = USN; UNIT = HARBOR OPERATIONS (LOGISTICAL SUPPORT COMPONENT)
RANK/RATE/JOB = BM3, LEFT THE NAVY UPON RETURN TO US, DG WAS MORE FUN THAN I COULD STAND I
GUESS
MY INTEREST IN DG IS = Want a Job as Far Away from My Wife as Possible
SUBJECT OF MY STORY: = This is a No-Shit Drinking Story
MY WARSTORY = GOING TO PARTIES ON THE BRITISH SIDE AND GETTING DRUNK. THE BEST AND WORST WAS
WHEN BM2 FOSTER FELL OUT OF THE DUECE AND A HALF AS WE SPED DOWN WHAT I WOULD CALL THE CART
PATH IN OUR RUSH TO GET BACK TO OUR SIDE REALLY PISSED EVERYBODY OFF
1972
TIM O'BRIEN <timobrien@mindspring.com>
Still browsing your site and links. Takes days. Attached a pic of my group on DG and wondered if you know of others that were in ATCU-4. I fit into the drunken haze group of which I'll have to supply a war story of when I can remember. Reading the other stories helps!
-Tim
1972
DANIEL ABAIED <danseabee@aol.com>
SERVICE = Navy; UNIT = NMCB 71; RANK/RATE/JOB = Non rated puke (BUCN)
MY INTEREST IN DG IS = My Time There is Lost in an Alcoholic Haze, Help Me Remember!
SUBJECT OF MY STORY: = There I Was, Passed Out on The Beach
MY WARSTORY = I turned 21 the week after I got there. We worked nights and as soon as we got back to the hut, we got drunk. The guys had me go in the hut to get a tape, and when I came out 30 or so guys covered me from head to toe with beer. We drank till I can not remember, and I did pass out on the beach. We were the second battalion there, and all that was there was rats, crabs, a donkey, and Seabees. "CAN DO"
1972 with mcb#1
TONY DEMICHELE <fuzzy334@aol.com>
MY QUEST = TO TRY AND GO BACK TO THE ROCK TO VISIT FOR ABOUT 3 DAYS
VT of a SWALLOW = ABOUT AS DEEP AS THEY CAN HANDLE
NATIONALITY = AMERICAN; SERVICE = NAVY SEABEES; UNIT = CHARLIE COMPANY WAS A STEEL WORKER
RANK/RATE/JOB = SWCN JUST ANTHOR PUCK TO DO THE DIRTY WORK
MY WARSTORY = WHEN SOMEONE AND IM BEING VERY SERIOUS ABOUT THIS I DONT REMEMBER STOLE THE BUS AND WE WERE DRIVING AROUND AND WERE PICKING UP PEOPLE AND THEY WERE GETTING ON THE BUS AND WE HIT THE RUNWAY AND SOMEONE STARTED SAYING WELCOME TO THE FRENDLY SKYS OF UNITED AIR WAYS AND WHEN THE PILOT GETS THE OK FROM THE TOWER WE WILL BE TAKING OFF AND THEN THE PERSON THAT WAS ACTING AS OUR ANNOUNCER SAID THAT IF EVERYONE WOULD BUCKLE THERE SEAT BELTS THE POLIT WOULD START HIS TAKEOFF CHECK LIST AND THE DRIVER STARTED RACING THE MOTOR AND WE STARTED ROLLING DOWN THE RUNWAY AND EVERYONE ON THAT BUS STARTED TO LEAN BACKWARDS AS WE ALL HAD THE THOUGHT OF TAKING OFF AND EVERYONE WAS YELLING AND CHEERING AND WE ALL GOT INTO IT SO MUCH THAT THE DRIVER ALMOST RAN OFF THE END OF THE RUNWAY WHAT A NIGHT ILL NEVER FORGET HOW ABOUT THE FISH THAT IF YOU STEPPED ON YOU WOULD'NT MAKE IT OFF THE ISLAND ALIVE THERE WAS NO ANEDOTE FOR THE POISON WELL THERE IS A LOT OF OTHER THINGS BUT ILL LEAVE THAT FOR SOME OTHERS TO TALK ABOUT GREAT SITE AND THANKS FOR THE MEMORIES A BLAST FROM THE PAST
June 1972-Feb 1973
MIKE SHROWANG <schrowmt@nabbnet.com>
MY QUEST = To experience living on a tropical island at someone else's expense.
VT of a SWALLOW = european or african?
NATIONALITY = true blue american; SERVICE = U.S.Navy; UNIT = Logistic support component. I drove Garcia 2 the yellow crash rescue truck; RANK/RATE/JOB = ABHAN. Discharged Dec.1975.
SUBJECT OF MY STORY: = Actually, I Have a Real Story To Tell
MY WARSTORY = What an amazing place except for the lack of female companionship. But you would have to admit that it was a beautiful place in it's own right. I worked on the airfield as a crash truck driver and even got to go to thailand for training on the air base. also went to the island of Maritatius by Madagascar as air cargo crew to get fruit and veggies for the island. i remember sailing on the lagoon and the crash shack guys even had a house boat that we built in the jungle. wonder what ever happened to it. got to go to the plantation on several occasions to clear trails with machetes so our fire trucks could go to the other side of the island incase a plane crashed. not many people got to go over there much. I made four trips to that side of the island. wonder if anyone remembers the tree houses that were built in various parts of the jungle. still have photos of the plantation, somewhere. i remember when Bob Hope was there with Red Foxx and how Mrs. Hope sang "White Christmas". It brought a few tears to the eyes of a few. I remember Miss Austrailia and Les Brown and his Band of Renown playing. Got to sit in the front row to boot!!!! I think the lady singer there was Lola Falania (sp). I remember when the runway was being poured and how it was done around the clock. What a site. we had a runway sweeper that billowed out dust. Bob Hope's c-141 was the first jet aircraft to land on the island. I remember playing softball on the coral ball diamond. no diving catches there!!!! The beaches were fantastic!!! also did some snorkling and fishing. The control tower was a trailer until the new one was built. it was still under construction when i left. made a lot of friends in the seabees and had several battalions rotate in and out. i recall a British frigate stopped by the island and we partyed with some of the sailors from her. How bout the wrecked pby plane on the plantation side of the island. remember eating c-rats and checking aluminum ball bats from special services and killing crabs by the thousands!!! thanks much for this web site. i hope more people write of their times there.
June 1972 - March 1973
PATRICK A. TEDERS <pteders@noble.cioe.com>
ET1 USNR-R RET. was in MCB-62 while on DG. We were the third battalion when it was being built. Helped put down the runway. Got to see Bob Hope dec. 72. I don't have any fish stories We didn't have to much free time, six ten hour days and no fishing boats. Right now the weather on DG sounds nice as it is supposed to get down to 6 degrees F and snow tonight( Indiana ). But... Don't wanna go back.
1972
KEN CASHION <kncshn@cox.net>
SERVICE = USNR; UNIT = OIC NAVCHAPDET ZULU; RANK/RATE/JOB = Promoted from Ensign to Ltjg in March '72 while on DG. Took early out in December 1972.
Arrived DG on Jan 3, 1972 after departing the Navy Cargo Handling and Port Group (NAVCHAPGRU) base at Williamsburg, VA, on 12/27/71. Took Pan Am's 747 (Flight 1) from New York to Bangkok, then waited four days for the next C-130 to DG from Utapao. Probably not the strangest duty a supply officer ever had, but I was Ensign OIC (read, I stayed out of their way) and chaperone of 11 mostly senior Petty Officers and one E-7 relic from WWII.
Our mission on DG was to unload all ships and aircraft bearing cargo. Of course, my men sure weren't overworked loading the two C-130's that arrived each week, so our biggest task was to try to look busy during the 11 hour work days (6 day week) the SeaBees felt necessary toinflict on everyone. No ships came before I left.
You have probably already heard the most remarkable aspect of the island's Navy history, which was the brief period when nude bathing prevailed. Officers and enlisted men alike practiced nude swimming and sunbathing, albeit on their respective beaches. Naturally, this practice was frowned upon by the island XO and CO, and nudity was banned on the officer's beach just about the time I got a good tan on my backside. (about 2/72)
Biggest surprise I had on DG was the day I ran into Ltjg Scott Spradling. He and I played golf on the same high school team back in good old OKC, OK. (Insert sand trap analagy.)
Many island hours were spent with Bert Anzini, the Air Operations Officer, discussing life, liberty, and wars. He couldn't understand how a reactionary (Ayn Rand) Republican from Oklahoma could ever be against the Vietnam War. Bert was regular Navy, former member of the Navy skydiving team, and I hope he is still enjoying his wife's famous Italian cooking at their home in Lakehurst, NJ.
I have vivid memories of phone calls to my wife, limited to five minutes, patched through ham radio operators, interspersed with "I love you, over!" And I still have the official Navy message I received on March 13, 1972, informing me that I was the father of a one day old son (born on the 12th).
Oh the memories... do the coconut crabs still crunch satisfyingly under the wheels of a jeep? Can you still hear the whistle of a coconut falling from the top of a 100 foot tall palm tree? Gorgeous sunsets, crystal clear water, I could almost go back... Nah!
And last but not least, is there any trace of the 20 tons of silica sandblasting sand I ordered for use in a sand blasting machine? (I only ordered 2 tons, but some desk driver in DC upped my order by ten, trying to fill the cargo ship!!)
Departed DG 4/20/72 via C-130 to Utapao, then Bangkok, then reboarded Pan Am Flight 1 and continued on to LA, OKC, arrived in VA in time to get orders to go to Subic. Thanks, Navy, for the round the world trip, wish I could have seen something beyond the airports!
1972
BOB BUDDEN <bobbudden@alliant-energy.com>
Just wanted to say thanks for your efforts on putting together your website. I was stationed on Diego Garcia in 1972 with MCB-74. While I was there as I could not wait until I got off the island. Now I wish I could go back (for a week or so and visit the island. It really is a beautiful place!
1972
G. BAUERMEISTER <gdbrec@tk7.net>
I visited DG about 1972. There were only CB's and Donkeys then. I was on the USS LaSalle (the Arabian Gulf Flagship) We never seen the plantation side of the island. Our ship was the biggest tourist attraction then. I really enjoys your site. DG sure did grow since my week long visit. 27 years ago
1972-1973
JAMES "JIM" PEREZ <jasper@sbceo.k12.ca.us>
James (Jim) Perez, Former EO-2, NMCB-133 Det. Chagos
Were you ever on Diego Garcia? Yes, Det. Chagos, MCB-133 '72-'73
I was among the first able to land on DG by plane C-130. We made the runway big enough to land all. We had Bob Hope there on Christmas Day '72. I was a disc jockey on Radio Reindeer at nite, "Big Jim the DJ". I EOAS'd as EO-2 in Gulfport, MS. in Feb. 75. Now living back in CA on the central coast.
Amazing. DG eventually got air conditioning, women, "Hotel" barracks. Damn luxury cruise now! But you should have seen it then... it was a beautiful Island... just like in the movies. I just didn't appreciate it at the time.
Yeah, it seemed rough back then and I guess it really was kind of hard. I remember I got wasted one nite and fell asleep on the "porch" of my hut by the heads. It was early morning and nobody woke me... all day! Needless to say the sun eventually woke me and as all I had on were a T-shirt and shorts my legs and feet were broiled. Man, talk about PAIN! But like all of us down there it turned to tan after about a week of scratch and peel. I know when I went on R&R to Thailand all the tourists wanted to know how I got so tanned so I told them it was a secret government project, all they had to do was join the Navy to find out. I never realized how dark we all were till that time, and I was one of the pale ones cause I worked nites a lot.
What ever happened to the Sea Hut City? Demolished I suppose. Along with the miniature golf course and the outdoor stage and theater we built for Bob Hope.
I used to be a disc jockey on the radio station there too. Radio Reindeer. Is it still in operation? We only had about 25 watts but could be heard in Mauritius I was told.
We used to play stuff for the Russians on the Trawler that was always just over the horizon during the day but it was just off the reef at nite on the ocean side. I used to go out at dawn and watch them through my binocs. We'd wave at each other then they would cruise over the horizon again. I think we had to do an emergency appendectomy for one of their crewman once, one of the first efforts at goodwill I guess.
I also used to like watching the Russian Bear do touch and go's on the runway to check the length. We couldn't do anything about it cause we had no permanent aircraft there. All we could do was scramble a fighter flight out of Utapou, Thailand and the Bear was long gone before they could get there. Kind of humorous looking back at it.
Did they ever get the submarine tunnel punched through from the seaward side to the lagoon? That was one of the rumored jobs being looked at. Another one I worked on was building the foundation for the BritRep's House. Had to be 110% compaction on the base for some damn reason.
I guess I am kind of proud to have been one of the "Early Settlers" there. It really was a beautiful place. I just never really appreciated that while I was there. I sometimes wish I could go back just for a short visit. Like to see what all the changes are... T-site, R-site, runway, so on.
I wonder... does part of the island still disappear under water during storms, where you can be driving along and suddenly... no road! Just water from the sea to the lagoon! And the shit crabs! Used to cross the road and stop in front of the trucks and throw up their claws like they were going to grab a tire (scrunch!). Got a lot of flats that way. Or the tree climbing coconut crabs! Good eating but vicious!
Well, I guess I'd better shut up for now. Bad sign when you just keep blithering on about the past! (lol)
1972-1973 and 1973-1974 (a two time winner!)
DONALD F. KUNZ CMCS USN (Ret) <seabees@pioneerplanet.infi.net>
Sept. 72-April 73 July 73- April 74
Navy Seabee was on Diego Garica with MNCB-10 and NMCB-62 building the runway, also paved the road from A-CO yard to Nav Fac. We atarted building the bowling alley, lived in wooden huts up on the hill in the compound, by the muse generator. [editor's note: The Senior Chief is looking for Seabees who are interested in the Navy Seabee Veterans of America, check out their web site, http://www.nsva.org]