Sent: Friday, November 2, 2018 9:45 PM
Subject: Diego Garcia 1982
From: Richard Bibby <kiwimate59@yahoo.com>
Gidday Ted,

Just wanted to let you know I copied the pic on your web page of HMS Alacrity and HMNZS Waikato, I was one of many kiwi sailors who enjoyed my visit to Diego Garcia.....can't remember too much after our BBQ but I'd go back again just to have a proper look this time. Cheers for sharing......check out the HMNZS Waikato Memories facebook page to see stories.

Not sure if you're still in WA, I lived on Whidbey Island from 1997 to 2007 really enjoyed Washington State very much like home.

Cheers for now

Richard Bibby


August 1982-August 1983

Barbara Mellinger = yankeeseabee@gmail.com

Citizenship = USA

Service = USN

Other_Service = Seabees

Outfit = NAVFAC Public Works

My_Quest = to find guys i was stationed with
VT_of_a_Swallow = hahahaha..deep
My_Warstory = My first Duty Station with the second wave of Females that came to DG. I was in the Public Works Department. Remember great times, lots of partying and beautiful sunsets. We cooked with coconuts on the grill, drank an insane amount of MOJO. had to put sinks back on the wall after the Australian Navy partied at our club. there was a rule you had to wear socks at the club, so we would cut the socks off the cuff and just wear that. one chick didn't want to be on time for her watch, so we put a repair chit on hold to have the air conditioning in her quad fixed (she was not a Seabee like I was). it was 100 degrees that week..to bad. Don't fuck with Seabees or piss us off. Found a left clavicle on the beach. turned out to be a body part that washed up on the beach. took it over to Medical and they were connecting body parts apparently to this body that was showing up in parts. Had a lot of Big brothers and little brothers as I was 30 when I went in the Seabees. I actually would not mind going back to the Island. Had the best time ever!! If you are out there, and was in Public Works at this time, I would love to hear from you. I did run into one guy who was there with me in Public Works in 1995 when I was in BU "C" school. His nickname was "FROGGY". I seem to remember a lot of first names and nicknames. I don't know what happened to all my DG pictures (the personal ones I took). have pictures of the Island, but not my beach and party pictures. Learn to drive all the trucks with air brakes and made my riding companion spill a shitload of coffee.. but did get the hang of it. I was a BU not an EO..we took care of fixing things and learned to rig things we did not have parts for . Susan Jawarsky (we called her Jaws) was a great roommate (there were 4 of us in a small room) bed, dresser and closet..that was our space. Susan, you were a photographer. I wish I still had that picture u took of me with my greens on..OH, thanks to our TV station, we had real cartoons on a Saturday AM (the smurfs) and got to watch the SUPERBOWL, LIVE! that all was a real treat.. funny how u appreciate the small shit that you can live without now. I would do this all over again. the Earthquake happened just after I left. I think the guys had "t shirts" that said SHAKE AND BAKE and surviving the earthquake...we did have a "Greens Liberty" at the club one night, but no fights, just wanted the club to ourselves for once. Swimming in the Lagoon was beautiful and saw some fish and squid that I would not see anywhere else. we did have our 14'ft shark (white) we called "Hector". but I only went snorkeling and not diving. I had a bad day at work one day, so some friends took me up in the Helicopter and I sat on the edge with my feet out, flying and just cooled off.. don't remember what I was mad about. think I just need a "chill" moment. We did have an "Island Hooker" her name was Terry I believe. Never went to Captains Mast but kept trying to get the guys in trouble at the club. She asked me one morning (because of the heat, I did laundry very early)if I found a $100.00 dollar bill in the washer?? ARE U KIDDING ME..I WOULD HAVE KEPT IT AT THAT POINT!!). I remember having to take a "piss test" and I couldn't "pee on command", so I asked if I could go drink a BEER to pee. It actually got "OKAYED" and then of course I could pee....ONLY ON DG DID THAT HAPPEN. Seems we did more partying but that was ok. I will take the heat over the cold anyday..my next duty stationed was ANTARTICA .. I requested that, home based in CA..preeeety much anything went on DG and as much as we did work, we also partied. We did have civilians that worked on the island and did much of what we were supposed to be doing there. A group of guys had to move out of the Barracks once so the civilians (locals) could work on the AC. That was out job and one of the reasons we were there. He was so pissed, He put some DEAD FISH in the AC unit when they went to fix it. Any time the local a had lunch all we could smell was fish. we would go to the chow hall at lunch and of course we were dirty from work (yes we did work) like working with concrete...and they tried to stop us because our boots were dirty and so were we...TOO BAD FOR THEM..DID NOT WORK!! needless to say, it didn't happen twice...anyway, these are some of my memories...as the saying went "WHERE MEN ARE MEN AND THE DONKEYS ARE NERVOUS" Please contact me if you remember me and give me a memory of where we worked together..I know it was Public Works, but a party time.. Thanks for letting me share..





Aug '82 - Nov '83
John Rhea = johnnyrhea.rhea@gmail.com
Citizenship = USA; Service = USN; Outfit = NAF Supply Dept
My_Quest = To find old shipmates
VT_of_a_Swallow = Not much
My_Warstory = Like everybody else, I spent a significant amount of time in an alcoholic haze, but had some good times that I actually remember (not all the parties involved a trash can full of Mojo). If anybody has had contact with MARTY HOLT, please ask him to shoot me an email. I think I knew DENISE KOVACS, as well, if she was an AK2 who left the island early due to pregnancy, and I believe the father was with the MSC. I was also trying to remember the name of the CO at the time- maybe BJ Christensen (sp?).




1982
BM2 Sandell = m.sandell@sbcglobal.net
Citizenship = USA; Service = USN; Outfit = USS Proteus AS-19
My_Warstory = Our ship a sub tender got deployed 5 months to Diego Garcia around 1982 from another Island - Guam. We anchored out and had to take liberty boats to shore while there. We serviced ships or subs that came along side. And we even serviced British Navy ships too one particular one was the HMS Sheffield just before the Farkland war started and had a sad end I felt for the crew when I herd what happened to it. I have a few photo's one of these days I mite post them. I do remember a USO show there with the Dallas cheerleaders and Foster Brooks the comedian. Dam I am old!

1982
Bob Paulsen = soldiercityseabee@gmail.com
Citizenship = USA; Service = USN; Outfit = NMCB-One
My_Quest = To live forever; VT_of_a_Swallow = ????
My_Warstory = 1982.....This was my second trip to Diego Garcia in less than 5 years this time with a different battalion, NMCB-1. I will first tell you about our eventful flight getting there and then I will tell you my own DG experience. You can go back and read my 1977-78 story.
Our trip began in Gulfport, Mississippi (where our battalion was home-ported) in April 1982. There were about 250 of us Seabees all in civilian clothes (and not fatigues like the previous years) on this flight. We flew out on a Stretch 8 (DC-8 with an extra section added in the middle) named World Airways and had civilian pilots. Our first stop after leaving Gulfport was Bangor, Maine. We stopped there for about 3 hrs and took on extra fuel and food provisions. After leaving Bangor, our first stop was supposed to be Tel Aviv, Israel. Arriving in the airspace of Israel we had flown around for about an hour and a half and then was diverted to Cairo, Egypt. It was reported that there was some kind of sand storm or something in the area so we could not land. We headed toward Cairo and then landed without incident. Apparently in the middle east at that time, all airlines must be a scheduled flight to land in a certain area. Well, we were not scheduled at that particular time. Once landed, our aircraft was not at a terminal at the airport. We were put off to a side area away from the terminal building and not near any buildings. When authorities arrived, they were followed by a truck load of soldiers in a mini bus. About an hour later they were instructed to leave but leaving one soldier behind standing at the bottom of the ladder. Luckily our American pilots could speak Arabic and explained what we were doing there. That took awhile for some talking. We had been in the plane about 3 hours already (with everything shut off) when we got word we can leave the airplane and go to the terminal. Buses will be arriving to take us there. There were several buses and took us all to the terminal for refreshments, walking around, etc. We were corralled to one particular area. We stayed in the terminal for about two hours and then headed back to the plane on the buses. About an hour later we were allowed to depart Cairo. We then headed back to Tel Aviv. Again we were an unscheduled flight and again put off to the side of the airport. Repeat performance of authorities and soldiers arriving. Looking out over the airfield, the airport is literally littered and was a dump of aircrafts and parts. I clearly remember seeing a PanAm jumbo jet sitting off the runway with the cockpit blown out that happened either late 1960's or early 70's after being hijacked. Still there in 1982. The layover in Israel lasted about 8 hrs. We were not allowed to leave the plane and everything was shut off. We actually found out, for a brief time what it was like to be an airplane hostage. The plane was fueled, and the relief airplane crew (for the departing battalion personnel from DG) also boarded the plane. The flight took about another 6 hrs or so. Finally after almost 3 days in flight, we landed in Diego Garcia. We were so glad to see the island.
Now to my 1982 journey for 9 months on DG.----The island facilities had not changed a great deal. just a few more new buildings, a couple satellite dishes for telephone circuits, etc. The first thing I did when I could was go to the barber shop and get my head shaved so I wouldn't have to mess with my hair for a very long time. That felt really good.
I was assigned to Bravo Company Facilities Division. We had many projects to work on and I was one of many Electricians and Utilitiesmen in the projects. I was a projects crew leader, planning, estimating and implementing the ongoing projects that were assigned to Bravo Company. About a month later I was assigned to be projects expeditor. That's where I would and could go anywhere on the island from several locations and look for parts and supplies as well as MLO to pick up all materials arriving for the projects. I was assigned a 2-1/2 ton truck and drove all day long get parts and supplies for the remainder of the deployment. I had fun and made it work in my own way.
NMCB-One (or some people called it McBone), arrived as a 90 man detachment. (The main body of the battalion was in Guam). All the Seabees that arrived on DG in the past were mostly a full complement battalions, 600-700 'Bees and support personnel. 1982 was the year where the full battalions were downsized to detachments. We were the first detachment to do so that year. NMCB-One was relieving NMCB-62 in July, 3 months later. Between April and July, NMCB-62 had several projects going that they had to finish up before departing. One major project was the asphalting of just about every road in the camp cantonment area, downtown near the admin building, gym, swimming pool areas and headed toward the airport. They rounded up all the men equipment and materials they could find to finish the asphalt project. Here was the interesting part about this project. They had called themselves the "ASPHALT CREW 62014". Most people thought nothing of it because it started with 62 and that's who the battalion was. Well, here is the interesting part about that. I personally had been thinking that it was 62's 14th asphalt crew throughout their deployments. But other people knew differently. While this was going on, everybody was taking pictures with the crew, the signs, officers, chiefs and enlisted alike taking pictures. A couple of weeks later, I did find out the truth behind the numbers. The numbers, 62014, had absolutely nothing to do with the battalion. They actually stood for 3 letters of the alphabet.---6-20-14---. YOU figure it out. All the lower enlisted in our battalion and the lower enlisted of the other battalion kept quiet about it and had a personal laugh about it until 62 left in July. I have no idea if it was ever found out about in the upper escelon of 62 or not but it was laughable.
I was a swimmer from high school and enjoyed the Diego Garcia pool almost everyday. My first deployment in 1977, it was just starting to be built, and now almost 5 years later it was absolutely beautiful. It was an olympic size pool. Practically everyday I would spend about 3 to 4 hours swimming and sunning. Being that DG is 7 degrees south of the equator and noted that it is about 105 degrees in the shade daily, it was always bright, sunny and hot. Over time I got a really nice suntan. I was really really dark and my hair had been practically white from the chlorine and sun. One day after swimming I was walking around the pool area and had stepped on a piece of jagged rock and cut the back of my heal. Well, I wasn't ready to quit swimming yet, so I stayed in the pool for awhile and the chlorine helped clean up the wound, but it was sore. About an hour later I went over to medical to get it checked out. One of our battalion medics, Bob Bishop, was on duty that day. He was a light complected black guy. A very nice guy. I knew of him, we had spoken briefly in the battalion but nothing ever personal. Well this particular visit became personal between the two of us. He was checking out my heal and said that staying in the water was good that I did that to help clean it. We had been laughing and being giddy a bit. I had put my forearm next to his forearm and I was actually darker than he was, and I had said an off colored comment to him and luckily he took it in good humor and that broke the ice between us, since our first names was Bob and we hung out quite a bit together during the rest of the deployment. I don't know where he went after deployment. Don't know where he is today. We had a great time together.
There are a lot of other little stories I could tell but I believe this is long enough.
Oh......and I did make it to the other tip of the island with a couple of other guys where you can sign the book saying you had made it. That was a long rough ride.
I may write more another time but that is good for now.






April 1982 - July 1985
Kevin Sokolick = ksokolick@cox.net
Citizenship = USA; Service = USN; Outfit = Satcom - 'R' Site
My_Quest = Still trying to figure that out.
VT_of_a_Swallow = Not sure.
My_Warstory = DG was my second duty station. I came from NavCamsEastPac Hawaii where I did 3 years. I was an ET2 when I got there and a ET1 when I left. I knew quite a few people when I got there from my last duty station. I have several stores but I'll just list the things I remember during my time there.

1. Working at 'R' site in the big golfball dome that was around the Satcom antenna.
2. Living in Splinterville in an open air Sea Hut for about a month or so when I first got there.
3. Seeing a Sea Hut that a drunken CB knocked down with a piece of contruction equipment.
4. Living in an open air Sea Hut on the beach after the CB Battalion left the island.
5. Partying in the jungle.
6. Being told not to pass out in the jungle because the coconut craps could break your head open.
7. Crabs crawling on the outside of the building at 'R' site. We would spray them with Tricholoralethylene which made them dance and then all there legs would fall off.
8. Cats and chickens running all over the place.
9. Getting shocked from a 5000 volt power supply.
10. Jungle volleyball.
11. Chow Truck
12. AFRTS Radio show with Charlie Tuna.
13. Duran Duran "Hungry Like A Wolf"
14. Trips to the Philippines (Bars: Port Orient, Kontiki, Flying Machine, Maverick City, Randy Rams, Red Lips, Murphy's, Green Beret Lounge, The Viking, Rum Runner, Holy city Zoo, Moon Doggies)
15. The antenna field at night time.
16. Mail Call
17. 8.2 Earthquake and a weeks worth of after shocks.
18. Attack on the Island. Base shut down because a OS on one of the ships in the lagoon thought they identified a ship on the plantation side of the island. False alarm.
19. The Plantation (went there once).
20. The crystal clear, warm ocean water.
21. Coconuts falling on the Sea Hut metal roofs and making a big bang.
22. First Airborne Rock Concert (Cheap Trick, Kansas and Pat Simmons of the Doobie Brothers). Seeing Robin Zander of Cheap Trick walking out of the chow hall in sweats.
23. Rain and the mud.
24. Smokers (they stopped these not too long after I got there).
25. Going to the pool and hanging out.
26. Watching movies in the open air theater.
27. U.S. Army Special Forces war games on the island (after the Navy I joined the Army and was in the Co. C, 2nd BTN, 19th Special Forces Group).
28. Listing to music on a Sony Walkman for the first time.
29. Eating at the Seamans Club (shrimp scampi).
30. Boxed milk that did not need refrigeration (I stopped drinking milk then and there).
31. Walking on the beach on the weekend and getting burnt red by the sun.
32. Riding on the C5 and in then jump seats on the C-141 back and forth to PI.
33. Reading the book "King Rat".
34. Watching MTV videos that people sent the states. 80s hair bands.
35. A guy who started trouble in the old chow hall and got arrested by the Brits and when they were trying to put him in the back of a Land Cruiser he kept yelling "Your not my ally".

Like everyone else who posted on this website, you had to have been there to know what I am talking about. We were young, single and had no responsibilities. I would not mind going back for a day. Time to splice the main brace.






1972, 1981/1982, 1987 to 1995
Dave Fisher, Capt, USMM (Ret.), CAPT (SWO) USN (Ret.) = callsign.BULL@tni.net
Citizenship = USA; Service = Merchant Marine; Other_Service = USNR; Outfit = USS R. E. Kraus; USNS Sealift Antarctic; SS Green Valley, G. Island, G Harbour; MV Jeb Stuart
My_Quest = Here in 2014, would like to go back for one last, short look-see.
My_Warstory = First went in '72 in USS Richard E. Kraus (DD-849) to deliver crypto gear. It looked like "McHale's Navy" then. Returned in '81/'82 in USNS Sealift Antarctic (T-AO-176) with the MSC Near Term Prepositioned Force. Didn't look too much different. Returned again in '87 to the four Afloat Prepositioned Force LASH ammo ships - a couple of years as Chief Mate, the remainder as Master. Dodge now a little more civilized. While there in 1994, sortied the entire APF as Convoy Commodore and CTG-159.1 for Operation Vigilant Warrior up in the Gulf. Technically still a civilian, but assigned under Allied doctrine.
Left in late '95 to command the COMPSRON ONE flagship in the Med. At the time I left (9 yrs on), I was "The Mayor of DGAR," as the longest serving occupant.
Like to go back one last time before I pass, just to see how "my" island is doing. Have lumpia and a beer at the "O."



Nov 1977 to July 1978 and 1982
Bob Paulsen = soldiercityseabee@gmail.com
Citizenship = USA; Service = USN; Outfit = NMCB-74 Bravo Company
My_Quest = To live long
VT_of_a_Swallow = who cares
My_Warstory = From the very first day a military person stepped foot on Diego Garcia in 1970/71, all of us that have been there from that day to present day, whether it be one day or how ever long you stayed, have made history and helped make history happen. Whether we were sober or drunk the entire deployment, we were there. that is something to be proud of.
My story begins on Nov 4, 1977 arriving on Diego Garcia with the NMCB-74. We arrived on the 4th of Nov actually leaving Gulfport, Ms on Halloween night. Took 4 days to get to DG. Our first stop out of Gulfport was Anchorage, Alaska on Trans International stretch 8 aircraft. 1977 was when the airline mechanics went on strike and when we landed in Anchorage the pilots went on strike. 200 some guys in green fatigues stuck in Alaska for 3 days, finally getting us out of Elmendorf Air Force Base Alaska on C-141's. What a long cold ride that was. If you have ever flown on C-141, you know what I mean.
Anyway, arriving on Diego Garcia, going through British customs, making sure we were not bringing contraband, drugs, weapons, etc, on island. When we were done, we loaded on to buses and headed to Camp Cummins. After dropping us off in the open area of the trailer city, in the camp compound, we were given the number of the trailer in which we were to live in for the next 9 months. For the next couple of days, we were kept busy getting oriented learning where our jobs were, AND getting used to the hot climate was the kicker. 105 degrees in the shade year around. Burn very easy. Three days later, Nov 7, 1977, it was lunchtime, 12noon, standing in line outside the galley for lunch, I was looking at the menu, and all of a sudden it dawned on me, it was my birthday. Here I am, 23 yrs old out in the middle of the Indian Ocean doing construction work. At that age, I was just doing my job, but today, thinking back, that is something to be proud of.
For the next couple of months, I was on the Electrical crew installing electrical work for the NEW 3 story concrete barracks, tilt-up wall construction. They were on the back road behind Bravo Company, along MLO, CTR area. Then we went on to put together and electrify the Modulux buildings. They were prefab, throw together buildings, run wires and screw the walls in. Didn't take long at all to build one.
About two months in, I was reassigned to the Power Line crew. I helped with runway/taxiway lighting, helping the cable splicing crew connect all the underground main power lines under the taxiways so the power poles could be removed for the future extension of the taxiway along the main road leading to the airport. Myself and another CE were tasked to climb the poles and dismantle them once the power was running thru the underground lines. They were 65 foot poles with cross arms and 4 insulators, one for each line. We had taken down about 3 poles each. Before all that took place, there had to be ditches dug along the road at least 6 feet deep to accommodate the power lines going in that ditch headed toward the airport. There was a lot of hand digging to be done, I was one of a few lucky ones that had to hand dig. The front end loaders had tried a few times but because the coral was so hard, the hydraulic lines would bust. They could only scrape and loosen the top layers. So therefore, there were many unexcepted manhours used for this hand digging but we got it done. We worked sun up to sundown digging the coral.
While we were doing the taxiway lighting, we had a crew of 5 CE's. Two 2 man crews and one supervisor. His name was CE-1, prospective Chief, Dave Perkins. While we were working, he hollered to us that a storm was coming. At that time, we were at the 1000' foot mark of the 4500' runway. As we looked toward it, it was making the island disappear and it was coming fast. Dark heavy clouds full of rain. After scrambling to pick up loose gear, 3 guys jumped inside the cab of the deuce and a half and the other two, (one was me), stood in front of the truck for protection. The storm was now over us and the rain came down hard. Hitting our hardhats made it sound hard as well. It lasted about 10 minutes and continued toward camp and soaked it. The storm had passed, and the runway and everything else was steaming hot. It did not take long for the rain to steam away. We were soaked. Well, nothing else we could do except strip down except for our green shorts. Put our shirts and socks over the truck to dry and turned our boots upside down so the pavement would dry them. Again, it was so hot it did not take long for our boots to dry.
About half way through the deployment I was taken off projects and became Bravo Company Clerk. At that time, the Bravo Company Commander was Lt Pat Fogarty. ((Later on his career, he became Captain, and ultimately became CO of NMCB-74 where the battalion was in Iraq during Operation Desert Shield/Storm)). During the remainder of the deployment I remained as Bravo Company Clerk and I did a lot of "gopher" jobs, which included typing evals, making coffee etc, etc. There were only a couple of people including, Lt Fogarty, would call me radar. That is a nickname that DID NOT stick, thankfully. During my time as a company clerk, I had the privledge to be able to go to other offices that most people would not have been allowed and one of them was the BRIT Admin building where the BRIT Commanders office was. Fortunately for me, I had to take some kind of hand written info to him, can't remember what it was, and he was to respond back by handwritten memo as well. While I was in his office, I saw a stack of freshly printed booklets, which looked interesting and I had asked him if I could borrow one to read. He just looked at me, not sure how to respond, but said yes to it. He had me sign it and told me to bring it back because there were only so many that were printed for certain people. I told him I would return it. I guess signing it out was proof enough. Well...I never did return it and I have the privledge to have it to this day. The booklet is called, UNDER TWO FLAGS". Apparently there is some controversy about it and they pulled them back. Not mine.
My duty, along with a few other people, consisted of being in charge of the Coffee House. Some people did QuarterDeck watch, some at the MARS Station, etc. Mine was at the Coffee House. One night, someone came running in and screaming that there was a hut on fire. We all jumped up an ran out and there is this big glow down along the beach. It burned fast. Some of us went near it and could see what was going on. I had heard that a few guys were sent to Alpha Company to get water trucks. One guy came back driving a truck, ASSUMED it was a water truck, but instead, it turned out to be a fuel truck. Luckily they caught it in time. That was one of many exciting times on the island.
Thinking of other things, no women on island, 1400 men, could sunbathe and walk around NUDE on the beaches.
Our green fatigue uniform shorts were really cut short. Some about half way up our leg from the knee and others, well, they were cut so short, or rolled up short, that sometimes their business was hanging out. But that's the way it was then.
No swimming pool, that was under construction, but was completed and filled in April 1978, a small club to hang out because the new one was being built. Oh and the beer. When normal beer supplies ran out, they brought out these two NASTY tasting beers called TIGER AND ANCHOR. So loaded with formaldihyde and preservatives they tasted nasty. But HEY, it was alcohol and you could still get a good buzz if you could stand to drink a few. The booze flowed like water that's for sure.
A 4 lane bowling alley. I had my bowling gear with me and took advantage of that.
Going to the other side of the island for R & R, and the beer drinking donkeys. I had heard but I had not seen it, but rumor had it that a couple donkeys got pregnant by horny sailors. Only rumor.
Toured the plantation site a few times and were even lucky enough to see the couple of horse that were still alive. This was no rumor, but fact, that one of them was 16 hands high. That's big and looked big.
Early July, the Master Chief of the Command, M/C Harold Beal, (RIP Nov 12, 2009) called me at the B Co office and congratulating me on making second class. I was now a CE-2.
The only communication we had to communicate home besides the mail was the MARS station. That was always busy.
Well, there is so much more I could probably mention, IF I could remember them. I may have another blog here soon of this deployment.
I returned again to Diego Garcia, April to December 1982 with NMCB-One (McBone). I will have a blog about that deployment soon.
Thanks for listening. I don't mind if some facts I have said may be a little off and if someone corrects me on it or adds to it, I don't mind. Our memories are fading.
Bob Paulsen



Feb 82 to Feb 83
Jim Althoff (ET at Satcom Site) = jalthoff@aol.com
Citizenship = USA; Service = USN; Outfit = R Site - Satcom
My_Quest = Total Consciousness
VT_of_a_Swallow = Angeles City or Olongapo?
My_Warstory = First a shout out to my party buds: John Carpenter, Kevin Sikolick, Greg Breeden, Chris Walsh, Sean Kelly, TJ and Rory Holmes...What a year! The high points from my year-on-the-Rock:
*Attack of the Coral Reef - Volunteered by Division Chief as a member of the Island Defense Force. Woken-up by sirens from a severe drunk and issued an M-16 to defend against the insidious coral. You can't make this shit up!
*ComSta Volleyball Coach - Won the island tournament, but wasn't permitted to travel to PI for Pacific finals. Chief who disapproved my trip to PI, later tossed me a bone and sent me back stateside for 3-weeks to Tobyhanna Army Depot to perform system acceptance on the new Satcom terminal. Excellent trade!
*Mail Call - OMG...if the ROPO's only knew what they missed with their inspections! Thanks to all my mail call buds for the "buds."
*Trash Can Parties - What a hoot! Still nursing the hangovers.
*Spiny Lobsters - For those of you who didn't hoist a trash can full of lobsters from the reef, you missed a good feed. By the way, the Coconut Crab was absolutely delicious, but don't tell the ROPO's!
*Diego 10 - The memory is probably significantly better than reality. Met the most beautiful blonde "ever"(post office clerk)on the rock! If you're out there, here's a wink:-) *Final Episode of MASH - The worst Tangueray hangover in history!

Met lots of great folks and recall fond memories of my time on the Rock. Thanks for sharing your stories!March 1982, March 1983
Christopher P Walsh = chrisw2112@aol.com
Citizenship = USA; Service = USN; Outfit = NavComSta, DG, Satcom Division
My_Quest = To seek the Holy Grail
VT_of_a_Swallow = African or European?
My_Warstory = Arrived Mar '82. Lived in a hooch for about 4 weeks. Loved the cocoanuts falling on the tin roofs at all hours. Moved into permanent housing. I remember the crushed coral roads, the pristine waters, the dark skies at night, BBQing all the time and the parties. Somehow in the midst of all the fun, we got our work done. Some thing we never forget.



1982-1984
Reed Clark = reedoclark@hotmail.com


Greetings from Beirut.

Was in communication with some Brits yesterday re port operations in the olde BIOT.

Just caught a good glimpse of your photos, et al., of the big atoll.

As GMgr of US Lines for all cargo vessels '82-84, I prep'ped and had the ex States Lines vessels (from the RRF Suisun Bay) Colorado Class vessels out there: Trojan, Titan, Spitfire (to Guam circa '84) and the Spartan, which basically sunk with 30-plus feet in the engine room about 1984. Towed her to Subic, unloaded, total loss and scrapped up in Kaohsiung.

Appears you were aboard LASH, from Cushing & Co. Mr. McLean took over too many lines and too many "Cargo" ships. My group won an MSC tender for Diego, and we kicked the Austral Moon away from the pier at Triple-A San Friancisco. loaded 73 empty barges brought up from mostly Redwood City, and then met her in Hyundai-Ulsan, etc.......... for a few winter months before loading her in Subic so she could spend a few de-humidified years with her sister LASH girls out in the Indian Ocean.

Good times. Wishing you well. Pls confirm receipt.
// Reed Clark, USNA '70


'82
George Lawson = tim.lawson59@yahoo.com
Citizenship = USA; Service = USN; Outfit = USS Kiska AE-35
My_Quest = In search of the perfect Beer VT_of_a_Swallow = is that a European Swallow or the African Swallow?
My_Warstory = I was the lead singer for the ships band. I was due to rotate out on August 21st, but had to stay an extra week because the Captain of our ship wanted me to be there for the battle of the Bands, at an outdoor stage there on the island. After the band competition the ship left and I had to wait around for several days for the next C-5 leaving for Clark. I had a great time combing the beach and drinking the beer at the Seaman's club.

1982
Bob Knight = rjknight@sbcglobal.net
Citizenship = USA; Service = USN; Outfit = CTF70 Det Diego Garcia
My_Warstory = Hi there, I am trying to find DR (then LT) Barbara Leidich. If you know anything about her please e-mail me. Thanks and best regards, Bob

Dates_Aboard = Feb 82 - Mar 83
Name = Lou or B.A. = contractor122862@yahoo.com
Citizenship = USA; Service = USN; Outfit = NSGD/C-Site
My_Quest = To clear up the alcohol haze
VT_of_a_Swallow = Depends with coconut or without?
My_Warstory = Alot of a good and not so good memories and a whole helluva lot of fun!...
- A fisherman's paradise.
- Catching weird, unidentifiable fish that the Filipino's at the Marina would immediately throw on the grill.
- Incredibly large amounts of alcohol consumed 24/7 by most everyone.
- Innumberable cook outs and beer bashes on the beach.
- Discovering MOJO, served in trash cans.
- Seeing my LPO walking nude on the beach..."Hey guys great day for a sun tan!"
- Wanting to gouge out my eyes with a fork after seeing my LPO walking nude on the beach.
- Living in Splinterville for about 8 months before moving 'downtown".
- Waking up still drunk, going out to piss, then stumbling back into the wrong hooch puking and going back to sleep. The Air Force guys had no sense of humor.
- The first permanently assigned women arrived on the island and the insanity began. Most of them didn'g realize they were just one plane ride from being mediocre again.
- Watching chickens have sex.
- Throwing rocks at the chickens having sex and cats too.
- Betting which hen the rooster would hit next.
- Taking the big (and heavy) wooden sign from in front of the CPO barracks (barracks 5) and using it for fire wood for our bonfire on the beach. It burned great by the way.
- Burning the Day/Mid, staying up off the day watch drinking, until the mid.
- Burning the Mid/Eve, off the midder shitter at the beach, until we caught the bus for the Eve watch.
- Coconut crab cook outs. Our Tech Reps from Guam loved them.
- Getting pelted with rocks and beaten up by three drunk Brits screaming "Yankee c*nt!", while biking back to my hooch from the Eve watch.
- Partying out at the Plantation. Watching the female donkey "Miss C", grab unattended beers off the picnic tables and chugging them.
- Standing a CO's inspection with the CO being more hung over than i was and reeking even more.
- Watching the Aussies and Brits fight in the Turner Club, especially after the Aussies called Prince Charles a puffter(sp?) i.e. gay.
- An incredibly crazy group of CT's i worked with...Larry (M*therf*ck*r) Bailey, Mason Jackson, Max Barker, Brian (Rupe) Ruppenthal, Shoe the Jew, Russ Lindemann, Vern Davison, Steve Proper, John Breriton, Vince Menotti, John Adcock, Gerry Boone, John Eldridge, John Kennedy, Dan Guajardo, Louie Datko, Rob Stone, my roomies Ricky Emerson, Bob (Zemo) Zemarzlak, and a T-site ET that slept 16 hrs a day.
I would do it all again in a heartbeat! Though my liver probably wouldn't be too thrilled!
After DG i went to Panama then onto the Philippines, eventually retired in 2003. My liver is still recovering!




1981-1982
J. B. Hall = j.b.hall@wavecable.com
Citizenship = USA; Service = USN; Outfit = NMCB62 Delta Company
My_Warstory = I was Delta Company Commader in NMCB-62 during the Diego Garcia deployment. I arrived with the Main Body on 3 Nov 1981 and departed with the Main Body on 15 Jul 1982. Delta Company major projects during the deployment were the completion of the Classic Wizard (C-Site) Building Addition, completion of the Receiver (R-Site) Building Addition, Sewage Lagoon and Parking Apron Sealing. Collateral duties that I got to enjoy during the deployment included being the JAG Manual Investigating Officer for the incident in which EOCN Bradley N. Henry drove a TS-24 scraper into Porta-Hut I-12, a hut which he shared with EO3 Bruce Adler, EO3 Mark Keating, EO3 Richard Jean and EOCN Richard Spinks, at 0235 on the morning of 10 Jan 1982, after having been harassed by EO3 Jean and EOCN Jeffrey Lusby. EOCN Henry was referred to a General Court Martial for assault and related charges. I later heard that he may have beaten the rap through the machinations of the military justice system. It was a rather remarkable event, in that Henry was able to start and operate a scraper that he was not qualified to operate and manuever it through two right angle turns in quick succession, miss a nearby hut and T-bone the targeted hut, all while having a blood alcohol level of 0.15. Amazingly no one was seriously injured. A few months later, after returning to Gulfport I was transferred to Alfa Company and was there when the Navy discharged Jean and Lusby after some off-base mischief. I later deployed to Guam and took the Air Det to Tinian

1982
Name = Dan Fozzard = fozz59@gmail.com
Citizenship = USA; Service = USN; Outfit = UDT 12 NAB Coronado
My_Quest = To find my niche
VT_of_a_Swallow = 120 mph
My_Warstory = Great diving there. Got to do a 'Team' dive off the reef, not in the bay. 100 ft visibility. Magnificent! Saw the sharks, left `em alone, wisely, harvested a bit of black coral. A perfect dive which ruined me for all future dives.
Ran a 10k race put on by the Island's command.
Wrapped up my stay making a phone call home at the Base Radio Station. Had a keyed mic as a phone receiver. Primitive compared to what's available today.
D.Fozzard
1st Platoon
UDT 12

Dec 81 to Apr. 83
Name = Michael McGreevy
submit_by = michael.mcgreevy@va.gov
Citizenship = USA; Service = USN; Outfit = 30th NCR Det.
My_Quest = Maintain Sanity
VT_of_a_Swallow = Uh
My_Warstory = Where to begin. When I recd my orders to the 30th I remember saying to myself why that and where the hell is Diego Garcia? I was transferring from a great billet as Customer Services Officer for Nuclear Propulsion Equipment at SPCC Mechanicsburg PA. I couldn't figure out what I was going to do in Diego. Found out when I arrived and was met at the airfield by Master Chief Wambold and Master Chief Baker. I was reliving another SK1 and would be watching NMBC 1 and 62 (at different times) issue construction equipment spare parts. I thought that after amassing all of that nuclear propulsion equipment knowledge I get to watch green suited guys issue truck parts. Made no sense to me but then again that was my detailer's idea of an assignment where my nuclear knowledge would best be utilized. I guess that's what I get for being a single First Class and I couldn't say, "But Chief, my wife she..." Diego Garcia was an interesting place and I remember many things good and not so good about the place. I spend fifteen months there and I recall one Seebee asking me how I managed to do that. I told him I emptied a lot of wine bottles. I do recall when the support activity was taking over from the 30th as senior command just as the large contingent of females were about to arrive the support activity was issuing a flurry of directives with the silliest one being over holding hands. At any rate, the 30th was fun at times and the Commodore Capt. Forney was a great skipper is a Civil Engineer could be one. I still keep in touch with the staff Yoeman Tom Mcintosh. He's down the road from Pensacola in Panama City.
We used to say in the 30th that somewhere, sometime when you least expect it you will say, "Diego Garcia". One of the items I have from those days is a copy of the history Under Two Flags. It was compiled by a Navy JOC and a Navy Photographer with the assistance of the Royal Naval Party. As soon as it was published the Brits went out to confiscate the copies because there was a reference to Diego Garcia having been administered at one time through Mauritius and the government of that island had turned Marxist and the Soviets were trying to use them to create a question of sovereignty over Diego in order to remove us and the base. The Soviets really hated the fact that we were doing more there than running a Comsta in the wake of the U.S. Embassy takeover in Iran. I guess the Soviets didn't like the whole strategic nature of the place. At any rate, the 30th Command Master Chief, EOCM Wambold gave me copy and said, "Mail it home" and he proceeded to tell me the story.
Since those days I have met others who have served there. Right now I work with a retired SC LCDR in this Vet Center who was there in the '90s. I also met a Master of one of the Pre Positioned merchant ships anchored there. He was there in the mid eighties. He loaned me a copy of a book that was published on the island history and administration. I noted that the island magistrate at that time was a British public official. When I was there the magistrate was a Royal Navy Commander. Being a member of the Commodore's staff we spent a great deal of time with the Royal Naval Party. The Commodore (Captain Forney) gave the magistrate a t-shirt that had printed across the front in bold letters "LANDLORD". Early in the morning on 4 July 1982, the staff Yeoman (YN1 McIntosh) and I were driving in a jeep heading to the industrial site and on the road at the point of the Brit Club (The House that Jack Built) the Naval Party set up a road block. They stopped us and said, "Tea Tax, pay up a quarter a head." Tom and I looked at these guys (and we knew them very well) and we said, "Hey, wait a minute, we fought a war against you guys over that and won." They said yeah but we were on British territory now, pay up. The funds they collected that morning were split with us for our respective welfare and rec. funds. There really were some fun times there. There were also some less than reassuring times as well. I can save those for another time.

1982-1983

Mary Baird <scratcher@inbox.com>

Hi there, just want to say great idea! What fun to read the stories from there and hope to find someone you know. Thanks for the effort. I just posted a story on the site [editor's note - it was lost in the great email fiasco of 2010, so send it again!]. Here are som pics for you. My name is Mary (Harney) Baird. (Posted as Mary Harney) staioned 1982-1983. [editor's note - Mary send pictures of pictures, which are blurry and you can tell who's who... but then again, may that was what she had in mind! So here they are (there's just something special about a woman drinking scotch from the bottle!!!]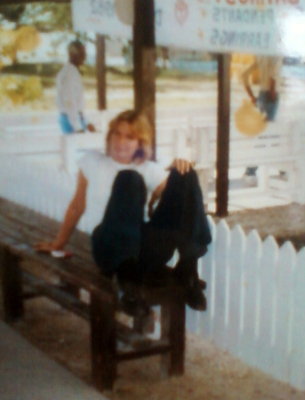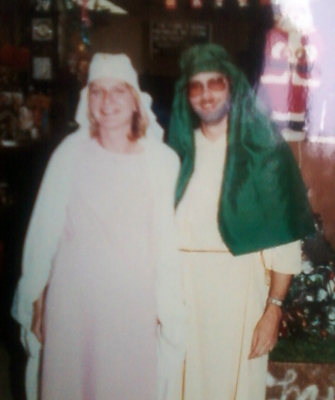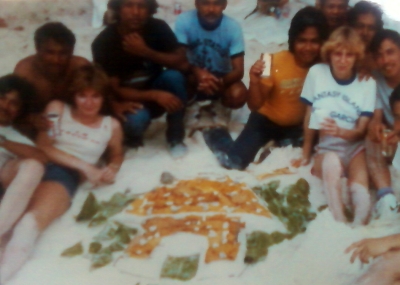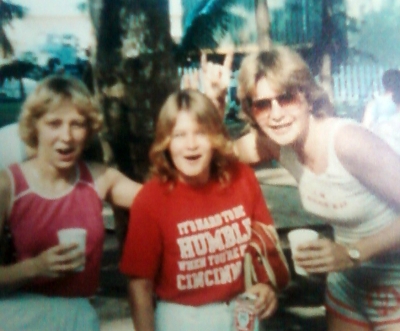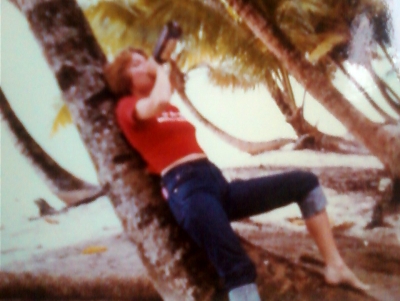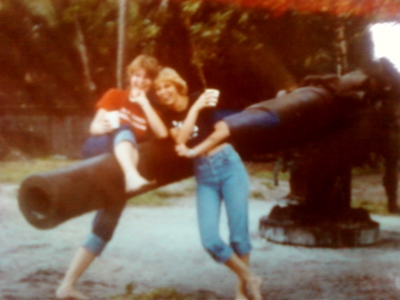 Dates_Aboard = 1982
Name = Kenneth J Gibbons
submit_by = kjgibbons@hotmail.com
Citizenship = USA
Service = USN
Outfit = USS Dixie , A - GANG
My_Quest = To find the true meaning of life
VT_of_a_Swallow = why
My_Warstory = I dont remember much except coconut crabs, donkeys and orange birds and a lot of drinking. And something to do with a shark that was there

Dates_Aboard = 82
Name = Bill Sorrell
submit_by = wsorrell7@yahoo.com
Citizenship = USA
Service = USN
Outfit = VP-47
My_Quest = what's it to ya?
VT_of_a_Swallow = 0
My_Warstory = Dodge, what a trip. Remember drinking in the Seabee's lounge/club/whatever it was. Real beer there, not like the preservative laced crap elsewhere. Lt. Knot coming to the E-club with us because he said the O club was too boring. Got shitfaced with him and his Dead collection, musta had 50 cassetes, a few times. But when they showed "The Fighting Seabees" with John Wayne, I think he was in it, at the outdoor theater it was a party. The whole place went crazy. Mostly I remember it being a tropical paradise, beautiful crystal clear nights and fantastic beaches. Women had recently arrived maybe 10 on the whole island. Until a sub tender or supply ship of some kind pulled in. Had lots of females on it. Got smacked and kicked outta the club that night. Flew back with the infamous Crew 4, great bunch of guys. Anybody remember VP-47?

Dates_Aboard = Between April 1982 and May 1983
Name = Jean Cyril Mangalon submit_by = vuillemin220@yahoo.co.uk
Citizenship = Mauritian
Service = Contractor
Outfit = Cost Engineering
My_Quest = Would like to establish contact who will remember me
My_Warstory = I am employed by Handscom Inc where John Ward was Manager. The compmany had a contract with the Navy for Cost Engineering works and support. I had good time when I was stationned on the base and the good moments are lomg enough to be shared.

1982-1985
Richard S. Watson <vagorose@juno.com>
Dear Sir,
As a bit of background, I was employed as a MSCPAC Staff Purser and was sent to DG in early 82 for my first tour of 13 months. I returned in 83 for 10 more months and then again in early 85 for about 8 more months. During that time, I worked for the CO of MPSRON 2 and lived on the island - first in old splinterville, then to a quonset in front of the "O" club. Then they built some apartments and I was given one of them, talk about heaven.....


Anyway, during my second tour, I was allowed to join in the Brit Club as a member. I purchased a ball cap and T-shirt from them which is after these many years, starting to fade and get a bit ragged so I am investigating a means of obtaining some replacement articles and wonder if you happen to have any e-mail addresses for the Brits on the island that I can communicate with?


Getting on in years now and only have very FOND memories of the great times that I spent on DG. I can send you a bunch from the civilian/military side of living on the island if you would like me to.
Thank you for your kind attention to this.
Respectfully,
Richard Watson Staff Purser (ret)

Can anyone help Richard out on this one?





summer-winter 1982
Name = Hans Johnson
submit_by = hansj@bendbroadband.com
Citizenship = USA
Service = USN
Outfit = USS Dixie AD 14
My_Warstory = I had heard " horror " stories from our ships previous visit from my shipmates about Diego Garcia so I really did not know what to expect, but I found I really did enjoy our stay in the lagoon. We of course got to leave and make some port visits to Mauaritias, Somalia and Pakistan to break up the monotony.


In and out 1982-85
Randall Stout sotg129@msn.com
Citizenship = USA
Service = USMC
Outfit = united states central command
My_Quest = pictures of the SS Letitica Lykes burning in DG
VT_of_a_Swallow = 40 pesos in Subic in 82
My_Warstory = i was the action office for all the NTPF ships for three years. Everyone ragged me that an ammo ship would go first - wrong. I had to testify about the fire on the Letitica Lykes, but was not there for the fire. This is the one that allegedly had a 1000 bed hospital capability on it, but the Marine Corps took the money for something else - a more personal something else - and filled the Letitica with barely 200 beds and medical junk. Understand one of the causes of the fire. Definitely would like a picture of that fire. My take a way from this or lesson learned if there is a tragedy and you have a copy of the load plans burn the load plans.

1982-1983
Name = Bill Power
submit_by = rcpilot30@yahoo.com
Citizenship = USA; Service = USN; Outfit = Main Power Plant
My_Quest = Have Fun
My_Warstory = No real war story, had a good time there. I wish I would have gone back before I retired. Just seeing who else has posted that I remember. Hated the watch rotation for the power plant, otherwise a good time. Thanks Stephanie.


1982-83
Name = Oliver Hildebrand oah1960@yahoo.com
Citizenship = USA
Service = USN
Outfit = Alpha Company
My_Quest = Find Friends from the past
My_Warstory = Just wanted to answer the question on who crashed the TS-24 scraper, I remember his name was Henrey, just dont know if it was his first name or last, was along time ago. They were always harrassing him for not changing his sheets, they were really dirty and he went off the deep end and thank god he didnt get both engines started or there would have been alot of people killed that night. Also remember a friend Jeff Schaffer who got electricuted while operating a small crane and had to endure cleaning for a month to make sure the corral didnt start to grow in his skin, would like to here from some of the people from Alpha company if they are out there.

September 1, 1982 - August 28, 1983
Name = Bill Darnell
submit_by = bdarne@yahoo.com
Citizenship = USA
Service = USN
Outfit = Medical Clinic
VT_of_a_Swallow = Who cares, it's terminal.
My_Warstory = Man, there is a massive amount to tell, and so little time to write it. There are, of course, so many different things I experienced in my year on DGAR. Good, bad, and really sucky. But this is to say thanks. Thanks to a lot of people for letting me enjoy the fun side of the 'Island Life' that only Jimmy Buffett could tell. Thank you to the woman who made life so much easier. To the MMCS who let me have jelly for the fresh peanut butter and fresh bread that someone got from home in a care package. (Who needs Steak and Lobster; this is PB&J, Dude.) Thanks to the Brits for a lot. I really didn't mean to beat the Brit OIC at darts. (Man was he pissed.), I really didn't know how to play. The First Class Lounge, what an oasis in the misery, The Seabee's making MOJO in a 30 gallon trash cans. To Bob, Rookie, Renee, Robin, AFRTS, the Seabees, The Seals, and our hosts, the Brits, Thank you for the things that were good. And to Security for needing to frisk me while I was in short shorts. (That's still creepy after all these years.) If I forgot anyone, I'm sorry, but it has been over a quarter of a century since I was with you.
Stories; This is just one six hour period, January 1st, 1983.
It was New Years Eve, 1982/83, and I was on duty in the Medical clinic. Dr. Rick (Gilbert) and I decided to 'borrow' one of the ambulances. I drove us in and out of the barracks areas with lights and sirens just blaring, and yelling "Happy New Year" from the ambulance's PA system. The late HMC Marquart was the only call I received saying I wasn't supposed to be doing that. (Dr. Rick and I seemed to borrow that ambulance one more time. When the Dallas Cowboy Cheerleaders were doing their show, later in the year, we had to be there. I turned to Dr. Rick and said, "Hey, we need to be the on-scene medical help, just in case." He smiled, and agreed. I parked that puppy right next to the stage. Of course Security asked "Where was the ambulance for yesterday's show?" Hmm, I wonder.)
Back to New Years Eve. At about 30 minutes after midnight, the injured started just rolling into medical. I was in one treatment room sewing up some goofballs head (Turner Club was raining beer cans.), while Dr. Rick was in the other room, sewing up someone else. All the while, one of our Navy Seal friends was driving my remote controlled dune buggy in and out of the treatment rooms, and through my legs, screaming "Happy New Years" at the top of his lungs. Seems the shipboard sailors on liberty just couldn't hold their alcohol. (Especially the nimrod on antabuse, crying, "Why am I so red, and itch like this? Why, why, why...)
A few hours later, I was awakened by a call from Brum, a Royal Marine, at the Brit Club. "Come on down, Willie, let's ring in the New Year with Big Ben on the radio." I sneak out of the clinic, take an ambulance (again), and drive to the Brit club. Of course there was every member of the Medical Clinic, who wasn't on duty, in there, and hammered. " Petty Officer Darnell, what are you doing here, aren't you on duty?" "You bet Chief, I'm here to, aah, umm, er, Oh yeah, pick all 22 of you up (In one van type ambulance) and bring you back to the clinic. "I'm your ride, and Happy New Year."

More enteries at a later date.


1981,1982-'83
Larry Ramsey mw.stout@sbcglobal.net
Citizenship = USA
Service = Seabees
Outfit = NMCB62 Alpha Co.
My_Quest = The Holy Grail
VT_of_a_Swallow = European or african
My_Warstory = On my first deployment tothe rock I got put into HQ. Co. in the CTR. Got to live with the fleet types and another couple of Bees. Drank more than I ever had before in my young life. Crist the booze was cheap and plentiful. Gallon upon gallon of MOJO. I guess that the Navy had to do something to keep us happy. Or was it just to keep us numb and not thinking about the world.I only went off the deep end once and got into a serious fight. The night that we were about to get on the plane to haed home of all nights. Don't drink they said. Did I listen? Hell no! Drunk off my ass and fighting with a hut roommate. Didn't like this guy from the first time that I met him and I had to live in the same hooch for 8 months. I seem to remember a guy (EO Type) that lost it an put a TS-24 scraper into Doug Vanziles hooch. "all I saw was my TV coming off the wall then was looking up at the bellypan of a goddamn scraper".


I remember there was a bucking barrel down by the donkey gate that good for more than a few laughs after a bunch of that soda pop with the foam on top. Greg Campbell, Geno Restivo and some others that I can't remember. Pulling those damn ugly spiney lobsters out of the tidal pools and cooking them up. I seem to remember the was a hooch on the lagoon side of Camp Cummins that was called "Gilley's Diego". Dont remember ever going in. Must have been Chief club or something.
Wnet out in the lagoon with Curt Carlson, Chris Thomas on one of the little Boston Whalers that you could get to go fishing in. We went across the lagoon as the tide was coming in and it was a scary ride for this flatlander. I swear that I saw Hector trailing the boat just waiting for that boat to roll over. I had never seen wave so damn big in my life. Scared the shit out of me. I have never been back on any big water since. Had a group of Seals come on the island during field exercises and kicked our ass in about an hour. Took over the armoury and beat up one of the guys on duty because he wouldn't let them in the gate. Gutsy.
Well i'm tired of pecking at this box for now. Would like to hear from Greg or Randy Campbell, Chris Thomas from Ga., Doug VanZile from AZ. Got a call from Geno Restivo last weekend. Talked for a long time. Great to hear from him.





Dates_Aboard = 1982




Name = Gino




submit_by =

dagored6204@yahoo.com




Citizenship = USA




Service = USN




Outfit = NMCB 62 Alpha Co.


My_Quest = Remembering old friends on Diego Garcia
VT_of_a_Swallow = Is he carrying a coconut ?
My_Warstory = I was sent on a medivac to the Phillipines when Brad Henry took out Joes Garage. But I remember when Jeano and the guys built the bar. I lived in the hut next door. We used to take a truck down to the beach and load it up with crabs , then go back to camp and boil them in cheap beer. Good times! Does anyone know what happened to Mike Briggs? Or Jethro? Or Rob Wendt? Hope you guys are all still kickin. Life's short, make the best of it. Gino
Here's more from Gino:
My_Quest = To never forget
VT_of_a_Swallow = Are you suggesting coconuts migrate?
My_Warstory = The slogan on the Joes Garage T-shirts was "We may be sleazy , but we're cheap and easy" I-5 at Cummins Diego Garcia B.I.O.T.



1982-1983
John Sullivan <sullijwiii@msn.com>
Mon 2/23/2009
I was stationed there in the Navy at the Satcomm site under an Air Force Command, 1982-1983. I was an ET2.
My roommate was a CT and of course he couldn't tell me what he did, he would've had to kill me. During a command picnic, him, his Chief and other CT's were gazing out at the ocean and suddenly started swearing and took off. I found out later (by word of mouth) that a Russian sub had been spotted and it wasn't where they thought it was. Surprise, surprise!




1982-1983 From: candice rieberger <crr1082@yahoo.com>
Date: Thursday, October 30, 2008, 4:25 PM
hi this may be a very strange question i came across your website, i wanted to know if you could help me find someone that was stationed in diego garcia 1982-1983 he was a merchant marine named jamed rubella i might not be spelling the name right or a denise kovacs it is important if you have any info i would appreciate it or at least somewhere i could go and try to look.
Thank you
candice


1982-1983
NAME: Tamara Reyes (seaman Tamara Rhodes)
MY QUEST: I would like to find others who I know that were there also
E-MAIL: jeanr1186@wavecable.com
NATIONALITY: american
SERVICE: US NAVY
UNIT: SHIPS STORE,ICE CREAM PARLOR
RANK/RATE/JOB: SEAMAN SHIP SERVICEMAN RHODES
MY INTEREST IN DG IS: Stroll Down Memory Lane
SUBJECT OF MY STORY:: Actually, I Have a Real Story To Tell
MY WARSTORY: WHILE I WAS STATIONED THERE WE HAD AN EARTHQUAKE. AND WE SPENT TIME COMING THE BEACH FOR BODY PARTS FROM A LIBERTY BOAT ACCIDENT, THE SHIP IN PORT WAS THE USS YOSIMITE,USS CAMDEN.


ALSO FROM Tamara Reyes jeanr1186@wavecable.com
Hello my name is Tamara Reyes I was stationed on Deigo Garcia in 1982-1983, I am looking for Jeff Tobin, he has a war story on the site and an email address but it says the email address is wrong, PLease help me locate him I have been looking for him since last year when I opened the diego garcia box and found his old address, PLease can you help Jeff tobin if your out there email me.
thank you
Tamara Reyes

in1982-1983 NAME = Tamara Reyes ( seaman Tamara Rhodes) MY QUEST = I would like to find others who I know that were there also VT of a SWALLOW = E-MAIL = jeanr1186@wavecable.com NATIONALITY = american SERVICE = US NAVY UNIT = SHIPS STORE,ICE CREAM PARLOR RANK/RATE/JOB = SEAMAN SHIP SERVICEMAN RHODES MY INTEREST IN DG IS = Stroll Down Memory Lane SUBJECT OF MY STORY: = Actually, I Have a Real Story To Tell MY WARSTORY = WHILE iWAS STATIONED THERE WE HAD AN EARTHQUAKE. AND WE SPENT TIME COMING THE BEACH FOR BODY PARTS FROM A LIBERTY BOAT ACCIDENT, THE SHIP IN PORT WAS THE USS YOSIMITE,USS CAMDEN


1982
NAME = Joseph Seibert
MY QUEST = To fondly remember the night the rock rocked!
VT of a SWALLOW = 32 feet per second squared ?
E-MAIL = jsalaska@yahoo.com
NATIONALITY = 'merican
SERVICE = Uncle Sam's Canoe Club
UNIT = AFRTS Radio/TV
RANK/RATE/JOB = Interior Communications Electronic Technician Petty Officer Second Class (IC2)
MY INTEREST IN DG IS = Professional Adventurer Looking For The Ultimate Get Away
SUBJECT OF MY STORY: = Actually, I Have a Real Story To Tell
MY WARSTORY = I was there the night the earthquake hit Diego Garcia. My girl friend and I, (yes I was one of the lucky few to score!) were in my barracks room doing the horizontal mamba when she really rocked my world! Or so I thought until I realize it was just an earthquake.
My lady friend and I ran out of the barracks smack dab into a Chief Petty Officer who bellowed, "It's an earthquake! There'll be a tidal wave coming soon so get to the center of the island!" We took off at a sprint until I realized that if the island was hit by a tidal wave moving a quarter of a mile inland probably wouldn't help much. So we decided to go out with class. We grabbed a six pack and headed down to the lagoon to watch the tide go in and out.
After an hour or so of watching the tide we decided to pick up where we left off before we were so rudely interrupted by mother nature. Ah, those crazy moonlit night nights on that island paradise are still a fond memory for me.


1980 to 1984 RBRM - 1993 with BJS
NAME = John L
MY QUEST = Returning just for the Expat club sunsets and Margaritas
E-MAIL = johnjel1234@yahoo.com
NATIONALITY = USA
RANK/RATE/JOB = Contractor with RBRM and BJS
MY INTEREST IN DG IS = Want to Return When the First REAL Club Med Opens
SUBJECT OF MY STORY: = Actually, I Have a Real Story To Tell
MY WARSTORY = After having been gone from the island for approx. 10 years I took a job with BJS to see how Diego had developed. I had been there from 1980 with RBRM during the construction years.
In 1982 the Navy approached RBRM and told us they had 10,000lbs of frozen lobster tail they wanted to sell. Since we had our own food budget we bought the lobster and started Surf & Turf every Friday night at the expat mess hall.
When I returned in 1993 I was in the O club and noticed that someone was getting a lobster dinner for their birthday. I thought "No it couldn't be the same lobster we bought in "82." Guess what! It had no taste and was really tough.
So much for lobster at the "O' in 1993. By now I would think it is all gone.


From: "Dan" <voyeur777@cox.net>
Date: Sat, 2 Feb 2008 10:50:20 -0800
I was on the USS Dixon AS 37 . It was the first ever west pac for the boat . But cant find any info from are time on DG. We were thear about 5 months . in 81 or 82 I think. I wish i wasnt so drunk the hole time on shore. Did catch a 250 lb. hammer head off the fantail of our boat ! That was fun. Well Enjoyed you web page . Brings back old times for me. Thank You. Dan


82-83
NAME = J-Ski
MY QUEST = dont leave anything on the table
VT of a SWALLOW = dont give a shit
E-MAIL = browns1300@earthlink.net
NATIONALITY = polish-American
SERVICE = navy
UNIT = work nights mostly
RANK/RATE/JOB = EO MY
INTEREST IN DG IS = Professional Adventurer Looking For The Ultimate Get Away
SUBJECT OF MY STORY: = This is a No-Shit Fishing Story
MY WARSTORY = speaking of Henry you all disappoint me lets not forget the token bar for which shirts were made and then banned at the club In memory of " JOE'S GARAGE" I cant beleive I havent seen mention of that. oh Schafer we played poker together hey F-ing Grody what up you hut mate I see your name out there wow the rake in the head do remember that one. The blond Brit she was hot. The night the dumpsters burned I do beleive acid was involved. Imagine that dont know where it came from.Good to hear these stories.


82 and 83
NAME = I was a EOCR to EOCN
MY QUEST = I am Seeking anyone who Remembers when EO3 Schaffer was electicuted doing that job at the airport when the crane with the Re-Bar Form rolled into the overhead 13,800 volt power line and we all headed to take care of him and who all was there besides me i know it was in the early 80s on the Island i need to know the date THIS IS VERY IMPORTANT TO ME and for them to get in touch with them!
E-MAIL = Animalc6969@yahoo.com
NATIONALITY = Pedro, Ohio U.S.A.
SERVICE = US Navy
UNIT = NMCB-62
RANK/RATE/JOB = I am in need of contacts who where with me in Diego Garcia to help me with information with VA matters! I was a New Seabee then and was on was on the Wash Rack first then Motor Pool and worked in CM Shop and on CM Repair Truck,and helped out with any job i even drove the fuel truck for awhile! I loved the Fishing there! They Called me ANIMAL for a nick name!
MY INTEREST IN DG IS = Want a Job as Far Away from My Wife as Possible
SUBJECT OF MY STORY: = Actually, I Have a Real Story To Tell
MY WARSTORY = Well i out near the end of the Alpha Company Yard by the fence near airport when we all saw a Blue Flash and Eo3 Schaffer was frying on some Re-Bar that was being lowered into place with a crane it rolled into the over head 13,800 volt power line then the tranformer exploded and we all watched in horror as are friend lay the smoking! And does any one remember when the i think it was a E-18 did the belly flop ont the runway when its gear wouldn't drop, and when the thing cam to a halt he poped the top and out came the pilot not a scratch on him?? Does any one remember CM3 Henry running the TS-24 Scrapper through the huts that night? Boy i still have dreams about all the damage!!! And not one person got a scratch on them????? Well any one who does i need to hear from you i need to get in contact with you A.S.A.P. You may call collect at 1-740-643-2179 or IM me or E-Mail me at Animalc6969@yahoo.com i am in need of some one to tell the VA i was there! YEAH GO FIGURE! Help me out all ye 62 Bee's i am in need of dates and times! It is funny how we know these things happened and the Navy Don't? So help me out some one this is very IMPORTANT!! EO2 Greg (ANIMAL) Campbell


June 1980 and Feb 1982
NAME = Edd Keudell
MY QUEST = The Grail...no the Ring
VT of a SWALLOW = 94 knots
E-MAIL = mapperhd@msn.com
NATIONALITY = American
SERVICE = USN Submarines
UNIT = SSN 694
RANK/RATE/JOB = SK2/SS
MY INTEREST IN DG IS = Stroll Down Memory Lane
MY WARSTORY = I remember pulling along side the Ajax and them lowering the brow to our deck. When some of their guys came over to attach power and whatever some of them were so terrified of touching foot on a sub that they crawled on their hands and knees.
On my second glorious trip to the island with the most pristine beach I've ever seen, I got drunk during a softball game in the near-equatorial sun and had a black out. Someone told me later I bitched out one of the O-gangers back on my boat.
Rumor has it that someone finally caught Hector...

approximately--some time in early 1982 thru early 1983
NAME = daniel barkley
MY QUEST = no'tin'
VT of a SWALLOW = african swallow?
E-MAIL = ddbbarkley@yahoo.com
NATIONALITY = u.s.a.
SERVICE = navy
UNIT = nmcb 62
RANK/RATE/JOB = old and fat
MY INTEREST IN DG IS = Want to Drink A Lot, Cheap
SUBJECT OF MY STORY: = There I Was, Passed Out on The Beach
MY WARSTORY = i can't remember exactly whether it was '82 or '83....i had the duty. it was somewhere around two in the morning. someone had driven a HUGE piece of equiment through two seahuts (no, i don't remember the equipment; i was BU not EO.) the equiment had tires over 8 feet tall. someone had been making fun of the fact he hadn't washed his underwear. several seabees woke up between two huge tires. he went through two sea huts and no one was killed. a miracle. the got the s.o.b. off island fast, they wanted him to live till trial.



1982
NAME = Michael Nelson
E-MAIL = miclawson1@hotmail.com
NATIONALITY = US
MY INTEREST IN DG IS = Other
SUBJECT OF MY STORY: = Actually, I Have a Real Story To Tell
MY WARSTORY = I was working for Brown & Root. Spent Christmas there. The Flips roasted seven pigs. When I was there, we expats ate and drank good. Worked a lot. We weren't allow in the water. Maybe wade in the lagoon. You could go to the pool. I think there were a couple of C-141's and maybe a couple of A-7's, and some P-3's. I still have some pictures of a buddie and I drinking on a day off at some kind of boat grave yard. I sent back to Houston to my boys all kinds of coral, shells and a cat skull and a old bible I found. The C-5A ride there from Clark Air Force base was murder ten times when your hung over. There was a buddie, I think his name was Allen Fink. He was like a pay master. I worked in the Brown & Root DP center. I couldn't wait to get home. My boys are grown up now and if there was something for me to do on the footprint of freedom I'd come in a Maryland minute. If anyone knows if there is a need for an IT specialist on the island. I left my email with this Warstory form. I remember about four years later I was in Northern Virginia. Doing some work at MILPERCIN and low and behold I ran into Capt. DeVeek. He was the Navy commanding office on the island when I was there. I think there was a saying. If you call me DeVick I'll treat you like a prick, if you call me DeVeek I'll treat you sweet. Some bull shit like that. Anyway it was nice remembering all this shit. I will never forget my trip there or the people I met. I may not remember the names but I remember the goodness and good times I had with the people I met. I forgot to mention for the Christmas USO show we were happy to have the Dallas Cowboy Cheerleaders visit us. There weren't any women on the island.
Thanks
Mike Nelson


81-82, 83, 99-00
NAME = Andy Bigelow
E-MAIL = cdrcab@mailcity.com
NATIONALITY = USA
SERVICE = Navy
UNIT = NMCB 62 and NAF
RANK/RATE/JOB = CDR (Ret.)
SUBJECT OF MY STORY: = Actually, I Have a Real Story To Tell
MY WARSTORY = First deployment after joining the Navy and NMCB 62 as an Ensign. Arrived advanced party and departed delayed party ('81-'82: 9 months). Last full Battalion deployed to DG. There were no Dets during this deployment. Living in a Seahut was a unique experience. Nothing like going into the Seabee Camp's Enlisted Club and sending guys back to their huts to put on some clothes. At least a towel! Or have a guy try to crush his fellow Seabee's with a scraper. Be careful of who you pick on as they may not think it's funny especially around large pieces of construction equipment. Good thing he didn't know how to operate it correctly. We did such a great job they let about 40% to 50% of the battalion go home about 3 months early then the Regiment doubled our workload as we had to tie up all the loose ends as the last Battalion. Saw the first group of females, that were perminently stationed on island, arrive. Interesting, especially when we heard they had been told to stay away from the Seabees and out of the Seabee camp during their briefings before arriving on island. Volunteered to go back as AOIC of the "Last Det." with NMCB 62 ('83: 8 months). Chief "Huck" worked hard to complete my JO training. Tough not being the big boys on the block as the Seabee population dropped from 900-1000 to less the 150. Could not keep the NAF MA's from chasing a wayward Seabee into the Seabee Det camp. Always made for an interesting evening when this happen. Went back as PWO ('99-'00: 13 months). Things change but still stay the same. PW was located in the old Craft Shops (leather, woodworking, Audio/visual) we (NMCB62) completed in 82. Had the power go out 20 minutes before midnight 31DEC99. Not Y2K just a failed lightning arrester but it made for an interesting 30-40 minutes at every Y2K party on island unitl power was restored. The original Seahuts are all but gone though they are bulding new one in the contractor's camp. Seabee's are back, they realized they still needed them on island and currently have re-established Seabee Dets on DG. Diego Garcia is one of the best kept secrets. The family separation is tough but if they ever do allow families to come on board, nobody will want to leave. Made full circle - First deployment during first tour then last assignment before payback tour and retirement.


1982
NAME = Samuel Wihongi
E-MAIL = trish-sam@xtra.co.nz
NATIONALITY = New Zealand
SERVICE = Navy
UNIT = HMNZS Waikato
RANK/RATE/JOB = Then - Leading Seaman
MY INTEREST IN DG IS = Stroll Down Memory Lane
SUBJECT OF MY STORY: = Other
MY WARSTORY = There with RFA Grey Rover and HMS Alacrity
I remember coming ashore with a few of the chaps and hiring a pushbike from the PX. Away we went armed with back packs full of ale to the nearest beach. After settling down at the beach we were told to leave because it was for Philipinos only. (Mmmm segregation) So, we ended up at the Brit Club getting socially excited.
Was there for what was supposed to be a couple of days of R and R. However, the weather turned to crap and we had to sail. As has been mentioned earlier on we tried to take half the island with us which was attached to our anchor.


1982
NAME = Mike Miller USS Lapon SSN661
MY QUEST = To find the Lady from the USS Sierra AD-18 who stole my heart
VT of a SWALLOW = fast
E-MAIL = o well
NATIONALITY = American
SERVICE = Submarine service
UNIT = "liberty port"
RANK/RATE/JOB = DS2/ss
MY INTEREST IN DG IS = Stroll Down Memory Lane
SUBJECT OF MY STORY: = Actually, I Have a Real Story To Tell
MY WARSTORY = While pulled in to this fine island there was not a proper submarine tender. What we had was the USS Sierra AD-18. What the Sierra had was women. I would love to find out what happend to the ET2 who I got to know when I stopped an old boyfriend from hitting her one night at the enlisted club. From that night forward she woke me up with a steaming cup of coffee every morning (in my rack on the Sub) and followed me no mater where I went on the island. This included the outdoor movie theater the beach with the gun and a couple of times in the shower on the boat (of course you can not fit two people in a submarine shower so she waited out on the sink for me to finish. After three weeks of this it got a little old but not too bad. What a place!!




1982
NAME = David 'Jumper' Collins
MY QUEST = To rid the world of unseen porn!!
VT of a SWALLOW = Are you talking about an African Swallow or an European Swallow?
E-MAIL = dcollins@electec.ac.nz
NATIONALITY = British
SERVICE = Royal Navy
UNIT = HMS Alacrity
RANK/RATE/JOB = then - Artificer Apprentice, left RN as POWEA (WD) now retired MY INTEREST IN DG IS = Other SUBJECT OF MY STORY: = Other MY WARSTORY = (First of all the last two questions didn't have the responce I was looking for which was "ALL OF THE ABOVE"...)

I visited on HMS Alacrity in 1982 and was one of those war-hardened sailors who had been down at the Falklands War earlier in the year.

Well I remember the New Zealand sailors on HMNZS Waikato (Wacky-potato). You see in 1982 the New Zealand Navy still had a daily Rum Ration where you got a free tot of rum ( for Junior Ratings this was pre-mixed with water to prevent them from storing it away) Senior Ratings got theirs 'neat'. As the Royal Navy no longer had a daily rum ration we took as much advantage as possible to get across to the Waikato at Rum-issue time in the hope of cadging a free drink...

We had a great BBQ at the 'Brit Club' and even through the haze of far too many rums and beer I well remember that we had a visit from at least a couple of the 6 women based at DG.

I also remember that the Kiwi's must have enjoyed themselves there so much that when we came to leave (we were not alongside any pier but at anchor) Waikato tried to take half the island with them (maybe to set up their own mini "Barrier Reef" to rival their Australian neighbours).

There were quite a few signals flying between Alacrity, the fleet tanker RFA Grey Rover (Gay Raver), and Waikato. Departure was delayed by about 30 minutes as Waikato was made to put the lump of coral attached to her anchor back...

Many years later, after I had left the Royal Navy, emigrated to New Zealand and joined the New Zealand Navy, I was very sad to lose my (well worn) Diegio Garcea baseball cap when it blew over the side one day when I was serving on Waikato's sister ship HMNZS Southland.... but therein lies another story !!!

What happy, carefree days those were back in 1982 - 24 years ago !!!

David.."Jumper" .. Collins



82-83
NAME = John Lucas
MY QUEST = Just to remember
VT of a SWALLOW =
E-MAIL = indianajohn63@yahoo.com
NATIONALITY = American
SERVICE = Navy
UNIT = Ship store
RANK/RATE/JOB =
MY INTEREST IN DG IS = Stroll Down Memory Lane
SUBJECT OF MY STORY: = There I Was, Passed Out in My Room
MY WARSTORY = I remeber a lot of people from DG whom I have thought about over the years. I spent one year there that was not all so good. At that time in my life, I was emotionally scared. First time overseas in the Navy. First duty station. I thought I did a good job working in the camera/jewelry department of the ships store. There was nothing to much to do in your spare time other than drink and boy was it cheap. Everything in my off time involved alcohol. I'm a feel good junkie and this led to my demise of taking the opportunity to buy some hashish from a nark whom because he was unliked by most personnel decided to work for the Brits as a snitch. He approached me one day offering to sell me some hashish that he had acquired from some fellow sailors on the USS Fox (shame on him, shame on me). I was never a drug user but thought it would be a change from the muldrum of the events on the island. One night while I was working as a stocking clerk in the store, my room was raided and my roommate was busted for possession. Another roommate came to the store the next morning informing me of this. Long story short, that morning I awaken to the Brits coming to my room. In a bedpost they discovered a quantity of hashish (how had it gotten there?). My last 30 days or so on the island were spent in restriction. Was I guilty of consumption? yes. Was I guilty of possession? The CO thought so. In any event, I thought I had been a good sailor in the USN. My military carrer was short lived after that time. I had served 2 years 9 months in the Army before transfering into the Navy where I served for 2 years. In the end it appeared to be a waste. My time on Diego did have it's happy time though. I met some wonderful people like Alice Lambing, whom I will never forget. Johnny Johnson, you were always cool. Frenchie, I loved you as a friend, Joe Veezer, you were a person I was happy to know. And, Tony Reed, you wanted so much to be a player. You were cool too. Oh, and my roommate from Ohio Paul. I hope your career turned out the way you wanted it. I have a lot of respect for the people who give a year or more of your life to serve your country away from your loved ones. Thank you for the freedom that I am provided. Just so you all know, I have been very successful in my endeavors outside the military. If you decided also to pursue other careers, I hope you have been as well.


1981, 1982, 1983
NAME = Michael "Mickey" White
E-MAIL = mikew3439@sbcglobal.net
NATIONALITY = USA
SERVICE = Navy, Seabee
UNIT = NMCB 62
RANK/RATE/JOB = Equipment Operator, now retired
MY INTEREST IN DG IS = Stroll Down Memory Lane
SUBJECT OF MY STORY: = Actually, I Have a Real Story To Tell
MY WARSTORY = I was blessed with back to back deployments to the rock with NMCB 62. I remember waking up in a porta hut watching 4 guys play cribage drinking beers and asking me "watch ya lookin at "Boot Camp" which became my name for the first deployment. But oh how i learned to be a real seabee with these fine fellows as mentors. Mojo Partys, Burnin dumsters when the lights went out. Dodgeing TS 24 Scrapers. Yea, Taz, Grody, Jim bob. They taught me alot. And, if we knew then what we knew now we would have realized they were the best years of our lives and ya, I would do it again in a heartbeat. This is it for now but ill be back for more with Det Diego.


1981, 1982, 1983
NAME = Michael "Mickey" White
E-MAIL = mikew3439@sbcglobal.net
NATIONALITY = USA
SERVICE = Navy, Seabee
UNIT = NMCB 62
RANK/RATE/JOB = Equipment Operator, now retired
MY INTEREST IN DG IS = Stroll Down Memory Lane
SUBJECT OF MY STORY: = Actually, I Have a Real Story To Tell
MY WARSTORY = I was blessed with back to back deployments to the rock with NMCB 62. I remember waking up in a porta hut watching 4 guys play cribage drinking beers and asking me "watch ya lookin at "Boot Camp" which became my name for the first deployment. But oh how i learned to be a real seabee with these fine fellows as mentors. Mojo Partys, Burnin dumsters when the lights went out. Dodgeing TS 24 Scrapers. Yea, Taz, Grody, Jim bob. They taught me alot. And, if we knew then what we knew now we would have realized they were the best years of our lives and ya, I would do it again in a heartbeat. This is it for now but ill be back for more with Det Diego.


"ben cotton" <brencoulton@hotmail.co.uk>
To: easy501@zianet.com
Date: 21 Jan 2006, 09:42:47 AM
Subject: diego garcia and HMS Alacrity
Small world i think i got your camo shirt and your medals heheh remember that day well ,down at the house that Jack built ,HMS Alacritys crew still meet up every year and part of the storys are about DG.We had a brills time there loved it to bits Well reply and i might send your medal ribbons back
PS hope the unoion jack is still okay
PS it was not the signals officer who gave you the flag
I live in portsmouth so still see the ships sailing
take care plase reply
brendan


1981-1983
NAME = Scott Zoeller
MY QUEST = remember the old days...
VT of a SWALLOW = african or european?
E-MAIL = scott_zoeller@hotmail.com
NATIONALITY = usa
SERVICE = U.S. Navy Seabees
UNIT = NMCB 62
RANK/RATE/JOB = BU3 and BU2 on the Rock BU1 later
MY INTEREST IN DG IS = Stroll Down Memory Lane
SUBJECT OF MY STORY: = Other
MY WARSTORY = I was asigned to NMCB 62 Delta Company in 1981. We made the endless journey through Frankfurt to the exclusive resort publicly known as Diego Garcia. It always seemed that Delta Company was the bastard company of the Battalion. We did the construction support of Charlie Company. I ran a crew of texcoat freaks. Paul Barnett and John Case were memorable men as well as Kirby O'Brien (Our Hut Slut), Curt Boos, John Laspisa and countess others. No women on the island except some visitors from the ships and a brit named Carmen. It was the last great Hurrah for the Seabees in the island's history. It was wneh Henry crashed the scraper into his hooch and nearly killed his hoochmates. I think he was getting shit about golden showers. He was a hell of an operator cause he smashed that hut ofter making a hairpin turn into the camp. They sent him away quick. We lost power in the huts I was in for a few hours. Needless to say when it came to emergency construction rerpairs the ballation had it all. We had great fun with the loyal british subjects on the island. No not the BritRep...the cats, chickens and the delicious coconut crab(did I say delicious?)
Ireturned with Det Diego the following deployment when the main body went to Gwam. Much lower key this time. I remenber Proctor's Builder's test. I bet they don't do those anymore. I did Texcoat again this year. My boss was John Weiss. A bit of a hard ass but a hell of a guy. He embodied the seabee style of if its done its good and if its not done its bad. We must have erected half a hundred premade bus stops. One of my workers, Bob Steathem was coerced into jackhammering a concrete pull box at the runway porject run bu some olf fart CE1. I remember pulling the compressor off the job, getting into a pile of shit over it and then the Lt. found out it was a 13800 pull box that would have shut down the airfiels if it was breached. Made an enemy out of the CE1 but saved Bob from possible electrocution. (Bob was killed by terrorists on flight TWA 847 after leaving the battalion and becoming a diver. A gentle and good man.) The best thing about Diego this time aroubd was that there were GIRLS. Not just TAD but women assigned to the NSF and NAS. I made some great female friends, best of which was Alice Marsh and Vicky Reinhart. It gave the island some civility wit women aboard. The det made a raft called the Lil DILIGAF for the raft race. We did'nt win but it was a good time both to the raftsmen and we who watched the race. They would not allow beer on the rafts. A little inginuity and the flotilla became a floating beer barge. We had a bit of shit when one of the women was the focus of a rake attack between 2 guys in Alpha Company but I don't remember if that was the Det or the Main body Deployment. We left the island as the last detachment and moved to Gulfport for another few months then on to Rosy Roads.

81-82, 82-83
NAME = Andrew Perkins
MY QUEST = stroll down memory lane
VT of a SWALLOW = ?
E-MAIL = aperkins@simplynet.net
NATIONALITY = Oklahoma
SERVICE = NMCB62
UNIT = MLO, Satelite Dining Facility
RANK/RATE/JOB = CE2
MY INTEREST IN DG IS = My Time There is Lost in an Alcoholic Haze, Help Me Remember!
SUBJECT OF MY STORY: = This is a No-Shit Drinking Story
MY WARSTORY = I was there in the last full battalion, and right back after home port in the last detachment. I remember "Henry's Revenge", and was real surprized when I got back with the detachment to see "new" hooches on that corner. It was surprising the amount of damage a pan scraper could do to a hooch.

Since the main choices on the rock were to 1. get religeon, 2. become an alcholic, 3. become a fisherman, I got drunk and went fishing with a lot of the others. I remember, (I think) drinking a case of Bud a day, many days in a row. Since Jim Beam came in those nice bowling pin bottles, it was fun to rack the empty's up and bowl them down with coconuts. I have never forgotten the morning after head ache from drinking frozen Sangria, or a night drinking just plain Mojo. I don't think I would want to do that again.

I remember Alice's over by the laundry, and how disapointing it was to see it converted into the QD when we got back on the det.

I remember Ole Oleson dressed up as Santa Clause in the back of a jeep throwing batallion christmas card at morning quarters. I still have the patch, and have it framed with my "A" school certificate.



1982-83
NAME = Jim (Hoppy) Hopkins
MY QUEST = To find my way back to the donkey gate
VT of a SWALLOW = a dollar two ninety eight
E-MAIL = hop4him@yahoo.com
NATIONALITY = American
SERVICE = U.S Navy Sea Bees
UNIT = NMCB 62 det. DG
RANK/RATE/JOB = then E3,E4,E5,E3,E4,E2...STEEL WORKER
Now civilian preacher
MY INTEREST IN DG IS = My Time There is Lost in an Alcoholic Haze, Help Me Remember!
SUBJECT OF MY STORY: = This is a No-Shit Sailing Story
MY WARSTORY = There once was an Island wide raft contest on the rock, until the year I got there. Well my comrads and I were outraged so, we built one anyways, as we finished our second fifth of Jim Beam in the middle of the shipping lane in the harbor, a funny little man with a bull horn on the beach said "I am giving you a direct order, to come to shore and dismantle that raft at once". Well the only logical thing we could think of to do was show him our posterior tan line and see if he could count our fingers from that distance. We realized when the funny little boats with the fold down front end came to get us, that probably wasn't a fantastic idea. You see the little guy with the bull horn was the nav sta xo OOPS!! That's ok we had plenty of time to discuss it later that day.
And trust me sober is better.
Peace and Beads Man
Hoppy



Oct-Dec 1982
NAME = Rich Rhatigan
E-MAIL = rhatpack@optonline.net
NATIONALITY = US
SERVICE = Navy
UNIT = VP-1
RANK/RATE/JOB = AE2 Then. Got out as AE1 in 1987
MY INTEREST IN DG IS = Stroll Down Memory Lane
SUBJECT OF MY STORY: = Actually, I Have a Real Story To Tell
MY WARSTORY = There are many: Someone puking off the balcony onto the chief's head. Being attacked during the night by every living insect in Splinter Village. My favorite is when a New Zealand ship pulled in for a few days. Every night at the club shore patrol basically ran a shuttle service to and from the ship. Those guys were out of control. Women were very new to Dodge. One night, one of the NZ sailors was dancing with a wave. They stopped dancing. Had a few words. The sailor then reached back and planted a right hook square on her jaw. He caught the next shuttle to the ship.



1982
malcolm <malcolm@csplus.com>
heres one for you i was station on diego carcia 1n 1982 when the first female arived a few months after, a maile salior was killed with a rake in the head by a jeolous boyfirend, it was hush hush, i worked in the commsta and sent the message out cant remember the date it was classfied then, also that same year we found a foot from one of the migrant workers on t site aparently he was out get longusta and accrding to the me in the philllipines when they packed the foot off he was eaten by a rate larger groupter

1980 '81 and'82
NAME = wayde hovey
MY QUEST = try to get back a few lost brain cells
VT of a SWALLOW = all i know is it just ain't fast enough
E-MAIL = nmcb40cc@yahoo.com
NATIONALITY =
SERVICE = Navy
UNIT = nmcb40 charlie co
RANK/RATE/JOB = got out as a BU2 after Rota Spain dep
MY INTEREST IN DG IS = My Time There is Lost in an Alcoholic Haze, Help Me Remember!
SUBJECT OF MY STORY: = There I Was, Passed Out on The Beach
MY WARSTORY = hell we were passed out all over the damn place had some of the best times on that shitty little island got some great pics of our crew drunkards everyone of them i'll scan some and post some if it's you in there give me a shout most of my memories are lost in tomenting Tisue you know what i mean i'll get those pics posted give a hollor ror an old drunkard


November 1982
NAME = Mary (Gregory) Snider
MY QUEST = To remember the name of the youngest Brit Marine stationed on the Island
VT of a SWALLOW = is this a trick question?
E-MAIL = lakeriedog@yahoo.com
NATIONALITY = American
SERVICE = USNavy
UNIT = USS Samuel Gompers
RANK/RATE/JOB = EN3 at the time, 13 active...8 reserves
MY INTEREST IN DG IS = My Time There is Lost in an Alcoholic Haze, Help Me Remember!
SUBJECT OF MY STORY: = This is a No-Shit Drinking Story
MY WARSTORY = I spent two weeks on Diego waiting for the Sammy G, and then quite a bit of time anchored out, running small boats... was there and helped out with the dewatering of the merchant ship that nearly sunk. Met a very nice brit marine named Davey who swapped t-shirts with me and taught me the fine art of tattoo removal. He showed me the plantation side, and how to swim with sharks. Look a baby Wolf!
Although a good bit of my time there is a drunken blur, that is where I took my last drink ever...too bad I can't remember what it was! I woke the next morning on the floor of the bathroom in my room in the barracks with a bad case of coral cuts on my legs an empty wine bottle and my toothbrush. To the guy who I threw the coconuts at, I wasn't really trying to kill you, but I'm not sorry, shame on you!
I had some really great times snorkeling and trying to learn to wind surf, and hanging out at the merchant seaman club with a very nice merchant seaman who's name I can't remember...he had a mohawk haircut and a removable front tooth. He came to visit me on the ship one day and practically caused a security alert, the OOD called me up to the quarter deck and ordered him off the ship, how RUDE!
I still have the fishing pole and jungle boots which were given to me there, and would love to go back for the beaches!


Dec '81 - '83
NAME = McNeil, a.k.a."Mac"
MY QUEST = Find old friends and acquaintances.
VT of a SWALLOW =
E-MAIL = lotlot66@prodigy.net
NATIONALITY = U.S.A.
SERVICE = U.S.N.
UNIT = NAF
RANK/RATE/JOB = AT-1


1982-1983
NAME = joe buzzone
E-MAIL = buzz-one@comcast.net
NATIONALITY = american
SERVICE = usn
UNIT = master at arms
RANK/RATE/JOB = mm3
MY INTEREST IN DG IS = Other
SUBJECT OF MY STORY: = Actually, I Have a Real Story To Tell
MY WARSTORY = I was stationed on dg as a maa. I spent eleven months on the rock. I actually had three girl freinds on the rock while I was there. first there was Dee Davis and Kim I can't remember her fucking name. Dee was fun lasted a couple of months. Kim was a wild cat. She ended up getting busted and placed on restriction. One day she got drunk with the restriction po and then split. Well I found her and we ended up staying in my barracks overnight. Surer than shit we got nabbed. The co wanted my balls for his golf game. After a short summary court martial I spent 15 days in confinement with hard labor in Subic Bay, $500 for one month and my po stripe. It had to be the most expensive piece of ass ever paid for in dg history.

Sometime before 1982
NAME = Guy Wilson
MY QUEST = Search for a Flag
VT of a SWALLOW = A bit slower than an Exocet Missile
E-MAIL = guyjcislord.wilson@ntlworld.com
NATIONALITY = Brit, true blue
SERVICE = Royal Navy
UNIT = Visiting
RANK/RATE/JOB = Petty Officer (M)Retired
MY INTEREST IN DG IS = My Time There is Lost in an Alcoholic Haze, Help Me Remember!
SUBJECT OF MY STORY: = I'd Like to Share Precious Memories of Drinking/Fishing/Snorkeling/Sailing on Diego Garcia
MY WARSTORY = To those of you who remember HMS Sheffield (the Argentine target in 1982) Does anyone know the whereabouts of the White Ensign that was presented to the depot ship that we parked alongside? I seem to remember that it was signed by a lot of the Sheffs crew. I also remember being invited on board to watch a movie, and I seem to remember asking some of the crew over to Sheff for a drink, there was some confusion when one of you American gentlemen came on board having just come from the shower, all smelling sweetly, with too much aftershave on, I then remember one of you asking for a light for a cigarette, I had just filled my Zippo lighter (one I managed to get off a kind American sailor) (as is usual from a Brit Matelot)Anyway the mix of over aftershaving and overfilling a zippo is a dangerous mix. If you are the one whose face I set on fire, I apologise. (Really I do!!) Does anyone remember this?
Tug Wilson
Ex-Sheffield.
OLD GUNNERS NEVER DIE THEY JUST GET FIRED.

1982
NAME = Bob Knight
E-MAIL = rjknight@sbcglobal.net
SERVICE = us navy
UNIT = ctf 70 det diego garcia
RANK/RATE/JOB = LCDR, Oinc, retired
MY INTEREST IN DG IS = My Time There is Lost in an Alcoholic Haze, Help Me Remember!
SUBJECT OF MY STORY: = Actually, I Have a Real Story To Tell
MY WARSTORY = I was the OINC, CTF-70 Det Diego Garcia in spring of 1982. I welcomed the first usn females on the island.
Best regards,
Bob


1982
NAME = Joe Madrid or Cpl Madrid then.
MY QUEST = Why no mention of the Marines that were sent there for three mounths
as security.
VT of a SWALLOW = Do nt care.
E-MAIL = joemadrid1@hotmail.com
NATIONALITY = White
SERVICE = USMC
UNIT = Security
RANK/RATE/JOB = CPL
[editor's note: Mainly because no marines have written any stories or sent good photos for me to use]

1980 through 84.
ROB HODGES <hawkeye6936@attbi.com
See his 1980 entry...

Jan 1982-Sept 1984- I was there for the quake
NAME = Annette Salvato-Gangi
MY QUEST = to share a quake story
VT of a SWALLOW = don't know, don't really want to know
E-MAIL = Nettesal@YAHOO.COM
NATIONALITY = AMERICAN
SERVICE = USN
UNIT = ASCOMM
RANK/RATE/JOB = RM2 THEN
MY INTEREST IN DG IS = Stroll Down Memory Lane
SUBJECT OF MY STORY: = Actually, I Have a Real Story To Tell
MY WARSTORY = I Remember the Quake of 83. I worked down at the mini-ascomm at the time. I was in my barracks watching movies. It was the 3 story new barracks at the time. The rumble started and it got so loud you couldn't even hear yourself yell. We thought it was a C5 coming in to low or the wrong way. Then the building starting to bounce. We all headed for the door and the 3 of us were trying to get the door open to get out. Of course we were all very calm. (LOL)
We got out of the room and I just wanted to jump from the 2nd floor to the ground. At that point, we thought the building was coming down. My friend at
the time grab me and pulled me to the steps and we ran down. We got to the ground and you were just bouncing off of it. Well it felt it anyhow. We finally figured out what it was and time just seemed to stop and the quake seem to go on for ever. All the lights went out and we were all told to go to the center of the island because they were expecting a wave to hit. What a joke that was, the center and highest point was the swimming pool. Some of us went down to cannon point to watch and some of us just started partying. I had never been in a earthquake before and hope I'll never be again. Needless to say for the next couple of months, due to the aftershocks, I slept fully clothed and shoes by the bed ready to book out if needed. We drove out to T-site within the next couple of days and saw where the wave had washed over the road and the crack in the building out there. This experience makes you realize you never know when your time is up.

November 1982
NAME = Joe Drees
MY QUEST = stay sober for just a minute longer
VT of a SWALLOW = I don`t swallow
E-MAIL = Drees@charter.net
NATIONALITY = US
SERVICE = USN
UNIT = transiant
RANK/RATE/JOB = Was MM3 at the time, now UT1 USNR
MY INTEREST IN DG IS = My Time There is Lost in an Alcoholic Haze, Help Me Remember!
SUBJECT OF MY STORY: = There I Was, Passed Out in My Room
MY WARSTORY = Room? We lived in those screened huts. Had to take a shit before 0700 or you could pass out from the heat in those portajohns. We had just spent a wonderfull two weeks in the PI enroute to USS Enterprise and got stuck on the rock for two weeks. Got sunburned beyond recognition. Remember eating this rubber turkey on thanksgiving so hung over that the chaplain came over to cheer us up not knowing we were still blasted to the gills. Bowled a 200 game there.


1982-1983
NAME = YN3/2 Janice Patrick
E-MAIL = jhump2001@aol.com
SERVICE = USN
UNIT = NAF
RANK/RATE/JOB = Retired MACS(AW)
MY INTEREST IN DG IS = Stroll Down Memory Lane
SUBJECT OF MY STORY: = There I Was, Passed Out in the Club
MY WARSTORY = November 82 to November 83 on the rock was the best year of my life. I wasn't in that first group of women, but I came along about 6 months later. I was a Yeoman at NAF Admin, worked most nights at the First Class Living Room, an illegal club owned by the Seabees. On the nights I wasn't working there I was drinking there. Those guys of NMCB-1 were some real party animals and simply wonderful! Before the days of political correctness, wearing short shorts and a T shirt with no bra, and flip flops. Wish I could do that year again. I left a few days before the quake. I remember Obie, Frank, Buck Bell and Jimmy Eaves. And of course, Mad Dog, and my personal favorite, Art the guitar player from public works. If you are out there guys email me. Jan

1982
NAME = Don Tracy
E-MAIL = Dtracydenver
SERVICE = Navy
UNIT = U.S.S. Kiska AE-35
RANK/RATE/JOB = E3, GMG3
MY INTEREST IN DG IS = Please Select The Category That Best Discribes Your Interest in Diego Garcia
SUBJECT OF MY STORY: = This is a No-Shit Drinking Story
MY WARSTORY = During our West-pac in 1982, I was lucky enough to have liberty on my 21st birthday. Myself and several buddies from Fox division of the Kiska took the liberty boats ashore and began a very enlightening night on the rock. We went to the club ( I can't recall the name ) and commenced to celebrate my 21st. It seems that the entire patronage of the club sent drinks to our table that night and needless to say I was probably the drunkest 21 year old birthday celebrant in the world that night. I do not recall the boat ride back to the ship but very vividly I can remember the spill down the ladder to the Fox/Rase berthing compartment. The morning came rather soon as is the norm when embiding. I requested time for sick bay and told the oc that I needed to go to C.A.A.C. ( of course the C.A.A.C. was located in the P.I. of which we had left some 30 days ago ). I needed the recovery. The Doc sent me to the clinic. I signed in for the counselor and waited with a picture in my mind of 30 days of liberty in Subic ( recovering ). Well, my name came up to see the counselor. I went in and was met with a nice looking female LT. As we discussed my problem drinking I could tell that she had something to tell me. I pleaded with her to send me to C.A.A.C. After about twenty minutes of talking she politely told me that I was not going to Subic and that I had better leave and go to the boat landing and get back to my ship. My mouth fell open with shock, I was appalled that this trained counselor would not send me to paradise. This lady then proceeded to tell me that she had been standing at the shuttle stop the past evening when I was on my way back to the ship when the club had closed. She vividly remembered a conversation between a very drunk celebrant and his shipmates. It seems the topic of that conversation was how I was going to get my ass back to Subic so that I could really enjoy myself during the birthday period. She actually entered into my medical record that I should never be allowed back in the P.I. because of my desire to partake in the best liberty port in the world. I almost cried on my way back to the ship. ButI can say even though I was 10,197 miles from my home of Denver ( and I have a picture of the sign post to prove it )the birthday that is supposed to be so special in your life - WAS. I was free, I was with friends and I was treated so well by all of the patrons of the club that night. Theses others did not know me, but we all shared a common thread. We were all far from our homes and we sure as hell didn't cry about it, we made it a great night!



1982-1983
KAREN DUFOUR <karanngoroo@satx.rr.com
What Is Your Quest? Sun and Fun on the Sand
What is the Terminal Velocity of a Swallow? African or European
Nationality: NORTH AMERICAN; If Armed Forces, Which Branch? US NAVY; Unit or Work Assignment on DG: PSD
Rank/Rate: PNSN then...
My Interest In Diego Garcia is: Decided to Join A Monastery, But Couldn't Find One
Title of My Warstory: I'd Like to Share Precious Memories of Drinking on Diego Garcia
My Warstory: I was 20-years old, 5'6", Blondish-brown hair, blue eyes, one of the first batches of females to hit the Island: I called Bingo at the Enlisted
Club "Ooo69"... served Sunday Champaign Brunch at the club... umpired the softball games... swam in the lagoon with Hector... ate mid-rats at 3 a.m... perched in the dunk tank... I remember Mike Stewart, Steve Knox, Bobby Shunk, Rosanne!, Nancy, Kermit, the Seabees, VP-46ers, HC-1 Det 3... so many people so little time! Several others I prefer not to remember... Met my husband from VP-46 > and remain married to this day :)
The Earthquake was awesome... thought my roommates were f*cking with my rack. Yelled out to assholes in the quad to shut the f*ck up. Who was it
that told everyone to go to the highest part of the Island? Who sent them to the pool as the highest part of the Island? Which idiots actually went?
Partied with the Brits til dawn!! Earthquake / Awaiting Tidalwave party :)
Sex on the beach was not a drink back then. Coconut crab was the absolute most wonderful part of the R&R on the Island - better than Lobster . Nothing
like flashlights, sticks, and pillow cases to hunt them down. Got in more trouble than I can say... my name came up a few times at the COs meetings :) Fraternization was not allowed - well not legally.


Feb-March 1982
NAME = Scott Erich
MY QUEST = Total Discontent
E-MAIL = serich@twcny.rr.com
NATIONALITY = American; SERVICE = USN; UNIT = Upkeep in DG being on the Uss Groton (SSN 694); RANK/RATE/JOB = STS2/SS
MY WARSTORY = Pulled in DG in Feb 1982 along side the Uss Hector, and who pulls in a few days later?? The HMS Sheffield (D80). Sheffield was sunk 3 months later in the Falklands. Played rugby with some of her crew by one of
the softball fields.
Beautiful island! I remember the long pier that was ocean side near the MARS Station. At night the algea would light up as the waves came in. Very hot and the sun screen would wash off while you were sweating and you'd end up with a streak skin sunburn. Being attacked by those damned coconut crabs. Things were mean!! Had the crap scared out of me by a dolphin or porpoise while in the water near the far ball fields. Over all was a good time but was only there for a short while!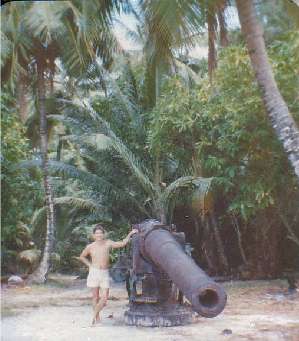 1982
GORDON ELLWOOD <sellwood@stx.rr.com>
I was recently surfing around on the web and got off on some tangent when I thought back to my experiences in the US Navy (1981-1985). The time was the summer of 1982, and I had just been stationed at NAS Miramar, with VF-2. The squadron was deployed on WESPAC when I arrived at Miramar, so I had to just hang out on the base and wait for them (aboard the USS Ranger) to come into range of a place where I could
be sent to join them. That place turned out to be Diego Garcia.
I was flown via commercial airline from San Diego, to Seattle, to Yokohama, to Manila and ended up at Cubi Point (Subic Bay) for two amazing weeks, while waiting for the ship to come off Gonzo Station. From Cubi, we (a group of about 20 of us) were bussed to Clark AFB and then flown to Diego Garcia via a MAC flight. All of this was an incredible journey for a surfer who had just been taken WAY out of the comfort of his stateside California element. Having never been farther out of southwest America than a quick trip to Baja, this was amazing. I had never even HEARD of a place in the middle of the Indian Ocean called Diego Garcia. But, I was stoked when I found out about it in that summer's issue of Surfer magazine. It was a special travel issue and had a section on remote, rarely surfed waves. There was a picture of the big gun (at Canon Point) and another of a perfect breaking left. I couldn't believe my luck. I was going to a place (courtesy of the US Navy) that hardly anybody could ever go to.
After landing, and then being debriefed by the Brits in their shorts (a uniform idea I wished the Navy would have adopted), I don't remember a whole lot else. I DO remember laughing my ass of when the Brit customs guy was explaining the prohibited items. For some reason, the way he said "cocaine snorting tubes" stays in my brain to this day. I was there for only about 24 hours, to the best of my recollection. We arrived in the afternoon, and were checked into a large, single-level transit barracks. I remember that it had screens all the way around, and these were all ripped and full of holes, with no air-conditioning. We were given the usual Navy pillow, pillowcase, two sheets and a blanket for the cots that were laid out (like boot camp). There were no other ammenities in the room at all.
I remember ending up at the outdoor theater and we must have had a few San Miguels there. The movie was "Chariots of Fire", which I recall vividly. The next memory I have of the only night I spent on the island, was of getting EATEN ALIVE by the mosquitos while trying to sleep. It was, and remains to this day, the WORST night in my life. It was too hot to sleep under a blanket, and the mosquitos would bite through the sheets. The sound of mosquitos buzzing around my ears even today, reminds me of this awful night. The dawn couldn't come soon enough.
The next day, I was determined to check out the surf, even though I didn't have a board with me. We had been told that swimming on the "ocean side" was prohibited because of the danger of sharks. But, being young and stupid, I didn't care. I made my way (walking) to some beach on the ocean side and found myself right there, next to the big ass gun, the VERY SAME place as was in the magazine. I took a camera with me, and found a way to take my own picture with it - standing next to the canon. (I wish now that I had taken WAY more pictures while I was there - as I later bacame an AVID photographer).
There were perfect, peeling waves breaking on the reef, a mere 60-80 feet from shore, and I couldn't resist. I took off my shoes and jumped in. I swam out to the break and caught a few waves (body surfing) before I got paranois. All those shark warnings started gaining priority in my brain. Once back on shore, I stuffed my socks with puka shells (and others) and made my way back to our transit barracks. I recall that there were a shitload of chickens and coconuts on the island.
My next memory is of being briefed in a hangar area for what to do if we go down in the open ocean (on our way out to the Ranger). This was the first time, since joining the Navy, that I was actually a little nervous, as we listened intently on how to remove the rubber molding for the helicopter windows to get out of a sinking chopper. Half of us got to fly out to the ship in a COD (C-2), and the other half went out on a Chinook. I was with the latter group, missing out on a chance to "trap" on the carrier - a rare treat for an enlisted puke. However, I must admit that we got a better view on the way in. I was awestruck when we got to the carrier, which was about 40 miles away. The amazing deep blue water was almost perfectly calm, and when we landed, there was a HUGE party going on on deck. I happened to come aboard as the ship was celebrating it's 25th anninversary with a "steel picnic" - with steak and lobster !! This was my first impression of the US Navy at sea. I had no idea.
I also had no idea that everything would drastically change the next day, as we headed back out to Gonzo Station for 45 days of 12-hour days, 7-days a week.
We then headed down to Perth, Australia - which was unscheduled, and another stop on my world surfing tour. AHHHH, Rottnest Island !! But that is a surf story for another time.
Anyway, I thought that you might get a kick out of my DG memory. Gordon Scott Ellwood (at Diego Garcia in the summer of 1982)
82 & 83
GORDON PERMANN <Krztalizer@aol.com>
Until I found your website, I honestly felt that Ken Webb and myself were the only two people who ever said
they had fun there out loud. You have a great site, sir -- well done.
Do you still have contact with Jaws? She was a very cool chick. We arrived on the same flight and I went
through indoc with her. "Don't touch the chickens, crabs, cats, or the donkeys. Try not to drink too much.
Ok, scratch that - don't touch the chickens and if you kill a cat, bury it deep."
cheers from a fan
v/r
Gordon Permann
formerly assistant intel at PATWINGONE, 82-83 plus a few other visits
82-83
NAME = Steve "GRODY" Gundlach
MY QUEST = To stay alive
VT of a SWALLOW = African or European??
E-MAIL = stju@charter.net
NATIONALITY = American; SERVICE = Seabees; UNIT = NMCB 62; RANK/RATE/JOB = Up and down
MY INTEREST IN DG IS = Professional Spy
SUBJECT OF MY STORY: = This is a No-Shit Drinking Story
MY WARSTORY = Anyone remember the night Henry got so drunk he drove the scraper threw the hooch down in Alpha company?????? If you weren't there you wouldn't believe it.
Nov 1982 - Dec 1983
NAME = Joe Meno
E-MAIL = bdhrdy@home.com
NATIONALITY = Asian pacific islander (Guamanian); SERVICE = US Navy; UNIT = Main Power Plant (South) 20 Alpha crew; RANK/RATE/JOB = EM2 while assigned in Diego Garcia, retired from active duty Nov 1996 as an EMC (SW). Presently residing in San Diego, CA working for Pacific Bell
MY INTEREST IN DG IS = Interested World Citizen
SUBJECT OF MY STORY: = I'd Like to Share Precious Memories of Drinking/Fishing/Snorkeling/Sailing on Diego Garcia
MY WARSTORY = Had many good times while station there, but the earthquake that shook the island stands out the most..... not to mention Ms. Marie Greene
1982
NAME = Sandy Leishman
MY QUEST = dodging ragheads
VT of a SWALLOW = slower than an excocet
E-MAIL = alexxxforty@hotmail.com
NATIONALITY = British; SERVICE = Royal Navy; UNIT = HMS Alacrity; RANK/RATE/JOB = Radio Operator 1st Class/Just a big fat civvy now
MY INTEREST IN DG IS = Homosexual Interest Only
SUBJECT OF MY STORY: = Actually, I Have a Real Story To Tell
MY WARSTORY = How good is your web page?... f@*&ing good! Pissed myself laughing. I think I was one of the RO's who swapped that ensign with you..... but I was very, very drunk [editor's note: We ALL were] Cheers for refreshing my memory it brought a great run ashore back to life for me (I've still got no hair on my arse after doing that daft dance)!
1980, 1981, and 1982
NAME = Larry Ortega <AKAZILLA@AOL.COM>
see his 1980 entry
Twice aboard the uss sierra aug-nov 1982 and june-aug 1985
NAME = david goins
MY QUEST = looking for the holy grail
E-MAIL = goinsfam@mindspring.com
NATIONALITY = American; SERVICE = Navy; UNIT = USS Sierra AD-18 storekeeper second class
RANK/RATE/JOB = Left the service September 1985, Note: flew out of Diego at 10 pm at night for Norfolk, VA to get out
MY INTEREST IN DG IS = Stroll Down Memory Lane
SUBJECT OF MY STORY: = There I Was, Passed Out on The Beach
MY WARSTORY = I have been TWICE. The first time sucked. Worked our asses off on ship and there was little to do on the island except drink, drink, and drink.
Second time was better. Drank alot. Played alot of softball with the local Marines. Drank alot. Chased women. Drank alot. Beautiful island. Beautiful beaches. There is not many of us who have been there and experienced the place. But like they say, the best view of Diego Garcia is in your rear view mirror!!!!

1982-83 (also TAD for three months in 1979) See his 1979 entry.
NAME = Daniel Guajardo
MY QUEST = To finally be happy
VT of a SWALLOW = Let me drink a couple of cases and will get back to yeah!
E-MAIL = wings97-98@att.net
NATIONALITY = U.S.; SERVICE = U.S. Navy; UNIT = C-site; RANK/RATE/JOB = CTO-2 got out 1986
MY INTEREST IN DG IS = My Time There is Lost in an Alcoholic Haze, Help Me Remember!
SUBJECT OF MY STORY: = Other
MY WARSTORY = Wrote previously, was tad to the rock back in 79, pissed off my master chief while in Kami Seya, so he banished me for three months to dodge. spent a x-mas and new years there, not much there at the time, have night-mares bout donkey burgers, but the booze was cheap!
Went back in 1982-83, of my own accord, thought it would be a place to chill after Guam, spent 15 months on guam but rode the boats tad about 10 months of the time. burnt out on the P.I., so thought i would chill on dodge, bad mistake. met up with the craziest bunch of CT's, ole Johnnie Kennedy, Shoe the Jew, Phil Rainey, and a supporting cast of alcholics... Tom Gussie, what a year. We busted ass at ole C-site, we had the best watch-section, but boy did we play hard, talk about pounding cases of Bud, and got turned on to green label JACK by Shoe the Jew, had the first annual Diego raft race that year, had the best softball team on the island, and we won the first annual C-site softball tourney, with a bunch of rejects and women! forgot alot of stuff, but have pictures and some coral scars on my arm and leg from drunken wipeouts... thought Diego was out of memory, but my soon to be ex was just there, 1999-2000 and got the dreaded phone call for divorce after her being there for two months, oh well damm the bad luck, she never even came back to say why or anything, left me with our son, which is a good thing, good luck to the guy that ends up with that hoe. over-all have some good memories, and so it goes.
march 1982 through march 1983
NAME = Dan Neuenswander (swanny)
MY QUEST = on diego, to get drunk....
VT of a SWALLOW = huh ?
E-MAIL = neuenda@bp.com
NATIONALITY = german mexican
SERVICE = navy
UNIT = harbor ops
RANK/RATE/JOB = went there cause I pissed off my LT. I hit on her ! was a sr then fr. inactive now
MY INTEREST IN DG IS = Want to Return When the First REAL Club Med Opens
SUBJECT OF MY STORY: = There I Was, Passed Out in the Club
MY WARSTORY = I was there BEFORE the women, they showed up months later. I was assigned to Harbor ops, SELBY and Sutherland, I remember you guys ! I was the only moron that was hit on by a black female recruit and TURNED HER DOWN !!!! what was I thinking..... I have since grown :) speaking of getting hit on, I was UPTOWN living the good life and my roommate EM2 Kevin Paulus (you never forget your first one) tried "snorkeling" on me while I was passed out in bed. I woke up and screamed AAAAUUUUGGGGHHHHHH !!!!! living with a homo on diego. I hung out with the divers, and escorted the ladies back and forth from the USS Gompers (the love boat). There was this short BM3 that really turned me on (can't remember her name) but she was gay. seaman warner (from Hawaii) the redhead BM3 heavy set chick. saving the MSC ship from sinking, I got a letter of commendation for that ! Catching 5 foot long Wahoos ! almost beaching an LCM8 boat on the outside of the island, Drone hunts ! The Dallas Cowboy cheerleaders (I have pics ) I worked as an engineman on the LCM8 boats, Selby, YOU were my bow hook ! man, the stories.....

FATHER MARK BETTI <talgg@telpage.net> (c/o Tom Clancy)
Ted,
By way of introduction, I am Rev. Mark J. Betti, a Catholic priest now living in North Carolina. I was on DG '82-'83 as EM2 Mark J. Betti assigned to the Main Power Plant.
I just got back from a two-week vacation in Spain. As long as I was on the peninsula, thought I'd swing by Portugal and visit the very homeland of the navigator Diego Garcia - perhaps even bring back a picture, bio or some other momento of him to pass along to you for the website.
In Lisbon there is a Navy Museum dedicated to preserving the memory and mighty deeds of all those brave sailors from Portugal who sailed all over the world. All, that is, except for one. NOBODY at, in, or around the museum ever heard of Diego Garcia! Nothing in the museum nor in the bookstore about him! Near the museum there is a Naval archive and library that may have some info on him, but I coundn't get in. I was there on Saturday, and it is only open Mon-Fri.
**IF ANYONE IS GOING TO LISBON, CHECK THE MUSEUM LIBRARY - DON'T WASTE TIME IN THE MUSEUM ITSELF. BRING US BACK SOMETHING ABOUT OUR HERO!
Thank you. (And God bless you!)
Rev. Mark J. Betti
[Ed note: We've got an update now on ol' Diego - see the latest controversy about the name of our favorite island on the Stump the Dumbies Page!]

1st Time December 1975 (3 months), Second Time May 1978 (4 months), Third Time January 1979 (3 months), Forth time March 1982 (18 months) August 1983 - December 1985
NAME = Jack Kaltenhauser
E-MAIL = arizseabee@email.msn.com
SEE HIS 1975 & 1983 ENTRIES...

1982-1983
Paul Denton <phdenton@quixnet.net>
Hi Ted,
As a Seabee stationed on the Rock from '82-83, I was in charge of the Public works high voltage line crew. Got a great tan "cruising" around in a lounge chair in the back of a bucket truck.
I have had the very rare priviledge of having coconut crab for dinner once...very tasty and very expensive (if caught by the Brits).
I often thought during my time there that DG would make a great resort provided the guest list was kept to 40 or less guests at any given time. Hate to think of spoiling the beauty of the island.
Fondest memory...becoming a single digit midget. Short-timers have more fun. Had a great time asking "what day is it?" just to hear someone reply "day two hundred and twenty-three".Your page brings back great memories of the Brit Club and all the other wonderful tourist traps on the island. It was my pleasure as the crew leader of 7 Sierra (high voltage line crew) to keep everyone in the light (or dark depending on whether Seabee or squid).
This Guinness is for you and all of us real survivors...
Paul Denton
CEO, Diego Power & Light

Oct 82 - Oct 84
NAME = BOB MROCZKOWSKI <bobski643@cs.com>
MY QUEST = to be crowned king butterfly of angeles city
VT of a SWALLOW = zero
NATIONALITY = american; SERVICE = navy; UNIT = r-site/cal lab; RANK/RATE/JOB = et3
MY INTEREST IN DG IS = Want to Drink A Lot, Cheap
SUBJECT OF MY STORY: = This is a No-Shit 'How I Put One Over On My Senior Chief' Story
MY WARSTORY = Did two back to back tours on "The Rock" working at the callab at R-Site. My job as a caltech was easy and a day job so I had plenty of time to spend partying. Did alot of drinking with the radiomen in the teletype repair shop. The sunsets,beaches and partying were all fine and dandy, but the only reason I stayed for as long as I did was because Diego was my ticket to the P.I. I got the 30 days extra leave for extending,plus regular leave, accumulated leave before I got there and leave that was never recorded[while stationed there]because leave papers got "lost". I spent so much time in Angeles City,Subic City,The Barrio and Olongapo that the girls thought I was stationed dito[stationed in the P.I.]. Those were some of the best times of my life. Diego was just a drunken party I went to while
waiting to go back to the P.I. After Diego I went to a frigate homeported out of Yokosuka where my ship was always going to P.I. plus other great hotspots like Pattaya Beach,Pusan,and Hong Kong. Got out of the Navy when I found out we were losing the bases in P.I. Best thing I ever did, life out of the military is GREAT!


1982-83
NAME = PATRICK T. STEVENSON
E-MAIL = Patrick.Stevenson@kls.usaka.smdc.army.mil
NATIONALITY = U.S.; SERVICE = U.S.NAVY; UNIT = SEABEES , Water Plant ,AC&R shop
RANK/RATE/JOB = Worked my year and extended for 6 months more. Stayed Kinda drunk, Anyone remember Roy Roubiduex,or UTC Barfield. I was a UT1
MY INTEREST IN DG IS = Decided to Join A Monastery, But Couldn't Find One Stateside
SUBJECT OF MY STORY: = There I Was, Passed Out in My Room
MY WARSTORY = All I can remember was that all wsa not fun and games. At least two days weren't. I read where some of you can remember the earthquake in 83 well my friends I was in charge of the emergency all out crews for A/C and Electric and It was hectic!!! Jack Kaultenhauser wherever yoou are I could sure share a Beer with ya over that night. That's the night I told the XO to get of the Radio because serious people had serious work to do. What a night that was. If anyone remembers ENC Hanso of the power plant unfortunatly he passed away Feb 2000.

1982 -1983
NAME = Deco (Crash & Fire)
MY QUEST = Find anybody who work @ the airfield Crash & Smash
VT of a SWALLOW = Golden Shell Back
E-MAIL = EDeoc13021@aol.com
NATIONALITY = Hawaiian
SERVICE = U.S. Navy
UNIT = Air Field Ops/Crash & Fire
RANK/RATE/JOB = I was stationed there when the earth quake shook DG during the morning hours. We had to foam down the tarmac when the JP-5 lines broke with one of the fire trucks. I was an E-5 then, but now retired E-7 living at (Otay Ranch) Chula Vista, CA. I currently work at the Naval Medical Center San Diego as a Lab Tech (GS-8). I would like to hear from any shipmates who were assigned at Crash & Fire. 1982-1983.

82 FEB 01 83 JAN 07
ERIC FLOYD <edbk123@aol.com>
MY QUEST = CAN STILL DOWN A CASE OF OLY.
VT of a SWALLOW = FULL BORE
NATIONALITY = AMERICAN; SERVICE = USN
UNIT = NAF/ OPERATIONS DEPARTMENT/ STRUCTURAL FIRE DIVISION."HOSER"
RANK/RATE/JOB = LEFT FN,MOVED ON TO HT-A SCHOOL TI,ALL THE FUN SCHOOLS AT TI, THEN SHIPPED TO SUB-BASE NEW LONDON,THAT ATE UP ALL THE TIME,WOW!! WHAT A TRIP!!!
MY INTEREST IN DG IS = Want to Return When the First REAL Club Med Opens
SUBJECT OF MY STORY: = This is a No-Shit Drinking Story
MY WARSTORY = WAS SITTING IN THE EM CLUB ONE NIGHT WITH A FEW OTHERS,MCKENZIE,OZZIE,
ZOLMAN,MAYBE SOME OTHERS"COULD'NT REMEMBER THEN SO I DAM SURE CAN'T NOW,
THE HECTOR CAME IN FOR RR,"NOT THE HAMMERHEAD",AND A BUNCH OFF THE HECTOR WERE GOING TO JUMP MY CHEIF,"WILLIE, WELL I WOULD HAVE NONE OF THAT,FEELING NO PAIN AS USUAL ME AND MAC WENT OUTSIDE AND WAITED FOR THE WOULD BE JUMPERS TO SET UP, ONLY WE BEAT THEM BEFORE THEY BEAT OUR CHEIF,I THINK THERE WERE 6 OF THEM,ANYWAY, IN THE BRIG ME AND MAC WENT, "FOR THE NIGHT",CHEIF WILLIE WENT TO HIS NEST SLEPT IT OFF,"THEN GAVE US THE PIPE" LITTLE DID HE KNOW WE SAVED HIS ARSE.
SERVED AS SEC./TREASURER OF THE YAHT CLUB."MAN I MISS THAT FISHING".
PUT IN 6 MONTHS IN SPLINTERVILLE,DROVE TANKER-6 MONTHS BETWEEN ARMORY AND NAF,THOSE 3AM P-3 HUNG LANDING GEARS GOT OLD QUICK "GOD",ANYWAY-IF ANYONE EVER WANTS TO CHAT E-MAIL ME. "I DONT DO FORMALDIHIDE ANYMORE". ERIC.


76, 79 and 82
CLAUDE BLACKSHER <cab0557????>
MY QUEST = lots of brothers
VT of a SWALLOW = stops at a blabe of an eo
NATIONALITY = american; SERVICE = seabees; UNIT = nmcb4 det d.g., nmcb4 main body, pwd transportation
RANK/RATE/JOB = eocn, eo3, eo2 then
MY WARSTORY = the attact of the coral head only the few few bastards that where there will remember this time. it was on my last tour there when the whole island thought we were being attact from the commies (thanks to the fleet tweets). thats when sugar knew that they screwed-up by taking the batts. off the island. only the the few that where there that had come from batts. had the chore of deffending the island. and as snafu as it was there the fleet got a bleep of a coral head at low tide. a short time after that sugar sent i a marine corp unit to take care of its fleet(airdales) and ladies.

1982-1984
JAMES SELBY <IKABOD@PRODIGY.NET>
SERVICE = NAVY; UNIT = HARBOR OPS
My Time There is Lost in an Alcoholic Haze, Help Me Remember! Actually, I Have a Real Story To Tell
MY WARSTORY = Hi! When I arrived on the island I was met at the airport by first class petty officer Brown who took me to the place I would work for the next two years - HARBOR OPS. My CO was Bos'n Ray. He was a little guy but scare the coconuts off the trees then he took me to my new home the hooches. Some people called it Splinterville. It had three lockers and a fan and a rack but it was home sweet home. There were no women on the island yet so the dress code was pretty easy.
At work we ran the LCM-8 boats thet took care of the ships in the harbor. We would bring in stores from the ships for the island and that was a 24 an hour a day job. We didn't have the biggest crew in the world but we were good at what we did.
There was a time when a merchent ship blew a valve in it's hull and we had to tow two tugs and the divers on the island almost to the other sidr of the harbor so they could pump the water out and they could fix the ship. Back then there wasn't much to do but get drunk, fish, and play softball. Some friends and I decided to form a band and we rocked the place for a year. The band's name was ALLIED FORCES. I played the drumms, Jeff Slaven lead gutar, Jeff Nestler rythm gutar, and Jim Sutherland bass. We were the only band for 1,500 miles so we got all the groupies when they started letting women on board.

1982 (6/82-11/82 TAD from VP-47)
MARTY HOLT <blueknight1014@msn.com>
I lived in a hut right on the lagoon. As an E-4 at the time, I spent alot of time at a bar the Seabee's had set as a 1st Class Petty Officer club nearby. Many details of my time at Diego are fuzzy (read alcohol haze) such as for some reason I thought the largest aircraft that came in at the time was the C141 - I don't ever remember seeing a C-5. Anyway I was surprised to find your web-site but it is pretty cool. It really got the memory going, I have remembered the names/faces of most of the people I lived and worked with there. Thanks.

1982-1983
BARBARA SHUPING <barbshuping@yahoo.com>
SPECIAL NOTE 26 Jun 07 - Barb has changed her name to Catherine Windsor for professional reasons. Her new email is cwindsor59@yahoo.com.
I was there from 26MAR82 - 24APR83. Was BM3 Shuping then. I remember hearing that there had been women assigned to some air crews, but I was assigned to NSF. When I got there the only females on the island were of the animal variety (cats, chickens, donkeys, and the notorious land crabs).
One of the other BM3's that I ended up working with broke into my room the first night, but I had just come off of 2 years on a ship so I wasn't too worried about him. I still get a good laugh when I think about the first time I walked into the dining hall, I now know what all those people feel like when they mention E.F. Hutton. Silverware clattered to the floor and one guy blew milk out his nose.
I still miss DG in many ways, mainly the weather and getting to be in the water every chance I got.

1982-1984 (as a C-141 Crew Member)
GALE RICKERT <Red_Sonya141@aol.com>
What is Your Quest? To retire-Damn Stop Loss
Were you ever on Diego Garcia? yes, C-141 crew, Jul 82-Nov 84 numerous times
C-141 engineer station at Travis from Jan 81-Oct 85. Now stationed at Charleston, still flying the "old bird" until they run her out (about 15 more months).
Still remember staying in the trailers on the beach when I first visited there, braving the beach, and cookouts. Had a great time. It was already getting civilized before I stopped flying in there. Your site brought back some great memories. Some time I might get back before they let me out.